---
Review of Loewe, Yohji Yamamoto, Nina Ricci, Germanier, Lutz Huelle, & Isabel Marant Fall 2021 Fashion Shows
Democracy and Reality at Loewe, But Punk & Poetry Lives On at Yohji Yamamoto
By Long Nguyen
"We were into the idea of 'The show has been canceled' as a narrative backdrop to the collection. So we've produced a newspaper," Jonathan Anderson said in his now seasonal digital film where the designer explained the creative direction and the specifics of the clothes and the accessories. Anderson spoke as he sat on top of piles of bound newspaper, ready for the early morning delivery.
Instead of a purely digital and social media release of the fall collection, Anderson and Loewe opted for their continued belief in adding tactile elements to the collections' idea. First with those shows in the box, and now as a newspaper insert with color photographs of the looks and an accompanying article that fully elucidate the designer's thought processes.
Loewe inserts this 'A Show in the News' supplement in the Friday edition of Le Figaro and Le Monde in Paris, El Mundo in Madrid, The Times in London, The New York Times in New York, and The Asahi Shimbun in Tokyo. "And fashion is about a moment in time, inherently connected to a daily newspaper, which serves as a record of the 'now'," said Loewe in the introduction of the print insert.
Fashion has been democratized, in the modern world because all can consume its images – it is both a part of the culture and, in itself, pop culture. Often showcased online or via social media, those images, however, can be fleeting. Conversely, there is a tangibility to a newspaper, giving the fantasy of fashion a physical presence. You grip the newspaper, you turn the pages.

– Loewe's message on the need to have a degree of perception beyond mere rapid feeds of images digitally
Why the insistence of this tactile experience? What would the non-fashion focus audiences who subscribed to these major dailies get out of this experience upon opening the thick insert?
Flipping through the insert that came with the delivery of the New York Times this morning, the full-page color photograph of each of the thirty looks conveyed a far better sense of the direction of the collection, with the stark shapes and color of the clothes standing out against the paper newsprint stock.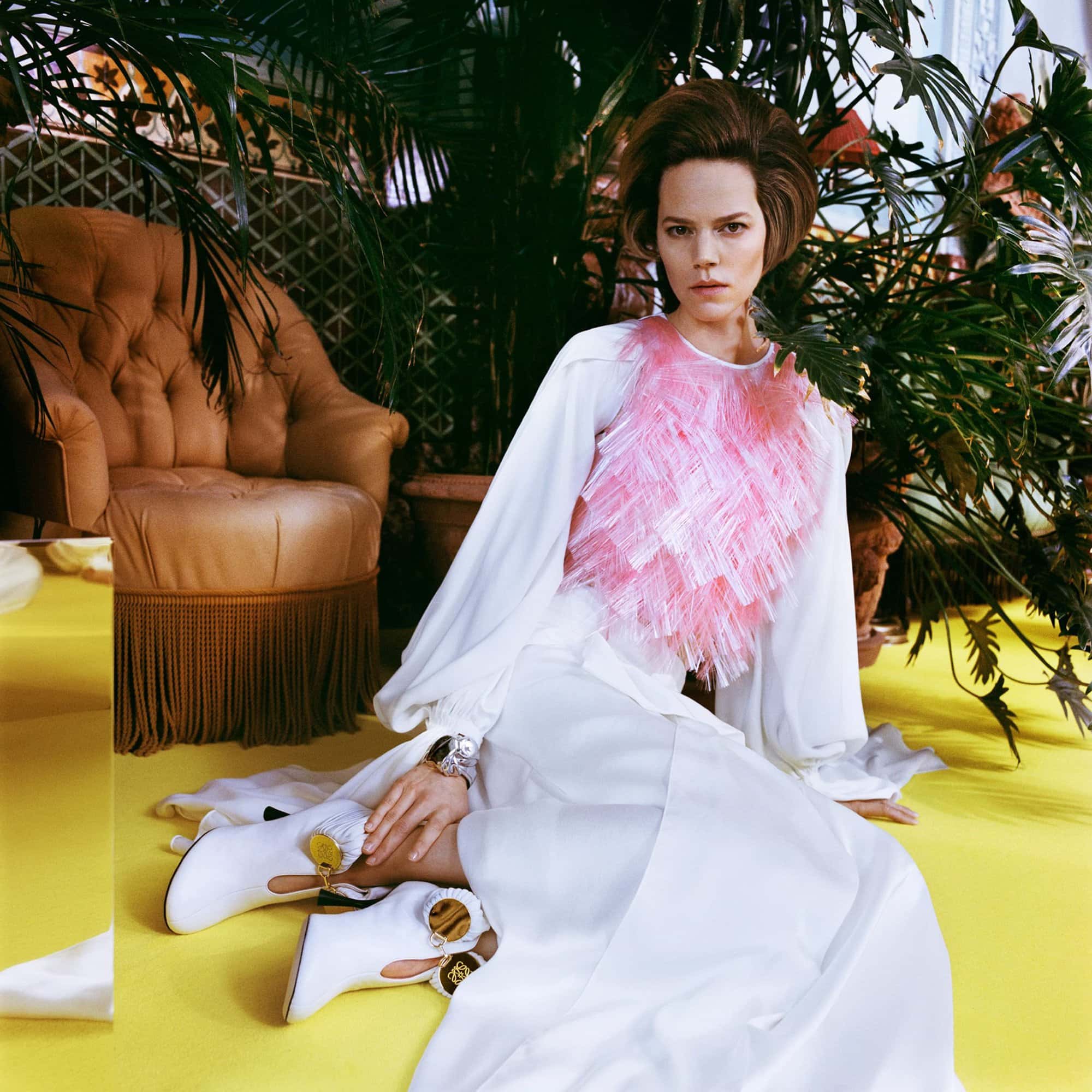 Worn by the Danish model Freja Beha Erichsen, the grey buckle cotton long dress or the yellow double layer oversize lambskin coat with black lambskin cropped elasticized waist pants looked alive on these pages of the insert. On a small screen, the photos of these clothes may not convey the same sensation. The shootings took place around Paris at Loewe's headquarter near Place Saint Sulpice, at the restaurant Le Train Bleu at the Gare de Lyon and the Hôtel de la Païva on the Champs Élysées.
In this fall collection, the vibrant color with the creative interplays on silhouettes and shapes, the combination of diverse materials like rough leather and soft mohair or print silk, and the expert crafts like intarsia quilting.
Anderson would want these multi-sensory experiences than just a quick view onscreen as this fall collection is tactile.
In this collection, we looked at a lot of draping and how draping could be knotted into an object, so you have a disk that folds in, and this idea of playing with the sleeves in a way where they became quite graphic but at the same time had a softer edge to it.

– Jonathon Anderson
He meant the mixtures of the volumes of the large puff green wool sleeve attached to a white quilted asymmetrical intarsia coat with orange/blue/grey graphic lines or the balloon sleeve midi dress in black and white technical satin. He pushed draping to the extreme resulting in a cotton pleat trench coat with a buckle at the waist, pulling all the weight to the body's bottom center.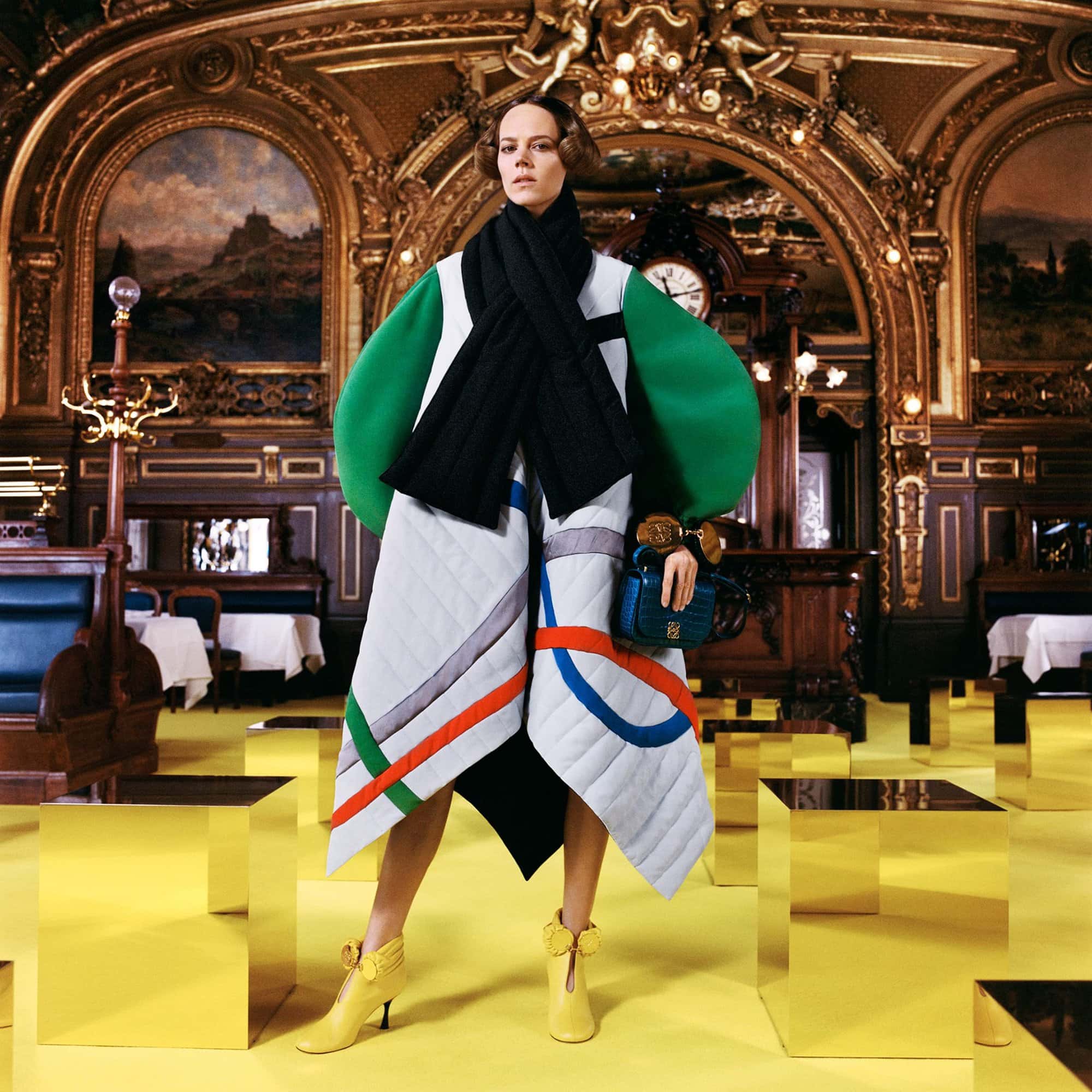 Despite the seemingly experimental shapes that permeate throughout the collection, these fall Loewe clothes bound for stores in August are much more comfortable to wear than some of Anderson's previous season, where design pejoratives took precedent. As such, the clothes take center stage in this newspaper presentation – they have to sell in the fall.
The design's simplification is apparent with the series of intarsia crewneck sweaters worn with drawstring pull-on cropped pants or blue padded blend wool stripe sweater with lambskin pants. The black asymmetrical shoulder sparkling sequin knit long dress is another prime example of extending the range of wearable garments within this fall collection.
"Tailoring has been a great mission for me. This season, we looked at this idea of making it a cotton structure so that it was more elongated looking at 1920s horse riding jackets," Anderson mentioned the increase in the collection's tailored looks.
These tailored clothes are very lean and very fitted that the cloth hugs the body. The jacket combined with those big cropped pant shorts, like a single black breast slim jacket and long oversize balloon shorts with beadings, an aqua blue dropped shoulder, shirt collar suede jacket with matching pompom embellished pants.
Military jacket in wool or pompom embellished blazer in suede, or the blue cotton military jacket with patchwork shirt with the tie all conformed to this more rigid sporty slim-cut close to the body. These once military and horse riding uniforms have transformed into urban day wear clothes.
The buckle shoes lean boyish with a touch of menswear structure. The rectangular shape Amazona bag returns from its origins in the 1970s with new technical materials. Of course, the Goya bag, a smaller rectangular bag, was now made to look more like a piece of jewelry.
Indeed, to entice things further, Anderson added a chapter from a new novel by Danielle Steele titled The Affair. The clothes, though, point to having both feet on the ground.
To the sound of the guitar and the harmonica with a voice of a woman singing the designer's songs, the models walked inside a hall draped in black fabrics wearing all black clothes that the house characterized as 'motion through a dark and punk atmosphere – a documentary of Yohji Yamamoto's vision of today's world.'
"A 19th-century inspiration in a dark Yohji Yamamoto's spirit," the brand said from its Paris headquarters. The superbly designed fall collection of dresses, coats, and jackets entirely in monochrome black, the deep black of a wool gabardine coat or dress broken with white seams and unfinished threats coupled with a hint of the streetwear in the cropped MA1 nylon bombers gave this collection the real punch.
Here on these black cloths, the Japanese designer Yohji Yamamoto offered his thinking and comments on this time not with the assistance of an art collaboration but with the dress maker's cutting, draping, and superb tailoring on black wool with exquisite attention to each meticulous details.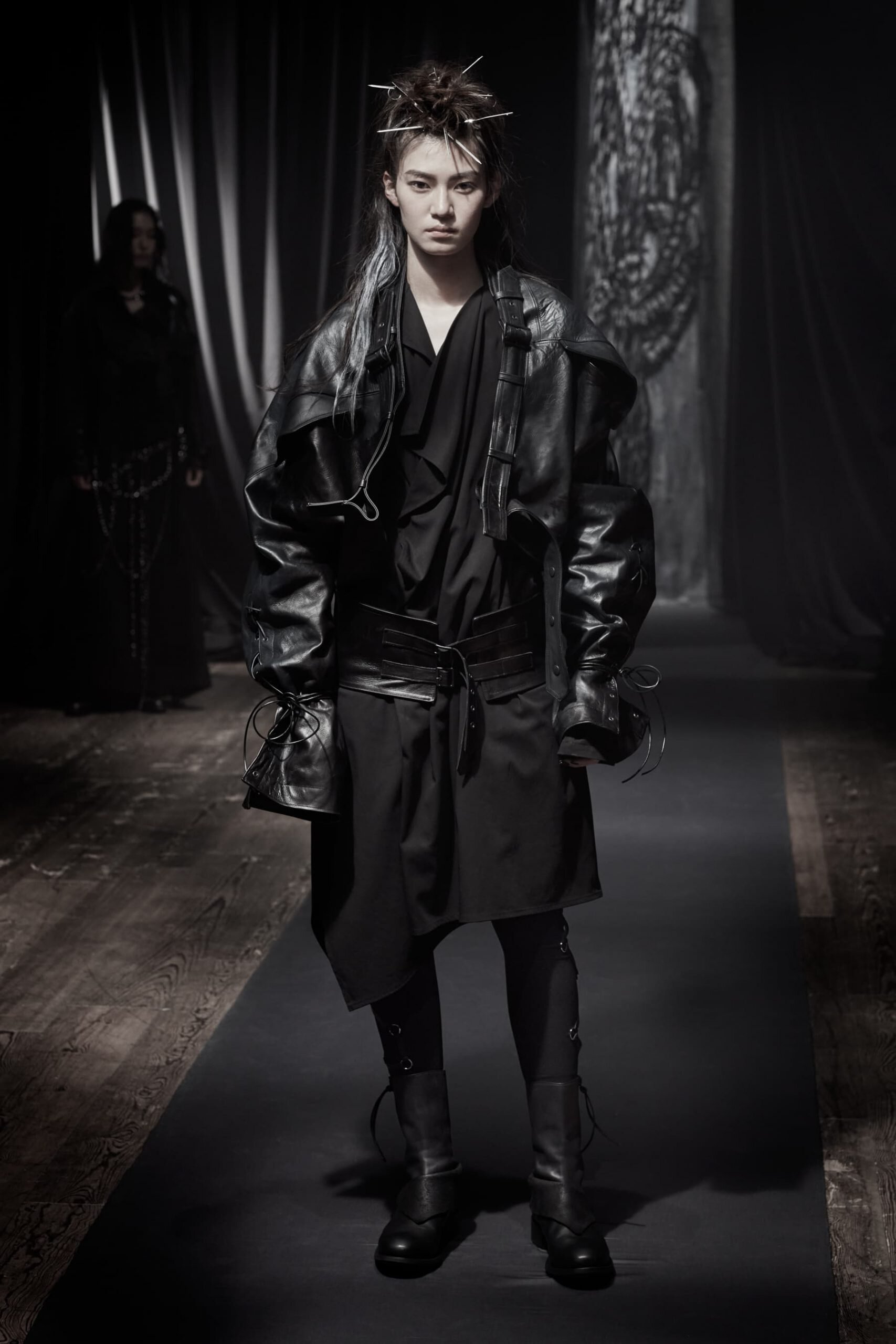 When viewed as individual outfits, these thirty-three looks are masterpieces of fashion design, each on their own. Considered collectively, they compose the verses of a poem in clothes, a poem that gives the feelings of anxiety now and tomorrow in a world in constant flux.
The slow-motion show with pauses to show a still life of each look started with a simple long sheath dress with a small panel hanging from the front or a long column dress with front pockets. Even a coat began with a double breast zippered. Yamamoto then abandoned the basics and moved to add constructions such as structured leg pockets to a shirt-dress, then left the dress in its raw deconstruction with large white threads hanging like fringes from the shoulders layered panels draping along with the dress.
The white threads gave a sense of the unfinished garments sewn up in a hurry in a world where perhaps fashion has less to contribute to meanings and terms of salvation. The holes atop the shoulders and at the left leg of a long tailored double-breast spread lapel coat aren't so much punk as it is an image of the broken individuals who have suffered setbacks this past year and now are trying to patch up the holes with needles and threads.
Is the black sleeveless dress with ruches of triangular and uneven patterns embellished on its front side to represent anxiety or depression? What to make of the couple of slices of pink fabrics coming out of a front pocket of a long black shirt-coat?
There are elements of punk in this collection dispersed here and there – a giant steel pin closing a double breast jacket, the cutout holes on a coat, or a headdress.
Yamamoto used the movement's idea of non-conformity as an overall theme but never really explore punk any further than these surface decorations. He did not need to as the clothes speak for themselves in a calm and confident voice, relating the emotions of these times on their surfaces, at a time straight, at times cutout, at times ruched, and at times re-sewn hastily.
A giant oversize cocoon shape long dress has what seems to be slashes like a knife cutting at a steel black painted body of a car.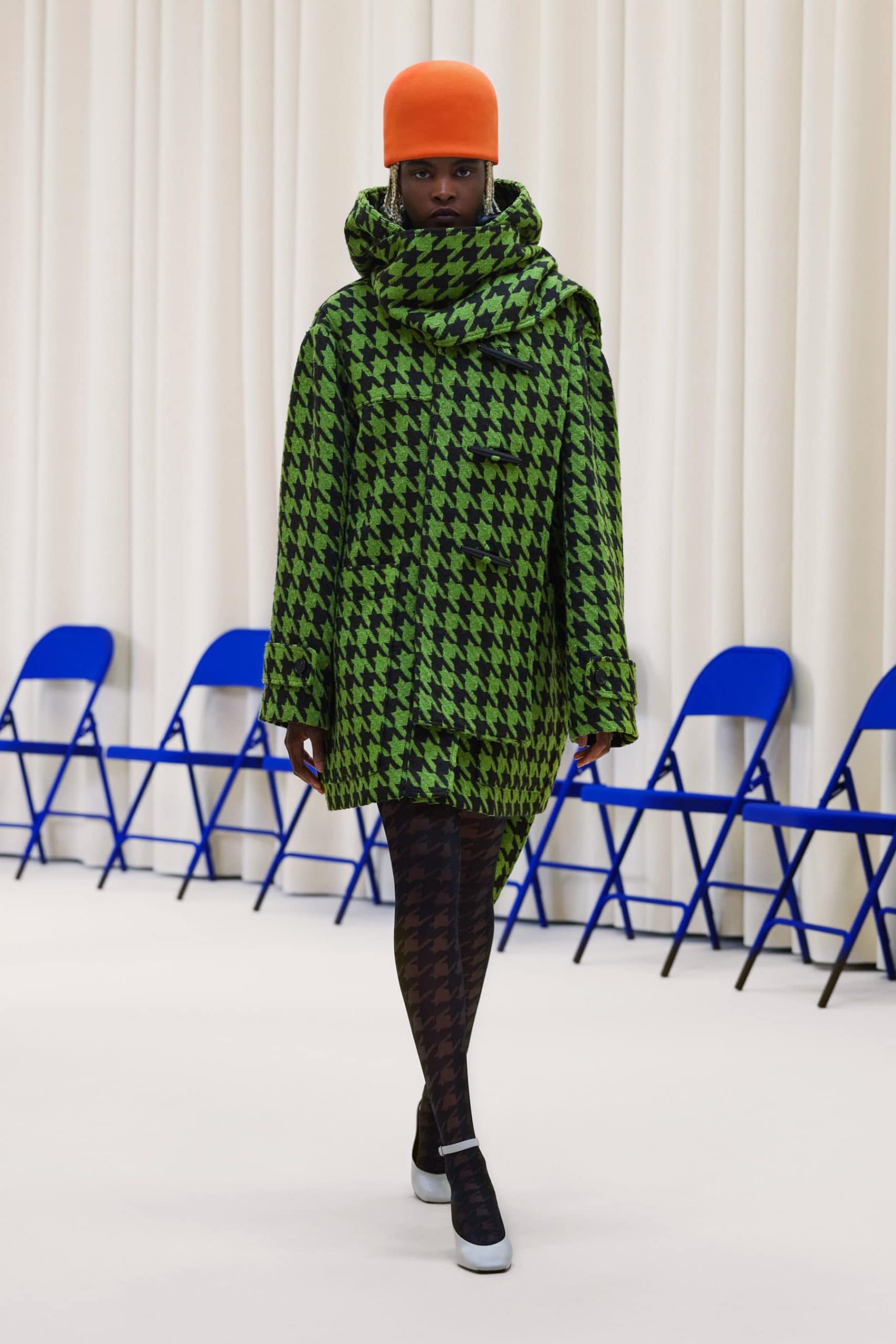 Lisi Herrebrugh and Rushemy Botter released their new fall Nina Ricci collection as a film with models walking solo around a circular platform with single file blue chairs on both sides, with few added moments of surreality. It is hard not to ask why the designers had not thought of a better and more creative way than a simulated fashion show with models confronting these empty chairs.
We are now near the first year of digital fashion seasons. Fashion brands should have better real-life experiences creating visuals to capture the online audience, instead of just presenting more plain-looking so-called 'films.' These digital moving images offer unprecedented ways to exercise thoughtful and impactful creativity.
The 'film' did show with clarity the full picture of the duo designers' fall Nina Ricci collection. While displaying the designers' full command of their craft, the clothes were flawless in their cuts and perhaps in the lean proportions and scaling down the collection to a manageable size with the intention of these 'silhouette grounds couture memories in every day.'
Every day means a rusty red wool large lapel single breast pantsuit or an acid green zipper day pocket pantsuit. No embellishments were necessary for this mixture of vintage Nina Ricci and 1960s shapes made in technical wools, garment-dyed nylons, gabardine, chevron, and Prince of Wales wools.
The outerwear remained the anchor of this collection with the pink nylon coat, parka with a furry collar, green wool poncho-cape, or burgundy duffle coat in the leads.
But the collection remains truncated as if stuck between two time zones and two eras. Perhaps Herrebrugh and Botter can think about why they need to continuously reference the Nina Ricci heritage if that isn't a written obligation for the house's contractual work. No young person knows what Nina Ricci is, and no young person would care about such heritage.
Why keep regurgitating the past when that past has no meaning for the intended consumers? The focus should be on developing a language for the here and the now. That is much harder to accomplish than said, however.
Two days before his fall presentation of the Paris-based brand Germanier, the young Swiss designer Kevin Germanier posted a teaser on his Instagram account that said 'the beads are back …"
The designer surely meant what he posted. Using fine pearl crystals infused into the fabrics, Germanier made the sparkling beads looked effortless on his black cropped single breast pantsuit fully decorated with panels of colorful beads or on a light pink wool skirt suit with silver sparkles.
A graduate of Central Saint Martins, Germanier started his label in 2018 and a year later was a finalist for the LVMH Prize in 2019. The designer explained that he had always been fascinated with embroidery, but as a CSM student, he had to create six looks in three months to graduate. He started to think about how to have to effect of embroidery without actual hand embroidery. This process led to finding a solution of silicon, white vinegar, and recycle plastic.
In that short time, Germanier has established a look of his own – clean and lean cut clothes with high sex appeal and many decorations, like all over every surface possible embellishments.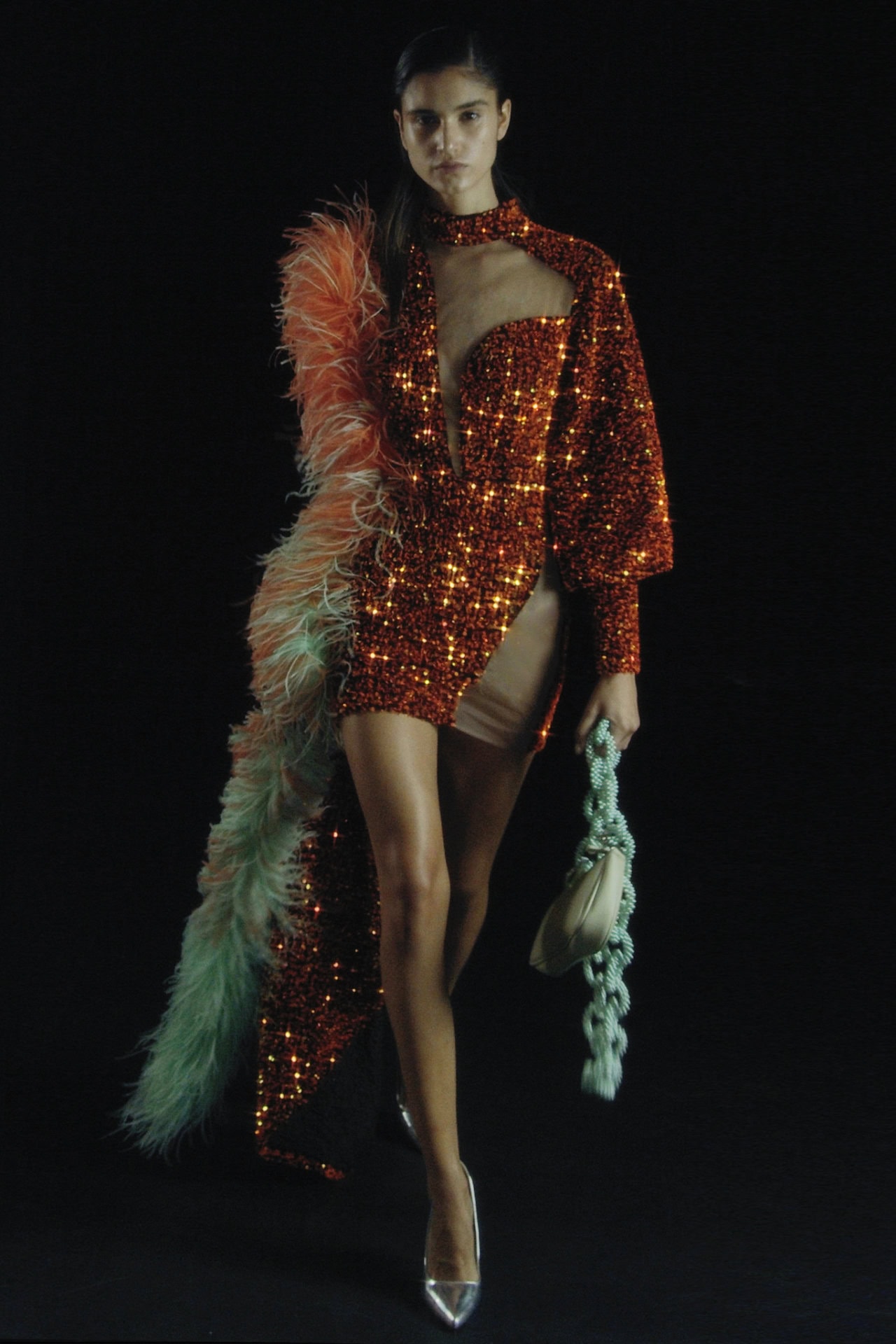 The clothes are clean with no real references to any past. Germanier had said that he cut all his patterns in rectangular shapes to minimize waste of materials. Fabrics are the starting point for the designer, and in this collection, they are mostly gabardine wool and stretch nylon for the sparkling orange with marabou feathers or black micro dress with cutouts along the body. This season the designer includes a few men's looks, but they mirror the women's like a black suit with white beads or a tank top and pants with colorful Swarovski crystals.
For a designer just out of the fashion system's gates, Germanier remains faithful to his aesthetics regardless of whatever crisis surrounds him.
He mentioned that his mother and friends make knitwear in Switzerland.
"This collection is about the pleasure of dressing up and about feeling special, but with a sense of casual ease and comfort, clothes that are great to be worn to do whatever comes up, be it to go shopping or the next great party," Lutz Huelle. He titled this fall collection 'Le plaisir' or the pleasure.
True to his word, the fall collection has all the clothes in super bright colors – purple, orange, ice blue. – that started with the premise of clothes based around the idea of men's pajamas style dressing but in jackets and dress cut in light taffetas, fluid silk satin, or wool jerseys like a short orange dress belted at the waist. A black cotton sweatshirt dress has short balloon sleeves, and a bi-color denim jacket with a black skirt can be an evening look.
In the collection, Huelle used all types of belts to tighten each garment – a taffeta sash on a purple tank with a long orange skirt or a silk robe for a camel wool short coat. The designer turned a black wool cardigan into a coat by adding a lining and slicing the sweater at the front.
Huelle's clothes reside in the details and how the customer will choose the wear them. The designer managed to inject his design elements into asking what clothes some of his customers would opt for now. That's a fashion design solution for the near future.
Isabel Marant's filmed show taped at an empty concrete garage, the designer re-imagined the near future with her fall clothes that feel retro. In the leaner silhouettes like a shiny purple leather cropped jacket and cigarette pants or a red leather broad shoulder dress with an air of that significant shoulder era along with her more familiar ecru fringe shoulder dress that opened the taped show.
The clothes in this fall collection are not so different from the kind of clothes that Marant has always made since she launched the brand in 2004 with the idea of holding the key to cool fashion for young Parisian women, and hopefully young women across the globe. Each season, the designer's signatures – the tight and straight trousers, the soft and unstructured shirts and dresses, tailored jackets of some kind and some coats, and ah the puff sleeve dress – underwent different surgical iterations with added prints, fringes, studding, or embroideries according to the specific themes.
Here in this fall collection, the straight trousers come in black floral prints or black denim; and the unstructured dress comes in as a broad shoulder green paisley pattern print. The coats come in ecru cropped blousons with shearling collars or a long black wool overcoat, and the tailored jacket is now in a double-breasted fitted pantsuit. Then there is always a short dress at the end with some embroidery – now shiny print wrap dress with silver jacquard trims.
There is something about being consistent, especially with your loyal customers. But at some point, would not these same customers also want something new? And if they can't find it here, would they venture elsewhere? It is a question worth posing, especially for a designer so concentrated on the youth at a time of rapid changes in their social, economic, and cultural spaces.
---