---
Review of Louis Vuitton Fall 2021 Fashion Show
Street, Couture, and Art Walk in the hallways of Michelangelo
By Long Nguyen
Watching the live stream of the taped show simultaneously on Louis Vuitton's Instagram and the brand website, I kept thinking, for a second, of the Marc Jacobs Fall 2017 show at the empty vast Park Avenue Armory void of staging. The American designer showed a collection filled with streetwear vibes but elegantly done with the girls hanging out after the finale outside on Park Avenue with techno music blasting on giant old-school loudspeakers.
Then, in New York, there was no music and no social media as the iPhones were off, the former voluntarily and the latter required. Jacobs called his collection Hip-Hop Evolution as an ode to how he imagined his well-studied dressing-up of casual sportswear. In the past, and now today, it was a moment when fashion captured the tangencies of different expressions of cultures onto garments.
Now all the screens lit up globally, all tuned in to view the models surrounded by pared-down Roman marble statues and a glance at the new collaboration with the Forsanetti Atelier.
Though, Jacobs' silhouettes were leaner than the voluminous and the layering in this Louis Vuitton fall collection. But there is a spirit that linked these two collections shown in New York back in February 2017, and the Louis Vuitton fall show revealed in Paris on this last extended day of the Paris show season.
Nicolas Ghesquière, the Louis Vuitton artistic director for women collections, brilliantly encapsulates the current cultural and sartorial zeitgeist in these fall clothes. This fall collection fuses time and cultural eras and epitomizes the current mood of street, sport, and couture silhouettes, here all meshed seamlessly.
Staged in the magnificent Galerie Daru, part of Napoléon III additions to the new Musée du Louvre, the collection indeed fulfills Ghesquière's mission of his time-traveling aesthetics. The designer commenced this time-travel notion in the first show inside the museum for fall 2017, especially his spring 2018 show at the Pavillon de l'Horloge.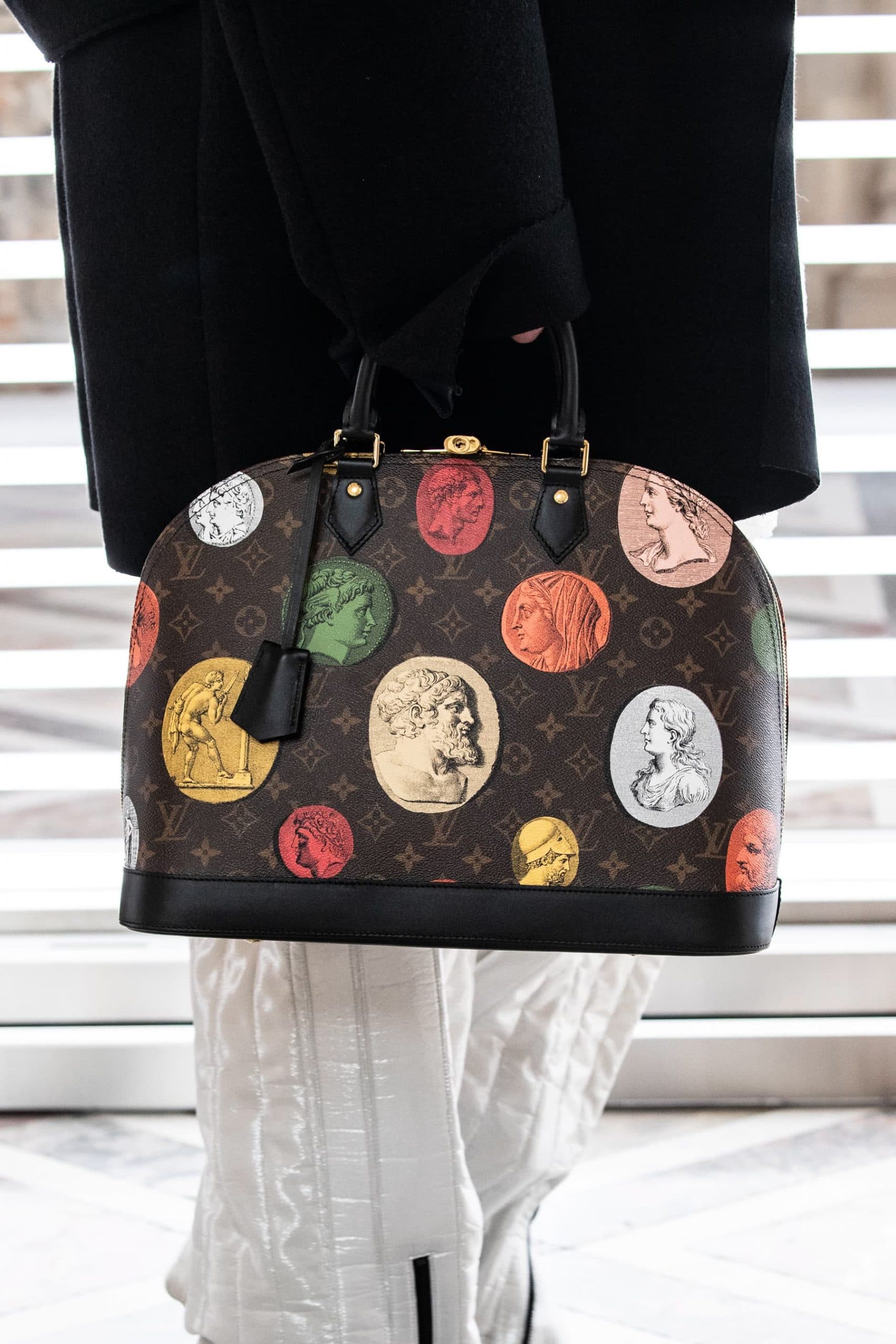 Now, it is the current sartorial language of the multi-cultural aesthetics of fashion that the designer has blended into a crisp and sharp distillation in forty-five looks.
"Fornasetti's enduring body of work is the realization of a remarkable hand-drawn technique and magical take on the world. I am particularly drawn to how Fornasetti re-explored and reworked the heritage of classicism and ancient Rome, adding new references to historical imagery" Ghesquière said of the reason for the collaboration with the Forsanetti Atelier.
Piero Forsanetti's black and white brought Roman heritage and classicism into the modern era in the most democratic art penetration with decorative art on items like plates and candles starting in the late 1950s. Forsanetti's American counterpart would be Andy Warhol. Both intended their art to reach the mass rather than the elite. That his drawing now graced these Louis Vuitton bags, coats and dresses enhance this effort to spread art afar.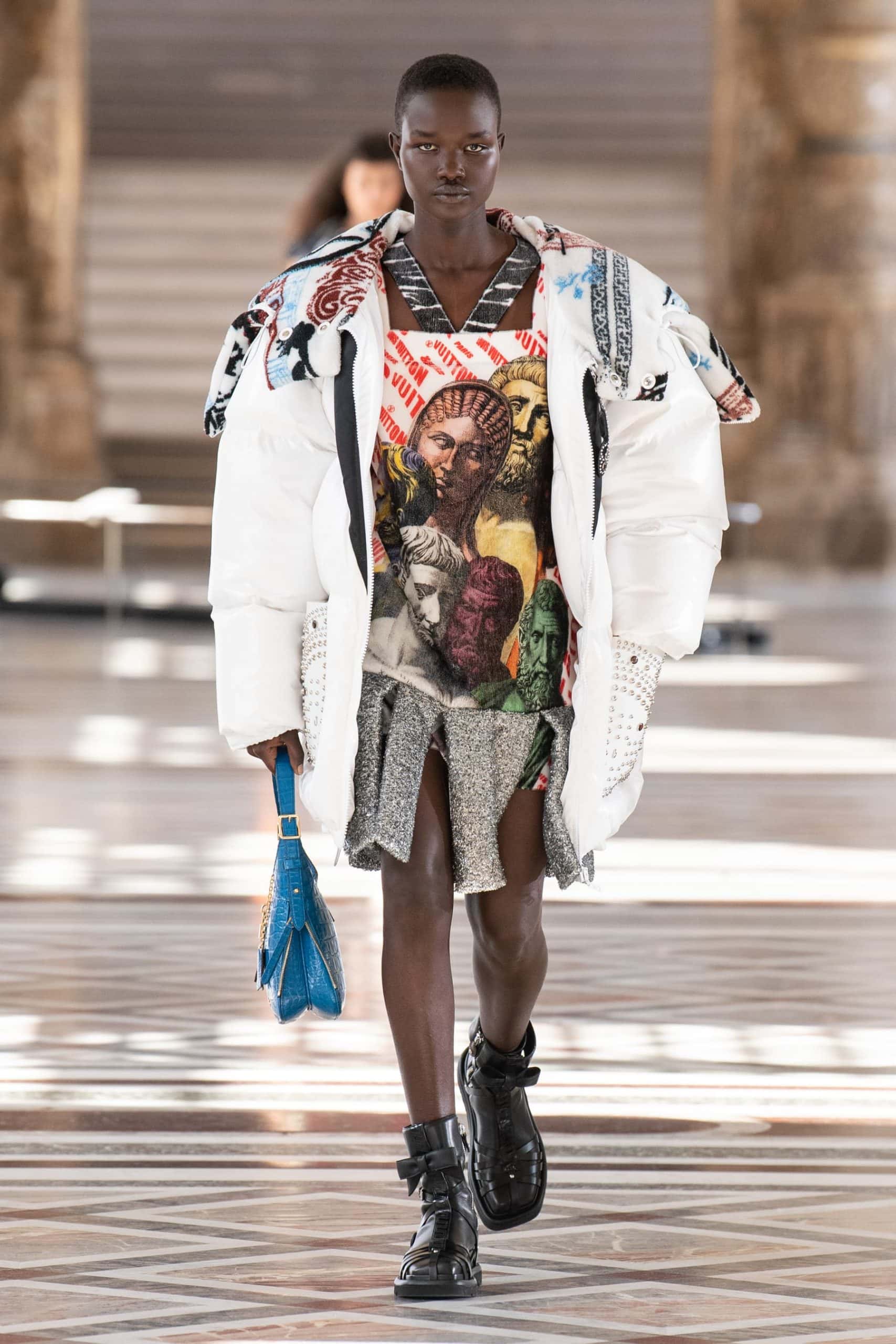 As a designer who has always loved fashion's ability to evoke the past, present, and future simultaneously, I wanted to add new layers to this creative palimpsest. Exploring the Forsanetti archives had the excitement of an archaeological dig, searching for and finding drawings from the past to give them a new life.

– Nicolas Ghesquière
This mixture of couture, street, and evening dressing is the strength and the backbone of this collection. The cropped puff sleeves white blouson in colorful Forsanetti motifs with a light brown beaded tunic and a washed denim represents the ideal combination of these three pillars of modern fashion in one single look worn with a black slouchy leather boot. Other outstanding manifestations are the black MA1 bomber parka paired with a short gold beaded short A-line dress and the black and purple parka blouson with a knit stripe sweater and light yellow tulle ruffle long skirt.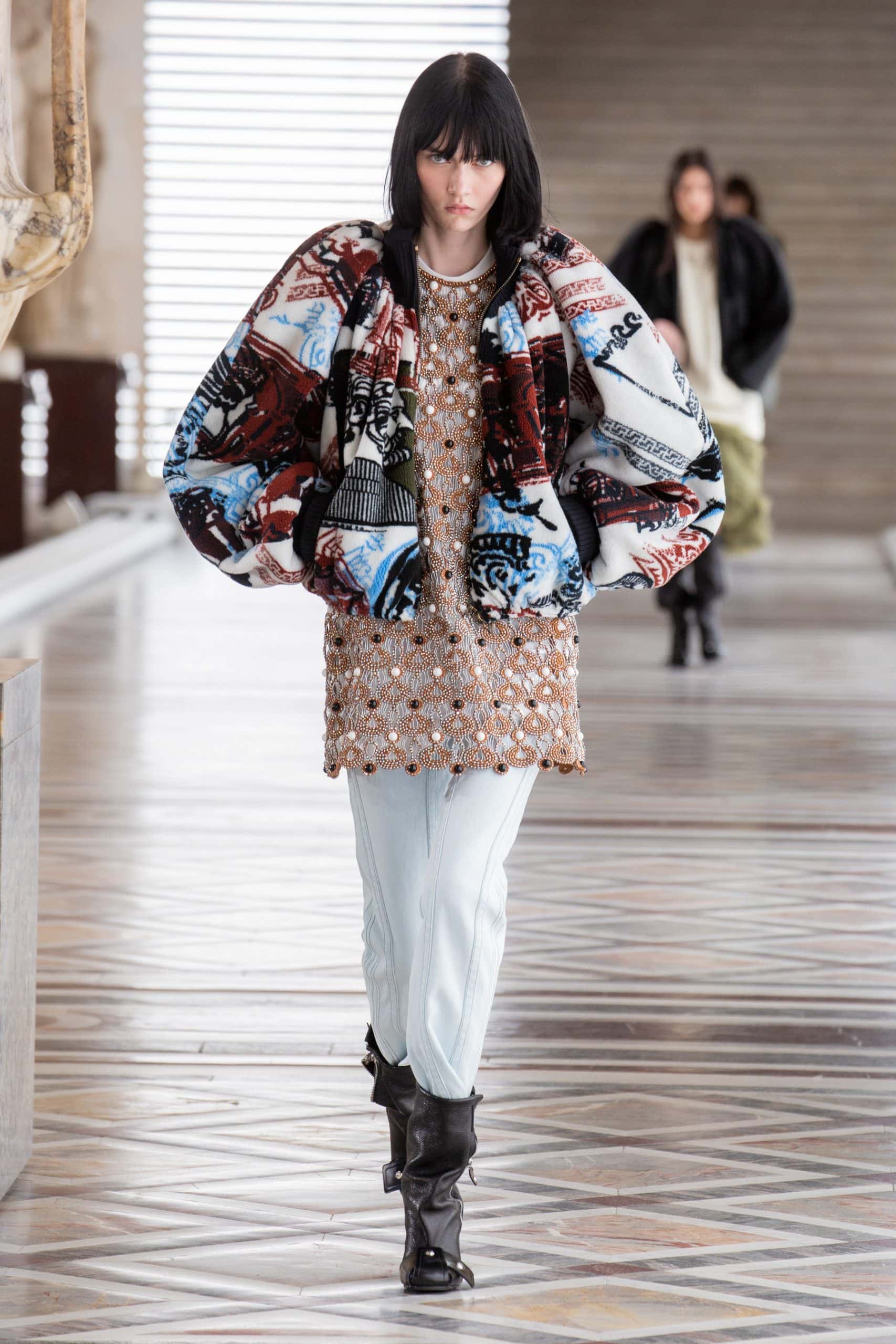 The clothes express and distill many of the existing developments in fashion, principally evolving more haute couture shapes and methodology into ready-to-wear.
Those 1950s architectural and sculptural silhouettes now find new life in this casual outerwear like the bi-color blue and black cocoon wool and satin zippered cape worn with washed-out denim overall, the MA1 bomber jacket in black satin silk with folding puff sleeves with a long ivory sweater, and a green tulle ruffle skirt, or a light brown nylon light puffer cape over a black short flare dress with neck beadings.
Many street codes are present in this Louis Vuitton fall show and present in multiple forms regarding the juxtapositions of garments from perhaps different time frames and attire for other occasions.
But this fall collection is also the explicit recognition of how young women dress today – the more formal style of yesteryear is no longer and has not been in conversation for these youngsters that every luxury fashion house is now courting. They are, in less than a few years away, the dominant luxury consumers. 
Glimpses of tailoring appear in the spread collar grey single breast cape jacket with knee-length cigarette shorts. There are also memories of recent Balenciaga shapes in the boxy dropped shoulder black coat and the couture-inspired outerwear looks.
The Fornasetti collaboration, from what is seen here in the show, seems more literal than, say, more abstract in previous art collaborations like the iconic Stephen Sprouse in 2000, Murakami in 2002, or Richard Prince in 2007. In these earlier partnerships, the art was more abstract than what was seen here and was mainly for the bags and not for apparel. Here the classic Forsanetti black and white drawings are transferred into print on a black dress with rectangle sequin fringes or on a Roman head statue motif on a mixed silk stripy short sheath again with short fringes and matching running shorts.
At a later date, there will be a stand-alone capsule collection. That will enlarge this collaboration into additional stand-alone products in addition to the hints shown here gracing as surface decorations of a white jacquard fleece parka or a white wool cardigan coat with these black hand drew motifs. The hand-embroidered floral pattern with black lace beads insets on the trim of an ivory satin puff skirt paired with an A-line cut black felt wool double breast short jacket.
These Forsanetti motifs apparel combines old techniques and new technology for these velvet, jacquard, hand embroidery, and laser and thermal printing fabrics.
Although this fall show has many of the 1980s boxy shapes carried over from the spring show, the clothes are more individual item-driven than pieces that help establish a signature fashion look.
Customers may not particularly be looking to buy into recognized fashion silhouettes as much as espousing the latest merchandise and handbags like the new Alma with color art motifs or the small rectangular Petite Malle with black and white graphics.
Perhaps it is a better model that is totally in sync with the digital era where fall or spring or resort or pre-fall seasons are just another screen image, and whatever image is on the actual screen now is the most relevant. Maybe it is also time to abandon that kind of attachment to signature and DNA codes when confronting this reality in this time frame now.
While the show won't move the needle of fashion history, it will surely make everyone see what fashion is like now rather than projecting forward.
That is exceptionally well-made clothes with built-in craftsmanship and the attributes of today's flavors. It does provide fodder for how young women are wearing clothes now. That is critical as a fashion message, even if these clothes will only see a more limited distribution within the LV network of global stores.
The last model stood for a few seconds in silence in front of the Winged Victory of Samothrace, a second century B.C. marble with its billowing drapery and grand theatrical stand.
The heroic and statutory drapery of the past on the pedestal meets with the fashion's mixed aesthetics now, standing on the marble staircase.
---