---
Review of Louis Vuitton "Peculiar Contrast, Perfect Light" Fall 2021 Men's Fashion Show
Discerning the Meaning of Codes, Traditions, and Values in Myths, Images, and Words, but Not in Real Clothes
By Long Nguyen
Virgil Abloh, the artistic director for menswear at Louis Vuitton, sure has a grand and transformative plan in his vision for the luxury brand. Especially in terms of creating a giant business and creating a space where lofty ideas are tossed around, and in this case, can be made into concrete apparel, accessories, and footwear.
In a live stream show billed as a multi-prong performance, complete with a film prelude leading to three different acts with a set design by Play Lab, Abloh intended to show the gap that exists how people are portrayed as archetypes and how these inaccuracies are perpetuated over time —ingraining a false sense of narrative, albeit also one of the false fashion story. Abloh wanted to hold up the mirror to redefine how these portraitures are inaccurate and harmful, aka to erase the old archaic societal norms.
The artist-rapper Saul Williams opened the show titled 'Peculiar Contrast, Perfect Light' in a film somewhere in Switzerland's snow mountain wearing a formal black suit and carrying a silver LV trunk.
Familiar characters in everyday society, they are inseparably defined by their uniforms: the dress codes we associate with professions, lifestyles, and knowledge. From head to toe, our minds are inherently trained to outline an archetypical wardrobe to help us identify the individual's character. Often, these characters are tied to societal presumptions of cultural background, gender, and sexuality.

– Louis Vuitton Men's – show notes
The program came in a booklet like those given out at Broadway theaters that specified several of these archetypes like the artist, the writer, the drifter, the salesman, the gallery owner, the architect, and the someone with the label 'me' presumably the designer or perhaps even you or me.
Using the author James Baldwin's literary work whose 1953 essay Stranger in the Village posited the bi-fork story of a black American in Switzerland and America in the 1950s and how a dichotomy exists in how people looked and interpreted his being. Abloh channeled Baldwin's premises into his own experiences of being a black designer or black artist at the center of European art. Thus his constant quest since arriving at Louis Vuitton in 2018 seeks a rebalance in the way race is portrayed and engaged in fashion.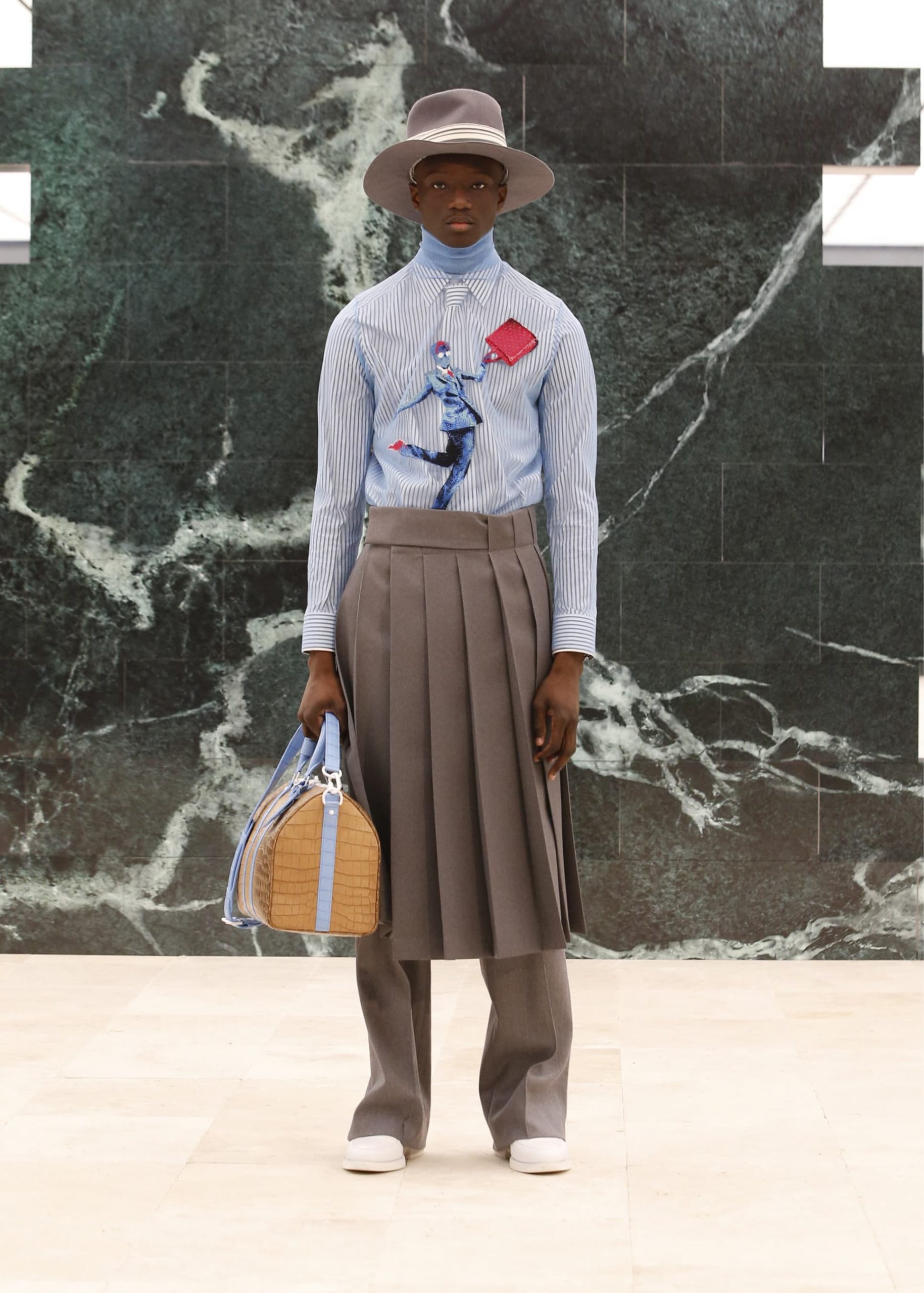 For this fall collection show, Abloh's mission is to preserve the traditional codes but to change the values these codes represent or, as the designer said, how to apply these techniques – traditional crafts and knowledge – to his design methodology, "imbuing the grammar of recognized archetypes with different genetics."
The collection is a mixed bag of formal and casual looks ranging from a tailored slim-fitted two- buttons light brown suit, a red tartan pleated skirt, and a white double breast jacket or the range of blousons more casual looks. Evermore conscious of the pervasive and even now in a much more quiet way that the streetwear aesthetic completely has permeated throughout youth culture, there are sufficient amount of commercial clothes with ten of the show looks featuring variations of the LV monogram logo – a green denim painted jacket/pants, a silver transparent suit, and a varsity jacket with embroidered LV logo.
It is unclear which kinds of clothes these new archetype characters wore now – is a look of a belt rust wool coat with a striped shirt, pants, and a newspaper the look of a salesman or an artist? Is the look of a pinstripe vest and pants and high elbow glove the look of a writer or a gallery owner? Is this look of a black tunic top, a pleated skirt, pants the look of an architect or a hotelier or a drifter? Is the look of a black pinstripe single breast suit the look of a banker or 'me' or a writer?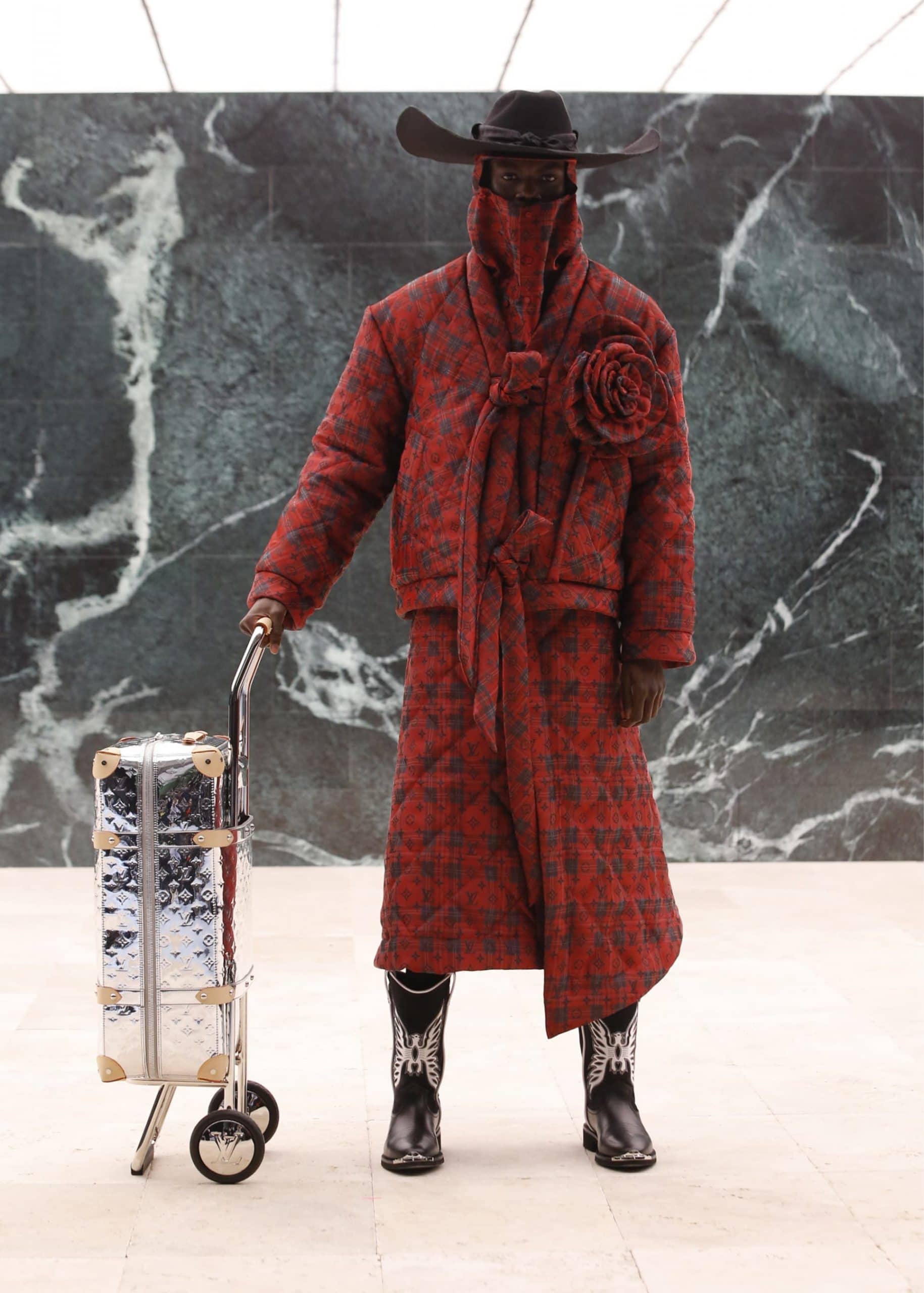 But beyond the clarity of the portrayal or, more precisely, the mischaracterization of all the arch-type characters that Abloh put forth, the designer did little to offer any solution or an exit strategy, at least in the sartorial sense.
Missing at the center of all of these is that the designer did not offer any specific solutions to what post-racial or more color-blind man should wear – and these fall clothes are not part of this answer, leaving a giant void in the middle of the designed stage as models strode around the vast open space. The show would have been stronger if there was a clearer way to show clothes how images and archetypes are misconstrued.
"Provenance is reality, while ownership is a myth: manmade inventions now ripe for re-invention," as the show program stated succinctly.
Yet none of the fashion looks shown here are new. Instead, they are recycled from existing fashion. A long and flare camel trench coat and a giant green trench worn over a mustard suit recalled the Infiniti Exaggerated trench coat by Glen Martens for Y/Project Spring 2020; the black, red windowpane suit with a single-breast knee-length wool coat and the red wool coat and black suit recalled those suits from Balenciaga Spring 2019; and again the elbow-length broad shoulder white shirt and green pants reminisces another Balenciaga menswear debut collection from Spring 2017. And the 'denim' jacket with the tall skyscrapers? Take a look at the finale look from Dior Haute Couture fall 2019 collection with the gold House of Dior dollhouse by the artist Penny Slinger.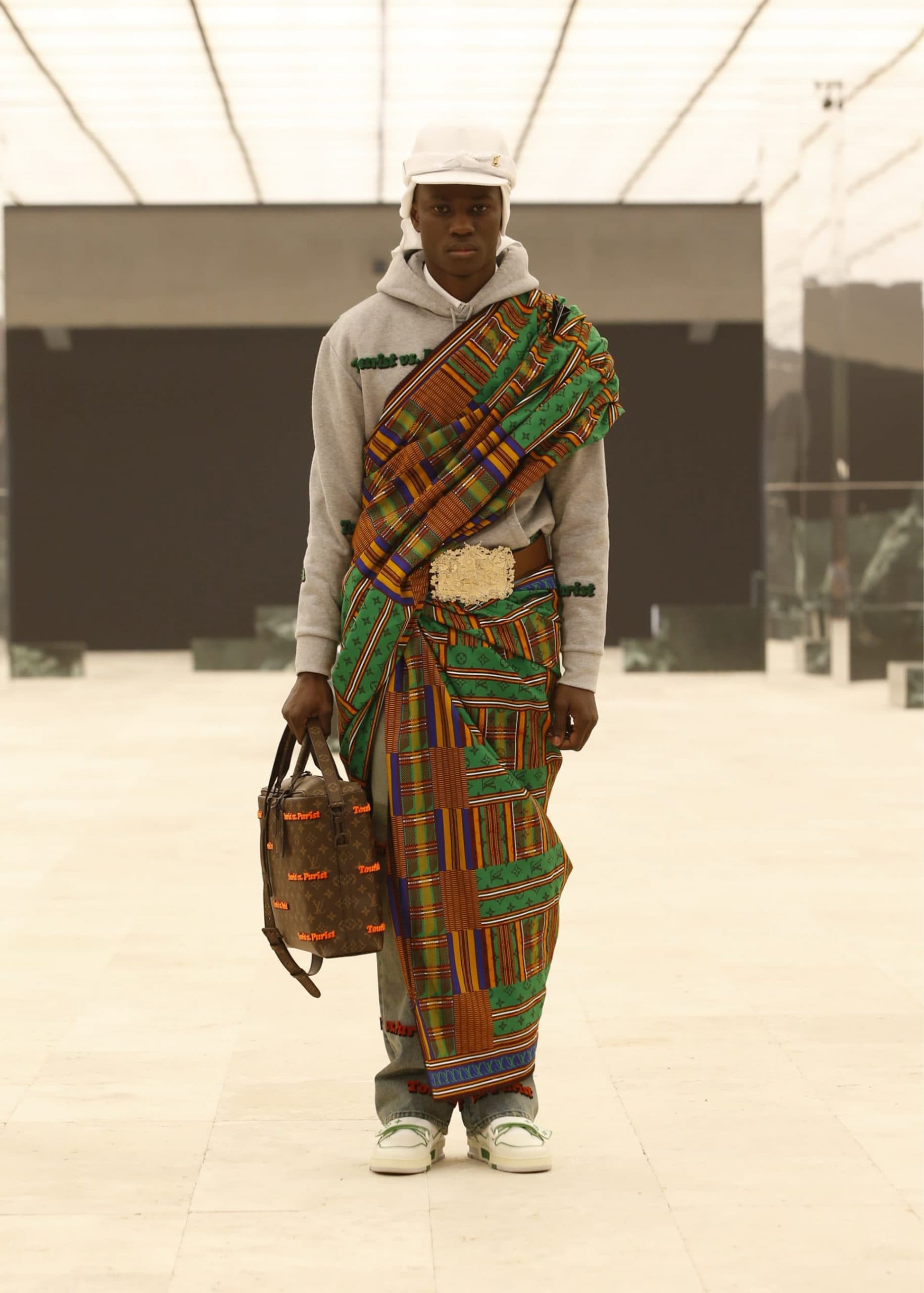 Unclear and left undefined from these propositions in this show are the difference between codes and values, at least at the idea level.
But is this how the fashion from the world's biggest luxury brand should look? In the lineup of images post-show, of the total 70 looks shown in this runway show, only 12 looks – 9 to be exact since the 'building' sculpture looks don't require accessories – are shown without a handbag – whether large Keepall or smaller purses. The priorities here are the new fabulous bags. However, the logo pieces will be sure to be commercial hits. In conjunction with this show, a popup show has been opened in Paris since last week with new and retrospective reissued eyewear items, jewelry, and sneakers up for grabs but not clothes.
---