---
Review of Louis Vuitton Fall 2022 Men's Fashion Show
A Place Above the Clouds
By Mark Wittmer
The sudden loss of Virgil Abloh still echoes throughout the fashion world after his passing in November of 2021. Even as he led a private battle with cancer for years, the iconic designer – Louis Vuitton Men's artistic director since 2018 – almost never slowed down his creativity, output, or positive spirit. Balancing playfulness and sophistication, Virgil's work for Louis Vuitton in particular felt like the embodiment of his creative goal to lift people – especially young men of color – out of the constraints of the present and look towards a brighter, freer future.
Louis Vuitton's Fall 2022 men's show shared Virgil's final collection, which he had nearly completed before his death, and was finished by a team of in-house designers. The presentation was a beautiful sendoff for a man whose work and life was dedicated to using creativity as a force for positive change.
Emerging from the all-blue space as if rising into the sky, the show's set is a deconstructed dreamhouse, with elements of a roof, a bed, and an expansive dining table at which the orchestra is seated. The set recalls Virgil's common theme of dreams, as well as their embodiment in his frequent visual motif of clouds. But the emotional atmosphere, staging, and design of the show takes us somewhere beyond the clouds, a place between dreams, heaven, and reality.
Models, dancers, and performers enact a symphony of motion throughout this in-between space of endless possibility. Walking, they collapse to the ground, eventually rising again. Models leave their circuits and climb across the roof, sometimes alone and sometimes supporting each other. Acrobats fall off stairs to be bounced effortlessly back up by hidden trampolines. The spellbinding performance was thanks to the work of theatrical director and choreographer Yoann Bourgeois, an innovative theatrical artist who collaborated with Abloh before the designer's passing.
The collection itself is infused with all of Virgil's signature sense of remixing and liberating sartorial categories he developed during his tenure at the maison. The first two looks, both sharp black suits, create a funerary sense of somberness and dignity, before a world of color slowly unfolds.
French luxury heritage mingles with American hip-hop and streetwear style. Embroidered varsity jackets, a common piece, provide a youthful sense of athleticism, but their masculinity is subverted as they are paired with lacy, layered skirts.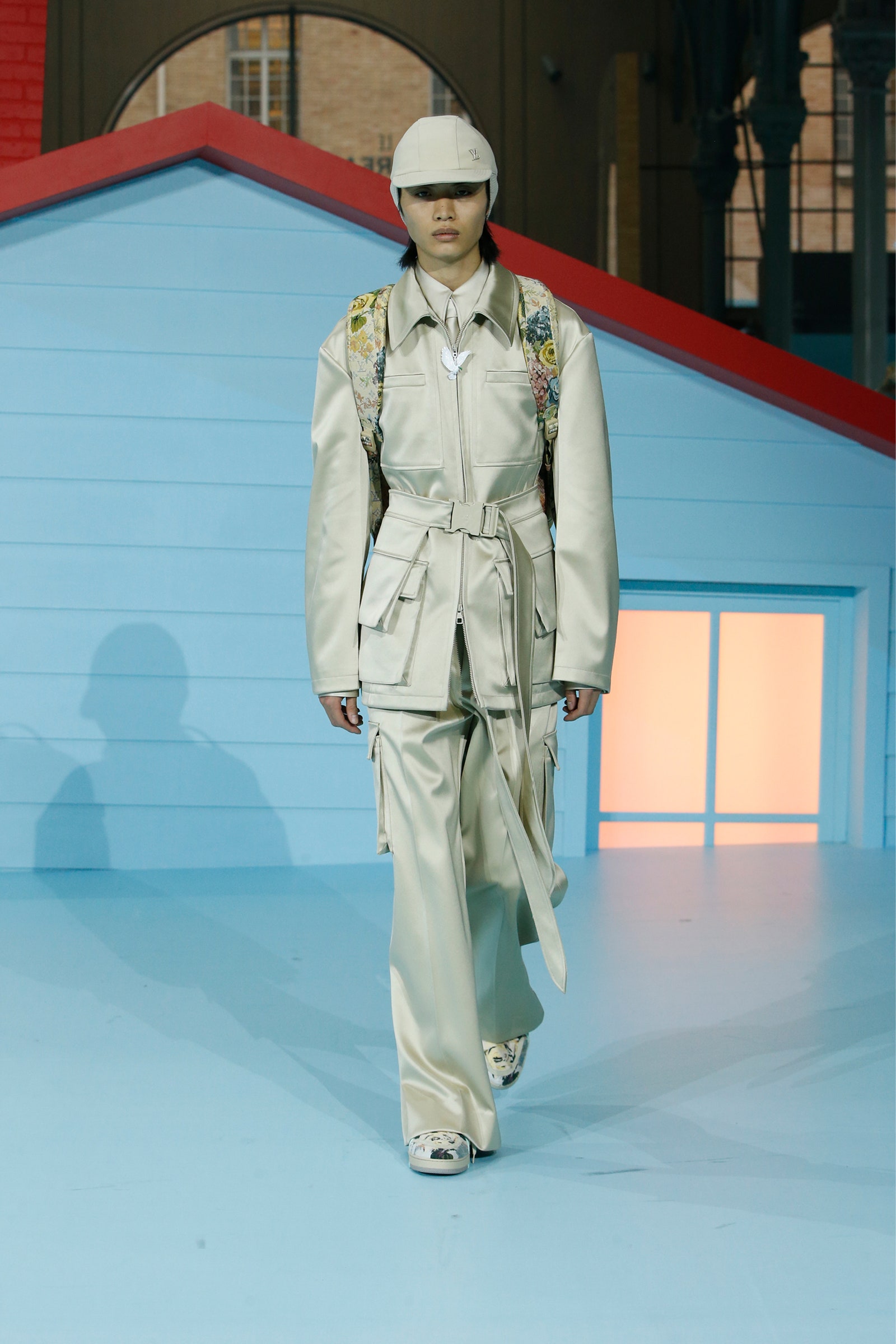 The designer's sense of romance and imagination runs even freer than before, embodied in flower prints and animal hats, masks, and hoods that remind us of his constant exploration of boyhood and play."
Other prints reference alchemy, art, and anime. The funeral attire that began the show eventually transforms into the white veils and lace of a wedding: an end of life becomes a new beginning, a ceremony of love.
Virgil Abloh was a singular creative, a dreamer and doer who largely defined his generation and, what was perhaps even more important to him, inspired a new one. Infused with his spirit and graced with his presence, the show was a beautiful look back at his creative legacy, and an important celebration of the ways it will always continue to affect us.
---