Louis Vuitton Host Objets Nomades Event In Miami
The Louis Vuitton women's store in the Miami Design District showcases an extensive selection of Les Objets Nomades.
A brightly colored animation inspired by the Aguacate, an Objet Nomade designed by the Campana Brothers will be the star of two of the store's large show windows. A recreation of the Brazilian designers' avocado-shaped Objet, this delightful piece of wall art creates a captivating play of light and reflections with triangular, vividly colored mirrors.
Showcasing nearly 40 different Objets Nomades, the inside of the store offers a rich, warm and enveloping environment by renowned designer Patricia Urquiola. The Spanish artist's "Mesmerizing Desert Landscape" offers surreal, desert-like environment that blooms together with the design pieces. New versions of existing Objets Nomades will also be on display, including an exclusive edition of the Campana Brothers' iconic Cocoon Chair featuring a leopard print inspired by Louis Vuitton's Pre-Fall 2021 Wild at Heart Collection and striking new versions of Patricia Urquiola's folding Palever Chair and hanging Swing Chair, both in a rich Caramel Purple.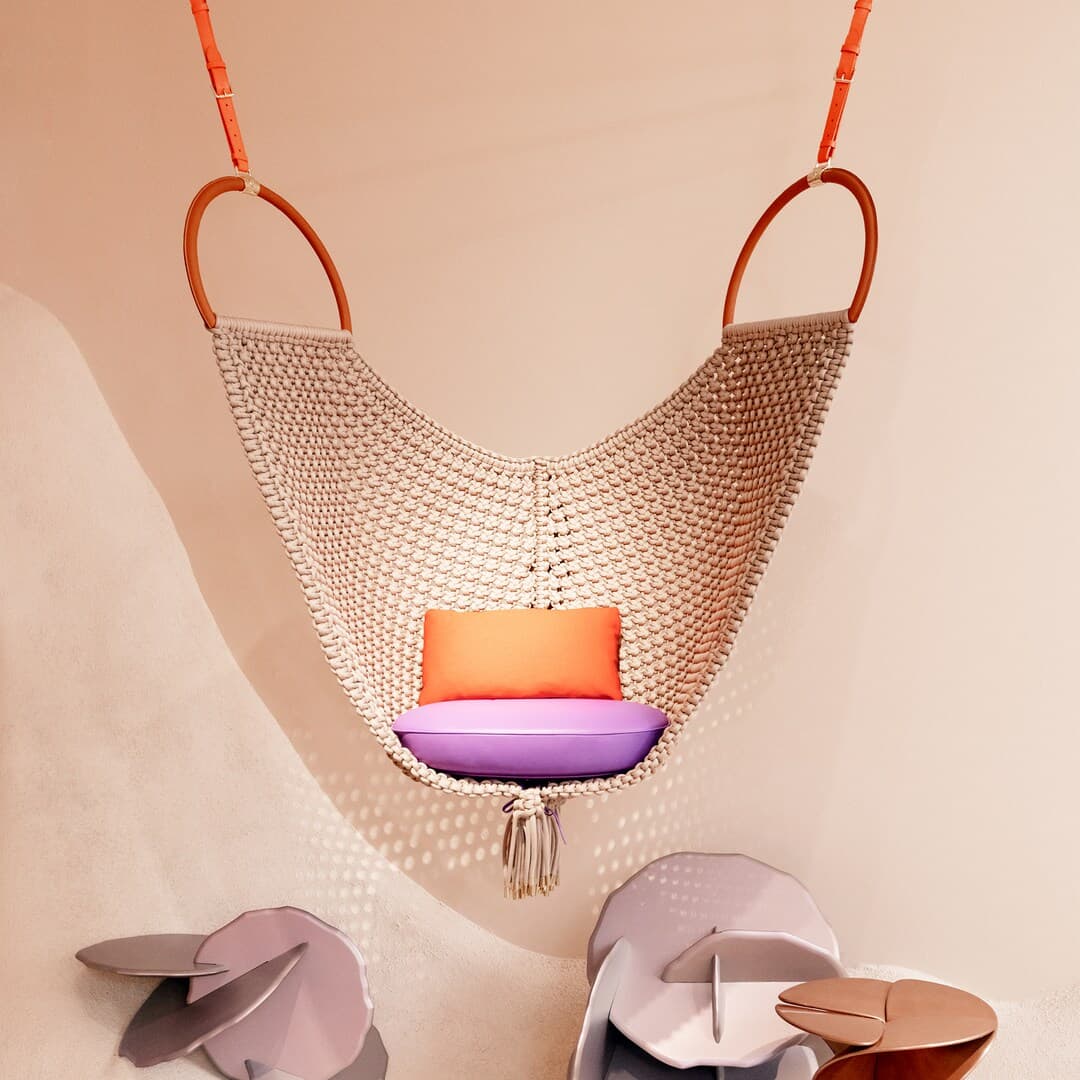 Other Objets Nomades, including the Aguacate, will be on show throughout the strikingly redesigned store, as well as an eye-catching chandelier created using iconic Bell Lamps by Designer Barber Osgerby in 2012. The newest Signature Sofa by Frank Chou and furniture supplied by Paola Lenti grace the roof terrace, which offers stunning views over Miami.
Additionally, Louis Vuitton has also partnered with Design Miami/ to present, for the first time, a digital storefront at Design Miami's online marketplace, offering a curated, travel-inspired collection of Les Objets Nomades.
Since 2012, the Louis Vuitton Objets Nomades collection of inventive, creative and functional furniture and objects has expanded to welcome creations by an ever-growing roster of renowned international designers, including Fernando and Humberto Campana, Atelier Oï, Raw Edges, Tokujin Yoshioka, André Fu, and India Mahdavi. Both inspired by the Maison's 160-year-old Art of Travel and a reinterpretation of that essential spirit, each Objet Nomade is an expression of a unique combination of its designer's creativity and Louis Vuitton's unparalleled savoir-faire.
---