---
Review of Louis Vuitton Spring 2022 Men's Fashion Show
AMEN BREAK
Lofty Ideas of Cultural Transcendence in a High Art Film, but the Clothes Don't Tell Their Own Stories
By Long Nguyen
The short film for the Louis Vuitton men's spring 2022 collection presentation is nothing short of major movie production, complete with a staggering cast of actors, a sort of screenplay, and a lengthy set of production notes.
The fashion short film titled 'Amen Break' took after the seven-second drum beat widely sampled in popular music created by the soul group the Winstons in 1969 and released as a B-side to the single 'Color Him Father' and performed by Gregory Coleman.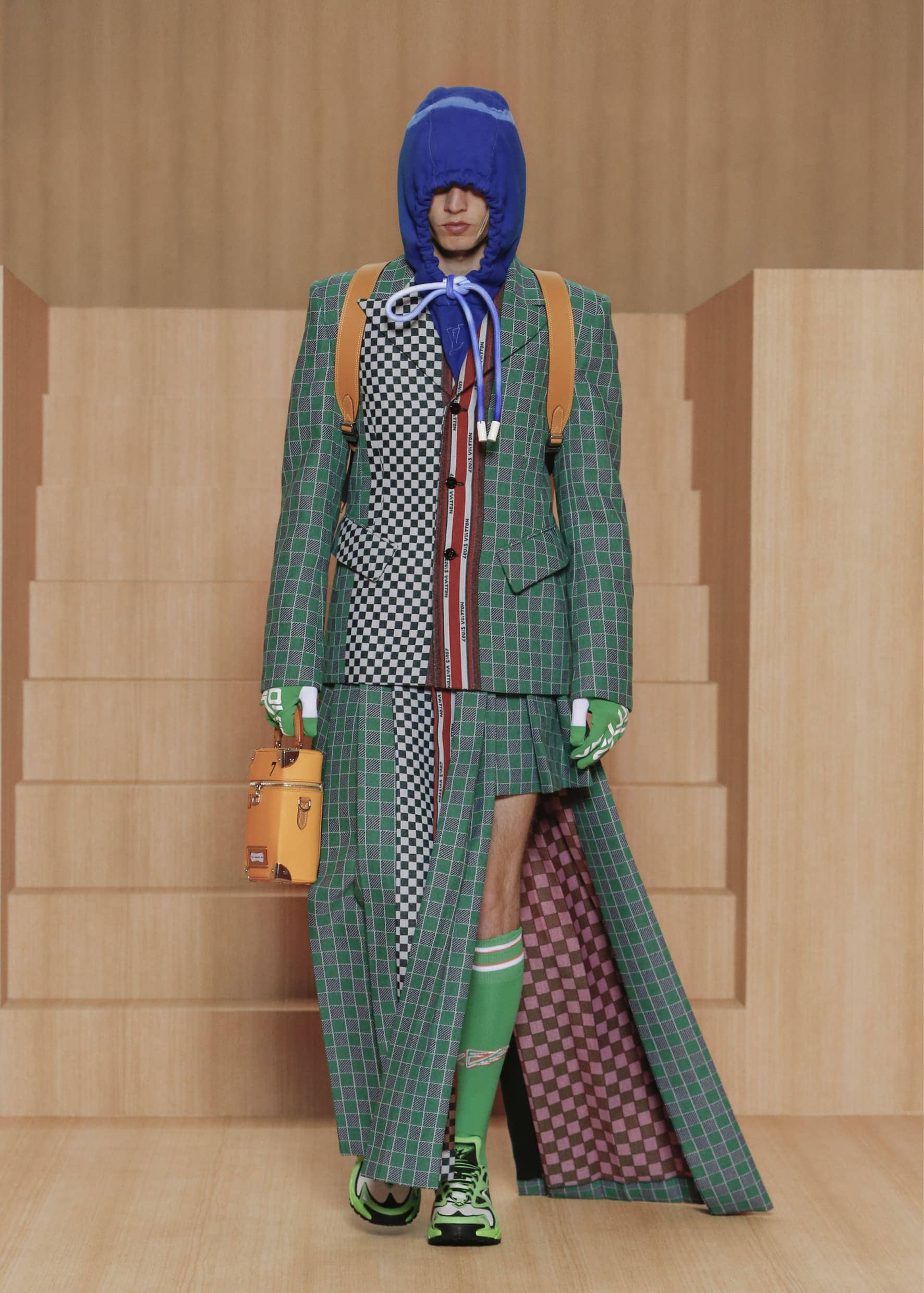 Directed by Mahfuz Sultan, the main narration centers on the story of transmission. They passed an idea or an object from one person to the next or from one generation to another. A father and a son cross into a dreamscape to deliver a message to people on the other side while encountering obstacles and saviors on their arduous journey.
It is also a story of the Chicago artist and rapper Lupe Fiasco and his father, who organized martial arts for the neighborhood kids in the 1970s and 1980s to prevent young people from falling into trouble. The values taught in martial arts helped guided these youth away from hazards inherent in the social fabric of the times.
Fast-forward to 2021, Virgil Abloh, the men's artistic director at Louis Vuitton, deployed all these different facets of cultures and subcultures across eras to create each of his collections since joining the house. In addition, the artistic director meshed these accouterments as fashion symbols and clothes highlight and re-contextualize these known and forgotten cultural drivers for society at large and certainly for fashion.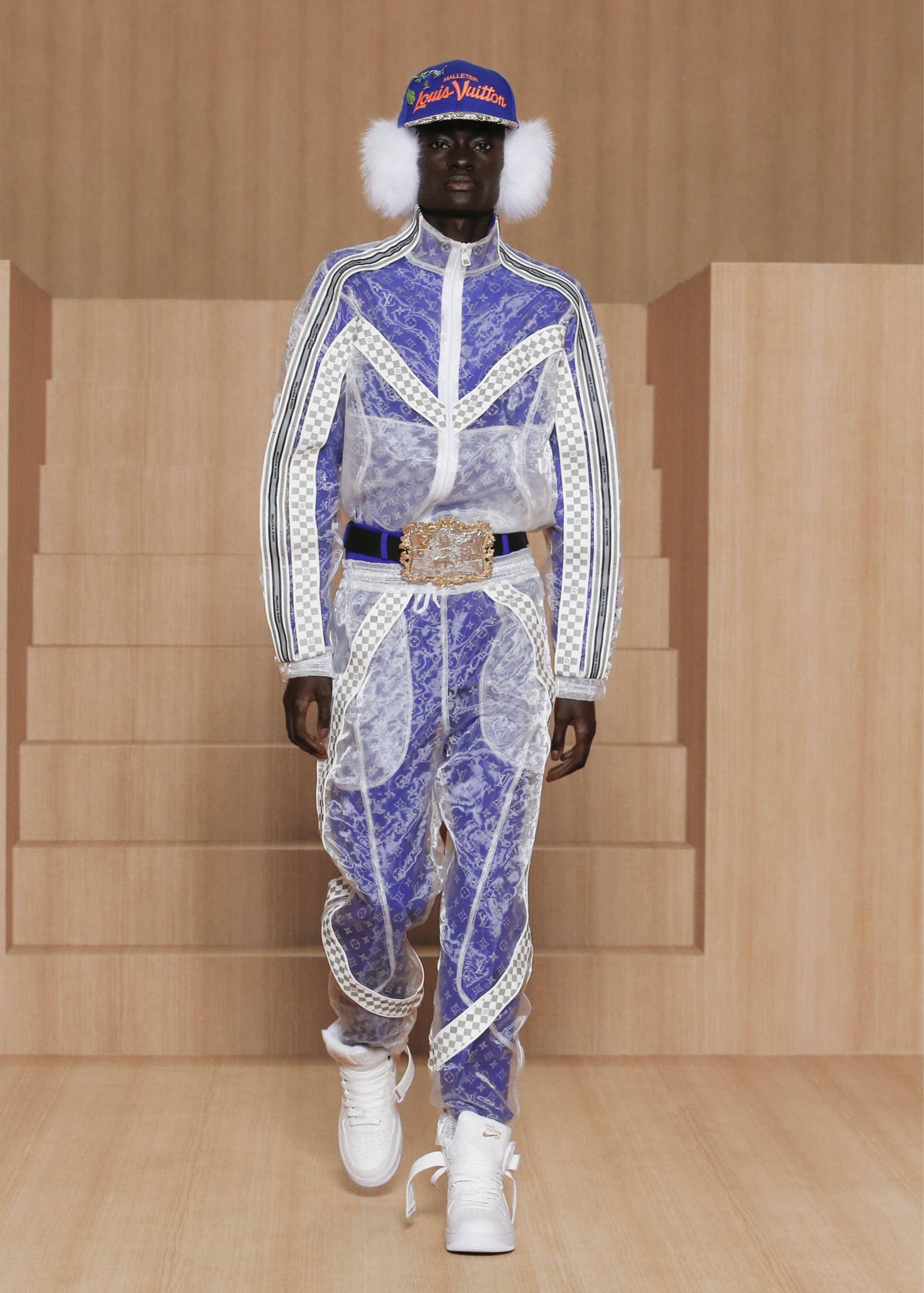 Here in this spring 2022 collection, re-contextualization means throwing menswear staples like suits, tracksuits, shirts, t-shirts, pants, and sneakers into a giant subcultural washing machine.  After a rapid spin, out come the new clothes, all blessed with bits of rave, martial arts, gambit, sports, metal, and hip-hop like the 'rave flyer' car coat and shorts in printed leather. 
The 73 looks collection is broad and contains all the essential ingredients with an eye towards specific items rather than a collection stemming from a singular theme.
This spring 2022 collection is a perfect re-contextualize of particular items. The range of accessory adapted to new needs and new contexts are extraordinary. See, for example, a tiny monogram trunk box.
But, what about the clothes?
Amen Break's solo drumbeat underpinned a revolution in radical hip-hop and spawning huge influences in genres of music jungle, rock, pop, and metal from the mid-1980s. It is hard to see how this spring 2022 collection over-saturated with cultural references and inferences can alter the direction of men's fashion or influence how men dress.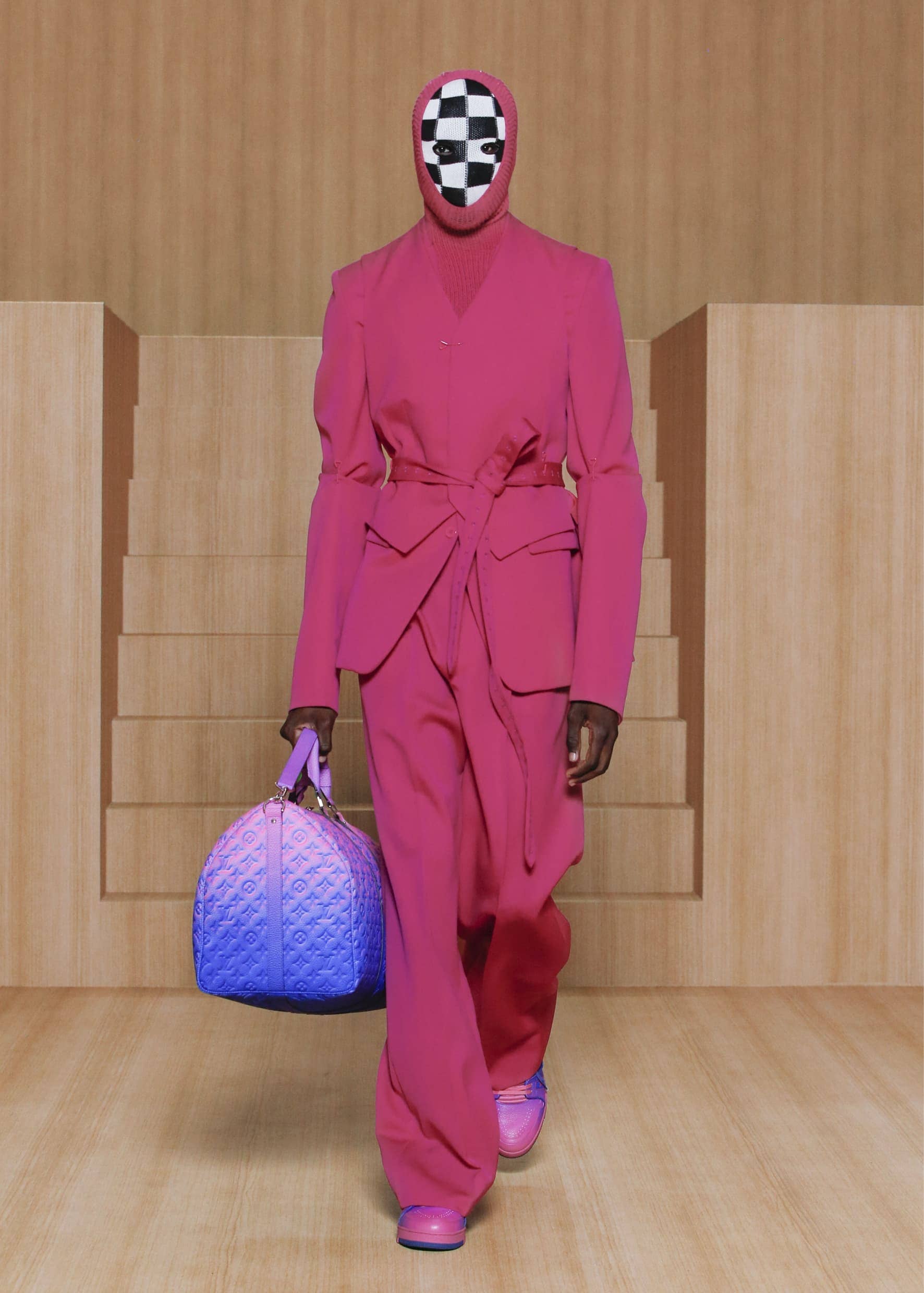 Much of the actual clothes are not new in terms of the proposed slouchy and slim-fitted tailoring silhouettes, and colors like the blue and the Fuschia suits are not new, and perhaps they are not intended to be unique. Indeed, the other main event here is the launch of the Air Force 1 with Nike that will surely be as a huge seller as the Dior Air Jordan collaboration from Fall 2020.
There is a feeling of a sensory overload in looking at these vibrant and colorful outfits in detail.   So many global references are merging, so many subcultural styles converging. So many boxes delineating elements of the zeitgeist ticked off that, in combination, are at best confusing. 
Case in point – the green wool jacquard Damier checker patterns broad shoulder single breast jacket with a matching long front slit skirt and a shorter skirt underneath. There are black and white checkboard stripes and red and white logo stripe running along the front brake lines of the lapel. A deep blue hooded sweatshirt, neon green gloves, a small yellow Vertical Box Trunk, a backpack, and sneakers complete this look.
The documentation notes on the thinking and concept behind each of the ideas explored for making this film; for example, black and white drawings of clothes worn in different situations like one drawing of a person at a day then another at a night job. On pages 8 and 9 are the two images of a person in a suit, one in a tracksuit. Is the purpose here showing in the collection how these two anchors of menswear have intersected and have influenced each other?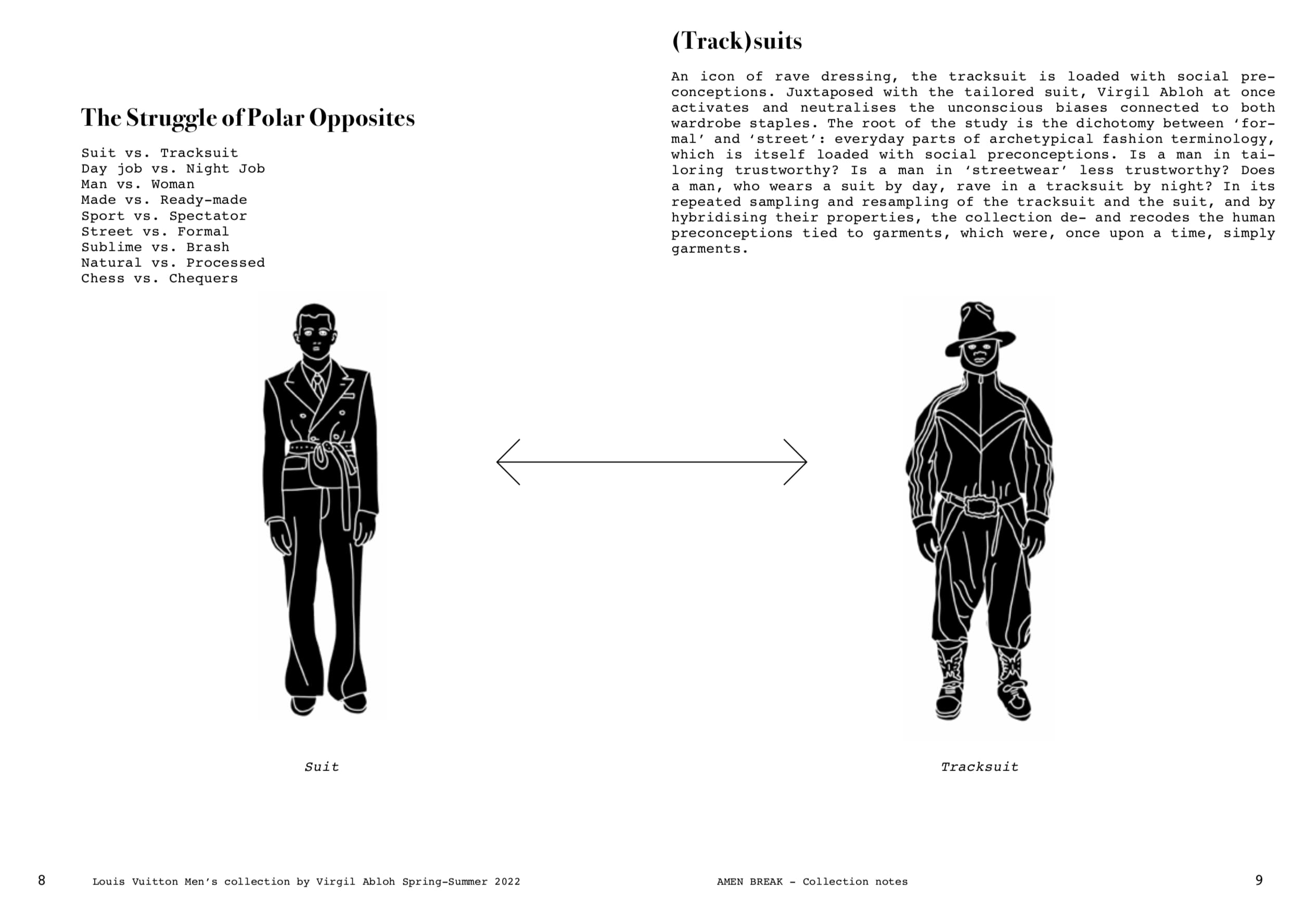 There are tracksuits like the black and blue tracksuit with Damier piping, and there are suits like the deep violet belted wool single breast pantsuit. But missing is the sartorial discourse on how these polar anchors impact each other over the decades. That would have been an interesting observation, at least told through garments, not ideology.
In addition, this spring collection has all the elements that cater to the idea of genderless embraced by the critical Gen Z youths. But, rather than the idea of genderless, it is just the manifestations of the physical clothes – a belted wool vest and shirt over a technical wool wrap skirt, a deep violet skinny skirt, and pants or a green skirt with a white sweater – not any inherent and defining notion.
What does an oversized purple jacket and a long pleated wrap skirt, or better yet, a logo football jersey with a black ballgown flare crinoline skirt, telegraph genderless at this point? How does a tie-dyed white, pink puffer coat and a matching tie-dyed crinoline long flare skirt feel gender fluid? 
It's genderless in form and clothes, not in emotion. 
The younger generation experiences gender fluidity more directly with the young designers working in this past decade, like Shayne Oliver, Telfar Clemens, Rio Uribe, Arturo Obegero, Luis de Javier, Ludovic de Saint Sernin, Rad Hourani, Pierre Davis, and Alejandro Gómez Palomo. On the bigger scale, there are Rick Owens and Alessandro Michele at Gucci. These young designers live gender fluidity.
Virgil Abloh's work at Louis Vuitton is far beyond the scope of the immediacy of seasonal collections. 
The artistic director functions as a cultural voice for the giant luxury brand, bringing different dialogues and audiences. From this perspective, this spring 2022 collection indeed has that zeitgeist in the currency of recombinant subculture. Better yet, seen from society's attitude and culture at large, the idea of this collection and the implication of the attempts to connect cultures across the board are significant. 
Abloh is leading Louis Vuitton into new social and cultural territories.  
Yet, one question still lingers, though, concerns the evolving relationship between luxury fashion and social progress. Is fashion significantly behind society at large in terms of progress say on diversity and inclusion?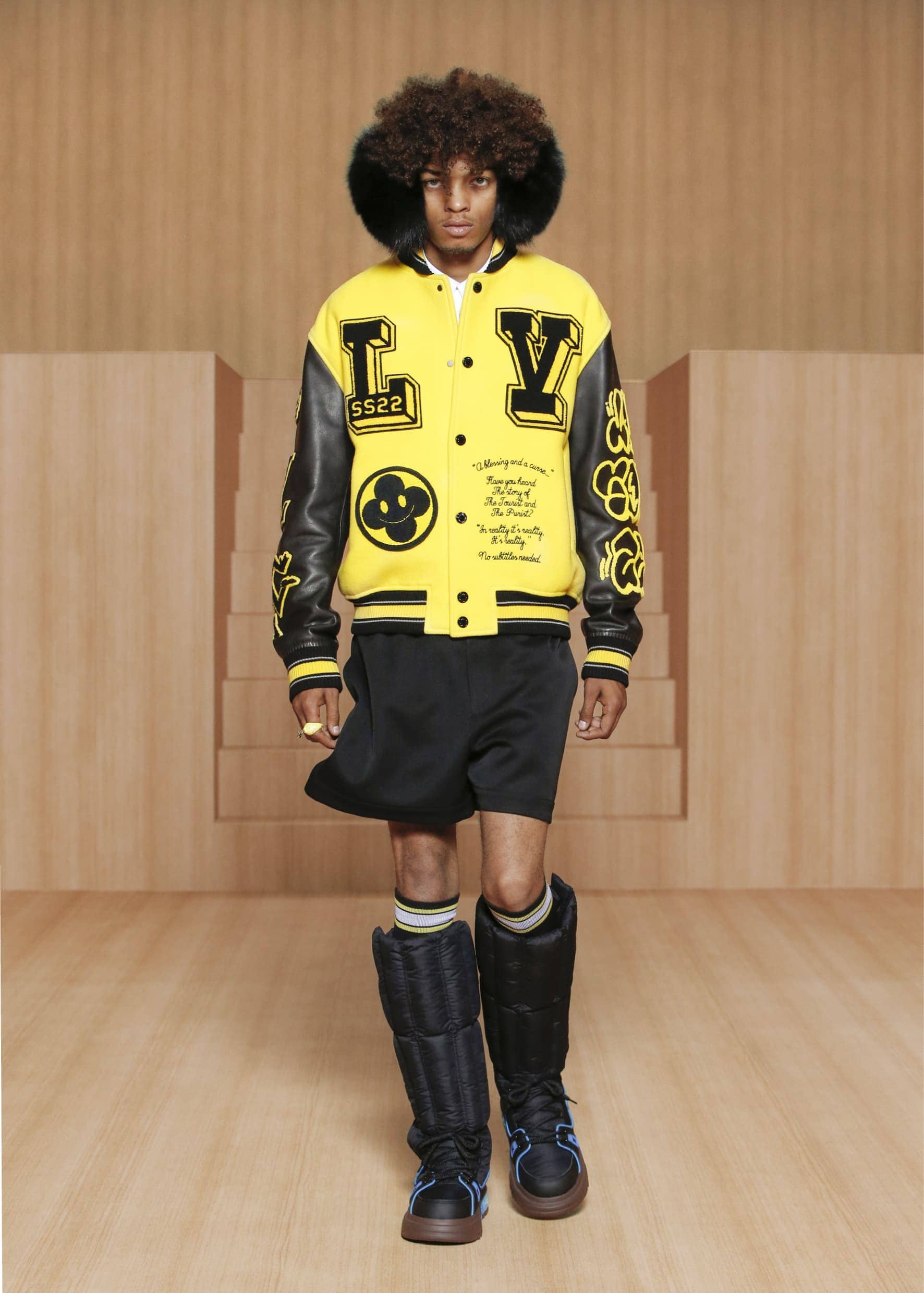 Can fashion, or can the leading luxury brands lead on social progress, especially in the aftermath of the rise of Black Lives Matter last June? That uprising across the country sparked vehement introspection in the fashion industry, resulting in a sleuth of upper-echelon corporate hiring of diversity officers to address the evident disparity of racism despite any denial of denial.
The multiple anti-Asian assaults earlier this winter and spring saw another rush of luxury brands posting #stopasianhate. Wonderful. But, when a real video surfaced of a dinner celebration where guests chanted 'Wuhan Girls. Wahoo" while wearing Asian face masks attended and posted by the music impresario working for most of these luxury brands over decades, well the reactions of luxury fashion was total silence. Black squares postings do not contribute to social progress in any way.
It seems that luxury fashion is a lot slower at changing its operating standards than society, which has seen deeper penetration of progress, especially among the young generation. For these kids, the complicated questions surrounding integration are at best absurd, and those who took to the streets do so to deny the arbitrary separations that aren't any part of their lives.
Meanwhile, everyone will be waiting for the Louis Vuitton x Nike Air Force 1 to drop, no matter what. 
---