---
Two revered and established designers work nostalgia on Paris day 3
Looking to the past, John Galliano gave all sorts of Britain's WWII uniforms a fresh perspective at Maison Margiela while Dries Van Noten collaborated with designer Christian Lacroix on a breathtaking, once in a lifetime collection. But each infused a touch of today's quest for recycling and upcycling.
MAISON MARGIELA
Everyone reacts differently to troubled times. Some, like environmental activist Greta Thurnberg, openly protest while others react in a quieter way. Such is the case of designer John Galliano in his latest effort for Maison Margiela. Galliano, with years of experience beyond Thurnberg, had a very public falling out captured on social media and now prefers to stick to the craft quietly. Hopefully the young Thurnberg won't get bogged down by the attention and lose it like Galliano did. But then again, if it returns the focus to your original goal, maybe not all drama is such a bad thing after all.
In Maison Margiela's Spring 2020 collection, the designer prepared to suit up again for "war-time efforts," giving standard issue uniforms from sailors to soldiers and nurses to nuns his deft touch; a little camp and a lot of chic.
Military capes, trench coats – remember their war time origins – and field jackets were luxed-up with printed chiffon overlays and painted graphics for men, women, everyone. (Actually, if any house never paid much mind to gender roles, surely that is Maison Margiela). A tight-fitting cargo short utility jumpsuit doubles as an evening dress for today's social pulling double-duty. Traditional British collegiate tailored coats punched with holes recalled camouflage military mesh nets and played upon the notion of "contemporary polka dots and a proposal for upcycling," according to the post-show release. A puffy white coat modeled after a hospital mattress, a classic Galliano play, was the perfect comfort accoutrement of the times.
The release also explained the show examined how distorted history and truth are "trivialized through the chaotic noise of social media debris," somewhat "hacking" our memories. With Boris Johnson in charge in Galliano's homeland and the wave of nationalism sweeping Europe, there's no time like the present to stand up for justice like those fighting tyranny in World War II did. He gave those serving their country in the past a glamourous makeover, perhaps channeling his own experience while at it.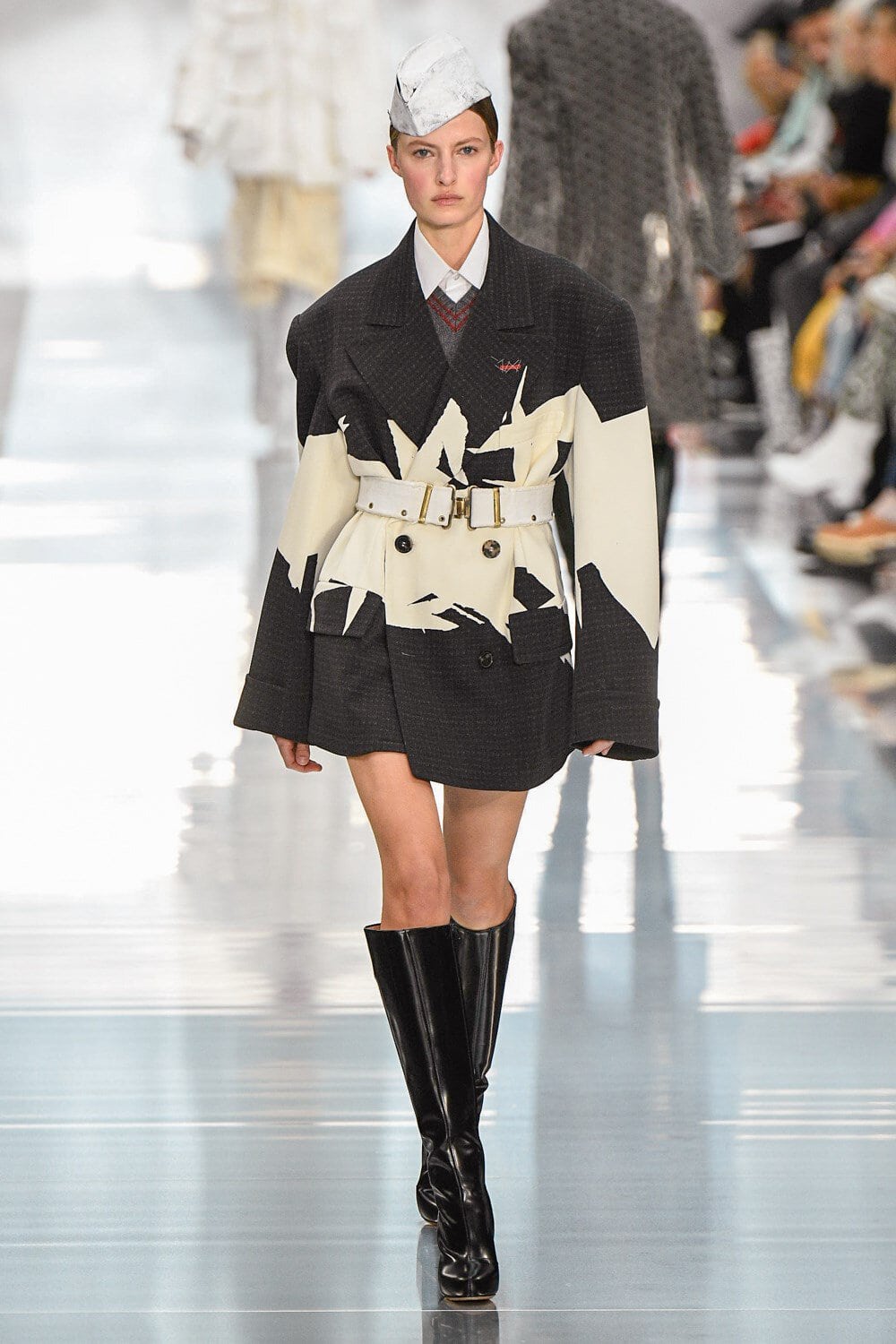 DRIES VAN NOTEN
Anyone who attended the Sies Marjan men's show in June might have thought that the designer Dries Van Noten has chosen the same cheerful venue with expansive windows looking out over the Place de la Bastille and Paris sky for his Spring 2020 show. Not so.
Instead, the designer surprised guests with a jaunt to an intimate, under-construction, semi-below ground raw space. Exposed, cement block walls; spray insulated HVAC vent tubing and cavernous ceilings would provide a neutral canvas for the clothes that followed. The beauty to behold was on the runway, not the set.

It wasn't the only surprise the designer had up his sleeve. Many of the guests had missed the news scoop released a few hours before the show explaining that Van Noten had paired with one of his own design idols, Christian Lacroix on the collection. More seasoned guests knew that the roses on the seats recalled the days when guests threw a carnation onstage in applause for Monsieur Lacroix's creations.
According to the six-page release that was sent out post show, the idea came when Van Noten was seeking "exuberance, opulence, another volume and fun!" Mission accomplished. The two men began a conversation of creatives. With a mutual admiration, the two met and came together from their opposing yet similar points of view.
For Mr. Lacroix's think: the traditional costumes of Arles in Provence; bull fighting and films of Luchino Visconti. For Van Noten it's drawn from "Dutch protestant austerity, Burgundian opulence and the garden he famously adores." But both men have made costumes for the arts and reference fine art in their work. These rich, layered aesthetics came together for a show that deserves its 9.8 rating by The Impression. It was, as they say, a true fashion moment.
Van Noten is known for patterns and prints mixed just to the right side of chic, exquisite couture-like embellishment and volume. Lacroix's flare for Haute Couture combined with Van Noten's elevated ready-to-wear provided the balance for a collection that is wearable off the runway or Red Carpet and made perfect sense. The magic was just how seamlessly their visions worked together.
Signatures of Lacroix – polka-dot tiered ruffles down one side of a skirt, asymmetrical le pouf sleeves; oversized black grosgrain ribbons, this time artfully applied to a simple T-shirt; matador jackers; animal prints; feathers artfully displayed in the hair; the colors red and fuchsia paired fearlessly combined with Van Noten's steadies; a beautiful barrage of prints, especially faded florals and jacquards combined with class and full airy silhouettes done with modernity. Van Noten referenced Marisa Berenson's character in Barry Lyndon and subsequently used fabrics woven on looms from the same period of the 18th century. These were contrasted with modernity: scanned jacquard prints on cotton and organza, lightweight recycled plastic bottle, and coated paper polyester.
As the piano player who provided musical accompaniment serenaded the final look – a delightful bride in a wispy chiffon and feather-dotted dress – the two designers in nearly matching ensembles took their bow. One couldn't help but wonder if Mr. Lacroix was thinking why the audience wasn't clapping steadily throughout. Of course, people capturing the social media moment on their phones don't have free hands. A lot has changed since he was on a runway. As Noten said, "We have lost maybe the joy of dressing up." Well, this duo's efforts can rightfully be called a return to joy.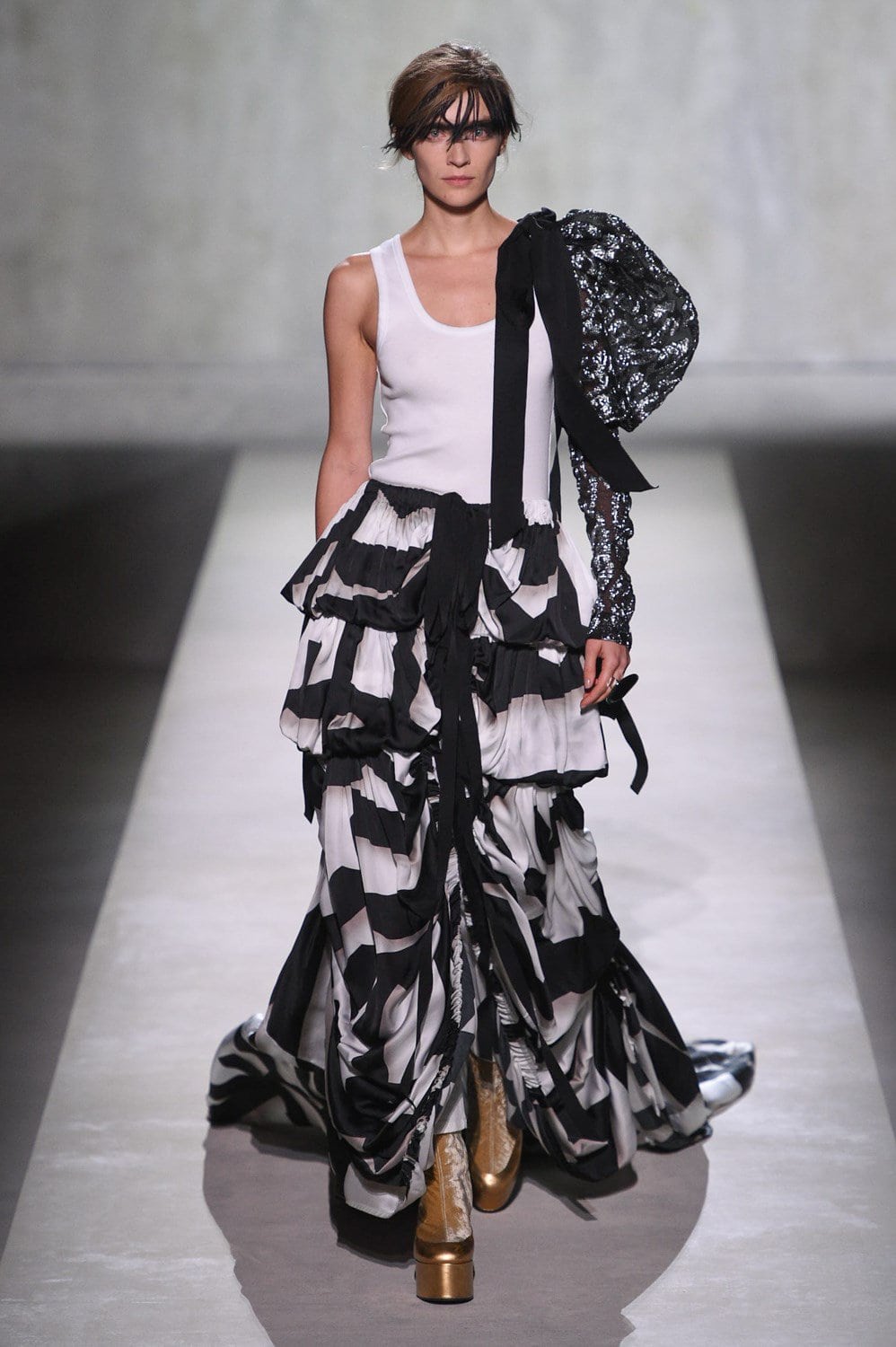 ---