---
Review of Maison Margiela Artisanal Fall 2021 Couture Fashion Show
Alchemy and Transforming the Fabrics and Grammar of Haute Couture
By Long Nguyen
"Nothing thrills me more than to be outside in the moonlight," John Galliano said in the black and white close-up segment of the nearly hour-long fantasy-mythology film A Folk Horror Tale. The film presents the stunning narrative real action story for this Maison Margiela Artisanal 2021 co-ed collection with a powerful chronicle of youths in different centuries interacting through time and their shared clothes.
Directed by Olivier Dahan based on an original concept by Galliano, the sharp and deep Maison Margiela film color contains the three segments of this horror tale. In a well-choreographed and well-directed film of personal transformations through dreams, desires, and actions connecting generations of youths over different centuries, the story told of the youths in a remote village encroached by the sea and haunted by a ghost-like life form worthy of some of the early Star Trek episodes.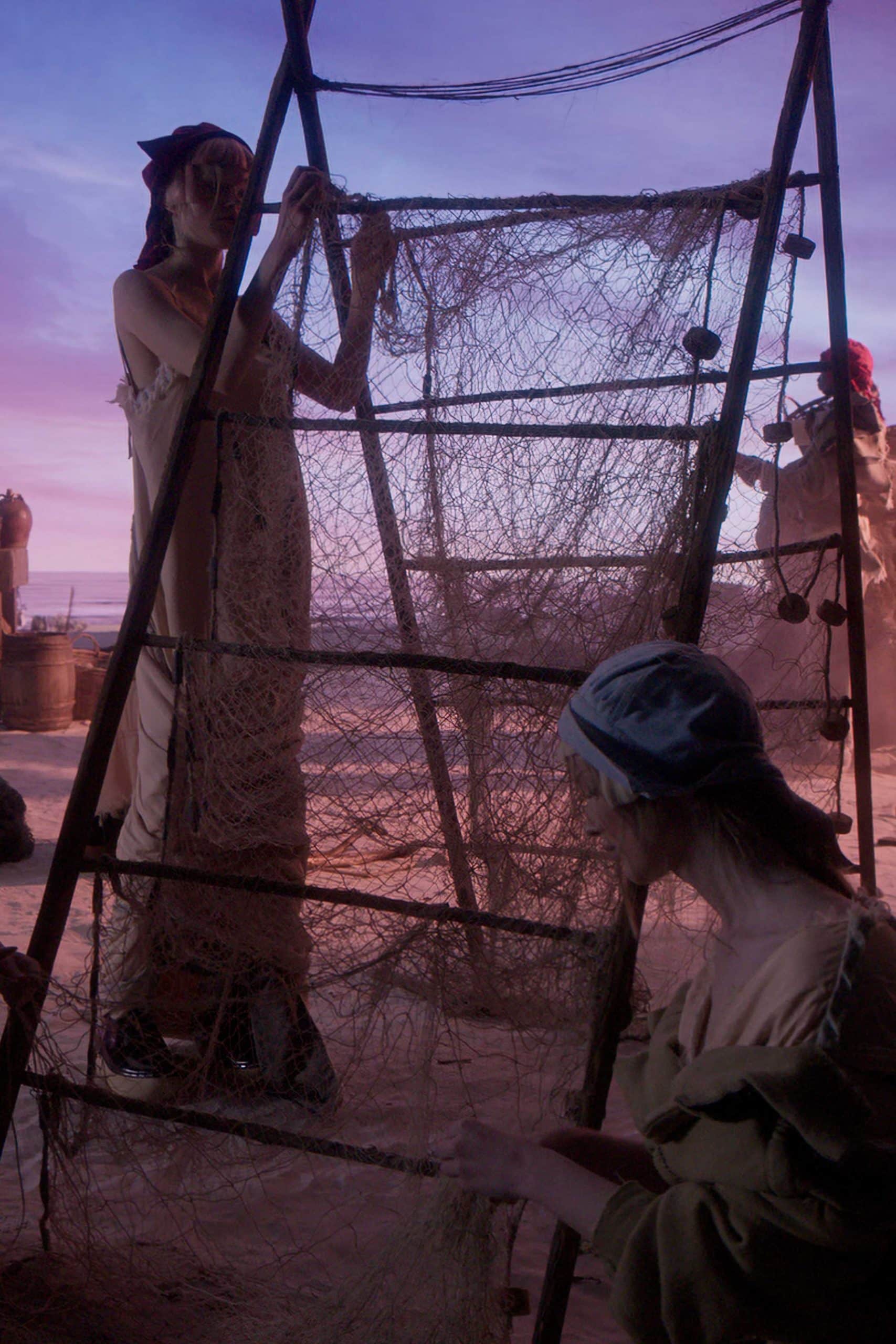 There is an element of generational transfer of knowledge and clothes from one person to another shown in the film in the different time frames. To Galliano, the history of these transfers of clothes from generations contained seeds of stories behind the lives of the people wearing them. A knit sweater can knit together friends and families across time.
Galliano is undoubtedly a master at storytelling, and that starts with how the team made these specific garments of this Artisanal 2021 collection. In his seasonal podcast, Galliano spoke of the loden coat. He has investigated what that garment stood for over the centuries and now under a new dissection.
"We start the collection, and we started many tests with the fabrics and through these processes whether it was washing or stone washing or enzyme discoloration. We started to build up recipes to understand if we do this finish or that enzyme or that wash, and we learned a lot from them, and that informs how we cut the collection. When we went through our recipes, and we understood how things were shrinking or not, all that science, all that alchemy," Galliano said.
In the film, the designer showed how he and his team had enlarged several prototype coats forms to understand how they can increase and shrink the fabric and see to what extent the fabrics resist or not change in color. From these processes, Galliano called 'alchemy,' meaning pushing the fabrics into transformations. The designer then settles how the material will settle in their final excursion of experimentation before assembling and cutting into each of these Artisanal garments.
Since he started over three decades ago, Galliano still talked about the difficulties he still encountered with the bias cutting technique, as the fabrics are 'alive' and it this difficult to achieve complete controls. Bizarrely this was a highlight of his discussion of the processes of his fashion creations, that as an expert on this cut, he still believed he hadn't achieved the perfect way as there may not exist one.
"Alchemy! Through trial and error, we worked out how to find the truth of that fabric, making our paint," Galliano screamed into the microphone.
The Artisanal team develops a new technique called Essorage – the vintage or deadstock materials are scaled up, then wrung into new shapes, then compress back into a new eroded and more natural fabric. These fabrics transform older clothes into other garments in a process called decortiqué in memory of saying a shirt or bustier or convert to new shapes through their linings.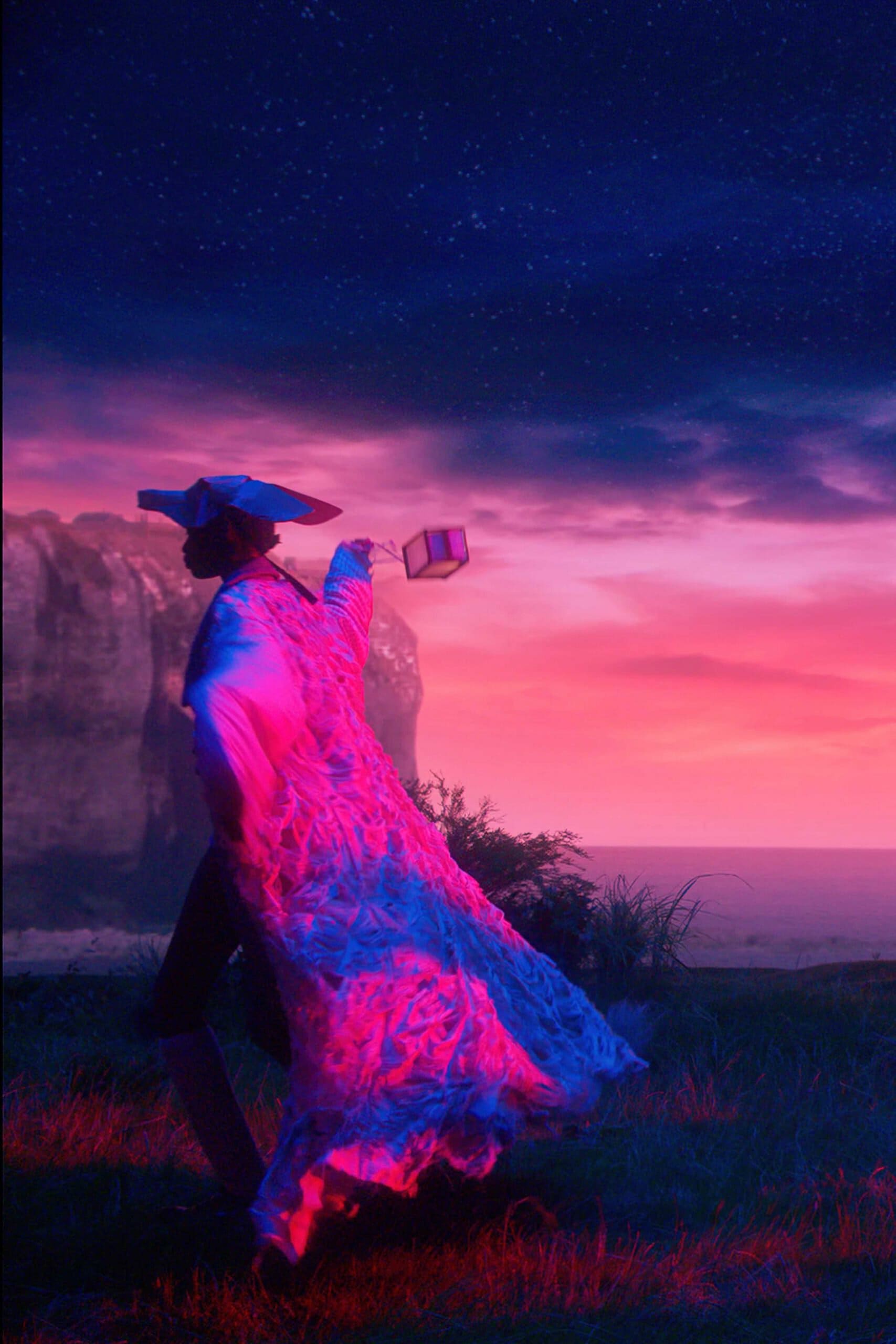 The clothes in this Artisanal 2021 collection are inventive with experimental techniques to fabricate clothes that now have a strong signature that Galliano has developed for the Maison Margiela. The clothes have that Margiela familiarity. They are the new Margiela, though, but with the spirit of daring and of fearlessness.
The expanding and shrinkage process results in a peach enzyme and stone-washed skirt suit cut from the 'anonymity of the lining' process with a green check back panel and frayed trim. The multi-layered skirt suit fits the model like an old pajama as the fabric is worn to conform to a new body effortlessly.
In this enzyme-washed category, a tremendous genderless striped enzyme inside out women's cropped jacket is paired with Recicla denim pants worn in the film and at the fitting by a male model. Another great coat is the sage wool hand painted with silk lining worn in reverse with a light pink cotton vest and embroidered pants.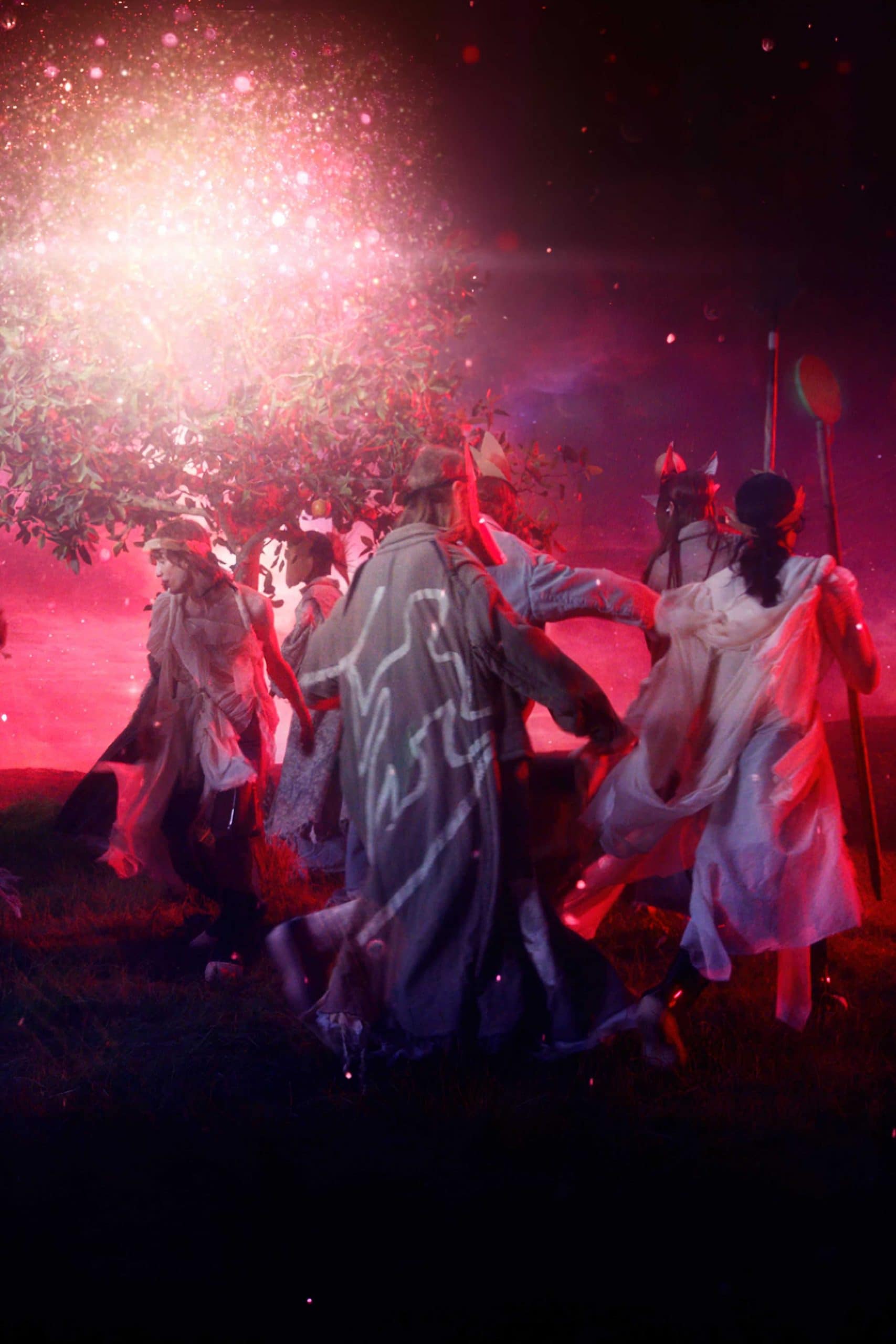 Part of the Artisanal collection is the finding of materials – all dead stock and vintage repurpose. On one hand-embroidered white wool jumper, the whole team made different badges of embroideries, then sewn them together. But, the star look of the film remains the broken mirror dress made from assembling broken stained glass fragments laced with leather into patterns and stitched them together into a long strappy dress – in the film, the dress and a matching crown convey the power of magic.
Other standout looks include the white tier lace patchwork blue vintage fabric dress and two coats spliced together paired with a light blue vest and white briefs.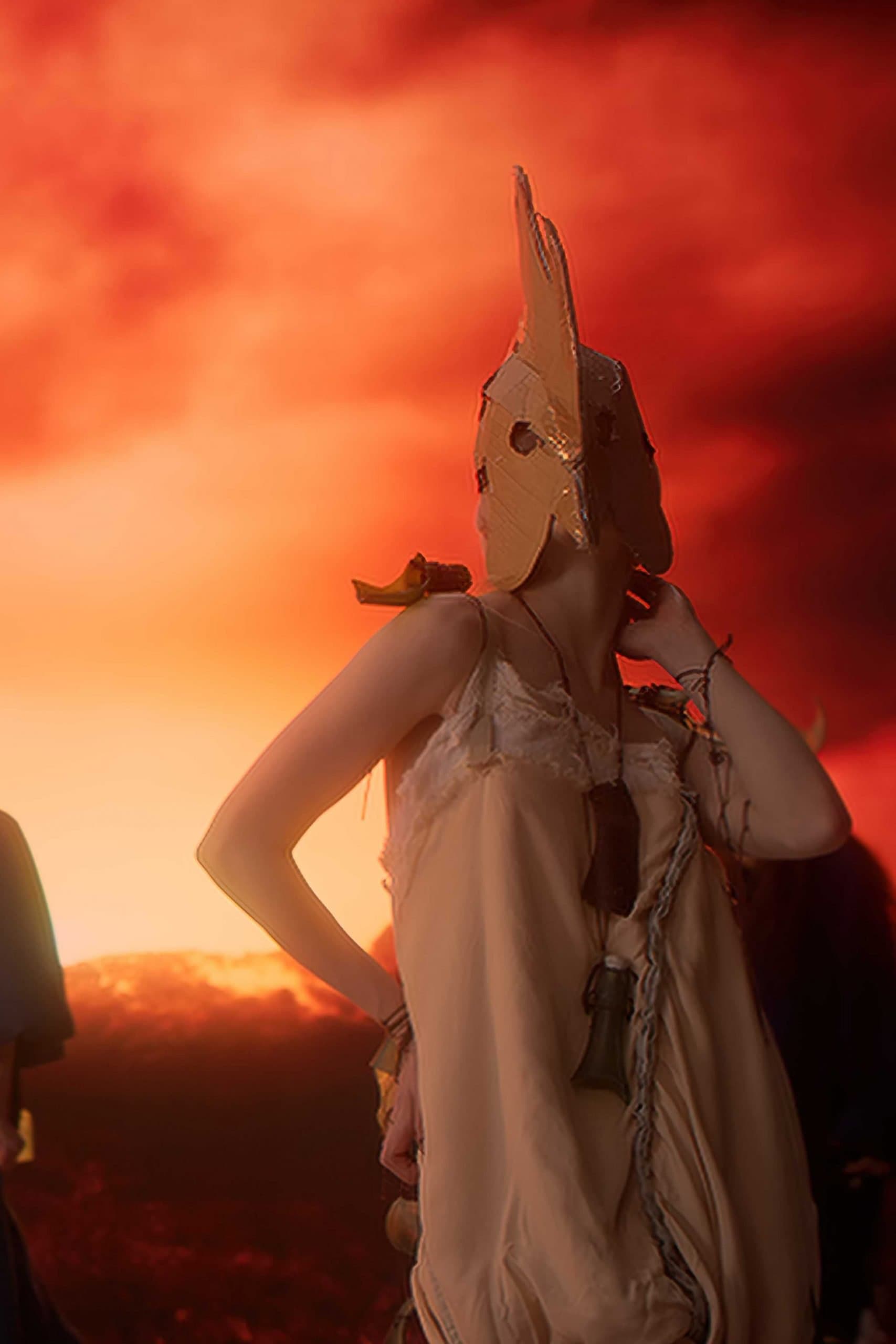 More than any actual garments created, the intend of Maison Margiela Artisanal is the experimentation with new processes that at this stage still feel like raw creative energy with little in the way of restraints. Indeed these works will find proper translations into commercial products, but that's for the merchandising department.
For Galliano, the mission has always been about creating a new grammar of haute couture. Now, haute couture is through these transmutations of shapes, textures, and colors in this highest form of dressmaking, a term that the designer frequently used and used with a sense of pride.
---