---
Review of Marc Jacobs 'Happiness' Fall 2021 Fashion Show
Giant Puffers, Paillette Skirts Over Flare Pants, and Faux Furs Scarves Signal a Journey Back to the Wonders of Fashion
By Long Nguyen
Absent from high fashion for nearly a year and a half, the New York designer Marc Jacobs returned to the runway format. The designer presented his fall 2021 Runway collection, to be available exclusively for the New York luxury department store Bergdorf Goodman, inside the New York Public Library, scheduled to reopen this week after a lengthy pandemic hiatus.
"On the journey back to doing what we love most, in the wake of immeasurable loss, loneliness, fear, anxiety, and uncertainty, I am reminded of why creativity is so vital to our existence, to life. Our decision to pause allowed us to slow down, reflect, ruminate, reevaluate, grieve, and take a throughout inventory of what works, what doesn't work, what we love, what we are willing to let go of, and what has value, importance, and meaning," Jacobs said in the program notes accompanying the show.
Potent graphic mid-century couture and current streetwise ethos in colorful oversized silhouettes and flare pants anchored and merged with a sense of humor and irony, along with long sparkling paillette tunic dresses propelled this streamlined and succinct Marc Jacobs Fall 2021 collection, less as a great palette cleanser, and more as an embrace of high fashion sensibilities in the odd combination of different shapes.
But, it is also a powerful reminder of the different signature Marc Jacobs looks that the designer has fine-tuned for the last decades. The clothes are rendered in masterful and simpler constructions and executions like a pink mock neck t-shirt top, a bodysuit, and the long red jacquard quilted lined back slit long skirt.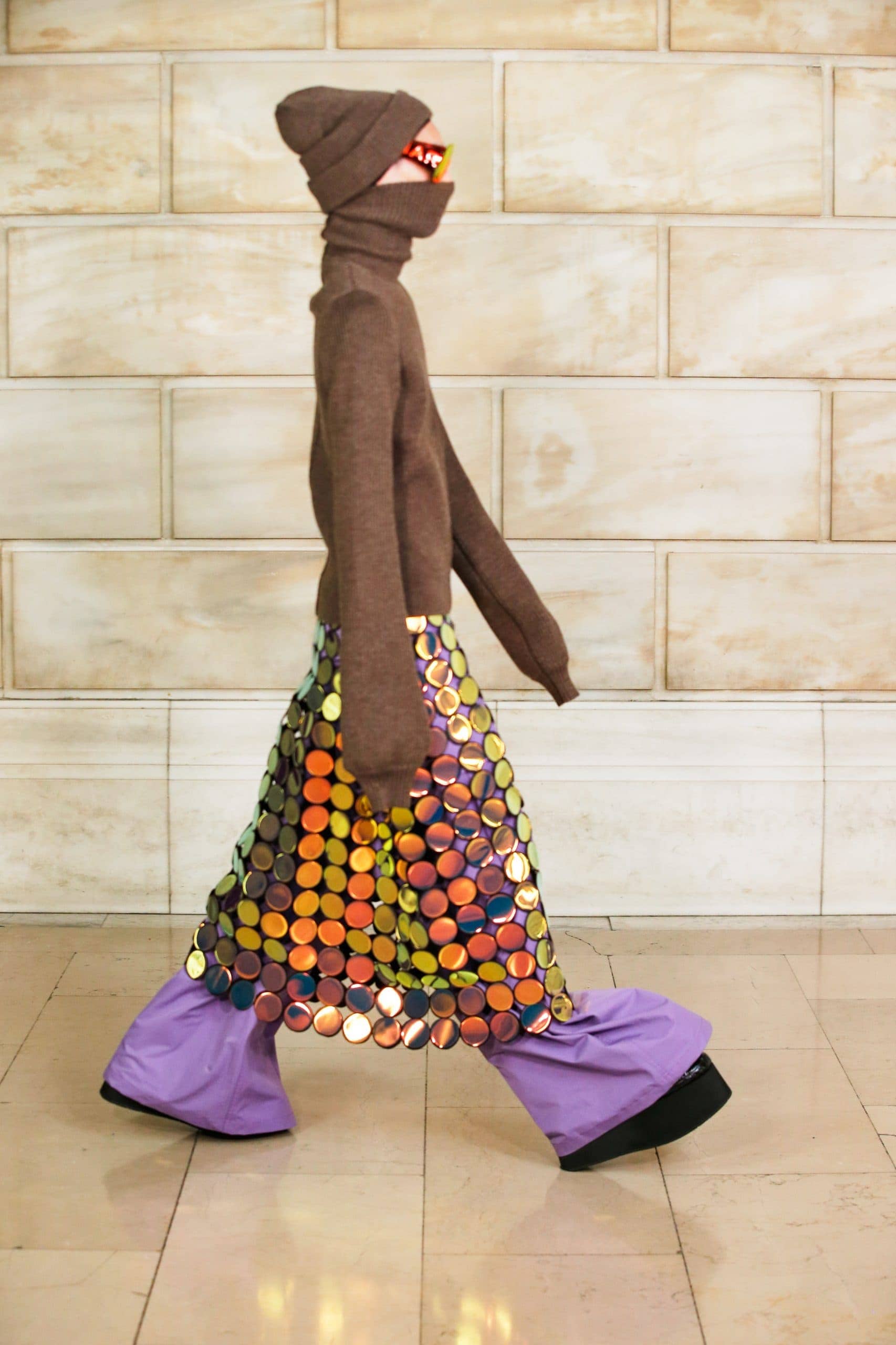 How does or should a runway version of an imagined more commercial collection look like, especially one coming from a designer prone to spectacle fashion?
From September 2021 onwards, the premier New York retailer Bergdorf Goodman will be the exclusive global retailer for this Runway Marc Jacobs collection. The collection, reflecting the house's new priorities, comprises his known signature work repertoire over the decades – colors/bold prints, oversized paillettes, long, lean shapes, or cocoon shapes falling into wide-leg trousers.
"As a born and raised New Yorker, Bergdorf Goodman has always been and continues to be a beacon of aspiration, service, and quality. From my early memories as a child of their ingenious, fantastical and bold window displays to their steadfast commitment to the Marc Jacobs collections (which began in the mid-1990s, following my exit from Perry Ellis), I have long revered the Bergdorf Goodman name as a pinnacle of the ultimate retail experience," Jacobs announced via his Instagram this exclusive partnership with Bergdorf Goodman, a merging of the minds of two New York City brands.
As a proposal for a fall wardrobe, the clothes aligned with the new brand's commercial resonance not because of necessity but also because of the revolving changes in creating viable and commercially successful fashion.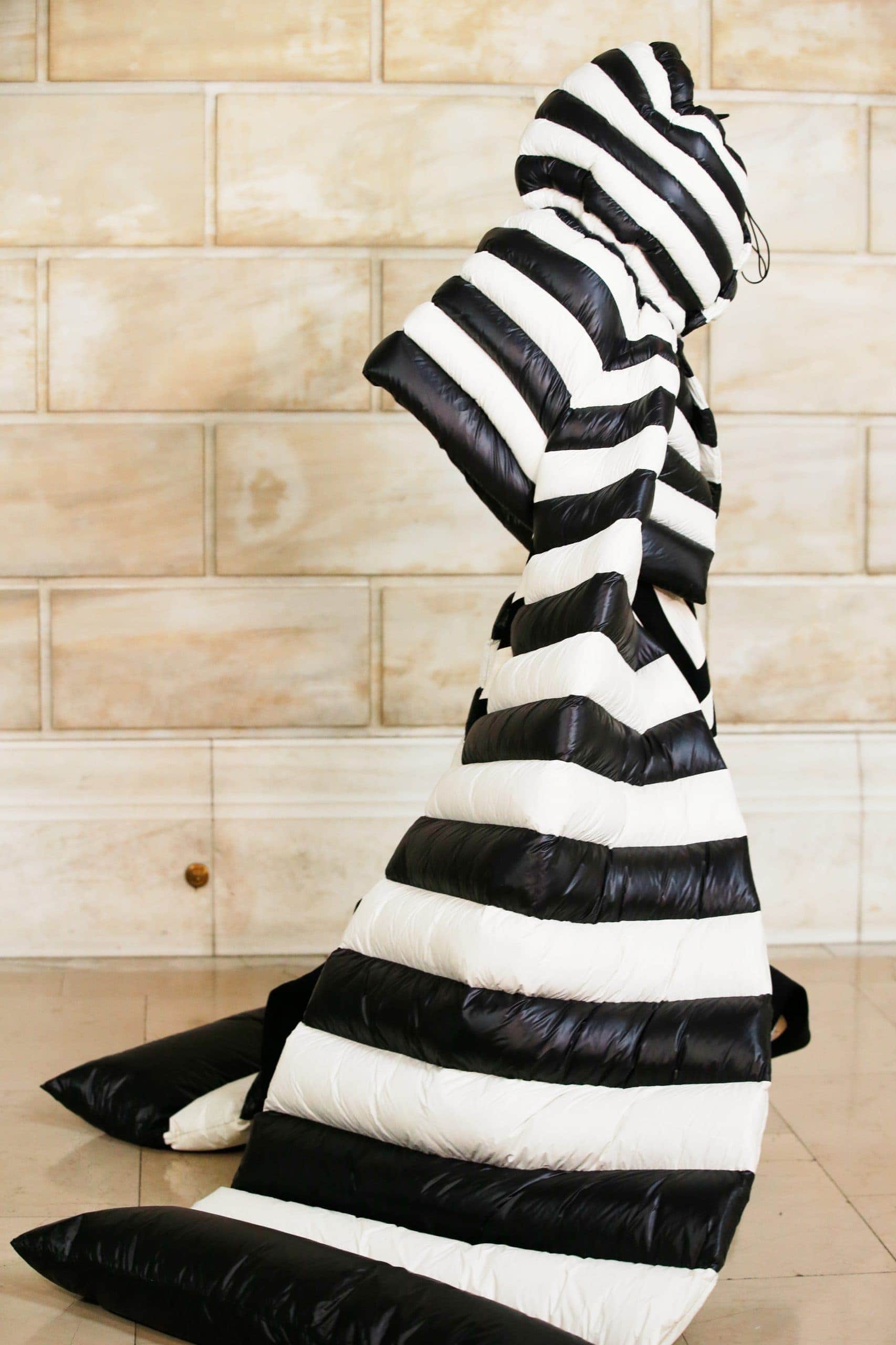 The clothes telegraphed a new mood, one with an eye on commerce as much as pushing the fashion game forward. There are gender-fluid clothes in the short coats and bell-bottom trousers. There are black and white optical illusion prints. Those fabulous evening dresses are draped from giant panels of violet, yellow, pink, or red wool fabrics with little need for additional decoration. These are now requisites as new standards for fashion.
Here, the new Marc Jacobs high graphic logos in black/white, grey/pink, black/green/ or grey/black with their full-on streetwear take – knee-length hooded parkas and matching long flare pants or in reflective vinyl – is a clever way that the designer incorporated this desires for logos, albeit most exaggeratedly and humorously.
Those loud black and white logos garments with their ubiquitous letterings spelling out the brand name is not subtle but as magnifying as possible. They are an ironic commentary of the current return of logomania, an era of the early aught where luxury meant prominent display of brand's logo. It's like a military commander has to surrender, so why not explore every arsenal given a chance. Otherwise, consumers will surely indulge in the Gucci-Balenciaga-Gucci axis coming fall.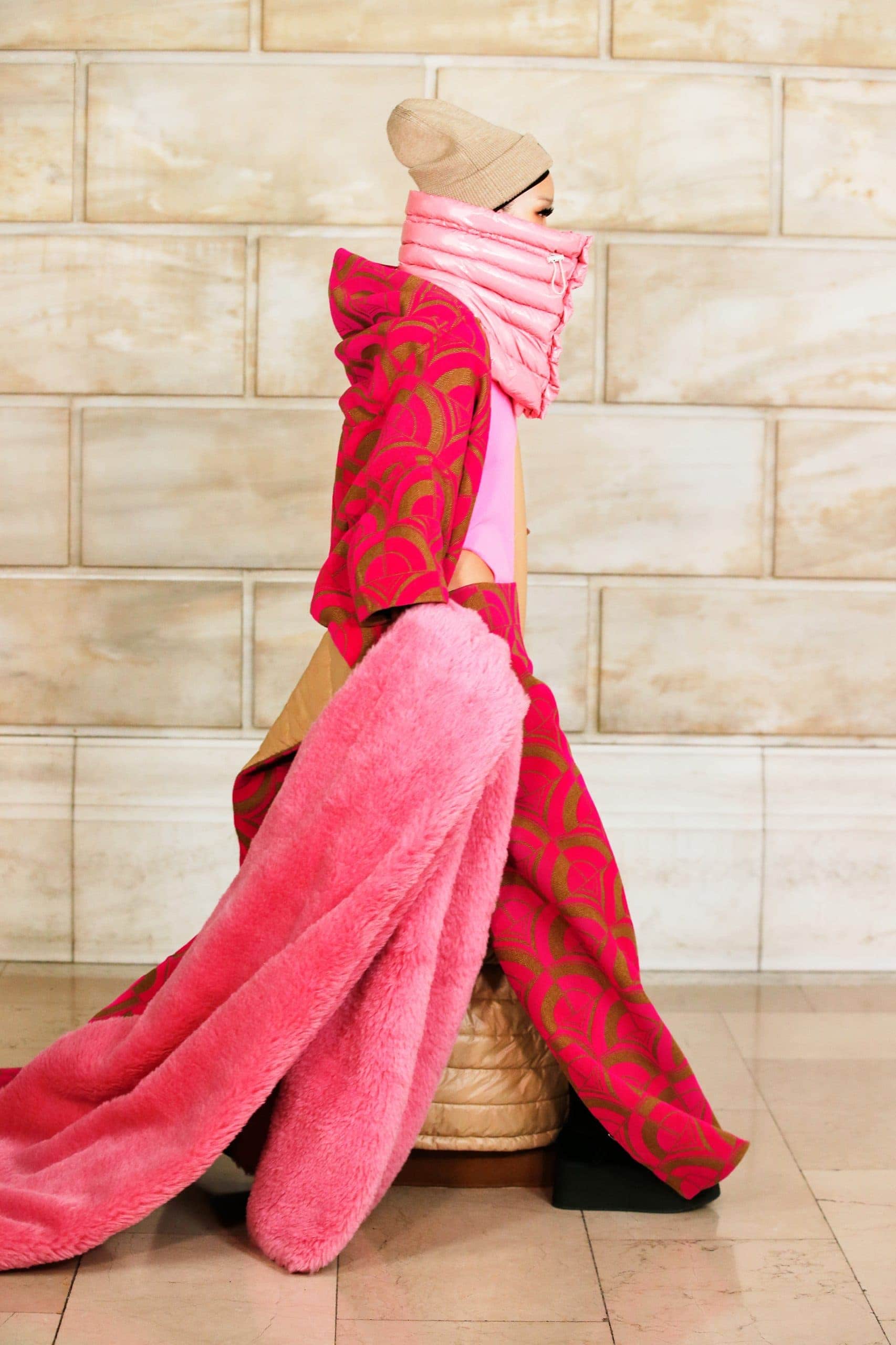 But, in nearly covering up the entirety of the models' bodies with just a part of the face showing or barely showing, Jacobs added a sense of irony to the proceeding since logos are about intimacy and not about showing off. These covered-up looks gave the feel of extreme protection, of an enveloping cocoon around the body, and a layer against anybody invasions.
Even as this Marc Jacobs collection is a reset for a new era, the latest fashion here isn't much of the flashy idea of the past. Instead, there is an embrace of high fashion in these voluminous shapes with exaggerated lengthened sleeves or a Xerox blow-up of an orange circular pattern coat and long skirt worn with giant platform booties.
The shapes of these Fall 2021 garments often recalled their earlier iterations in the Fall 2017 and the Spring 2018 shows at the Park Avenue Armory, then as well decorated with just a single file row of wooden chairs and none of the fanciful staging sets of yesteryears.
There is a feeling of a celebration of these immense shapes, and the clothes border experimental fashion. It feels like a fresh new view similar to the spirit say of a Central Saint Martins BA Fashion graduate collection. In the form of giant puffer coats, paillette skirts over pants, and giant faux fur scarves like an extension of maybe an evening dress forgotten somewhere in another space and time.
This deliberate move to more commercial viability isn't surprising. The Fall 2020 show, the last full-on live show before the subsequent year and a half pause, already hinted at the seeds of wearable garments shown in between the fast-paced dancers, perhaps distracting viewers from seeing the clothes in greater detail.
Back then in the B.C. era, the range of light yellow, light pink, black, camel, and light brown wool short coats paired with matching strappy sheath dresses opened the show, then followed by a series of red, pale ice blue, and ecru strappy dresses, indicated powerful this shift of fashion direction. Away from the fanciful to address what women would want to buy at stores and on e-commerce platforms.
But, in the depth of the first wave of brutal pandemic lockdown, this fall 2020 collection was never produced, ending what had been a vital continuous cycle between fashion creativity and fashion commerce.
What then was the fashion at Marc Jacobs during these lengthy fifteen months?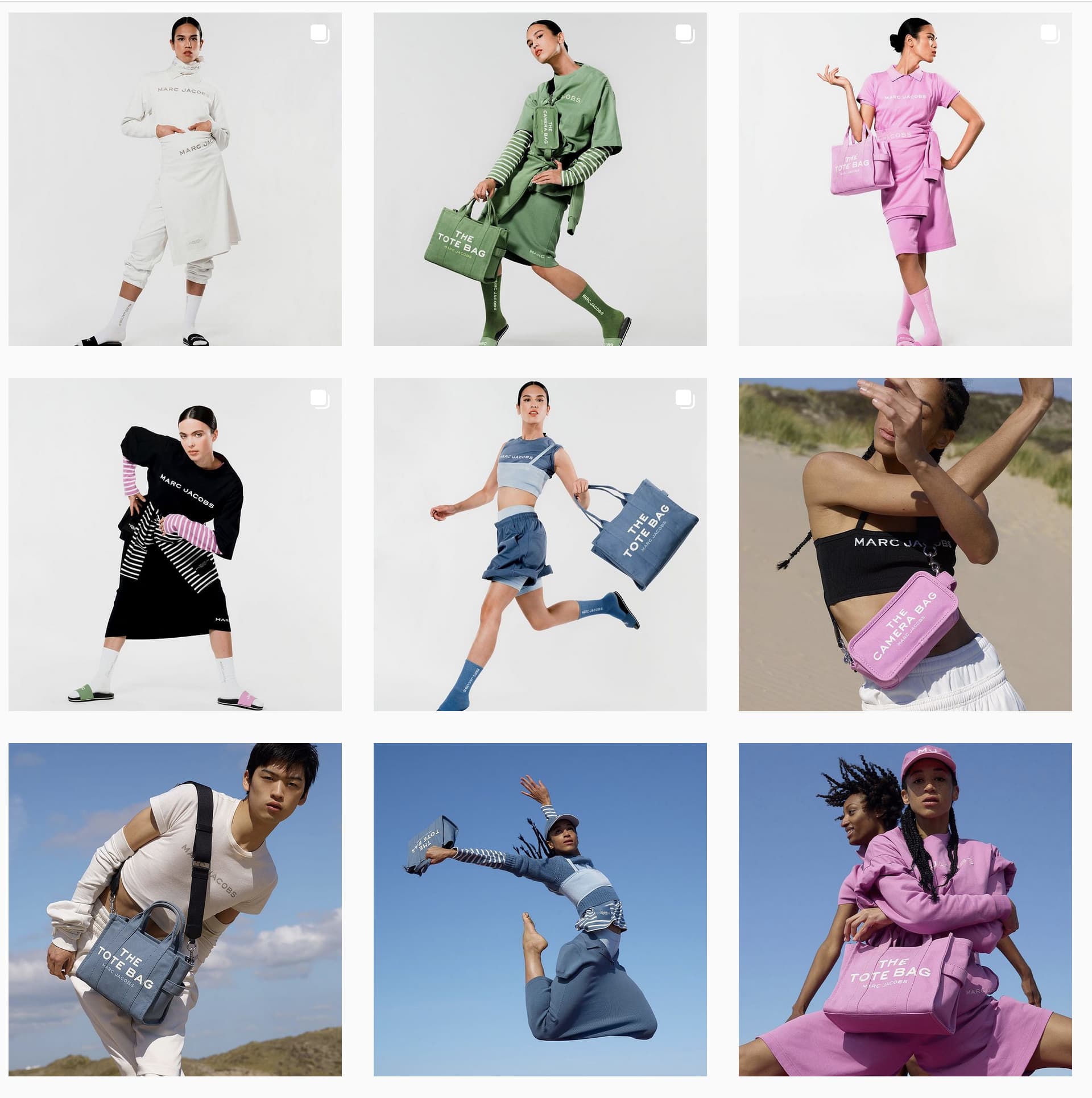 During the pandemic, the brand shift to youth-inspired products for The Marc Jacobs line, now the main product category at all of the brand's retail stores globally. A glance at the brand's principal Instagram revealed the depth of the merchandise devised to cater to the Gen Z youths with totes and colorful basics and a good range of logo stuff. There is also the successful launch of Heaven, the trendy patchwork of basics heightened with a sense of fun inciting that desires immediate purchases.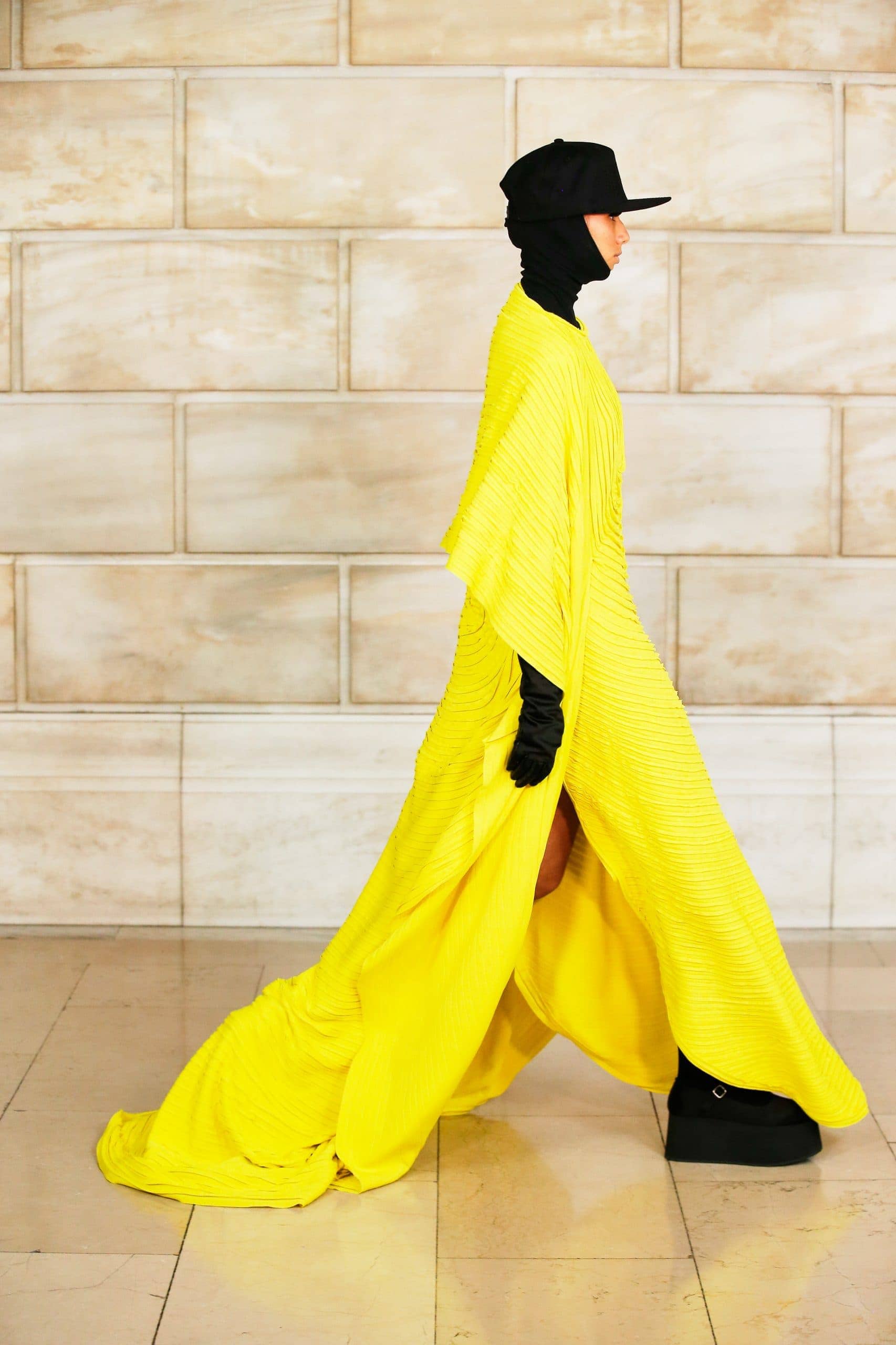 "Creating a collection requires enormous effort over many months from our small group of extraordinarily talented and dedicated individuals. We find purpose in the work form and for periodic but powerful transcendent moments of joy. And while the world continues to change with unimaginable speed, my love for fashion, the desire to create and share collections through this delivery system – the runway – endures," Jacobs wrote in the show's program. The designer proved his words with this collection showing. 
Yet Jacobs showed a certain restraint here, in the same way that Rick Owens did in his live show for men's spring 2022 on the Venice Lido beach last week. Then, Owens mentioned the idea of humility in coming out of the pandemic and the notion of not overdoing things, particularly fashion. This sense of control is what makes this a powerful statement in idea and statement in clothes.
---