---
Review of Marine Serre, Koché, Weinsanto, Thebe Magugu, Dawei Studio, Heliot Emil, Wataru Tominaga, & Institut Français De La Mode Master Of Arts Fall 2021 Fashion Shows
In Paris, Fashion Starts from the Ground and Builds Up
By Long Nguyen
The Paris fall show season's official opening day saw a brand new group show in Paris on the official Paris calendar – the Master of Arts graduating students from the Institut Français de la Mode.
The IFM school is a merger of two separate educational organizations in 2019 – the École de la Chamber Syndicale de la Couture Parisienne founded in 1927 and the IFM founded in 1986, specializes in the design and the latter in fashion management. The graduation show program involves students in six different categories – menswear, womenswear, knitwear, footwear, leather goods, and image with about a total of forty students. Each student had a segment of their work shown in a taped fashion show at the IFM new headquarters at the quai d'Austerlitz on Paris's eastern side.
Looking at the students' graduate work, those in menswear and knitwear seem to devote a greater sense of creativity to their subject matter, fulfilling the degree's pejorative. The mission according to the school's guidelines is "to push the boundaries of creative talent, enabling designers to be both stylistically innovative and technically exceptional."
Among the exceptional candidates in menswear is Meng Che Chiang applied technical fabrics in new ways with his outerwear clothes, and Mathieu Goosse negotiated contemporary gender-neutral silhouettes with humor. Jen-Hsin Hsieh made interesting shapes for jackets and outerwear. Mudassir Mohammed mixed fabrics and shapes in exciting ways, and Tsung-Chien Tang made great use of new fabric threads.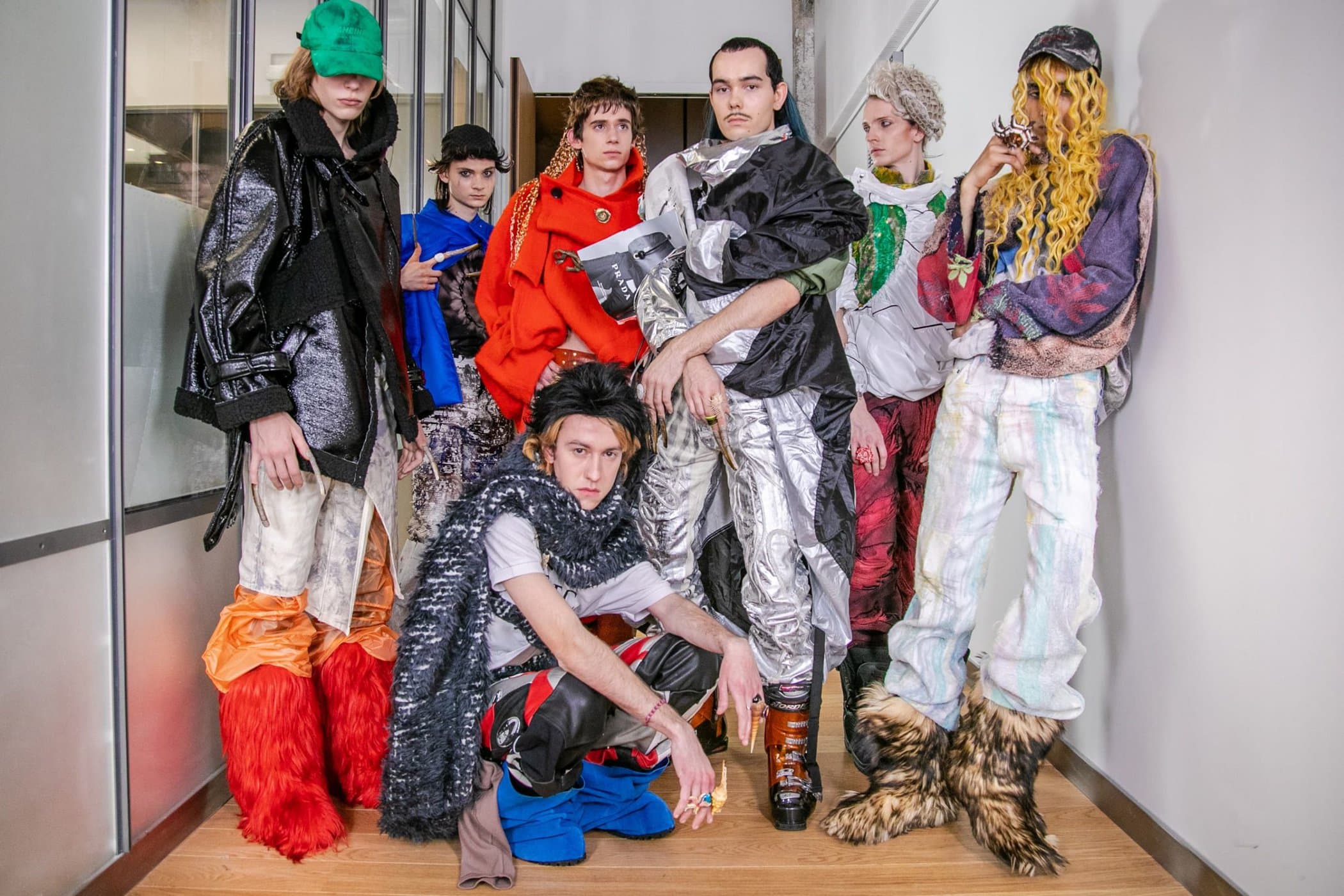 The knitwear graduates Clara Fubini did interesting weaves of knit textures, and James Giltner created a variety of rigid shapes using a range of yarns for structures. Johanna Imbach excelled with her work in crafting the soft knits to conform to her rigid sculptural garments.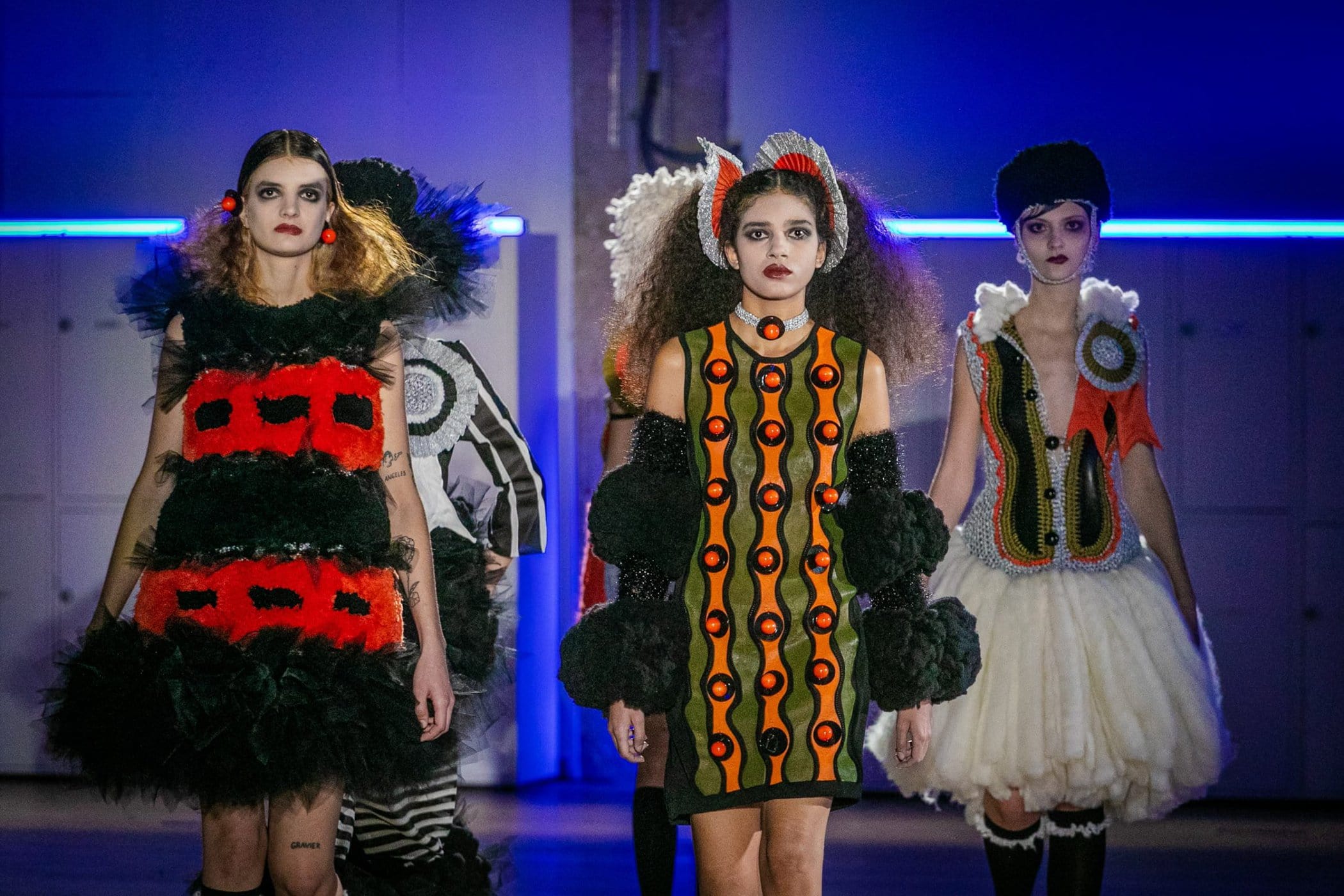 Giving these students a platform to show their creative work is to invest in their future and the future of fashion. This process has been in practice in London for decades, where the Central Saint Martins MA and BA graduation shows have always offered new ground for finding new talents. In London, virtually all young designers have started their label right after finishing at one of the city's most prominent fashion schools – CSM, University of Westminster, Royal College of Art, London College of Fashion. Designers like Bethany Williams, Priya Ahluwalia, Bianca Saunders are these recent graduates from British fashion schools earning their place in the fashion system.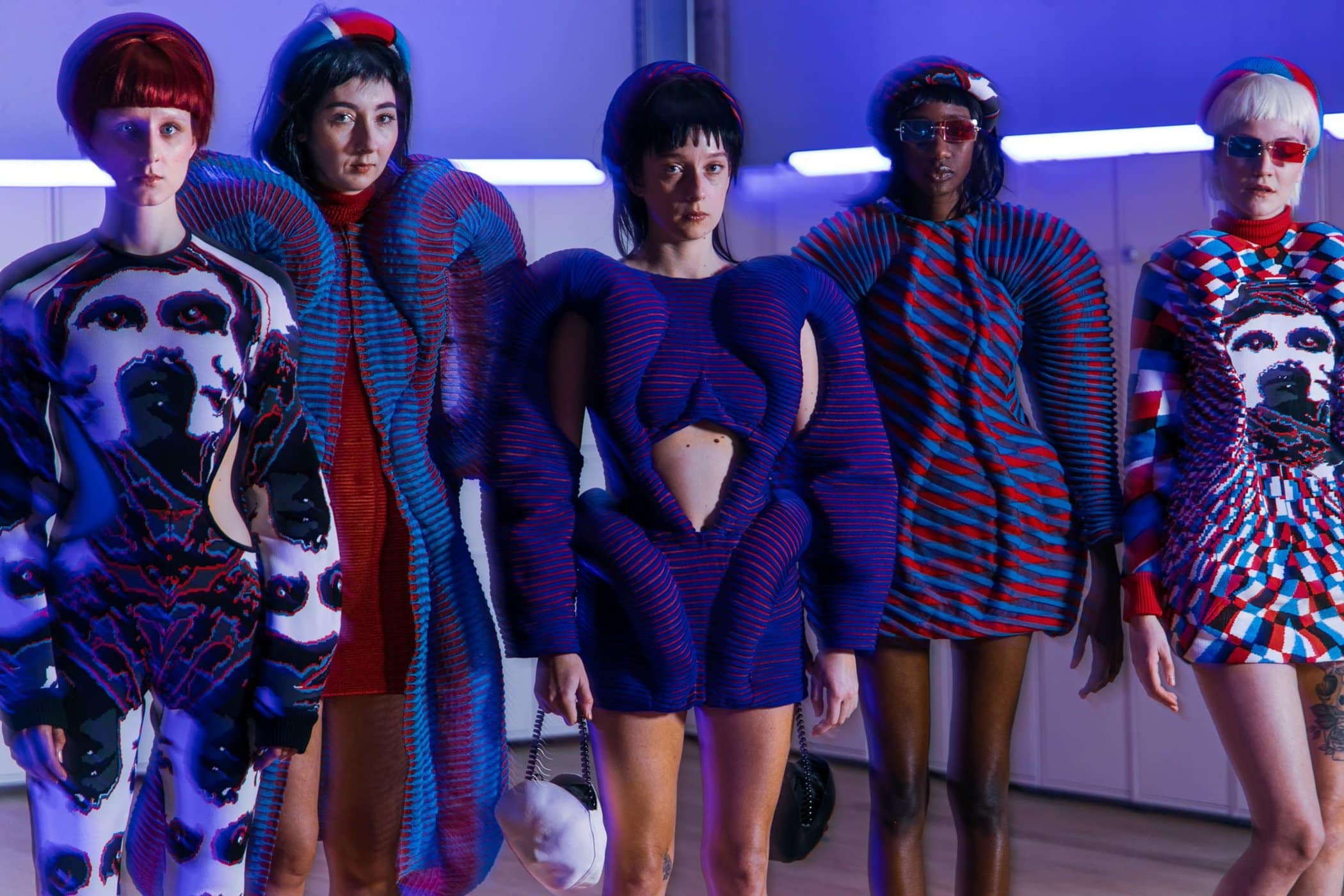 Hopefully, in the next few years, graduates from the Institut Français de la Mode will also contribute to the Paris fashion season's revitalization, just like their peers are doing so across the channel.
The young French designer Marine Serre graduated from École nationale supérieure des arts visuels de La Cambre – simply known as La Cambre based in Brussels – in 2016. The garments of her graduation show collection 'Radical Call for Love' – technical tee shirts over cotton linen long skirts or vinyl tank top with pleated apron and pant or long patchwork old fabric dress – were a brief preview of her fashion thinking that combined traditional shapes with eco-manufacturing to contain waste.
This last year has been difficult for everyone, but there is no longer any question about it. Things must be done differently. We want to bring Ecofuturism to the streets.

– Marine Serre on her new fall show.
The project divides into three 'pillars' with a book, a documentary, and then the actual clothes, each combined to tell the story of rebirth and regeneration that is the core of the brand and this 'Core' fall collection.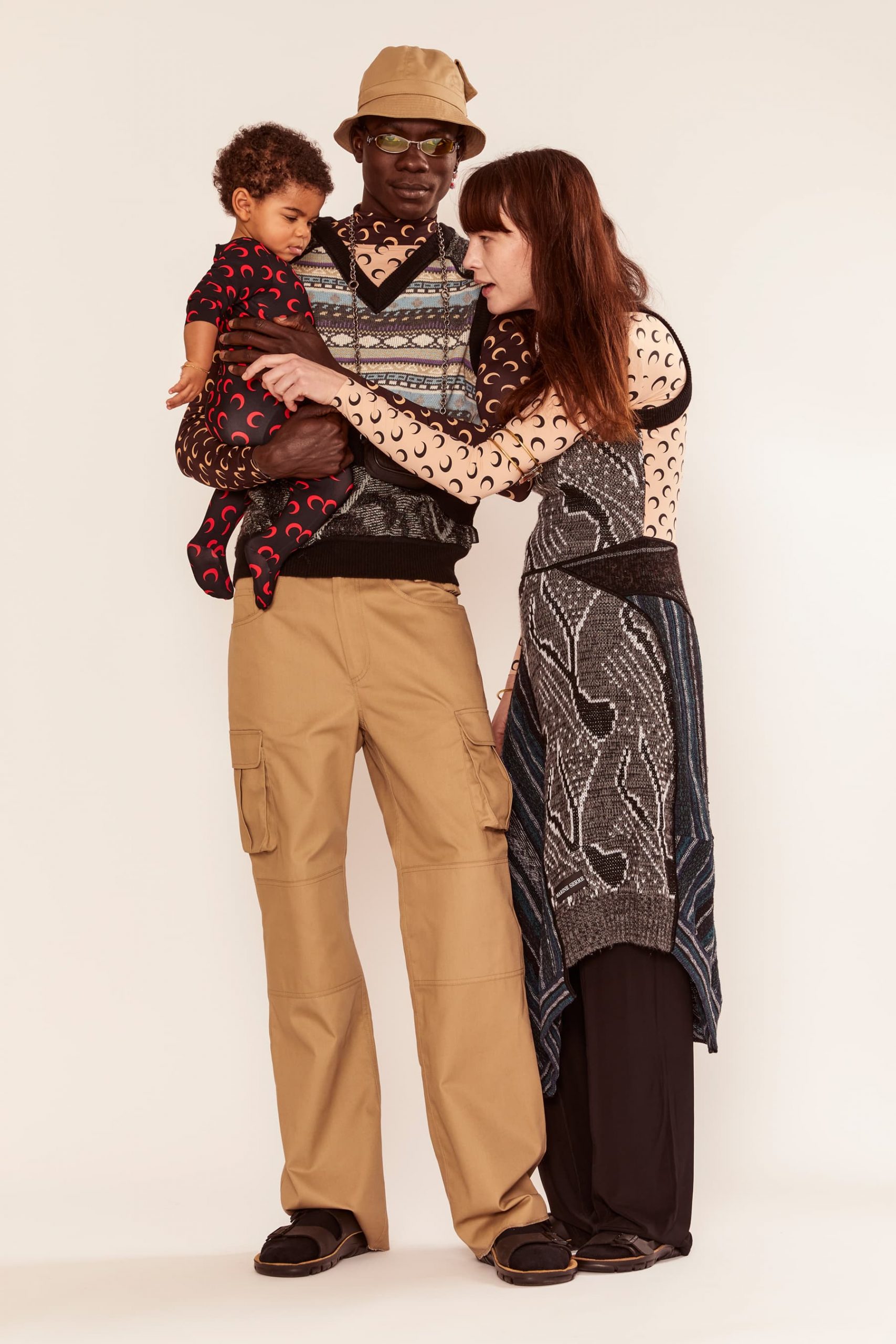 "CORE stands for coeur, part of Hardcore (couture), it stands for the heart, the central part of a celestial body, the foundational and the enduring part; it is where all the lines meet each other, the interconnection point, the internal memory of a computer, the sound, the inmost, and the essential. CORE represents the pillars of what our brand is about," is how the brand Instagram post with segments of the short films explained the overall concept.
The book and the documentary offer a transparent look at the fashion process at Serre. The film looked at how this process evolves from the ateliers, studios, factories showing the transformation of regenerated fabrics and recycled yarns and how they become clothes worn by invited close friends of the brands, people from different tribes within their communities.
At Serre, the process of creating the design and the actual making the clothes is the essence, not so much the end products themselves.
The protagonists in this film are just ordinary people – friends of the brand – carrying their lives on throughout the day.
A mother carried her baby in a dark print dress and camel 'crescent moon' print tee shirt. A woman danced in her house wearing a long black pattern column coat. Another woman opened the curtain to show off her new corset top, black tee, and orange pants. A couple in patchwork leathers played hide and seek in the backyard.
Now out of the celluloid and into real life, her clothes surely did not disappoint. This process and the making of the fabrics in this fall collection involve these raw recycled ingredients – denim, tartan scarves, linen bed sheets, old silk scarves, carpets, and old pullovers. The films showing these fabrics resemble an archeological dig with a hand uncovering more materials underneath the used debris's piles.
Every single garment has its corresponding design and fabric story of transformation, going from discarded products into being repurposed into a patchwork leather coat or a patchwork print coat. An asymmetrical black print dress comes from discarded print pieces of cotton, a tartan wrap skirt comes from vintage fringe scarves, and a print blouson or a high slit long skirt comes from used silk scarves.
Serre pledges that the regenerated garments will comprise over half of the fall collection, with the other half made from recycled fibers into new fabrics for the tailored black 'moon lozenge' weave slim jacquard pantsuits. The clothes are inventive and well crafted, worthy of the reincarnation of once disposed of old garments.
Serre's new friendly approach is an intelligent way to get different people engaged with her clothes. It is far from that post-apocalyptic world the designer portrayed in the art film she showed last September. The designer has always used her fashion as a platform to speak about potential disasters, whether they are natural or human-made, and about social/economic/political issues since her debut show in February 2018. The message this time is more forceful as it is more relatable.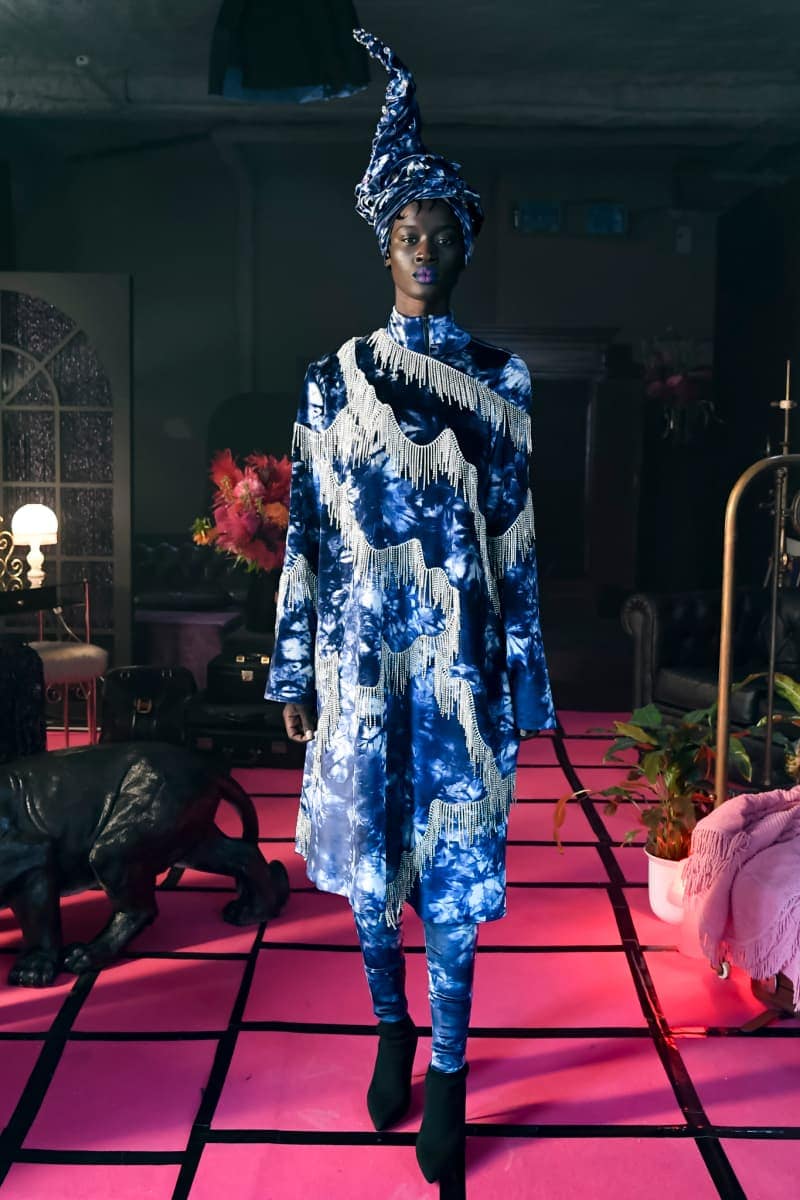 Victor Weinsanto is new to the Paris fashion show season, well but not exactly new to the Paris fashion scene, having worked with Jean-Paul Gaultier in the 'Fashion Freak Show' cabaret show in 2019. Weinsanto started his label in 2020 and has trained at Atelier Chardon Savard and has worked at Y/Project and Chloé.
Last season, the young designer managed a small show with his slinky dresses rendering odes to punk and Nina Hagen. This time around, the designer trained as a ballet dancer, showed a film 'Les Courtisanes … Mistress of the game'. The film encapsulated his obsessions with opulent shapes with haute couture sensibility – tight short blue print dress with one big sleeve or black furry sheath dress. Weinsanto used a stretch silk print zippered tip and pants or a black satin zip front dress to instill comfort in his clothes.
I did a lot of research on the 18th and 19th century but decided to concentrate not on the aristocracy but on a courtesan as for me she embodies strength and independence.


– Victor Weinsanto, via email
It is not a bad thing for Weinsanto to start with an exact idea of what his fashion should be. It is tragic to see so many designers out there making more and more clothes with little to say and little in terms of fashion passion. And being a designer in Paris requires having a vision without which it is pointless.
"I also wanted to present this season a mix of ready-to-wear and couture. I want my fashion to be accessible, but I also want to be able to work with my atelier and with some amazing craftsmen that I collaborate with within Paris," Weinsanto said via email.
For the second season now, Weinsanto is part of the Dover Street Market showroom in Paris that should help his budding fashion label's commerce side carried at DSM global network of stores.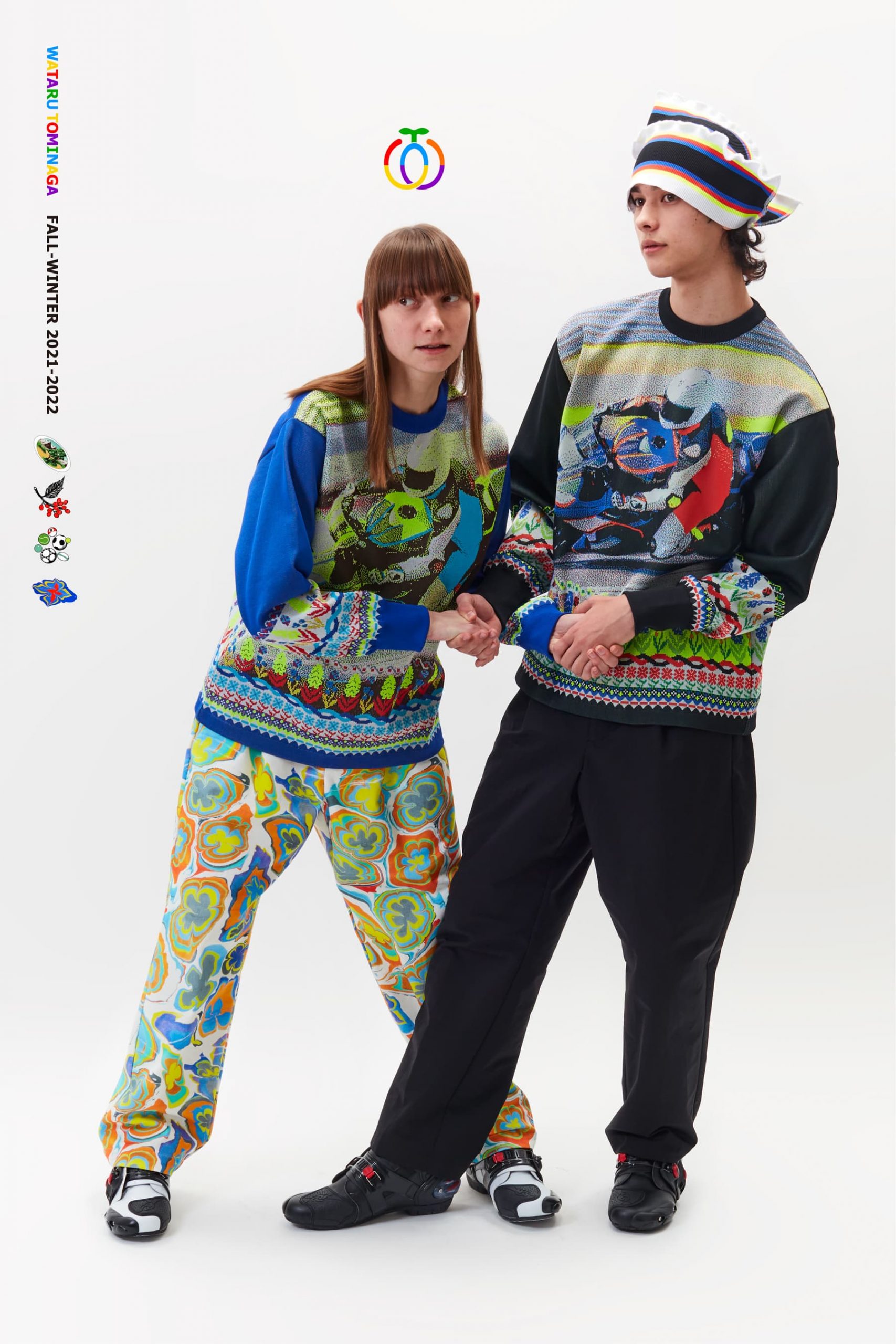 Wataru Tominaga is a graduate of the Chelsea College of Arts MA Fine Arts and Central Saint Martins BA Fashion Print who won the Grand Jury Prize at the 2016 Hyères festival. Tominaga started his label in 2019 with artistic print design and textile experimentation as the base for his practical and everyday clothes.
In the animated video posted as his fall presentation, Tominaga showcased his masterful invention of print fabrics, his specialty in school, in a range of sporty clothes for both men and women. Motorcycle knit sweaters, oval pattern print ski parka, colorful hand-knit oversize pullovers highlight this youthful fall collection.
Here is fashion just for simple pleasure made with vibrant, unique print fabrics the designer developed and produced in street style garments available to a broader audience. At times, when fashion is so politicized and so politically correct, it is just refreshing to see an oversize sweatshirt in colorful print without having to take into conscience anything but the joy of wearing the item.
In a black and white film made with the contribution of artificial intelligence, the Danish designer brothers Julius and Victor Juul specialize in juxtaposing forms and functions into their well designed and industrial feel garments with lean proportions and exceptional attention to details to the custom fabrics of their Heliot Emil label since the Spring 2017 launch. The film titled 'Unstable Equilibrium' demonstrated the stark lines and the monochromatic approach that has become.
For their debut in this Paris season, the designers focus on specific design elements and shapes, deploying the zippers to strike a balance in a cropped black shearling that zipped up the face like an extended facemask outdoor. A play-on cut-out design came in various pieces like a black tee shirt with half on one side slashed away or a slim fit pantsuit paired with a black tank top with several large holes in the front. The layering gets too overwrought at times in an ecru nylon top with sweaters, a down vest, and a puffer coat.
While there are exciting clothes, the designers probably spent too much time thinking about fashion rather than living a bit with fashion. That meant perhaps injecting a bit of emotion in their presentations shortly.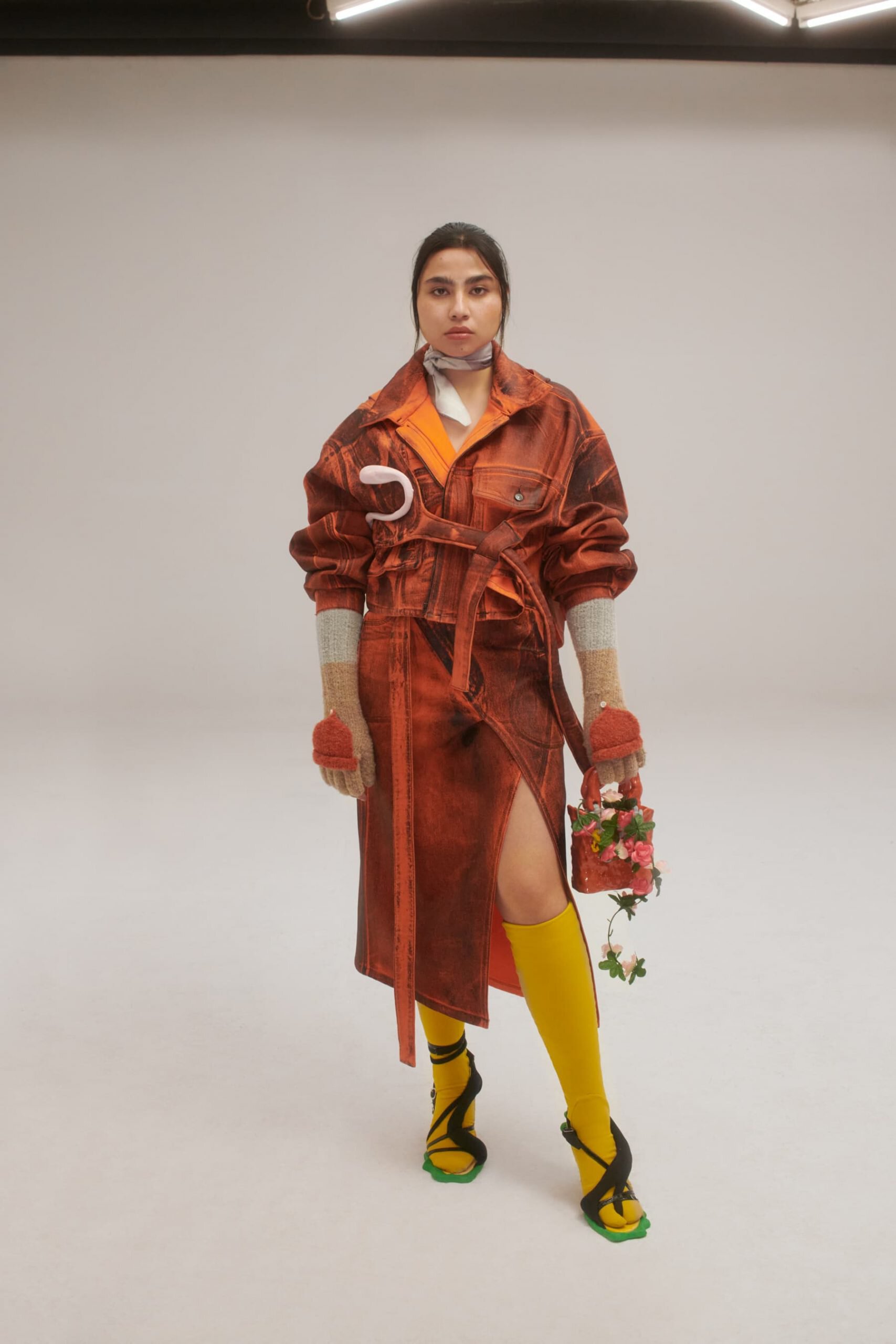 Looking at Christa Bösch and Cosima Gadient fall video presentation with their models strolling on a wooden plank, it is hard to figure out precisely the goal of these Swiss designers behind their Berlin-based Ottolinger label.
The designers showed a selection of garments ranging from the slightly oversize denim biker and jeans, brown velvet long dress with long fringes, black wool single breast pantsuits, a yellow satin dress with strings tied in the back, and a khaki shearling coat.
These clothes lacked any exact point of view; they do not convey any specific message about fashion or anything else.
Although the print mesh dress and jackets featuring Cheyenne Julien's artworks with prints of the artist's portrait work of her close friends are the standout in this collection, the rest are standard derivatives, especially of Rick Owens. Still, the collection contains little that can be called original ideas.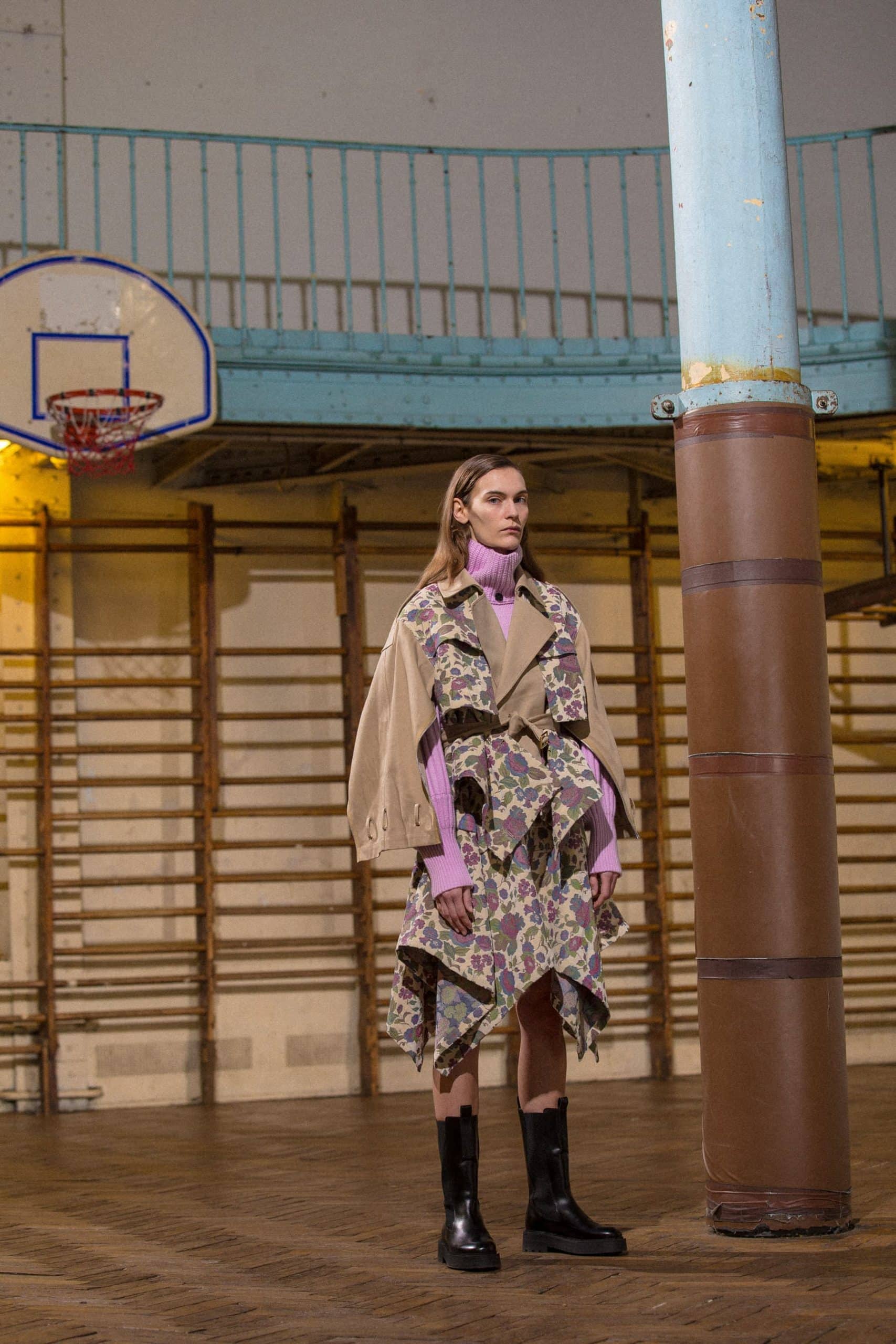 Trained and studied at the École de la chamber syndicale de la couture parisienne, Dawei Sun launched his label Dawei Studio in 2016 and has been part of the Paris shows for more than two years with his urban couture brand.
The one-time artistic director of the contemporary French brand Cacharel, Sun focused his fall season on oversize shapes like a striped coat or an ice blue trench and in the combination of fabrics like a cameo print and plain cotton khaki fabrics. Outerwear, like the navy or mustard wool felt overcoat or the ice-blue sleeveless blue wool coat, is the strength of this very Parisian collection, which is fine as there are consumers for these clothes in the market today.
In the film 'Banyoloyi a bosigo' or 'Ultimate Midnite Angels', the South African designer Thebe Magugu portrayed a moving love story between members of rivaling tribes directed and written by his long time collaborator Kristin-Lee Moolman.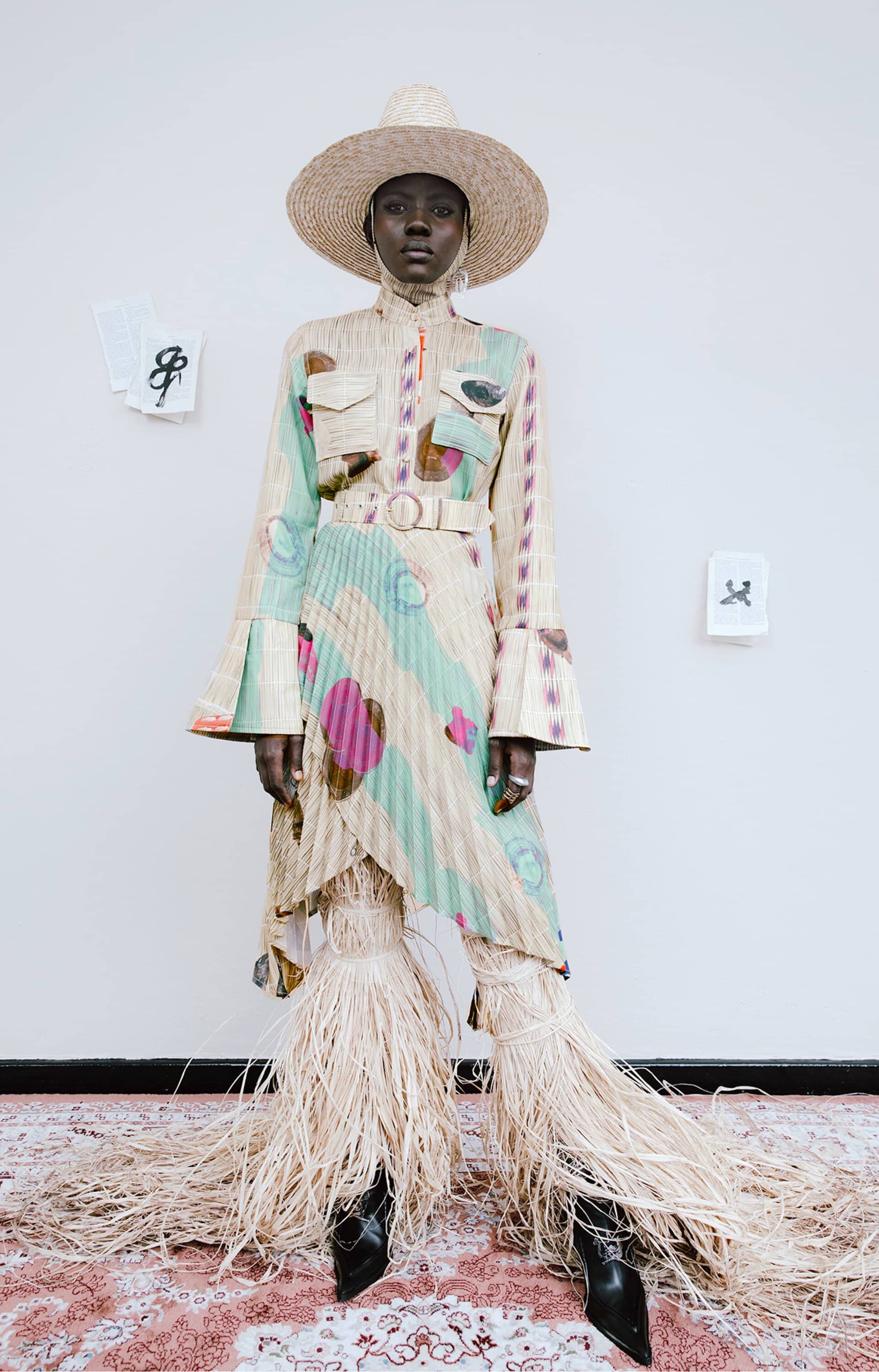 As many of us know, African Spirituality – which is exceptional in its plurality – is primarily based on the relationship we have with our ancestors, and any disruption between this line results in existential thoughts and sometimes serious illness. This season, I wanted to have a conversation with traditional healers, who have divinely been given powers to answer our most burning questions and act as a conduit between various realms, often by using divination objects. It's a particular kind of strength, one that doesn't show off and relies on the natural.

– Thebe Magugu on the departure points for his fall show
The substantial fall fashion Magugu created works seamlessly in the many scenes of this short narrative low-tech movie of female empowerment. Perhaps one of the best scenes involves the two girl gang tribes machete fighting initially, with one party in the white fringe dress and the other in black long sleeve mock neck dresses. One of the tribal chiefs wore a perfectly tailored white suit while passing judgments on her captives.
Western tailoring techniques meet the local traditional wardrobes techniques like draping and wrapping in the sharp tailored fitted white single breast suit with a one-side fabric draping over the shoulder or the knit blanket cape over a short shirt dress. "It's the idea of modernity through the indigenous," Magugu said.
Noentla Khumalo, a Johannesburg-based healer, contributed objects used in her divinations – goat knuckles, police whistles, pencil sharpener, seashells, or red dice cubes. Magugu then photographed and abstracted prints on a light brown silk flare sleeve dress with asymmetrical pleating and pants with long fringe trims or on a white and green motif print long sleeve dress. Byborre, the Dutch textile company, created a wool fabric with raised surface-like scarification on the back of a black single-breasted jacket.
Another collaborator is Larisa Don, who translated the imphepho plant used to communicate with the ancestors into the graphics that decorate black Merino wool sweater dress. Magugu is a finalist in this year's International Woolmark Awards.
What is excellent about this Magugu film and its collection is his insistence on local sourcing of talents, materials, and shapes that encompass the local crafts of traditional dress-making and incorporating these silhouettes into his fall clothes. Magugu does it with integrity and without any compromises.
This is a choice linked to the context; we could not do otherwise. I care about fashion shows because it allows people to be invited and welcomed and create a unique emotion with the collection revealed before their eyes. We do not replace this intensity. In September with the public, we showed respecting the sanitary instructions, but today if we cannot receive anyone, I see no point in reproducing an empty parade. It's like having a birthday alone, and it's a bit sad.

– Christelle Kocher via Zoom
"We said to ourselves that we didn't want substitute content. Still, a short film, like a clip, without having to show the entire collection, a real filmed proposal that is inspired by the collection and its themes, without having to present it," Christelle Kocher explained upon revealing her three-minute surrealist film 'Bird of Paradise' shot at the Théâtre des Bouffes du Nord.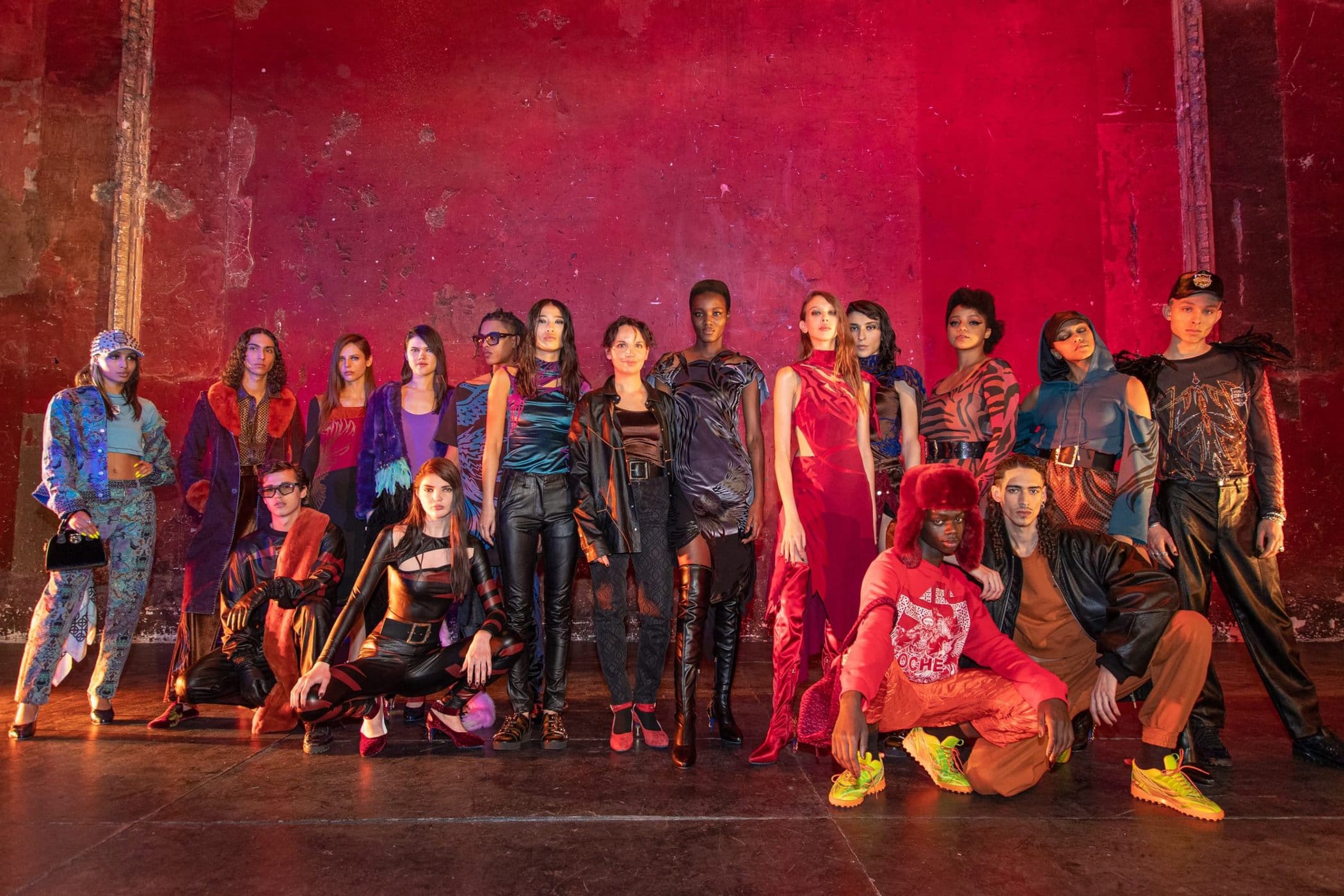 The short film is a mere capsule of the idea of the fall Koché collection. Kocher explained that this is a return to the high craft that the brand is known for since 2015. Elevating even the most basic wardrobe staples with design details and superior fabrics, merging the casual and the elegance into one garment no matter it's a dress, a tee-shirt, or a parka.
At the center of the film is the Phoenix's image, now dressed in an embroidered cape with black feathers. "We must create beauty when we are deprived of it. Hence, the idea of ​​working with the mythological figure of the Phoenix in the collection. It is a rebirth, each time from its ashes, to start a new cycle, » the designer said of the film where her models morphed into different creatures.
Her fall collection is full of the kind of assortments her brand is known for, with the mix of denim, cotton, velvet, and vegan leather in sharp and sexy clothes. The print fitted coat and the black pattern vegan leather coats or the Phoenix motif pattern red cotton sweatshirt dress worn with thigh-high boots. Among others, plentiful offerings of clothes are short snap-away track pants paired with a print blouson. A tapestry pattern cape with pink and black feathers is an exceptional piece paired with a jacquard cotton jacket and pants.
The collection felt more dressed up but in an effortless way, and that has always been how Kocher has approached her fashion since she started infusing streetwear with couture techniques.
I remembered seeing Kocher's first show in late September 2015 near 10 PM inside the arcade shopping level of Les Halles where guests stand watching the models meandering around the concourses connecting the closed shops, restaurants, and RER stations. Then, as now, the Koché clothes are intersections and meeting points of streetwear and couture, of different cultural and social and economic levels all merging way before there is a thing now called 'diversity' and so forth.
"Youth seeks authenticity that a brand stands out as much for its style as for its messages. And with the audacity to experiment, not to serve the same recipes every time. I feel that young people are more committed, more political. Still, they have a more personal style. They are looking for originality," Kocher said when I asked her what the most important thing about how young people see fashion and what kind of brands are attractive to these kids is.
Authenticity is also a message for the luxury brands and navigating the rough territory to connect to young people. It is a lesson these big brands should learn from independent fashion players like Marine Serre and Christelle Kocher.
---