Matty Bovan is Reminding Fashion Why it Matters – By Defying the Conventions of Fashion
By Mark Hooper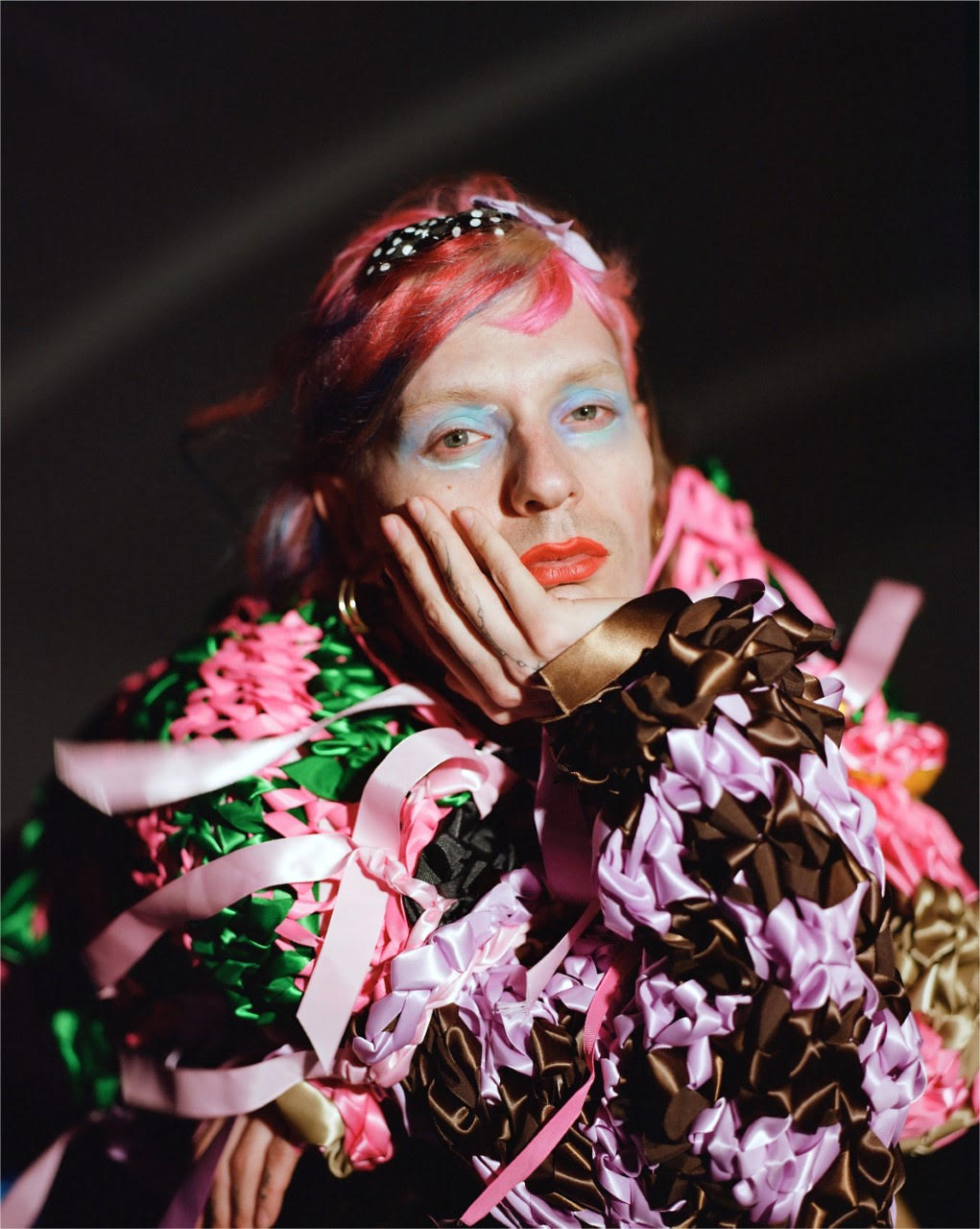 Matty Bovan's journey from Instagram to Milan has, on the face of it, been a rapid one. Having graduated from London's Central St Martins in 2015 with an MA in Fashion Knitwear (winning him high-profile awards from L'Oréal and LVMH), leading to work with Marc Jacobs and Miu Miu. His cheerleaders within the industry included Vivienne Westwood, whose spirit many recognize in collections that he has described as 'controlled chaos'. He regularly shows at London Fashion Week, but showed his S/S 2022 Collection in Milan, supported by Dolce & Gabbana. Throughout this meteoric rise, he has demonstrated the importance of sustainable processes and employing local artisans – maintaining that they 'give clothes energy and soul' – while swerving the usual route to success by moving back to his hometown of York in the North of England. Recently made a Professor at Leeds Beckett University, he also teaches at Salford University. As his new book, Ribbons, launches, he spoke to us via Zoom from his studio / HQ in York…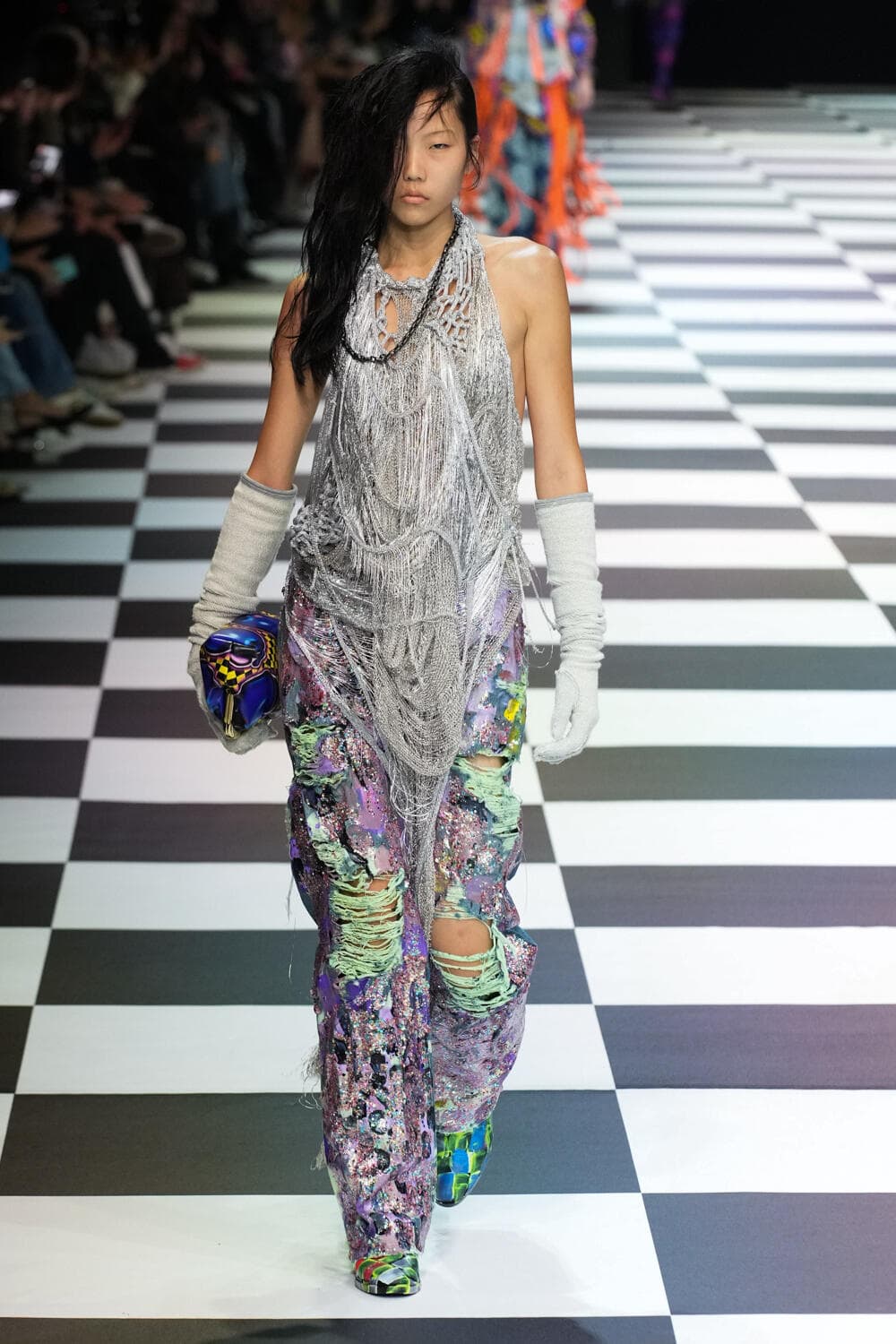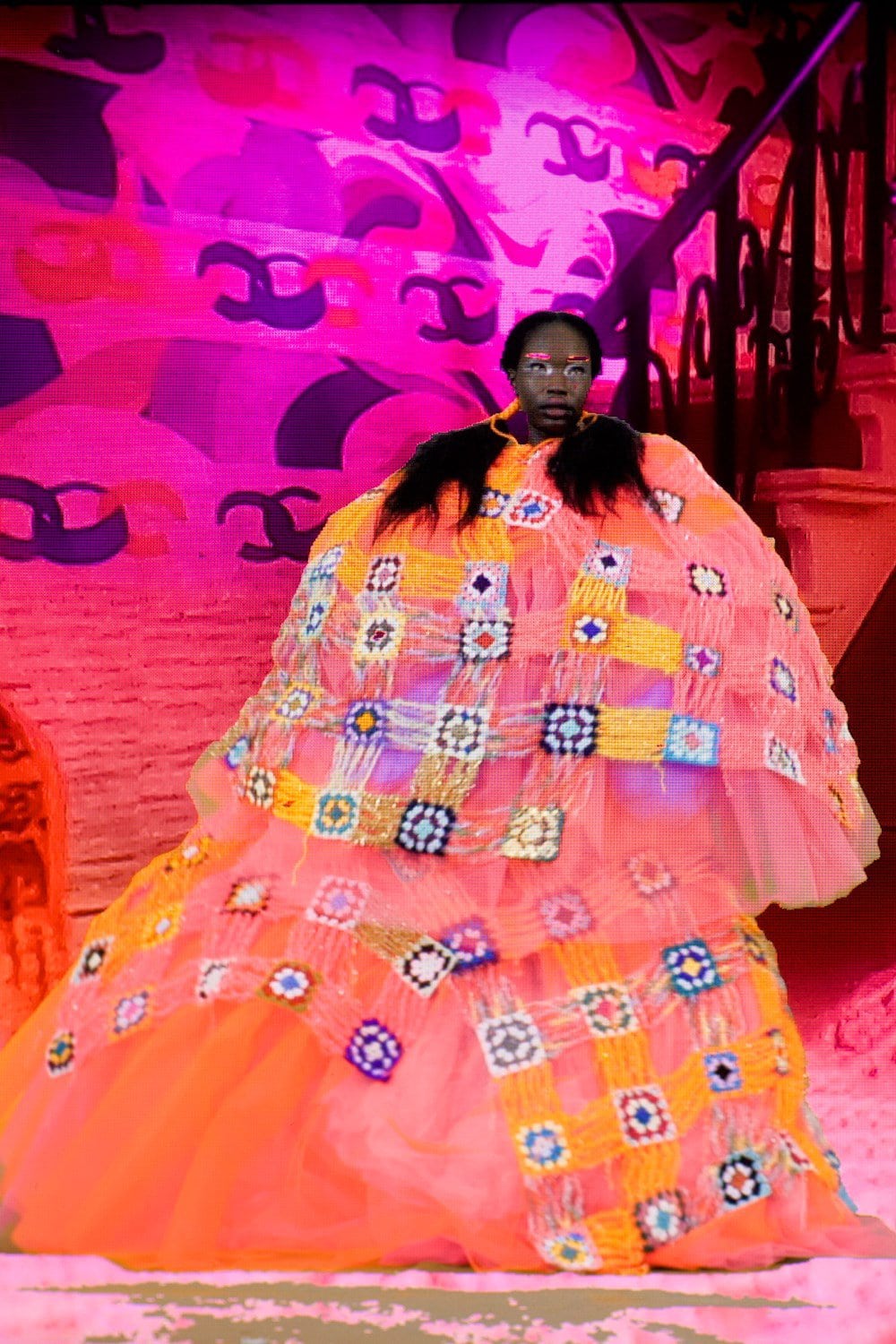 Mark Hooper: You seem to straddle these two worlds where there's this emphasis on craftsmanship – but then also the fact that you're often presented as part of a new generation who are promoted through social media and Depop – it's interesting that it's often set up as one thing or the other – why can't you just be both?
Matty Bovan: Yeah. Craft used to be such a dirty word in fashion. It's funny, because now it's not. People like to give it different terms I guess, it was seen as more haute couture, but that's all based on craft and skill. But presented in I suppose more of a high-end way than what they would associate with the word 'craft'. People think of things like Etsy – which is not what I do! But my whole foundation is based on making things with my hands.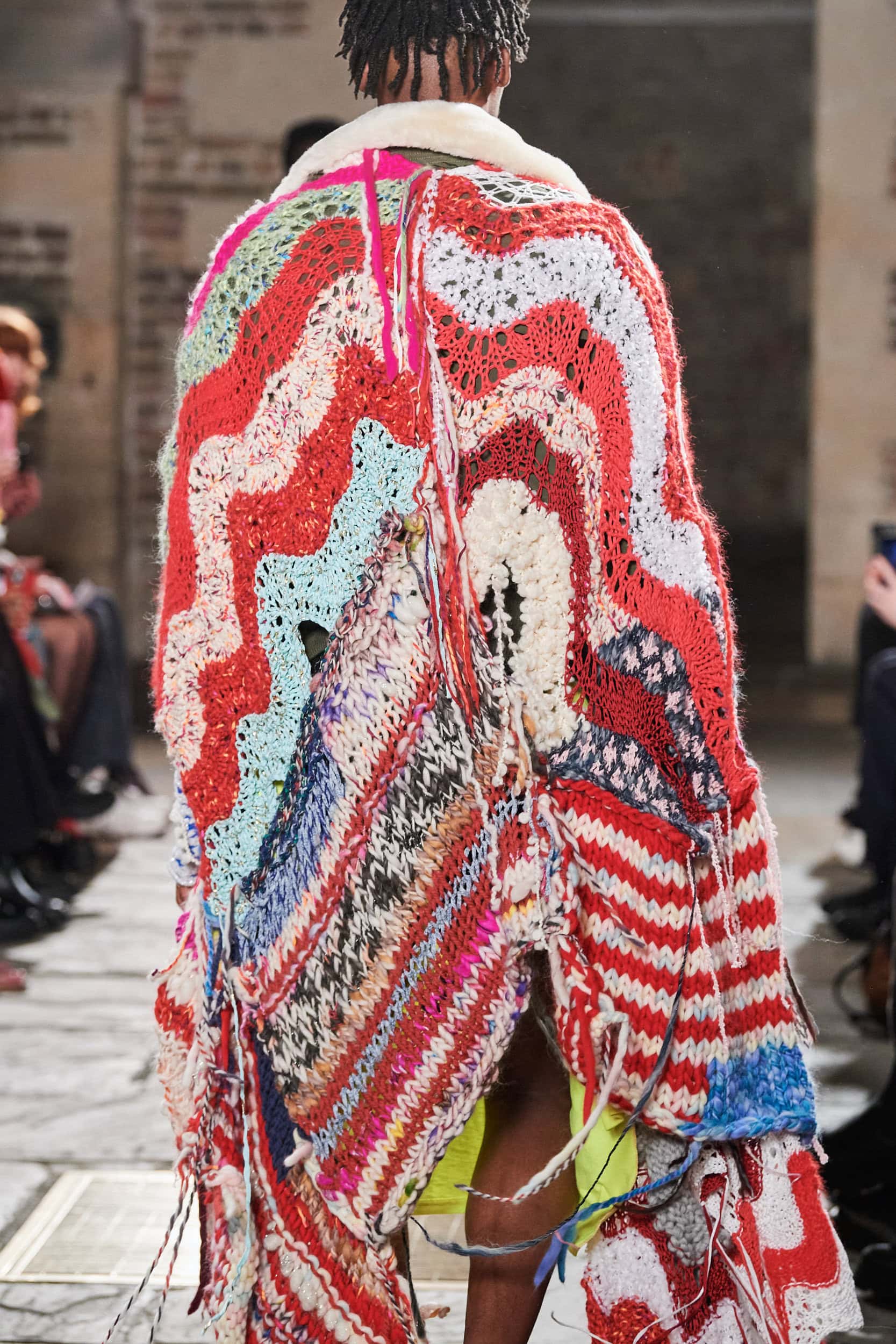 Mark Hooper: Do you think maybe you've helped to make the word exciting again?
Matty Bovan: That was also a conscious decision. If you look back right from the start, I've always done very textiles-heavy, more skilled, slightly older-school crafts, but I didn't really start presenting it as that until a few years ago. I realized you have to really explain to people what you're doing, quite clearly. So I had to keep using the word 'craft' in a positive way, and repositioning it as something more exciting, because people weren't necessarily understanding that from the work. Especially people maybe not in the industry, who were not really understanding that I made a lot of it myself, or that I trained in knitwear specifically. So it was more of a conscious decision to try and be more transparent, I guess.
I also felt it was important for younger generations to hear that this is what obsesses me in a way, because they don't necessarily do things like this. People see design as very output based, but it's actually not, it's very process-heavy.
Mark Hooper: I was thinking about that with Ribbons – both the book and the exhibition (at London's NOW Gallery) – do you find the process almost more rewarding than the end result?
Matty Bovan: Always. That's with anything, to be honest. By the time it's come out, it's changed. The night a show has come out or the night we opened the exhibition, it's already gone, it's become something else. I've no more control over it, but that's fine. I could go on for months, or years, making collections. And it's something I'm not averse to, I've always done the traditional calendar, two seasons a year. I don't need more than that, because I like to enjoy the process of it. But I think most creative people should – hopefully – be over it by the time it comes out, and they're already on to the next thing.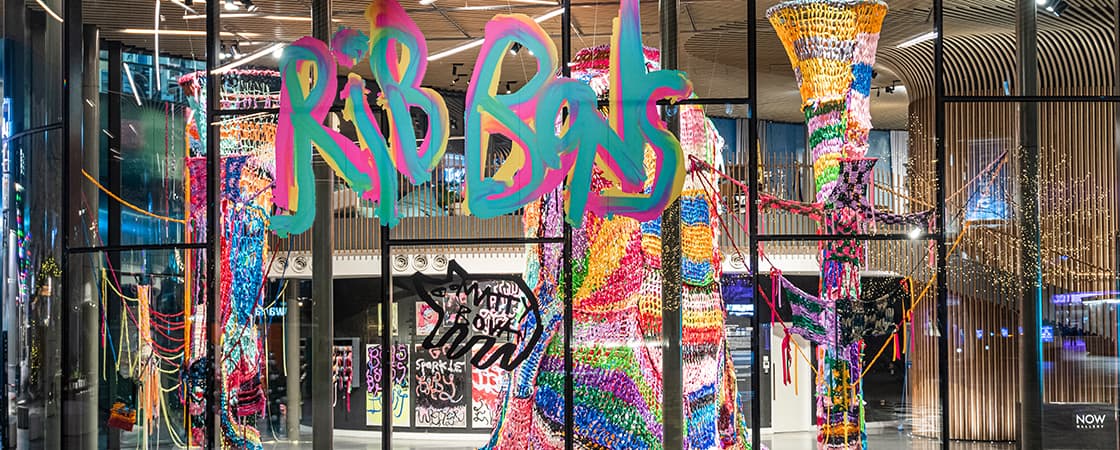 Mark Hooper: I guess when you're going through that process, it's problem-solving isn't it, working through what you want to do.
Matty Bovan: It's all one big problem-solver. There's a documentary on Vivienne and Andreas and I think it's Andreas who says, fashion is basically thousands of decisions. And that always stuck with me, because it is. And you have to be decisive, that's what I try and say to my students. It's all about having the confidence to make a decision. Because if you don't make a decision, where do you start? Suddenly there's millions of things you could do. And that's also why you have to be quite self-regimented and self-disciplined in a way, where I'm not going to make the same thing every season.
Mark Hooper: And now that you're a professor and passing your wisdom on, is there any advice you were given when you were at college that has really stuck with you?
Matty Bovan: It's always very humbling teaching anyway. You have to try to ditch any form of ego and try and look at it from other people's point of view. If you're trying to do a good job that is! But yeah, when I was at St Martin's doing my MA – it sounds really cheesy saying it back, but they said, 'We want to see you, we don't want to see what you think we want.' Because I was maybe trying to be more slick. This was in an era where people weren't doing stuff like I am now, so I was trying to make it more polished I guess, as in a portfolio, to be more specific in a layout and design sense. And they were just like, 'Why?!' [laughs.] It took a while for the penny to drop. But that was actually very key advice, I think for life in general. You can apply it to a lot of things. It's also your unique selling point: I say to any student, 'All the people applying for that job – any of them can do what you do, to an extent…' I say it in a nice way! But you've got to show the what you can bring to the table, whether it's research or illustration, or even the way you talk about your work and the way you come across. Life's a weird mixture, it's not about being mega-talented at all times, it's about everything in a person that makes them function. You can be unique and the best, most creative designer in the world, but if you don't deliver the job on time, it's not going to last that long.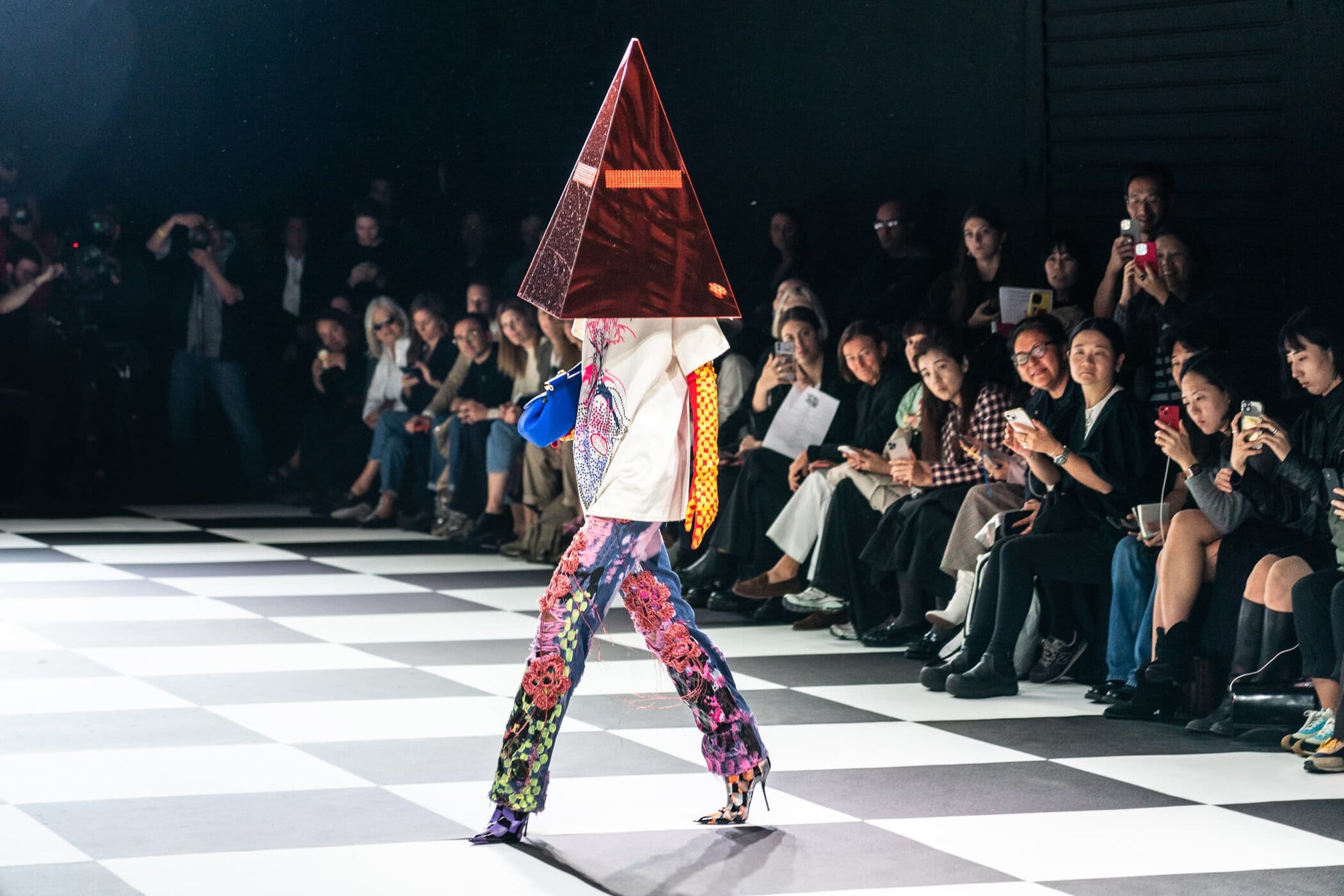 Mark Hooper: You mentioned Vivenne – she seemed to have been a really important supporter of your work…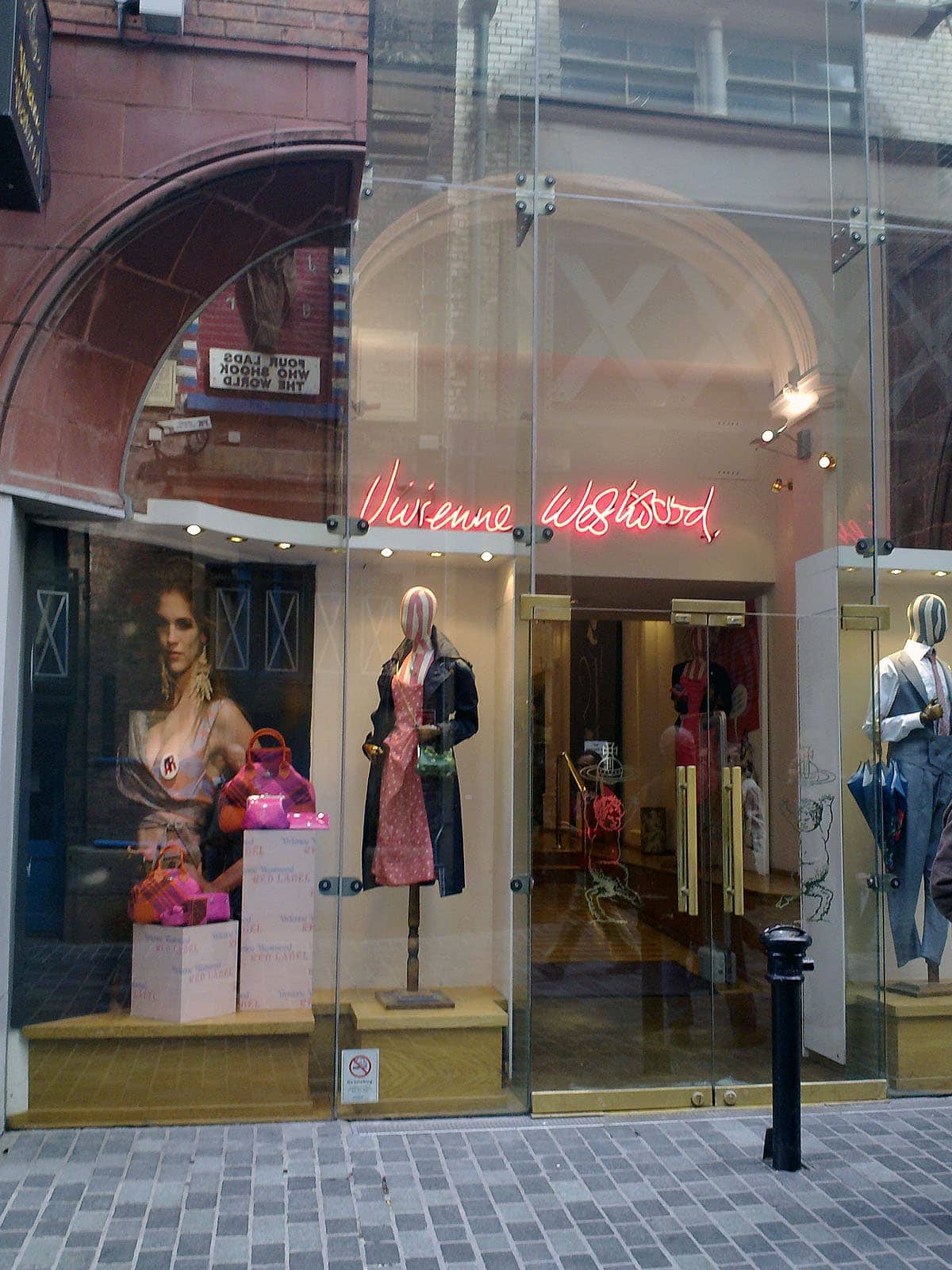 Matty Bovan: Well I'd say influence as well to be honest. I don't think I'd be a designer without Vivienne. Obviously, I can't tell what the world would be like without her! It was some of the first designer clothes I saw in real life, because they had a shop in Leeds and a shop in Liverpool. I remember going to Liverpool as a teenager with my parents for some reason. My parents had never gone into a designer shop like that it's not just the world I came from. So it was such an amazing experience, to see things and be like: I want to wear these things, I want to make them. It was really eye-opening. And this was before the internet was a thing, really, so it was very different. Even fashion websites, when they first came out, there weren't any that a teenager could really find. Showstudio.com was one of the only websites I found later on that actually had content that wasn't just catwalk images. Again it changed very quickly. There wasn't any other way – we had to buy some magazines once when we were at school doing textiles, like Vogue or Elle that would have style guides with trends in them. I never even knew those existed. In a way it was quite nice, that naïve time, because it made you really search things out.
Mark Hooper: So what do you think first got you interested fashion?
Matty Bovan: I just always wanted to do it. I was one of those weird kids that knows what they want to do from an incredibly young age. My Mum and grandma were very into getting 'dressed up', but not into labels. There is a big difference; they weren't label whores, I never saw a copy of Vogue, ever. They never bought fashion magazines, they were just genuinely interested I guess in expressing themselves through how they dressed, and make up and hair.
And then I started playing with dolls at a very young age, which it seems a lot of designers do! I started making clothes, my grandma taught me to knit when I was 11, and then I never really looked back. And then I got a knitting machine when I was 15 or 16 from one of grandma's friends – no instructions, it was horrific really, but I was very much: 'I want to do fashion, I want to be a designer', from a very young age. And it's all I've really been good at as well. I'd love to have been a pop star, but that's never gonna happen!
Mark Hooper: But even with pop – the visual side is just as important isn't it? How people present themselves. Often you just see a picture, particularly when you're younger, first getting into music, you almost fall in love with pop stars because of how they look and how they dress, before you even hear any music.
Matty Bovan: It's the total package. That's what a good pop star is really, whether they mean it or not, it's always how they look. Although I don't think that's how it works any more, I think it's changed with TikTok and stuff. Now you get TikTok stars who are signed to Universal, it's like the new form of management. It's very weird. I remember having a VHS recording of a live performance by Madonna when I was maybe 12, and watching it over and over. It's not really that long ago, but it was such a different world in terms of finding any culture. I remember going to the V&A museum [in London] with my Dad. We won a trip to London for two people, so my Mum said, 'You and your Dad can go'. I wanted to see the Vivienne exhibition at the V&A…



Mark Hooper: Hang on wait, how did you win a trip to London?
Matty Bovan: I think it was a charity raffle…? Isn't that a weird one! But anyway, the show had just finished and I was really sad, so I bought the catalogue – which I still have and I look at all the time, constantly. I guess the older I get, the more fascinated I am by how people interact with culture. These influences stay with you.
Yeah. And particularly with Vivienne, there was a whole philosophy – she was very consistent, she didn't change, it would be: this is the way I am…
And also she had to have complete survival skills. The amount of times people said no to her, with her business. If she'd folded at that… It's real strength of character, real tenacity and self-belief, which people don't have to the same extent anymore. She was very aware of how talented she was and made that into her business. Of course later in life she did say it wasn't run exactly how she'd have liked it to have been run, but sadly that's the price you pay with any business like that when they break big.
Mark Hooper: I know you've been doing this a while now, but there seems to be a big buzz around you at the moment, and you're being presented as this 'big hope' – I imagine when you're in the middle of that, you probably don't see it as much, but I'm interested in how you see things, are you quite positive about the way things are going, do you worry about the hype around that, or are you just happy doing your own thing and let other people say what they say?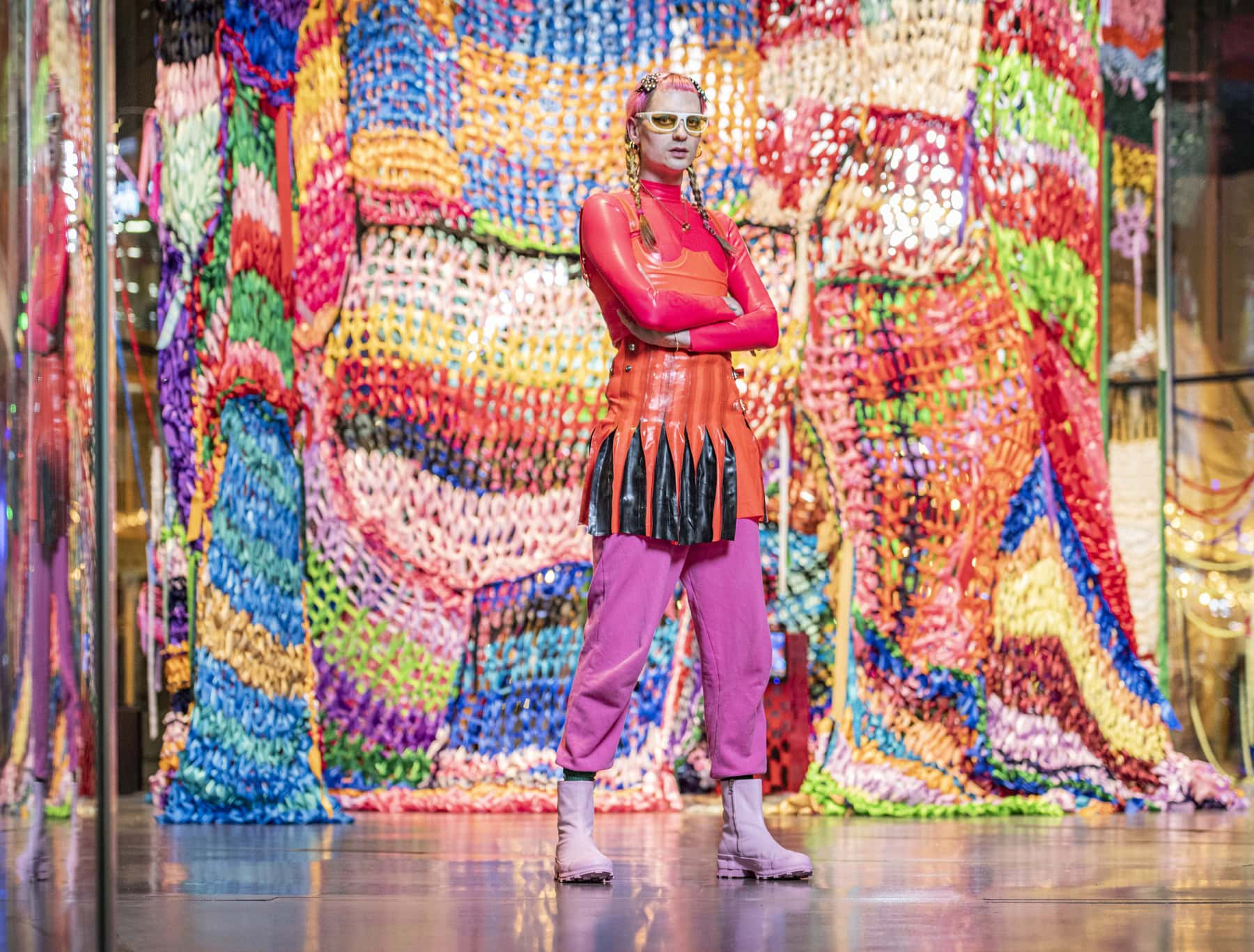 Matty Bovan: Not in my terms, no, I don't worry about it. Because to be honest my day-to-day is very normal. So I don't have that. To me, it's a job that I'm very grateful for and love doing. It's very hard for anyone to see themselves like that. It's nice when people say it! I don't think on it really. It's a positive thing, really. It's nice when young people message you saying your work's really inspiring – that's great. But it goes back to this thing of being really hyper-critical of your own work anyway. I work very hard at each collection, I don't just dial it in. Because I really care, and I care about challenging myself to each season try and explore something new. Of course there's overlapping themes.
It's obviously nice that it's very well received, but for me it's a strange experience, because I'm not in London, I work very solo on most things, I don't have a lot of people around me, unless they work remotely. So it's a very solitary experience in a way. But I would be doing this even if it wasn't a career, because this is just who I am. Honestly, it's all I've ever wanted to do, so it's been very dream-come-true really – and to do it this long as well.
Mark Hooper: There was always this unwritten rule for British designers that you had to follow this conveyor belt of – go to St Martins; graduate; set up your business in London, maybe end up showing in Paris or somewhere… But everyone implied that was what you had to do, and it's really refreshing for you to show people: 'No you don't, you can do it however you want, and I'm going to do it from York'.
Matty Bovan: For me, it allows me a lot more privacy. London's not that far. And a lot of people graduate from St Martins each year and not that many people do that – it's just that a lot who do went to St Martins! One of the questions many people ask me is – why St Martins? What is it about that school? I guess it attracts people who have an individuality. And it's a very competitive environment, you have to really stick to your guns and know who you are. But I think it's mainly that people are really pushed to be individual, so however off the wall you want to be, they let you do it. It's not a formulaic school in that sense.
I'm very lucky to have had amazing support from the start, with people like Mandi (Lennard, his PR), Katie (Grand), people at Fashion East, (British Fashion Council initiative) NewGen, Sarah Mower… these are very big, well-respected names in the industry who are also very knowledgeable. I don't think I'd have been able to do it without those people. It's gone very quickly as well.
But I remember when I first moved back to York, people were horrified. Genuinely. They thought I was joking, they were all asking when I was going to come back to London. But then Covid happened and everyone was working remotely. I've never really felt it was a massive issue being up here.
Also London's changed, it's more expensive, people are having to go a lot further out to find affordable spaces. It's kind of sad really, because a lot of my creative friends are having to move further out.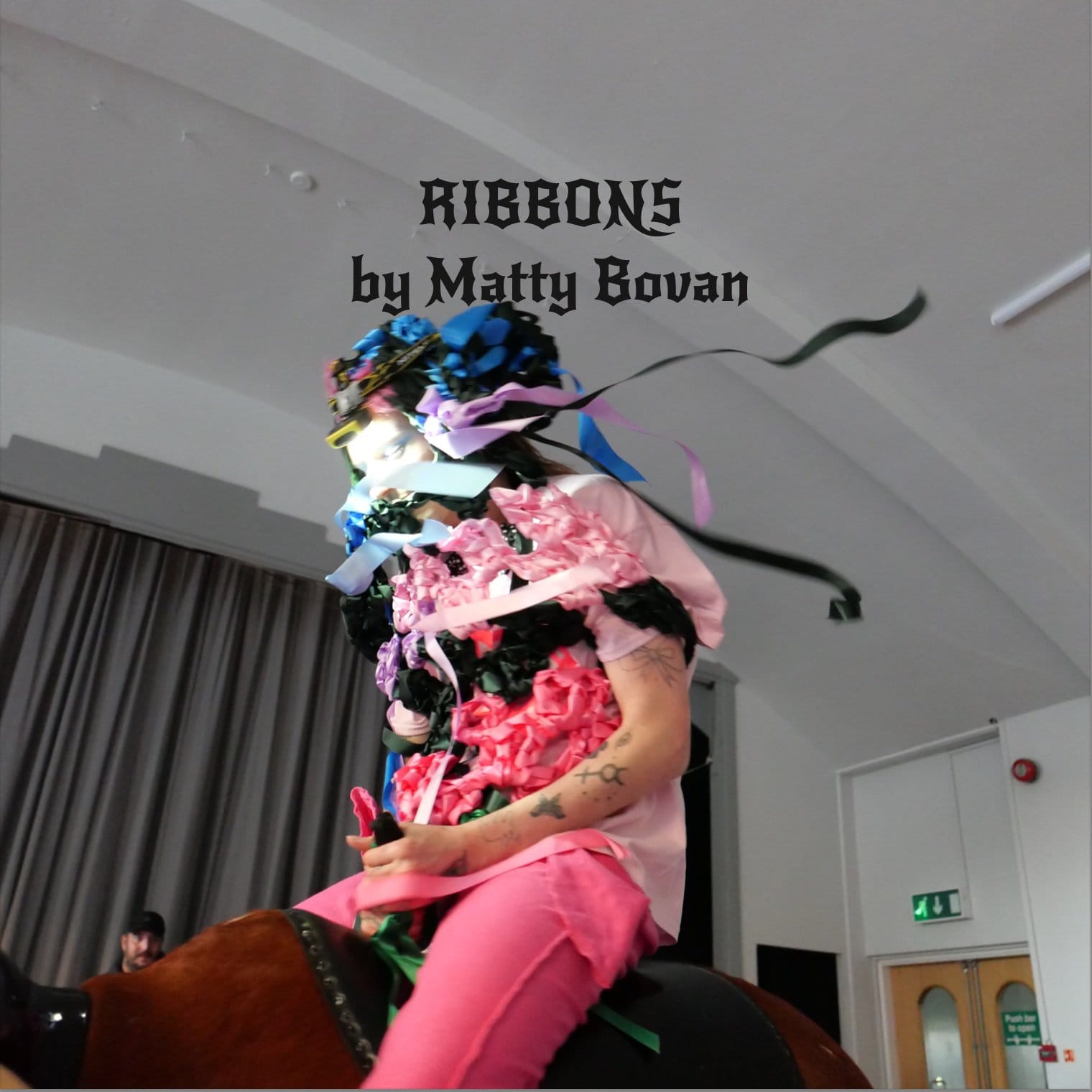 Mark Hooper: I liked how, with your Ribbons show, it was very de-mystifying – the fact that you showed the making process behind it and that it was collaborative, so that the public could participate in it if they wanted to. Fashion often feels untouchable for lots of people…
Matty Bovan: It is. That's what I mean about going to the Westwood shop as a teenager – I'd just never seen clothes! And especially with my clothes, because I haven't done wholesale for a couple of years, I've done private order and there's my e-shop, but it's not like you get to see it in real life, so it was nice to be able to do that, and that Ribbons was free and accessible. The thing about fashion is it's still very much behind closed doors. We had a huge amount of people go – over 12,000 I think. It was really touching to be given an opportunity like that, and I had amazing comments, people saying that it was so needed, special after lockdown.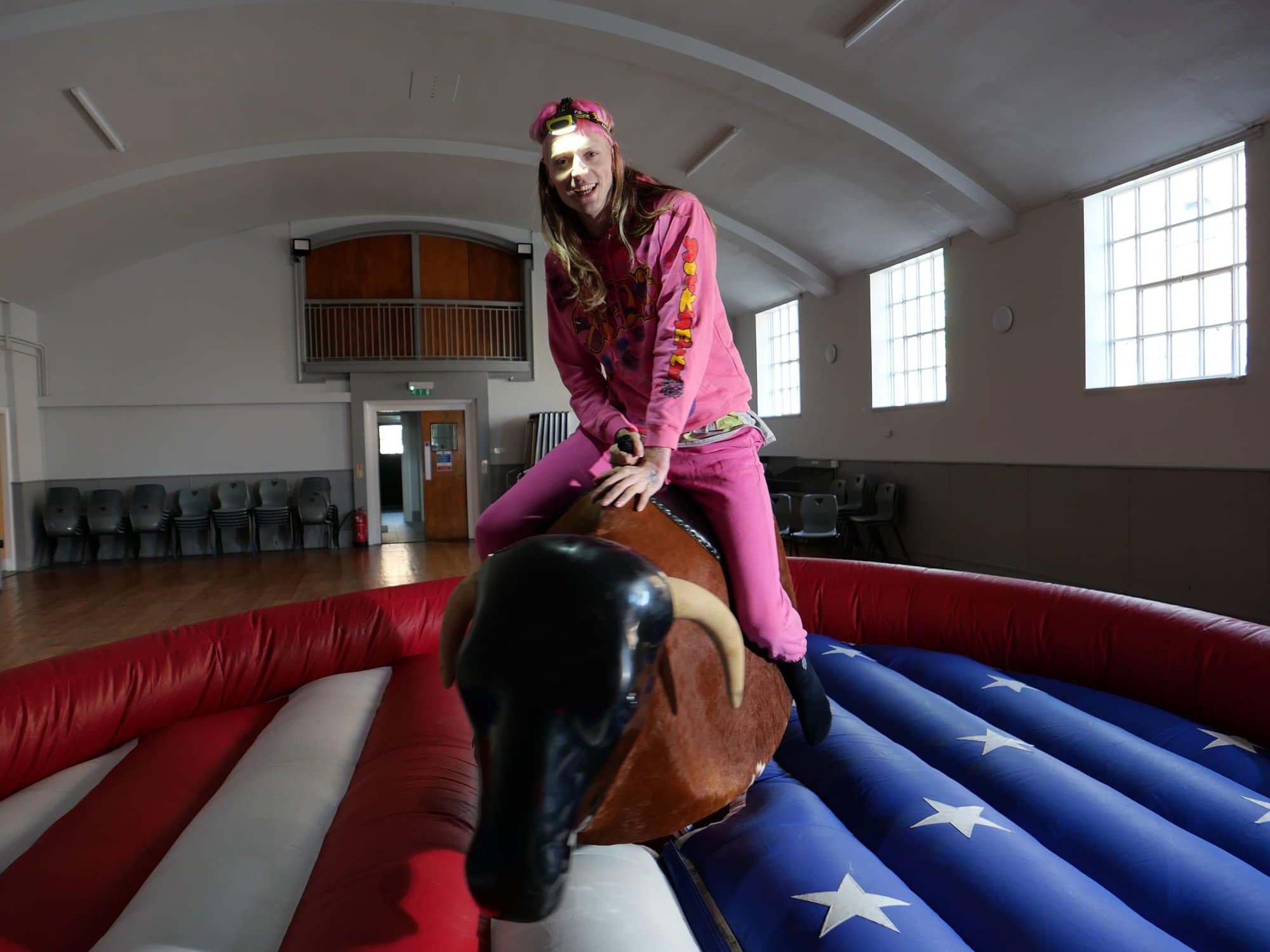 Mark Hooper: It feels that there is a lot of happiness and joy in your work, that was also much needed.
Matty Bovan: I always see dark in my work, but the majority of people do take away the light. And actually it's very hard to make something that's positive without it feeling patronizing. Sometimes I can be working on a collection for five months, as you go through all kinds of emotions making it. It's always more deep than that, but because of the use of color and texture, people really respond to that well. It's great. I've always seen it as slightly dystopian, but maybe that's because fashion is always looking to the future.
Mark Hooper: I don't mean that in a frivolous way – there is really a continuation of Vivienne's punk spirit in what you do I think. But there's a celebration of material and materiality…
Matty Bovan: Oh totally. Those are the things that turn me on, finding a weird fabric or yarn. Because everything's been done, but it's just trying to say something new with it I guess. But I also realized I can't get away from who I am. You know how people try to put on a different character in their work – but it's always going to have the DNA of whatever I do. When you're in the middle of a collection, sometimes you look at it and think, oh god, people are going to say you've already done this, so I always try to challenge myself. But I do have a lot of fun: it's a fun experience. I have a lot of enjoyment in making the clothes, and I think people can tell.
It's funny when people say to you 'describe the collection in three words' and I'm like – but that's six months of my life! But I realized that if I just say 'disco' or 'glam', that's fine. It's quite freeing.

I'm in a very fortunate position where I'm in control of everything and I'm really enjoying it. The last show, I did 28 looks but I only showed 13: that was a real luxury, and believe me, everyone was positive about the change, they all said you can actually see it, it felt more high-end and couture. But I'm lucky. I just want to make stuff and to show it: that's always been my main goals.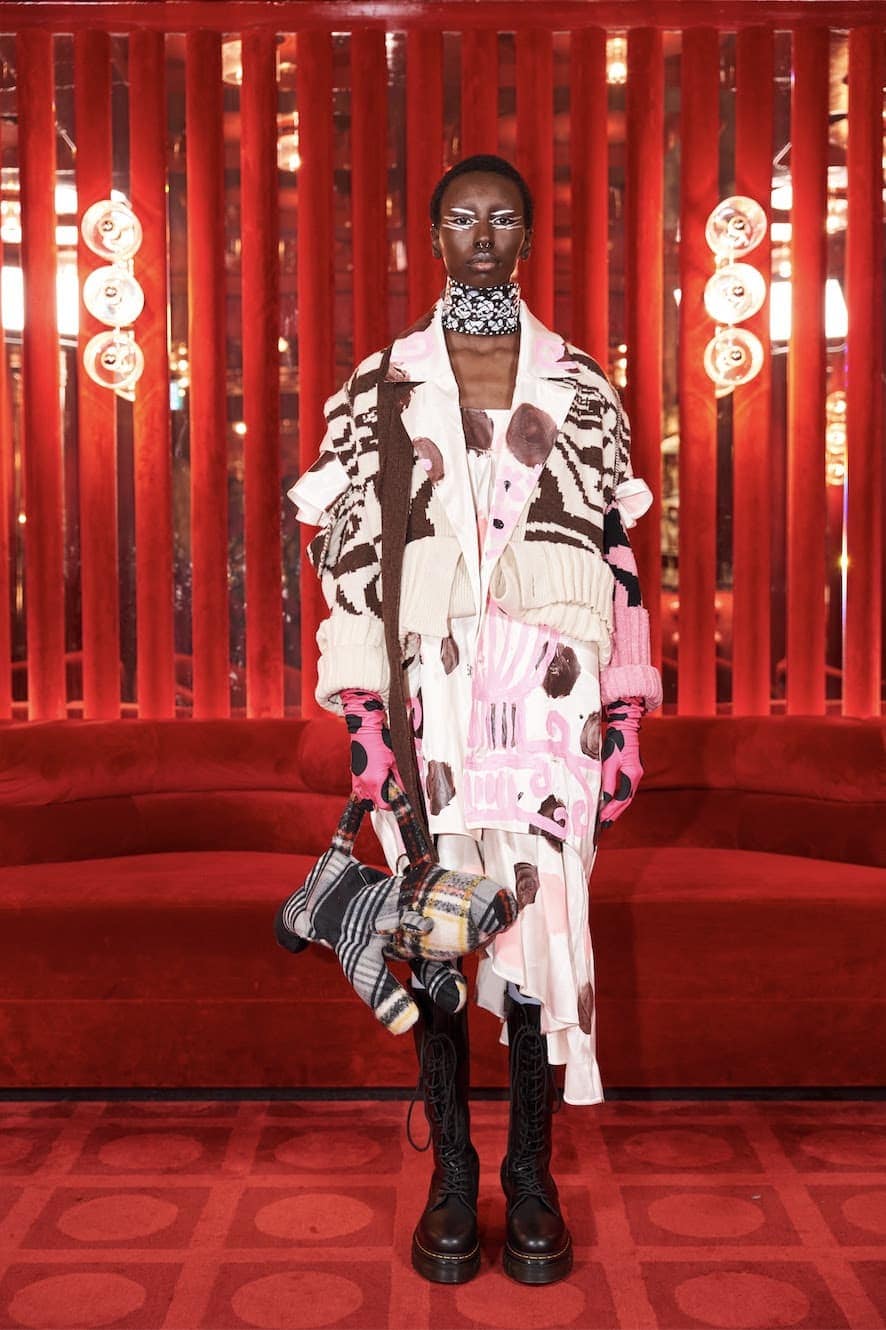 Mark Hooper: You do seem genuinely very positive about the future and the way things are headed though…?
Matty Bovan: I mean: what's the alternative?!
---