---
Review of Matty Bovan Spring 2023 Fashion Show
Too much is never enough
By Lizzy Bowring
Well, this is it! The end of Milan Fashion week and one that will be remembered for some time to come. There is a change in the guard. Italian fashion is opening its arms to the adventurous, the raw, and the exciting, and this evening, Matty Bovan proved it. He closed the fashion week with an energetic, exhilarating, and totally maximalist presentation.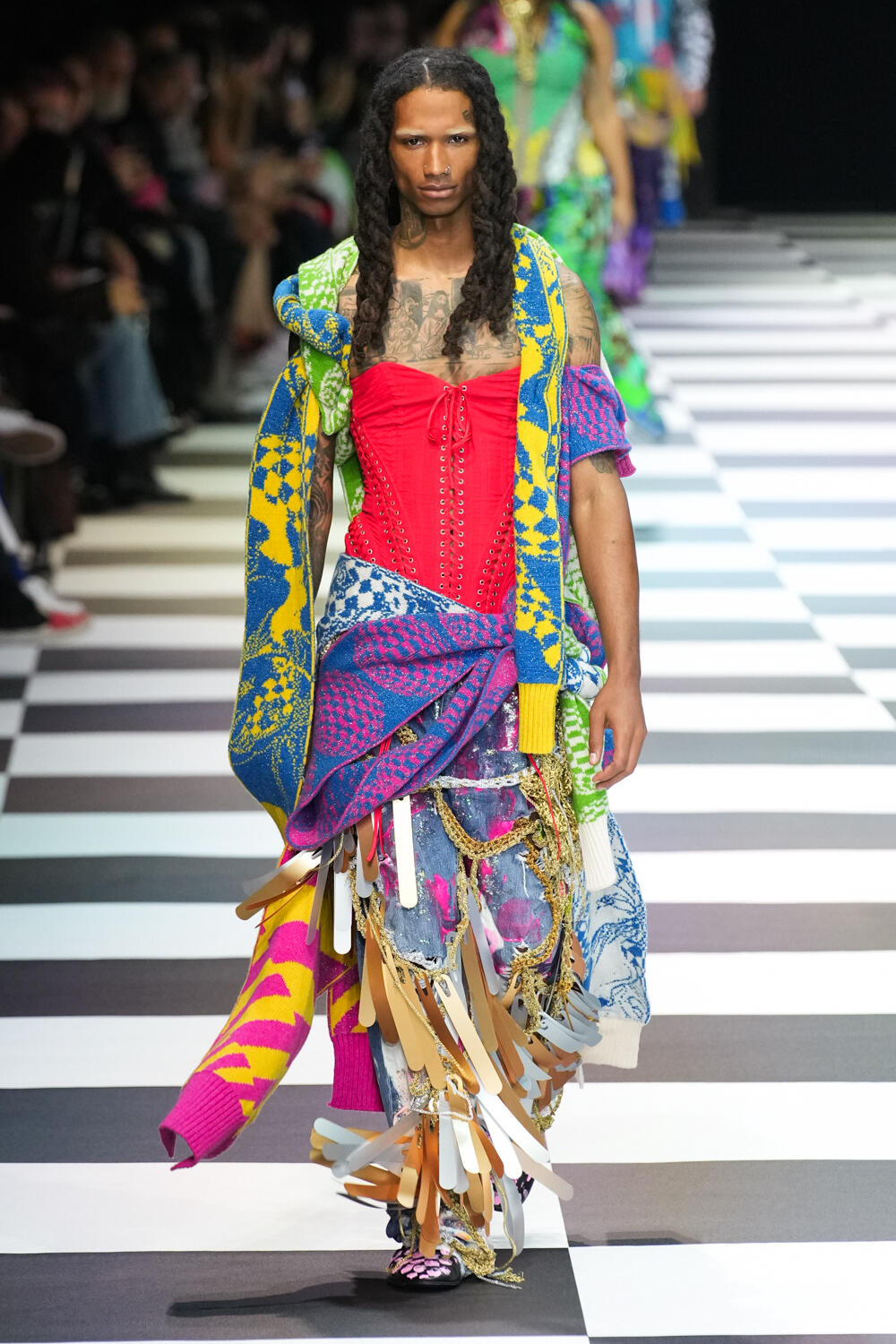 Bovan is the second talent to benefit from Dolce & Gabbana's generosity. He was allowed access to all the Italian house's attributes and craftsmanship. "It's been important for me to continue manufacturing in the UK, including my home of Yorkshire, while enjoying the privilege of mastering Italian Craftsmanship". From archives and artisans, seamstresses and materials – all were available for this young creative genius to have his way! Too much is never enough.
Matty Bovan collaged enough print, pattern, and knitwear to render the most psychedelic presentation of clothing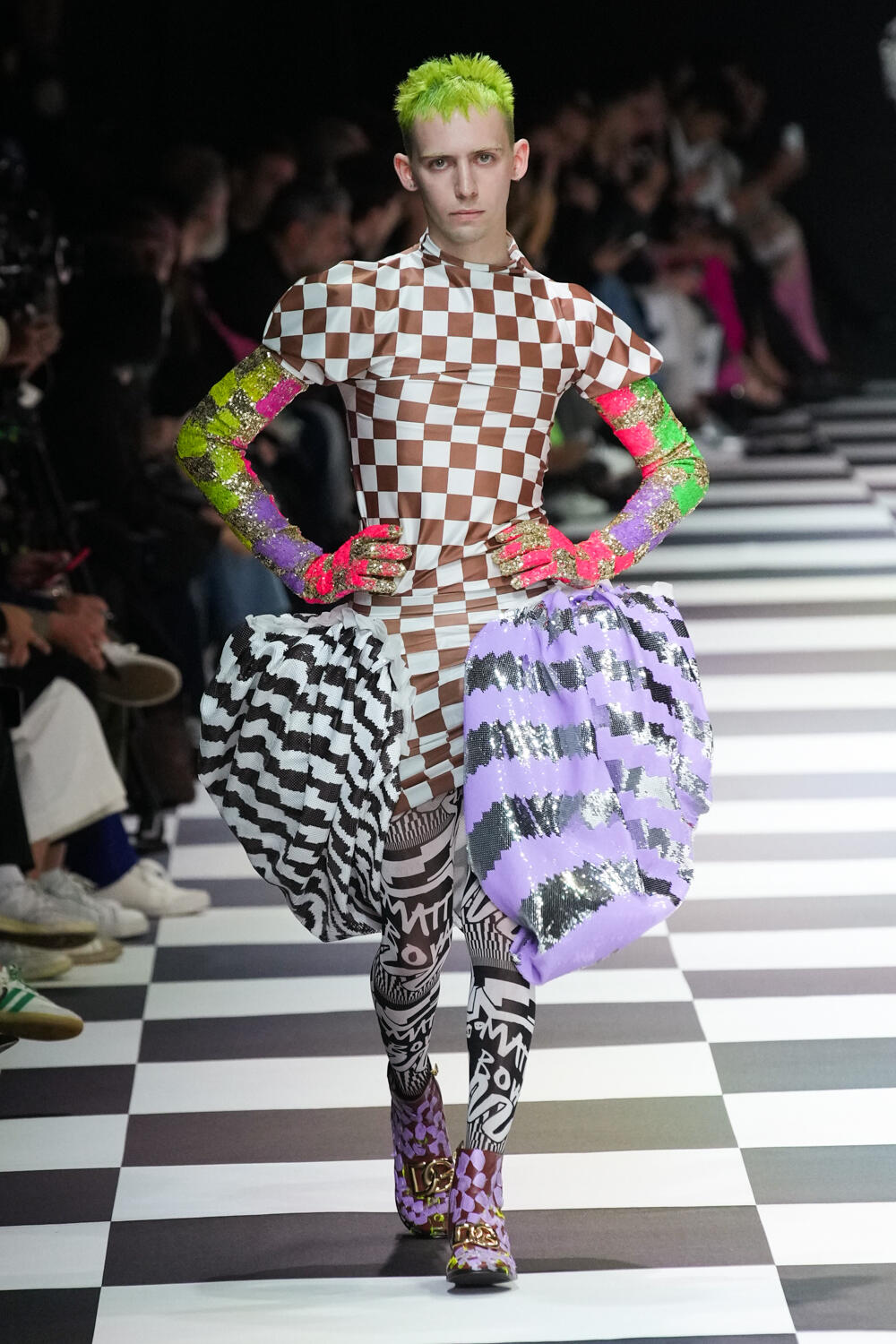 There was reimagined, reinvented denim, mismatched cloque materials, a never-ending display of corsetry – it all came prancing in Bovan's energetic style down the black and white runway – a perfect backdrop for his very vibrant clothes.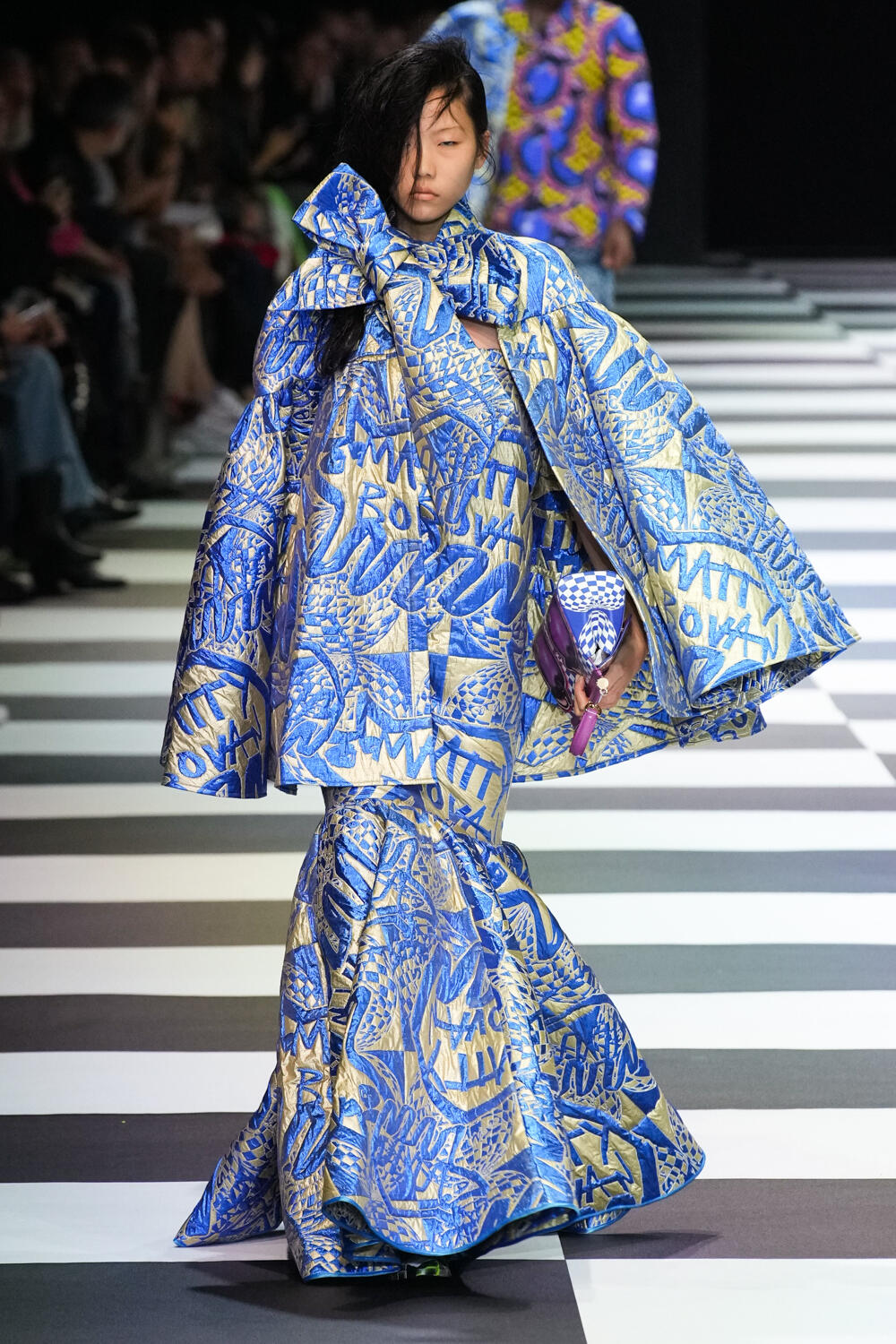 The genderless equation was evident in every silhouette. It didn't matter. It's the world now. Bouncing crinoline hips, tee shirts worn over exaggerated sleeves, oversized jackets, asymmetry, sparkle and shine. Checkerboard tops came with huge puffed sleeves; a colour-blocked, sheer slip was irreverently caught at the waist to create exploding drape. One look combined a corset in a checkerboard pattern, wickedly worn with slashed jeans and a crochet appliqué.
While it must be noted that the jewellery was designed and crafted by his mother, Plum Bovan, the brilliant stylist Katie Grand was on hand to add weight to this fantastic talent. At the same time, Stephen Jones's headwear was a wild finishing accoutrement. Bovan's irresistible creativity knew no bounds, untethered, unharnessed surrealism.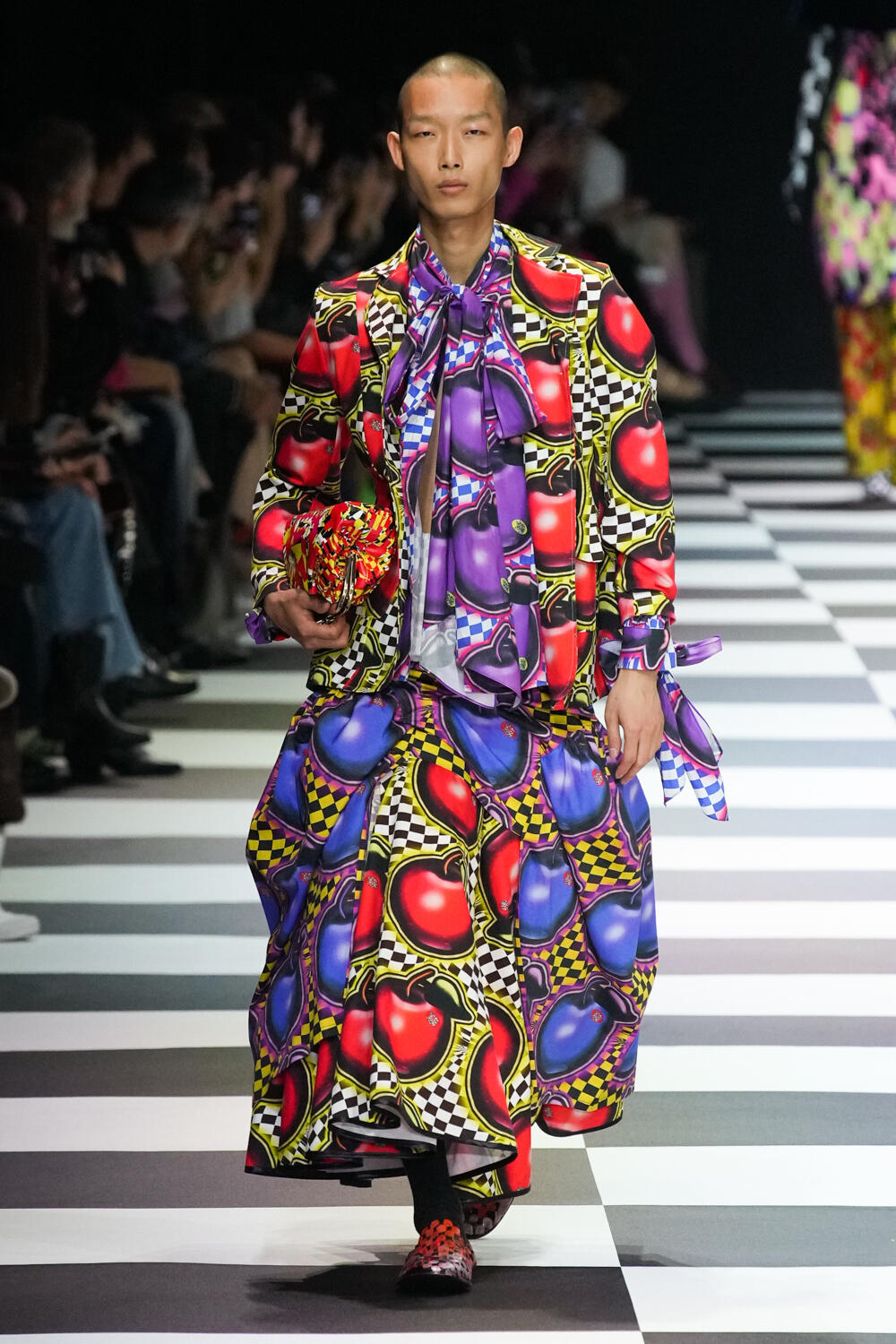 You need to give young people their freedom," Gabbana said. "The creative moment is very personal." There is that word again, Freedom.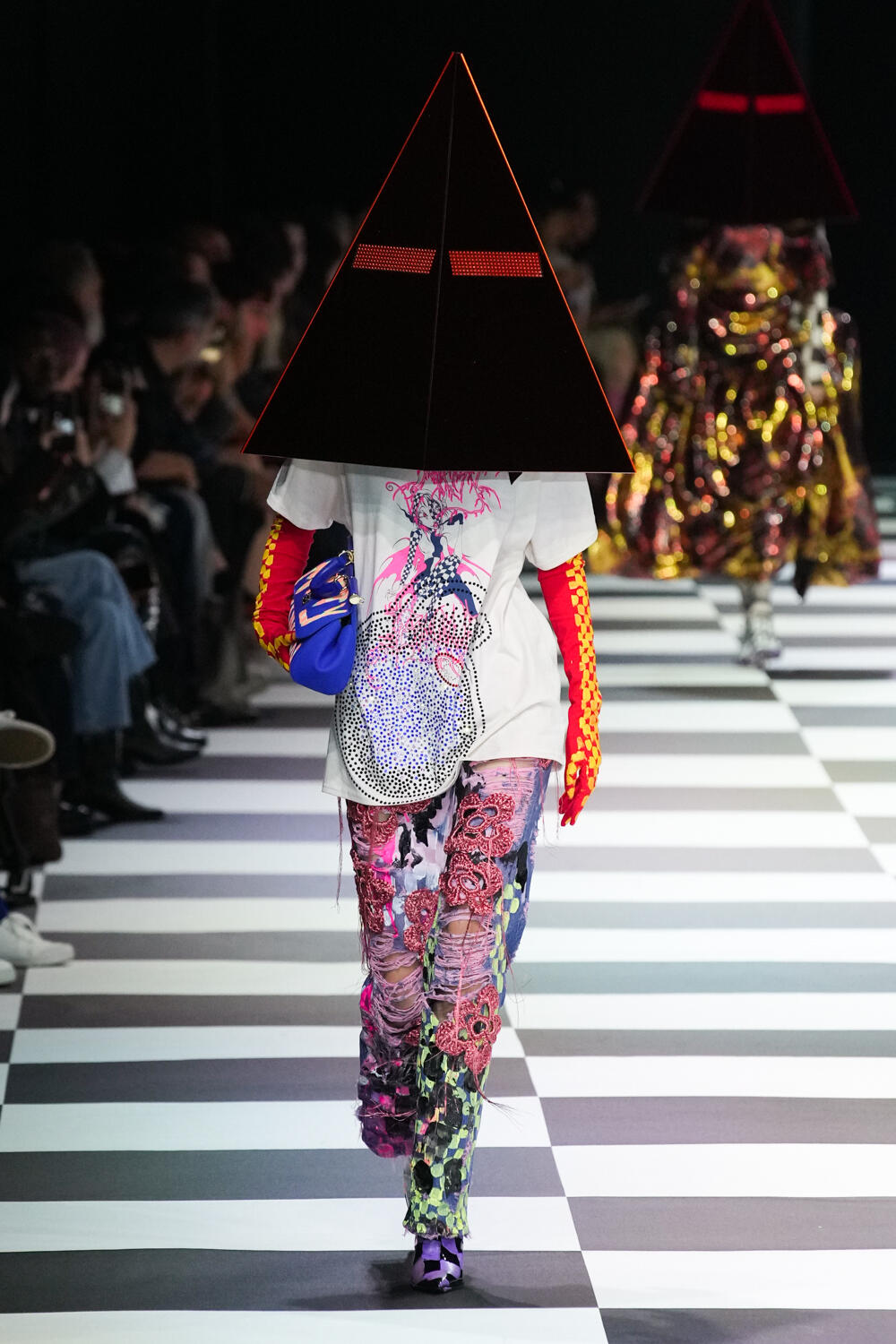 The show notes were evocative of the young designer's repertoire. His collection was titled Shapeshifter – the exploration of visceral texture and colour, subverting and distorting the body through harnessed chaos, resulting in triumphant identities. Everyone in the audience was caught up in Matty Bovan's triumphant moment.
…It was fabulous.
---