---
Review of Michael Kors Collection Spring 2021 Fashion Show
A Season in Nature
By Long Nguyen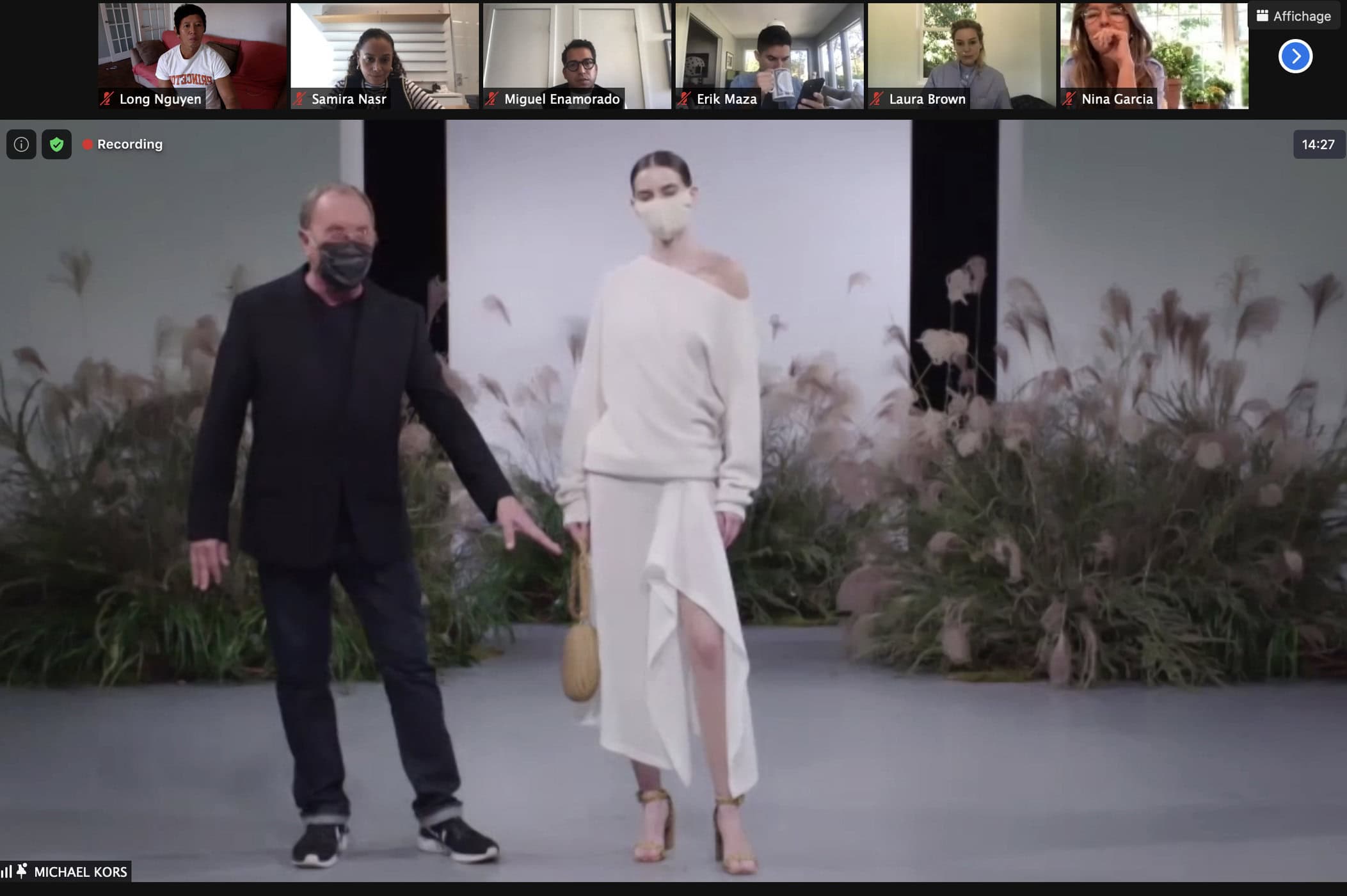 "A season in a moment that is unlike anything that any of us could have imagined. Everything stopped and ended. Suddenly you are going at warp speed and then it was how do we recalibrate to a new speed and a new reality. I am not a writer but if I were I would write How to stop and smell the roses. Normally I would be in Milano [for] the three spring months and it was the first time I got to experience New York springtime in the spring! I got to see the city come back to life basically from my neighborhood – suddenly Greenwich Village was the world. The plus here is getting to see spring in the city and the optimism of that and I started to think about appreciation, relationships, and how interconnected we all are and the loss of that interconnection," Michael Kors said via Zoom to a small group of editors in a preview of his spring collection, the day before the video of the taped show at the New York Restoration Project was to premier globally.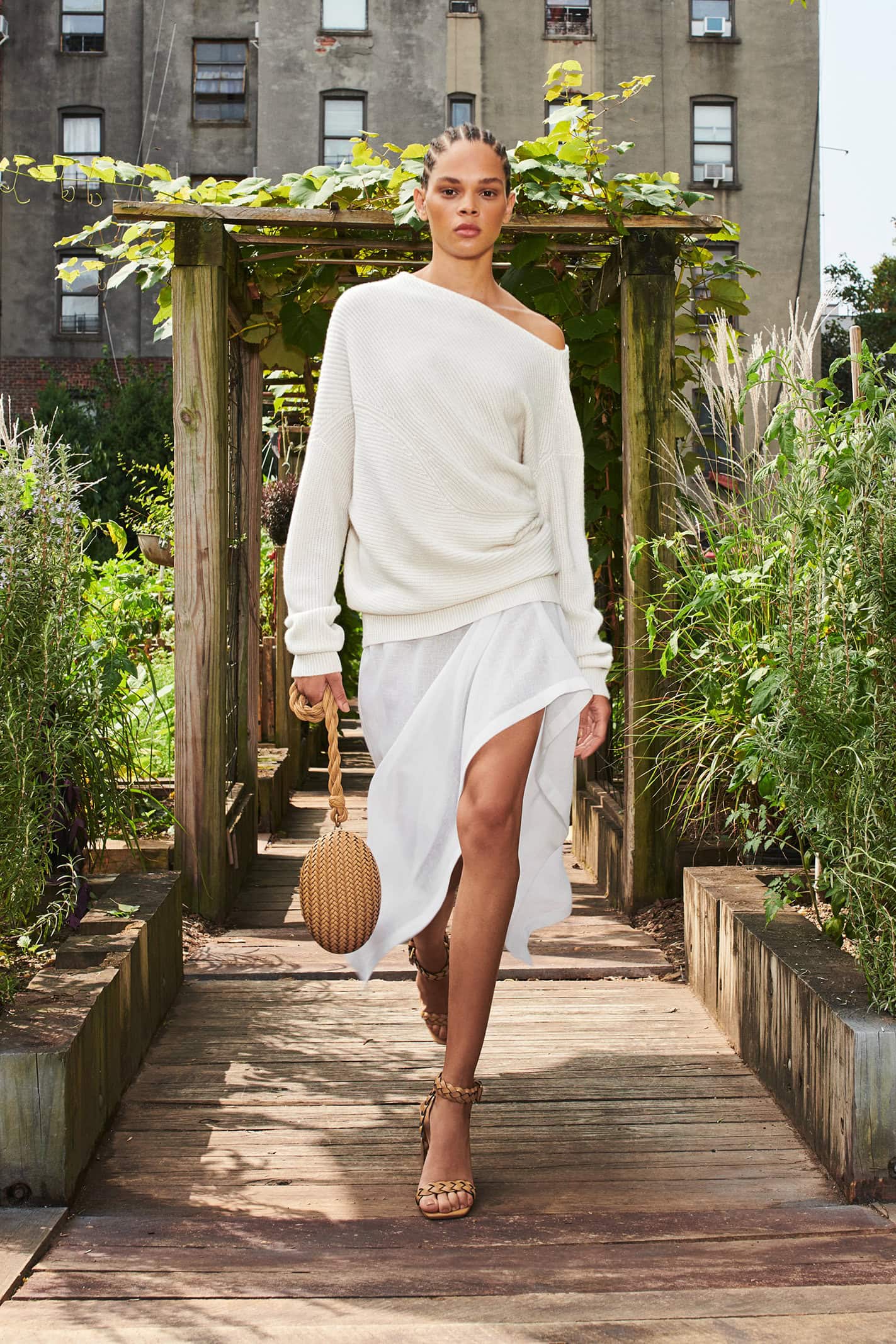 "How are we going to do this collection? The next thing I know is that people started sewing and making patterns in their homes and working with textiles, people who were closed. We started to do trunk shows on zoom in the spring and let me tell you the ladies are so excited about fashion. They are not just wearing track pants, and they are not wearing ball gowns either. So we have to find the answers to these very odd times," Kors said about the working conditions during the lockdowns, both in New York and at his factories in Italy.
"We are a huge fan of live performances and with Broadway and concerts all closed, that's like taking a chunk of our lives away. So we started to follow American Idol where so many of these young kids are trying to make something of their own talents, and we fell in love with this young singer name Samantha Diaz. I didn't know if I will have a collection, I didn't know if I will have a show but we have to do something with this fabulous performer – she is 21 years old, the same age I was when I started my business and I didn't even know what UPS was. And we wanted to have a film that explained our thought process during these crazy times of putting this whole collection together. So we work with a young filmmaker Haley Anderson," Kors explained as the genesis of the idea of filming a live show with no audience in the Bronx with a performance by Diaz, as part of the collective spring 'show' with the film titled Up On The Roof.
"We all seemed to crave nature no matter what city we live in. I have been a board member of the New York Restoration Project for over two decades and I want to put a spotlight on NYRP's work in restoring green spaces around the city. So we filmed our show in this garden in the Bronx. The whole neighborhood comes together as a community. It's five blocks from where my grandfather grew up – so it's really a New York story," Kors said of his choice of the location for where to stage the filming of his spring show, that featured the many models who have always done his runways – Julia Nobis, Alex Wek, Hiandra Martinez, Mayowa Nicholas, Saskia de Brawn, and Sabina Karlsson – all wearing the incredibly light and relaxed collection with clean and straight silhouettes in summer fabrics with hues of ecru, whites, light leaf greens, light greys, blacks, and wood browns.
From the lockdown, Kors delivered a utilitarian collection in his own way with clean and relaxed shapes and little need for added fanfare or decorations, save for some specialized handiwork.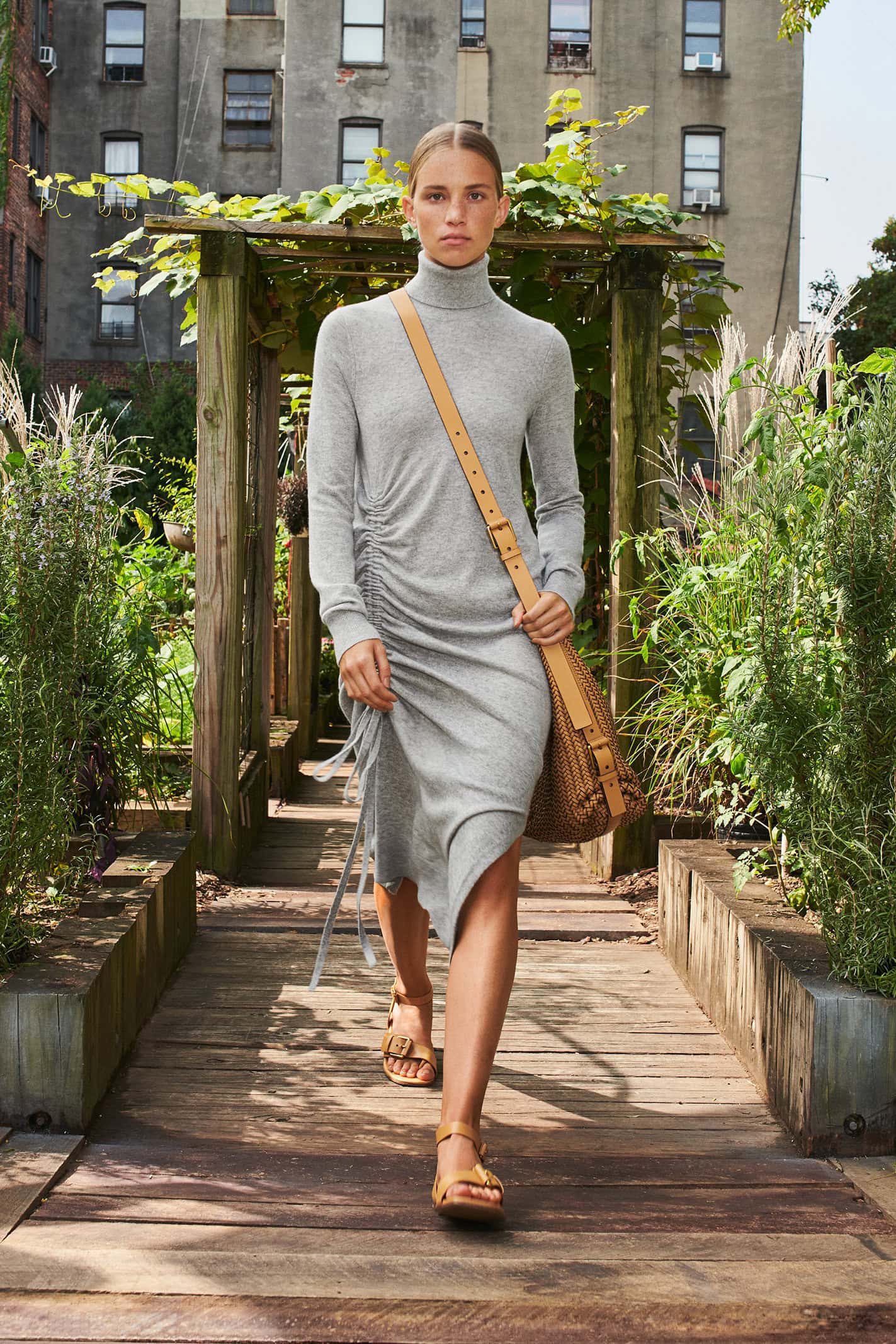 The runway was the actual wooden plank walkways, and the set decorations were the various green plants and flowers growing from wooden planters against the backdrop of city housing apartment high rises – settings that juxtaposed the urban/nature symbiosis in a way that a light yellow single-breasted long coat paired with knit tunic and long skirt, or a light grey turtlenecked long sleeve dress with asymmetrical trim and side ruching, or a grey knit sheath long dress with braids and hanging fringes, showed the ease of these clothes for any situation in these uncertain times. "All the braiding, and the fringes on this grey dress, are all done by hand as well as hand knitting on the handbags," Kors said as he showed the brown woven leather bag that will age better with use and time.
Tailoring figured prominently in the collection but the cuts and the shapes are done with a very light touch as not to invoke any sense of a suit being slightly formal.
Jackets are loose but not oversize – they are slightly longer as if to replace a coat, like the white linen gauze single-breasted jacket paired with a long tee-shirt blouse and slim pants, or a light grey linen long coat worn with a grey tank and sarong skirt. Or as a loose double-breasted jacket over a mock turtleneck and matching hot shorts. For men, the soft tailoring came in a light, large lapel, grey tropical wool double-breast jacket with a white long shirt and cigarette pants, or in a charcoal linen single-breasted suit with a long striped shirt. Some of the trench coats, long shirts, and even suits are gender-neutral.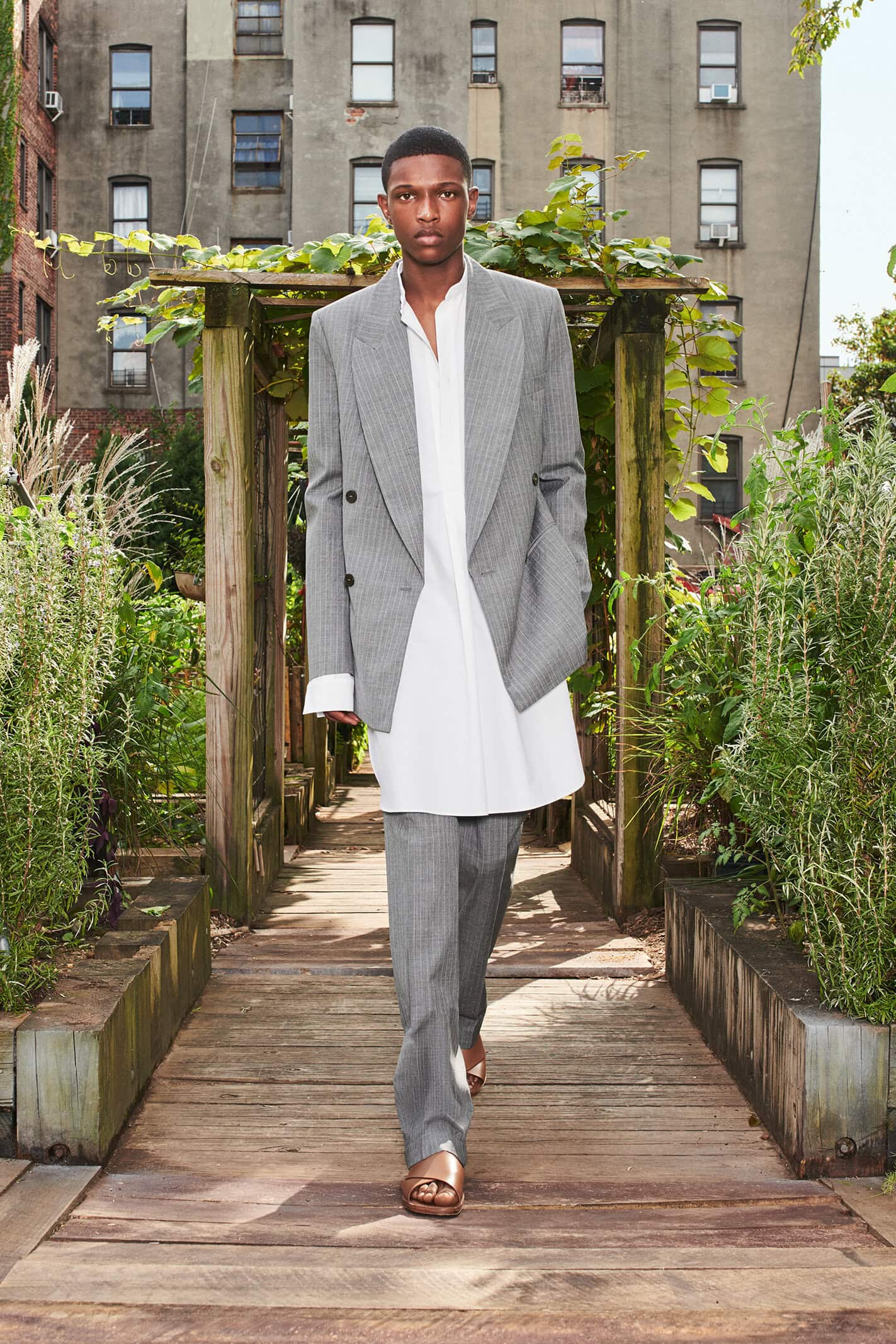 "It calls for things that make you feel confident and also things that have longevity, things that are not frivolous and they are also versatile. Everything designed this season can be worn with flip-flops and ten months later they can be worn with stilettos. You can wear it at the beach, you can wear it in the city. The rules have changed. Everything that we think is polished and formal, we take the stuffing out of them, and things that feel [like] special occasions are more easy. A beaded dress can have beautiful handwork that can be worn with a pair of slides – it's the merging of the city, the beach, and the country altogether" Kors said of his intentions for these spring clothes. "Burn your track pants and replace them with linen gauze pajama pants!" Or for that ecru off shoulder sweater cut on the bias in cashmere and lined with a white pareo skirt, and that sleeveless dress with small leather waist belt that is a reissue from spring 1991.
"My husband and I divided our closet in half – he wears a blue shirt every day and I wear black tee shirt every day. How do we have luxe in a tee-shirt? How do we disassemble those city items like the trenches? To make the trench feel soft and sensuous" Kors said of the loose khaki trenches and the various blue shirts as dresses or paired with vests and pants. "What is 'evening' anymore? What does it mean? What does 'special occasion' mean?" Kors said as he pointed to a model in a brown sequined long dress with a silk brown insert in sustainable viscose that doesn't look like a mermaid dress.
Kors is very passionate in his explanations of the outfits he showed us on live models. The designer always did these kinds of small presentations for his pre-fall and resort seasons at the office where, in the same format as this live Zoom, he narrated the 'what' and 'why' of the new season's clothes – far away from the fanfare of the staged runway shows.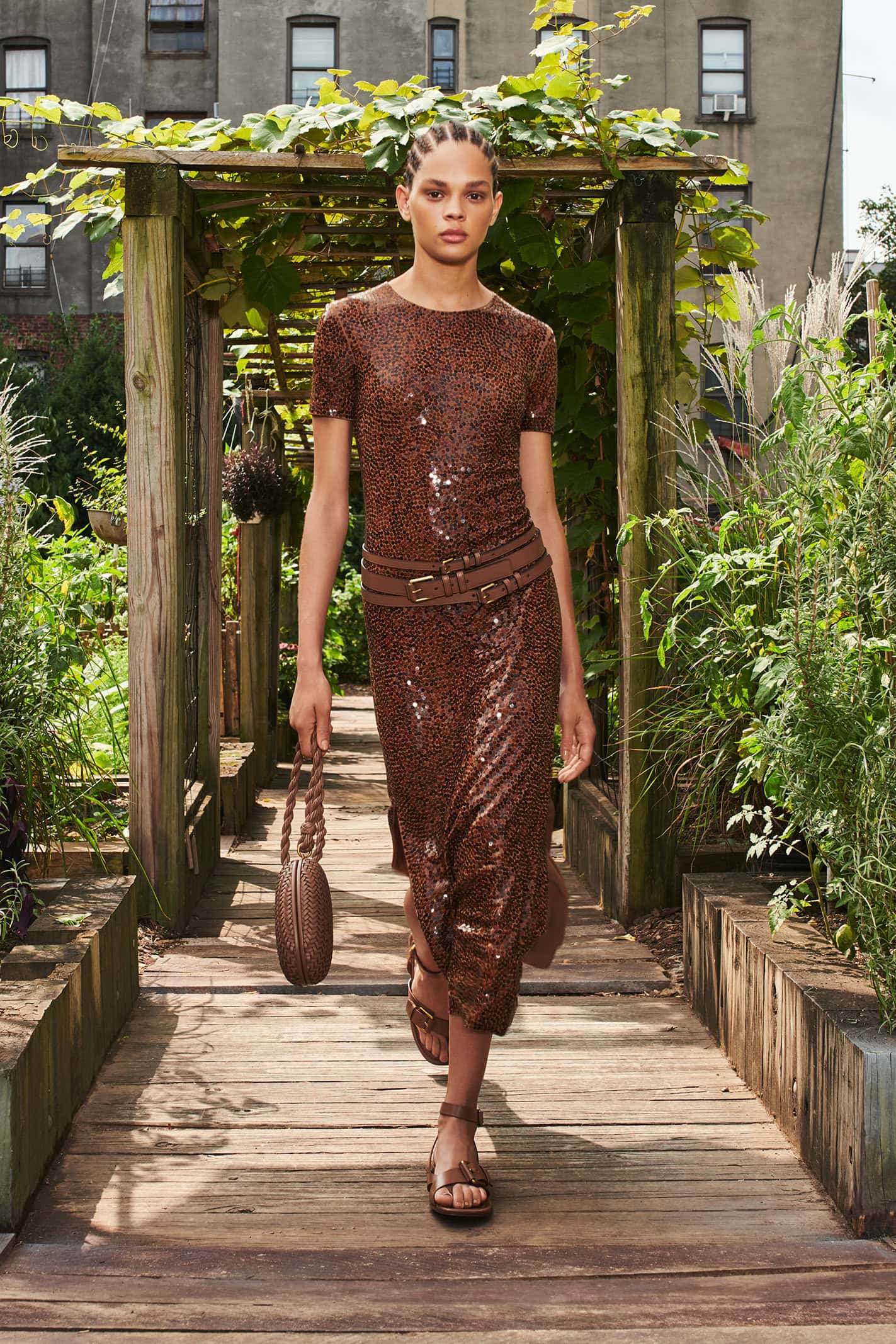 The preview was more focused on the ready to wear clothes with a few handbags, but they were only there to accessorize the clothes and not the other way around, as it feels in so many other fashion shows now where the clothes are merely supporting actors in the main action. When he talks about clothes from his own closet, he is showing this heightened awareness of what his women need in theirs.
Kors' primary concern as a designer is how to fulfill the practical sartorial needs of women today and tomorrow without resorting to tricks by associations with the currency of arts, or even so much of pop culture. Surely there was the spectacular performance in February by Orville Peck and gosh who can forget how Barry Manilow closed down the house with his live performance of Copacabana for the finale of the Fall 2019 show the year before. While these performances added gumption to the show, they didn't interfere with the designs of the clothes, nor were the clothes dependent on any performances to perform on their own.
Kors has built an impressive community for his clothes in the many decades that he had traveled around the country, and recently globally, with his trunk shows that were delivering his clothes directly to his ladies – but they also served as listening tours.
The difference between how Kors approaches designing clothes is his perception and his personal understanding of how his customers live, and the kind of clothes they will need for their lives – this isn't a question of art, and this isn't a question of intellectual connections, this is just about making the right clothes, clothes most difficult to make as a designer collection – quotidian clothes.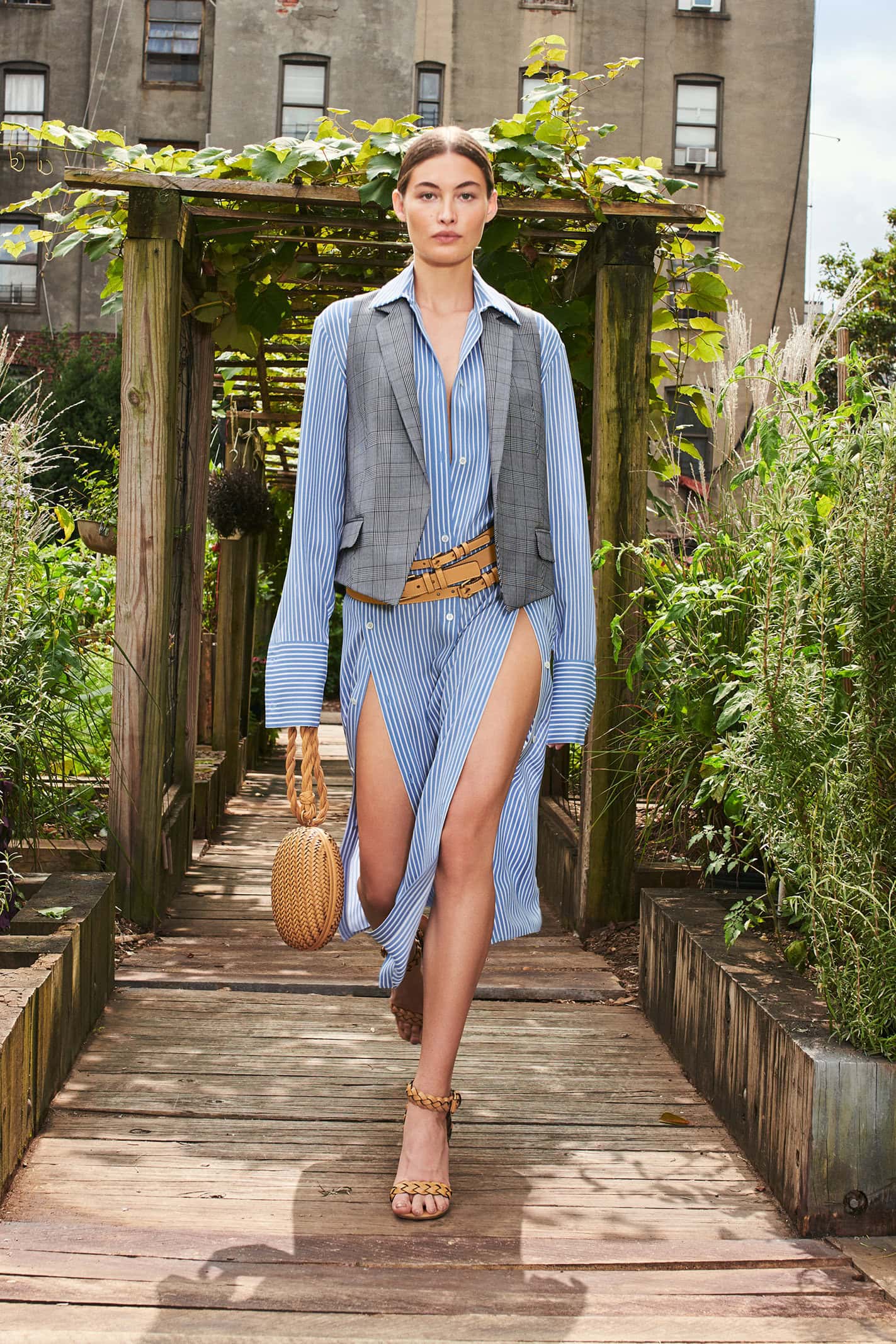 This spring collection sure has plenty of comfy clothes to choose from, as intended. Like it or hate it, either way, it is impossible to dismiss Kors' sincere belief that these are actual clothes that will help to alleviate his customers' sartorial needs at any season, and under any circumstances. He made these clothes in this way to anticipate the changing lifestyle of his women. More than other designers today, Kors has made a career out of having a stake in how these women dress now and will dress in the future.
Here's a bigger issue. In the fashion environment today, some of the editors may be too obsessed with the idea that great fashion design somehow has to involve the kinds of avant-garde notions about innovation and so forth. In this sense, they can no longer perceive how someone like Kors serves one of fashion's most eminent purposes, which is to provide his customers with the kind of great clothes they clamored for – rather than concepts of clothes destined for intellectual discourse and later for museums. We have gotten ourselves perhaps too far, and at times too deep, into the art-fashion bandwagon to recognize the real contributions and the real fashion designer Kors really is. I admit that I am also someone belonging to this category of people more interested in the art of fashion, rather than the fashion of clothing making. That said, this is a designer who really understands the reality of clothes, and how to mold and 'fashion' this into the reality of the way his customers dress, converting them to his sensibilities. That is clearly no easy feat.
---