---
Review of Michael Kors Collection Spring 2022 Fashion Show
Love and a Bit of Skin to Bond Together Young Women and Clothes
By Long Nguyen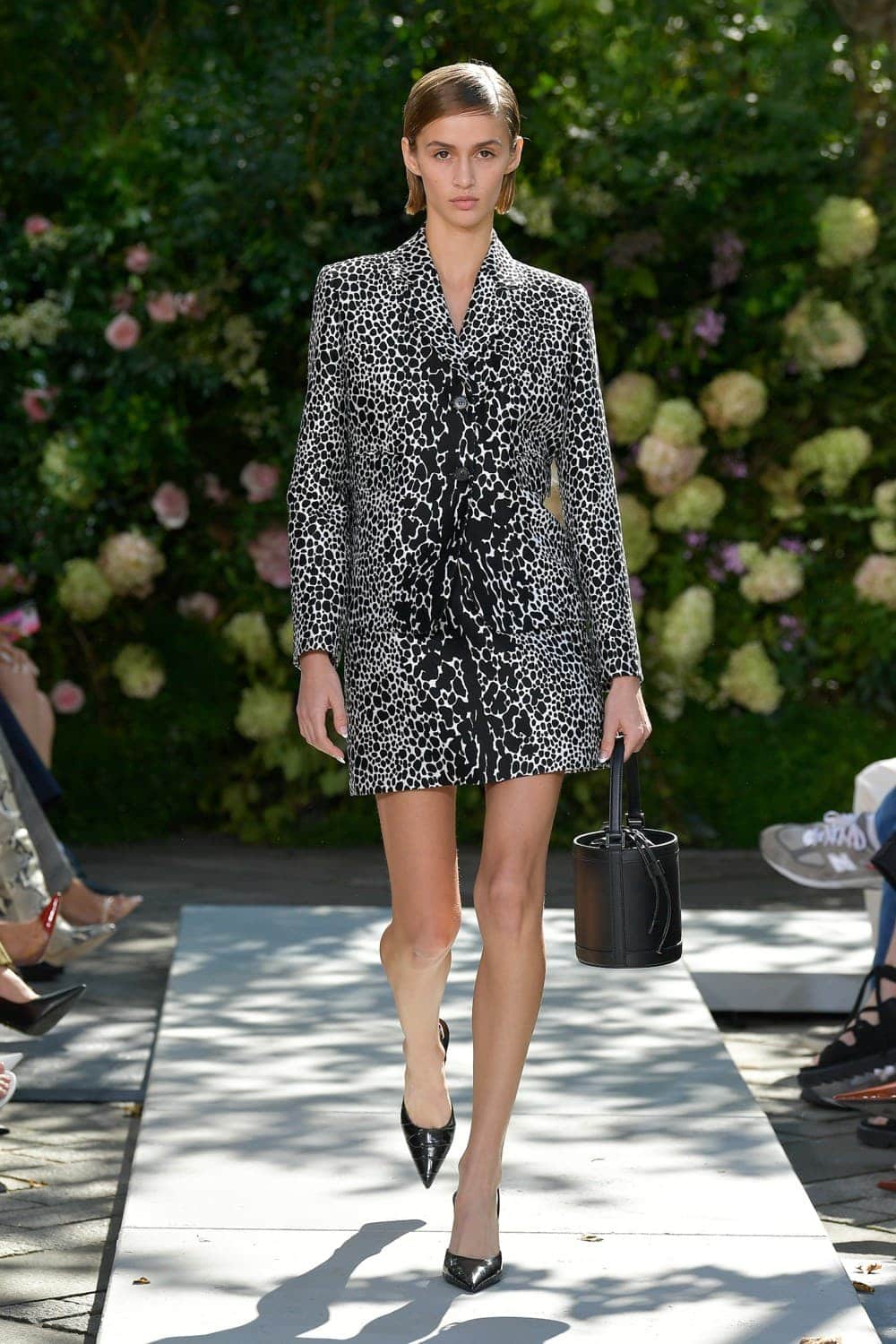 For the American designer Michael Kors, fashion is like a series of phrases, syntaxes, partial sentences, or even just a few exclamatory points to strike quick conversations with the designer's women for over four decades. At times the conversations are very casual, with quick gossips over coffee or catch-ups over quick lunch or even on the way to the pool for a quick dive. The chats are often more formal, say going to the theater or a dinner date at La Grenouille or Eleven Madison Park or even a lobster roll at Café Boulud in Palm Beach.
Kors makes his clothes in all these years for all these occasions in a women's life without bothering with, say, being trendy or collaborating with the latest artists or musicians simply because that's just the latest craze. Creating this kind of fashion is challenging, especially one the designer has undertaken with little compromises over these decades.
And it is no difference for this new Spring 2022 season with the sartorial language spoken and actual clothes to be worn by the set of young set women entering the luxury fashion sphere.
"I think we're all ready to focus on the simple, powerful pleasures of love – romantic love, love for one another, love for the places that sustain us, which in my case is New York City. It's a special thrill to celebrate the resilience and rebirth of the city and the fashion industry with a live runway show. This collection pays homage to everything I love about spring in the city. The energy, the mix of people, the romance and laid-back glamour," Michael Kors said of the staging of his show inside the Terrace at Tavern in the Green in the middle of Central Park, an iconic place at the heart of the city.
For this occasion of Kors' return to a live show with guests, the Terrace is transformed into a lush outdoor garden with planted roses and spreads of overgrown vines. Guests were treated to Chuck's Famous Brownies, a specialty of the God's Love We Deliver charity organization that helped feed AIDS patients/families since 1981. Then the actress Ariana DeBose – original Hamilton cast and upcoming Steven Spielberg adaptation of the musical West Side Story – performed a musical set before the supermodels paraded the new collection. DeBose sang jazzy ballads from Niina Simone and Nat Cole-King and 'Somewhere' from the Broadway version of West Side Story.
Then, Kendal Jenner emerged onto the runway created within the restaurant/park wearing a black stretch crepe bra, a black stretch pebble crepe past knee-length pencil skirt, and the Audrey Bucket Bag filled with red roses. Had this look – black bra and long skirt – been an opener at any upcoming young designer show, it would not even stir a second glance. But at Kors – let's dubbed this the 'Jenner' look – this overt sensual opener telegraphed new thinking in reaching out to the critical young women consumers globally. They may cherish this endorsement of self-empowerment through clothes as an act of personal liberation.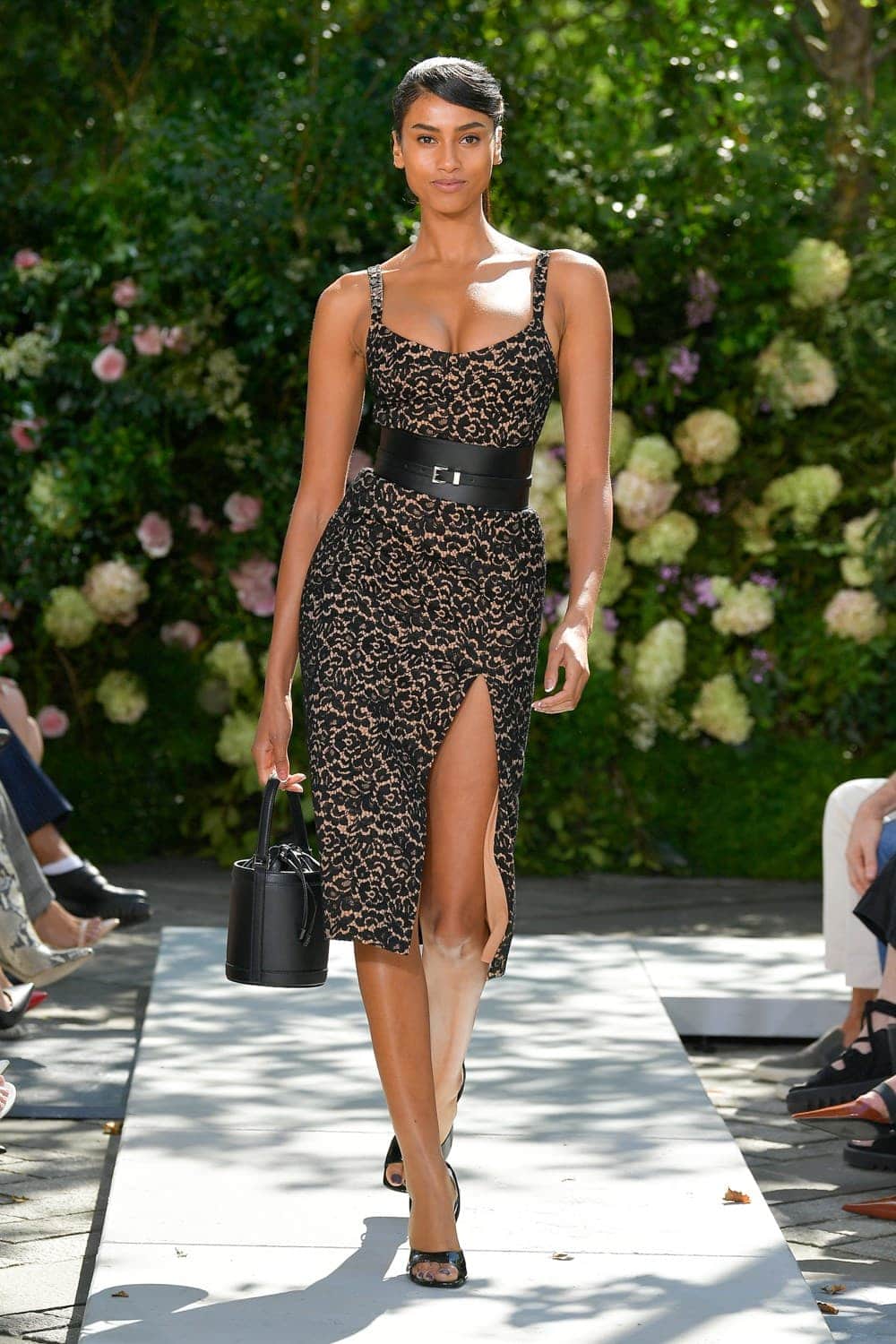 At any rate, the younger millennials and the older Gen Zers are now the prime consumer segment for luxury fashion. Catering to this group requires the correct pivoting with the suitable garments and fostering an emotional bond. It is also ingenious that Kors is making this Spring 2022 collection in ways that young women can see themselves wearing. They can look at the pictures from this show and perhaps think of themselves wearing the same clothes – nothing makes a better connection with audiences than this emotional connection.
Here are the overtly sexy dresses with high-thigh slits. A black leather slashed sheath, a black viscose backless bodysuit, a tulle circle skirt with side slit showing the floral paillette embroidery underneath, or the black and brown bonded lace sheath dress with a slit high enough to reveal practically the entirety of the model's right leg. There are the separates garments showing off the midriff. A silver embroidered bandeau under a white tuxedo with crystal lapels, a black and white gingham stretch viscose cropped pullover and matching brief, or a camel cashmere jacket, short tank, and mini skirt. A three pieces skirt suit with a strapless bandeau in place of a traditional blouse or mock neck fitted knit.
But here is the trick to the versatility of Kors's clothes. Take, for example, the black and white gingham stretch-jersey bra and matching high waist brief – that can be for the pool. Add on the black and white gingham, double-face wool shirt/jacket, and the young woman can be off to an outdoor party or even a semi-formal dinner.
Life situations may change in an instant, and the clothes should adapt fast to new circumstances. Perhaps that is why the designer drapes a grey jacquard balmacaan coat over a print dress or the white tuxedo jacket over the bra tank and white pants instead of having the model wear the look more formally.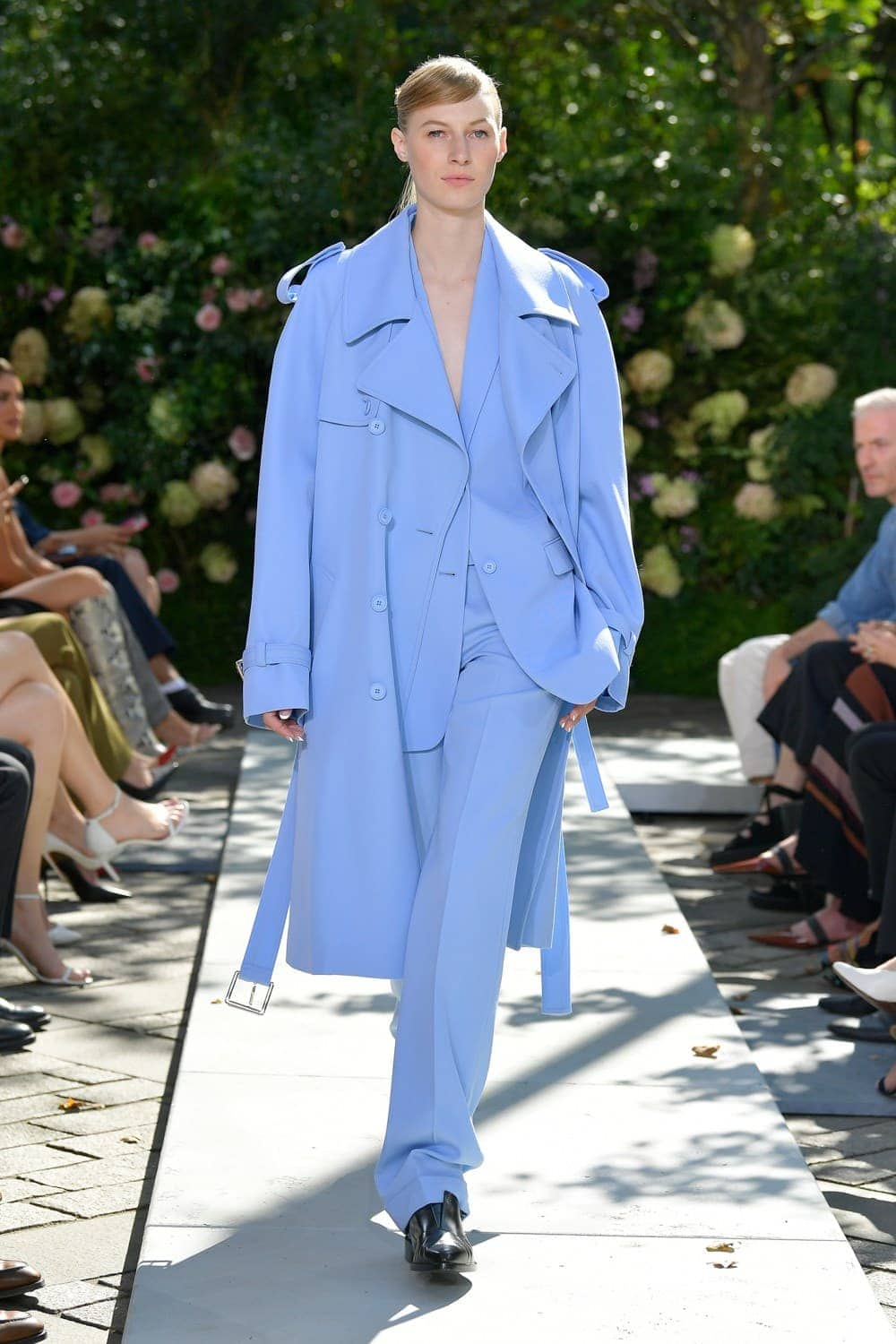 But Kors is a seasoned designer, and he gets the point that each collection has to contain a sufficient dose of his signature work – the sharp tailoring and clean silhouettes dresses that have been his trademarks.
The tailoring comes with easy and slouchy shapes, not many structures. That meant straight single breast light pink jacket skirt suit or long tailored floral cotton eyelet coat. The dark camel double crepe blazer, vest, and trouser is a menswear take on the classic pantsuit. Then there is the range of Kors dresses from strappy knee-length dresses to fitted sheaths. A camel lace paillette embroidered tank and matching flora lace skirt could have been a sheath dress now cut into two separate items to show off the summer tan.
Four looks are men's like light sand or one version in a pale ice blue trench with a sleeveless jacket and matching trousers, adding this sense of summer lightness. A black cashmere turtleneck with the God's Love We Deliver logo embroidered worn with black gabardine pants is a tribute to Kors' work for the food delivery organization whose Soho building is named after the designer. Menswear is a category that should deserve more expanded energy as it is a consistently growing market.
"For this collection, I was thinking about what love means to me, and I immediately thought of God's Love We Deliver. I first started working with them in the late 1980s when AIDS was decimating NYC, particularly the design community. Since then, I've seen how they've been there for the city during the toughest moments, showing compassion and delivering food to people in need. That simple act of bringing someone a hot plate of food – that's love," Kors said of his deep involvement in the charity.
Kors' fashion is effortless, like lightly draping a light pink cashmere double face long coat over a light pink petal lace slip dress that can easily accommodate dressing for day or night occasions. It looks and seems easy, but it isn't. Just as the designer said, it takes commitment and love to deliver hot food to those in need.
---