Breaking New Ground
Review of Fashion East Spring 2024 Fashion Show
By Angela Baidoo
THE COLLECTION
Putting British eveningwear on the map
Exemplary construction and finish
The dialling back of separates and outerwear
A broader range of body diversity needed
THE VIBE
THE THEME

Standing head and shoulders above his peers, Johanna Parv, Olly Shinder, and the not-so-new A Sai Ta of ASAI – who he shared a stage with at today's collective outing – Michael Stewart is putting London on the map for his intelligent take on modern evening wear, which today's woman will be clamouring to wear. Working mainly in fluid jersey his elegant floor-length pieces unwittingly tap into the growing chorus for comfort, which consumers at all levels of the market (not just those hybrid-working in sweats) are now demanding of their wardrobe choices.
Entering the market as a young designer at such a volatile time it is encouraging to witness Stewart forging his path, and breaking away from what is typically expected from British designers when it comes to red-carpet dressing, namely a quintessential English rose in all her corseted glory or a souped-up sex kitten ready to take on the night. The Standing Ground Woman offers a self-assured revisionist view of what trend forecasting agency WGSN dubbed #Modernoccasion. When it's back up-and-running Stewart should expect all of Hollywood's elite to come calling.
It is also testament to his skill that his designs are presented, for the most part, sans decoration, instead relying on shrouded beads to add the textural element, which according to the show-notes he regards as "biomorphic (living organisms) armour", tracing fluidly around the body, accenting its curves and lines, in a calling to the show's title Tethys, who was the Greek goddess of fresh water.
THE BUZZWORDS
Expert Drapery. Modern Occasion. Comfort Couture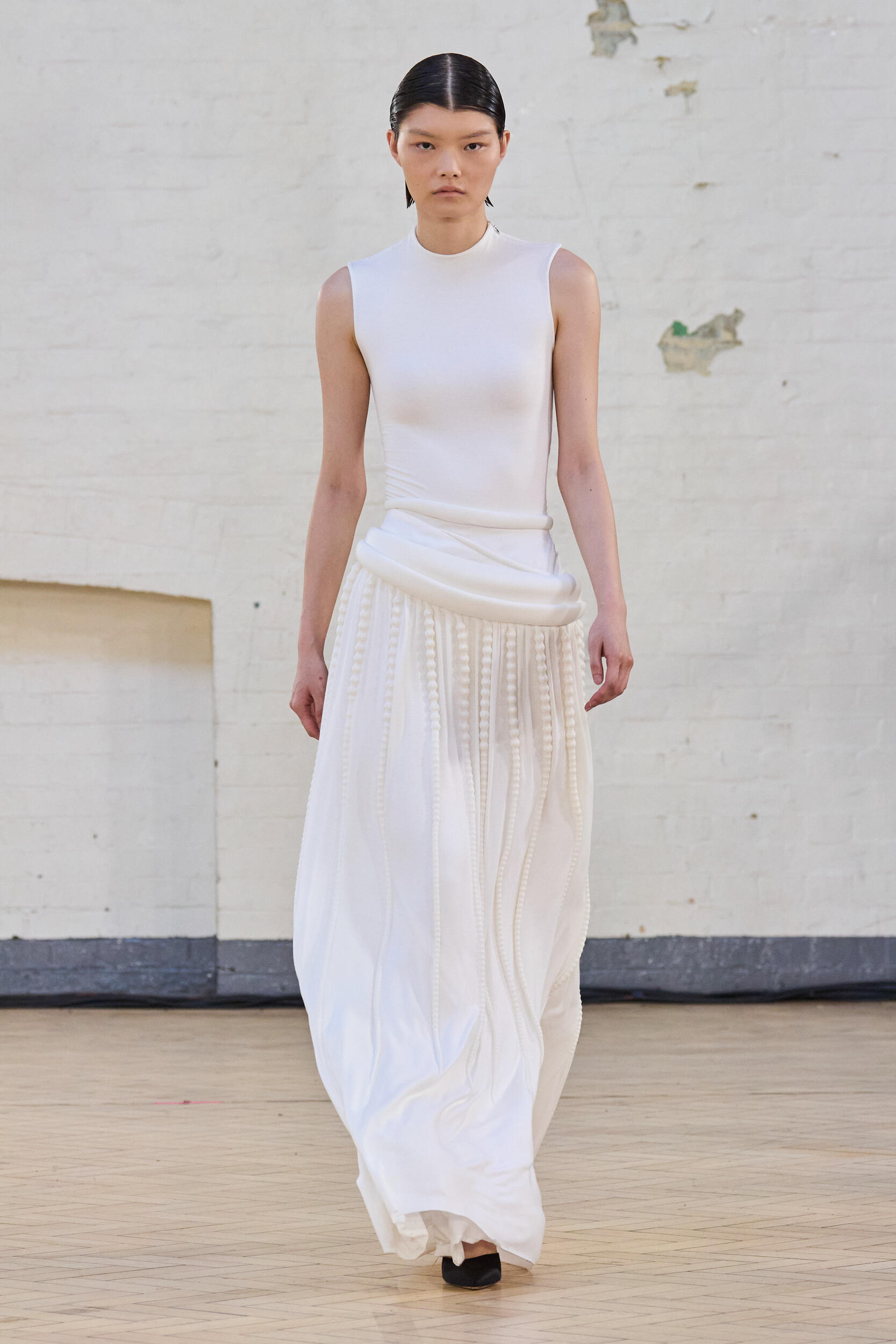 THE SHOWSTOPPER
Look # 15
Summing up Stewarts intent, the show-opener of a layered maxi dress with extended train embodied his inspiration this season. Mimicking the untamed flow of freshwater, who his muse for the season represented.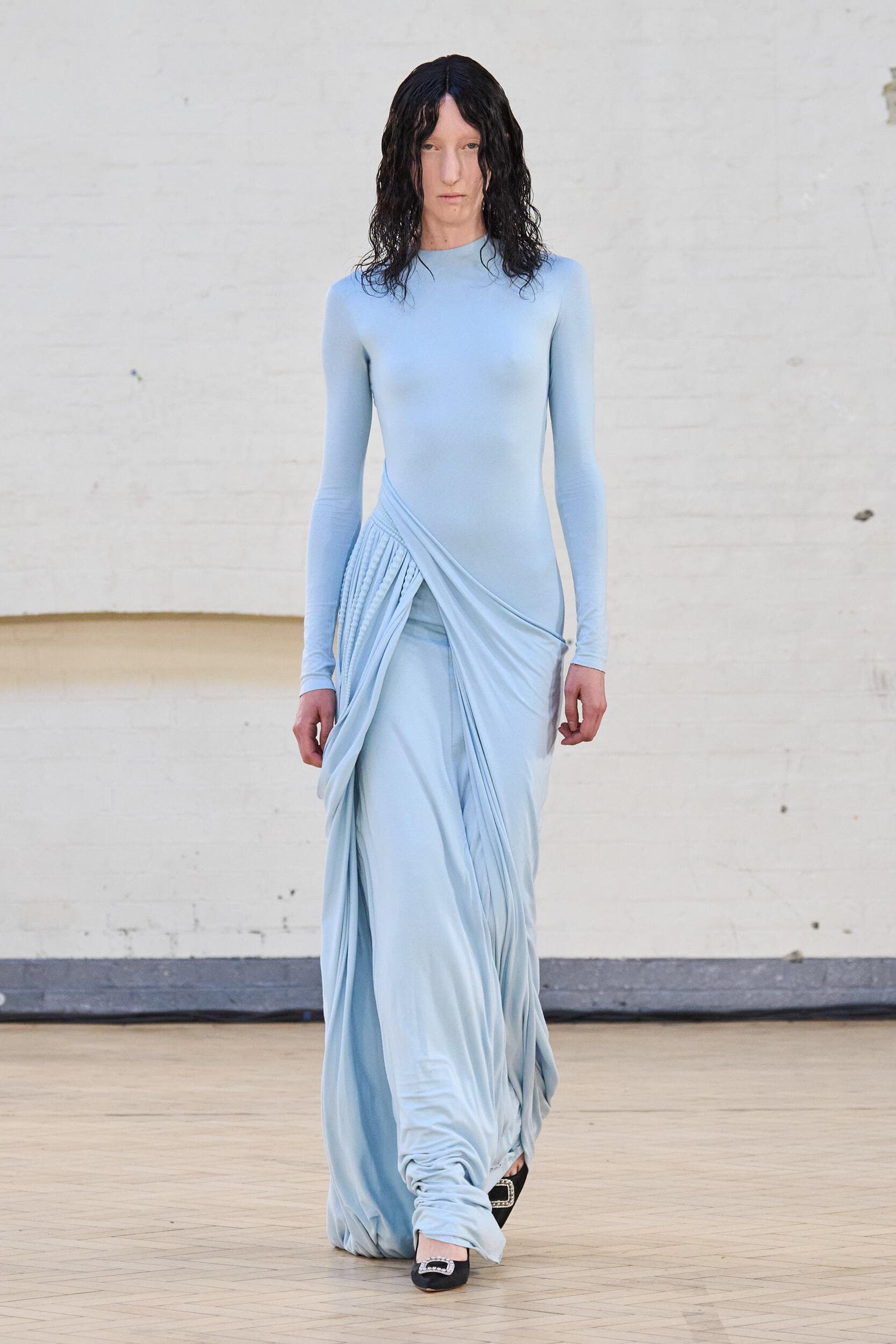 THE DIRECTION
More in the way of separates and categories such as outerwear were a welcome addition to Stewarts first show, which was not as prevalent for this summer 2024 collection, but for the brand to continue evolving these should always be a consideration, especially when Stewart moves on to a solo format. A format that will benefit significantly from an intimate, elevated setting befitting of his aesthetic.
THE WRAP UP
The polish and high-level of handcraft which has gone into Michael Stewarts collections, at such an early stage, is to be commended, and if the stars of financial support and retail investment align then there is a certainty to the long-term future for this Fashion East breakout star. Especially if Stewart looks to expand into emerging markets such as the Middle East, since a number of his designs could already lean towards the modest with a few minor tweaks. What was disappointing was a lack of true diversity in the model casting, as his signature swathes of fabric which only serve to envelope and accentuate would have benefitted from being seen on varying body shapes. Showcasing how eveningwear – an area woefully underserving the plus-size market – could be for all.
---