---
Miu Miu teams up with creative director Katie Grand and photographer Juergen Teller to bring forth a sporty, equestrian-themed ad campaign shot at the Bois de Boulogne's Hippodrome d'Auteuil. The racecourse location, which also served as the setting for the Miu Miu Croisière 2020 show, ties together threads on a surface level but underlaying themes remain disconnected.
The ad campaign's backdrop of a Parisian racetrack in summer hints at potentially rich narratives. The Jockey Club de Paris, a male-only establishment traditionally considered a mark of distinction for the Parisian elite, has been reimagined as an inverted social club for women only. Though the concept is strong, the visuals fail to deliver in an impactful way because the narrative gets lost in the impromptu-style photography.
A compelling concept that becomes a lost opportunity segues into a larger discussion of Miu Miu's evolution as a brand. Specifically, this ad campaign adequately functions as a tangential tie-in to the 2020 fashion show. However in order to successfully build brand equity, ideally the campaign would also function as a link to other recent campaigns, as part of a larger brand story. This campaign seems to take more of a one-off approach, in which the only thread of connection to previous campaigns is the ubiquitous criteria of a company logo, and young women sporting pieces from the collection.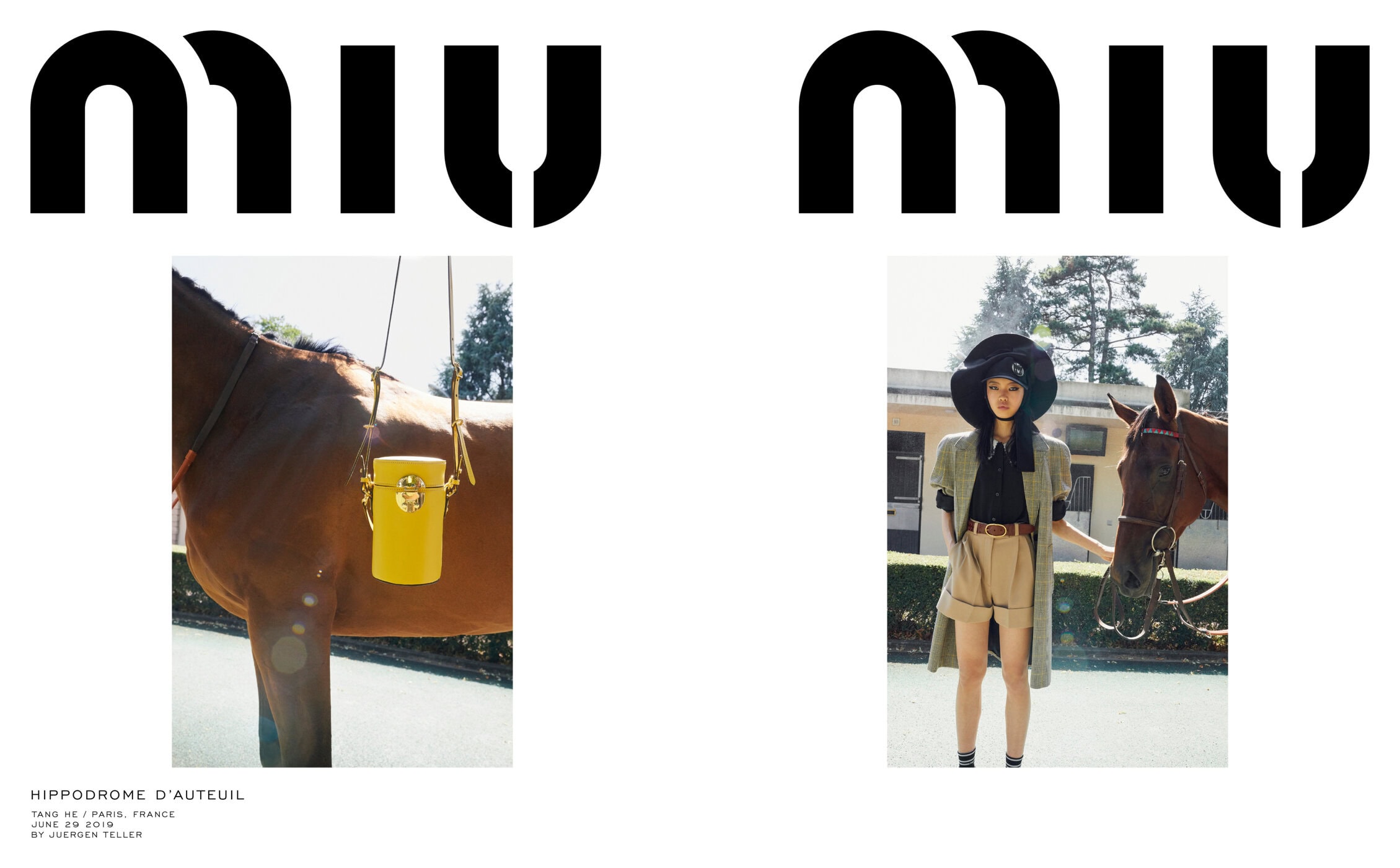 Miu Miu Creative Director | Miuccia Prada
Creative Director/Stylist | Katie Grand
Photographer | Juergen Teller
Models | Lila Moss, Adut Akech, Abby Champion, Tang He, Aliet Sarah, & Sarah Snyder
Hair | Guido Palau
Makeup | Pat McGrath
Location | Bois de Boulogne's Hippodrome d'Auteuil, Paris France
---