Review of Miu Miu Spring 2023 Ad Campaign by Photographer Zoë Ghertner with Talent Ever Anderson, Achol Ayor, Emma Corrin, Kendall Jenner, Esther McGregor, Quintessa Swindell, Karolin Wolter, and Lim Yoona
Miu Miu questions the dichotomy of functionality and aesthetics while offering a lovely ode to identity with its new Spring 2023 campaign by photographer Zoë Ghertner.
The airy and direct campaign allows for a layered focus on the collection, which saw Miuccia Prada infuse favorites of recent seasons like the micro mini skirt and bandeau top with a sense of practicality and reality via abundant cargo pockets and distressed effects, while making use of what we might think of as "less luxurious," "everyday" materials like denim and nylon to examine the purpose and context of fashion.
Nonetheless, as in every Miu Miu campaign, the young women who wear these clothes are the more important presence. Brand favorites like Emma Corrinn and Ever Anderson are joined by fresh and familiar faces, whom Ghertner captures with a sensitivity and delicateness. Her image layouts pair two portraits side-by-side, offering a nuanced and multifaceted look into the reality of each person, suggesting that reality and identity might not be simple, but compound and dynamic.
Set to a soundtrack that feels like daydreaming while listening to someone play the piano in another room, the short film functions much in the same way, furthering the dual feelings of directness and elusiveness through its use of motion.
Miuccia Prada has always searched for the ideas of allure and understanding in fashion, and her recent interrogations of uniform and youth have been some of the most convincing yet complex successes on this front. At once confrontational and reassuring, still and full of motion, this latest campaign is an understated yet powerful expression of this ongoing exploration of purpose and personhood.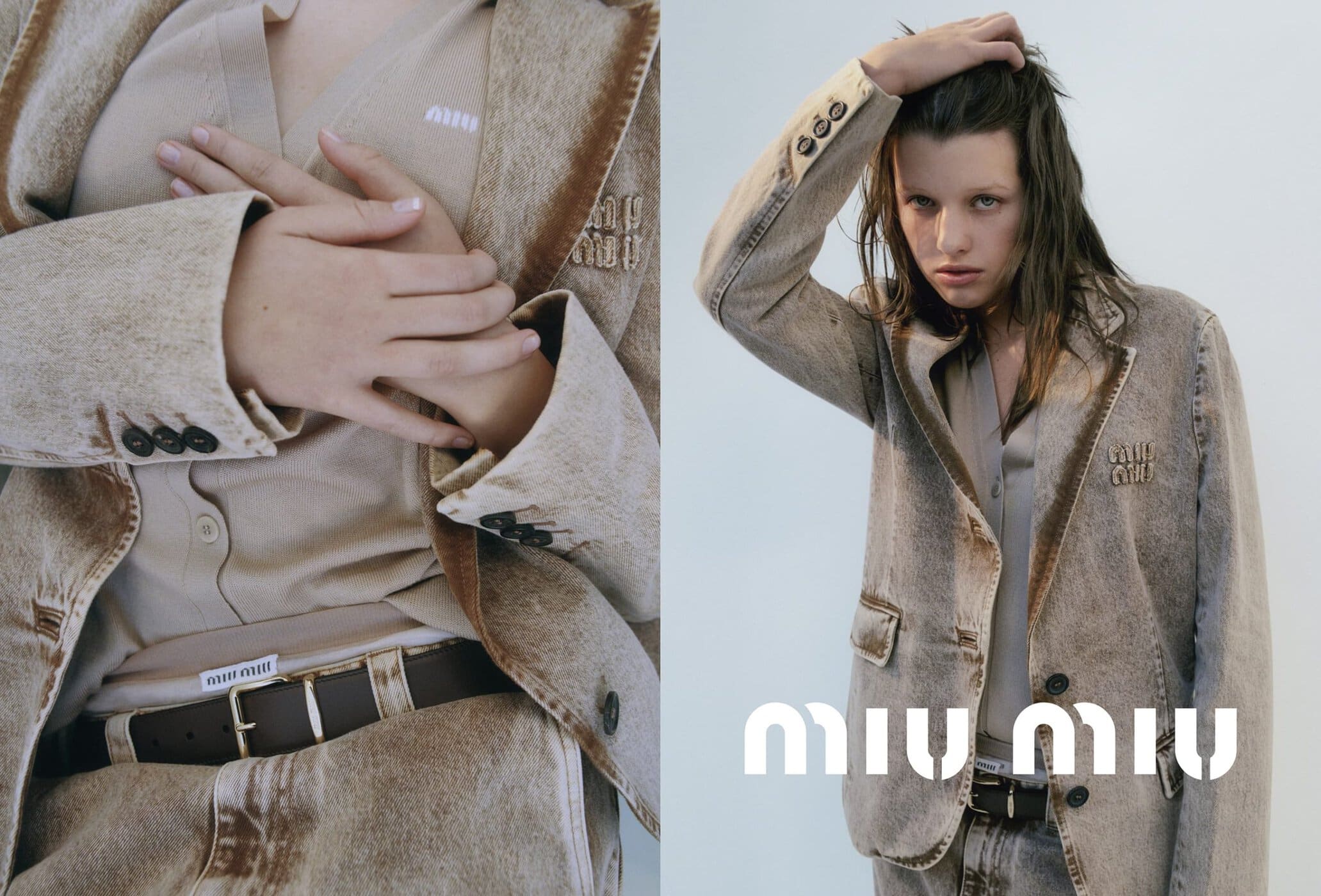 Miu Miu Creative Director | Miuccia Prada
Photographer | Zoë Ghertner
Talent | Ever Anderson, Achol Ayor, Emma Corrin, Kendall Jenner, Esther McGregor, Quintessa Swindell, Karolin Wolter, and Lim Yoona
Stylist | Lotta Volkova


---