---
Review of Emporio Armani, Moschino, GCDS & Blumarine Fall 2021 Fashion Shows
The Splendors And The Affirmation Of Fashion
By Long Nguyen
Prada and Simons's team sent out a robust collection to think forward how fashion and clothes can evolve and transform. It is a breath of intellect and a collection that backs up the thinking.
At the Triennale in central Milano, Ian Griffiths quietly celebrated Max Mara's seventieth anniversary with a collection outlining the house signatures and always made the clothes with a sense of today.
And Emporio Armani is now celebrating its fortieth year.
Giorgio Armani went back to the days he started the Emporio line in 1981. The designer sent a collection filmed as a live show with touches of bright colors and some of his classic soft shoulder tailoring for men and elongated and slim shapes for women with a new fitted small jacket tucked into high waist pants. The collection recalls the high-intensity 1980s with further slender cuts of clothes destined for young people today, like a new version of the baggy multi pleats light grey pants worn with a black pattern velvet blouson. The models walked around a black set with colorful neon lighting.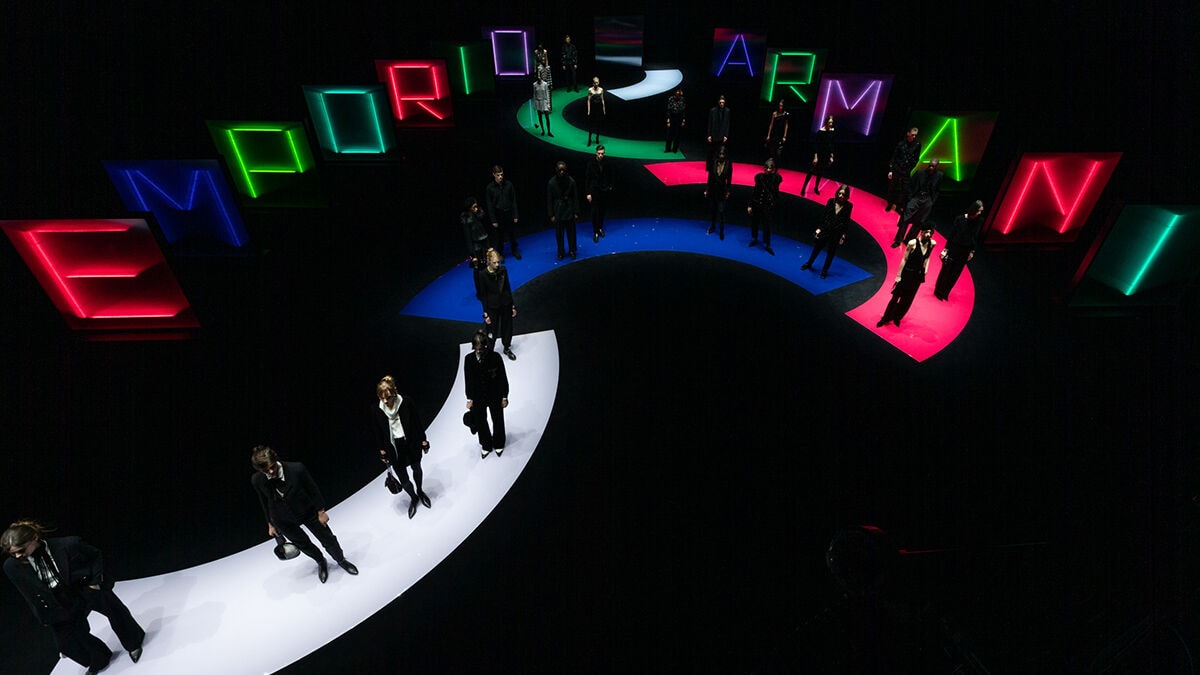 What is remarkable, though, is that at a time when so many fashion houses are offering the kinds of leisurewear to address the current times, here, even for this contemporary collection, Armani resisted that temptation. Instead, he focused on providing a range of daywear and a substantial segment of more dressed-up clothes like a black strapless cocktail short dress or a black with sparkling silver threads tuxedo or shirt pantsuit.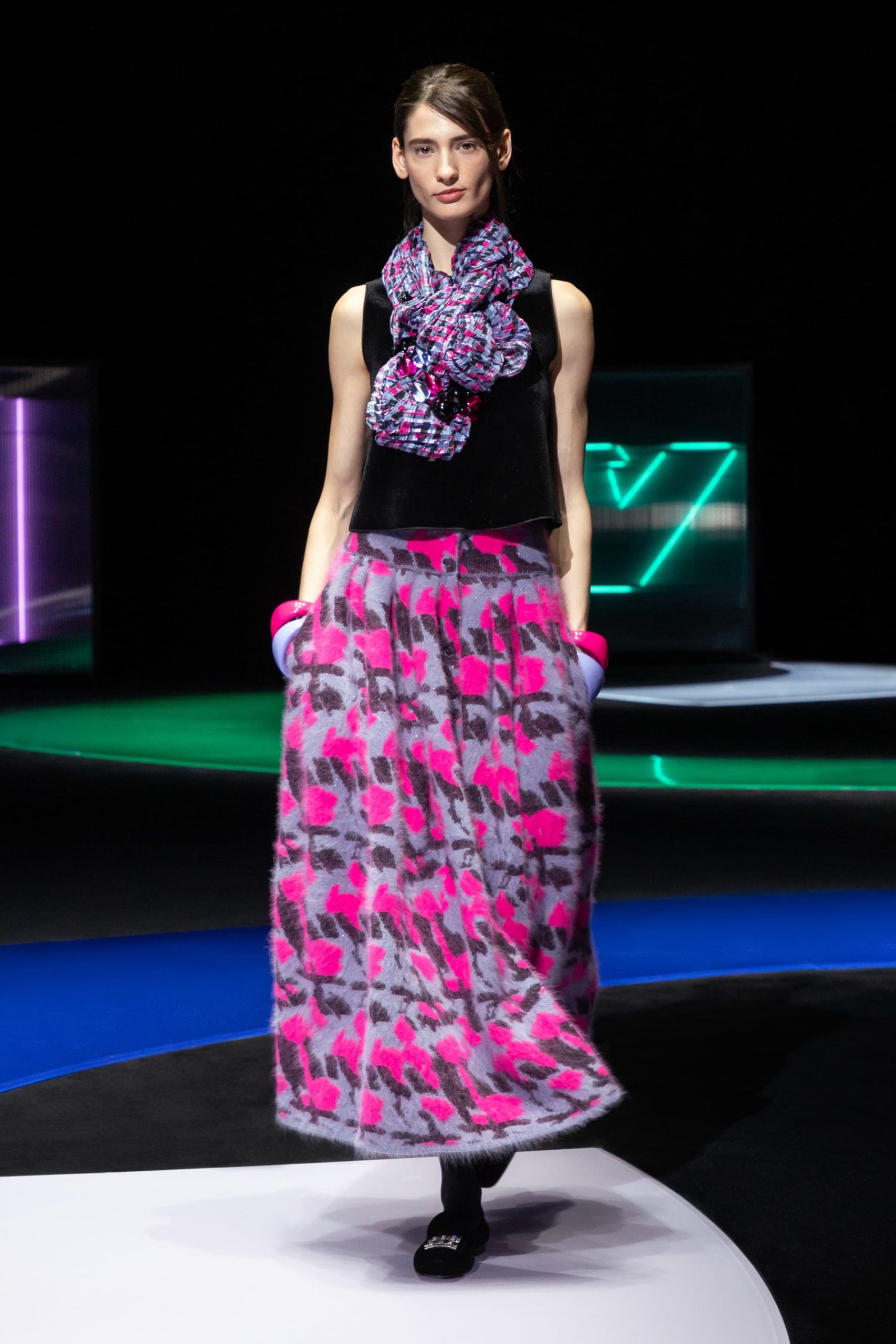 I like to use bold colors, especially in Emporio. I choose them as accents, like notes that catch the eye. And right now, the energy of the color seems vital. The collection, dominated by greys and blacks, suddenly opens up in flashes of pink and pops of purple. It's a reference to the neon lights of the metropolitan landscape: the ideal scenario that fuels my inspiration.

– Giorgio Armani
He meant the bright Fuschia pink jacket with slim black pants or a pink shirt underneath a light grey six buttons double breast pantsuit. Or the pink velvet cropped military jacket pantsuit with a cross-body furry scarf cape.
A mixed grey and slim pink jacket with cigarette pants, a puff sleeve black front button dress, or a black cropped leather and black jumpsuit are the versatile womenswear range coupled with a substantial selection of dressy evening clothes like a strappy dress with wavy pattern tulle folds.
The menswear firmly focused on the slim deconstructed jacket with drop shoulders now paired with a range of pleats boxy pants or a grey optic motif coat that looks light as an unlined robe. Jackets range from boxy grey two buttons single breast or six buttons short double breast in the shiny blue wool with fitted pants. There is even a blue chalk stripe single breast suit with an olive shirt and a grey tie. Yes, a tie.
"The Emporio collections are marked by a clear reference to the fits and shapes of my personal experience in the 80s: an unforgettable period, to which I refer without nostalgia. Moreover, this year Emporio will celebrate its 40th anniversary: an important milestone that has made me look back to my roots, reinterpreting the loose fits, the deconstructed shapes, the interplay of the masculine, the feminine, and the colors with the spirit of today," the designer said.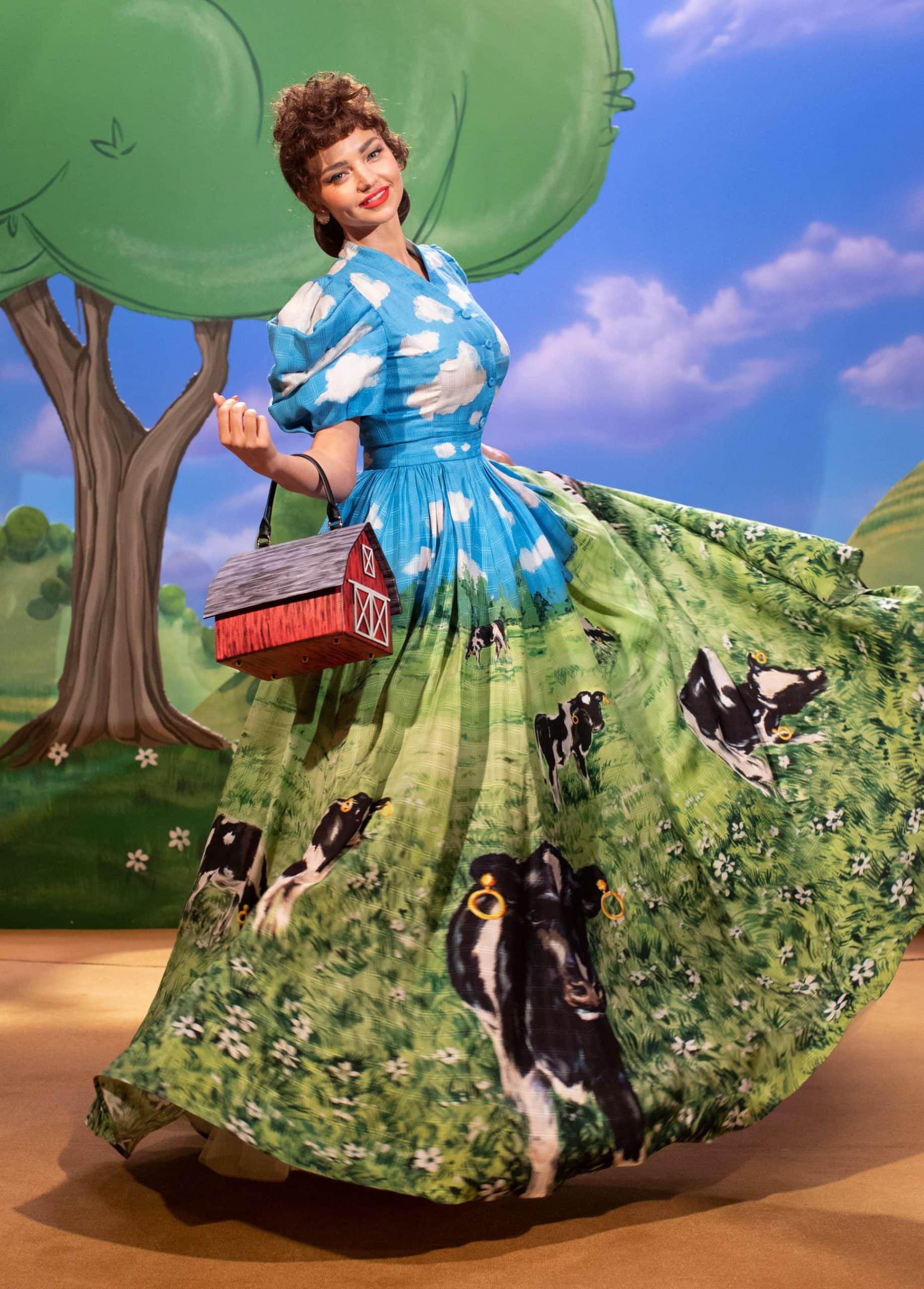 Meanwhile, Jeremy Scott at Moschino is indeed wrapped in an escapist mood back to Hollywood's early grandeur, if anyone can remember.
Scott made a short film titled 'Jungle Red' based on a scene from a 1939 George Cukor film The Women with Adrian's costumes. Scott features a film within a film layout with his versions of the business suit, the country dress, the outfit for a burlesque number, or even a safari outfit. The film is a real period piece with a cast that included Dita Von Teese, Karen Elson, Hailey Bieber, Miranda Kerr, Shalom Harlow, Kirsty Hume, and Maye Musk in a fashion show theater scene staged within a movie set.
While Scott is ingenious in his playful mixtures of symbols and garments in his disruptions of the usual sartorial norms, this season, the presentation was a bit stiff with the clothes that seemed too fitted and far too rigid for this moment. Maybe the designer is correct that these clothes should be part of a show within a show within a show as they have little to do with life now.
Think of a tight corset chalk stripe dress with a pinstripe shirt and red tie, a colorful sort sleeve prairie dress made with vivid cow print cotton, rigid patchwork skirt suit, or yes, a black one-shoulder satin micro dress with a pink and white feather swan encrusted in the front.
How are these kinds of clothes a reflection of the mood today? Why would someone like Scott want to set women back to the pre-World War II days with these constricted numbers? Besides, these clothes put women in individual boxes rather than clothes that provide a sense of freedom. Fantasy is one thing, but making those actual garments represented a different reality.
If these scenes were humorous, like a bird shape dress, perhaps Scott should like a lesson from the house's founder Franco Moschino real sense of humor that cut across banalities and serious issues.
Another designer that seemed on the verge of Hollywood bound is Guiliano Calza.
The big news at GCDS was a new investment by the private equity Made in Italy Fund managed by Quadrivio and Pambianco fund groups and a co-investment by Patrizio di Marco, the former Gucci CEO, in late November 2020. This funding will allow Calza to develop further his digital native luxury streetwear-based brand founded in 2015 to encompass other categories.
Fresh from this investment, Calza is upping the game a bit with a short film shot by the London filmmaker Albert Moya featuring the 'Game of Thrones' actress Maisie Williams. That's not it – there's also Dua Lupa's sister Rina Lupa and DJ Buck Betty.
But investment money and perhaps a road to Hollywood aside, Calza's fall collection remains true to his founding aesthetics with little or no compromise in any manner.
Among Calza now familiar sartorial tropes are a long sleeve black jumpsuit with metallic thread fringes has one side missing and a black sheer metal bra, and leather racing pant. And don't forget that mustard olive side cut-out micro-dress, and of course, an ecru bathing suit with long transparent fringes. The men's clothes are more straightforward with silver and ecru cropped broad shoulder two buttons double breast suits, black leather blouson, pants, or light mauve pullover tracksuit.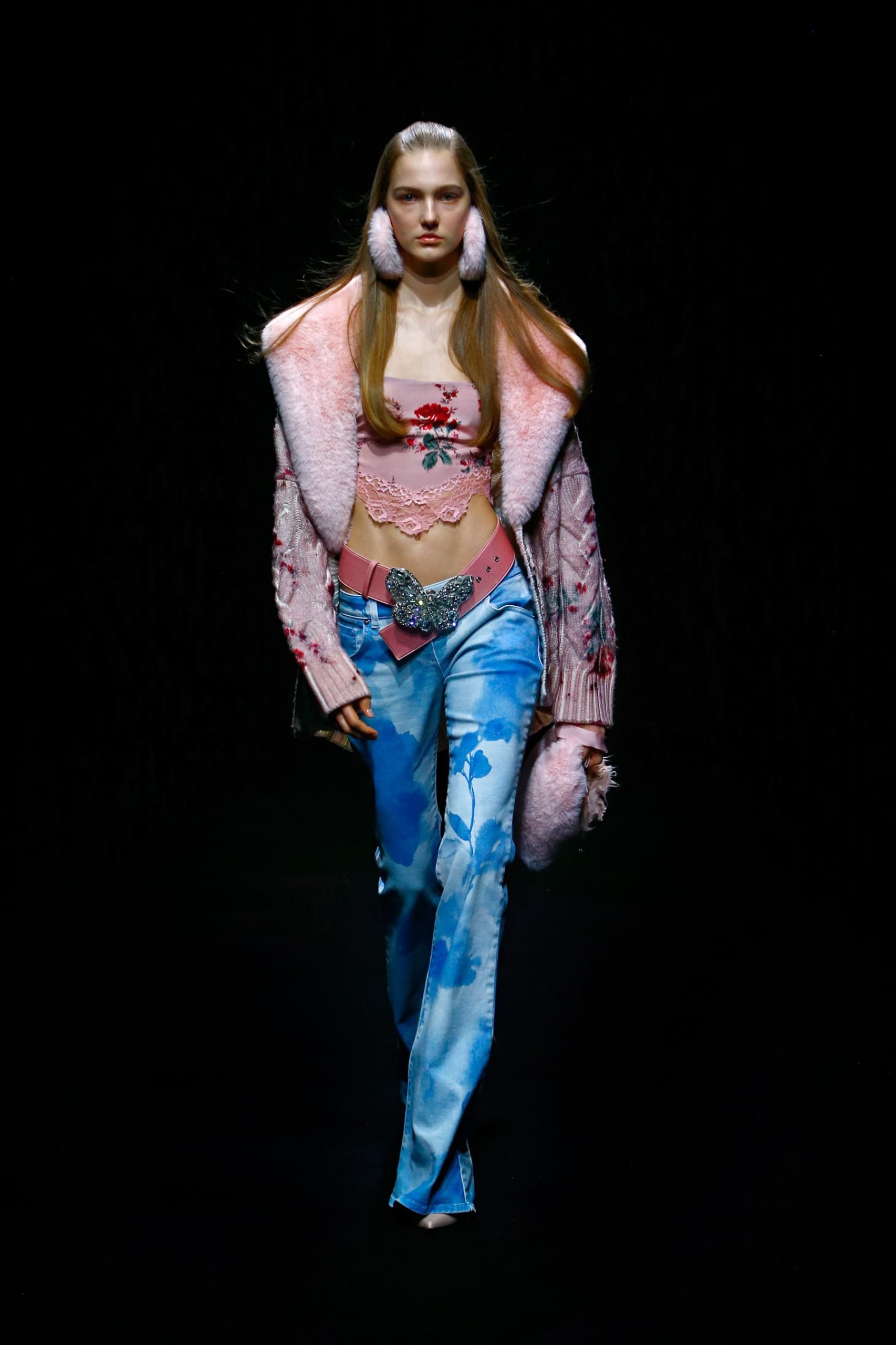 Nicola Brogano, the Blumarine creative director, was appointed in 2019, was a graduate of Milano's Istituto Marangoni fashion school and former design staff at Giambattista Valli Paris.
For his second full show at Blumarine's, Brognano ventured back to the early naught and the era of the intentional trashy looks of Paris Hilton and Britney Spears or even Nicole Ritchie. In that frozen time frame, the designer found resonance in style from two decades ago for this one-tone fall collection, more or less a coat or cardigan with fur collar and a rib-knit or slip dress with lace trims. The blue or pink ruffle trims short dress and print chiffon dress with or without a furry coat anchor this collection with little else to count as novel design initiatives.
The lack of depth and imagination for such a young designer with a fresh outlook on fashion is nothing short of mesmerizing. This second outing maybe even worse than his first last September, but that is not saying much.
What next season maybe like is anyone's guess.
---