---
Review of N°21 Spring 2022 Fashion Show
Combining couture with handcraft, Alessandro Dell 'Aqua succumbs to temptation.
By Lizzy Bowring
'A blurred vision of a new beginning' reads the caption for the pre-show teaser for Dell Aqua's No 21 Instagram. New beginnings are a good thing, particularly after the year or so we have all experienced, and it would appear that this is a common theme throughout the S/S 22 collections. Still, in Alessandro Dell 'Acqua's mind, his new beginnings gave way to temptations.
Dell Acqua moved on from the post-pandemic mindset in his collection for A/W 21. Now, for S/S 22, he speaks to the new beginnings with a different zeitgeist. Unfortunately, this one appears more than a blurred vision; it's a little foggy.
Temptations do not convey the lure of the same nature but rather the attraction of the opposite, and here lies the dichotomy. If his show notes are anything to go by, 'to indulge in a flair for artisanal craftsmanship, bold colour, mixing techniques, and the apparent diversity between ready-to-wear mass production and couture uniqueness, then yes, but his choices jar.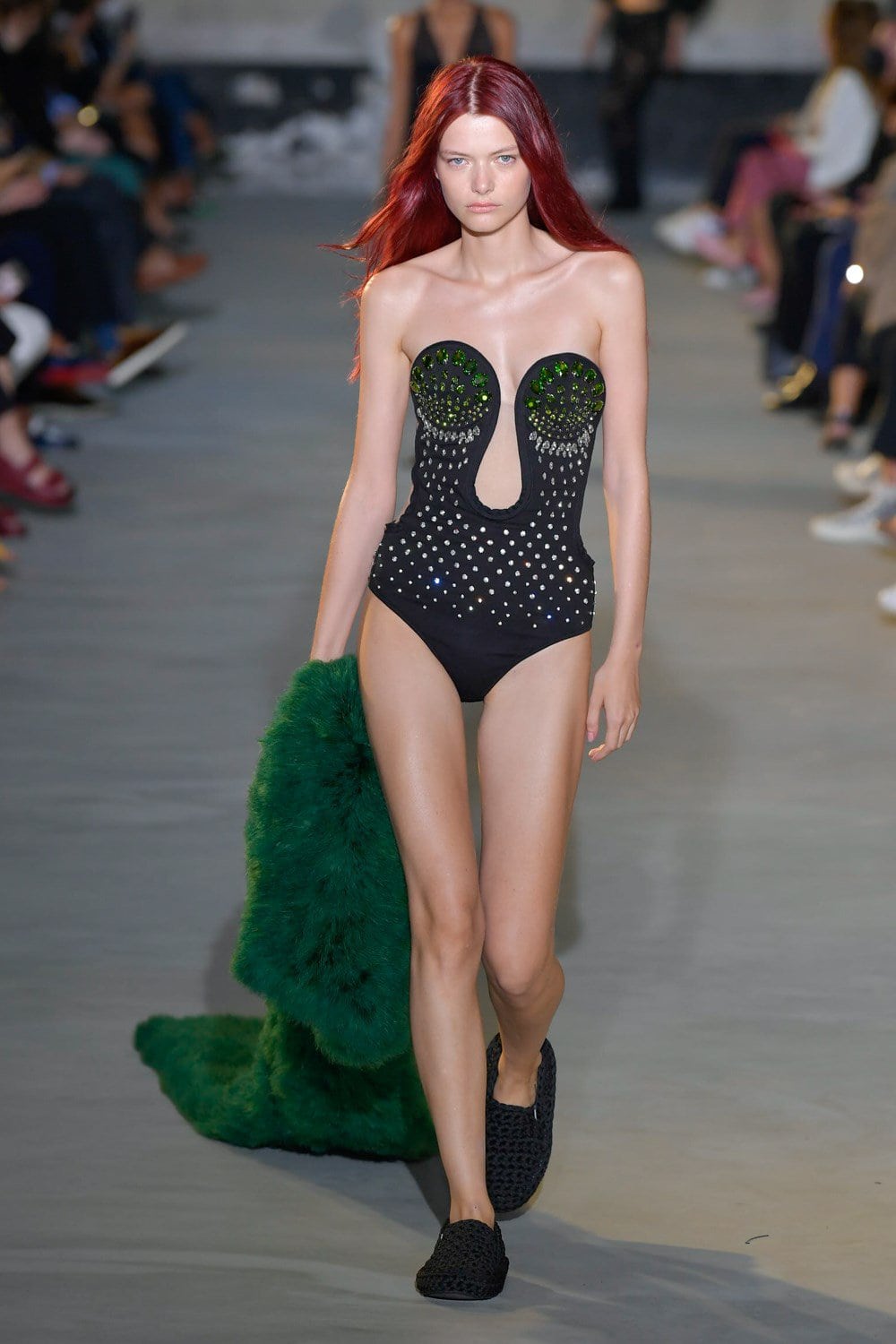 The crochet pieces were exquisitely crafted and worked well in the little all-in-one that closed the show, but it is a bit passe in not so figure-flattering pants. Whether these two narratives work for both men and women, it did not feel like it.
There is no question that Dell Aqua is a studied designer and that his creativity has no limits. However, Dell 'Aqua could have focused on his extraordinary talents to make this collection cohesive. (Although the colour choices worked well in each vignette). But is the careful composition of an abbreviated short suit, or for that matter, a bomber jacket, 'constructed with six layers of tulle and a palm tree printed lining, part couture, or part handcraft?
Several skirts, dresses, pants and tops, constructed from traditional stitchwork, were played with dichotomous pieces. Such as were the stand-out pieces – the mini dresses played fancifully with swishing sequin fringes, chiffon shoulder straps, and feather borders – and were by far the most cohesive.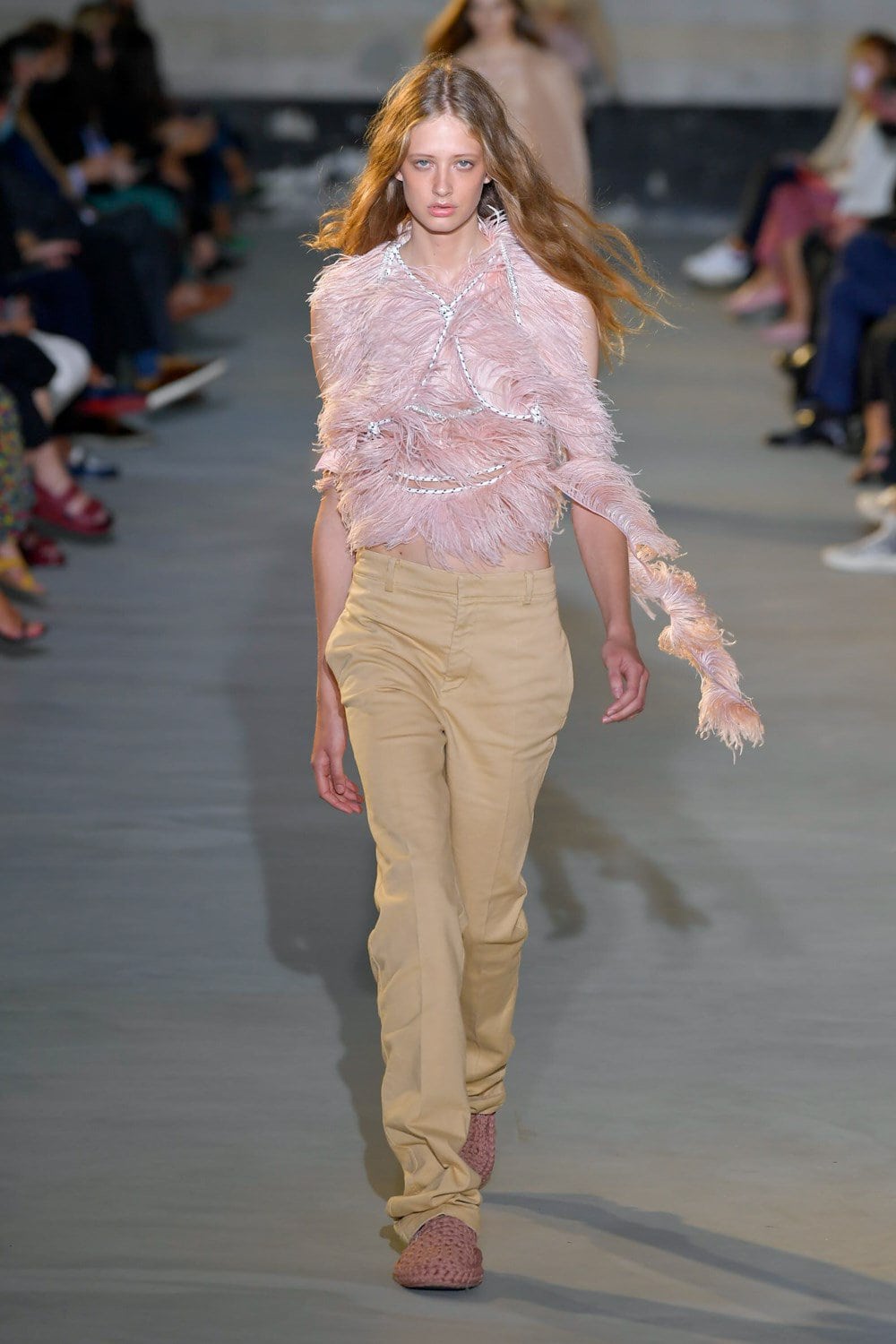 Although not handcrafted in the traditional sense, the sweatshirts and utility pieces could work given the day to evening dress code that is now relevant.
Several sweaters have rich tulle overlays, while some become bustiers or bra tops. Again, not so new. Elsewhere, knit shorts for men came paired with wool sweaters and crystal beading. Bias-cut dresses were constructed with a mix of industrial and sartorial techniques with hidden drawstrings, while marabou stoles and a feather harness top came out of nowhere. Couture or fetish?
This collection is an unconventional hybridizing of couture codes with an unlikely bed partner in the form of handcrafting techniques. If this was the temptation to which Dell Aqua succumbed, then he achieved that. Although each season comes with a different trope of late, it would be advantageous for Dell 'Aqua to demonstrate some consistency. Do opposites attract?
---