---
Review of Gucci Spring 2021 Ad Campaign by Creative Director Christopher Simmonds & Photographer/Director Daniel Shea
Campy and colorful, the freshly unveiled campaign for Gucci x The North Face summits our expectations for the collaboration with ease. Featuring creative direction by longtime Gucci collaborator Christopher Simmonds and film direction and photography by Daniel Shea, the campaign is a gorgeous celebration of a love of the outdoors, and sharing that love with others.
Though he has often worked with other artists and designers, the collection is creative director Alessandro Michele's first direct collaboration with another brand during his time at Gucci. We must say that when the team-up was first teased back in September we were rather surprised, as the focus and style of each brand seems quite different. However, after getting a look at the collection as embodied in this campaign, we see that the marriage of minds works wonderfully.
Signature North Face outdoor wear is given the Gucci treatment with colorful, retro patterns and prints. An exciting range of entirely new pieces, which fuse Gucci's sophisticated eccentricity with The North Face's ready ruggedness, are on display as well. Classic Gucci accessories like bags and eyewear round out the campaign's aesthetic.
Shea's narrative follows a group of friends as they hike along a resplendent mountain range dotted with lakes in the Alps. 70's vibes abound as our flower children climb ridges and frolic among meadows, basking in the glory of nature and each other's groovy, earthy vibes. Shea makes excellent use of drone footage to capture the mountains' majesty, weaving it between candid shots of our protagonists' journey. The apt soundtrack choice of Creedence Clearwater's classic "Bad Moon Rising" is also a fun nod to The North Face's Berkeley headquarters of the 70's, which was right next to the band's rehearsal space.
Eclectic yet cohesive, the collection impresses us with how it achieves such an excellent style while weaving together divergent sources and approaches.
The campaign imagery does an excellent job in developing this aesthetic and situating it beautifully in its natural habitat. Gucci and The North Face may seem quite different, but they are united in their love of adventure – the campaign inspires us to embrace adventure in all the forms it takes.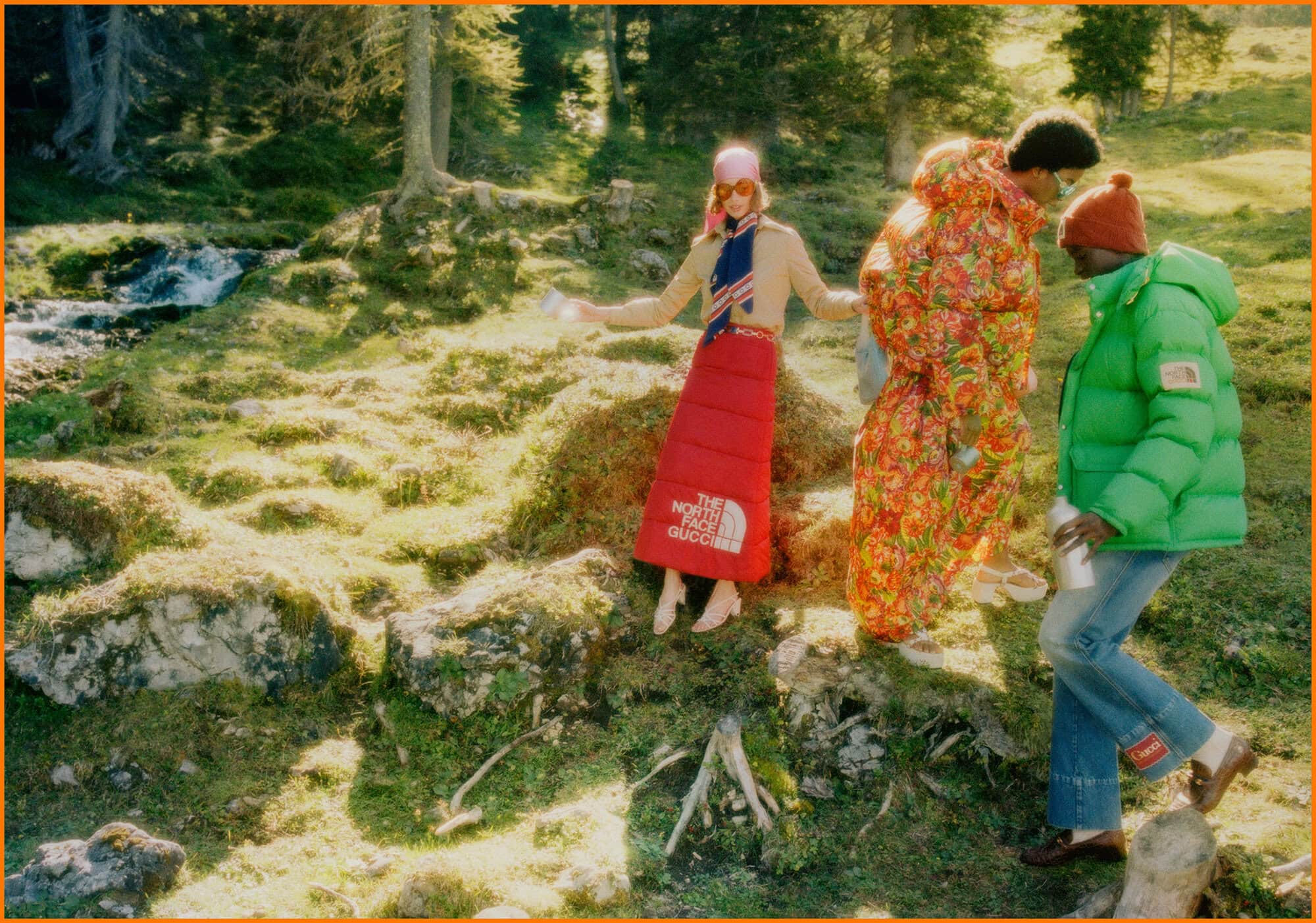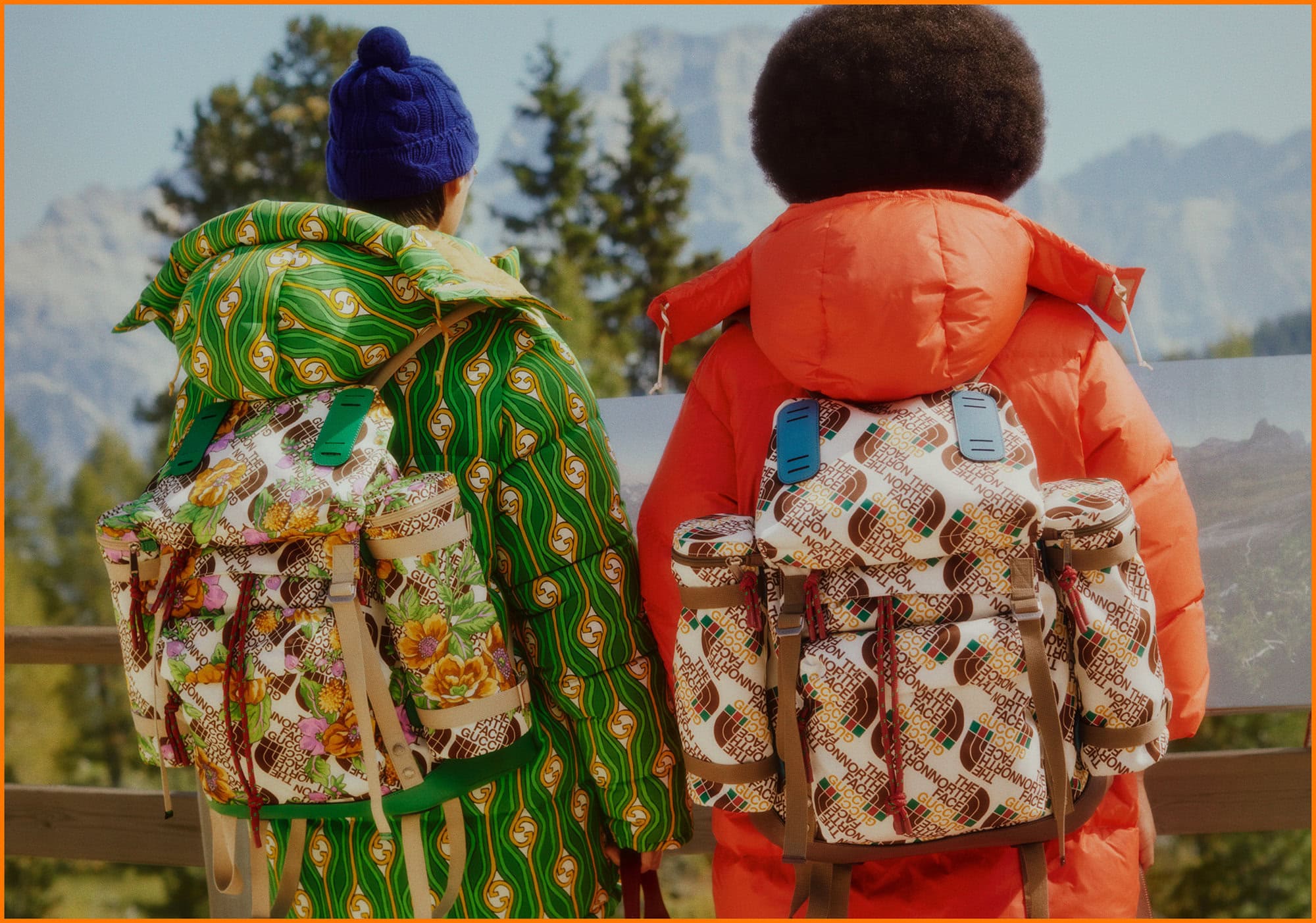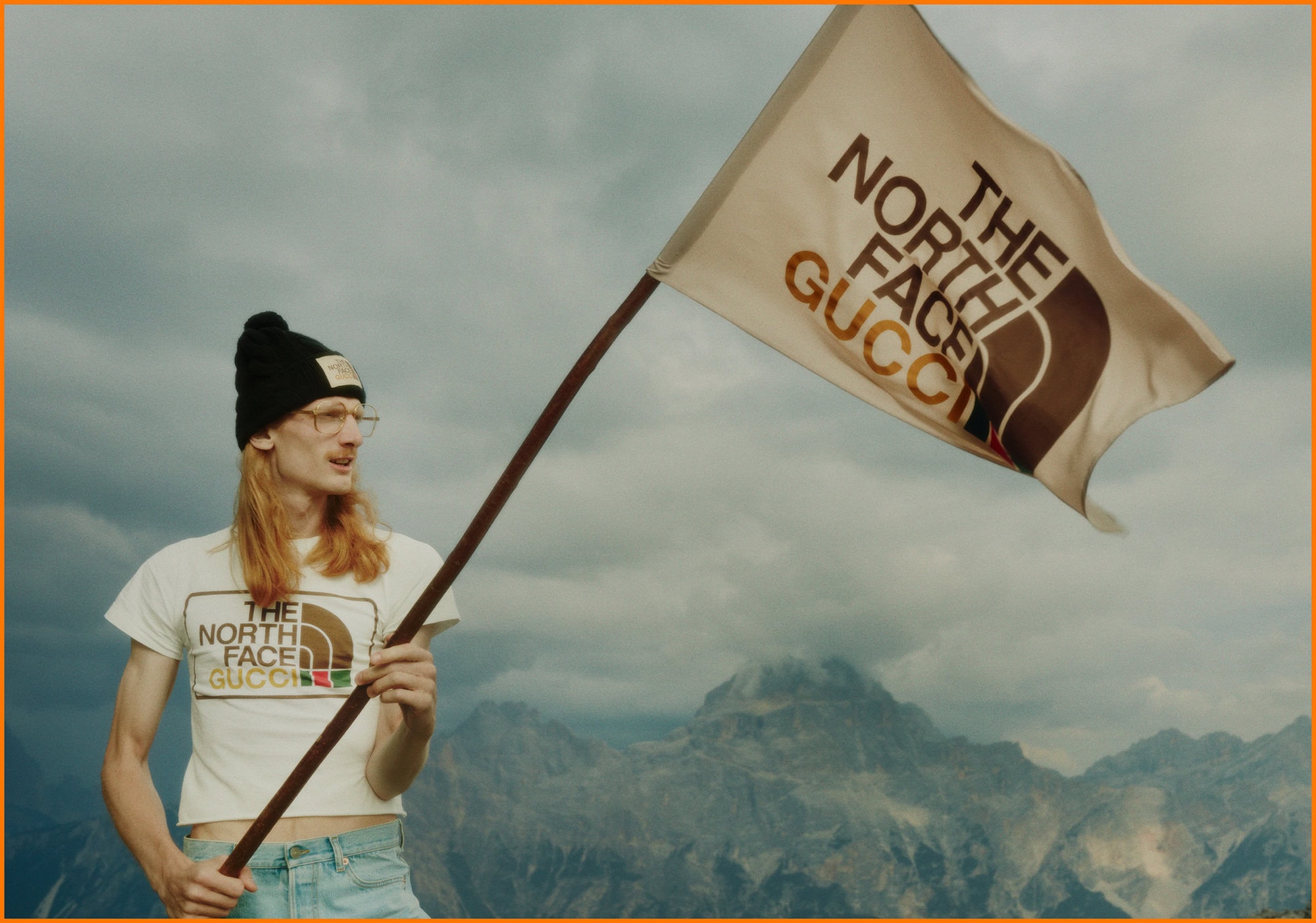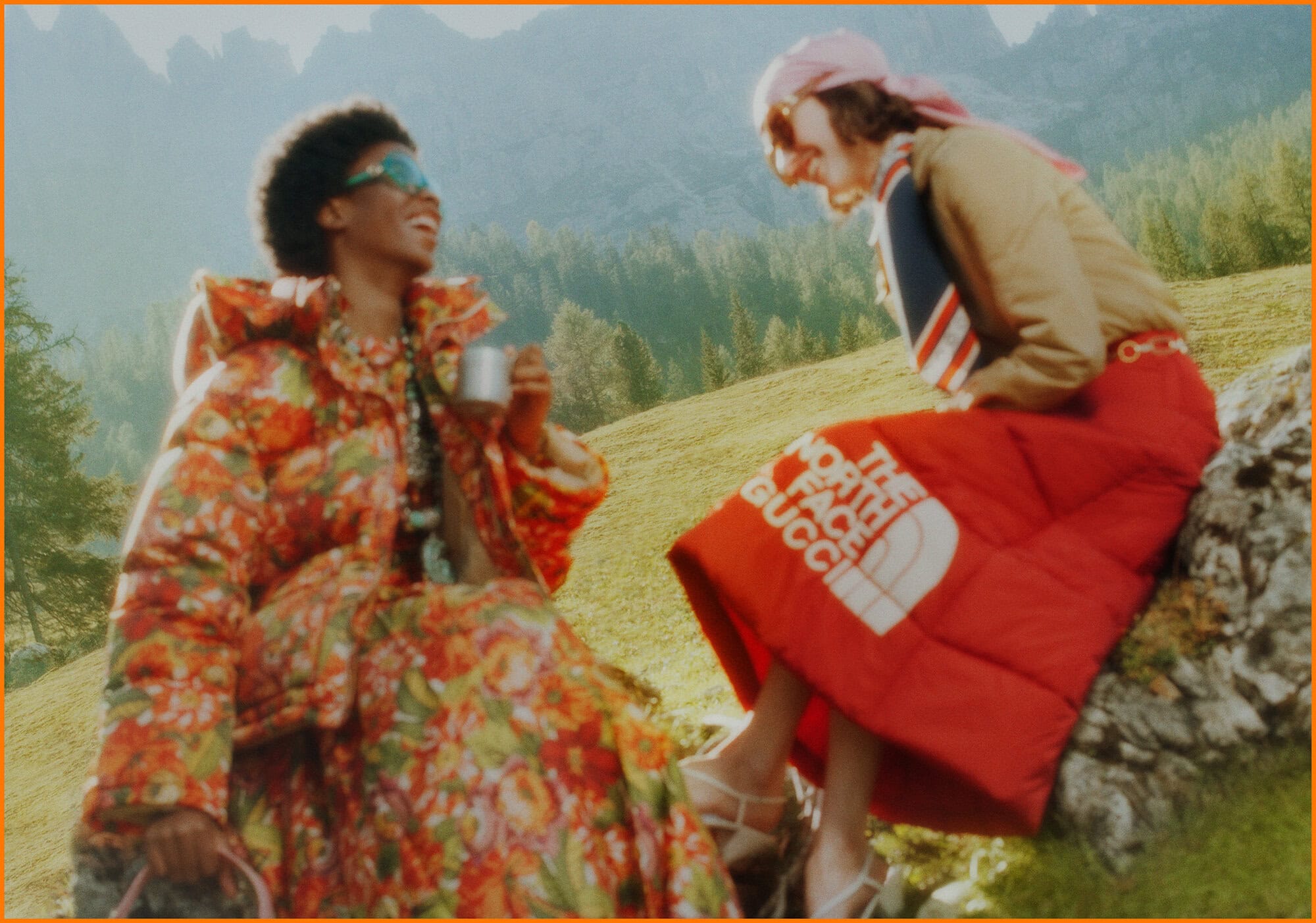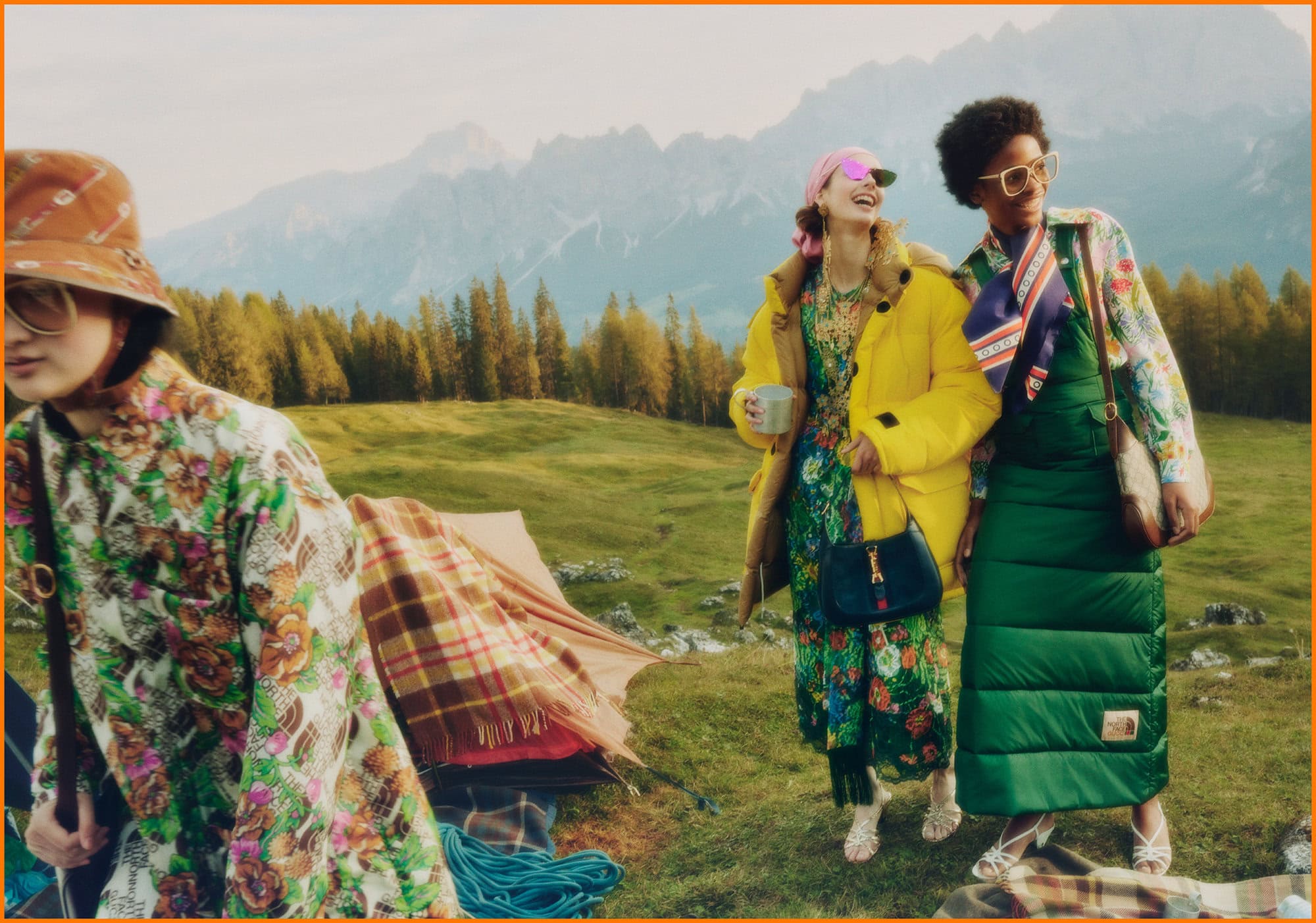 Gucci Creative Director | Alessandro Michele
Agency | Simmonds ltd.
Creative Director | Christopher Simmonds
Photographer/Director | Daniel Shea
Hair | Alex Brownsell
Makeup | Thomas De Kluyver
Music | "Bad Moon Rising" written by John Fogerty, Performed by Creedence Clearwater Revival, Published by Concord Music Group, Inc., Recording courtesy of Craft Recordings, a division of Concord
---