---
Review of Off-White Spring 2021 Fashion Show
Behind the Veil of Art and Community, An Absence of a Fashion Voice
By Long Nguyen
The brand Off-White has now expanded to encompass all of the arenas of pop culture globally. At least, that seems like the brand's ambitions in launching its own 'TV' network called 'Imaginary TV' that captures various performances by multidisciplinary talents starting at the brand's headquarter to Milano to others around the globe who joined in the multiple screens presentations with simultaneous independent actions taking place at once over different time zones. One of the landing page screens is the spring 2021 collection's actual presentation looks titled 'Adam is Eve,' a coed joint release, intended to perhaps join in the on-going genderless conversations.

Looking at the multiscreen 'Imaginary TV' presentation for this spring collection is almost like being inside a Best Buy or at a local Target store in the television department looking at a wall of televisions. Each tuned into different stations, some with sounds on, other with sound off, giving the onlooker a panoramic view of actions elsewhere.
"Think personal connections through a public platform. Connecting the dots of distance through a global language. Linking up, even though we may be thousands of miles apart," was what Virgil Abloh, the founder and creative director of Off-White said at the brand's Instagram to announce what the presentation is all about.
Right below the screen with models in the spring 2021 looks is a Warholian video of a sculpture in a black and white graphic pattern suit leaning on a reel to reel music player with one of the reels in constant motion, a direct broadcast from a theater somewhere in Italy. On another screen from China, a woman dressed in white performs Tai Chi Chuan, while on the immediate left screen from France, another woman dressed in a black corset top with hanging panel dance across an empty room. Below is a rapid flashing green sign under the heading Imaginary TV Says, dolling out the following dictums – 'I only smoke when I drink.' 'Logic is a technology we re-brand with new atmospheres and new canons.' 'Use art to invent, just like you can invent a new way of distributing load in a tall building.'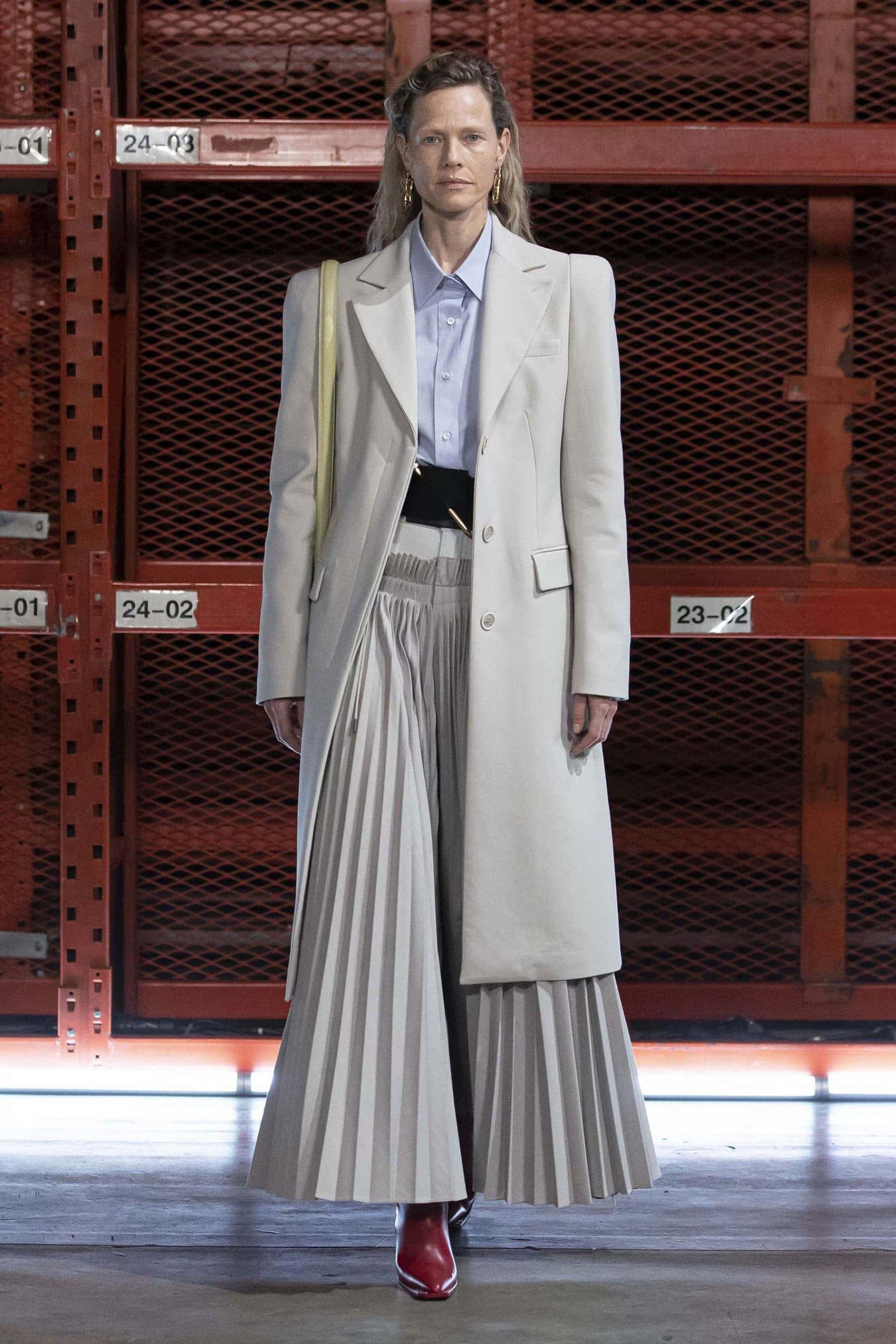 A DJ spins some music from the US, a painter scribbling something on a blackboard from Italy, a singer from the US singing to an empty stage, and a jazz band from the US playing or rehearsing live music somewhere. And don't forget the two guys from Italy spraying black graffiti art onto a white delivery truck at the bottom of the screen. The point of all these isn't clear, but it is supposed to be conceptual art so interpret it's open to free interpretations.
That said, the idea of a coming together or communion in a public space isn't new in any way, but perhaps as an extension of the idea of sampling and referencing for reinvention. But, sampling is one thing, while reproduction is another entirely different beast. In fact, the Italian designer Francesco Risso perfected this multiscreen show for his spring 2021 unveiling late last September on YouTube, showing a community of people from different backgrounds who share their 'lives' momentarily live online with others, all wearing different outfits from the new Marni collections. The difference between the near one and a half long live transmission of the Marni' Manifesto' then and Off-White's 'Imaginary TV' today is one of authenticity.
While the kids who participated in the Marni multiscreen has some vested interests in the fashion, there is a sense of falseness and pretension to these 'multidisciplinary talents' on the Off-White screen. The subjects are completely divorced from the new collection's proceeding in an alternate reality, a reality that has nothing to do with them in a way. For young kids, authenticity matters a great deal.
The new Off-White new spring clothes presented as an in-season sort of see-now-buy-now approach on the top left screen. The collection is nothing of imagination and is perhaps an anomaly on this Imaginary TV channel. While the concept of the presentation is not original, neither are any of the looks presented that verged on an upscale sartorial dressed up with tailoring as the main thrust with long light grey single breast coat with long pleated skirt, simple brown skirt suit, or a mixture of separates with jackets and floral/wool skirt-pants or as a blue pantsuit paired with a broad shoulder back leather coat. The menswear suffers the same fate of uninteresting tailoring, all with a bit of that last season' broad' shoulder shape, a silhouette that Anthony Vaccarello made into his signature shape for his fall 2019 show.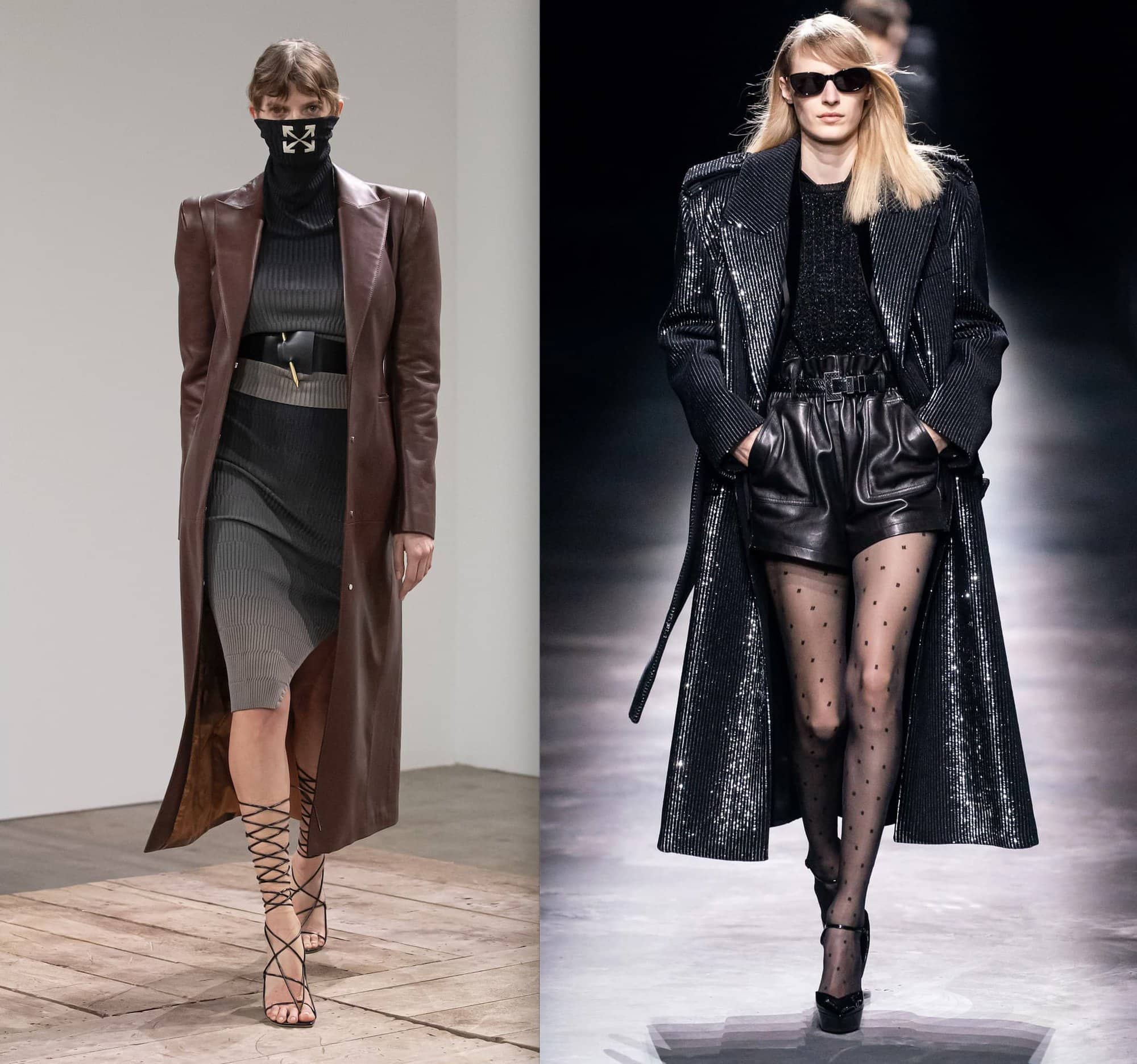 This Off-White spring 2021 collection adopted so many ideas from elsewhere that perhaps for the sake of brevity, here are just a few of the highlights. The men's black MA1 blouson with broad and elevated should surely close blood relative to its Balenciaga brother. However, in the Balenciaga version, the design was further exaggerated to the extreme. The light purple light pagoda shoulder fitted long leather coat has so many recent 'references' that it will take a few paragraphs to document. But let's say the exact shape was ubiquitous at the Balmain spring 2021 show last October.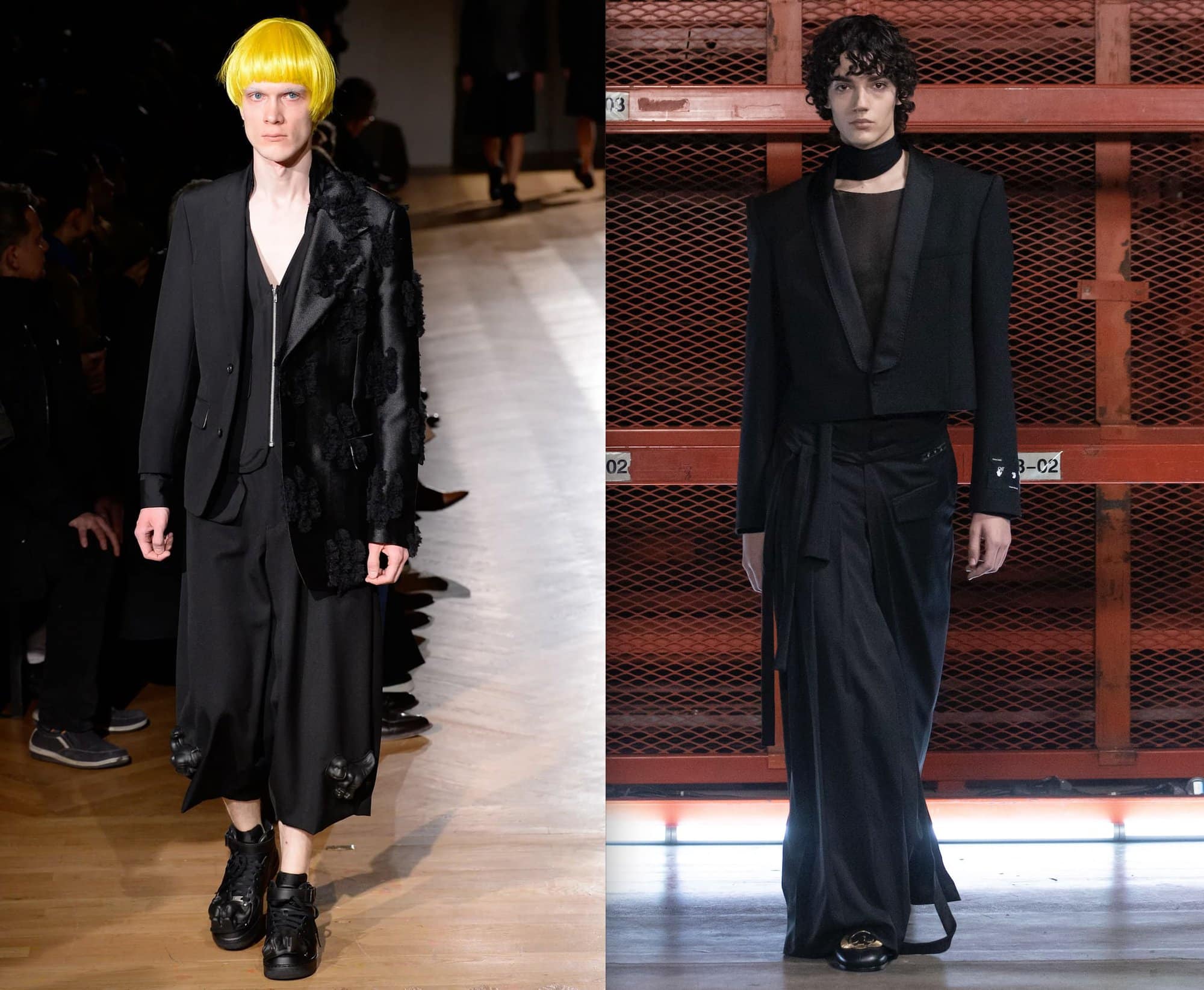 The light grey leather blouson with a wavy pattern front closure is a direct reinterpretation of Glen Martens fall 2018 and his recent fall 2021 shows for Y/Project where Martens perfected the structure with steel wire beneath. Here at Off White, the Y/Project 3D effect sculptural shape is merely reproduced as a visual afterthought with little consideration for the design innovation behind these wavy shapes. The light grey long pants with the asymmetrical pleated skirt on one side is a classic Comme des Garçons Homme Plus signature look for more than two decades in both long and shorter versions. The same can be said of the light grey fitted jacket paired with the same pant-skirt.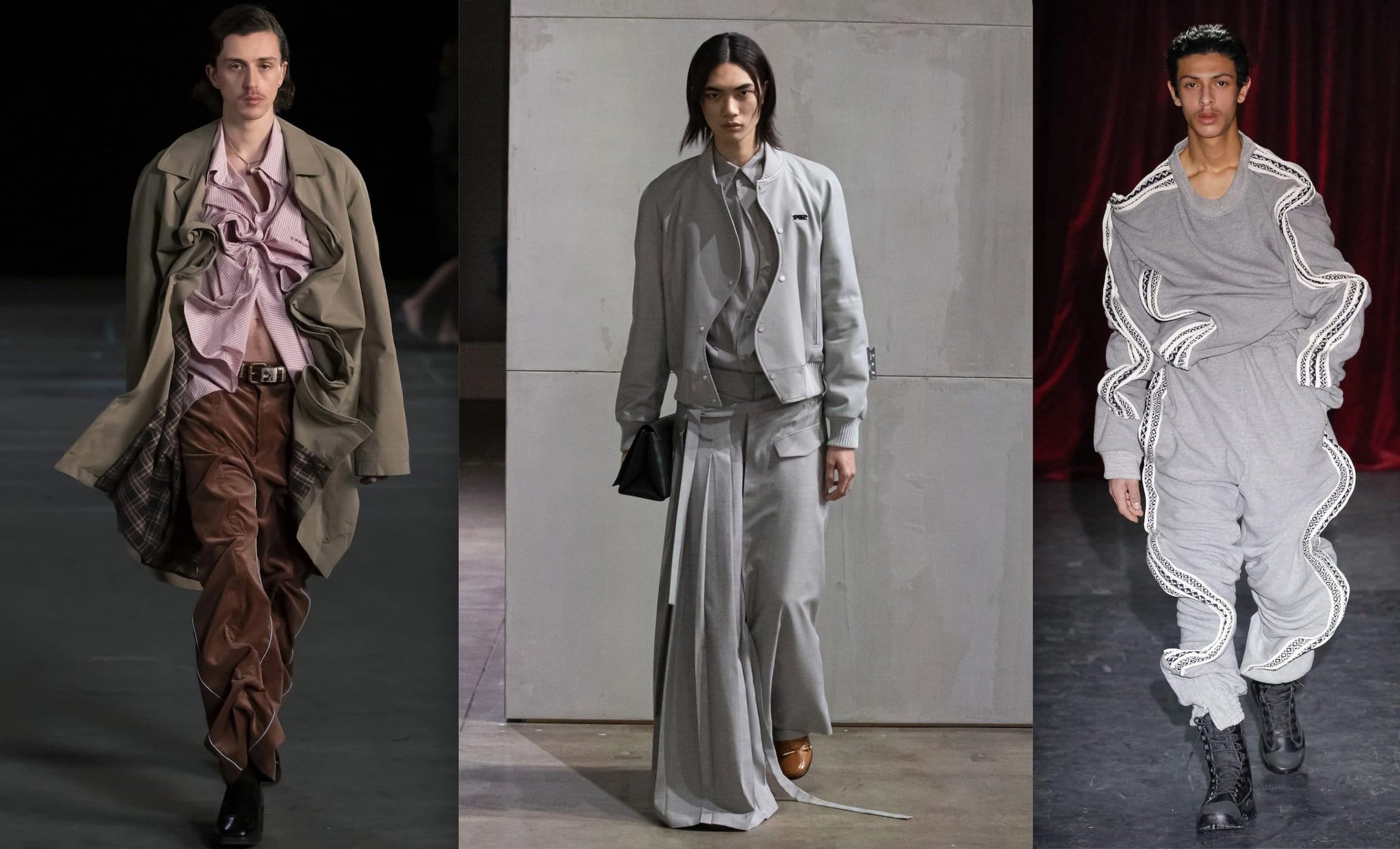 I remember going to see Abloh's first presentation in Paris before any fashion shows, mega or otherwise, when the 'designer' himself showed his new outfits in a small studio in the Marais. This was a time before the hype that brought near-riot conditions at the front door of a few of his shows, notably one staged at the far end of rue Cambon. Back then, and a universe away from all this art stuff, it was a small collection of clothes, many with the logo and other letterings for easier identification. Something is really lost at Off-White on the road to superstardom. The bread and butter logo clothes were spin-off to a lower price point category while leaving the line's top as the fashion show collection like this one.
Off-White has come far since those beginnings in Paris with just a small collection of staple menswear garbs, specializing in cross-pollination across different product categories from furniture to sneakers. All the while, the fashion component remains stuck in nowhere land with bigger and bigger shows in Paris with clothes sampled from other collections throughout the years. Again, the gap between the aim of the project and the clothes is enormous – like a black hole.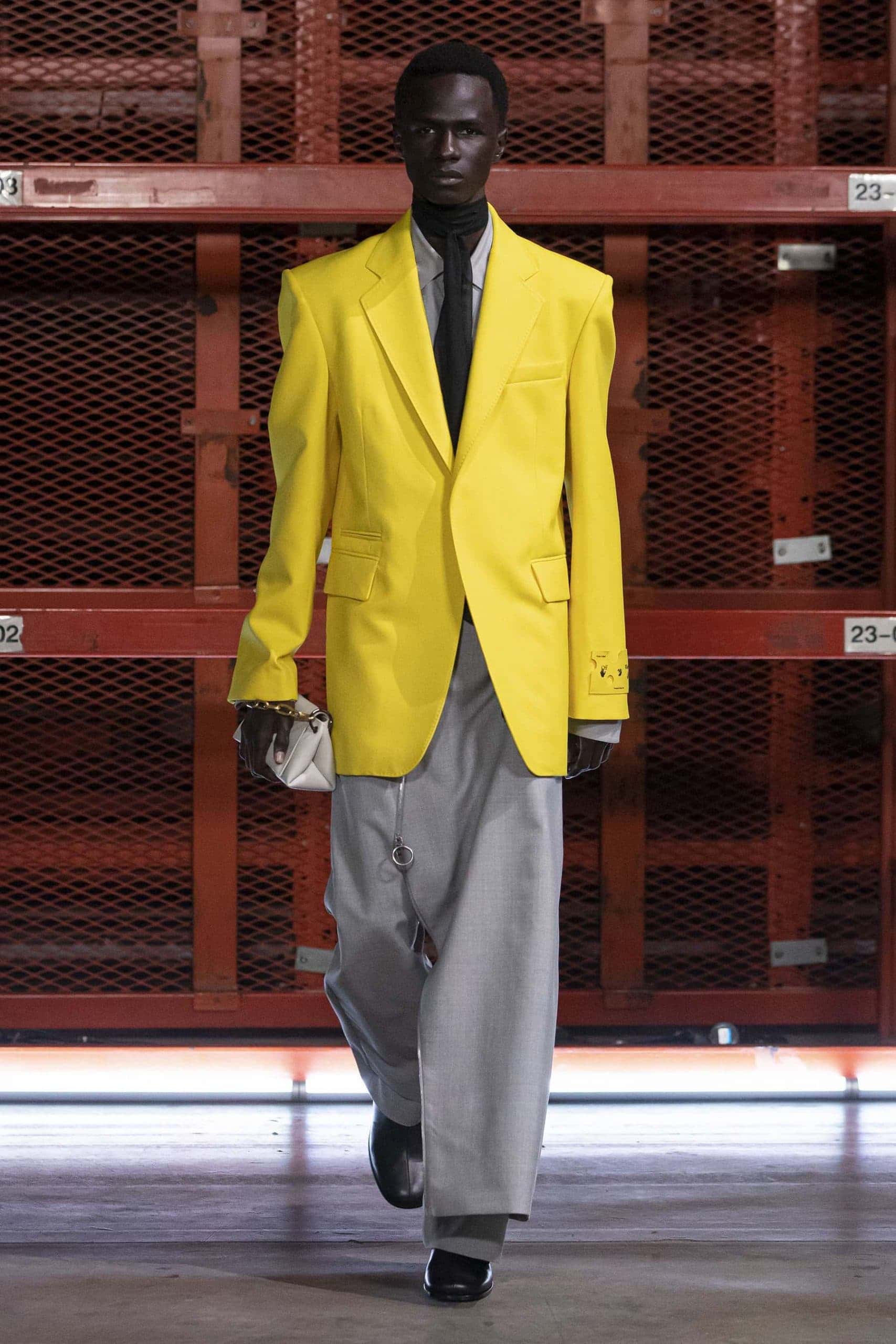 "Collections embedded in a recurrent back story with an emphasis on creating garments that have an identity by design" is a motto logged into the brand's mission purpose as mentioned in the statement about the brand. This spring 2021 collection would seriously violate this principle on both counts – backstory and identity by design.
Hyperboles abound as global multidiscipline talents unite; meanwhile, these actual spring clothes are a bridge to nowhere.
---