---
Review of Paco Rabanne Fall 2022 Women's Fashion Show
Revisiting Glam Roots with Mixed Results
By Mark Wittmer
Paco Rabanne returns with a collection that seeks to build up an emotional expression through sparkle, color, and volume, but often misses the mark. Drawing inspiration from 60's glam and 70's disco, creative director Julien Dossena presented his playfully feminine Fall 2022 women's collection off of the official Paris calendar just as men's week was wrapping up.
The presentation was the house's first return to the runway after several seasons of digital, and Dossena made the most of the opportunity for physical presence. Leaning into the sensory, the collection made an enlivening impact through contrast in material and cut. Sometimes the experiments with combination pay off, and sometimes the proportions just feel too ill-matched to the body, but it's always interesting to see the approach.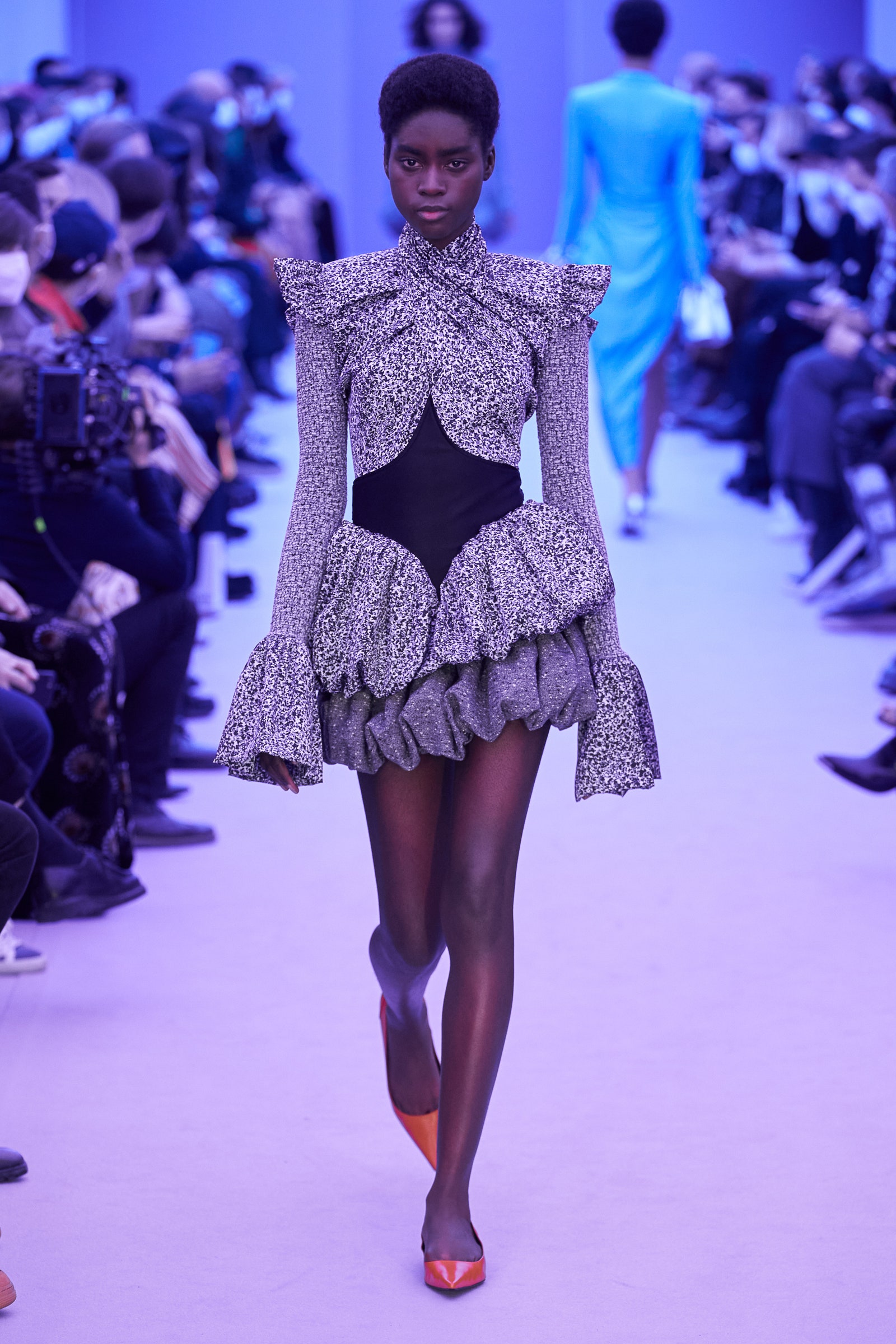 Dresses with short, ruffled skirt hems expose bare legs, while their arms extend beyond the hands.
Other dresses feature tight bodices and protuberant skirts, or powerful shoulders and narrow waists.
More spatial intrigue was achieved through voluminosity, a structural technique that ran throughout the collection, expressed in ruffled shirt fronts, twisty, layered skirts, dramatic ruching, and excessive flounces and frills.
The joyful and celebratory sense of limitless ways to express femininity hearkens back to the feeling of possibility and liberation of the 60's. It's no coincidence this is when Paco Rabanne got big, and Dossena certainly had this legacy in mind.
But while it's admirable to see the designer play with what kind of structural ornamentation can be applied to an unexpectedly shaped piece, many of the experiments just don't seem pay off. The silhouettes tend to feel globular; the proportions become stocky. Waists are either too high or too low to be flattering. Materials have bizarre contrasts, and the ostentatiously sparkly pieces tend toward the garish. Many of the colors are strong on their own, but together lack poetry.
Scintillating or sickening? Glam or garish? The collection has a bit of both, and the difficulty is that they often coexist in the same look. If there is a customer for any of these pieces – and there probably are many – they certainly have lots of personality. Dossena deserves commendation for his willingness to uplift femininity and twist established forms, even if these forms may remain established for a reason.
---