Paul Andrew is Merging High Tech With High Craft As The Designer Heads Once More Into The Footwear Fray
By Dao Tran
Paul Andrew is back! This time, armed with the invaluable experience, learnings and relationships developed in leading a multibillion Italian luxury house.
After putting his eponymous brand on hold while helming Ferragamo, Paul admitted that he had "definitely been missing the expression I can have with my own brand, having that sort of freedom to do whatever you like." And while he is still very interested to step into another creative director role, what also prompted him to relaunch his shoe brand is the fact that there's apparently a major niche in the shoe market right now and shoes are really working for everyone. When I asked him why he thinks that is, he posited:
I think that's to do with the fact that people have been at home for the last couple of years. People haven't been able to go out, socialize, party and have fun. I think now, people really want to get dressed up and put on a stiletto shoe and look good again.

– Paul Andrew
He further elaborated, "Covid restrictions are lifting, but people are still working a lot from home. Which gives you an opportunity to get dressed at home to go out." So, with people working at their computers at home, the demand for an escapist high heel stiletto to go out in the evening is high. Paul effused, "We haven't seen this sort of attraction for full on, evening fantasy shoes in several decades, so that's exciting."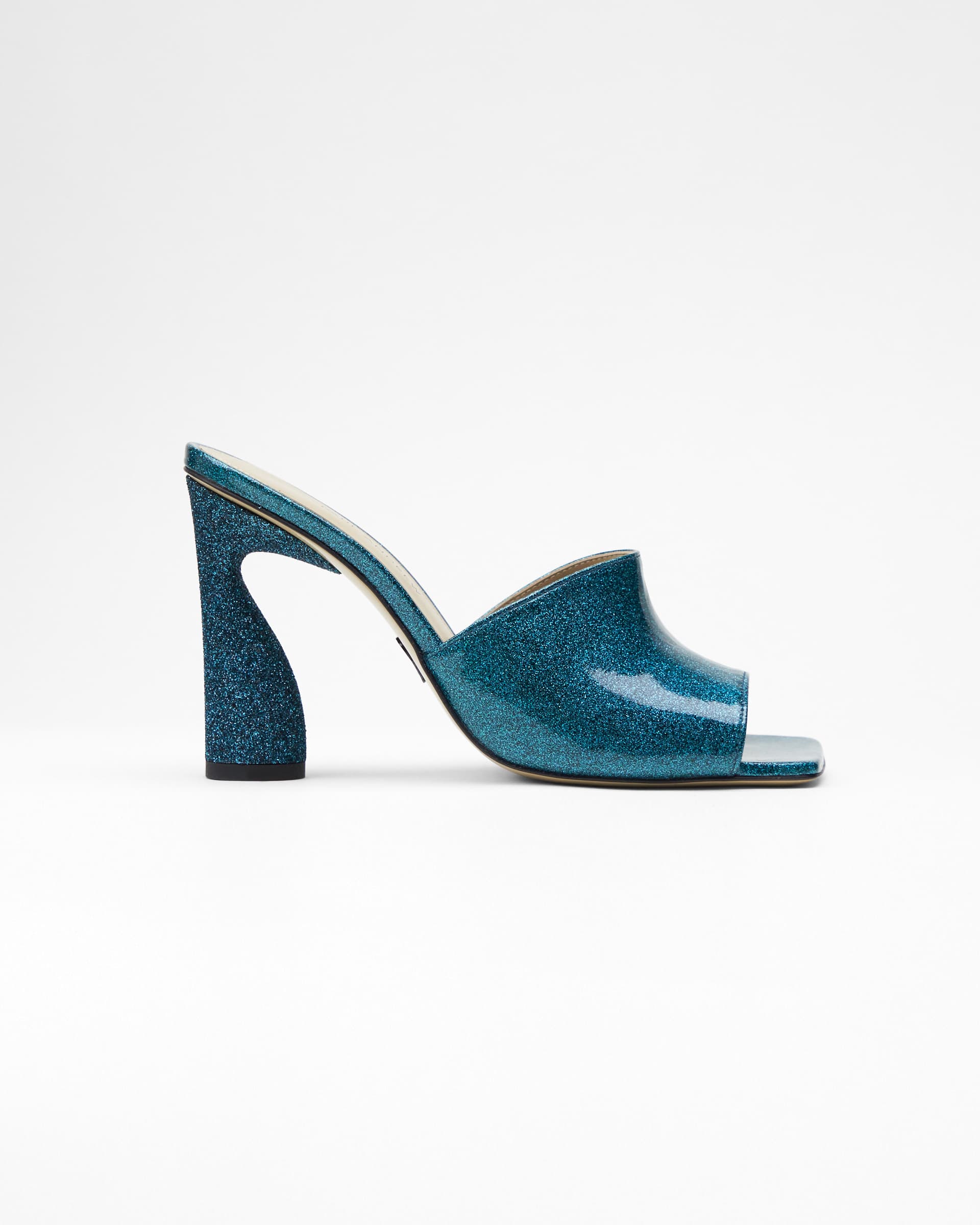 Appropriately so, Paul Andrew has relaunched with an exciting little gem of a collection of fresh, flirty shoes that are ready to go out and have some fun. The new heel and new silhouette is a slick, Brancusi-inspired, sculptural heel which is galvanized at an Italian sports car factory to have the look of a Lamborghini. It comes in different heights and widths, not to mention hand-encrusted with pearls, rhinestones and bugle beads. Paul's attention to minutiae is evident down to the glitter heel, which he matched in the rest of the shoe by injecting the patent leather varnish with glitter in order to give it the same luminescence.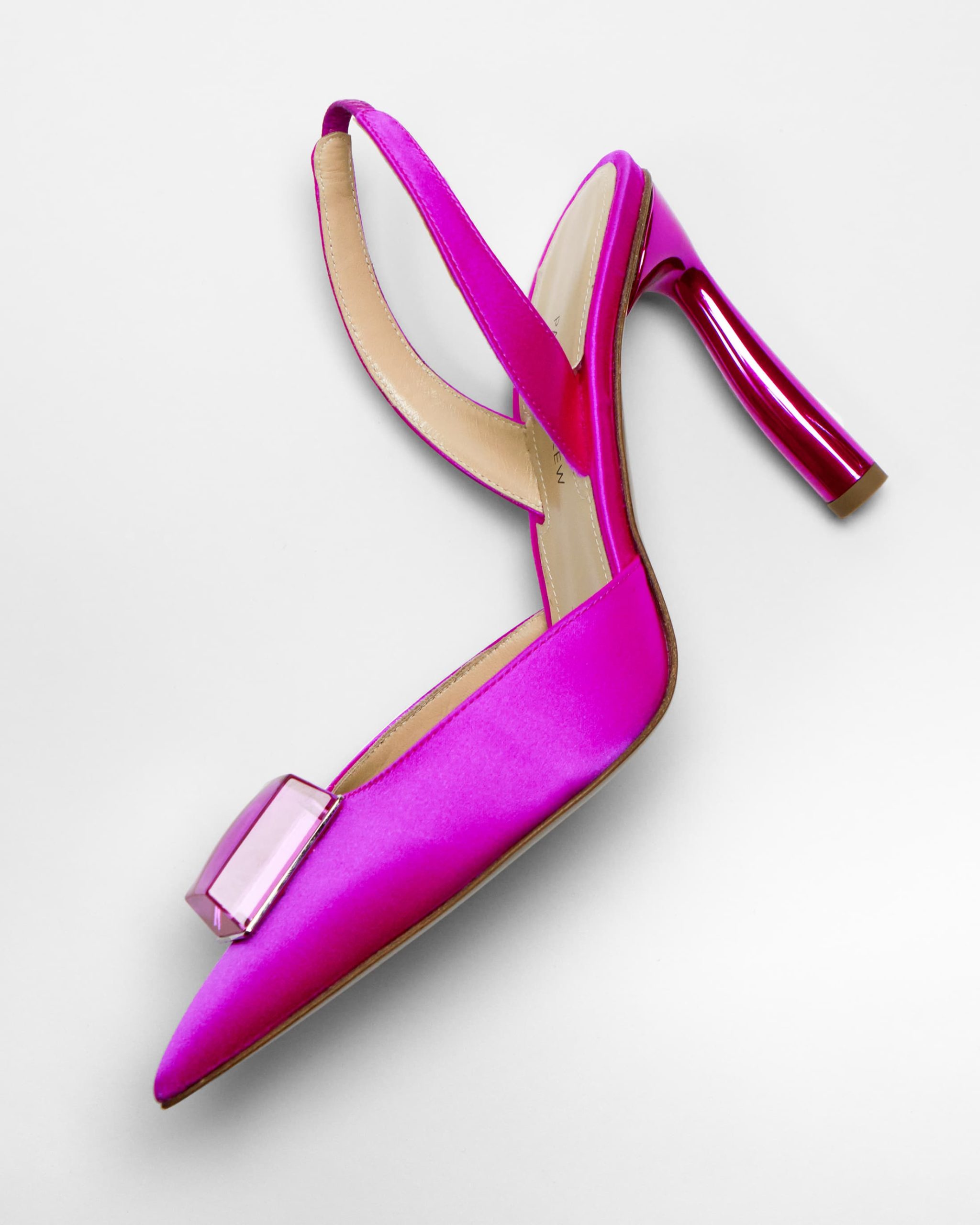 The brand philosophy of cutting edge technology and high level craftsmanship is rooted in Paul's upbringing and experience. With his father being the upholsterer to the Queen at Windsor and his mother the head of a computer company, Paul grew up admiring the traditional techniques of craftsmanship while learning to push things forward with technology, innovation, thinking outside of the box. Then the last 5 years at the head of Ferragamo, working with some of the best manufacturers in Italy, has brought invaluable know-how and contacts. As he puts it: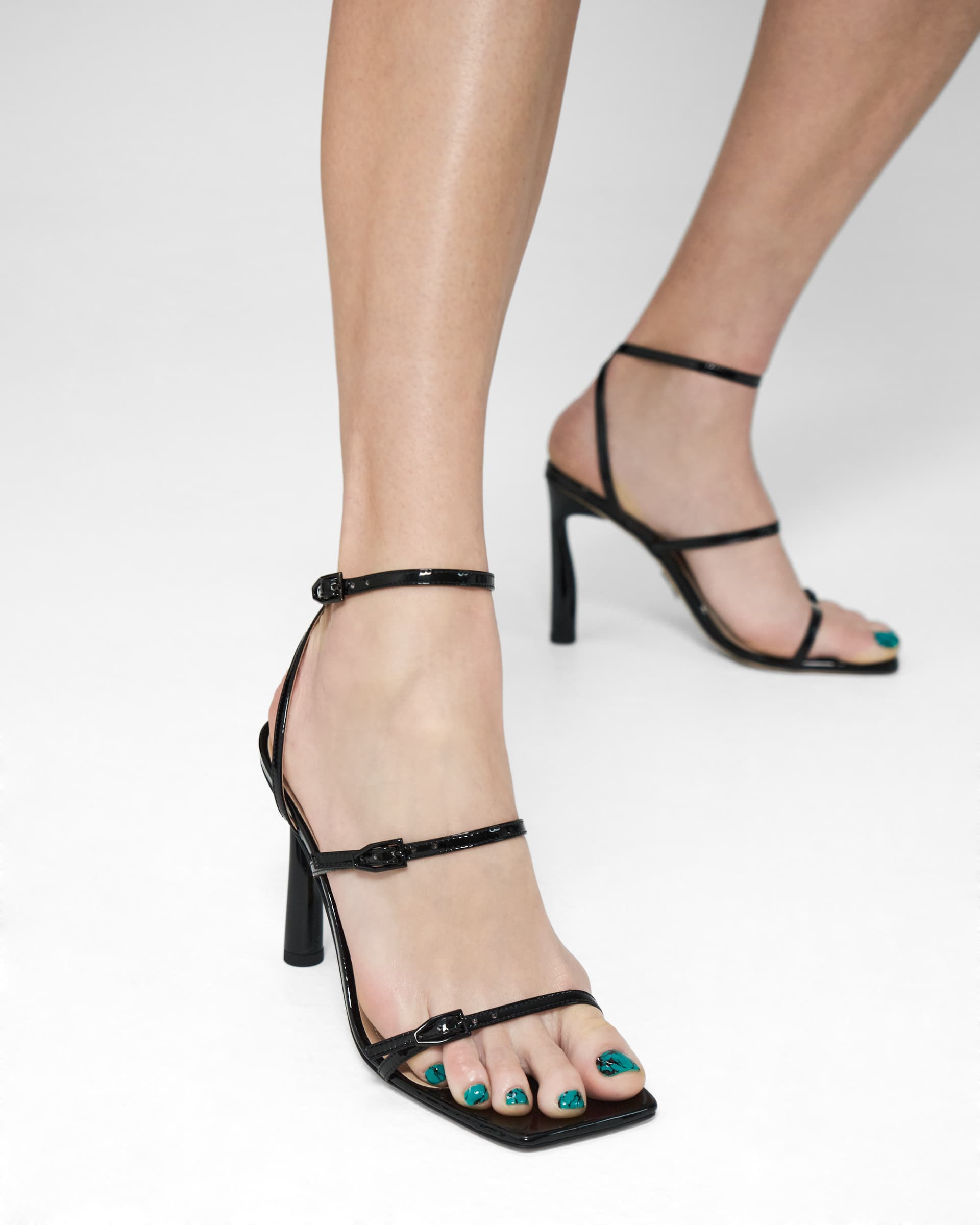 What I'm doing harnesses both of those ideals – it's high tech meets high craft in a shoe.

-Paul Andrew
To wit, Paul literally uses fabrics from the mill that is used by the Queen for her upholstery at Windsor. He produces at the same factory that makes Hermes and Loewe. He found a special place to make these custom A-shaped buckles.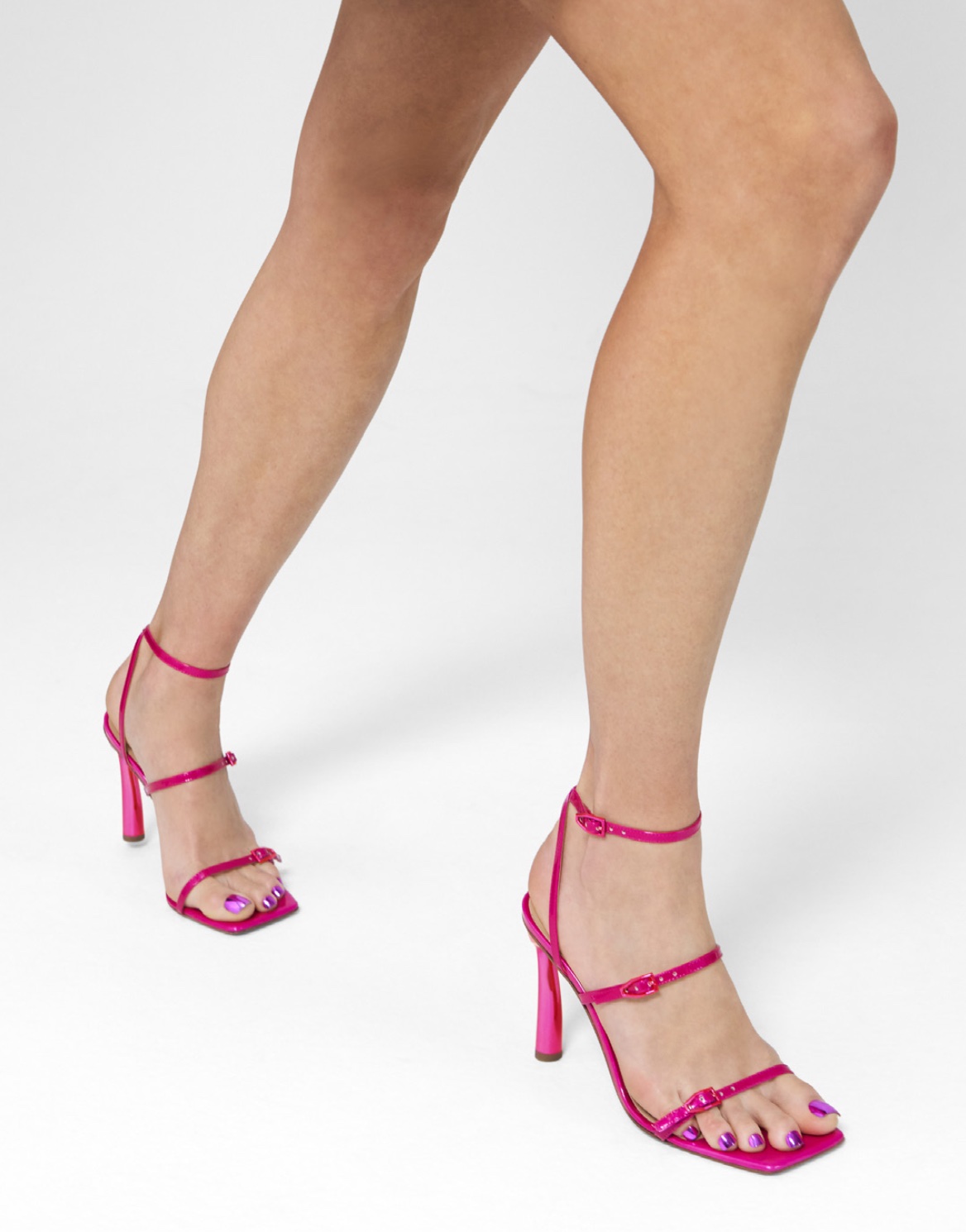 The Plexiglass heels are hand-poured and the rubber sole is injected with air for lightness and comfort. Genuine turquoise and coral are molded into flathead studs, then fitted with a tiny plug which connects it to the shoe and ensures they will never fall off.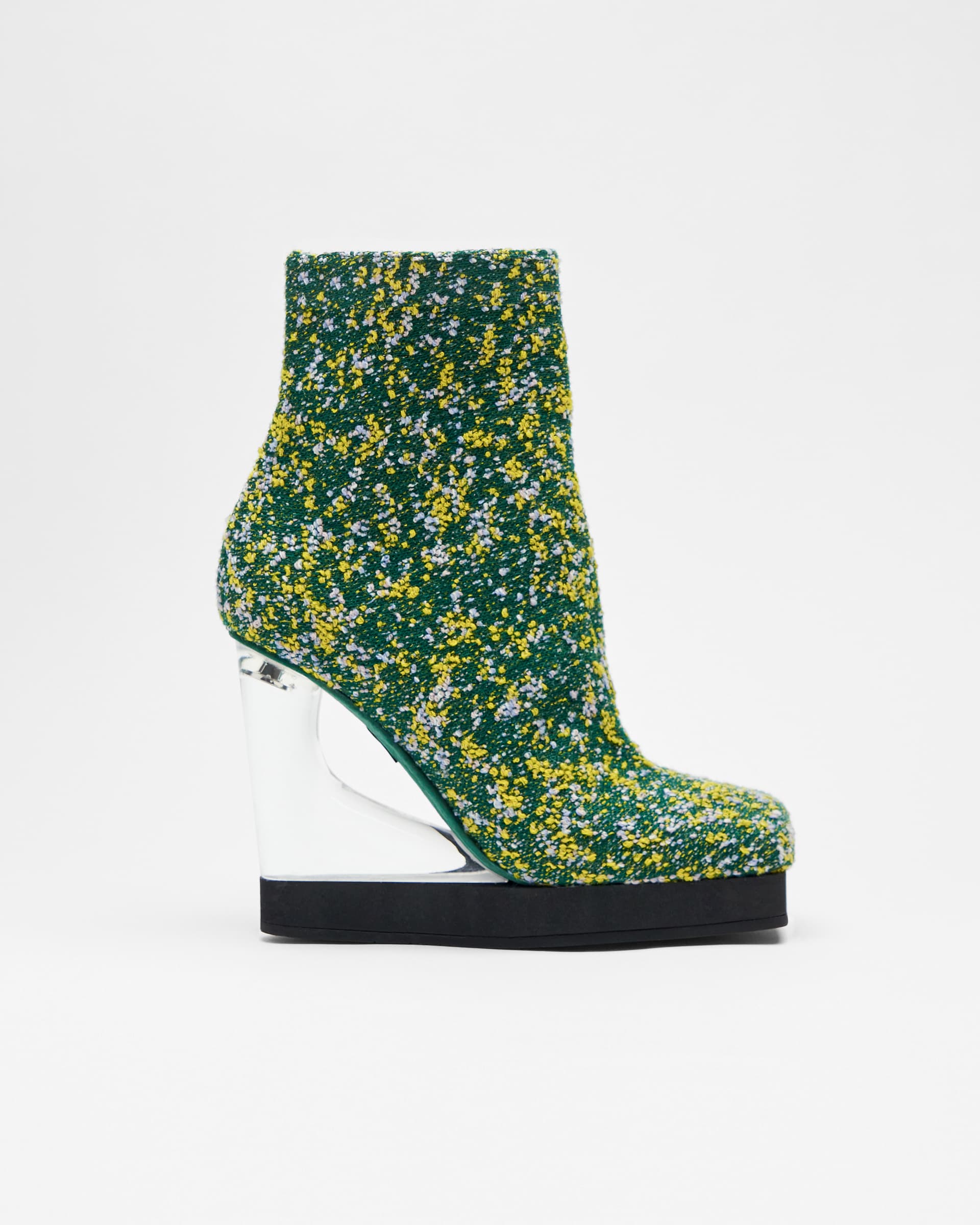 The African mask-inspired series are laser cut and contain no stitching, but borrow the bar tack technique from the world of upholstery.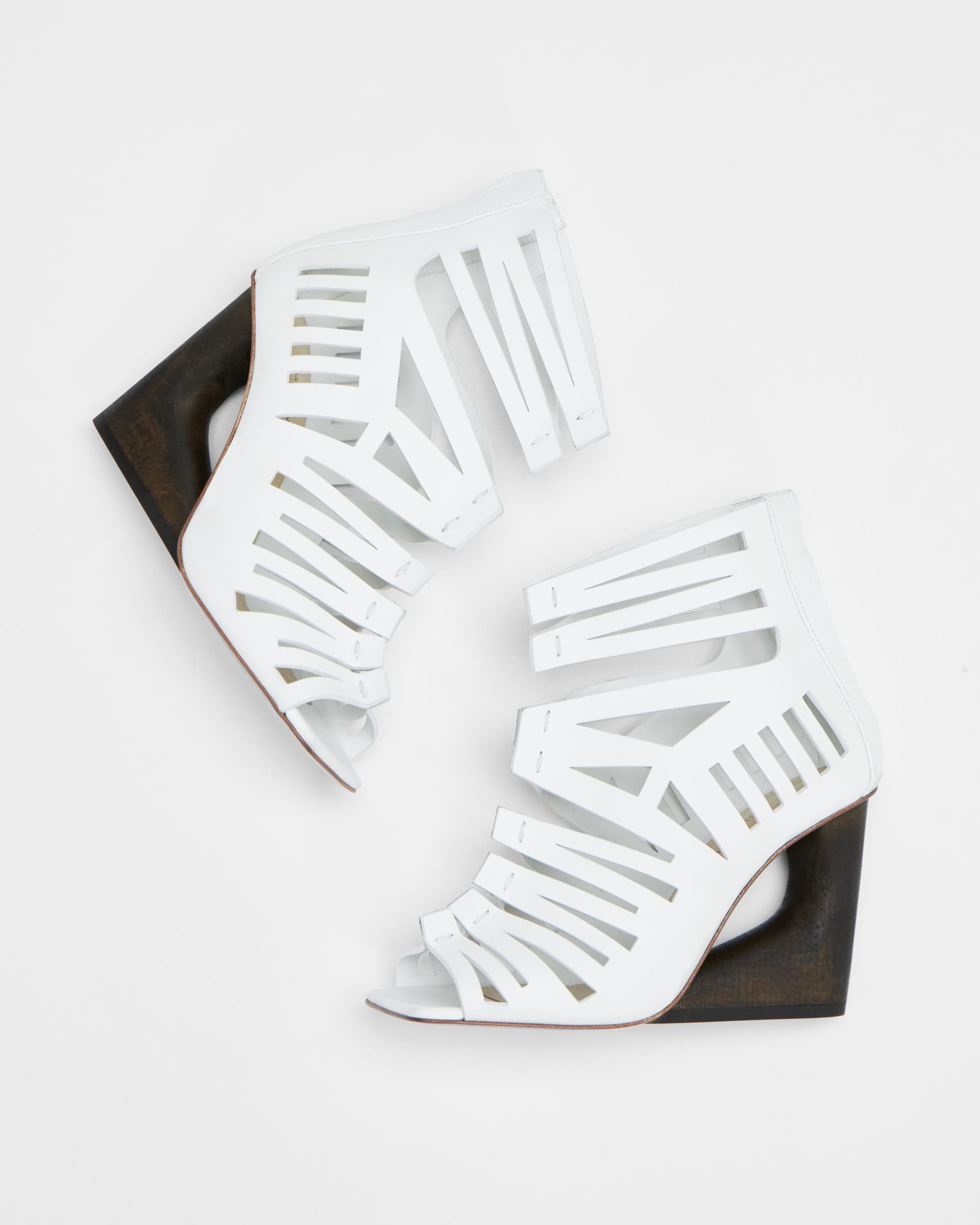 And the upper on this jelly-meets-flip flop-meets-wedge-hybrid is all in one piece. This is a shoe we've never seen before and, in those fun colors and at the entry price point, feels like a great way to on-board new customers. Plus, they look super easy and comfortable.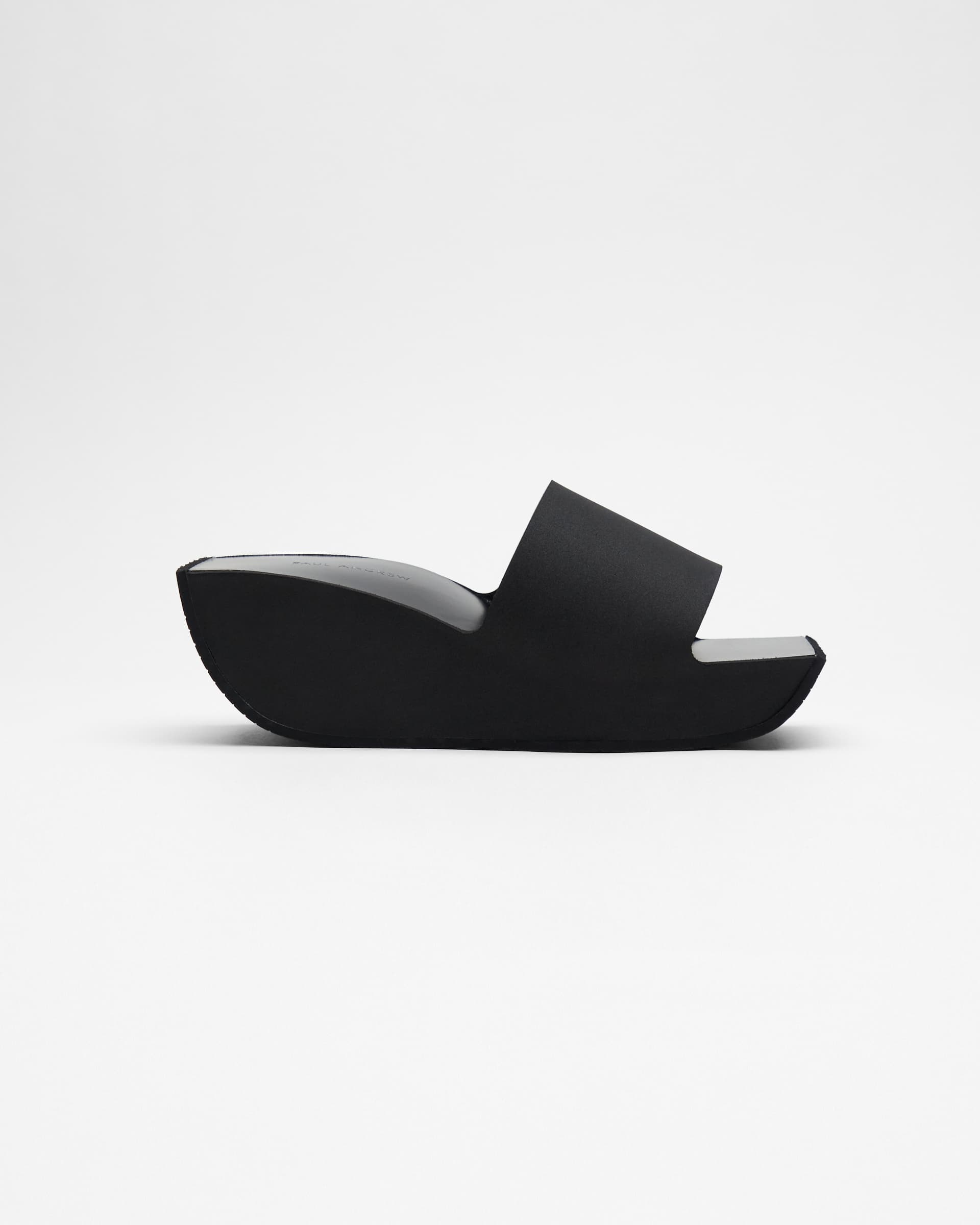 Comfort and fit are important design pillars for Paul. He stressed,
Throughout my career, it has always been about empowering women. There's nothing empowering about crippling a woman in a super high heel.

– Paul Andrew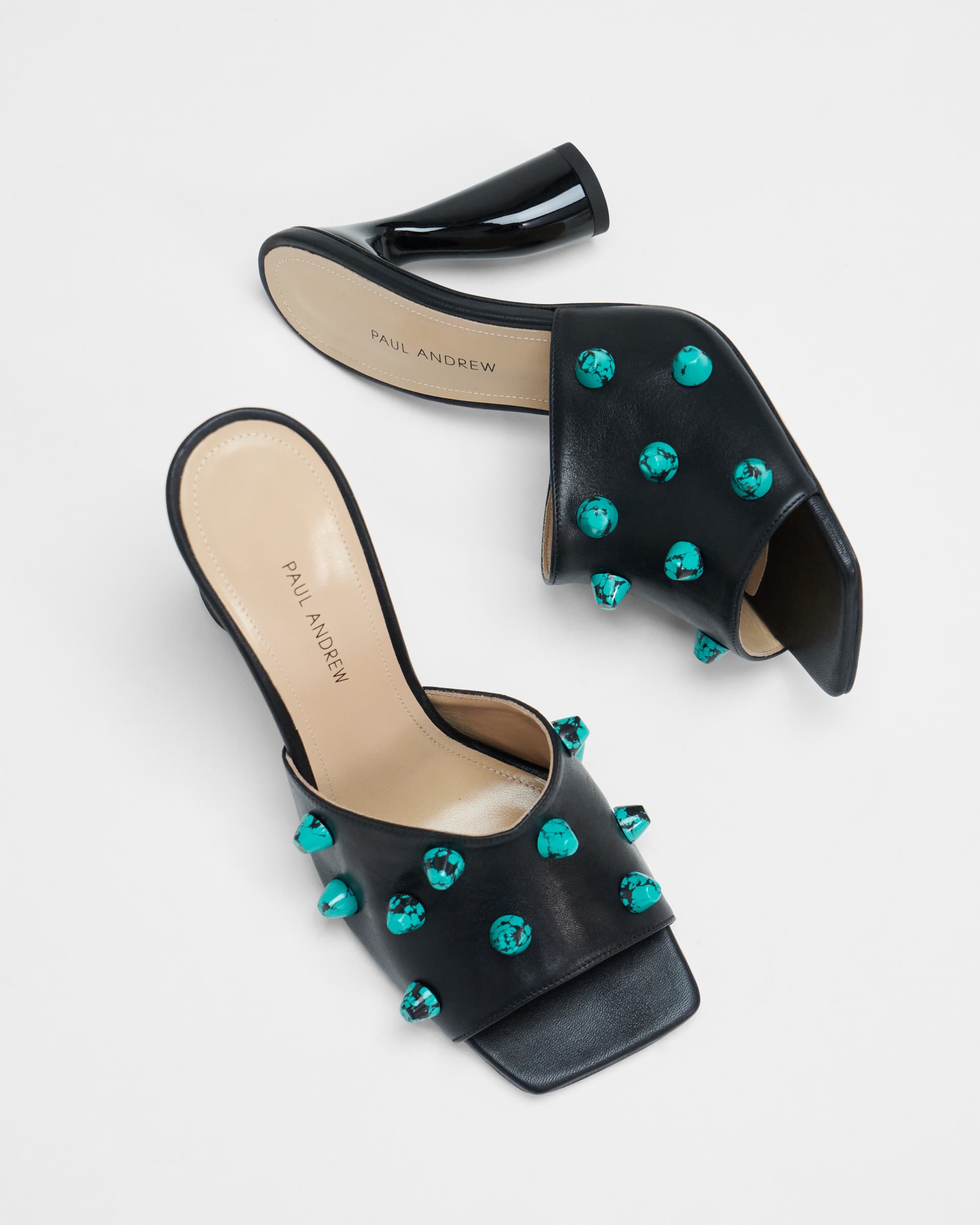 (There is no heel above 9.5 cm.) He actually did a survey before launching the brand the first time around with 500 women internationally to establish the perfect fit in shoes for now because the rest of the footwear industry are using measurements that were established in the 70s and people's feet have changed so much since. So wearing a Paul Andrew shoe means that the shape of the arch, the padding on the instep – "it's like a cushion for your foot." Even his decision to bring back the square toe is grounded in comfort and fit, not 90s nostalgia. And what looks like a woven insole on the sandals is actually embossed leather with padding underneath because the woven one rubbed and hurt the foot a little bit in fit trials.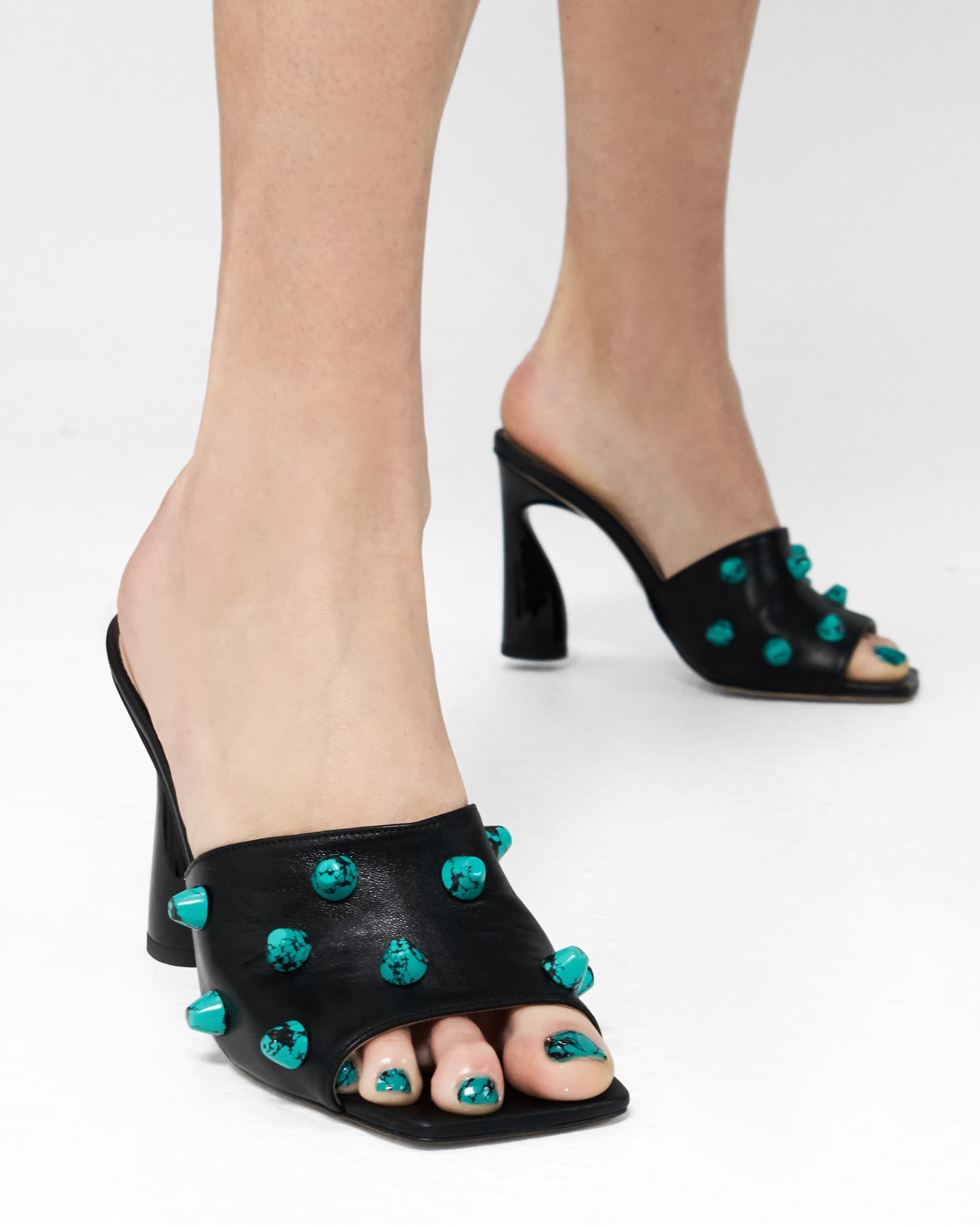 Paul Andrew is pushing boundaries as much as possible with sustainability as well, although, as he admitted:
It's not 100% sustainable because in truth, with footwear, it's still impossible today. If you want to put out a high end luxury product, the materials are not at that level yet and there are like 80 components to a shoe.

– Paul Andrew
He has prototyped alternative leathers and satins to find some of them break down after four wears and that's neither a luxury product nor sustainable because it just ends up in landfill. Which is anathema to Paul because his design philosophy is quality and longevity. But all of the soles have sustainable leather, all of the linings, and many of the uppers. Instead of faux fur, which is not that great for the environment, Paul is using shearling, which is a by-product of the meat industry. He's also decided not to revive his previous big business with exotic skins because of animal cruelty. He has found metal shanks and plastic heel units that are now sustainably made, and the Plexiglass ice cubes are upcycled off cuts that are melted at a temperature that doesn't cause harmful fumes. The wood and the rubber in the heels are sustainable, as well as the shoe box, the tissue, the bag.
This relaunch is a bespoke, thoroughly conceived and curated collection of 18 styles in all the different skews and fabrications.
As Paul explained, "My whole concept is about doing less, but better." He wants to build back slowly and intentionally, releasing two collections a year on a buy now, wear now schedule more organically aligned with presentation, production and consumption times. Another new concept is the idea of the forever shoe as part of a longevity and sustainability practice that will build on evergreens in addition to the seasonal models.
Whether you're dying to get dressed up and go out or just heading to the grocery store, run, don't walk to get your new pair of Paul Andrew shoes!
---