---
Review of Peter Do Spring 2022 Fashion Show
A Spectacular Debut Synthesizing Past/Present, Multiculturalism, and Fashion Design.
By Long Nguyen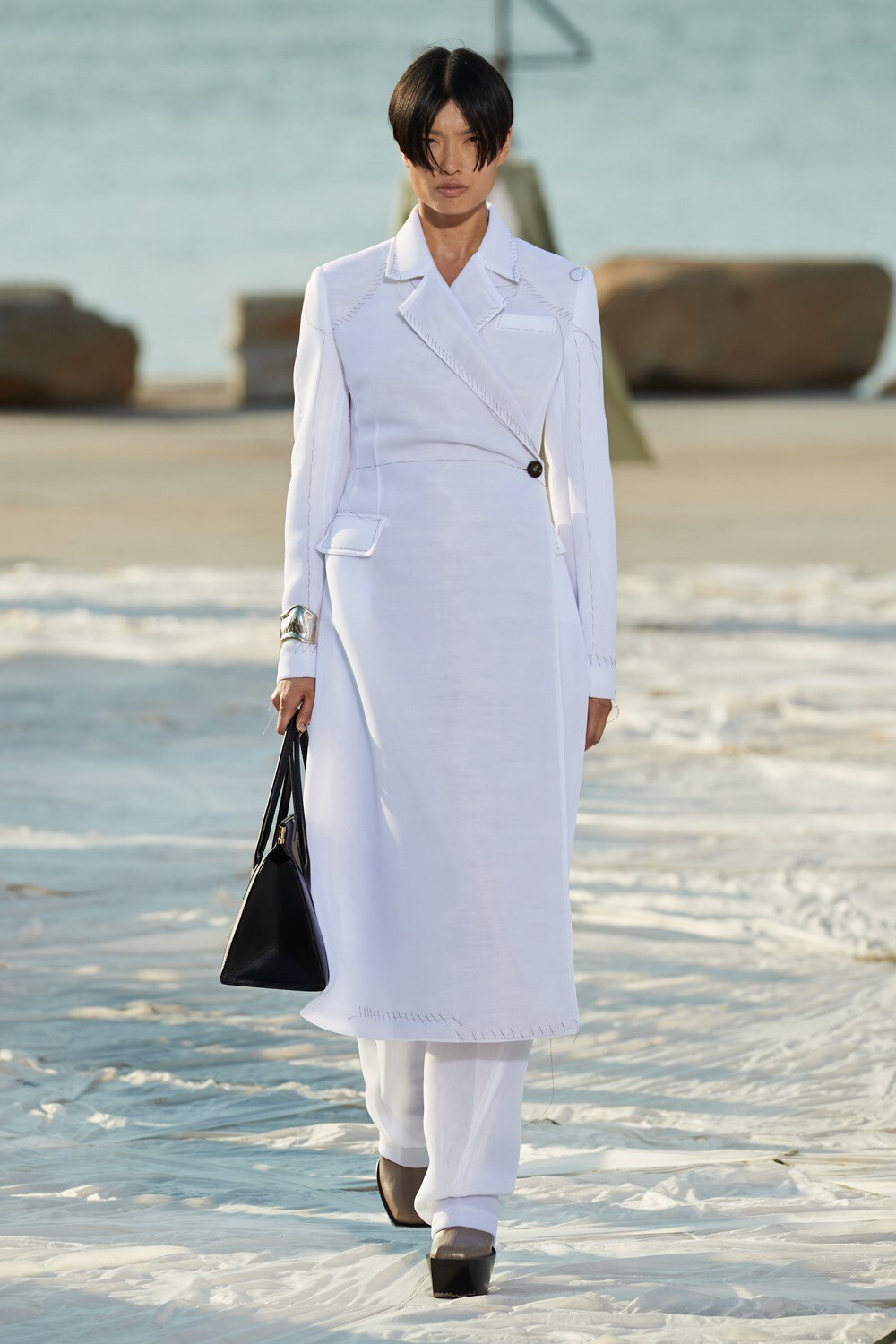 This waterfront space is a memory of a point of arrival here for my parents as a homage to our new home. I have been thinking through this period of rising anti-Asian hate when people tell us to go back to where we had come. I have been thinking a lot about Viet Nam. The collection was around the lens of watching my grandmother get dressed to go to church and my mom's dress. It is these strong women who built me who I am today." After his spectacular debut show on the Brooklyn waterfront with downtown Manhattan as the giant backdrop, Peter Do said backstage. 
"I don't want this to be a Viet Nam inspired collection. There isn't any like research into old dresses like dragon embroideries and obvious elements like that. I want to interpret the collection through a hazy lens with the strength of the women at the center. We started three years ago with solid and more rigid shapes as if I had a lot to prove then. As a newcomer, I wanted structure and sculpture. I think there is strength in softness – you can be strong from inside. I have gone softer," Do explained the more fluid shapes that permeate throughout the show.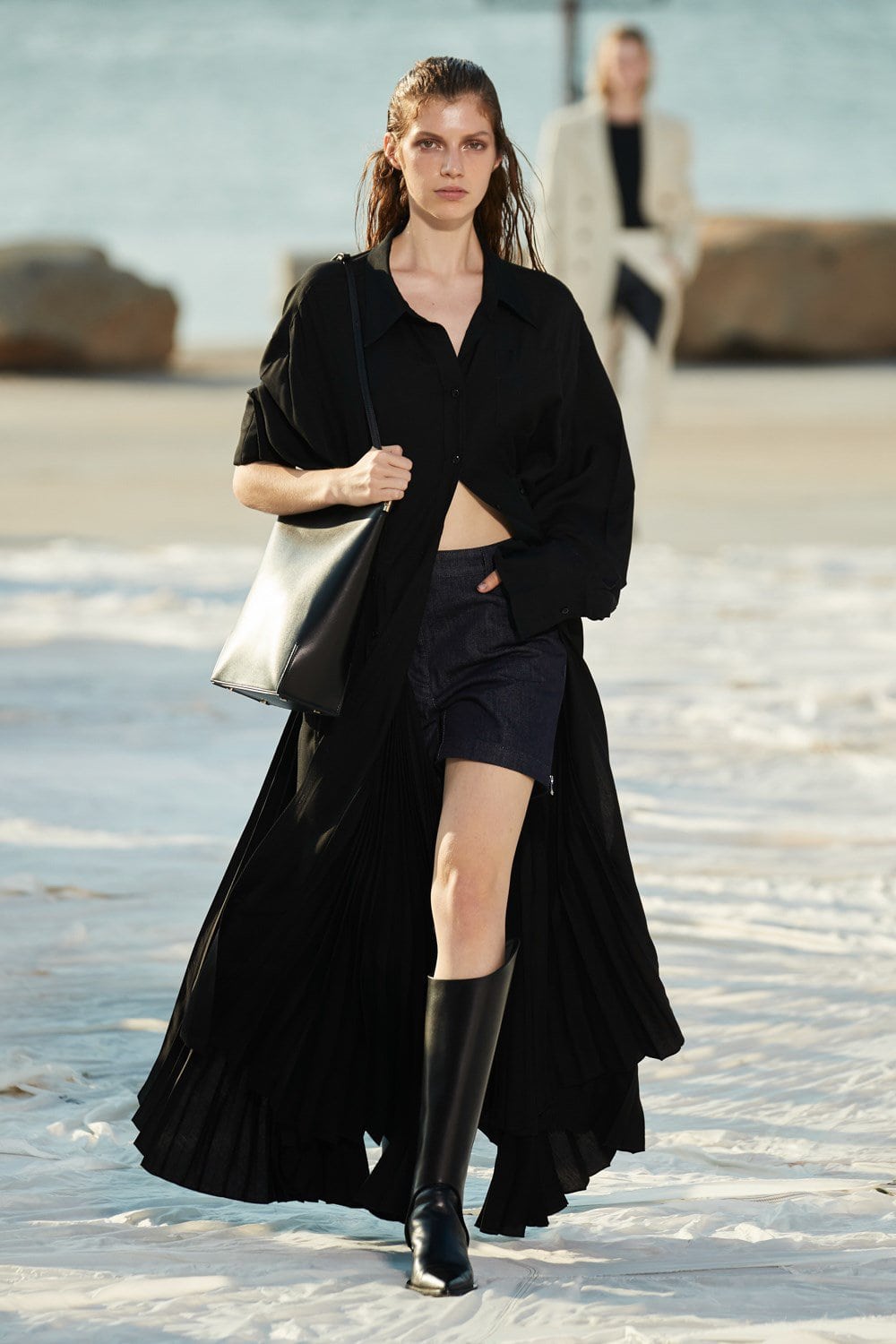 The one reference to Viet Nam is the adaptation of the traditional Áo Dài – the long tunic with a mandarin collar worn with flare or straight-leg pants. This traditional dress comes in light ribbed knits, a long tunic in black, white, or tan worn with slim pants or long jacket coats. There were embroideries elements from this traditional tunic dress manifested as a red rose on a long black dress or two large flowers and a black jacket.
'Home' is Peter Do's chosen title for his debut show on the Brooklyn waterfront, a show to celebrate not just a new collection, the seventh collection, but a community that the designer has built around his business since its inception in 2018. 
'Home,' a word so often invoked during the pandemic era here, denotes a broader perspective – that of true inclusivity – less the kind practiced by corporate fashion brands all appointing 'diversity officers' in the hopes of altering their current practices. Home and community are how Peter Do has set up his own company founded in 2018 with a group of close friends, all Asian-Americans, including Vincent Ho as a business partner, Jessica Wu as media, Kydia Sukato as manager, and An Nguyen as a designer. The business is in Industrial City, a former shipping complex in Sunset Park now converted into a creative business hub, too has also grown from the first sales season based on this model of a fashion commune via words of mouth. 
"My father was a chef in the army. Every meal was a huge portion to feed a large family. I moved from Viet Nam to Philadelphia at the age of 14; there were just four of us. My mom worked as a nail technician, and my father did construction and jobs on the side. Every weekend my father would make lots of food and invite family and friends over to our home. We bonded, over food," Do write in a handwritten note printed on ecru paper. 
Born in Bien Hoa, a city north of Sai Gon that was then the joint operating base for the U.S. Air Force during the war years and now home to industrial parks, Do (Do in Vietnamese) left Viet Nam to emigrate to the U.S. and began to integrate into a radically different life with a foreign language and worldview. It is difficult to grasp this process of assimilation, and so many written words by strangers who have never gone through this process to leaving behind one life for another are just words. They are words describing rather than words recounting the emotions. That he has not chosen the right path – doctor, lawyer, bankers, etc. – would have been a real disappointment to his family for sure. I had studied comparative history and comparative literature in university; subjects deemed wasteful by my parents. 
After high school, Do enrolled at Pratt but soon transferred to F.I.T. and completed his degree in fashion design in 2014. His graduation thesis won the inaugural 2014 LVMH Graduate Prize. He worked at Celine under Phoebe Philo at her London and Paris design office, focusing on the runway collection. In 2016, he left Celine and returned to New York to work with Derek Lam. At the same time, he was planning the project that he launched with his collective friends in 2018 for the spring 2019 debut season.
"On one weekend, he taught me how to make pho – a simple, comfort noodle dish that I grew up eating. The process was long, with his recipe perfected through the years of trial and error. There was beef, pork bones, spices, dry shrimp, rock sugar, and other secrets. There was a process of burning onions over a fire for the broth. It took hard work and lots of patience. There were hours of simmering and waiting to reduce all to a perfect and clear broth. A good pho doesn't need much. Pho is reduced and edited to its essence. It is comforting, and it feels like home. In making this collection, it felt like the time I made pho with my dad," Do says in his handwritten words.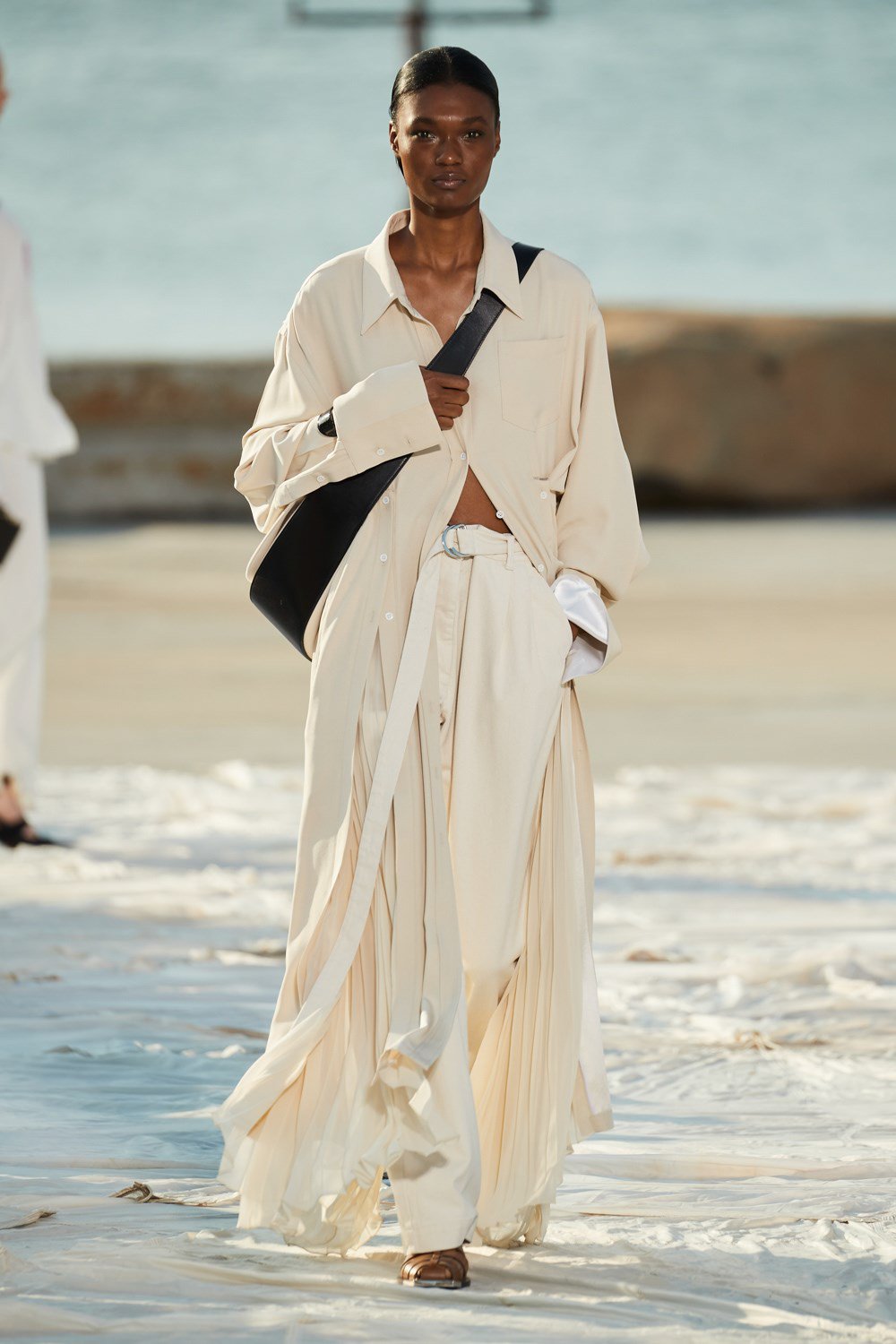 In equating the process of making and sharing pho with how he and his team create the fashion, Do mentions something rare in the fast pace of today's digital consumption rhythms. The slow process of making the pho noodle soup is the same process he has incubated his fashion over the past six seasons. He is building the collection each garment at a time cut with specific tailoring skills into sculpted jackets, roomy coats, long, lean dresses, and a few boleros. 
The 46 looks in the collection are fragments of different past collections colliding with the present. The more stiffness of the exact tailoring and innovative shapes like the light grey four-piece suit from spring 2020, the trench coat from fall 2020, or a long olive coat from Spring 2019 surrenders to the more fluid shapes starting with the all-white opening look of a double breast coat tunic coat over cigarette pants to the slouchy double breast light yellow suit with a loose cotton blouse.
Instead of beef and pork bones, the pleating in the long blouses and light skirts over pants evolved from his past seasons. Clothes reverberate over time. Now, these garments develop forward, taking their past and incorporating the present as the trial and error ways of making the soup.
What do these kinds of tailored with twists clothes say about these current times?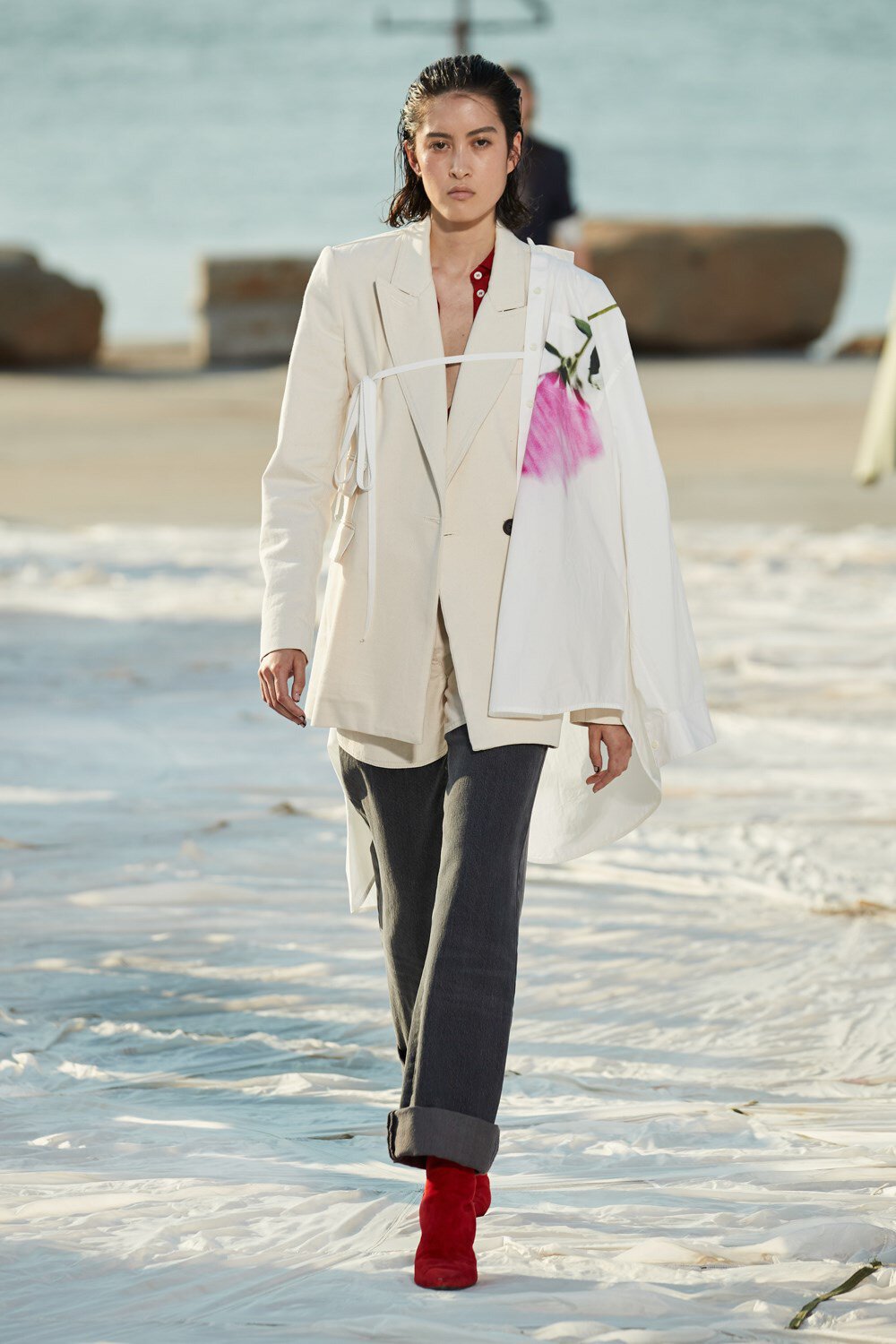 Do propose clothes and a fashion aesthetic that can be as anti-dotes to the recent logomania streetwear and extreme luxury sneakers that have transformed the luxury sector into a series of merchants of traded goods blessed with the normal cursor of heritage and craftsmanship. Think the Dior X Air Jordan 1 High O.G. released in July 2020 at a starting price of $ 2,200 now at the resale site for over $10k. This new collection provides specific consumer segments with a range of wardrobe choices that navigate between the classic and the avant-garde with ease that the design elements look so natural and do not stand out so much. 
The collection, on the whole, does not telegraph that critical mass coalescing in broader culture the way Helmut Lang did with his aesthetics in the mid-1990s. At the time, Lang captured in his fashion the sentiments and yearnings of an entire generation of youth coming out of the post-punk and the power suit eras with maturing aspirations yet still a bit rebellious inside but without any real associations to fashion. In time though, Do's aesthetics may catch on to a broader audience. 
Do's fierce and specific focus on construction and his deployment of subtle details through the different garments ground this debut show collection in today's reality of the fashion business instead of in any flights of fancy with little regard for the sartorial needs fan base. Do's mission isn't so much fomenting a giant company but carefully developing a conscious business, first with the group of close friends who have taken important positions within the brand since its start in 2018. 
That young generation didn't want just a nice suit or a lovely sheath dress. Those youths at the entrance of a different lifestyle wanted a suit or a dress with perhaps some decoration like feathers, clothes that peers could recognize in their communities as distinctive enough as a style trademark. A whole generation was able to see themselves in how Helmut Lang crafted his fashion and the enveloping ethos surrounding the products. Lang spoke directly to the emotions and the craving of this generation at the time that no other designers had managed in such a low-key manner.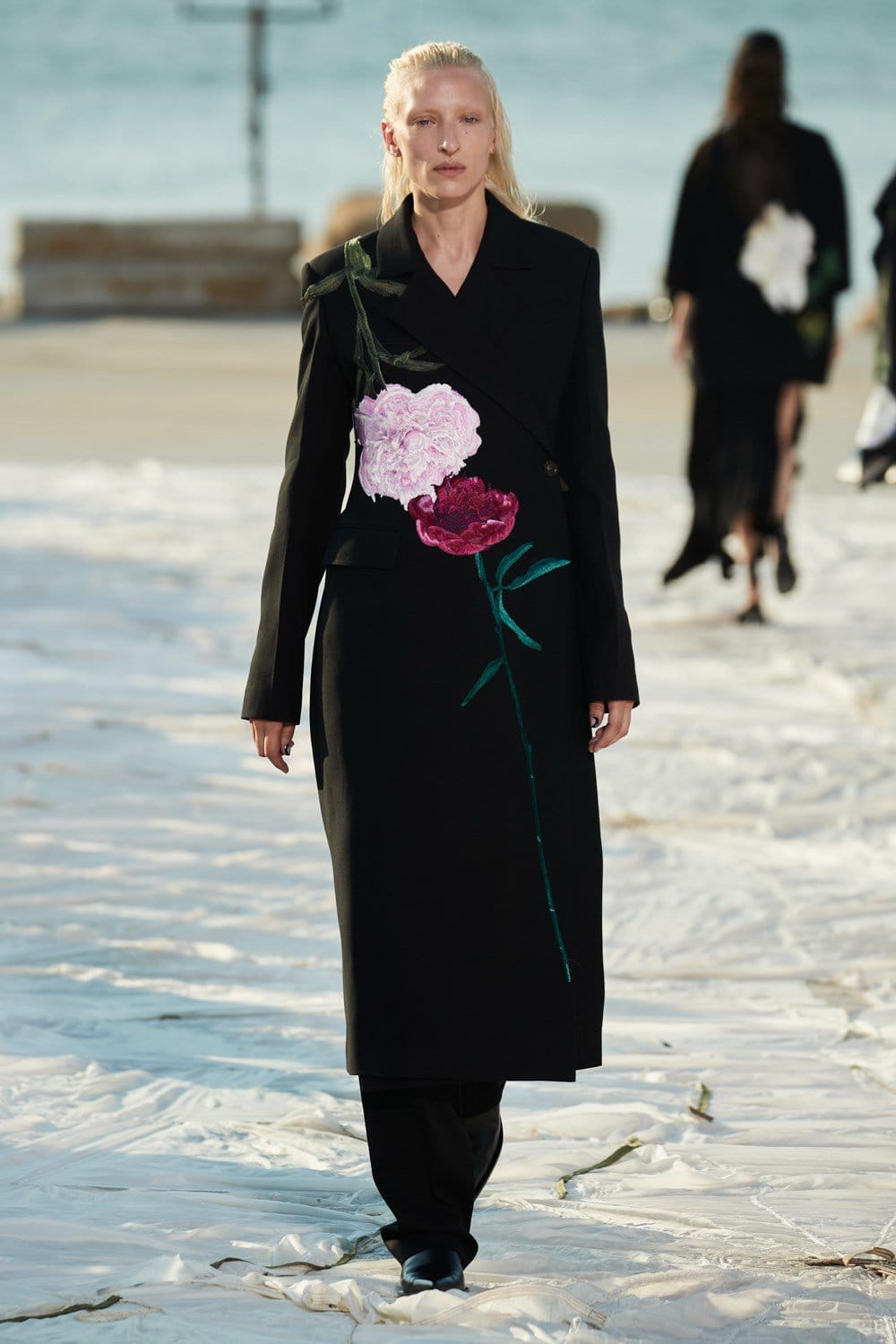 Shockingly, design isn't always the central focus of so much of fashion today. Design is often regulated to secondary status in favor of art/music collaborations, those flashy installments catching a buzz on the internet but rarely advancing fashion. That Do is leading American fashion from his unique design ethos is of immense importance. Of all the accolades afforded to Do in the last three years – real vision, authentic voice, business acumen – perhaps these praises for his design sharpness would be the most rewarding. 
In now his seventh collection, Do is speaking to his audiences in different ways. The designer deploys the mechanics of fashion design to create exciting clothes rather than worry about making that cultural connection in the hope of jive and excite consumers.
There are two male models in the show, one wearing a white coat and a button-less double-breasted pantsuit and the other in a black vest jumpsuit with a matching black jacket. Menswear is an entire potential growth area for this brand as many garments can be cross-over or genderless.
Do's fashion aesthetics and clothes bend on the more severe side of design manipulations. They are so refined in their razor-sharp construction and tailoring and the utmost attention to the details and the fabrics. It is more of an intellectual approach and base than clothes that strike the emotional chords. This Spring 2022 collection offers many fabulous wardrobes – from long white skirts and loose jackets to charcoal coats and rolled-up jeans. Indeed the strength of this collection is in providing consumers access to the design elements. Hopefully, this is a sufficient prescription in this age of shallowness in fashion.
There is brilliance in the mix of the messages of sophistication as a direct line to engage with the designer's younger customer audience. It is a process of education, of steering these younger kids away from the habits of streetwear and sneaker compulsions. Still, with one foot firmly on the ground, only allow Do to explore further his design limits pushing further what a jacket can be in a more expressive way without making the garment difficult at first to perceive and then to wear. The delights are in the fine details.
And Do is catching this moment at the right time. Fashion moves away from the superabundance of luxury logo mania towards an embrace of some innovation in design. Consumers, even younger ones, are now far more educated and more curious about the making of their clothes. During the haute couture fall 2021 season in Paris in July, designers focused on 'fashion design' instead of marketing hyperboles from Pierpaolo Piccioli and Demna Gvasalia to Iris van Herpen and Ronald van der Kemp. Design not artifice grounds this collection titled home shown on the Brooklyn waterfront, intended to celebrate not just fashion's return but the designer's new home in the city. 
---