---
Review of Prabal Gurung Spring 2022 Fashion Show
Light, Optimistic, and Empowering
By Erin Hazelton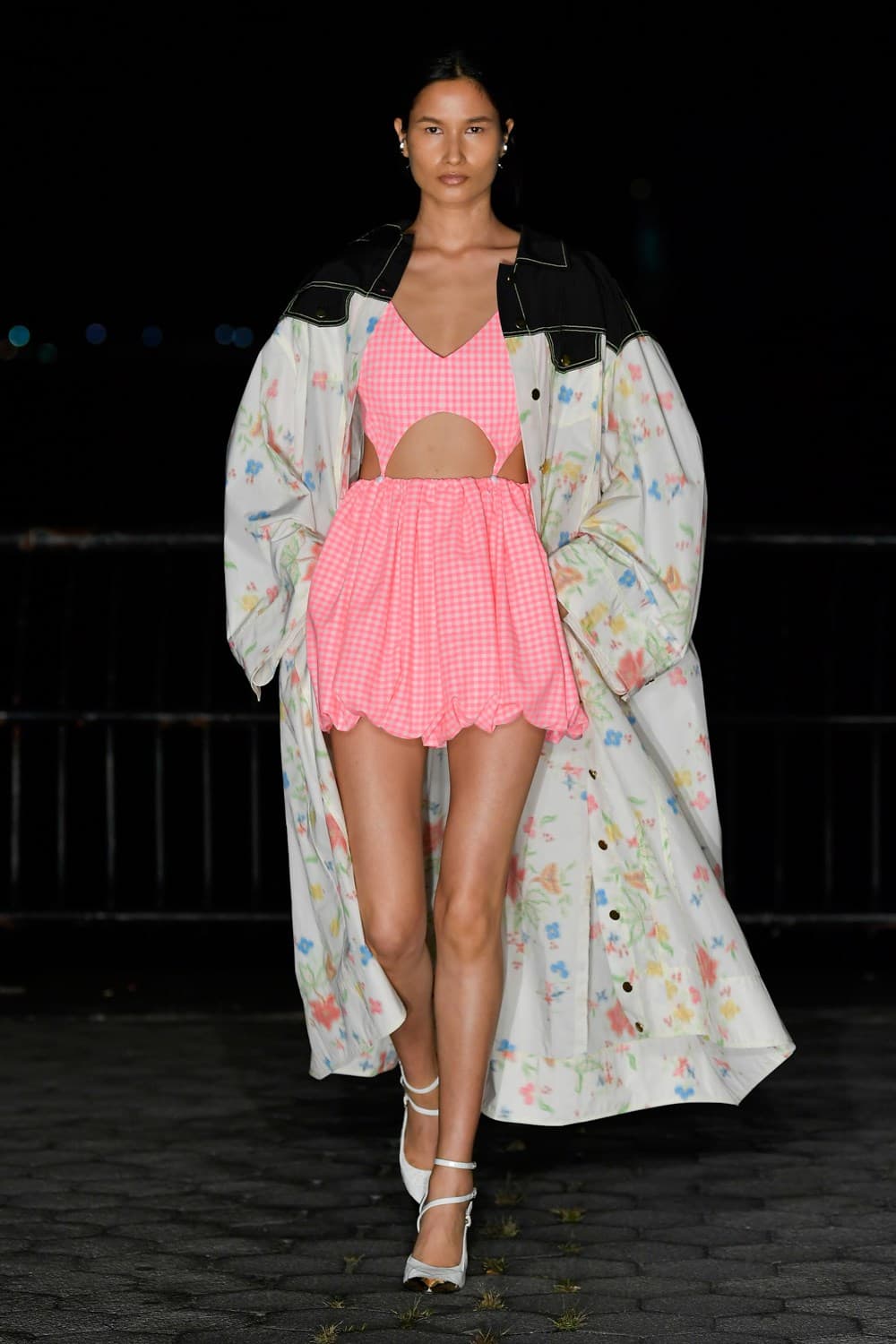 Prabal Gurung's Spring 2022 show, set outdoors in Battery Park, Lady Liberty shining bright in one direction and the ghost lights of World Trade in the other, felt like the perfect tonic after a hectic, show-filled first day of fashion month. Aside from the sounds of the Hudson River and the hum of people chatting, all was calm. When the show opened with a woman in a billowing white dress playing a white piano, the ambiance was further enhanced, reminding us of some of the city's magic we've been missing.
Like the city, Gurung's latest collection is bright, optimistic, and, as always, embraces femininity and its many facets. The show's opening look, a "trucker coat" over a mini neon gingham bubble dress with cutouts, pretty much captured the spirit of Gurung's Spring 2022 collection: redefining femininity. Traditionally "girly" silhouettes like balloon hemlines, ruching, peplums, trained gowns with beautifully placed straps to accentuate the back were fully embraced and used throughout the collection, but the message was clear: A Prabal Gurung woman is no pushover. Sensuality is meant to be embraced and celebrated in body-skimming, cut-out, eco-tulle dresses, as well as in peplumed suits and a suit with a more traditional "menswear" silhouette worn with a dip-dyed bandeau and a bit of bare skin.
It's so easy to take a man's suit, put it on a woman, and say it's a "power suit." But it's much more subversive to create a suit with femininity first, to recognize a "new power" that was always there…

– Prabal Gurung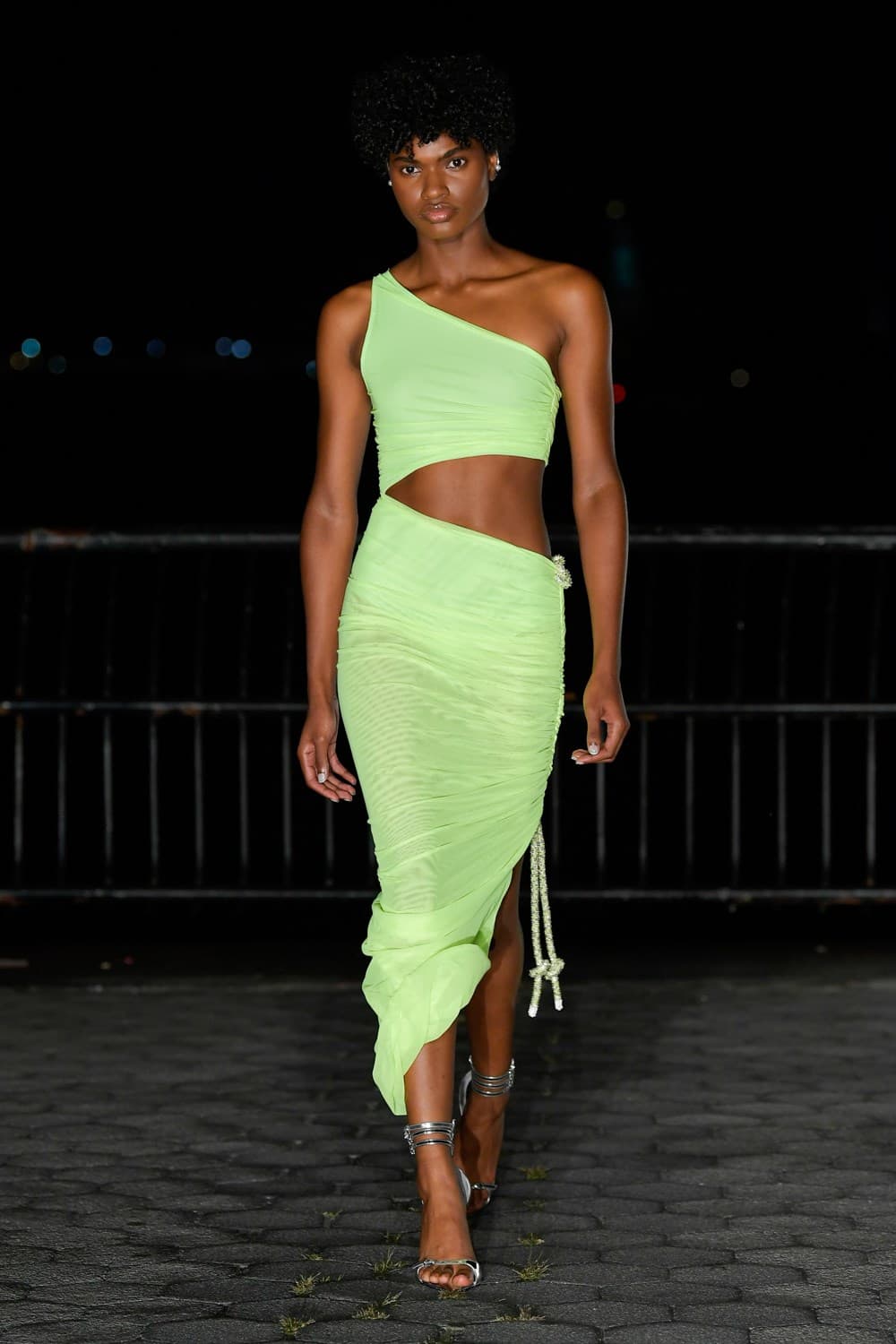 Gurung's palette, inspired by the city's lights, was a lovely mix of highlighter brights and softer hues like cucumber, papaya, periwinkle and coastal blues. There were dip-dyed concoctions reminiscent of seasons past, as well as his signature embroidery and hand-draped flourishes. What felt the most different were the balloon hems, the side ruching (and ruching in general), as well as the cling of certain dresses… all things that seem to signal that fashion is saying good-bye to the '90's references we've just gotten used to and that it's time to usher back the early aughts.
… but the message was clear: A Prabal Gurung woman is no pushover.
While there were many looks in the spring collection that work for daytime, Gurung seemed to be on a mission to get his girls back out into the world… the world where we can wear feathered babydoll dresses and have hand-draped "fans" floating behind us. A world where a dress allows a woman to express all the things that she is… and a world where people make a little room when she enters a room, recognizing her importance.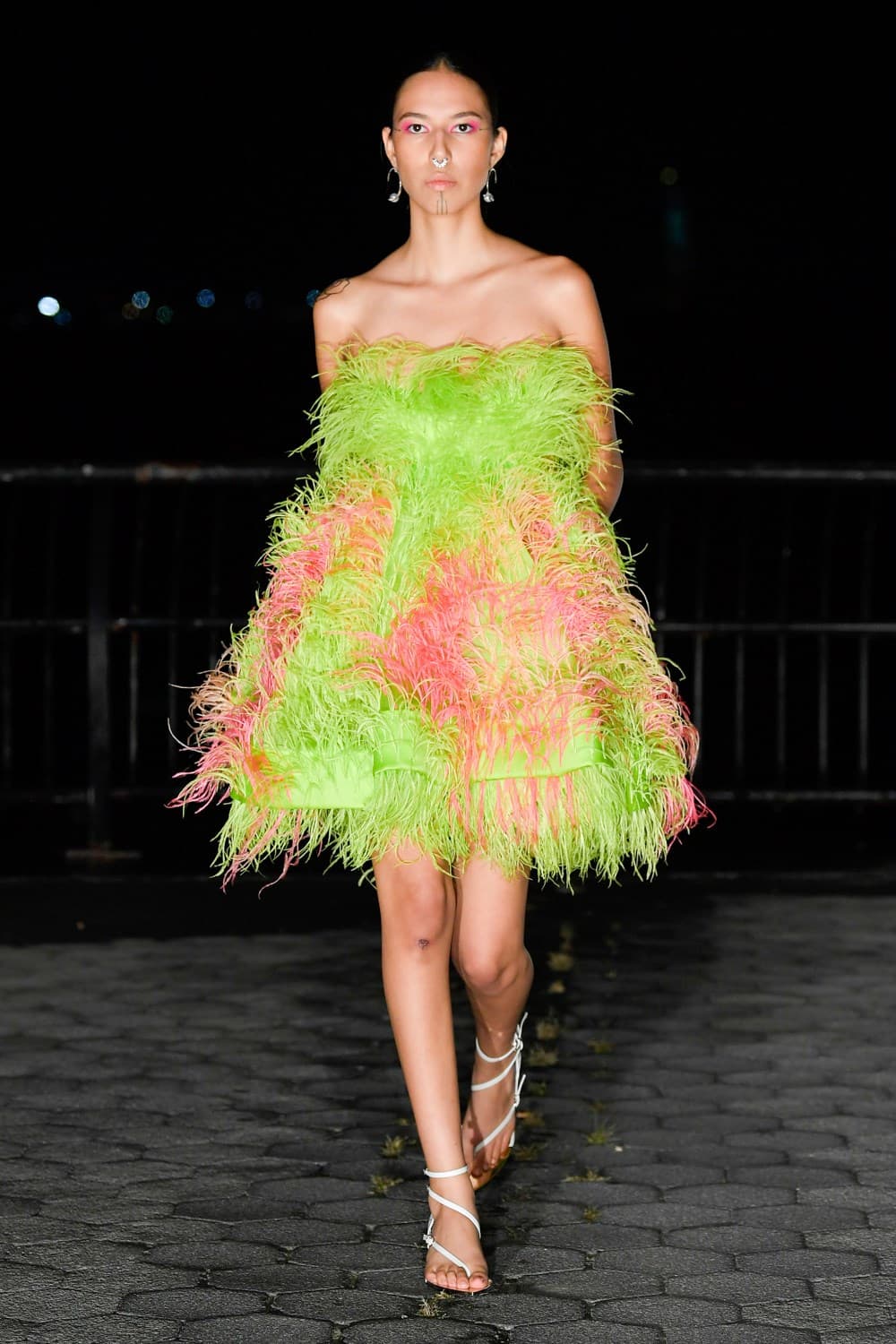 Gurung's men's looks were not exempt from the "get out of the house" vibe, most notably a black floral print suit that, while solidly masculine, felt fresh, bold and unafraid… as Gurung wants us all to be.
Let that unapologetic you be the forefront: the one you sound like when no one's listening; the one you look like when no one's watching; the one you become when you're dreaming.

– Prabal Gurung
---