---
Review of Prada Fall 2021 Men's ' Possible Feelings' Fashion Show
Ideas Exchanged in Discussions; Tactility & Feelings in Clothes
By Long Nguyen
"All my life, I hated pinstripes, and this show is full of pinstripes and more pinstripes. What I think is good is the possibility of changing your mind. I decided to do that because I wanted to have discussions and to change my mind. Then, you start thinking differently, or suggestions of new ideas that I didn't have," Miuccia Prada said at the post-show question and answered live stream session following a calm and spectacular Prada show of new and different ideas coming together on making this debut men's fall collection.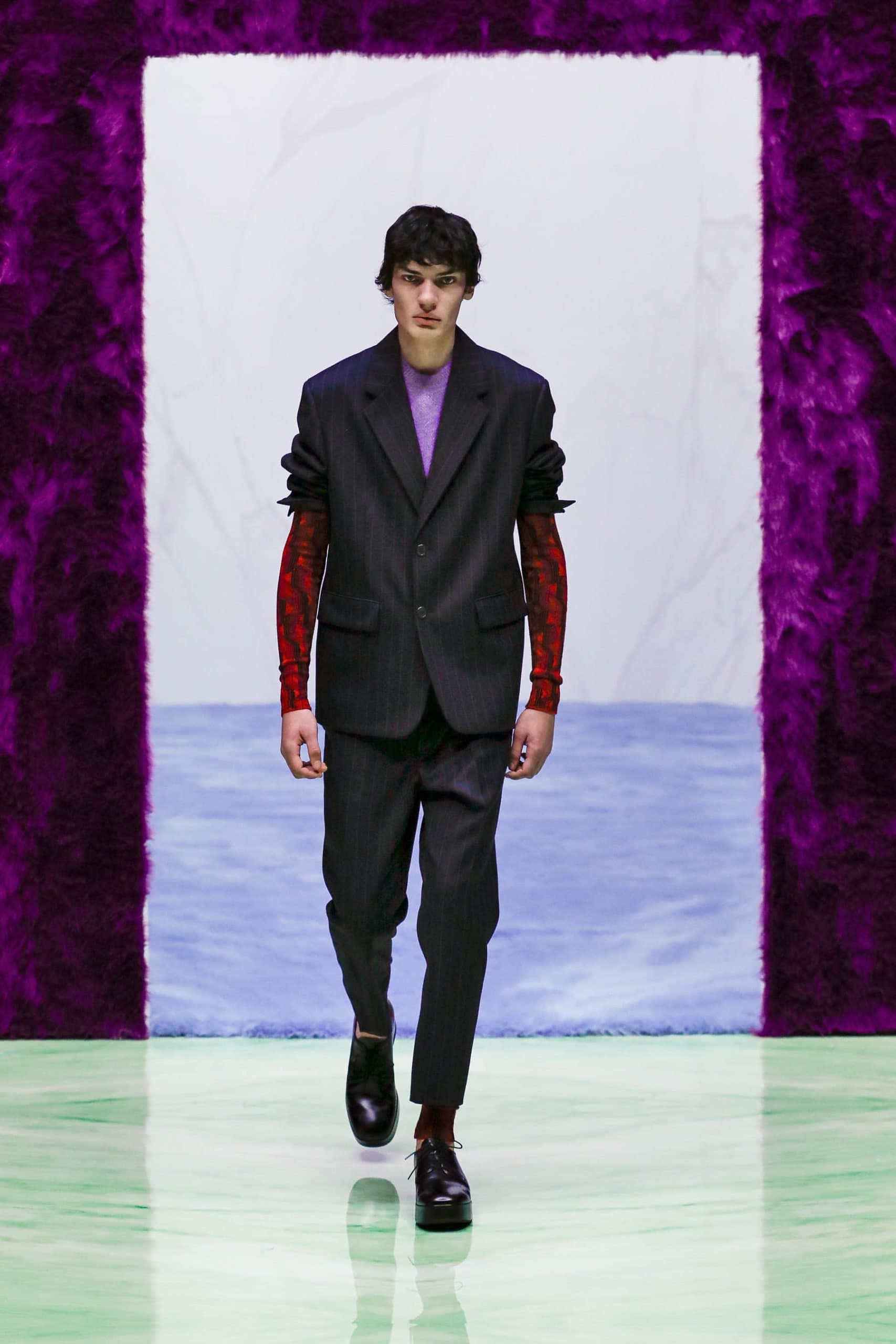 Of course, the show opened with a deep dark navy gabardine pinstripe two-button relax fit pantsuit with rolled-up sleeves showing the red pattern sleeve of a multicolored light purple sweater. The collection emphasized the tactile element of the clothes with juxtapositions of textured fabrics, shapes, and color combinations as well as a range of shapes from slim and relaxed fit suits, skinny knit sweaters with matching leggings or long johns, and a range of coats from tailored to all the colorful leather MA1 bomber blousons.
The models walked and even dance inside a constructed set with rooms lined with colorful faux fur in deep purple, light green, light blue, light pink, and deep orange for that sense of heightened tactile feel when the camera move to a close up of the model's black leather shoes brushing against the 'hairy' turf. Tactile and that sense of touch is key to this collection's attempt to connect to the emotions rather than the intellect of fashion.
"Actually, we don't have so many. If you really hate something, we won't do it and vice versa. So it is very clear," Prada said in answering a question from a student in London asking about how to resolve differences. "We always have ongoing conversations about ideas, so for me, it's natural that if we think about something and if it doesn't really match that we just say skip move on to the next because there are so many other things that do match," Simons added.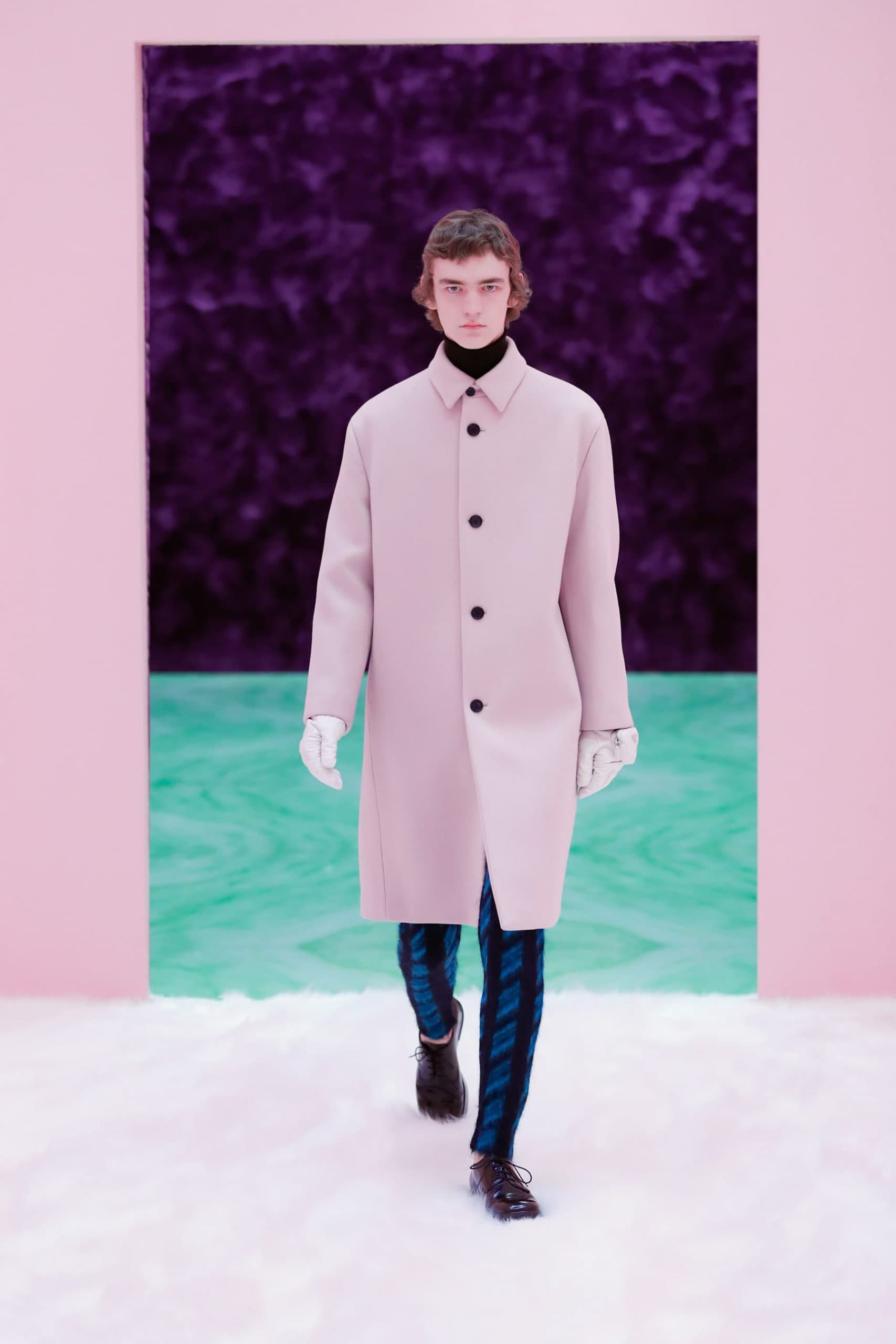 The clothes show in a crystal clear manner this seamlessly combined thinking – the three single breast pantsuits that opened the show are quintessentially a Prada silhouette. Still, the colorful knit undergarment is very much Simons's. The short collar wool knee-length coat with a slight slouchy shoulder and the flat front cut is pure Prada, and the light pink color of the fabric is Simons. The same can be said of the very oversized light sky blue knee-length coat with black buttons – it's a Prada coat with a Simons silhouette, one that he had shown in his own Spring 2018 and Fall 2018 collections. And those giant knitwear pieces like the brown and yellow oversize sweater with the knit legging is a Simons' trademark knitwear look.
The single breast coat and the single breast suit are the core basis of the Prada men's since the beginning. They had gone through many iterations and alterations as the mood of fashion changes over these last two decades – a chocolate brown tapered two-button jacket with slightly flaring cigarette pants from Fall 2000, a slim fitted camel two buttons shawl collar straight line pantsuit for Fall 2005 or as a broad shoulder orange gabardine two-button suit for fall 2014. How, then, to create the suiting for this streetwear generation who has abandoned the idea of this classic men style? The proposed answers here come in the form of deploying the colorful knit sweater to make the jacket of the suit looks and feels more like a cotton shirt than a rigid garment and in proposing a series of fitted pattern knit jumpsuit as a new relaxed 'suit.' The series of colorful leather MA1 bomber jackets or the large re-nylon MA1 coats lined with a thick pattern knit serve this same purpose.
The collar treatment has been a Prada signature detail on coats, jackets, or even cardigan layering different materials like heavy black knit or shearling collar on top of the shirt collar of these plain wool or cashmere coats like in a black short wool coat with double knit collars or from a camel extra long sleeves coat with fall 2010 for example. A purple knot collar comes on top of a collar boxy anthracite wool coat or a white mohair collar atop a black leather coat with large white round buttons.
"The fact is that each season we don't talk about the same subject. The focus of this collection is about physicality against construction. Maybe the long john is the new uniform."
– Miuccia Prada, when asked what is the new uniform in this show
"The fact is that each season we don't talk about the same subject. The focus of this collection is about physicality against construction. Maybe the long john is the new uniform," Prada said when asked what is the new uniform in this show.
Simons added that the knit, long john seen throughout the show is definitely the clothing item that connects the show's thread, but the garment itself is completely taken out of context.
The idea of the environment – public space and private space – is something we have not encountered before now. As we are in constant dialogue in how to relate fashion to society, this moment impacts us very much. We didn't need to create a narrative and an architectural context for this collection. Still, more of a feeling context.

– Raf Simons, responding to a question on the architecture of the show set and why it is always an essential element to contextualize each season's clothes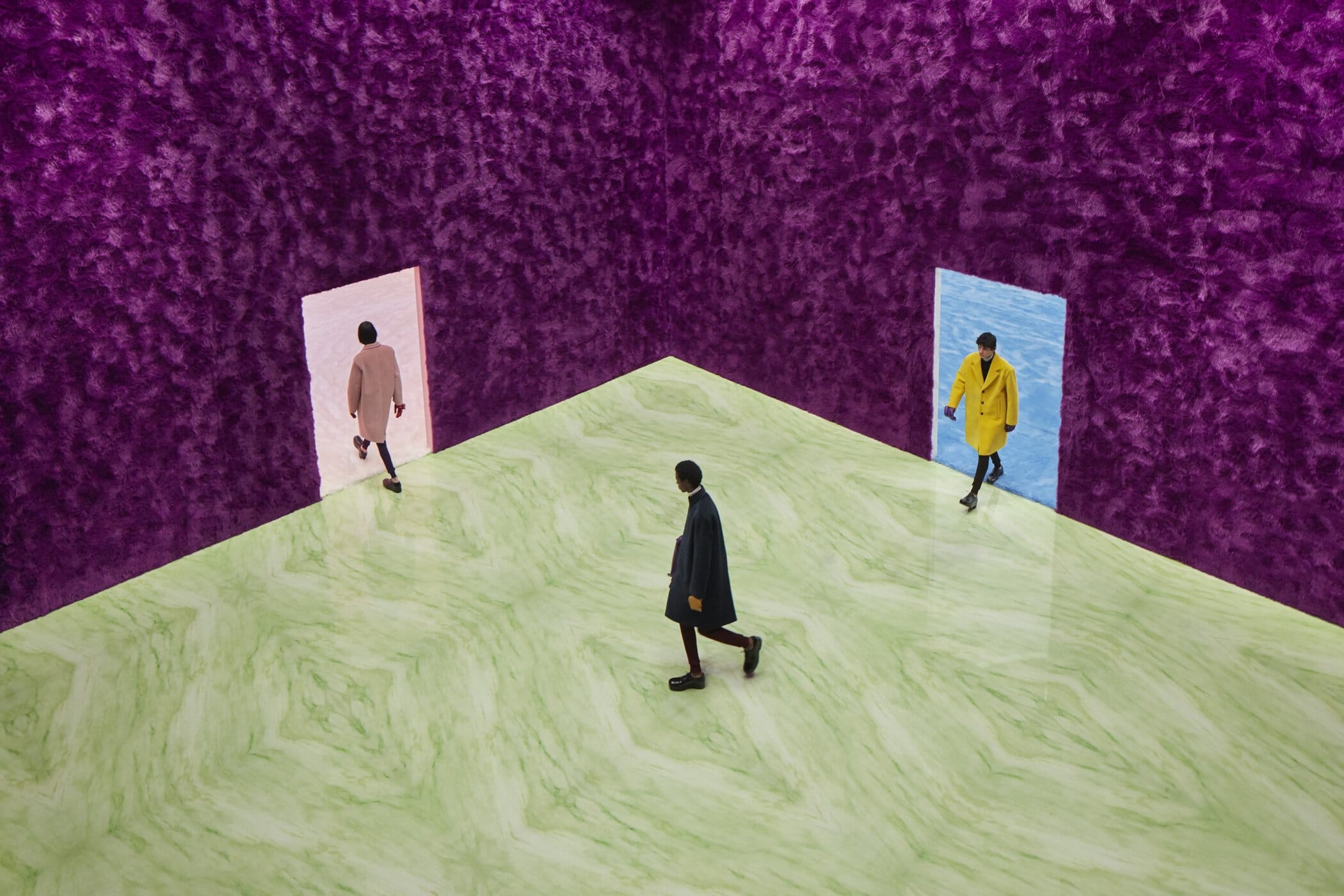 "Fashion is about the lives if people and this kind of strange structure and place with materials made for tactility and to sensuality and it helps to define what you want to say," Prada said about the colorful faux fur installations of different rooms to stage the filming of the show in Milano at the Fondazione Prada's Deposito.
What is most surprising in this collection is the complete absence of art and any collaboration with any artists; even the women spring has Peter de Potter's involvement.
Art has always been a foundation base for both Prada and Simons. Any work with artists that either Prada or Raf Simons have done over the years has been integral to the respective brand's thinking and ethos rather than a temporary hype to promote new products. That can be said of Simons' long-term work with a range of artists like Ruby Sterling. In one of the strongest recent show, Prada seamlessly merges art and fashion in the spectacular Spring-Summer 2014 show where she commissioned six artists – Miles 'El Mac' Gregor, Gabriel Specter, Mesa, Stinkfish, Jeanne Detallante, and Pierre Mornet – to paint larger than life-size murals of women and their faces as part of the set as part of a collection that celebrate the different female forms both as a stage and as part of the range of clothes offered. Men's fall 2021 show is a pure fashion collection based on exchanging ideas and mutual agreements.
The 'Dialogue' showed last September extended to new boundaries to fashion as intellect and not just clothes and bags. Thus, it's natural to expect these two designers to spearhead these post-show conversations with the public audience. Initially, this post-show talk will generate other conversations – individuals to individuals, individuals to groups, and groups to groups – in fomenting a community around the fashion idea and product of this collection. Creating a community build around a different idea of fashion, one that can be discussed openly with and among the consumer public, is one avenue of keeping Prada relevant to younger audiences.
Think of it this way – concepts that have now been transformed by fashion brands into values for young people like sustainability, circularity, up-cycling, and recycling are ideas foremost before than are actuality expressed in any potential products. The success of the first post-show talk last September testified how much interests there actually are in the sphere of ideas in this age of pure visual connections.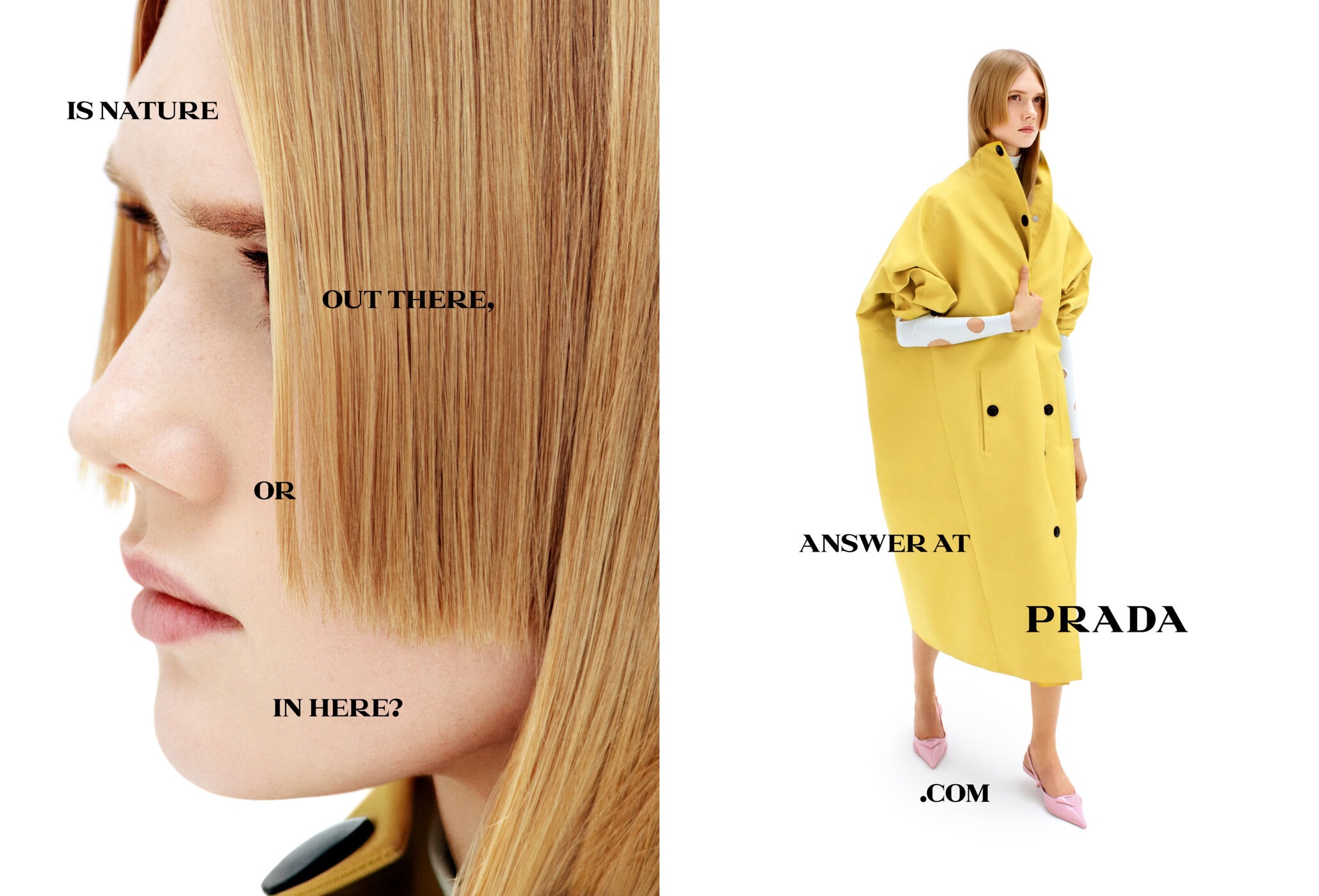 As a continuation to engage with audiences and consumers, the Spring-Summer Prada ad campaigned featured a series of simple portrait shots of a diverse cast of young men and women, each image supplemented by different questions like 'Can Something Be Truly New?', 'Should We Slow Down or Speed Up?', 'Is Creativity a Gift or a Skill?'. The audience can post their answers to these questions at Prada's website – which devotes a portion of the space for these dialogues, and selected answers will become part of the 'living' campaign.
What have lacking in the digital space with speed, convenience, and instantaneous accessibility is precisely a discussion of ideas rather than just the sharing of the picture and a few vapid and vacuous comments. This Prada-Simons conversation can generate a different level of talk among the audience and, more importantly, among the young people coming of age in this current fashion environment where the visual and not the thinking dominate ubiquitously. The ideas discussed in this post-show talk aren't about brand propaganda such as heritage or craftsmanship but about what fashion is and can be today for these young people. It is perhaps by the intention of choosing a group of students from different global fashion colleges to be part of the audience who put forth questions to the designers – but the answers are destined to a far larger young audience than just these students from fashion schools around the globe.
We want to express ideas, and intelligent ideas through fashion," Prada said. "We are searching for humanity in our relationship – technology is an instrument to transmit your feelings and ideas.

– Miuccia Prada
Looking back at Prada and Simons' early years, especially those formative years in the 1990s, there is a commonality of spirit and aesthetics. They both disconnected from the then currency of fashion. Prada stood firmly against the rise of the overt sexy and ultra glamour and high gloss of the era then. Simons is the first fashion designer to speak solely to a young generation of his time and. Heed to those youths even those he had no personal experience with in his teenage years – yes, those late age high school and entry college kids within the brand in fashion paid any attention to at the time, yet whose lives and pleasures became the foundation of Simons' fashion ethos then and just as strong now.
And now, the pair are willing to bet that their more thoughtful approach to creating fashion will immerse this new audience in a more expansive process of fashion rather than just fashion as instantaneous pictures, so many devoid of any meaningful attachments.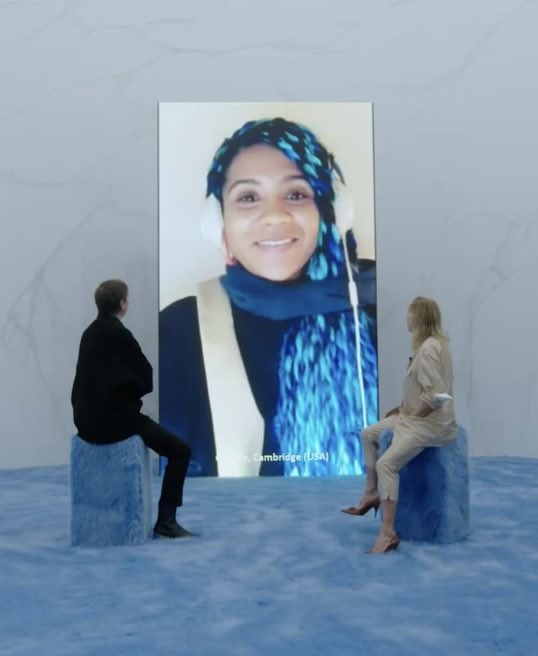 For Prada and Simons, the idea of fashion is just as essential as how these ideas are expressed in the vision of fashion and the actual clothes. Having direct conversations with the audience to bring the young generation into the dialogues and the world of Prada and what that is all about. The direct openness that the designers started at the launch of their spring-summer 2021 show is brand new to fashion but likely to become much more common shortly.
Unfortunately, designers are locked away in ivory towers with only minimal access to the same few journalists to translate what their work is about each season at so many other major luxury brands.
Now is the right time to open the door and allow the designer greater interaction with the public in engaging manners. Prada is leading fashion here through the noise to involve the audience and potential customers into the genesis behind the clothes they see.
"This collection is very much connected to the human being and very much related to our world right now, the emotion of human beings. It's opposite of technology, and it's the senses, the tactility in the clothes themselves," Simons added.
This is just the start of a new process of showing how two people can work together. Hopefully, in successive seasons, the pair will take more risks in both design and aesthetics beyond their own boundaries, which is the reason to work together to make something really new.
---