---
Prada explores the precarious multiplicity of being with its Spring/Summer 2020 menswear campaign.
Led by creative director Ferdinando Verderi, the campaign enlists a trio of high-profile creatives – musician Frank Ocean, film director Nicolas Windig Refn, and actor Austin Butler – to examine the many sides of personality. Recently named the art director of Vogue Italia, Verderi has quickly made a name for himself in the creative world. Continuing to develop ideas from his Prada Resort 2020 campaign, he makes use of both color and black-and-white photography by David Sims. The two distinct types of photograph appear side-by-side, confronting the viewer with two different ideas of the same man. They suggest a duality of subject and object, of internal and external. The person one thinks oneself to be is not the same person that is perceived by others, and even these two personalities can assume an endless variety of different shapes at different times.
The campaign's short films push this idea further, invoking a sense of the motion that accompanies this personal dynamism. The letters of Prada are reimagined over and over as different acronyms, pointing to the abstract and interpretive nature of language, a feature it seems to share with personality. One segment features tight camerawork that pans over part of a quickly moving body, then suddenly stops on a single frame. At first it feels jarring, but as we settle into the rhythm, we gain an understanding between the relationship of stillness and motion, singularity and multiplicity. A life is a continuous series composed of infinitely many infinitely small moments of personality, just as a line is composed of points, or a film of frames.
Prada does not reinvent itself with this campaign, but instead brilliantly leaves itself open to endless reinvention and reinterpretation. The campaign begins a conversation around the ideas that make reinvention itself possible, and puts Prada at the center of it. Rather than present an image, it explores the idea of image, and why it must always be changing. People, names, brands are always subject to varying perspectives, and this campaign highlights that truth in a way that feels truly original and important.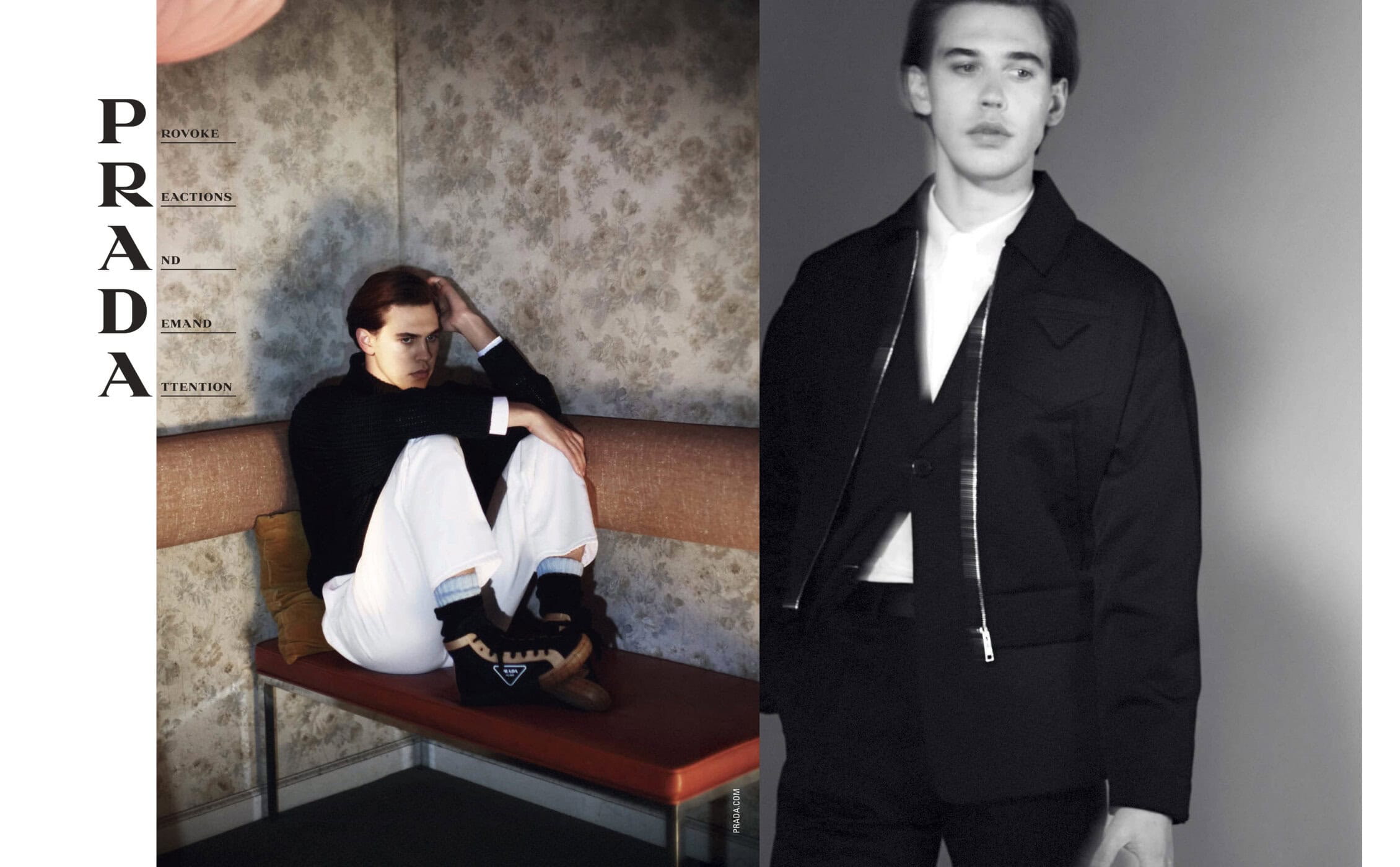 Prada Creative Director | Miuccia Prada
Creative Director | Ferdinando Verderi
Photographer | David Sims
Models | Frank Ocean, Austin Butler, & Nicolas Winding Refn
---