---
Review of Proenza Schouler Spring 2021 Fashion Collection
The Personal is the Fashion
By Long Nguyen
In a videocast during New York Fashion Week Spring 2021 season Lazaro Hernandez and Jack McCollough of Proenza Schouler stated that they had been sketching the collection from scratch at their upstate New York house without the aid of the thorough research they normally designed with. This was the duos first season since their thesis collection in 2002 and the subsequent first runway show for fall 2003 that they did not do a formal fashion show.
Now, nearly two months later, the duo has just released their spring 2021 collection with an art book in collaboration with the artist and photographer Daniel Shea that juxtapose looks from spring with still shots of evocative images of New York City from the Empire State building skyline to the super condos views of Billionaire's Row on West 57th Street.
We never throw our books away. We wanted the content of the book to capture a moment, a moment of time in New York from sunrise to sunset.

– Lazaro Hernandez
The images in the printed book conjured a celebration of New York City and its drive and spirit that gave rise to this sharp and focused collection of long and lean shapes of sumptuous clothes – clothes that may be the next set of the basic wardrobe – in more monochrome colors of white, light pink, mustard, ice blue, deep orange and light green with an intermissions of prints and tie dye fabrics. Shea's pictures of the changing pattern of urbanization in cities captured unique moments of his personal observations of the city amidst turbulences of the pandemic.
This spring collection not only felt more personal in the ways that the idea for them did not originate from high brown art concepts as in many of Proenza Schouler's past seasons, more personal in simplifying their silhouettes and more personal in the way they try to connect with their customers directly with the garments. Perhaps that is the reason why this is a powerful collection for the duo because they let go of the needs to justify their clothes with art references that somehow legitimize their work. Free from this burden, the clothes are like a breath of fresh air, perhaps spring-time fresh air.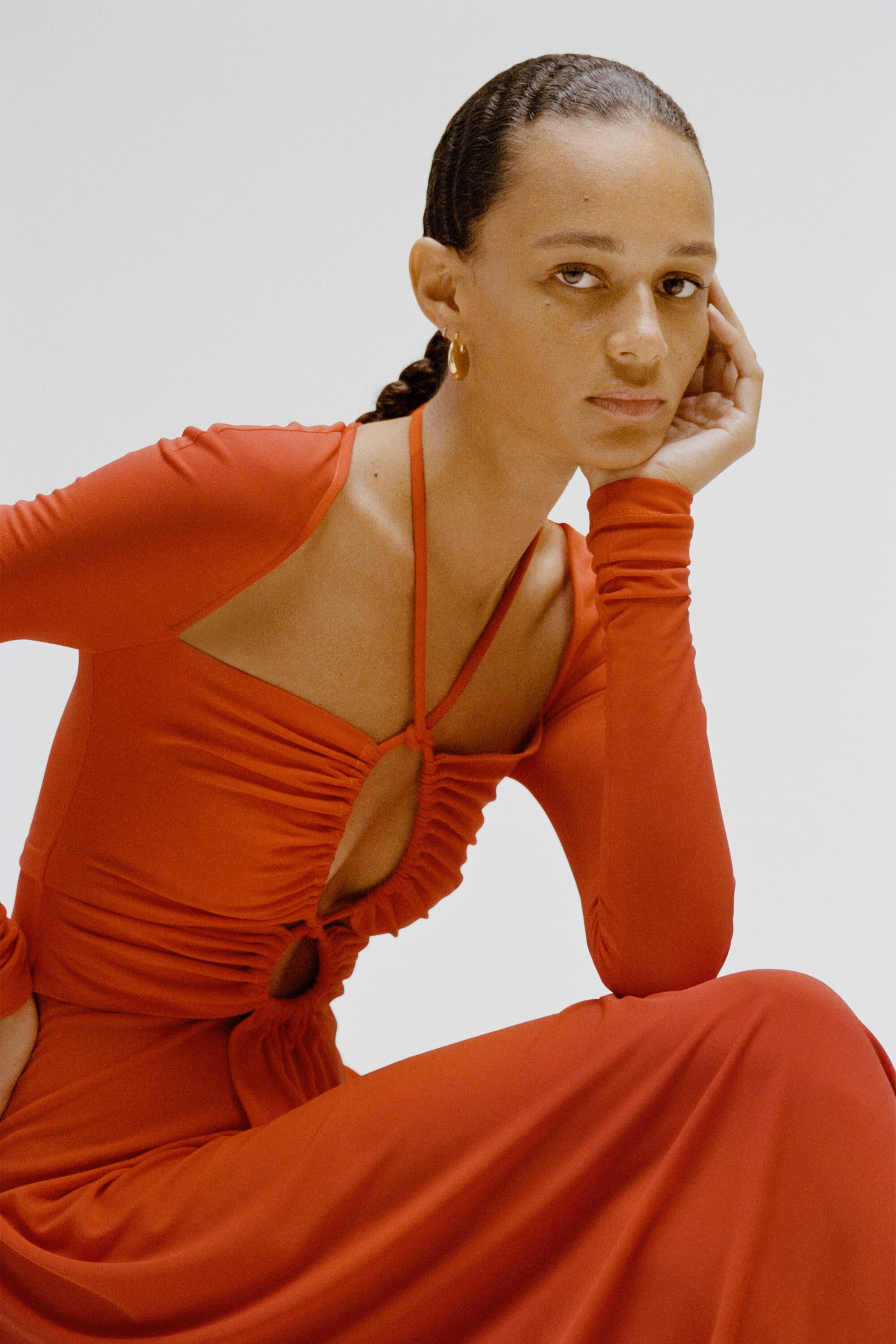 "It's interesting putting this collection together because it is very different from any of our other processes," said Jack McCollough in a short video recording of a Zoom call as a starting point for this spring. "It is the most personal collection because we have no preconceived ideas what it is going to look like when it is done," Lazaro Hernandez interjected.
For the first time we were just sitting in our studio with blank pages and pencils and we just started sketching from our heads and riffing off one another and building the collection in the purest way.

– Jack McCollough
"We wanted things that feel good, optimism and joy and something you would own for the rest of your life. For us any idea of throwaway felt completely wrong – it has to feel good against your skin, against your body, there is no heels, it's all flat shoes. Ease of wearing," Hernandez said of the specific garments in this concise collection. "What are women's lives are going to be like," said McCollough about the thinking that these clothes will be delivered to retail establishments in February and no one seems at the moment what that future time frame will be like.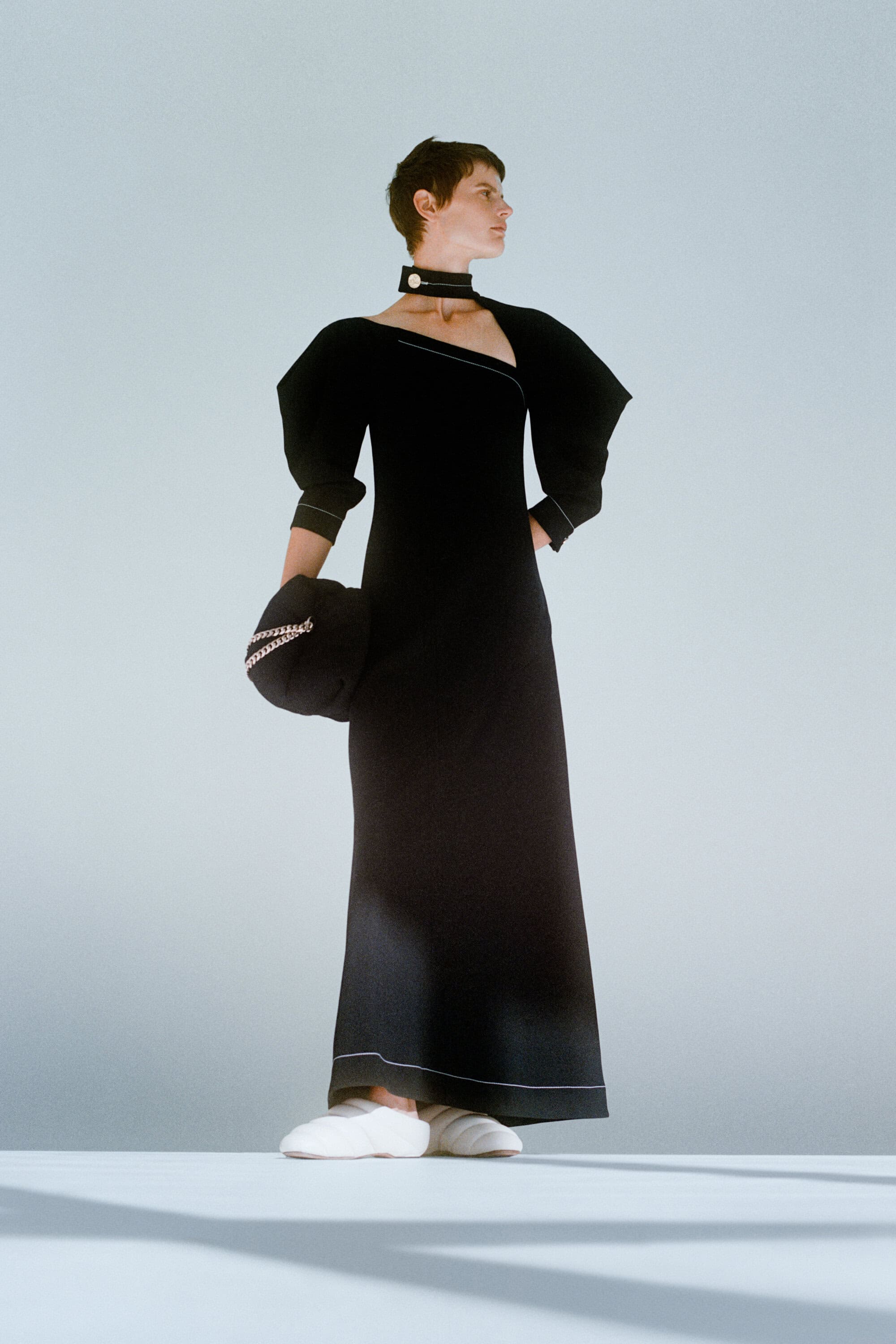 "The idea of the physical and the object and we just didn't want whatever we did to be ephemeral and to end up disappearing in the ether the minute it was over," said Hernandez of the concept of producing a physical book as part of the collection to safeguard that sense of tactile when so much of fashion brands have move to full digital productions without leaving a physical trace.
'How can fashion respond to all that is happening in the world and serve to perhaps alleviate, in its own way, the absence of touch, of feel, of the nuance and delicacy of the material world so essential to human life' is the primary question posed in this collection.
The answer lays in a lean bronze bonded cotton gabardine trench coat paired with a white flared rib knit pant, in the white or celadon rib knits collared cardigan and white rib knit long pants – the new suit silhouette either on its own or worn with a black cotton trench, in a black puff sleeves long crepe cut out dress or in an ecru paneled leather dress paired with white flare rib knit pants. A comfy white leather puffy rondo slipper serves as the footwear of choice in lieu of high or platform heels.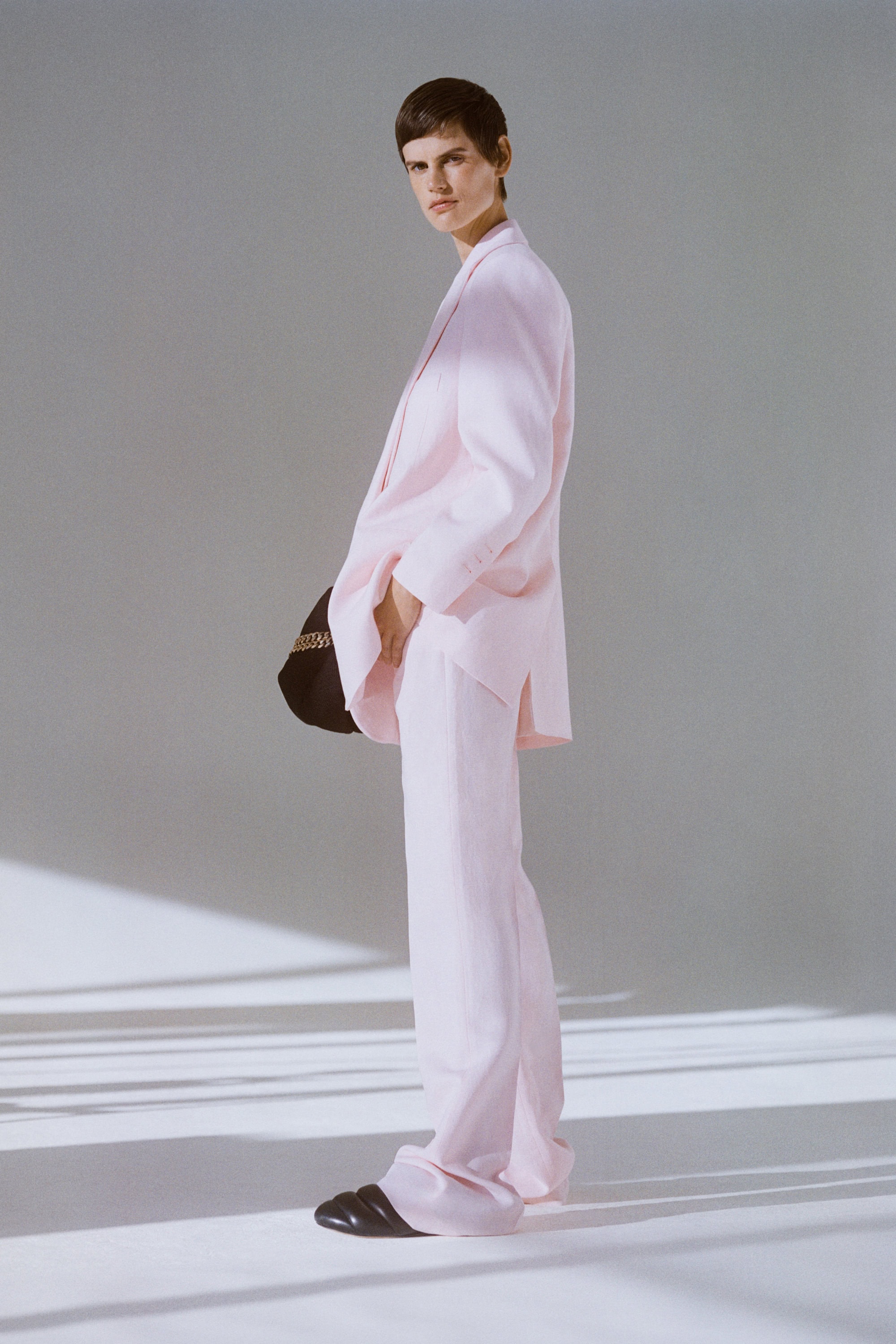 Even the strict tailoring of the light pink or ice blue single breast slightly loose jacket with long flared pants conveys little of any formality – instead these suits are like dress up pyjamas that can function in any environment with little sense of constrictions. The white and green fatigue printed silk Marocain dress and the bronze knit draped dress are easily garments that can be added to the women's wardrobe with little fuss. And for the very urban women which are a large segment of the Proenza Schouler customer base, a stone nylon gabardine trench coat paired with a black rib knit knee length dress over black rib pant is a perfect outfit to excursions out in the vast city, day or night. One of the best look is the bronze knit long sleeve draped turtleneck top and an off white viscose tuxedo pants – elegant, simple and remarkably stellar.
Over 90% of the collection is made from left over fabrics that the designers still owned from excess and surplus fabrics from past seasons – jerseys, silks, gabardine, double-face cashmere – but these old fabrics are treated in new ways like the brown tie dyed on the side and upper sleeve of a white linen viscose long dress or tie dyed half white linen viscose dress shirt. Hand forged metal buttoning that replaced standard closures lends the artisanal touch.
For us this is a creative breakthrough somehow. It feels like a more mature approach, it's closer to us and how we think and how we live and our personal aesthetics and it's closer and closer to us as individuals. It has to feel personal.

– Lazaro Hernandez
In the history of fashion, the best works from designers have always been those who aesthetics and points of view are their own.
---