---
Review of Akris Spring 2021 Fashion Show
Pure Joy
Albert Kriemler of Akris channels natural energy to light up the night
By Dao Tran
In an exclusive video call prior to the premiere of his film to present the SS21 collection, Albert Kriemler of Akris shared how the unique collaboration between three creatives came about. While he was already set to do a collaboration with Imi Knoebel as regards the artistic inspiration he dedicates each collection to, the format was a happy accident that coalesced out of the exigencies of the pandemic. When it became clear that a runway show was not an option, he had the idea to onboard Anton Corbijn, award-winning Dutch photographer and film director and old friend of Knoebel's, to do a film.
It's been an absolute delight to work with Albert Kriemler on his new Akris collection based on the superb works of the painter, and my good friend, Imi Knoebel. My little film is an interpretation of an interpretation as it were. An embarrassment of riches to be honest.

– Anton Corbijn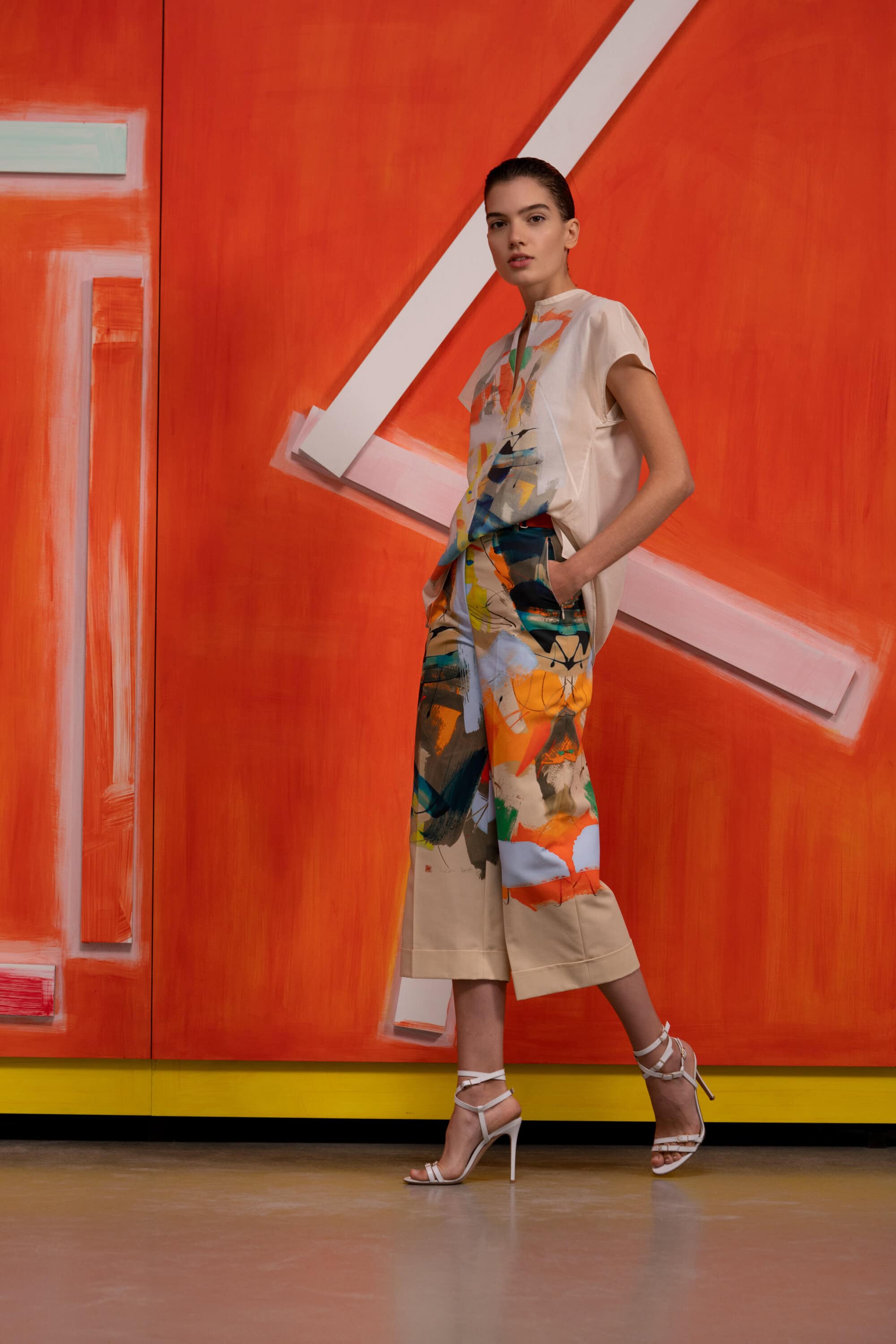 Corbijn came up with the idea to do a set based on Raum 19 ("Room 19"), a seminal work in Knoebel's oeuvre which put him on the map in 1968. Since the different components of the piece can be variously assembled, the permutations are endless, which speaks to the world in flux that we find ourselves in right now, and how we are being tasked to come up with a creative revisioning of the world as old structures have been disrupted.
Since 2006, Raum 19 has been exhibited together with Batterie ("Battery"), a phosphorizing block which absorbs the sunlight from the day, to glow in the night. Kriemler was inspired by this to develop special phosphorizing materials – including paillettes, which had never been done before – for the most exciting part of the collection, the "after-pandemic group," as he calls it. He effused:
I thought it's a wonderful metaphor for the moment. In the moment when we all are recharging our batteries to go to the next, I just felt it was a great metaphor to work on fabric which takes the light from nature now, which gives us strength daily, to put into my next collection.

– Albert Kriemler, Creative Director Akris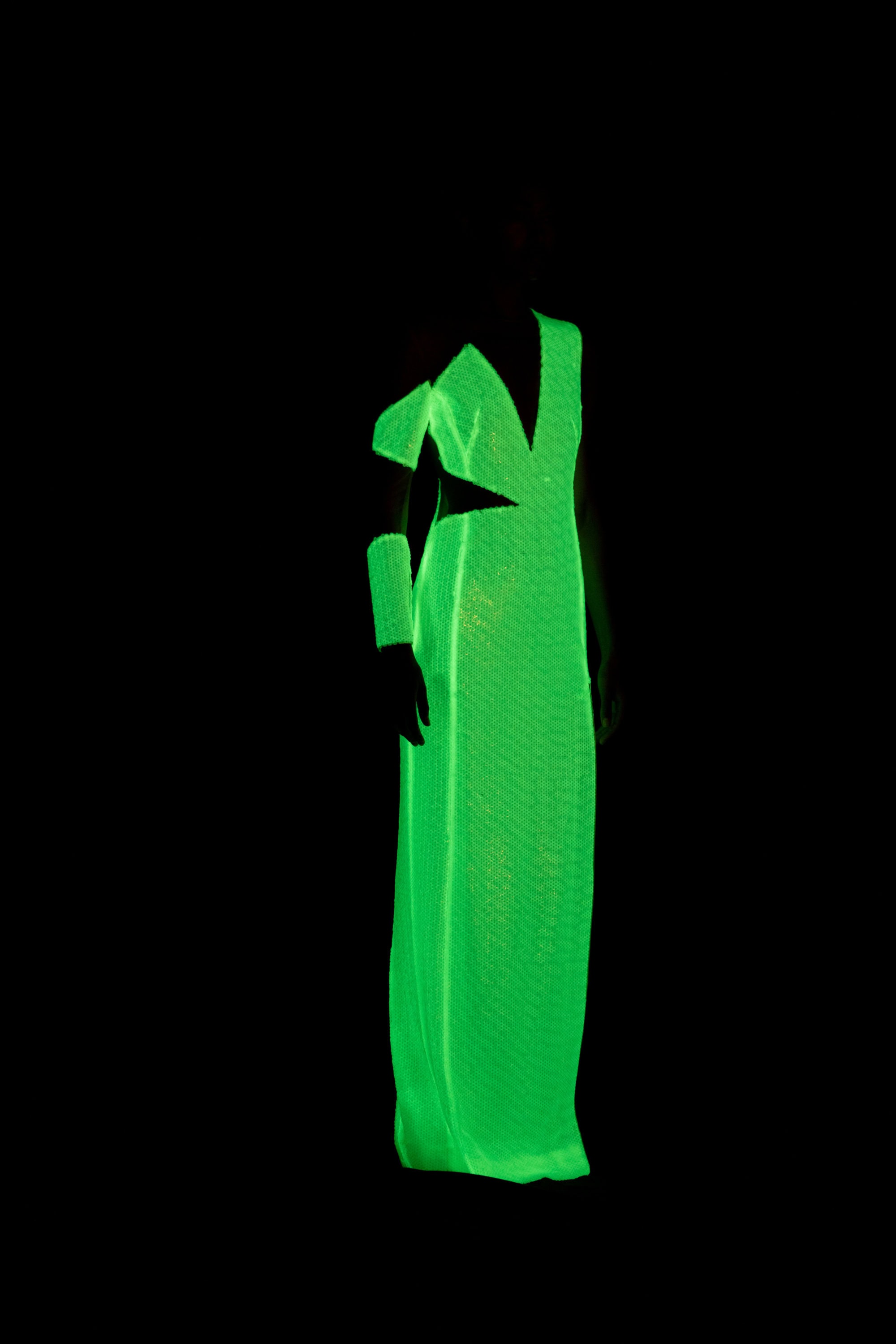 Further, it is in anticipation and celebration of that joy when we emerge from these dark times and the collection hits the shops. Kriemler's optimism is so infectious, I'm ready to hit the discos.
Honestly, though, a good trench coat is an essential in everybody's closet, but that glow-in-the-dark one? Sign me up! Social distancing means we've all been so starved for attention this year, I want my jacket to scream LOOK AT ME!
That said, the discreet style of the Akris woman is also served by the eggshell appearance of the phosphorizing fabric in the light, so you can do demure during the day and fly your freak flag at night.
The creative symbiosis and collaboration weaves through the art and the clothes and the film in a totally synergistic way, it is even bathed in Knoebel lighting. While he was excited and proud of their film, Kriemler nevertheless believes: "It's a very tricky thing not to feel fashion in the room. You might see a lot, but at the end, a camera can only tell you that and that when it comes to fabric and feeling, emotion. I think we cannot go to the end of the line. It would be tricky if you had not seen my collection and not felt my clothes before."
I was happy to receive the press kit in advance because Akris is known for the highest quality materials, innovative processes, and custom prints and embroideries, and Kriemler always includes swatches for this very reason. This season features a leather that is inspired by Betoni, a piece of dyed concrete, which is really difficult to dye, so that the dyeing process gives it such an unusual way of bringing the color out. There's a truth to what Kriemler says: "If you touch the leather, you know what Akris is putting in your clothes, on your body." You don't know what love is until you feel it for the first time. A tactile surprise is the raffia, which is normally stiff, but has been imbibed with softness and pliability through a jersey treatment on the back.
The prints this season integrate Imi Knoebel's heptagon, which is a free shape that goes with the new fluidity of movement and newfound freedom he wants to offer the Akris woman. They also feature the Kinderstern ("Star for Children") to highlight a unique charity started by Knoebel's wife, Carmen, in 1988, which Kriemler felt is particularly relevant during the pandemic. But more on that under separate cover. The genius of true collaborations like this is that you get to own a piece of wearable art. While not too many people can afford to collect Imi Knoebel, the kaftans and tunics are a chic and elegant way to live with art that you love and take it outside your own four walls.
As to the title of the collection, Pure Joy, it is the name of a series of work by Imi Knoebel that he sees as "purely being in love with the artistic process over decades." This is also Kriemler's underlying motivation in his work.
This is human. We like to cheer up, we like to buy new things, we like to get into fresh dresses. Also to respect your surroundings. That's what clothes should do, in my opinion. You put clothes on out of respect to the people around you.

– Albert Kriemler, Creative Director Akris
He related that during lockdown, even when they just ate at home, his family would get dressed for the occasion. I fully second that motion. We are all ready for some Pure Joy in our lives.
---