---
Review of Wales Bonner & Ambush Spring 2021 Fashion Shows
Spring Blooms In Paris, Despite It All.
By Long Nguyen
The spring collections Paris show week is off to a slow start this time as the thinner than normal schedule was filled with brands that have never been part of the Paris season and clearly they should NOT be part of the calendar at all. That said, the French federation that controls the schedule decided to fill the calendar left open by the departure first of Saint Laurent, then as the show date got closer other brands followed and decided to forgo their participation due to the on-going pandemic which currently is intensifying across Europe.
The absentee list grew and now includes Celine, Comme des Garçons, Junya Watanabe, Sacai, and Noir Kei Ninomiya along with Saint Laurent, creating a massive creative void, a black hole so to speak. Besides the big LVMH and Kering brands that bring luster to each of the Paris seasons, the group of Japanese designers brings heightened creativity that makes Paris the perennial fashion capital with little competition. Young designers bring their work to Paris in the hopes of being discovered – this has been the charm and the attraction of Paris. At least there will be a Balenciaga live stream show without any guests.
Now with just about 18 physical shows along with a slew of presentations, the diminished calendar still has the French marquee brands Dior, Louis Vuitton, Chanel, Hermès, Balmain, and Chloé staging live shows at significantly reduced audiences of roughly about just 20 percent of the usual capacity across the French capital. A group of independent and smaller brands like Coperni, Koché, Gabriela Hearst, and Yohji Yamamoto also planned live shows. Kenneth Ize, the Austrian-Nigerian LVMH Prize finalist in 2019, changed to a presentation after debuting his first show on the evening of last season's opening night in late February.
As was the case in July for menswear, the designers in Paris have creative ways to forge ahead with digital activations, some more inventive than others. But surely a live show from Rick Owens is not the same as a video presentation, no matter how much one can learn from such an endeavor. Or for that matter, the sensuality of the Dries Van Noten clothes on the models can't be felt online. More than anywhere else, those who toil fashion in Paris inherently understood the ultimate reasons for live shows and they have made Paris the city for fashion all these years.
The feeling of fashion is what will be missing from Paris this season.
On this opening evening of the spring show season, the British designer Grace Wales Bonner was originally scheduled to show after her decision to leave London late last year. Instead, she presented a film that showed the heart of her fashion. This should be instructive to other designers who often peddled inspirations with so little personal stake that they often came across as false.
WALES BONNER
Grace Wales Bonner is a storyteller, especially her personal stories and her experiences living with two cultures that are part of her and her family – Britain and Jamaica. If Wales Bonner were not a fashion designer by profession, she would surely be a great novelist for her keen observations about the life and the culture of her two inherited worlds.
In particular, she trained her eyes to look and to observe the different kinds of clothes worn for a variety of occasions in both of these worlds and how sometimes these styles of clothes exist in parallel, but sometimes elements from each world would merge to contribute to a new sentiment and novel way of how clothes from different societies and cultures can interact and fuse in unexpected ways.
"We invite you to commune with us here …" was the headline on Wales Bonner e-commerce site in the moments prior to the start of the short film 'Thinkin Home' shot in Jamaica by the Jamaican born and Brooklyn based photographer Jeano Edwards. The soft lensed moving images showed eight young men, each in movement by walking or by motorbike from their houses or fields going towards an unknown destination perched high on a hill with a large waterfall, with a soundscape of reggae, 80's dancehall, gospel and poetic words. The guys wore the subdued colored, slim shaped spring clothes that evoked the imagery of the iconic Jamaican filmmaking of the period like the crime film The Harder They Come and the early days of dancehall music in Jamaica in the 1980's.
Wales Bonner, an English/Jamaican 2014 graduate of Central Saint Martins whose BA thesis 'Afrique' show earned her a L'Oréal award that year and the LVMH Prize in 2016, introduced her spring collection 'Essence' as the second part of a triptych of collections that began with the past fall's 'Lovers Rock' presentation that than focused on life and times of the British Jamaican community in Britain in the 1970s and now for this spring the inspiration shifted to the origination of dancehall music in Jamaica in the 1980s.
I saw Wales Bonner debut solo independent show in London in June 2016 in a gallery home where she mixed British classical tailoring with a Caribbean/African spirit, with soft and fluid shaped clothes that erased the rigid borderline of masculine/feminine codes. Her show then was so dense with an emotional charge from the clothes and from the true expression of sincerity of her work expressed with such a personal viewpoint. Seeing the film 'Thinking Home' reminded me of her show that June and how consistent her aesthetic and her point of view have remained and has even strengthened with a sense of confidence.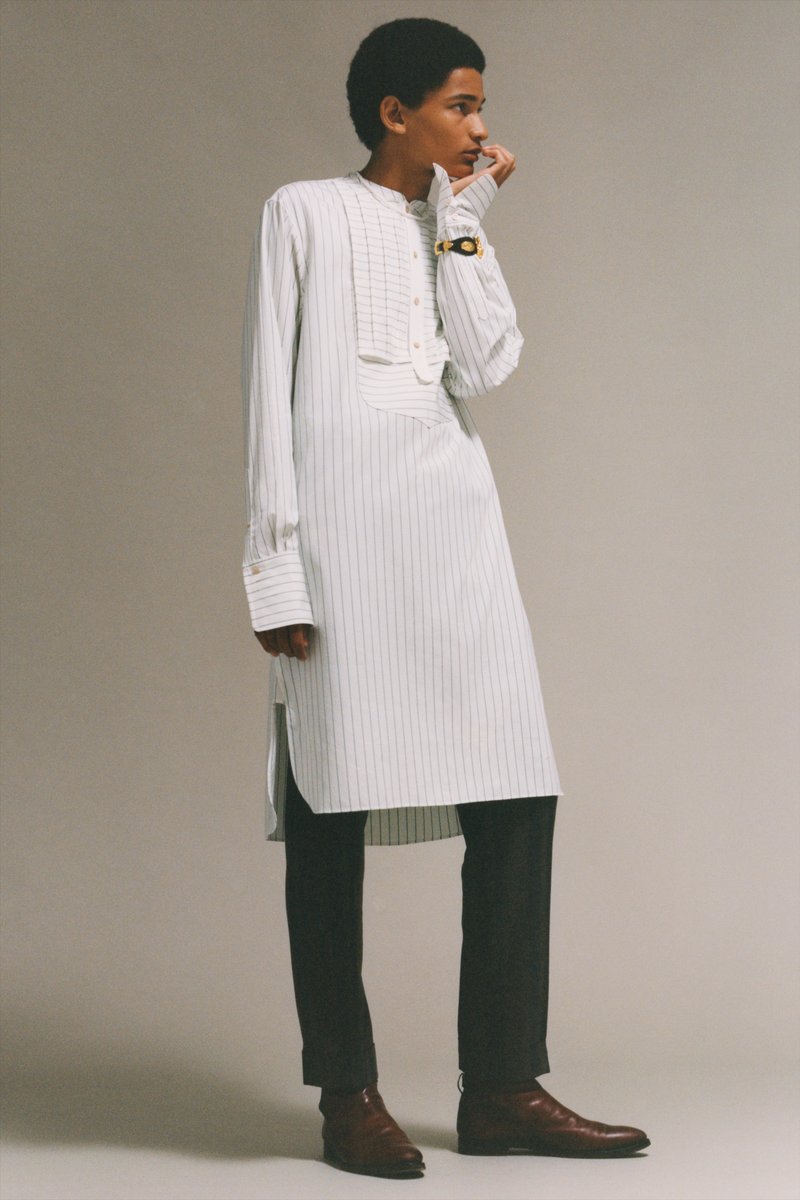 This profoundly personal exploration of how she saw black male masculine identity and sexuality intersected with her exploration of the intersections of black culture with the process of modern consumption in these spring clothes that combined the sharp formal tailoring with the hybrid sports tailoring, like the black lean two-button coat paired with brown corduroy striped pants and striped knit polo. This look deconstructed the formality of the black coat but the addition of the casual pant and polo did not completely render the coat into a totally casual garment. It is this in-between horizon that revealed the tension in her clothes. Another is the black coat with slim black pants and velvet zippered blouson and a blue mock neck tee shirt.
However, the black silk cardigan 'tracksuit' paired with a mandarin collar white shirt felt more formal than casual when worn with black leather lace-up dress shoes. It is not made for running, maybe perhaps in scenes from the 1972 crime film The Harder They Come. The structured sportswear of the slim purple wool spread collar front patch pocket cropped jacket and matching pleated pants or the patchwork slim single-breasted jacket and black pants reflected the ease of these retro sportswear clothes for both day and night time.
The clothes work for both genders and there are a couple of women-specific looks like a mustard green plaid belted safari jacket and long pleated skirt or a navy blouson and an ecru long skirt.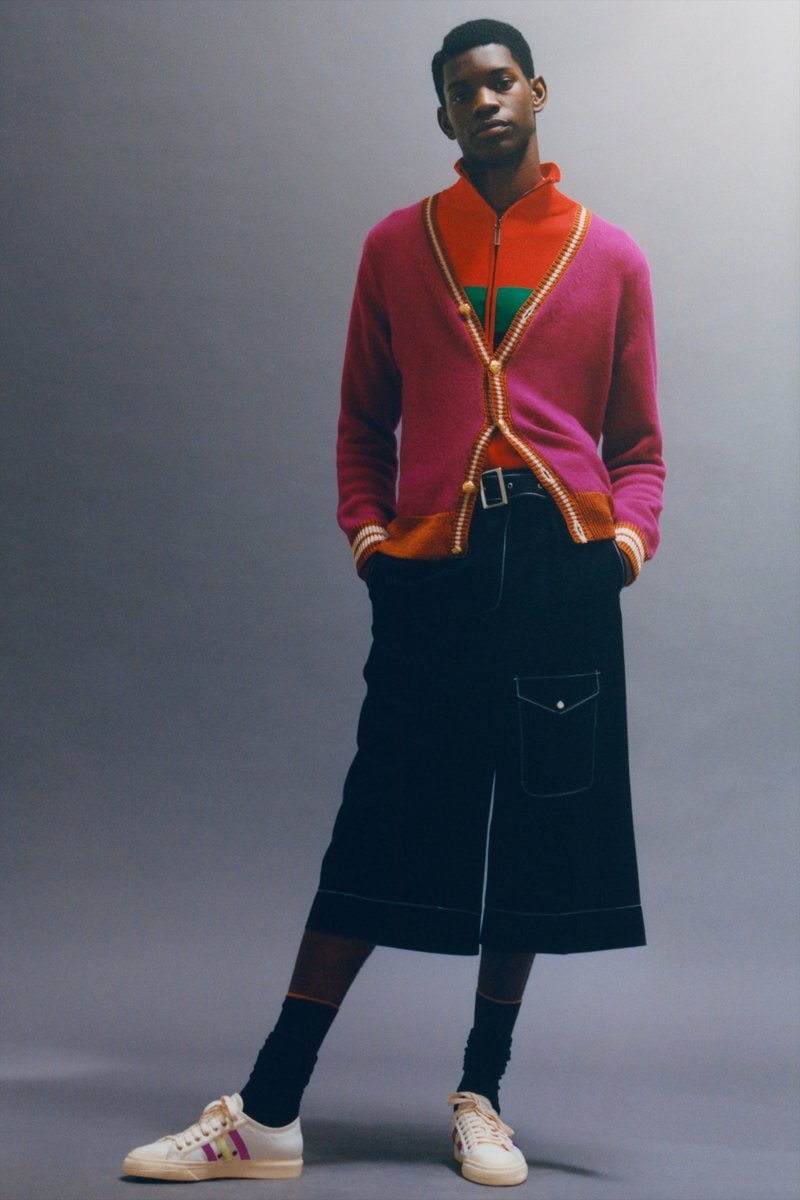 A strong section of the collection is the continued collaboration with Adidas Originals where Wales Bonner reinterpret the 1970's slim track suit in pink and ivory crochet and canvas but she rendered them a bit tighter to the body thereby making the purple running shorts and matching short sleeve shirt into a sexy evening outfit, especially paired with black leather Mary Jane shoes. The blue plaid Adidas turtleneck collar zippered jacket and Adidas tailored pant or the 3 striped wool West African wax textile jacquard knit cardigan and green satin shorts are just two of the appealing looks that merged sport/tailoring in a new way. The Adidas running shorts won't be the same again.
In addition, Wales Bonner released a small booklet digital publication so dense and more precisely a condensed treatise with history and intellectual history that started with the first part of the project for last fall with the explanations on the origins of the thoughts that she brought to her thinking on the collections. One passage talked about 'to be black means always be subject to the white gaze,' where she quoted WEB Dubois and Ralph Ellison's writings as part of the intellectual heritage that she crafted into her clothes – or their words into her clothes to be precise.
Dancehall wasn't just an event, a gathering of people but also a cultural and a sartorial phenomenon. "Dancehall art in turn could never have been made for any other musical genre, not even roots reggae which was already on its way to becoming established music. There's too much do-it-yourself spirit here …too much info scribbled and scrawled on the go, too much of the spunky creativity of a people, sometimes without resources to create," wrote the cultural writer Marlon James in the booklet 'Reflections on Essence'.
The do-it-yourself spirit can be seen as well in this superb Wales Bonner collection as well as her belief that masculinity does not come from clothes which is against what she was taught and experienced growing up between the two worlds of Britain and Jamaica.
AMBUSH
Yoon Ahn last presented her unisex ready to wear Ambush, a line she established in 2008 as an experimental jewelry collection with her husband the Japanese rapper Verbal that has evolved into clothing offerings, ready to wear collection in Paris in 2019.
With her innovative pop-inspired designs of fine jewelry where her safety pins, gold charms, crystal earrings, and padlock necklaces became the brand's DNA and fostered the growth of the Ambush collection into a global business selling these specialty jewelry pieces. In 2018, Kim Jones appointed Ahn as Dior Men's director of jewelry where she created graphic jewelry based on an old Dior logo.
Since the acquisition of the company by the New Guards Group based in Milano, Ahn has set Ambush on a careful course of slow expansion in order to maintain the integrity of the business. The clothing for Ambush came about just in recent seasons, first as a need for clothes to shoot the jewelry for e-commerce, and more so as menswear that translated into genderless garments. Next there will be accessories and footwear as new categories.
This time the designer sent out images of her spring collection composed of breathable linen, wool, and thick cotton mainly in ecru and black with loose-fitting shapes that reflected the needs for both comfort and a bit of fashion mixing utility with sensible relaxed tailoring. Long coat tied at the waist with tee-shirt and loose pants, loose multi-pocketed safari suit, or a blue A-line shaped jacket with knee-length shorts showed the unstructured soft clothes for men that also translated into women's in a blue flared pantsuit or a khaki trench over single-breasted suit. The denim was a strong section of the collection from the patchwork pieces to the solid safari suit.
This Ambush collection is focused and smart and offers a lot of wardrobe choices without being so fashion. Ambush can occupy that middle ground just below the big brands, a ground pretty much wide open as the clothes look well made and hopefully, they are sensibly priced as well.
---