---
Reviews of GucciFest : Gucci Episodes 2 & 3, Rui, Gui Rosa, Bianca Saunders, & Mowalola
Episode 2 & 3 of Gus Vant Sant's Spring 2021 Gucci Film
By Long Nguyen
Gucci Episode 2: In the Café
From her unusual morning at home in Episode 1, Silvia Calderoni commenced her journey outside her apartment, walking along the street on her way to the café to meet a friend in a blue stripe tee shirt and below the knee folding light brown GG checker pleated skirt and green flat leather loafers. Calderoni carried the new Bamboo bag in rectangular tote shape, a redesign from an archival model that featured a leather neon belt. A detail Alessandro Michele added to this archival piece was created initially by the founder in the 1940's due to the scarcity of available materials.
Before entering into the café, she passed by a group of five young women sitting at round tables outside, all wearing the red Bloom floral print pleated dress with cape sleeves from fall winter 2015-2016, now soon available again as a reissue. A tall guy passed by the tables wore a print pattern long sleeve tunic, satin blue running shorts, a print silk headscarf, and a white leather purse. In contrast, two other pedestrians, with one wearing a red parka, blue pants, orange cotton shirt with high collars, a purple print silk scarf, and carried a white canvas tote bag.
This café is a fauna for fashion and perhaps a very peculiar place for the gathering of well interesting people.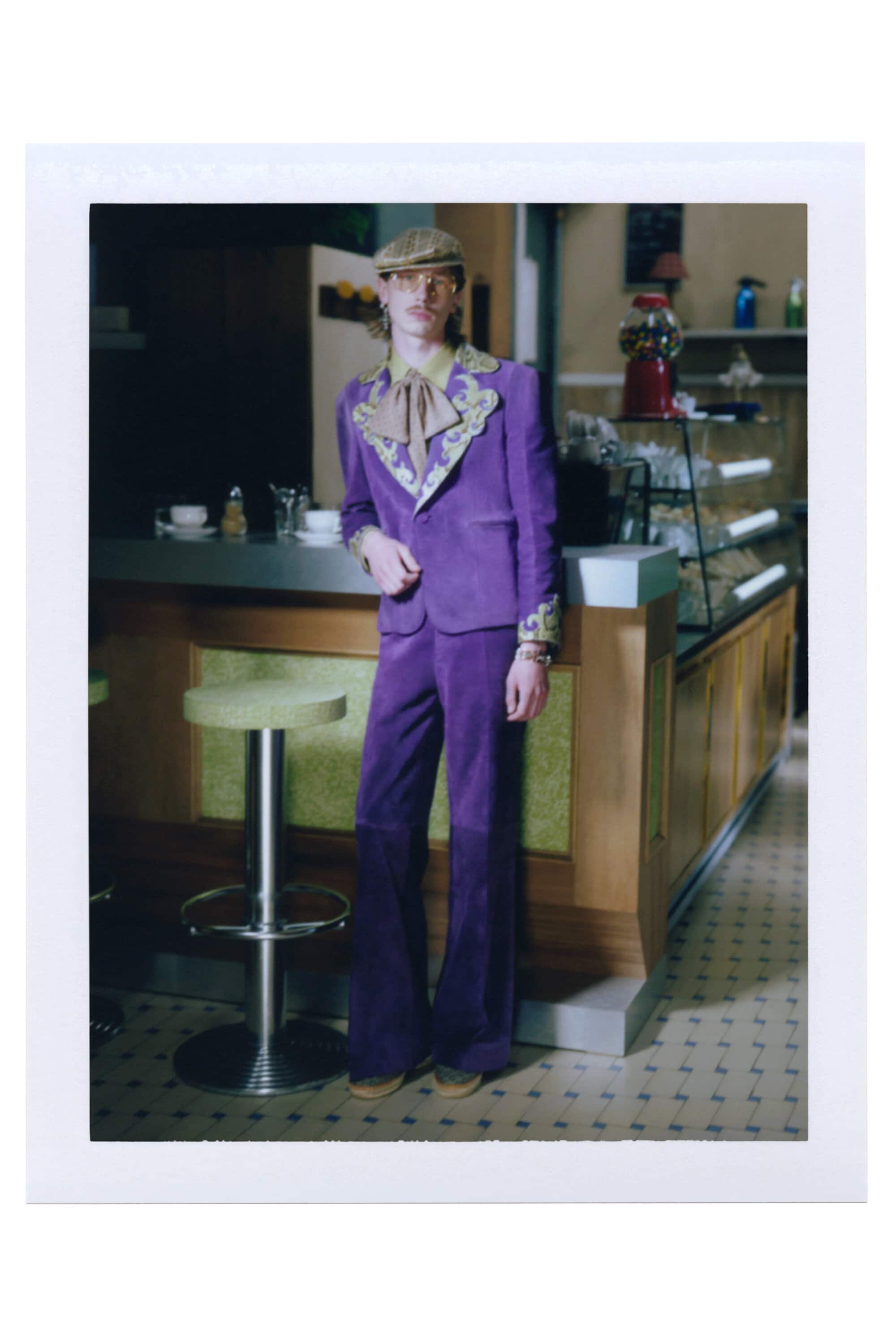 Meanwhile, inside the café sitting at various tables and the counter, were several friends engaging in small talk. It was one of the perfect moments in this episode for more looks from the spring collection to come on screen. The fashion was plentiful on the young kids gathering at the counter. A navy and yellow checker print single breast pantsuit with vest and large spread collar shirt, a black sheer floral embroidered dress with black stretch shorts, a high sleeve faux fur coat with colored print poet blouse and flare jeans, and a marigold tulip print dress with neck bow with lime green single breast slim jacket and green headband. Of course, this being a film that navigated between the real and the surreal, two of the customers sitting at the counter wore nothing. The nude couple discussed the finer points of a large family and of breaking a television set.
Inside, the party seemed to have started with the sound of Bronski Beats. Arlo Parks, a London singer-songwriter who wore a green and orange print long sleeve tunic dress and white hooded sweatshirt underneath and green pants with yellow side stripe and a leather high top sneakers – was seen earlier in the scene at the music box making the selection before setting at a table to wait for someone to arrive. Calderoni spoke to her friend Parks in conversations dubbed over in Italian that bordered a stream of consciousness chatting rather than just any regular gossiping first, she mentioned her dream the night before where people were speaking backward before asking Parks why people pick daisy flowers as this might hurt the environment.
The fashion was carefully woven into each of the characters to create a clash between clothes and characters. Even the coffee maker was appropriately dressed in an elbow sleeve light blue shirt, large knit vest with tiger pattern, and mustard flat flare pants as he brought the order to Calderoni's table.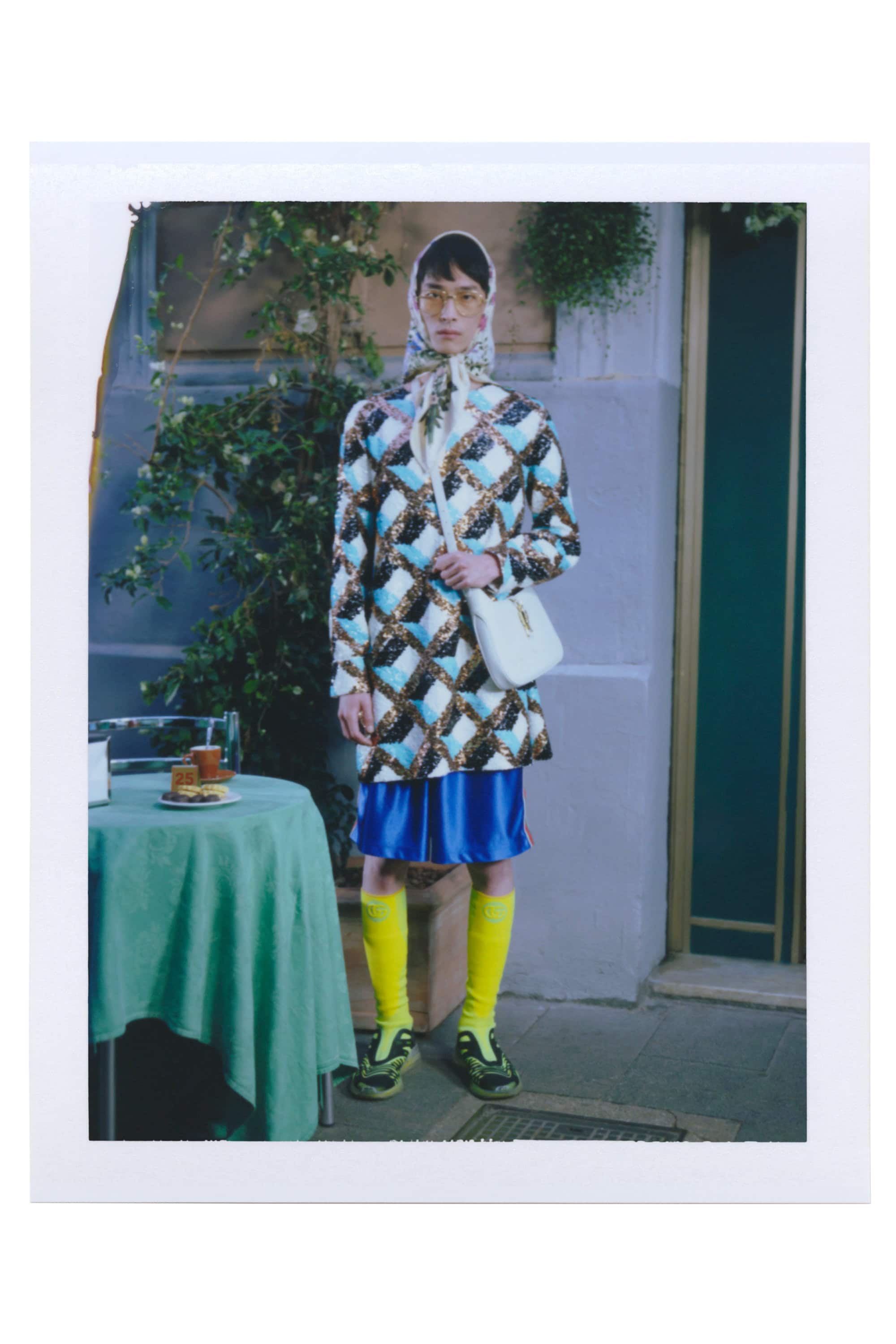 Parks friends came to pick her up in the old red Citroën as they took a tour of Rome, passing the Piazza Venezia and onto the via del Fori Imperiali. Parks' young friends were a group of hipsters and their outfits matched their energy as they drove through Rome. One had on a slim tailored round lapel three buttons jacket, mustard flared pants, white shirt, black tie, and a necklace, another wore a yellow tee shirt and loose flat front pants, and one in an orange tunic with small embroideries.
As Parks left with her friends in the red Citroën Dyane, Calderoni talked to a tablemate nearby who was making a colorful drawing – he wore a purple jacket with round lapels embroidered in gold threads and a light brown spread collar shirt with a bow scarf. On her way to the bathroom, she picked up a weird note on white paper on the floor. But as she opened the bathroom door, she was surprised to see an empty theater rather than the café she left before. But that was expected.
Here in this episode, the beginning of the conversations on academic subjects. The geometry linking all living creatures, the melting of a candy bathing suit, the people speaking backward – met with fashion in an artistic way. Perhaps this is a clever way to bind together the intellectual approach of this film with the more mundane task of showing the spring collection to an audience a bit less enthusiast about deeper meanings and other intellectual justifications for fashion. If you can do your morning yoga to the voice of a professional intellect talking directly at you about the vacuous importance of gender lines even before your feet reached the ground over your head in a lace jumpsuit, then everything seemed a piece of cake.
Gucci Episode 3: At the Post Office
Well, we lost Silvia Calderoni when she stepped into the empty theater at the end of episode 2 as she exited the bathroom.
In the opening scene of episode 3, Calderoni now dressed in a men's short sleeve plaid cauliflower motif shirt, denim cut off shorts and black leather loafers had somehow managed to be standing at a counter at the local post office writing a post card to someone about expressing her love and joined the line to get stamps. Calderoni took a second to glance at the people already waited in the line.
The waiting queue at this post office is in some ways, surreal yet not unreal. The queue provided another prime moment to showcase the spring collection by blending the range of the cast characters that waited in line for stamps or envelopes with clothes that matched their personality – the audience did not have to imagine why they were dressed this way. A young boy carried a birdcage wearing a tan print tee shirt, boxy khaki pants, black leather belt, and a small red purse. A young woman wore an ice blue tulip print shirt-dress and a white leather Bamboo bag; another had a black and white checker blouson, print bow blouse, floral pleated skirt, and a yellow leather purse. A guy approached the clerk in an unlined single breast jacket, green knit vest, blue shirt, loose yellow pants, and a black crossbody leather bag. One girl had a long blue cotton spread collar shirt-dress, a long denim skirt, a suede Jackie bag, and a young kid wore a white crochet cardigan, blue tee-shirt, ice blue drawstring shorts, and a skateboard. It was a line up similar to the line up of models ready to exit onto the runway at a show.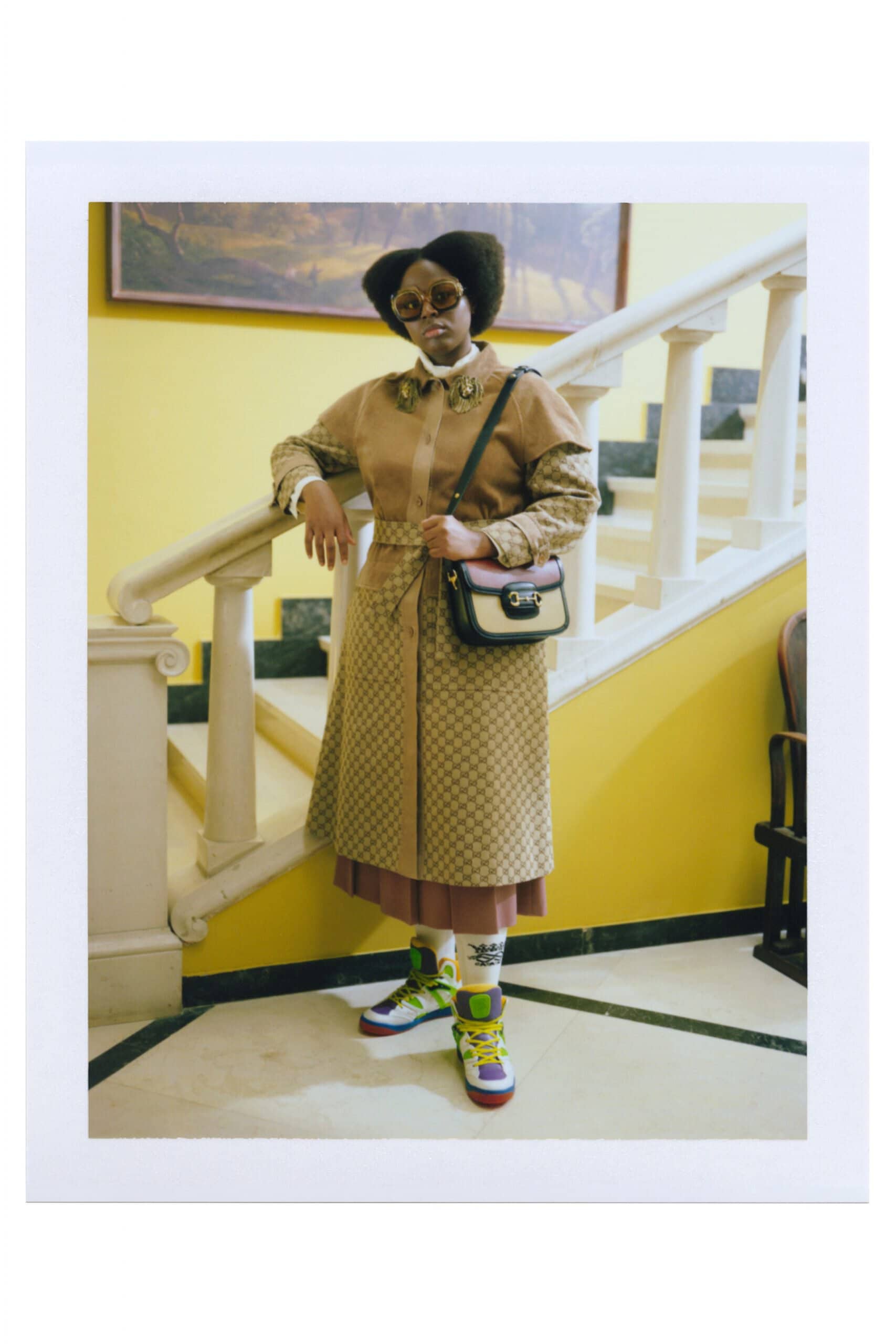 "I wanted to tell you a few things I was mulling over. We live in rather tense times, full of conflicts and confrontations, but also of differences that manage to co-exist, of joyful differences. And you can see this manifest itself in many different cultural contexts. Even though the differences persist, art, music, fashion, theatre, cinema. They're fields you're familiar with in which creativity takes center stage," said the Italian art critic Achille Bonito Oliva of the La Sapienza University of Rome, who was also in the queue. The professor who coined the term 'transvanguardia' wore a stripe cotton shirt with a cabbage motif with the French words 'mon petit chou' embroidered in front. He sported wool plaid pleated pants as he spoke from inside the post office on the phone with the musician-actor Harry Styles outside in a garden.
"I think when it comes to making art, it's about finding the thing that you always wanted to see, or you've always wanted to listen to that like has never been made. It's always like an uncomfortable moment, I think, when you find the thing – you don't know if you love it or hate it, because you don't know what it is yet, but I think that's the most exciting place to work in. And it's true for all the fields you mentioned," Styles responded, standing outside in a garden wearing a light pink numbered tee shirt, cutoff denim shorts, and black leather loafers.
"Fashion dresses humanity; art lays it bare. And music is a message to the atrophied muscles of collective awareness. We could say that this is the age of intermingling. An age marked by a certain lack of faith in the future. But one where awareness of the present is vivid. And this is important when you consider that there have been other times in which the same thing happened, and a consideration of the present is essential. Distant times, after the Renaissance," Oliva responded to Styles' observation on the uncertainties in the making of art in all the fields the professor had mentioned.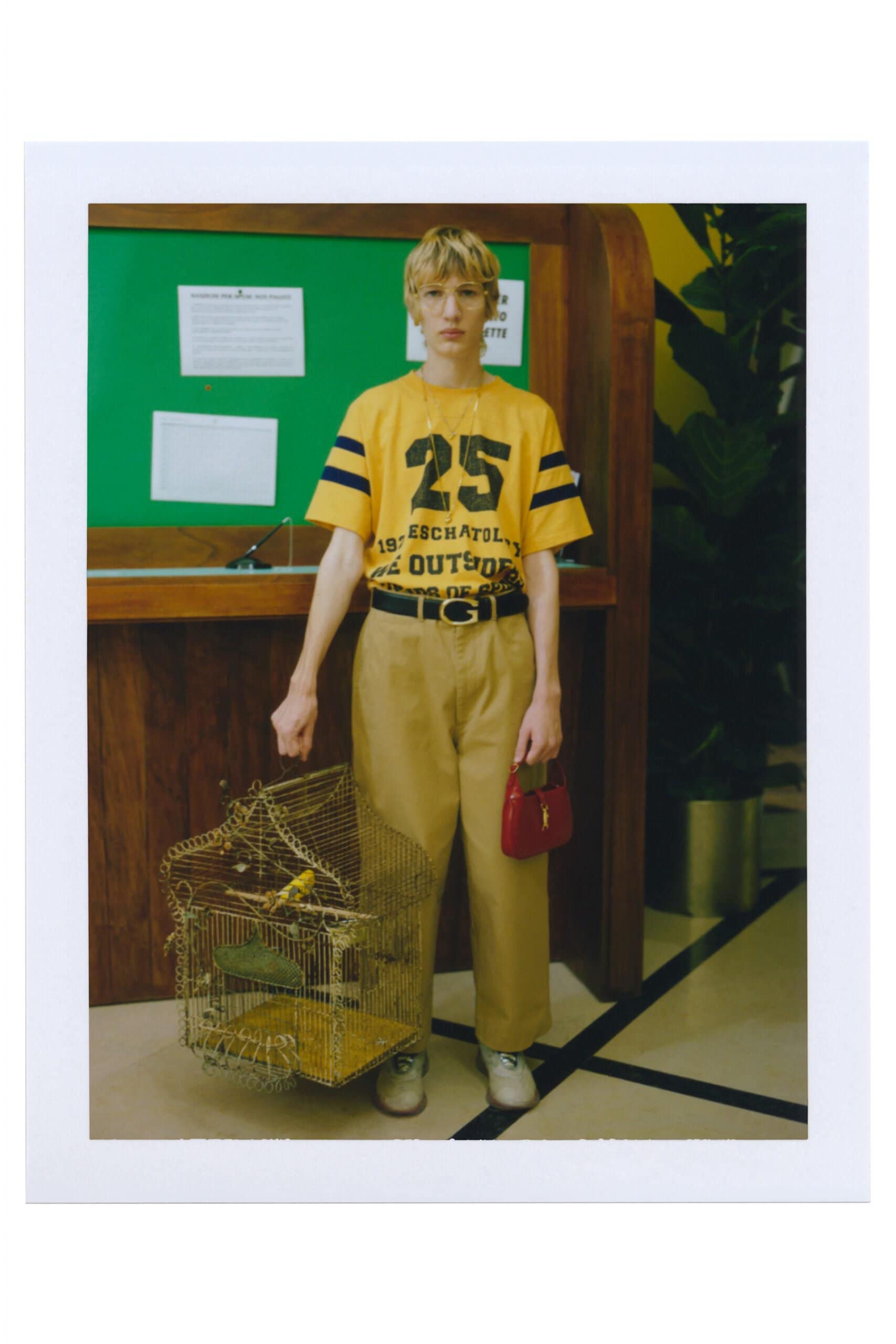 Again, in terms of setting up a natural scenario where displaying the spring collection on actual characters doesn't seem too forceful, in this episode, the waiting line at the post office gave the perfect occasion for this meeting of film narration and fashion in a symbiotic manner. The close-up views of the range of footwear as the people walked forward in the queue provided a natural setting for the leather high-top sneakers, the slingback pumps, men's sandals with horsebit hardware, and pumps with oversize buckles.
Finally, Calderoni got the floral stamp she had requested, and it turned out to have the same handwritten words as the flyer she found on the floor at the café earlier – 'I just want to say …that I could not forget … you told me everything.' This will somehow make sense in future episodes.
So far in the three episodes, the fashion was presented as seasonless and with little demarcation between day/evening wear or even if such categorization even matters at all now. The spring clothes did not clash with the scenery, nor did they outperform and overwhelm the people wearing them. Even at this early stage, it is clear that the casting, the clothes, and the kind of the narrative make sense together as a unit even though they don't logically.
GUCCIFEST EMERGING DESIGNER FASHION FILMS
RIU
"The body changes the shape of the second skin. I am driven by my emotions. My inspiration comes from three women in my family. This intimate relationship has influenced my view of the female experience and my own life," said designer Rui Zhou. Since starting Rui as her ready-to-wear label for women and men in 2019, the designer has concepted clothes as the interactions between the skin and the garment that often reveal the body's imperfections.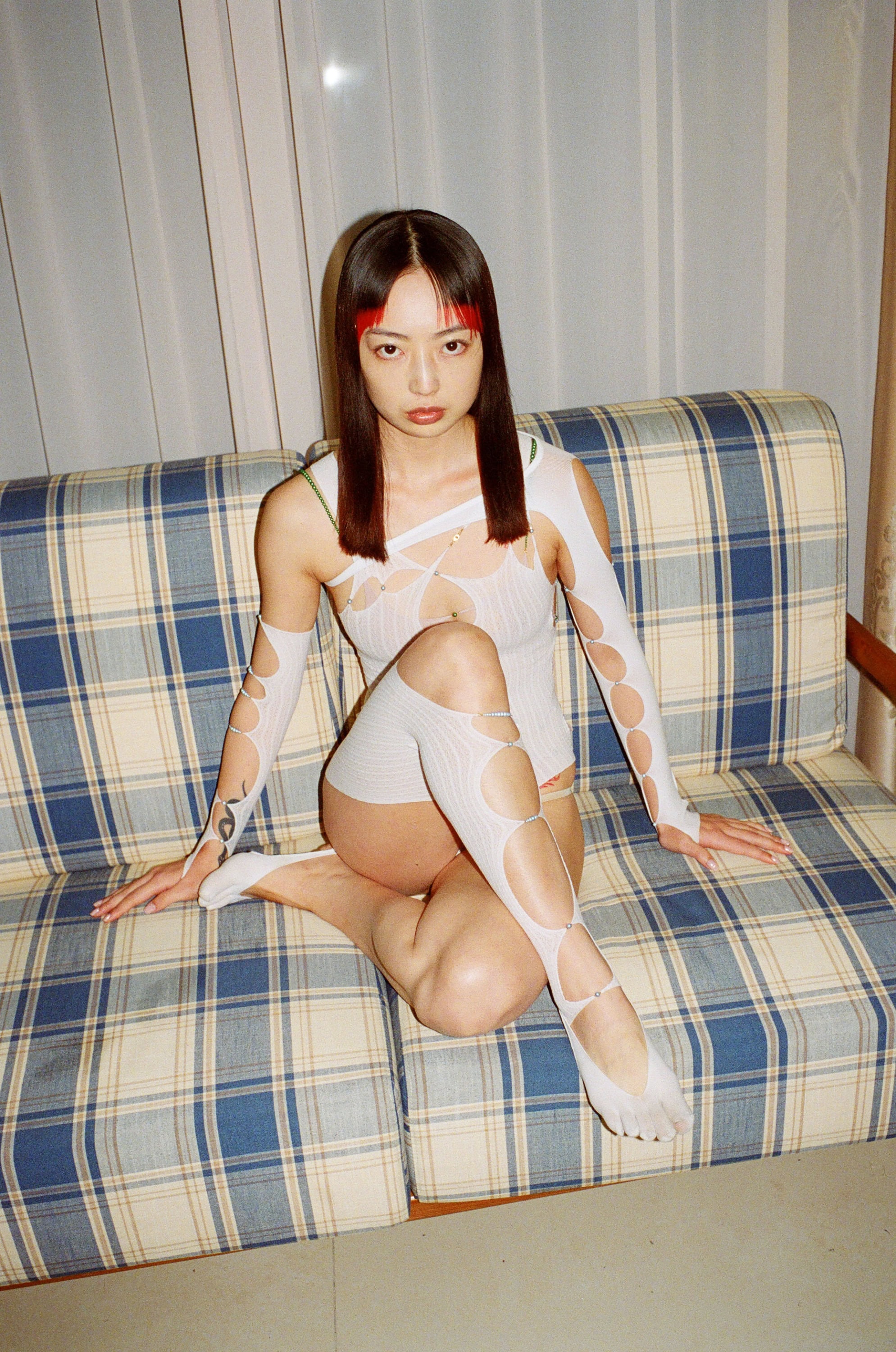 Zhou graduated from Tsing Hua University in Taiwan and earned an MFA from Parsons, where she showed her mixtures of tight cutting colorful clothes for the first time for spring 2019 as part of the Parsons MFA show. Zhou has continued presenting Rui every season since her graduation show, with the current spring line shown at Shanghai Fashion Week. Many of Rui's form-fitting clothes laid on the borderline of lingerie rather than say day clothes with the juxtapositions of fabrics and colors coupled with her signature curving circular cuts, but Zhou has gradually introduced dresses and skirts as part of her growing repertoire.
Emerald, directed by the young Chinese director Shen Haonan, is a fable of a rabbit with a green gem in place of an actual right eye. She lives in a house with a large pool with a sparrow, a pangolin, and a carp that said the emerald eye has magic power with the ability to protect a swimmer from the cold of winter. The pangolin dreamt that without the emerald eye, they would all live together in a new journey.
The metamorphosis element in the film corresponded to how Zhou makes her designs and garments where the clothes seemed to become something else in coexistence with the body. Zhou used many of the garments that she had previously made with the base layer of the bathing suits with circular cutouts on the side of the body and the legs here in an ecru stretch cross over suit worn by the rabbit or a leaf green stringed one-piece worn by the pangolin. Hopefully, Zhou can evolve her fashion in her own way and continue to experiment with her clothes.
GUI ROSA
Gui Rosa just graduated from Central Saint Martins MA Fashion in 2020 with a collection he titled 'Lady of the Stitch' and a BA Fashion show collection in 2018, but he had already made his fashion sensibility. In his BA Fashion 2018 show, Rosa displayed how he could transform his affinities for print design, his school specialty, into elaborate and colorful mixtures of lace intarsia coats and feathers headpieces. Alongside creative uses of knit jackets and skirts into the kinds of fashion that referenced his upbringing in Portugal with the vivid colors and the affinity for wild but uncomplicated imagination.
It was about having colorful clothes interrupting the bleak landscapes of industrial east London. So it's a hybrid between spaghetti western and a twisted B movie found in the web's risqué corners. It's a smashed together, lo-fi movie trailer for a camp gigolo noir trucker/cowboy flick, silly and sexy and a soupçon dark.

– Guilherme Rosa, via Instagram direct message on the essence of the film he made with Harry Freegard.
"The fashion is a juxtaposition between the toughness of the surroundings the lot lizards are in and their inner vulnerability, which manifests itself in tender and frivolous knitwear," Rosa said of the clothes he made.
Directed by Harry Freegard, the fashion designer-artist-poseur who graduated in the same CSM BA class of 2018 as Rosa. The film Til Death Do Us Ride was like a Mad Max rendering of a group of weirdly dresses guys roaming about different parts of East London – in a garage, a small pond, an empty roadway – depicting a shared camaraderie as road warriors on old motorbikes.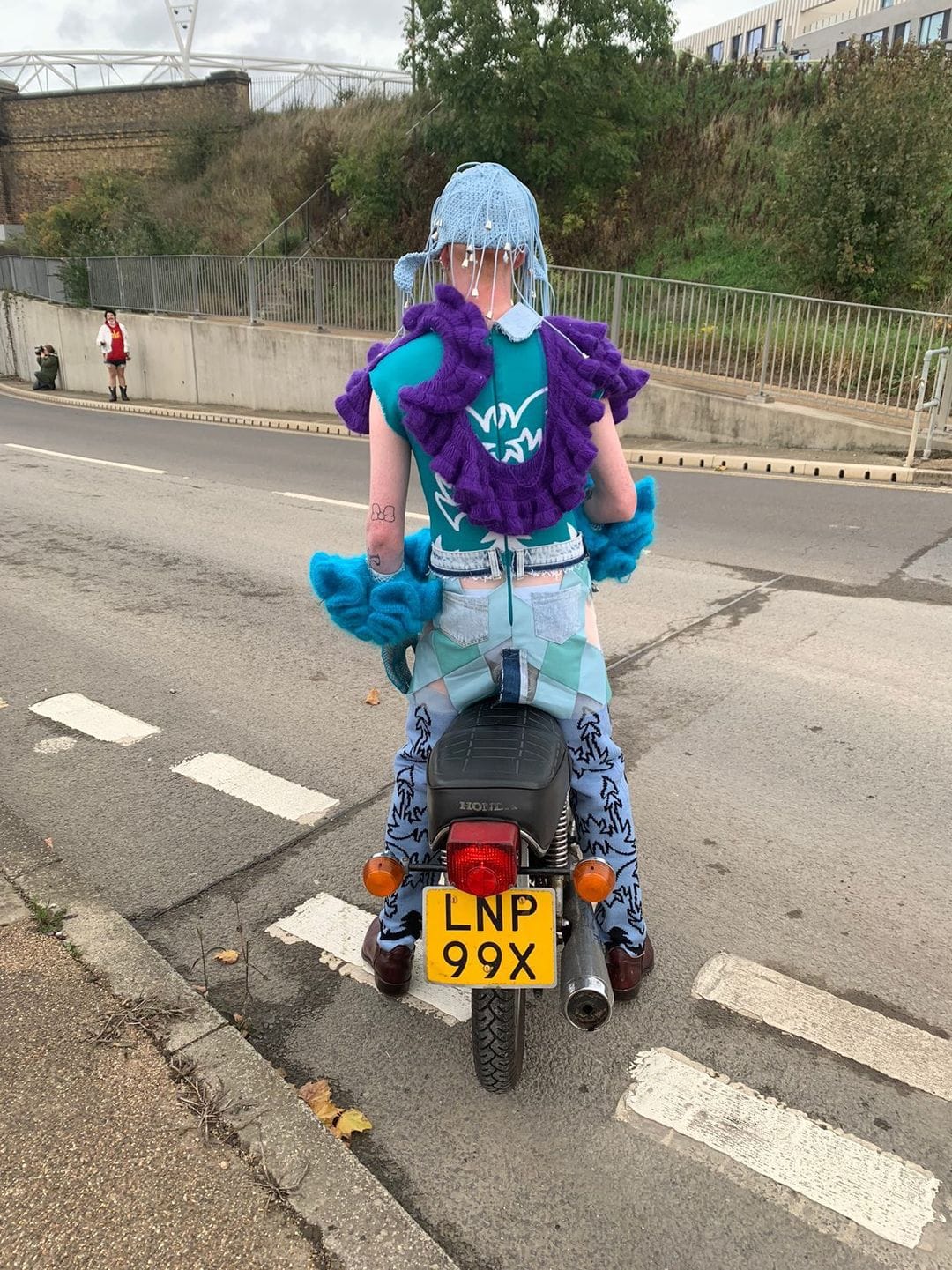 The clothes Rosa made for these fashion compatriots Max, Buddy, Slug, Ruby, and Bug profoundly contrast to the stark surrounding. That meant Buddy wore a purple print oval neck tank dress with yellow tiger print bikini, white twiggy headdress, and white pattern thigh-high cowboy boots. Rich in a black giant tulle cape-coat-dress with brown lace trims, Slug in a white tulle cape over a tiered tulle duo tone dress with oversized puff layered sleeves. Ruby in a bluish print knit polo with purple ruffle sleeves and asymmetrical cut denim skirt and light purple hand paint boots, and Bug in a cut out sleeveless tank with a yellow ruffle sleeve and diamond pattern short skirt and black and gold leather boots. Others great looks included a denim extreme cropped jacket with fuschia ruffle paired with a belt skirt with ruffles and a patchwork short sleeve shirt with a knit short pants with lace ruffles.
These road sirens spared no effort with their fashion, clothes that required substantive knowledge of crafts. Rich's look is "a knitted gown with oversized collar and lapel and a full circle skirt all built upon a tulle under the collar and underskirt (almost 60 meters of stiff tulle to keep the knitted shell)" Rosa said in explaining the fabric and construction. "In the same way, you construct flat pancake tutu." Ruby's bluish 'dress' "is a jacquard knitted top with polypropylene featuring a crocheted mohair hood at the back paired with a patchworked Nappa and tulle skirt made from leather offcuts. It looks like two separates, but it's a dress with a 'fake' denim skirt waistband and pockets that have been lifted from a second-hand pair of bleached jeans."
Rosa described Bug's outfit as "a crocheted mohair intarsia top and a patchworked leather and tulle skirt also made from off its leather and with the same fake waistband construction. Both garments are mounted onto tulle as well."
Not very long ago, this kind of mixtures of aesthetics and that capacity to be seen here with Rosa gave rise to the likes of John Galliano and Alexander McQueen, and even Jean Paul Gaultier in the very early stages of their respective fashion careers.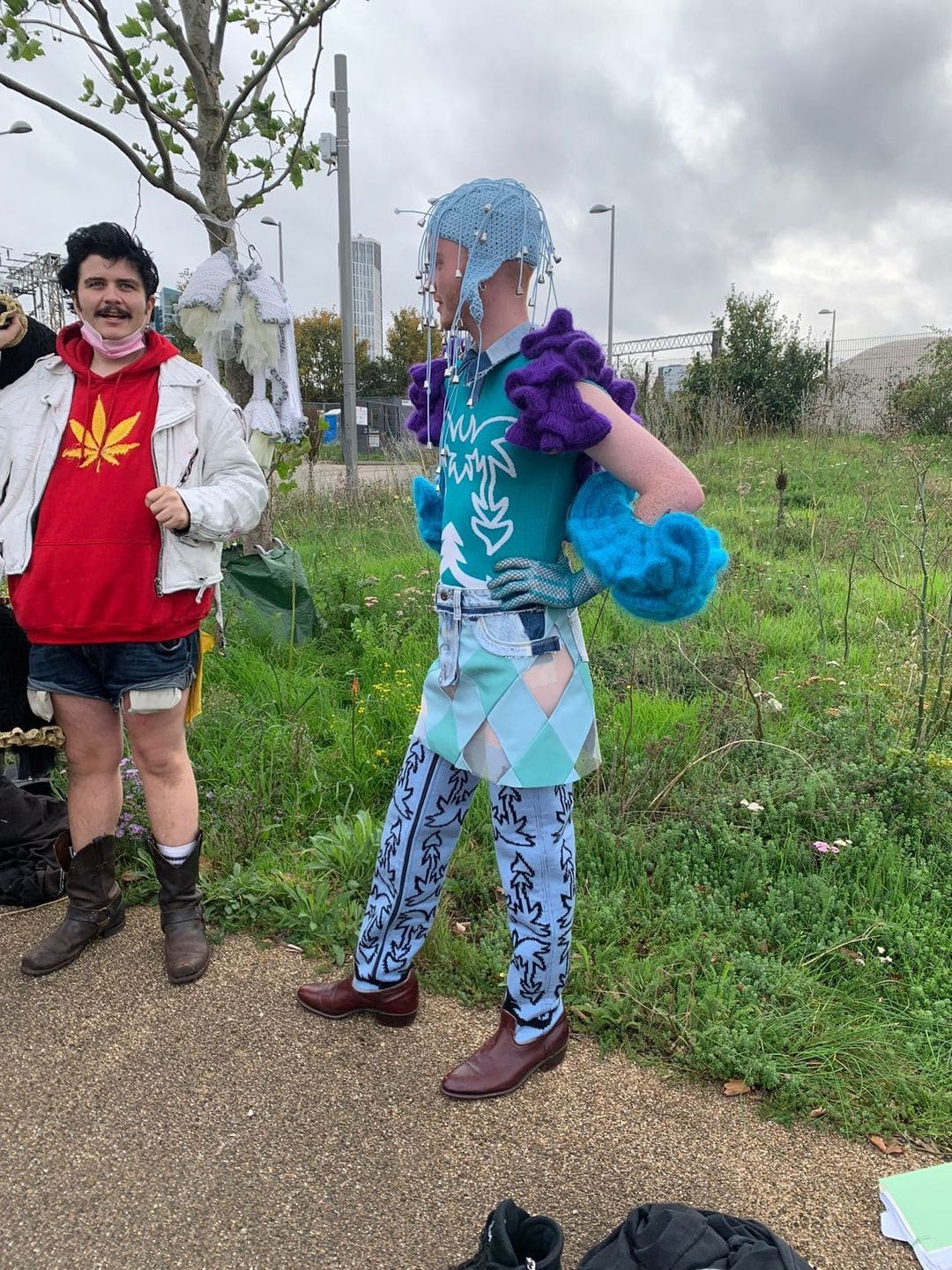 Today, in the much more tightly control aesthetics of corporate fashion where looks and styles are defined in a neat category, even in the category of genderless clothes. Rosa's clothes seen in this film and his BA and MA graduate shows are great creative clothes that are neither menswear nor womenswear in any specific way and indeed seen as menswear since the guys wore them. Once you can clear your mind and let go of old concepts and boundaries, these clothes can take on different meanings.
It is beyond refreshing to see if for nothing else such fearlessness in Rosa's work just months after completing his studies. Work that required the audience to look carefully beyond the disorderly, beyond the in-your-face tempo to realize that fashion designers do not always have to produce pretty clothes, but they need to make meaningful clothes. This kind of creativity was similar to the late 1990's fashion scene. Perhaps soon, some other company would lend Rosa a hand just as Gucci did this time in this artistic venture.
BIANCA SAUNDERS
Bianca Saunders belongs to this group of multi-racial youths growing up in London who are not just embracing their multicultural background and are allowing these life experiences with different cultures to inform their sense of identity and their sense of fashion. Saunders, who graduated from the Royal College of Art in 2017, made her London show debut in June 2018 with a collection of soft men's clothes.
In The Pedestrian, Saunders teamed with the London artist-writer-director Akinola Davies Jr., who spent his formative years in the culture of Nigeria and England as opposed to her West Indian heritage, to create a film with eight different men dressing in Saunder's spring collection. Inspired by black ballroom dressings that transgressed more rigid notions of black masculinity. Saunder extended this idea she had executed for her spring 2021 presentation in London this past September based on the Dutch conceptual photographer artist Hans Eijkelboom's 1978 work 'The Ideal Man'.
What is an identity or multifaceted identity, and to an extent, how can this identity be expressed in fashion has been a central tenet of Saunder's work.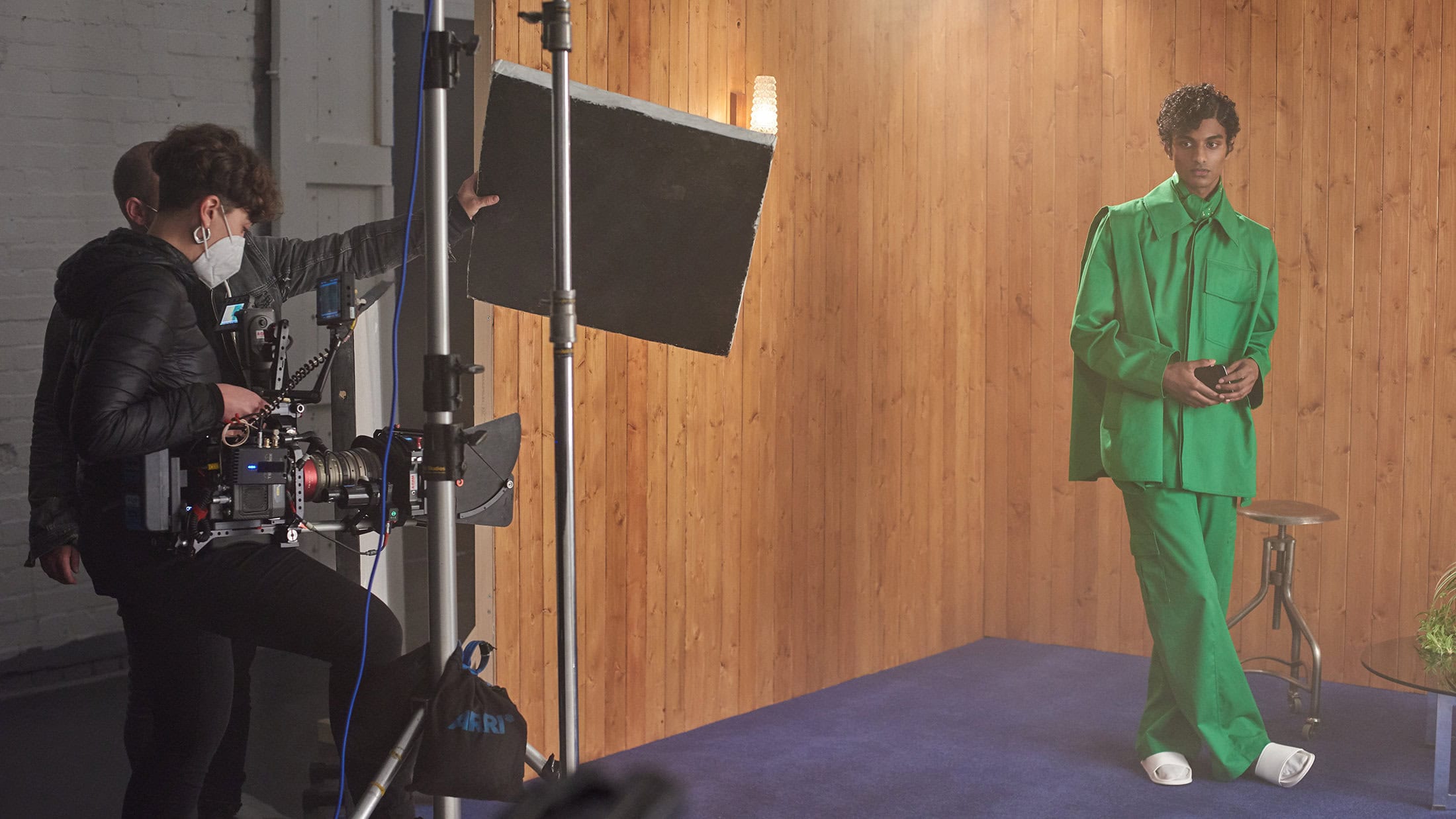 This film featured her colorful and nicely tailored men's clothes will elevate her process of making fashion into a permanent aspect of identity rather than just a passing moment. "Three words to describe me: fun, spontaneous, and pretty" one of the subjects said, sitting on a stool wearing a black leather blouson and black leather pants. "I mean, I know this is generic, but like, I think I am a funny guy, to certain people," said another guy wearing Saunder's new tailored high shoulder flare silhouette shirt-jacket and matching slim pants. "I am not really sure about that one," said a curly haired guy in a brown denim blouson suit.
MOWALOLA
Lagos born Mowalola Ogunlesi was raised in a fashion-oriented family. Her Scottish grandmother moved to Nigerian to launch a local fashion brand and moved to London in her early teenage years to attend Catholic boarding school in Surrey. While attending Central Saint Martins BA in Fashion, Ogunlesi introduced a small men's collection, 'Psychedelic', taking after the looks of 1970s Nigerian rock bands that formed her 2017 BA show base. Ogunlesi dropped out of the MA Fashion program after a year and began working for Grace Wales Bonner, who taught her about creating a story for her fashion, not just clothes. That meant incorporating her Nigerian and London youth culture into her ethos.
In January 2019, she showed her first time at London Fashion Week under the sponsorship of Fashion East with a genderless collection of crafty leather jackets with cut outs, straight-leg leather pants, and mini skirt. Now, Ogunlesi will be heading the design team for the YZY Gap partnership to debut in early 2021.
In the animated film, Drip City or Labe Omi as the displayed title onscreen made together with David Killingsworth, Ogunlesi borrowed from the thrills of gaming matches to question the validity of reality. In a skid that started on a distant shoreline and some kind of crash that the two entities walked into the water and somehow ended being transported via a time machine to some kind of valley rock palace. There wasn't much of a display of clothes save for the broad black shoulder cropped leather jacket with a pink M inside a circle logo and a pair of black leather micro short or the yellow and purple leather best and leather pants that the main characters had on. Gaming has just opened its doors to fashion; thus maybe soon, fashion will invade these games just like the movies.
---