---
Reviews of Molly Goddard, Jordanluca, Bethany Williams, Robyn Lynch, Richard Malone, 16Arlington, Art School, & Qasimi Spring 2021 Fashion Shows
Onward and Upward
BY LONG NGUYEN
Overnight all the major London newspaper covers features the same cover tag line – PM warns Britain to prepare for a second wave. Sadiq Khan, the mayor of London, said it is increasingly likely for a second lockdown in London due to the rapid spread in the capital area. The London fashion week is continuing amidst the darkening clouds of further government restrictions due to the recent exponential spike in the pandemic potential second wave. This puts more pressure on LFW to shine especially in the arena of spawning new ideas from the crop of energetic young designers.
But fashion is a narrative of hope and of transformation: it is all of these stories of individual designers who had only their visions however twisted those views may be, visions that they rely on for to change their lives and for bringing forth the joys of others who can wear their clothes.
After a decidedly slow start in its opening day, LFW looked brighter today with a lineup of designers with more substantive presentations and of designers with great expectations for sprouting plenty of wonderful new ideas as well as masterful executions of their collections.
Recycling, upcycling, sustainability, and gender fluidity are not just buzzwords here but for many seasons now they are the core missions of these brands that are not yet household names but are leading the fashion industry to a new state of consciousness.
BETHANY WILLIAMS
In her MA graduation show at the London College of Fashion in the Fashion Design Technology Menswear area in 2016, the Isle of Man native Bettany Williams collaborated with the supermarket giants Tesco and the Vauxhall Food Bank to make a total recycle collection named 'Breadline' to highlight the hidden problems of the hunger crisis in the U.K.
A recycled patchwork denim hooded parka or a denim pullover with red stitching embroideries paired with multi washed loose denim pants all culled from nine pairs of old jeans and a sweater re-sown from six different worn sweaters from that graduate show anchored Williams community-based fashion, from design to production that revolves and involves local organizations to foster innovations in fashion design that connect directly with social and environmental issues facing global society. Fashion involves many industries from agriculture and life stocks in yarns production to industrial manufacturing to transportation and all the related waste and pollution.
Williams spring collection is a close collaboration with the Magpie Project, an charity organization 'supporting mums and under-fives in temporary accommodations in Newham' to decrease the potential damage of homelessness to children, where she worked directly with the families involved in the project that includes using the children's drawing into prints and patterns of the textiles used in the clothes. The photographer Ruth Ossai shot a film title 'All My Children' where five different families posed in front of the Magpie's office wearing the spring garments and the playwright Eno Mfon wrote a poem as a soundtrack.
In front of a hand-painted a front yard of red brick and blooming roses by the artist Melissa Kitty Jarram, the families smiled and posed proudly with their kids – one mother wore an ecru cotton shirt-jacket and pants carrying a small child in a striped red and blue anorak, one mother in a colorful print side buttoned jacket and matching skirt held her infant wrapped in the same print blanket while her older son stood smiling in a matching print pullover and shorts, and two young mothers one in a blueprint blouson and shorts and the other in a white cotton sweater and shorts with ribbon trims.
Williams' ways of making these clothes can be seen in the blue print coat made from the kid's drawings coupled with recycled Adidas logo bands and in an ecru knit cardigan made from old sweaters. White vivid print pants and blouson, the white and navy denim jackets with fabric patches, a navy pinstriped vest and matching pants, or red print cotton zippered jacket with three stripes sleeves are other highlights of Williams spring selection.
"Our future lives in their imaginations until they can build it, until their mouths can be filled with words of their own …they say it takes a village to raise a child and I say we are that village," the female voice recited the Mfon poem.
A young boy in white sweats happily playing with a young girl in a white cotton print flare dress with their school lunch boxes next to them isn't a typical moment for a film on fashion but here it is one of the most memorable images of how fashion can bring a community together in ways that aren't predictable.
In this respect with 'All My Children', Williams accomplished much more with her societal undertaking than making a spring collection and a spring collection video.
RICHARD MALONE
This recent pandemic lockdown period has been a difficult period for everyone but each person experiences the isolation and the lack of physical contact differently and in a different manner.
For the 29 years old Wexford born Irish designer and 2014 Central Saint Martins graduate Richard Malone, being alone meant spending his days in London in what he called 'rigorous comfort', trying to conceive what his spring collection should be or as he imagined that "idea of clothes rendered entirely abstract, clothing as props, within a life reimagined. A moment in fashion history reference-less but for our extraordinary shared experience of 'now'." The designer who launched his line for fall 2015 also had time to read among them Iain Reid's I'm Thinking of Ending Things and Doiream Ní Ghríofa's A Ghost in the Throat, both works dealt with the contortion and curvature of time, books that seemed appropriate considering the circumstances.
Using any resources that were available to him at the time like Irish linens and an array of left overs from past seasons like velvets that he rewashed and re-dyed in his own bath tube, Malone created the new clothes around the notions of armor – "Solace is sought in an armory of gorgeous, weighty, almost upholstered, substantial evening wear. Clothes you want to climb into, to run away in. Borderline hysterical, high drama for an appointed with no one."
No surrendering was Malone's solutions to make as opulent a spring collection as he could by embracing and exaggerating his signature elements of dramatic drapery, rounded shoulders and hyperextended proportions with the materials he had on hand, materials he specially selected from bamboo yarns to econyl to old upcycling fabrics. Malone clearly knows that for his clients the value of his clothes is not just in the artistic design of the garment but just as important it is in the how and what they are made.
Instead of simplify during the bad times, Malone defiantly chose the drama.
Drama in Malone's hands meant olive cotton jacket with high raise shoulder, red crushed velvet cropped pagoda shoulder pantsuit, mustard gold crinkled velvet off-shoulder gown with side-folding panels, matador boleros with shrug shoulders and long column dress, and ice blue velvet strapless corset micro dress with short attached tails. Like the eye of the hurricane, in the midst of all the opulent and exaggerated velvet structured dresses was the beauty of the simple a gold tunic paired with short flared pants suit.
'Rehearsal' the video presentation of the collection showed three women in these outfits performing dance moves while no one was watching. It shows Malone's spirit of resilient and resistance.
JORDANLUCA
Jordan Bowen and Luca Marcheto formed Jordanluca in 2017 to combine counter-culture and craftsmanship working to create a different type of menswear clothes that subverted the traditional notions of male dressing with a newer vision to reflect the nonconforming but authentic spirit of youths today or youths in London. "Reflecting on a period where true craftsmanship is in danger of disappearing, we worked with our friends and partners and London community of seamstresses, pattern cutters, and highly skilled creators to support local and global community,' said of the duo's mission on their Instagram.
Filmed inside a Laundromat with the loud noises of the washing and drying machines running at full speed and a blowing fan perching on top of an out-of-order washer, 'Going Nowhere' showed the designers sense of the confinement – a model in bed gazing upward – and how they worked in a small team to hand made a black shirt with a cut flower to make this spring collection. But this artsy directed video with a voice-over reading perhaps lines from poetry unrelated to the moving images is perhaps also a commentary on the waste that the fashion industry produced with the opening scene in the Laundromat and the designer's goals towards a carbon-neutral and sustainable in their manufacturing.
The plot is straight forward – a model laid resting on a white bench next to a stack of yellow washing machines wearing a black blouson with yellow floral collar and sleeve cuffs, black pants side open side leg buttoning, and black leather sandals. Next to him is an old computer showing images of people performing different acts like tooth brushing, putting on socks, Zooming, and to the designers working on the collection in particular in cutting an ecru shirt with metal decorated collar. In between the juxtapositions of moving image shots of an insert screen image of a guy outside soaking the sun's ray on the green grass in a white splash paint patter coat, the same model changed into different outfits from a cross over brown-gray double-breasted jacket with green mustard mock neck sweater and a black shirt and pants with floral embossed print collages.
The mixture of images of industrial washing, sunshine, and green grass focused the duo's concern over the fashion industry's impact on the ongoing climate crisis. The yellow flowers on the patch sewn onto the bottom of the jeans and the flowers on the print short sleeves shirt are as beautiful as flowers in nature or as flowers on the garments.
Bowen and Marcheto seemed to have approached this collection with a lighter hand with less design heavy-handedness than last season. These soft silhouettes looked friendly and appealing. Except perhaps for the black and white corset shirt cut across at the chest with the sleeve attached to the rest of the shirt's body and held up suspenders.
When they started to conceive their spring project at home where they had to confront the duality between their preferred aesthetic of maximalism against the new mood brought on by the pandemic, their entire world had collapsed – "the very idea of evening wear – their heartland – has been rendered abstract."
ART SCHOOL
The fashion and art criticism graduate Eden Loweth and Tom Barratt started Art School in 2017 as a genderless label to redefine what is gendered ready to wear using fashion as a platform to explore contemporary queerness. Their first LFW men's presentation for fall 2017 saw a collaboration with their friends on a performance-based showing with the theatrical Theo Adams Company.
"I want to personally thank Tom for being an intrinsic part of Art School for the past four years. I am eternally grateful for everything you have contributed creatively and professionally to the work we've done together including the incubation of this collection," Loweth wrote on the brand's Instagram to announce that she remained the sole creative since this past August.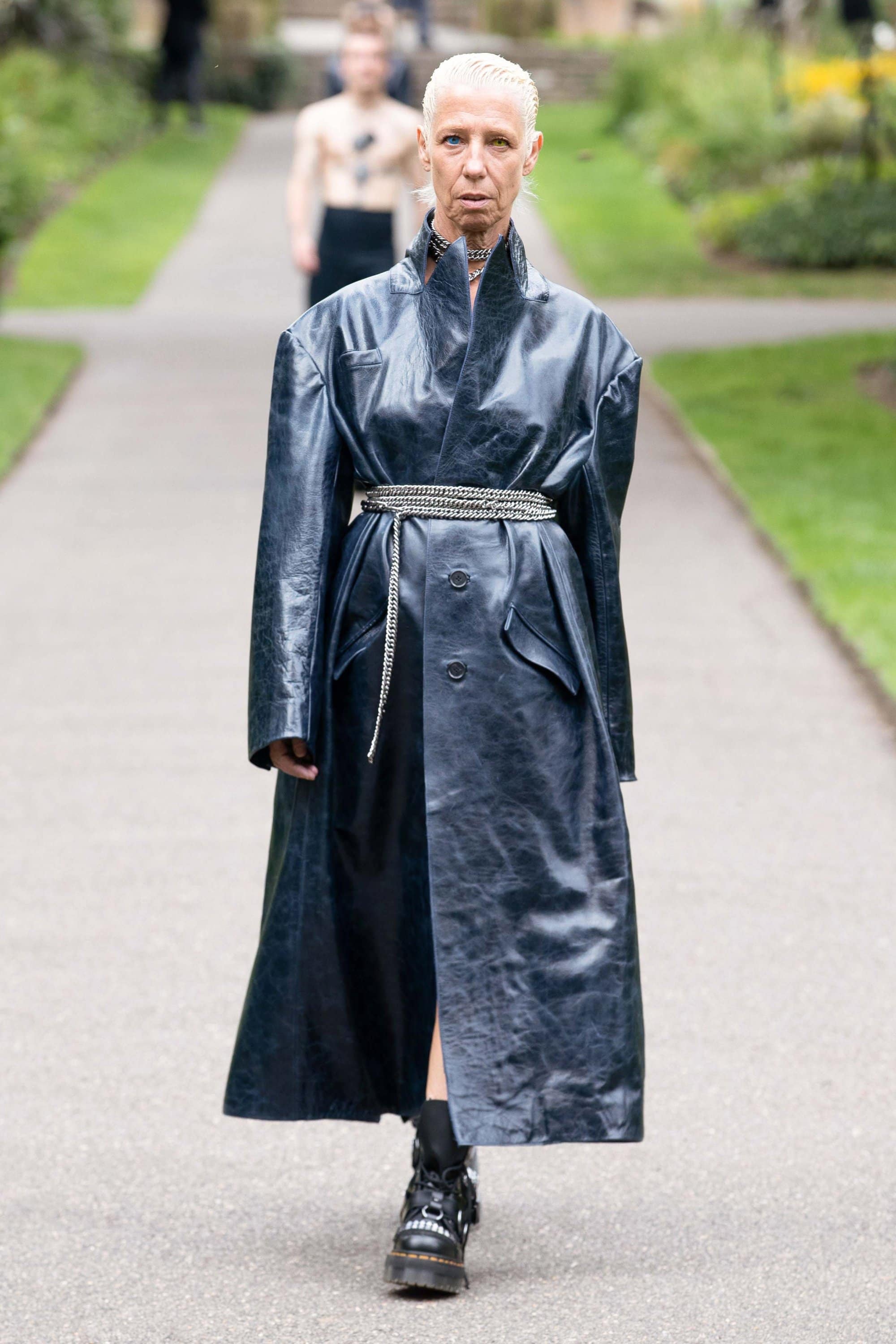 'Therapy' the live stream presentation of a catwalk in the park Navy featured an old woman in aleather oversize slouch shoulder coat with silver wrap belt, a naked torso guy in a high waist wool pants and ornaments necklace, a male model in a navy oversized jacket and asymmetrical short dress, another male in a black double breasted coat and olive khaki long dress, and a male in a micro leather black skirt.
Loweth showed a lot of good clothes in slightly oversize proportions – great cut tailored high waist pants, nice jacket constructions with a great range outerwear pieces like a sliced olive coats and jackets with metallic decorations to leather coats.
Today it is not at all a shock or even a surprise to see at least in fashion presentations guys wearing tailored boxy jackets and long silk skirts or a cotton coat with an accompanying dress. Genderless is more of a given now for the fashion cognoscenti set but perhaps it's a notion that's still a bit foreign to the general public at large.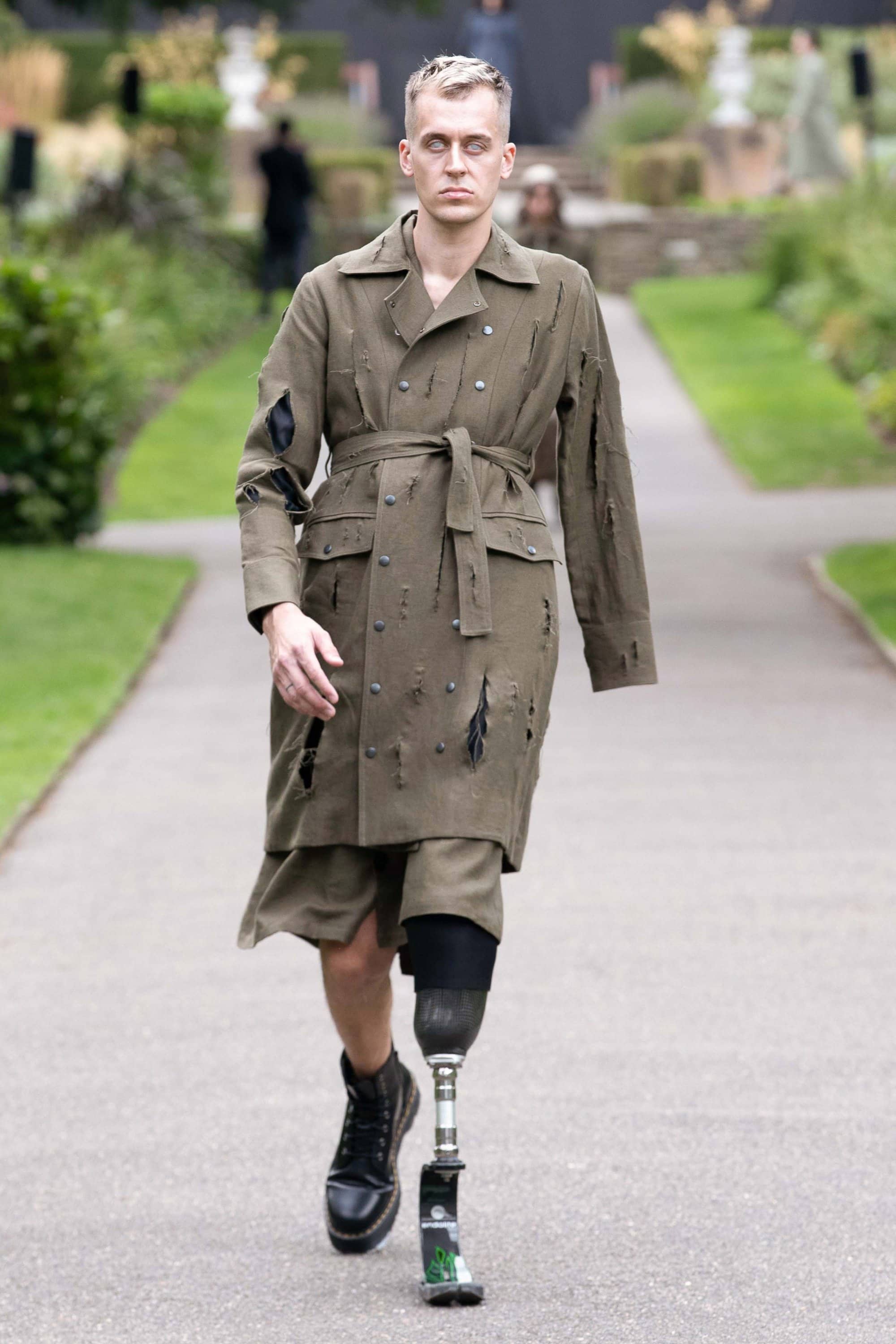 It is though great to see a young brand offering such a deep range of clothes from a merchandising side that should bode well for this collection at retail and e-commerce sites.
The 55 looks live stream show itself out in the countryside was a far better means to show the collection than any artsy film could. It is as the subtitle of the streaming said – A Message of Hope.
QASIMI
Qasimi is a London brand with the mission of creating a multicultural fashion collection with a Middle Eastern heritage started in 2008 by Khalid al-Qasimi, an Emirati royal, with the idea of forging a dialogue through clothes and has presented at LFW since 2017. Khalid's twin sister Hoor al-Qasimi took over the creative direction of the brand two months following his death in July 2019.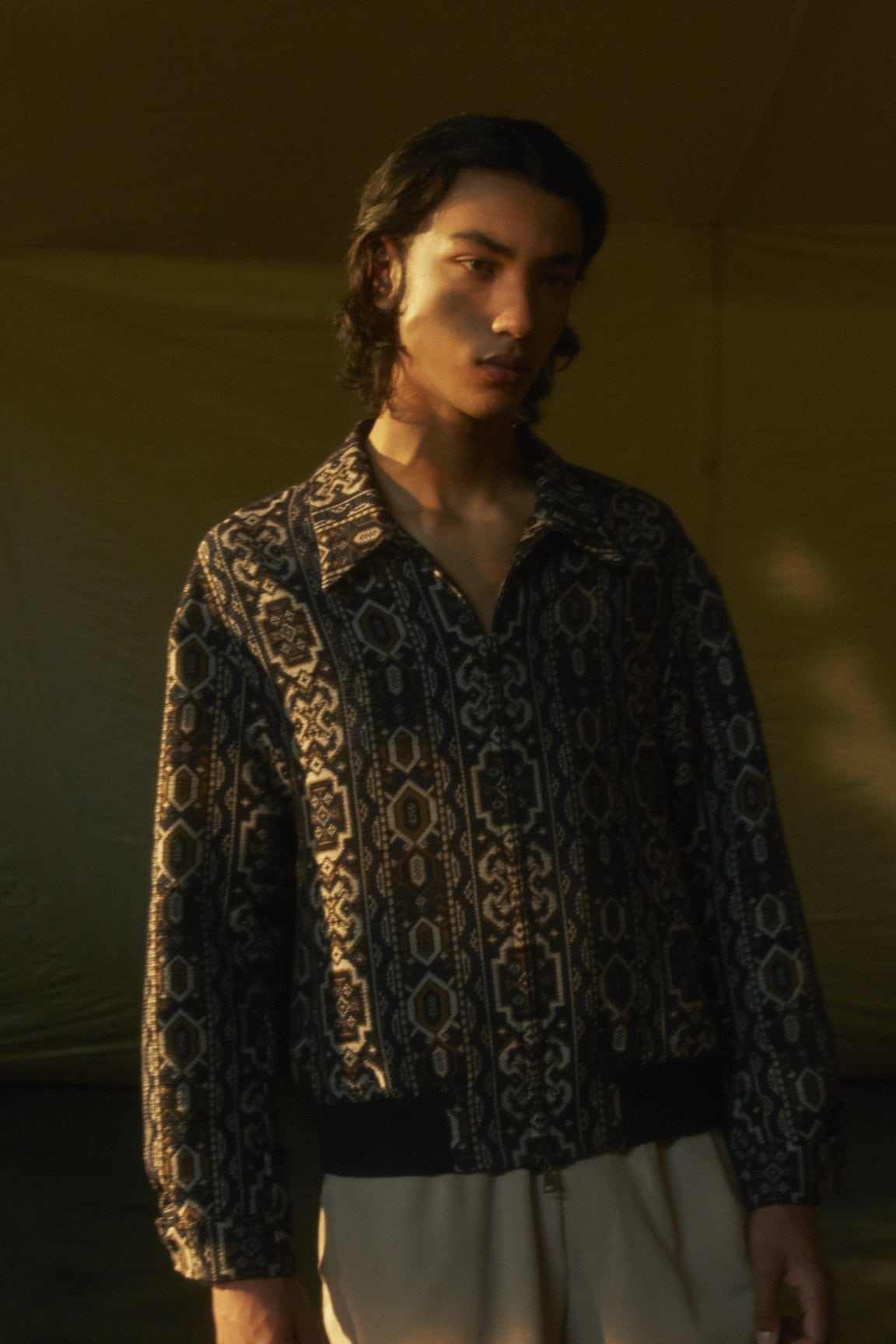 For her creative debut, Hoor al-Qasimi fuses art and traditional craft references from incorporating the black American artist Nari Ward whose 2018 work We the People are now inscribed on print in Arabic on biker jackets, hoodies, and shirts to the Al Sadu weaving tradition of geometric patterns and symbols, handwoven by the Bedouin people mainly used in carpets, mats and tents now rendered in various jacquards jackets. Some of the textiles come from the sub-Sahara regions with both Islamic and West African influences. The UAE based hip hop artist Freek created the spoken word soundtrack in both English and Arabic for the video display of the collection of loose silhouettes clothes in muted earth tones that now includes similar offerings of womenswear.
The clothes are fine and commercial, as it is to be expected. But it is good to see the brand moving forward with a continued emphasis on its founding mission of uniting cultures through clothes.
MOLLY GODDARD
Molly Goddard specializes in manipulating fabric especially inexpensive materials in masterful and innovative ways that transformed the staid say colorful tulles into enormous and utterly beautifully crafted gowns, some very sizable dresses that have landed the designer her own signature look just less than five years since her unofficial launch in 2014.
Trained and studied at Central Saint Martin, Molly Goddard altered the proportions of children dresses into weird and unrecognizable shapes for her BA thesis show, the kind of voluminous garments that had since became a common silhouette like the vivid aqua blue tiered ruffle dress in her fall 2017 showing. The Net-A-Porter site which has been selling her collection for several seasons describes her garments as 'fairytale-inspired frothy tulle gowns and silk smocks have a rebellious feel, similar to the 50s sheaths and proms dresses that were repurposed in the punk era.'
Careful construction using techniques such as hand-smocking and shirring and controlled volume and shape allowed the clothes the dexterity and the audacity of haute couture garments but easily wearable and destined for young consumers. Individual models took turns to walk on a white platform inside a studio wearing a red tulle bubble skirt and green square pattern jacket, red wool flare dress with a pink ruched underskirt, a light yellow strapless multi-layered wave fold gown, or even a black tulle short dress for Goddard live streaming spring show. The clothes shared the airy and free feel atmosphere of the open white studio space with sunlight peeking through the large glass windows.
The show felt lighter in spirit in the ways a ruffle salmon loose dress of a white cotton long sleeve dress flowed on the models' bodies – the clothes didn't feel constrict or even as costumes as in Goddard previous runway outings. A floral painted denim and red tulle cape top fitted well into this ease mood. But looking closer at the clothes, it is hard to miss the details such as the extremely fine pleating of salmon rayon chiffon into vertical patterns of a long dress or the red rayon lining fabrics sewn together to create a 3D patterns of a vest.
A new mood for the new times but the Goddard's signature was omnipresent.
Marques'almeida
The London based design duo Marta Marques and Paulo Almeida, both graduates of Central Saint Martin Fashion MA presented a new project called See Through which is according to the designers a 'periodical publication edited by M'A dedicated to the makers, processes and values that advocate to a more transparent fashion industry.'
Accordingly, M'A has chosen as its first collaborator the dancer André Cabral who in a brief video showed him entered a studio and performed a dance piece wearing washed jeans and a colorful print stretch long sleeve tee-shirt. In addition, the duo also debuts the M'A Environmental and Social Responsibility Manifesto that will provide a guide to their own sustainability efforts and practices. In lieu of presenting actual clothes, M'A just presents their new ethos and sensibility.
It was pure joy to see a brief dance performance and not to have to worry about clothes.
ROBYN LYNCH
The Dublin designer and 2018 graduate from Menswear MA at the University of Westminster, Robyn Lynch spent time in her childhood on the island of Inis Oirr with a very small population west of Galway in the North Atlantic Ocean where life remained more or less unchangeable over the years and clothing as well. Lynch's Irish heritage and identity isn't just a matter of nationality but also a matter of fashion where her references to Ireland become a source of her creativity. Her presentation video featured old footage around Dublin of her father showing him trying to get her a sewing machine.
"When you can't get to Ireland bring Ireland to you" was Lynch's idea of using blown-up photographs by Taz Darling as a backdrop to shoot the models outside standing as Darling's pictures of the Tour de Ireland in 2008 inspired this collection of cycling hybrids clothes with an introduction to her first womenswear that was cut lean in shapes reflecting the prevailing sport elements. The men's clothes featured hybrids of orange knit and nylon sleeves, green zipped upcycling short sleeve cardigan and shorts, and olive wool Aran sweaters and olive nylon blouson. The cycling jacket with mixed patches of Irish Donegal knit was representative of Lynch's modern tech and old Irish mixture.
The new women garments include long floor-length nylon skirt paired with a fitted stretch tank with logos of the Baldoyle Industrial Estate located in Dublin printed on the fabrics.
"I've always worn the pieces I've made, so I wanted to expand the wardrobe and make womenswear for the first time. It's exciting to explore my language in this new way, with the same point of view, the same humour and sensibility."

Robyn Lynch, on her first women's pieces
"My studio team limited down to 1 person this season to follow COVID guidelines with space but we managed to make this collection come together," Lynch said on her Instagram of how she worked through the months of lockdown to make the collection.
In future seasons, Lynch needs to enlarge her product range but having a strong point of view and design aesthetic as her launch pad is a good place to depart on her fashion journey.
16ARLINGTON
True glamour is, arguably, so innate that it can easily be shrugged off, slipped out of, for a moment. What happens when a young fashion house, typified by out-and-out maximalism – arguably the only London label proposing it is forced to consider 'easy'" the 16Arlington design duo Marco Capaldo and Federica Cavenati asked themselves when they started to conceive this spring project at home where they had to confront the duality between their preferred aesthetic of maximalism against the new mood brought on by the pandemic. In a word, their entire world had collapsed – "the very idea of evening wear – their heartland – has been rendered abstract."
As their world collapsed, the real-life design couple settled in with the 'satiny-slouch' of bias-cut satin top and leather pleats large pants, yellow and fuschia satin bias cut long dress, brown leather long dress, and daywear brown slim jacket pantsuits. The pair crafted a black leather lace-up corset jacket to voice their frustrations in a garment over the restrictions imposed from without.
Their film presentation opened with a model pouring water over her face wearing a nude color leather jacket followed by one in a black crochet corset top and a brown-gray bubble glass crystal micro dress. The water felt like tears shedding for a lost world.
Even in acknowledging that the pandemic will change fashion and their brand forever, Capaldo and Cavenati remained optimistic about the future – "the drama and the disco will return."
Let's all hope that is the case. Let's also hope the live fashion show will return soon too.
The Long View
Perhaps the best presentation of the day belonged to Stephen Jones who personally narrated a one minute film titled 'Analogue Fairydust' starring Noonoouri and showcased a few of Jones' new well marvelous creations to say the least.
It is futile to describe the film – it is a must-see. Enjoy and as Jones said '… And may all your hatty dreams come true.'
---