---
High Tech and Low Definition
BY LONG NGUYEN
NYFW has officially entered the digital era on its opening spring day.
Runway360, the central platform from the CFDA, has for the first time allow all brands big and small to upload their visual presentations allowing for smoother interactions. Technically it is s giant step forward. No matter how the format of fashion week will evolve, the digital component will be a bigger and bigger part of fashion regardless of the affinities towards physical shows. One of the most helpful features at Runway360 is the possibility of looking at each look with a specific detailed description of fabrics.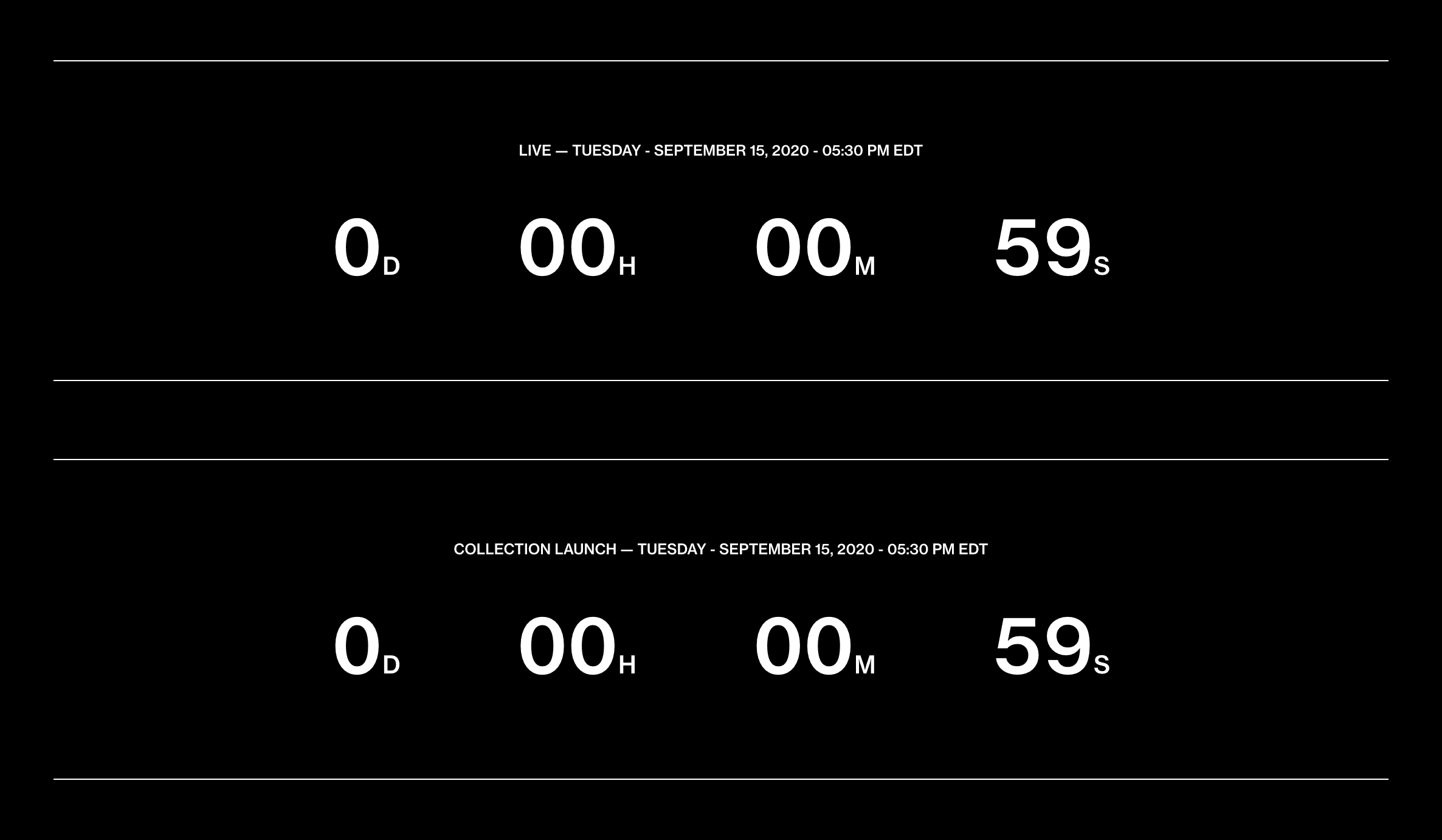 Sure there is no doubt that there isn't a better way to show clothes than live physical shows in the old ways. I was thinking about this old/new dichotomy that is still in heated debates as I was waiting for several presentations to go 'live'. Against a black backdrop of the Runway360 platform, the exact moment when this 'live' action will happen is measure by a precision clock marking the days, hours, minutes, and second to takeoff. It is perhaps this level of exactness that is what is disturbing about these digital shows. Fashion shows encompass the haphazardness, the anticipation, the wait, the gossip, the chatter and finally the darkened light and boom – the show starts. You can't really feel any of these sentiments while the clock winds down to zero.
The digital takes the 'human' out of the physical fashion show and out of fashion.
ANNA SUI
Anna Sui has a great passion for fashion.
"I was drawn to the depression ear watercolors of Charles Burchfield, his scenes of nature, and to the French Impressionist painter Berthe Morisot. I thought of clothes with homespun feel – comfortable dresses with eyelet lace and trims, old t-shirt reimagined with tie-dye, and other beautiful homemade things such as quilts like the one I saw in the 1966 Czechoslovakian movie 'Daisies'; aprons with ric rac, and embroidered tea towels from the 1930s," says Anna Sui of her spring Heartland collection with a small video of four models filmed posing against a hand-painted backdrop depicting a pastel-painted dollhouse by Sarah Oliphant whose company has worked with Sui on shows for decades.
"The Heartland collection is full of what we need now – comfortable, locally made, versatile pieces without a lot of fuss: flowy apron-inspired pinafore dress, quilted jackets, shorts, negligee maxi dresses, bucket hats, and embellish sweatshirt," Sui said of the print dress with matching cardigan coat, the long floral button dress, the black sleeveless jacket and loose pants with trim embroideries or the white lace square neck lounge dress. The designer decorated the Teva sandals adding details like white flowers to accentuate this comfortable all-year-round footwear. In an era of high tech, there is something extraordinary about this shift of attention to more handicrafts.
Sui is attentive to the evolving values the new generation placed on not just fashion but on society-wide emphasis on sustainability. The production and fabrication of the clothes maintain the old to new emphasis with the tie-dyed t-shirts made from deadstock supplies by Riverside Tool and Dye, the eyewear is made from recycled plastic from previous eyewear from the company Fellow Earthlings for Mondottica, and the crochet handbag is made from recycled tee-shirt knit fabrics by Birdie Purl – a sure sign of support for other small independent artisans.
Sui's ingenuity is to capture that feeling and mood in the air and translate the pop culture, the underground subculture, and even the high arts and imbue these sentiments into her fashion basics. Yet with all the seasonal inspirations and changes that allowed for different expressions of the clothes in a new season from the chosen fabrics to the decorations, the base garments of her collections – the flowy dresses, the collar neckline dresses with short cape sleeves, the cropped jacket and knee-length skirt suit, the jackets or cardigans paired with long print dresses – remain quintessentially constant over the years. You can recognize an Anna Sui dress from fall 1995 say to an Anna Sui dress from fall 2020 – the difference is Sui's take on the prevailing cultures of each of these time frames.
There is consistency and there is a novelty and maintaining this delicate balance in the forms of wonderful clothes season after season is one of the most difficult tasks for any designer. I have seen all of Sui's fashion shows since her Spring1995 show. I have noticed over all these years that Sui never got the true credit as a great designer she more than deserved for her advocacy of fashion and for her maintaining an independent business against all odds. It may be ironic that Sui said that the painter Berthe Morisot was one of her principal inspirations this season. Morisot was a major artist of the Impressionist era but she was never earned the same accolades as her friends and contemporaries Claude Monet or Édouard Manet.
KOZABURO
"The juxtaposition of high fashion and street culture has come to define the uniquely poetic and contemporary – yet not temporary – style of Kozaburo," said the statement at the brand e-commerce site in describing the Japanese born Brooklyn based designer Kozaburo Akasaka and in particular his focus on designing timeless classic wardrobe staples with utmost attention to craftsmanship and with details stemming from his aesthetic affinities for the subcultural waves lurking underneath the mainstream pop.
A graduate of the Central Saint Martin College of Art in London, Kozaburo has worked at Thom Browne and also earned a MFA degree at Parsons where his first-year work was part of the spring 2016 VFiles runway show in New York and where his graduate thesis collection was purchased and sold at Dover Street Market.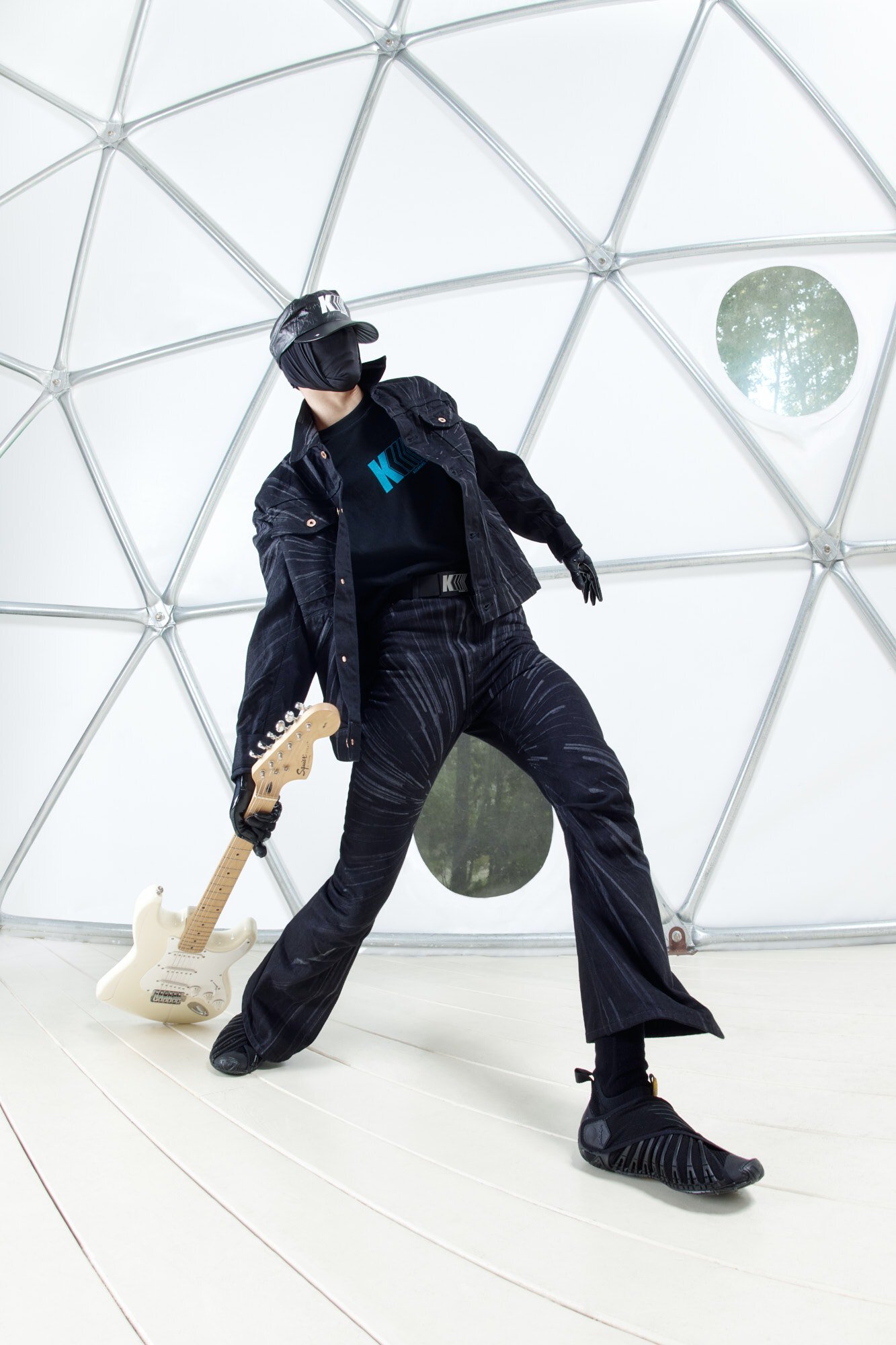 In a video for his spring presentation 'Searching for the Mind', Kozaburo used a 360 degrees viewing format with a camera view of his virtual space/showroom centered at his Brooklyn studio where the process of creation is dissected into the different stages to the finished garments. This turning towards a high tech approach also affected the making of the clothes which this time incorporate more industrial fabrics like Tyvek rather than his traditional materials heavy organic cotton but in the familiar Kozaburo shapes of sharply cut garments paired with various lengths of flare trousers.
An adoption of synthetic fabrics that seemed more apt to this age of survival and for clothes that are easier to care for does not alter the signature cutting and silhouette that Kozaburo has developed in his four years in business. The flare bottom boot cut pants in denim or Tyvek is the foundation of this highly focused collection with ice blue cotton coat, nylon trucker coat, Tyvek blouson, sack fit double-breasted coat, and various sets of hoodies and tee shirts to complement this classic pants of the brand. The navy unlined crew double-breasted one-button jacket with Kintsugi style button closure with 3 outer pockets and matching uniform high waist pants is a great take on this version of the suit but now injected with a more casual feel.
The spring clothes seem lighter and less cumbersome with many design elements encroaching on each other and with less of an imposed aesthetic. Now, these simpler garments speak for themselves.
NIHL
"NIHL is founded by artist and designer Neil Grotzinger, born and raised in Colorado. Grotzinger draws inspiration from dispositions of thought based around the concepts of masculinity and femininity that saturated his Midwestern, suburban upbringing. Utilizing iconic symbols as a tool for subversion, he intends to break down social and societal constructions and reconstruct them in ways that are queer, alternative, and socially empowering," stated the opening page of the brand's website, clearly announcing the brand's manifesto and mission.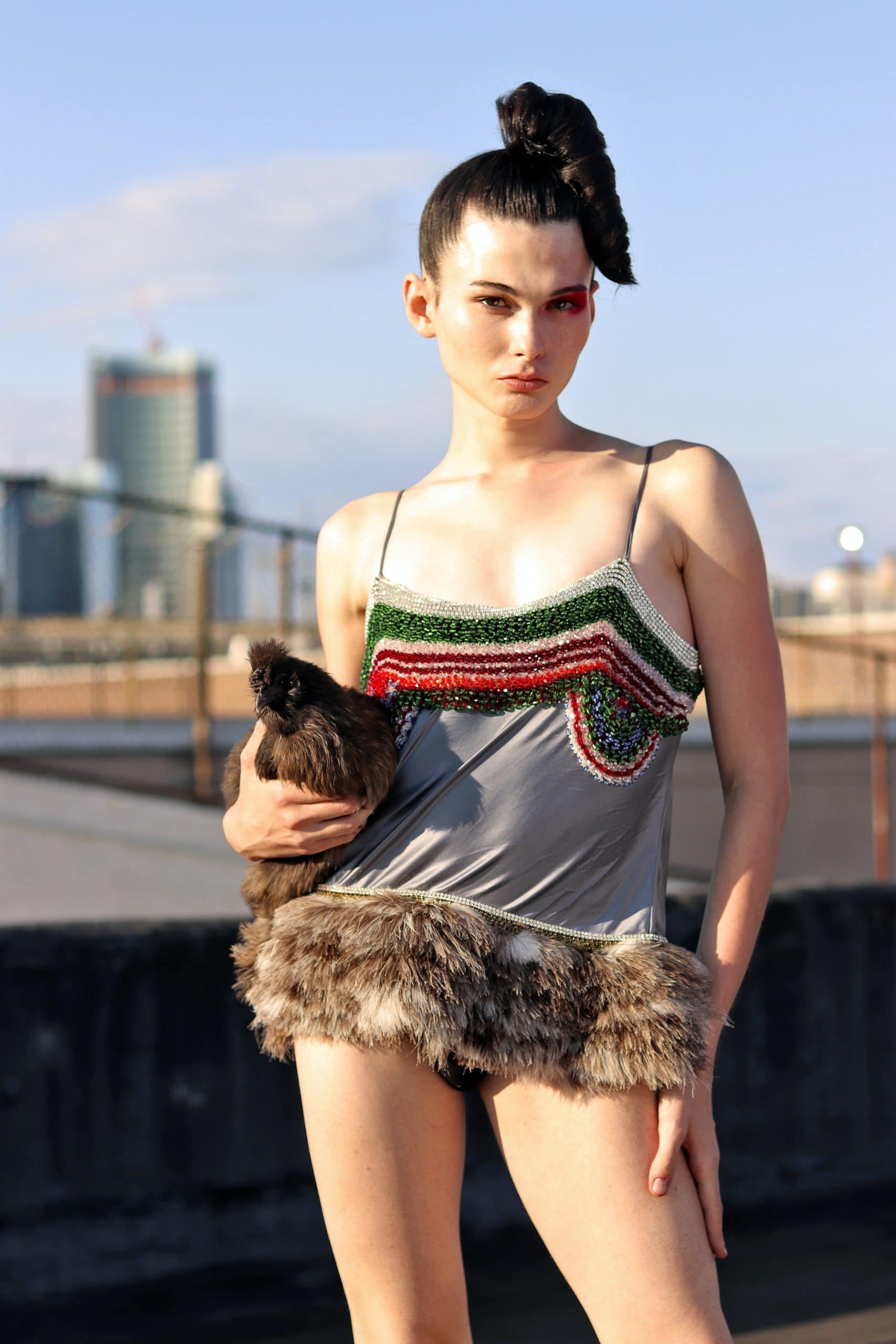 Designer using fashion as a means to reject social/cultural norms isn't new although different designers approach this broad subject of masculinity/femininity in a broader context to change the rigid interpretations and norms and hopefully resetting them with a new understanding. The French designer Jean-Paul Gaultier is one of the first to pose these dilemmas not so in any extreme manner but in an elegant way by deploying his language of fashion and clothes to strike down cultural norms by eliminating the perceived taboos. Gaultier's Spring 1985 'One Wardrobe for Two' show remained one of the most influential fashion show that raised the masculine/feminine issue simply by creating one set of clothes for both sexes thereby erasing the strict division. Recently the Spanish designer Alejandro Gómez Palomo of Palomo Spain has based his brand started in 2015 on the fact that gender is the past and in the now well anything goes as they say. Just look at how many guys doing makeup tutorials on Youtube than there are women and strangely these guys are better at painting their faces.
That said, over the past few seasons, Grotzinger has done the same with his fetish reinterpretations of police uniforms and football jerseys and padded pants by injecting elements of clothing considered feminine in his efforts to update these perennial recognizable and staple garments into objects of fetish admiration rather than realistic and wearable clothes. Well, the clothes that Grotzinger make are surely wearable but they seem to be more abstract ideas and thoughts brought into a pair of pants now deconstructed and embellished.
For spring, working under the title 'Cerberic', Grotzinger focuses more on making interesting pants – a half-black denim/half blue shiny vinyl flare short jeans, black cotton pants with hooks closures, black denim jeans with hook detailing, black denim jeans with severed godet hems on one side, a green vegan leather pant with side front zip, or a partly sheer white spandex crossover strap khaki cotton pant. These are paired with various embroidered and colorful knit bras and corset tops.
Today, challenging the preconceived idea of manhood through clothes is itself a challenge because the environment is now more permissive of diverse expression than say thirty years ago when Gaultier sent out his male models in full makeup and wearing skirt suits
OVERCOAT
There are still designers today who really care about clothing constructions and how the manipulations of these patterns can create new clothes without the need for useless inspirations and non-stop collaborations. It's fashion from the purest forms so to speak distilled from needless vagaries.
The Japanese designer Ryuhei Oomaru is a fashion master technician – someone who looks at say a double jacket and ask what can be done within the realm of shifting patterns to create a new jacket for his own brand Overcoat, based on Canal Street in New York's Chinatown and founded in 2015. A graduate of Bunka Fashion College in Tokyo, Oomary learned the fashion design and business at Comme des Garçons then moved to New York and in 2008 started Oomaru Seisakusho2 as a product development studio working with many houses.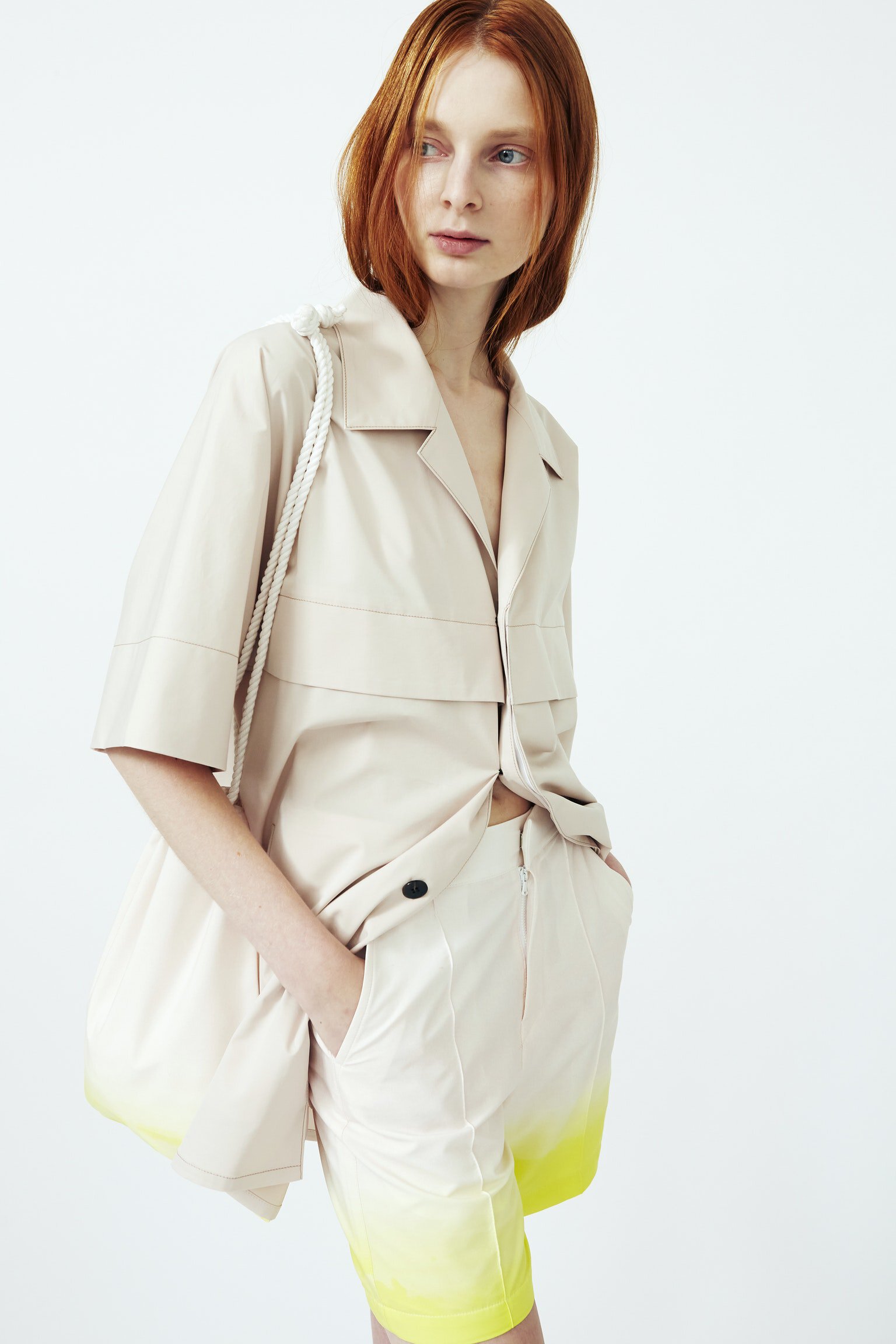 A slice here and a slice there may not mean much to ordinary people but under skilled hands, they can create or eliminate volumes and can alter the way a garment falls on the body. These are the techniques that can create subtle changes in a jacket or in the case of Overcoat, a simple cotton hoodie anorak can be transformed by connecting the front and sleeve to the back seam thereby creating a draping effect of a cape around the shoulder thus making the hoodie looks more elegant and less casual. From the front, the hoodie looks more like an unlined soft blouson.
For spring, Oomaru pays particular attention to the shoulder and in one case he applies the dolman sleeve construction method – a large tuck at the center back that expands and contracts depending on the wearer's shoulder width and slope and one seamless pattern that connects the front, back, and sleeve – so that the coat feel loose as it falls from the top of the shoulder downward. One navy short sleeve jacket in tropical wool has a cape shoulder where the pattern is one continuous rectangular piece that can create a flare volume shape.
Fabrics this season included the subtle multicolor 'Mona Lisa' print multi-color cotton shirt coat made from a matte nylon and cupro fabric done in collaboration with the Peter Miles Studio paired with a rayon tricotine drawstring trouser. Besides the coat, there are tailored shorts with an elasticized waistband in the back for added comfort.
This isn't the kind of loud logo fashion great for a marketing campaign. But more importantly, the idea of innovation and of experimentation without which fashion will be at a standstill.
KENNETH NICHOLSON
In lieu of a spring collection, Kenneth Nicholson directed a short film using his fall 2020 collection that he had shown in January on the corner of Canal Street in Chinatown simply because some of his fall clothes just have completed production and are now available for purchase on e-commerce. Why present another collection when the idea of the fall collection needs a reminder in order to move the inventory that is costly to procure for an independent designer.
Originally from Houston, Nicholson has always been infatuated with fashion that he earned a place on scholarship at the San Francisco Academy of Art University then a stint in the U.S. Navy where he got to travel the world. Nicholson's manifesto rests on altering how the substance of menswear and its constraints by 'evolving historical points of references with empirical applications, with emphasis on superior construction, movement, textures, strong silhouettes, and innovative techniques.' Not someone who operates in theory, Nicholson put his concept in practice – in fact, he has practiced all these ideas years before formulating into these words when he started to make fashion at age 14.
Titled 'From Grandma's Couch' the fall show epitomizes Nicholson process of design where a multifaceted and often unrelated point of references merged into ideas and into clothes. Here carpet fabrics, crochets, curtains, and kitchen aprons became not just more memories from the pasts but recollections of objects, of fabrics, and of shapes that Nicholson now transformed into new clothes – long red cotton flare shirt-coat suit, red corset over white lace short sleeve shirt and denim pants, red long shirt over two-tone denim pants and floral print shirt with red patch pockets and red and white gingham pants. The precision-cut of a broad shoulder two buttons jacket with a slim waist and round large lapel and slim pant showed Nicholson command of tailoring techniques.
The film titled Grasp depicts a young boy walking into an empty church by himself wearing a black suit with a white shirt and tie. Inside he met a young girl wearing a yellow dress who then gave him ice cream when they left. A next scene is a young man waking up in bed, having coffee, and contemplating a blue stone inside a blue velvet box. Then his friend came over wearing the blue floral print shirt with red pocket and purple gingham pants. He then walked out of the house and passing by others – one in an olive suit, one in a corset top, and jeans while another wore a blue tunic and pants. It turns out that the young boy and the young man are the same people.
Nicholson's clothes defy boundaries before they become the founding ideas for his brand.
CLAUDIA LI
In a short and choppy film titled 'Til We Meet Again …', the New York-based designer Claudia Li – who started on her own 4 years ago coming from stints at Brandon Maxwell and JW Anderson and a fine arts background – reminisced the joys she felt when she got married in Hawaii last fall.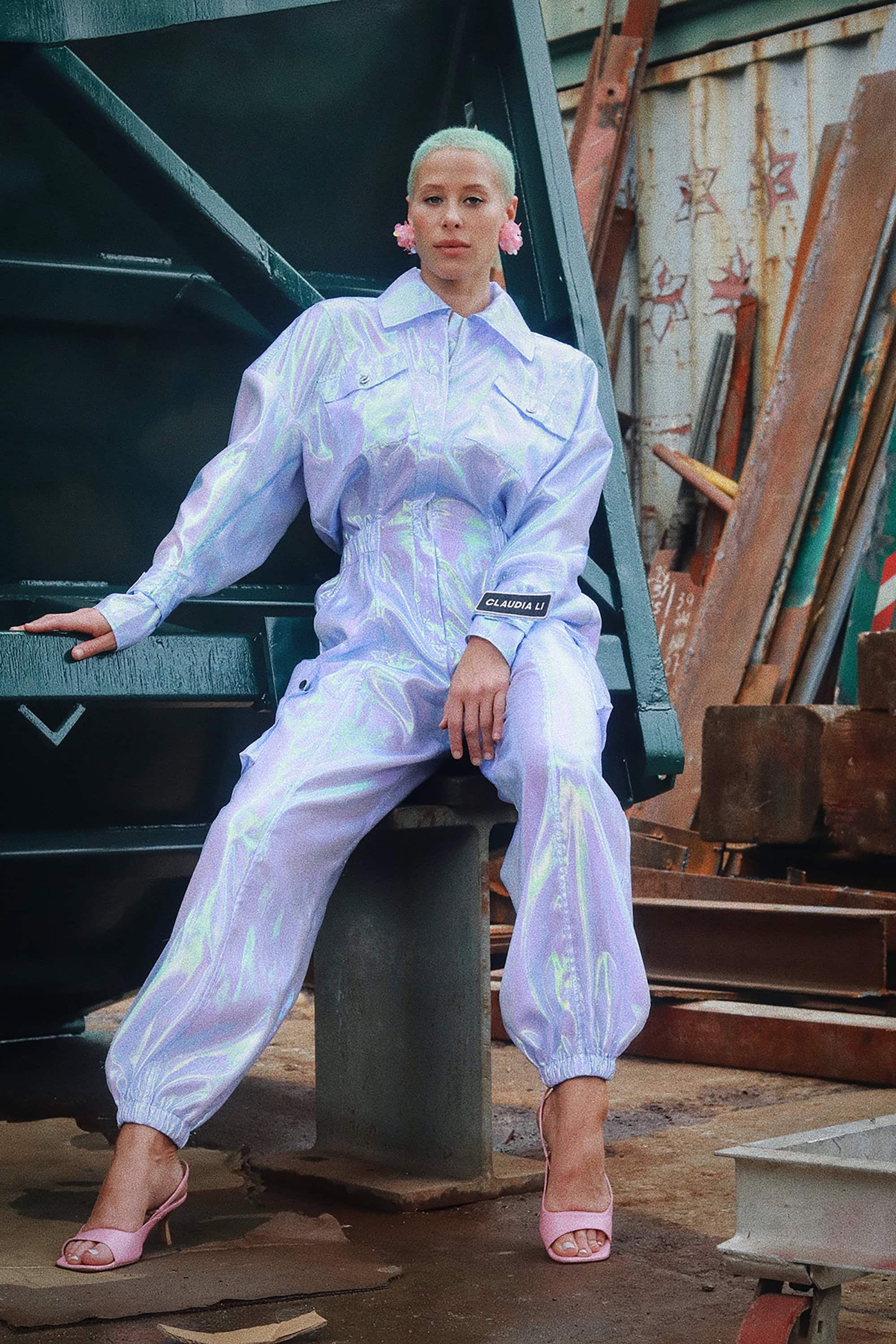 During the lockdown, Li's affinities for those memories, and the happy times became the basis for her spring collection completed under difficult circumstances. Li turned to her own memories of her times in Hawaii and the idea of fantasy and of clothes worn during those festivities as the point of departure for her spring ready to wear done from scratch with her small team in the garment district.
That mood of festivity is carried through the clothes with purple sparling broad shoulder coats and mauve short dresses, in white and orange hibiscus flower tulle dress and matching hooded coat, and in more casual like shirt tracksuit in light purple iridescent fabrics. There's even a purple sequined zippered track-suit just in case it's time to go out again, even to outdoor dining in that white cotton pleated flare sleeve long dress. A small but perhaps this is one of the stronger collections from Li in recent seasons.
VICTOR LI
Victor Li started his fashion career in menswear debuting in 2018 after graduating from Parson Fashion Design and this season as transitioned to genderless clothes but with more of a men's sensibility.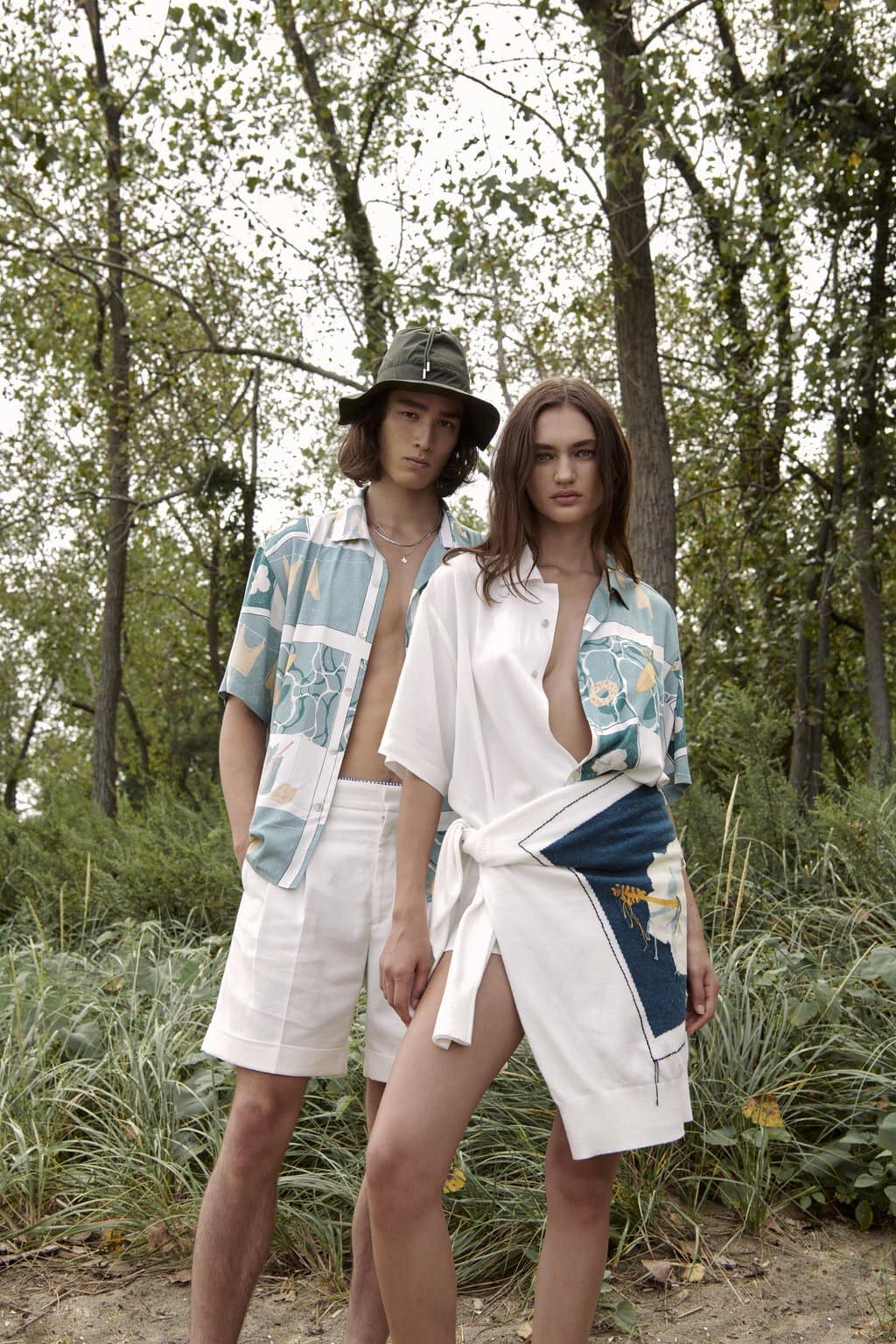 Li focuses his unisex spring collection on more casual wardrobe – print shirts and matching shorts, jackets short suits, denim jumpsuits, large gingham mixed fabrics pants, and shirts – with a video of two models going about their day relaxing at the beach. A light brown single-breasted unlined jacket feels like a soft silk shirt. A white sweatshirt embroidered by Why We Play summed up this summer ease clothes.
It's a good effort at making the brand more commercial which is not a bad thing. Although the clothes have that casual elegance right for the now but they lack any real design elements to distinguish them from what is already available in stores now.
FRÈRE
The film titled Destined that Davidson Petit-Frère is about what appears to be an older executive exiting his Rolls Royce to the blasting sound of old JayZ and walking into a meeting at the Baccarat Hotel about the home renovation that led to some kind of brawl. The video is a bit confusing – it's between a bad music video with a disjointed dialogue and an incomprehensible plotline. The two men at the hotel lobby lounge wore purple and green suits with shirts and ties. It's hard to understand why a hand made tailoring business would want this kind of portraiture at this juncture in time and culture.
Aesthetics presentations aside, the clothes are fine and are what is expected – slim fitted suits in olive, grey, red, and orange, double-breasted tuxedo, mixed print jacket and slim pants, and camel overcoats. The brand is pushing into the women's realm with several straight forward suiting looks.
---