---
Reviews of Tokyo James, Etro, MSGM, & Sunnei
By Long Nguyen
This Milano men's fall 2021 is truly one of the most difficult Italian menswear seasons completely depleted of the kind of shows that in the past sustained this semi-annual event that's fast becoming a non-entity. Besides the Prada men's show, there isn't much of anything else that really matters or any brands that would make a difference. These young designers should move their presentations to Paris rather than staying in Milano next season.
TOKYO JAMES
The Nigerian-British designer Iniye Tokyo James divides his work time between London and Lagos just as his fashion combines the English Saville Row tailoring expertise that he grew up knowing, the unconventional mixtures of style around London's youth neighborhoods, and the traditional African techniques as part and parcel of the young 'global' designer who likes most of his targeted customers live in a truly multicultural world.
Founded in 2015 in Lagos and shown for the first time at the South African Menswear Week, Tokyo James employs tailoring techniques, both English and African, on specialized fabrics and patterns familiar with African textiles to make the kind of clothes that merge different cultures and outlooks on a single jacket – deconstructed or structures – or on a lean long-line shirt. His dual heritage allows for the marriage of diverse traditions and his fashion aesthetics as one of a sartorial nomad engaged in the current events and political-social affairs of the day.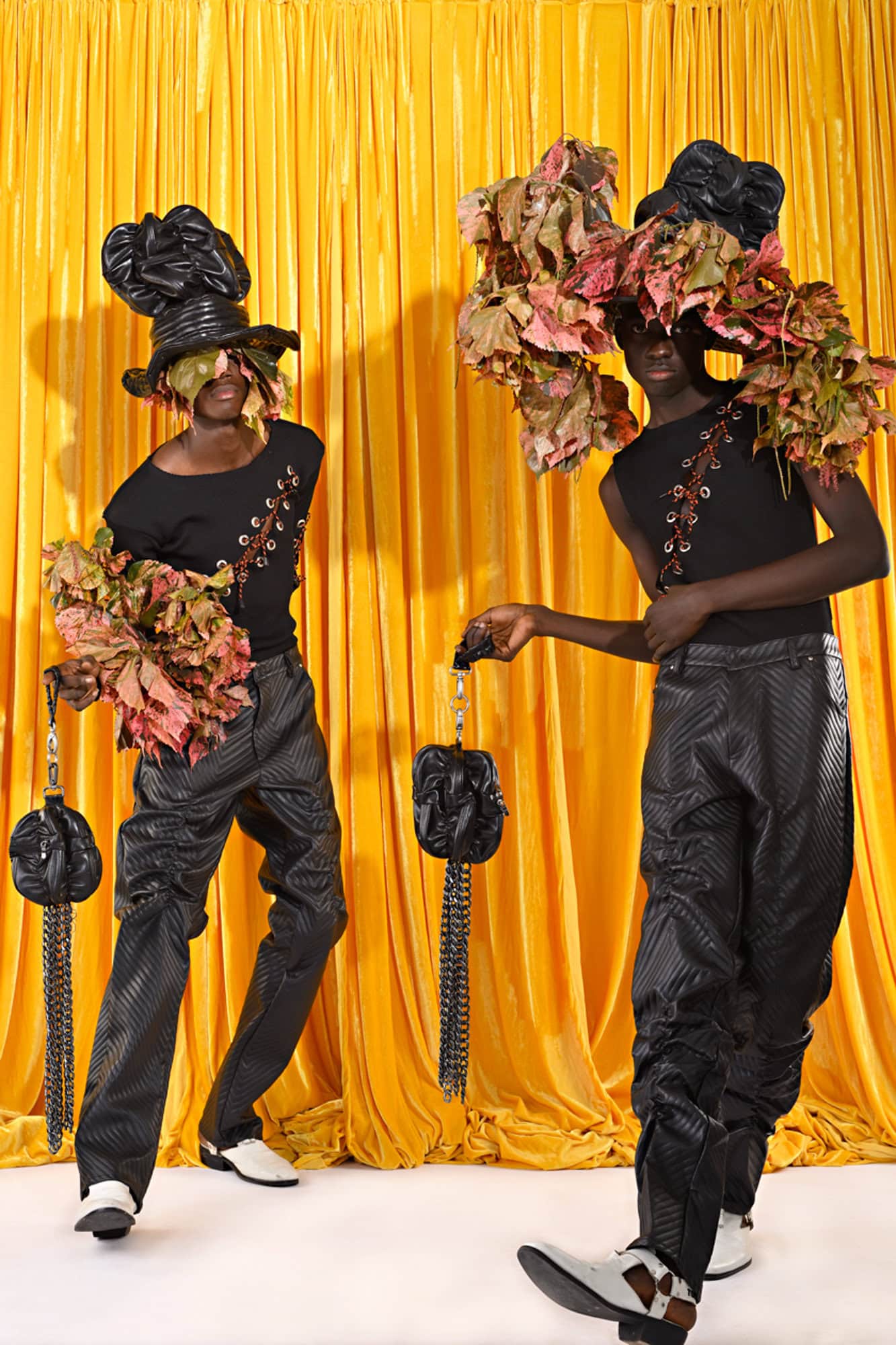 Since Tokyo James debuted at London Fashion Week for Spring 2020, the brand is recognized for its culturally significant clothes that juxtapose hard/soft shapes, print/solid fabrics, and daring embellishments.
In his fall film presentation for the Milano men's fashion week titled Ogidi Okurin or The Strong Man, the designer deepened his Nigerian roots with the references to the Celestial Church – a form of Christianity and the Eyo Masquerade or also known as the Adamu Orisha Play, a Yoruba festival unique to the capital city Lagos – a festival once to welcome a new King and honor the departed sovereign. The film represents the men as Eyo dancers often dressed in white clothes but with the twist of a man holding and nurturing babies rather than women.
The duality of James' English-African culture finds its expression in the deconstructed tailoring with black slim single breast jacket with slice cut strips paired with shiny grey pants with front ruching, or a black jacket with silver chains hanging on the side, or in fitted one button pantsuit in blue cotton raffia fabrics. The thick cotton shiny dotted pattern fabrics give the pantsuit a slice cut out at the front a sense of heft for these tailored outfits. The blue raffia pattern long coat with matching shorts and pants is one of the standouts looks, while a brown pantsuit with a front cut out and tied at the collar seems too complicated and perhaps too much design on one garment.
The different mixtures of materials like a bluish half leather half print cotton blouson and pants and the different outerwear offerings and vest offerings are more or less a take from James' previous collections, now with different fabrics.
At the beginning of the film, a voice-over mentioned 'a celebration of difference within the masculine' perhaps signifies a designer's desire to offer how these differences are expressed through clothes. This idea is only spoken in the film and not really developed in any way in the collection or with the accompanying photographs of the collection. James should revisit this critical theme and inform his audience of these differences within the masculine and how to portray them via his fashion.
ETRO
In a live stream show at a loft space in Milano, Kean Etro, the men's creative director, returned Etro to its roots in the dynamic combination of colorful and textured fabrics with a staple of clothes, more classic clothes, the house has been known for since its founding in 1968, but now worn in a different way for a new mood of joy as expressed in the wide array of mix and match outfits like a bright yellow velvet jacket paired with a light green wool turtleneck and a tan gabardine pants.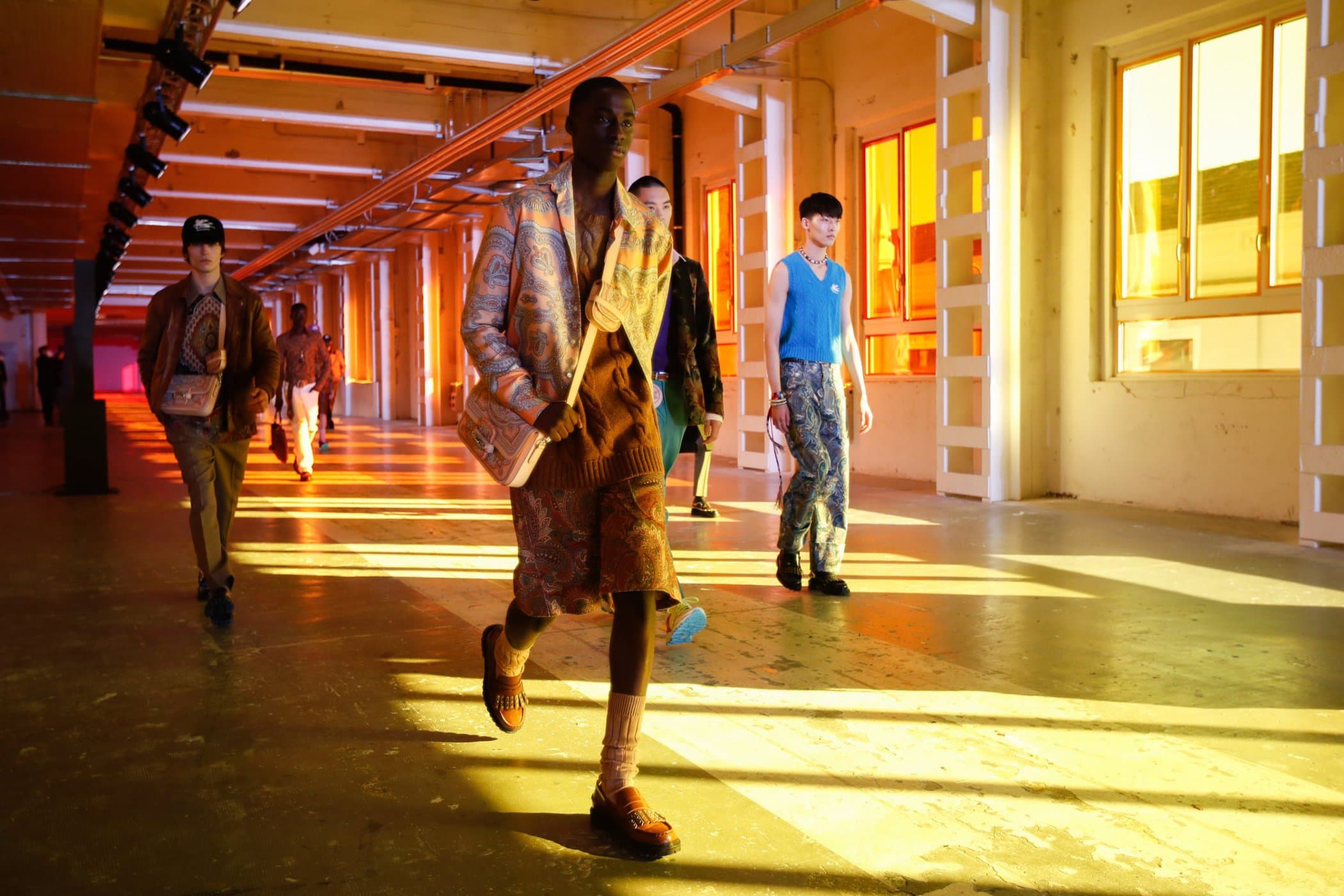 In what is described as a new chapter for the brand, the menswear is shown as a separate collection rather than a combined show with the women's as was in the live show at the Four Seasons in July for Spring 2021. Perhaps this is a nod to a focus on the growing strength of the menswear market and a strategy contrary to many of the Italian brands opting for coed shows, one of the primary reasons for the men's serious depopulation's calendar.
"A sense of freedom runs through the lineup, where established rules are broken to create a fresh, immediate and appealing vocabulary of iconic pieces to mix and match with a grisly approach" is what the house said was the designer's intention with all these fall outfits that are meant for the everyday wear and not destined for special occasions.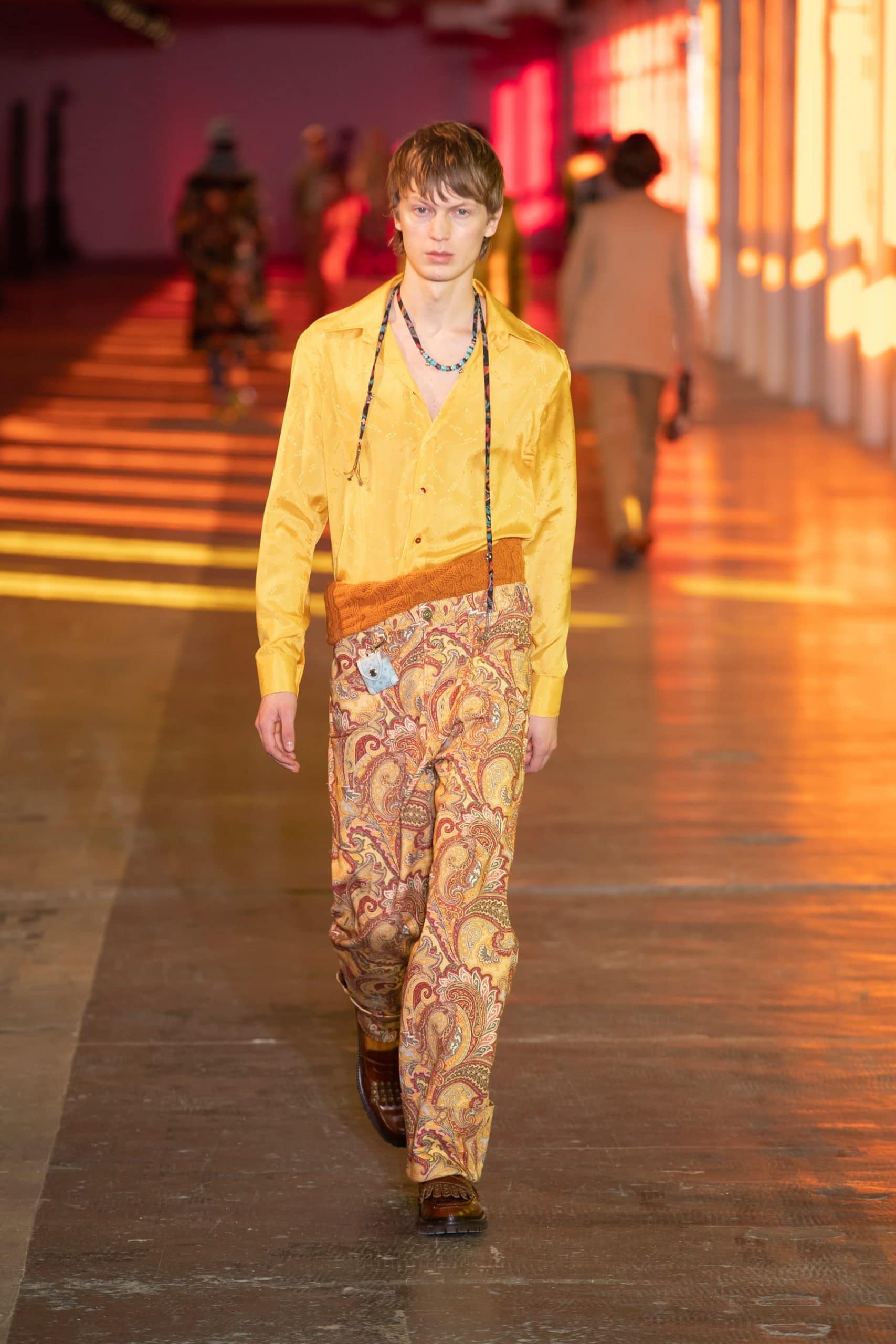 Etro's iconic paisley print and jacquard fabric are ever-present. This time the different versions of this paisley design are seen in brown cotton pants and a yellow knit vest, an olive blouson with a blue hooded sweatshirt and olive pants, or a light silk paisley shirt paired with white pants or as a loose jacket and rust knee-length shorts. Separately or together, as shown, the collection is full of commercial clothes made with the special Etro fabrics that the house developed over these years from the brand's own textile factories and libraries. Bermuda shorts are paired with tailored jackets, anoraks worn with dress pants, and just in case, there is a pair of leopard print pants and a pinkish paisley shirt.
This runway show is like the history of the Etro mix and matches through the different decades with references old and new all gathered together on each of the layered outfits.
MSMG
Rather than the communal festivities in his last two MSGM film presentations, Massimo Giornatti showed a film titled 'Vertigine,' which literally means 'a disorienting sensation that your sense of balance is not good and that your body is out of sync with the surroundings' according to the definition the designer gave.
The film, directed by Lorenzo Gironi, mirrored a faux mountain trek in the snow with eight models walking as if in a live presentation inside a large studio in the new fall colorful fall clothes, very down to earth rather than anything high concept clothes, with an electronic soundtrack by Nico Vascellari and Ninos du Brasil. However, the clothes aren't high tech mountain climbing clothes but rather the kinds of clothes for an après ski gatherings such as print vests and black pants, yellow rain outerwear and black long shorts, colorful print hooded jackets and black pants, or an orange plaid shirt-short 'suit' with a black overcoat.
These are just the kind of clothes that these 'regular' guys would wear during the winter season, perhaps substituting the shorts with long pants or maybe add a pair of thermals.
A camel fuzzy shirt-jacket and matching pants or a Saint Moritz print white bowling shirt and white patchwork pants are other feel-good looks made for these stressful times. New are the laser distressed denim jackets and denim pants.
"These are fast, unpredictable times. So turbulent they make people dizzy, like the shivers that paralyze and electrify people on the edge of sheer drops from great heights," said the brand about what the 'Vertigine' film means. Sure it a tough time out there; however, you don't need a snowstorm to wear these MSMG clothes.
SUNNEI
Simone Rizzo and Loris Messina continue with the Canvas concept they launched last July with a Macarena dance with avatars that the designers created wearing blank canvas clothes that the retail partners can then special orders into specific products within the given choices of colors and fabrics in a way that each retail order represent a unique choice of products in the real world. In a world that supposedly praised the value of sustainability, here is a brand new concept for fashion that has never been tried beforehand. There were no pre-made Sunnei samples to look at to make a selection in a physical showroom.
Now, Rizzo and Messina have fine-tuned the technology and offer the platform as a never-ending video game that's really a bit more than just fun and game but also business. In the new video game, all the avatars are wearing all white clothes – coats, blousons, large baggy pants, tunic dress, etc. For the designers, gaming is the anchor of entertainment and luxury in this coming decade. The avatar I chose wore a charcoal tunic, grey hooded sweatshirt, short pants, a yellow, white diamond pattern down coat, and a green high top sneaker. The feel of the 3D characters has surely improved now as the characters and the clothes are more lively and vivid than last July and the characters are surely more interesting. There are also 'clothes' for your dog. My avatar got buried at the end with a mountain of junk stuff falling from above – bags, jewelry, shoes, cheeseburgers – perhaps as a punishment of some kind.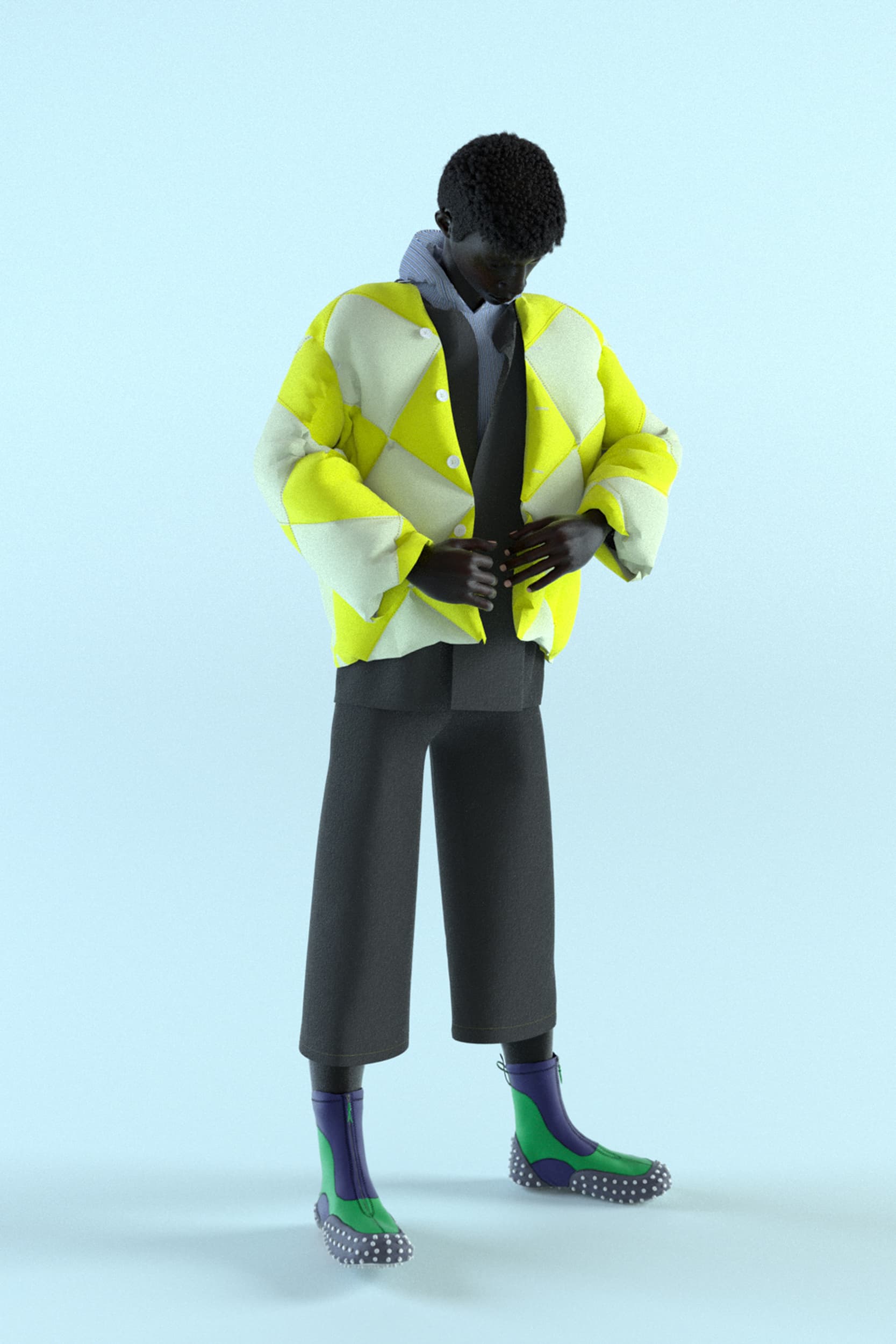 The new assortment of clothes from Rizzo and Messina as shown in a particular colorway in there are the sort of gamut of products belonging to their design territory – long cardigan coat, flare cargo pants, tunic coat, long tee shirts, or large oversize long shorts. The dog wears black and white stripes as suggested, but the buyer can choose other fabrics.
It will take a few more seasons for consumers and retailers to become familiar with this new gaming format and the Canvas concept proposition. That Rizzo and Messina continue to beef up the technology and facilitate users' access to demonstrate their own commitment to this platform. Technology is a part of the fashion language now, and there isn't any way backward.
---