---
The Day the Glamour Ended
BY LONG NGUYEN
In any normal season before now, this day would have special meaning for fashion and for American fashion. At six PM sharp at the Park Avenue Armory, Marc Jacobs would show his new collection about exactly on time but in precisely the unexpected ways that make fashion such a wonder at times when here and there designers would catch us by surprise and entice our complete abandonment to their clothes and stage craft that may transported us to fashion wonderland. Well in any case, an exuberance experience to remember forever.
TOM FORD
Last September the last time the designer showed in New York, Ford took us to beneath the subway stop in the Lower East Side and served dim sum next door prior to our communion underground. With just the abandoned subway platforms and two single rows on each side placed near the edge of the concrete walkway that's just barely enough spotlight to highlight each models' exit, Ford gave us his powerful command of sex and glamour through the clothes and the attitudes of the men and women models, a sensibility almost from another era and perhaps a little foreign to our normal lives, and regardless of anyone's assessment of the clothes – like or hate – the audience surrendered most willingly. Oh and not to forget that the woody and floral smell down in the subway was actually from the new fragrance Métallique, a new perfume for last fall season. Six months later his show in LA was a full-on montage of glamour unseen in recent seasons.
Now in a different environment and a different tempo that is setting the mood for the collection, Ford presented his spring men's and women's separately as he had done separate shows in the past. "At that time, the thought of designing a collection seemed frivolous when so many important and disturbing things were happening in our world. Our stores were all closed and fashion itself just seemed like an extravagance. It was hard to focus, to concentrate, and to be inspired," Ford said as he began to start to think about what to do when all his stores, offices, factories, and sample studio remained closed.
"After all when no one can go out of their house, who needs new clothes? If you can't go to the office, why do you need a new suit? If there is not a dinner or a party to go to, why would you need a new dress? And heels seemed absurd altogether. I mean why would one walk around their apartment in a new pair of heels or sit and homeschool their kids in a pair of jeweled platforms? I felt that honestly fashion should simply go into hibernation for a year," Ford continued asking about the purpose of making fashion at all. But as things began to open up slightly, there was hope.
At a moment of real uncertainty in America and around the world, Ford offered this meditative message rather than one of opulence. Knowing how to read the temperature on a thermometer correctly and timed what the fashion should be to correspond to the current times is certainly an acumen and a skill of its own.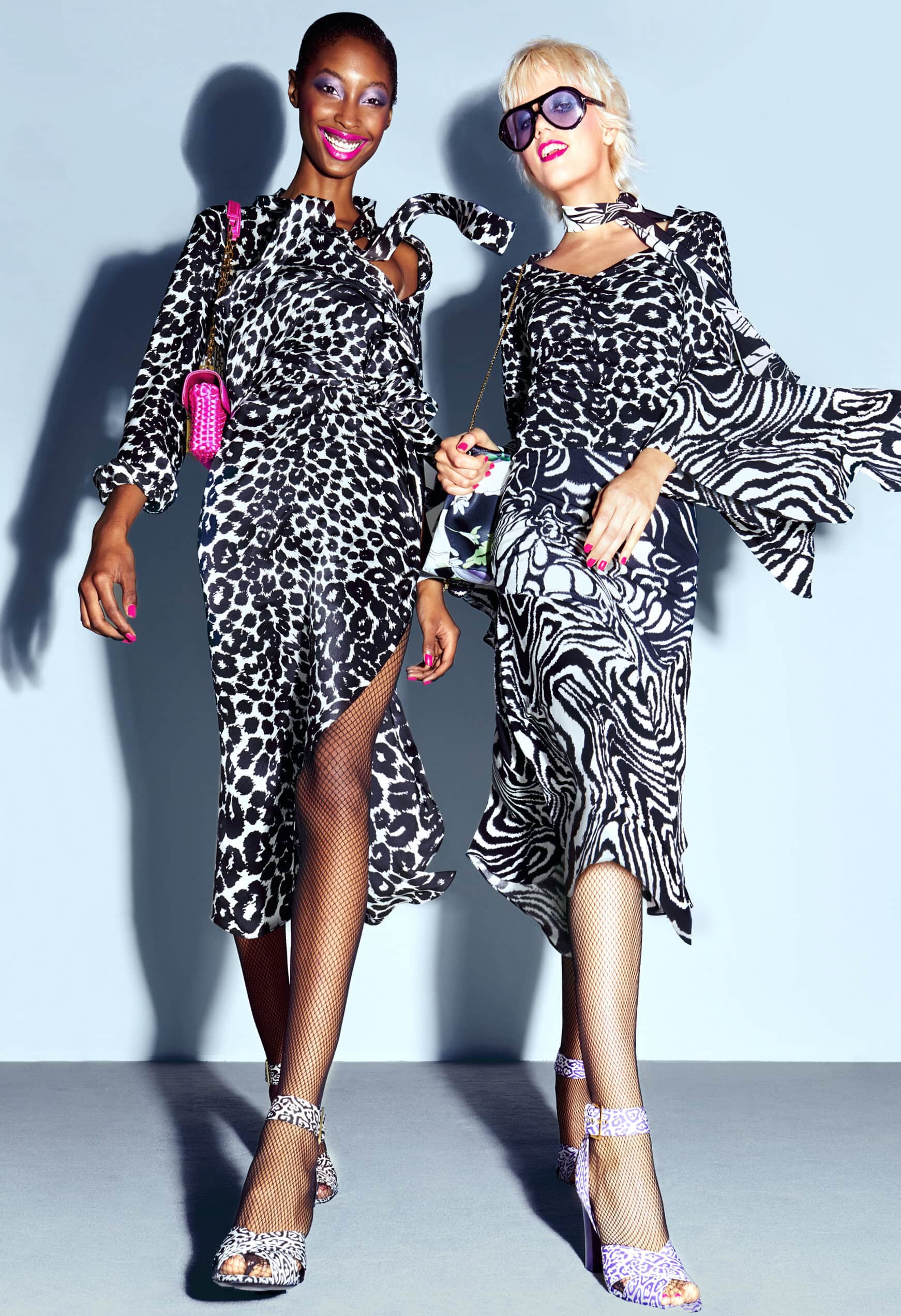 "A still casual world but one where I actually felt like making a bit of an effort to get dressed and I noticed that our guests seemed to feel that way too. Caftans [yes, I live in LA] or simple dresses and flat shoes but at least it was a start. Men too, seemed to want to put on a clean shirt, a nicely cut pair of pants and to actually wash their hair. There was a light at the end of the tunnel. Or at least an imaginary light: the hope of a happier time to come. That is what this collection is for me: the hope of a happier time. Still a somewhat casual moment as it relates to fashion but at a time in which we need clothes that make us smile. Clothes that make us feel good," he said of the new spring clothes that included most of his sexy and skinny fitted signature clothes over the years done in in zebra fabrics, leopard prints and a range of very vivid colors floral prints for jacket, knee length dress and off course those fabulous caftans and easy evening gowns.
But on the whole, this women spring collection felt a little bit a remade of the mid 1990s in particular the blue silk shirt unbuttoned with slight flare matching pants and a black belt – a look from his Gucci fall 1995 collection that Madonna had worn to that year MTV Awards show in New York. Ford mentioned his inspiration of the 1970's era and the model Pat Cleveland and the fashion illustrator Antonio Lopez. That's clear from the attitude and hair and makeup of the photo drop.
However, I can't think of any men who would not want to wear Tom Ford. Tailoring has always been a Ford forte – in fact, his first menswear collection launched for fall 2008 has always been about strict tailoring not just for suiting but also for the sportswear clothes: an ice blue quilted hooded leather biker jacket or the light pink perforated leather blouson fits like a glove on anybody and both the light pink linen suit with drawstring pants and the brown large lapel silk wool single-breasted relax fit is simply the perfect spring suit. The silhouette was slim at the waist with a cropped floral jacket and straight-leg floral pants. Sure the floral motif prints worked better in the men's clothes than their women's counterparts in green or pink. It is never easy to make a guy looked sensual and sexy in clothes without being overt.
Ford's men collection feels languorous and slick.
Surely these clothes deserved to be on the runway where they could live another life more than a photograph as Ford knows how to woo and convince his audience even if they doubt him. Today we are light years away from that moment in the Fall 2018 show at the Park Avenue Armory where a model wore a Swarovski beaded sweatshirt emblazoned with the Tom Ford Beverly Hills logo. Times have changed but the clothes less so.
WHO DECIDES WAR
Everard Best aka Ev Bravado officially launched his renamed 5 years old brand Ev Bravado as Who Decides War with presentations in Paris in 2019. This time the designer opted for a short film titled 'A Still Small Voice' with close friends wearing the spring collection.
The short film was more prominent for its mood rather than for any kind of storyline except for a couple of models wearing mainly different iterations of ripped jeans and oversize tops like a green torn ponchos as they walked and hung out in and about a castle fortress and the surrounding woods by the lake with bird chirpings. A voice can be heard reading poetry with verses like 'What does it really mean to say what you mean' spoken by the rapper Joey Bada$$. But maybe that was the whole point as best put it in his own words –
We chose the castle because of its grandness, its serenity … and open the conversation of royalty and black youth.
Amidst the trees in the calm forest, the models wore a lot of intentionally torn clothes like a blue wool coat with geometric cutouts in the back and a variety of torn denim jeans albeit nicely embroidered with red or orange beads. Torn and distressed aside, the jeans are embroidered, layered, embroidered, and treated with couture workmanship and by hand – light blue wash denim with purple threads and mounted photo prints, patchwork denim with printed letterings paired with a long tee-shirt and asymmetrical trim cut wool cardigan, light blue bleached denim embroidered with sun figures paired with oversized deep v-neck knit sweater, and a patchwork denim jumpsuit worn with a denim shirt shredded into hanging band fringes.
These special denim pieces are the signature work of the brand but the selection of the knits and shirts with their own tweaks like the reworked dark olive military coat with sown on embroideries should also become regular staples.
Handmade clothes with careful attention to specific details with the idea of sustainability in mind are becoming a lesson in production and consumption. The focus at Who Decide War isn't on quantity but in offering specific garments that will be sought after prizes in a very crowded space where it is hard to distinguish the differences in the product from luxury houses.
In this current setting, Best can surely build a small monopoly around his brand but he has to keep it small and of course special. Overproduction is also overkill.
KHAITE
At last season Khaite show in Brooklyn in a setting with trees and gold leaves, the designer Catherine Holstein cemented her status as the new success of an independent fashion brand that managed to gain business footings among the major retailers like Bergdorf Goodman and e-commerce site like Ssense, Matches Fashion and My Theresa as well as earnings accolades among the fashion crowd for her pared-down and no-nonsense but luxurious clothes.
Khaite should be on the list as one of the strongest New York shows this September but unfortunately, Holstein, a firm believer in live fashion shows, has to settle for a short film in lieu of what could have been for her another blockbuster which is rare since her designs aren't considered as trendy or avant-garde or any of those kinds of classifications.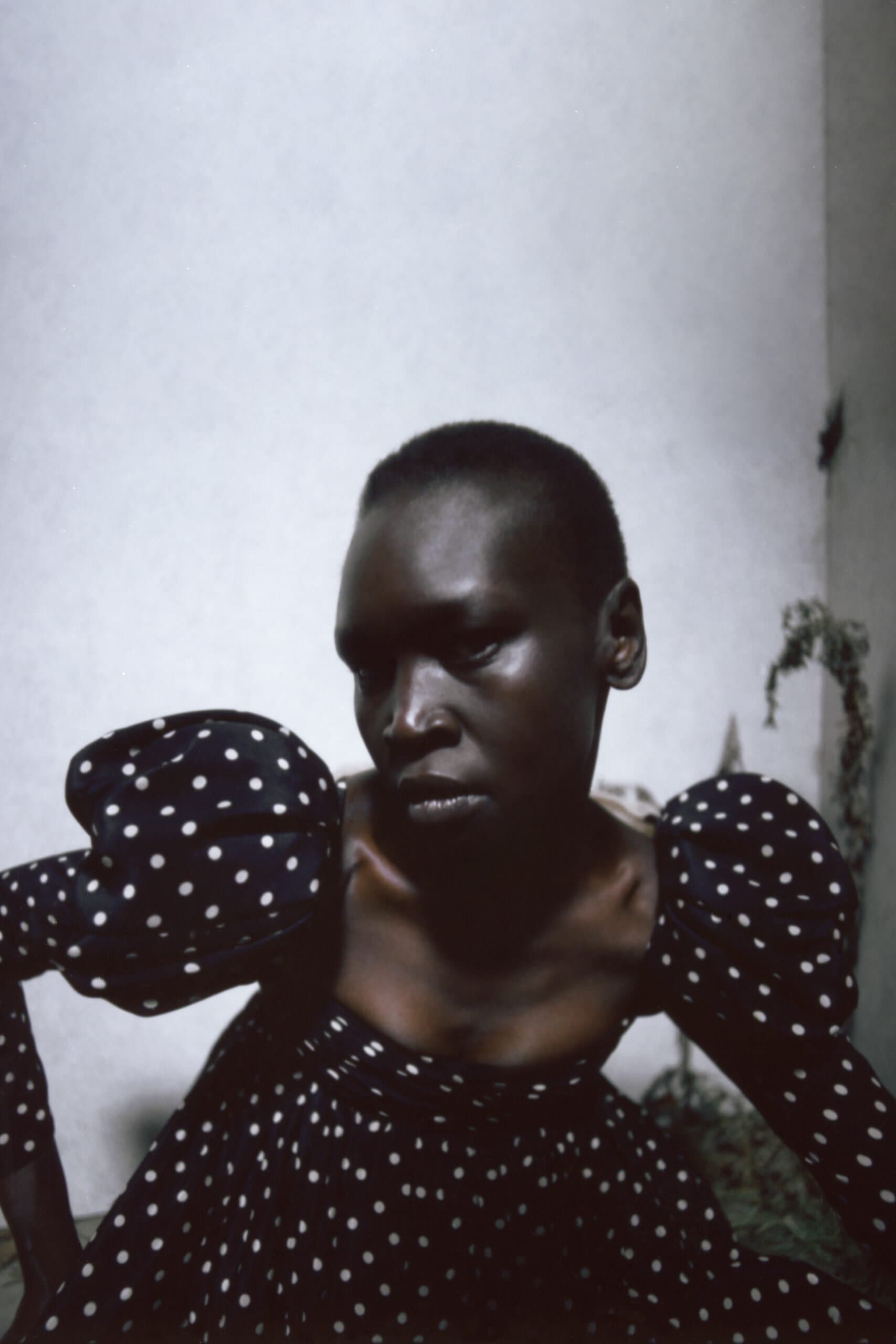 The short film is a hybrid between a mock-up showroom buyers appointment setting where models wore different clothes by request from a particular store and a photoshoot session with a camera close up of the garments. Irina Shayk opened the sequence wearing a white long dress with a curved boat neckline and a brown leather bag followed by closeup shots of Alex Wek in a black corset strappy long dress and white sandals as she posed against a corner of a concrete wall and then it was Abby Champion's turn in white oversize jacket with puff short skirt. These and all the other garments are shown like the long double-breasted tailored jacket and coat in black and white, the white ruched square neck long dress with side slit, or the black boat neck long flare dresses belted at the neck are quintessentially Khaite – the kind of clothes women can just slip into effortlessly and with little fuss.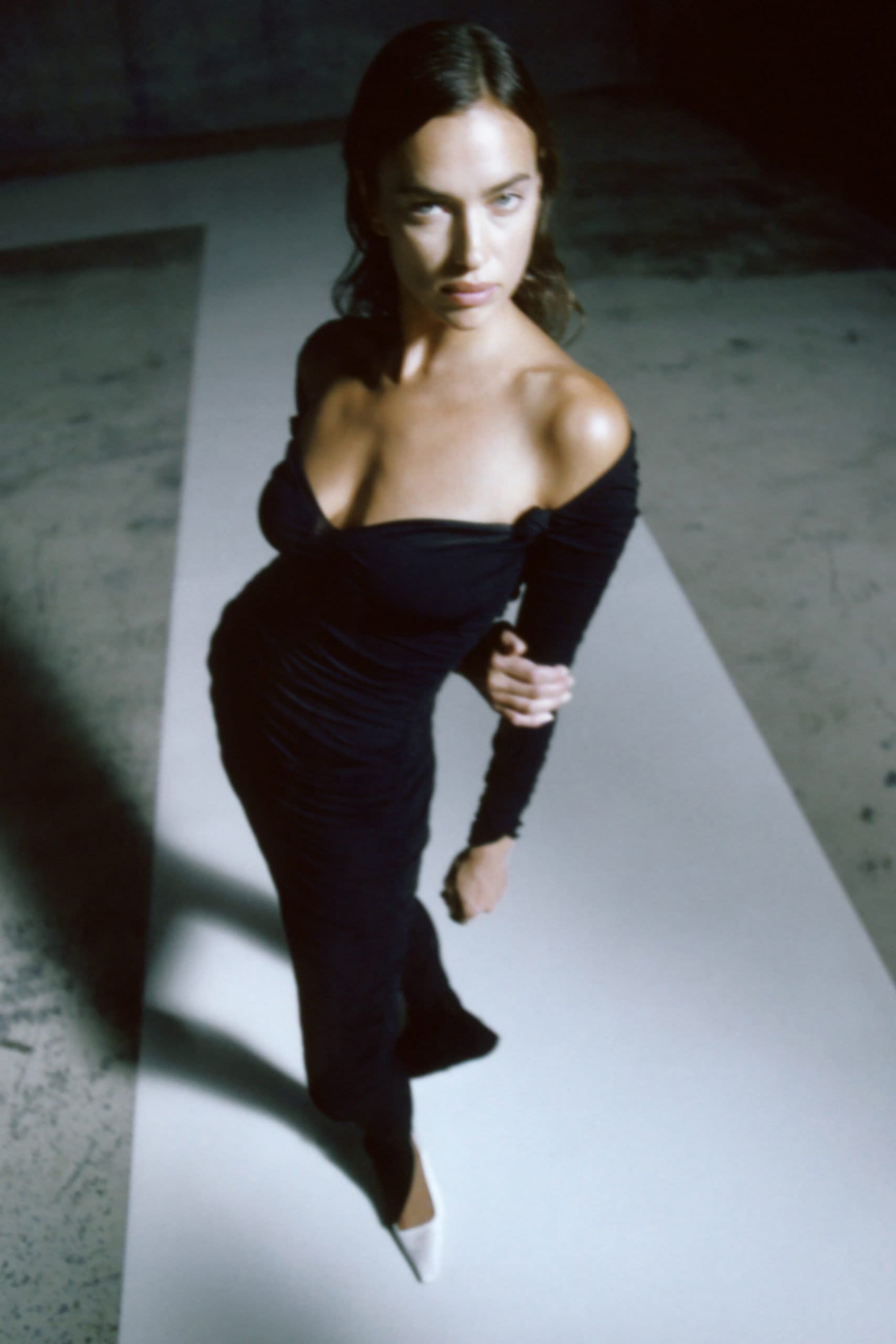 The video is sleek but ever product-oriented which is the norm for Khaite, not an anomaly. Even with live shows, Holstein never strayed from her mission that focused on the clothes and recently also shoes and bags. This strategy works well for Khaite.
GABRIELA HEARST MEN'S
Gabriela Hearst won her first Womenswear Designer of the Year on Monday at the 2020 virtual CFDA announcement made online via video by the chairman Tom Ford. While Hearst show has been moved this season to Paris where she will be showing her women's spring collection, the designer has been incorporating a few menswear looks in the recent seasons in New York, a sort of small peek into what is now a larger range for spring 2021.
A slim and lean tailored silhouette with light artisanal handiwork construction pervades the entire range of clothes from the collection from the navy or ice blue wool two buttons single-breasted jacket pantsuit to white or navy wool or double face cashmere ankle-length trench coats or peacoats to salmon wool sweater paired with navy linen cigarette 5 pockets pants. These are the staples of any men's wardrobe like a hand-knit pullover in 2 ply knit recycled speckled cashmere yarns. The real difference is that the entire production of these clothes is made from repurposed materials from cashmere to wool to silks, linens and cashmere corduroy all reworked so that the fabrics are light and can easily drape. Even a light brown suede blouson is made from leather treated on the reverse with nappa finish.
Hearst has built her business on making durable luxurious clothes with a model of sustainability up and down her entire supply chain.
MAXHOSA AFRICA
It's been a decade since Laduma Ngxokolo launched his fashion company exactly a decade ago with the goal of producing knitwear products that encompass local culture and manufacturing that employed South African mohair and wool as well as incorporating the traditional African Xhosai beadwork that was virtually unknown outside of the continent.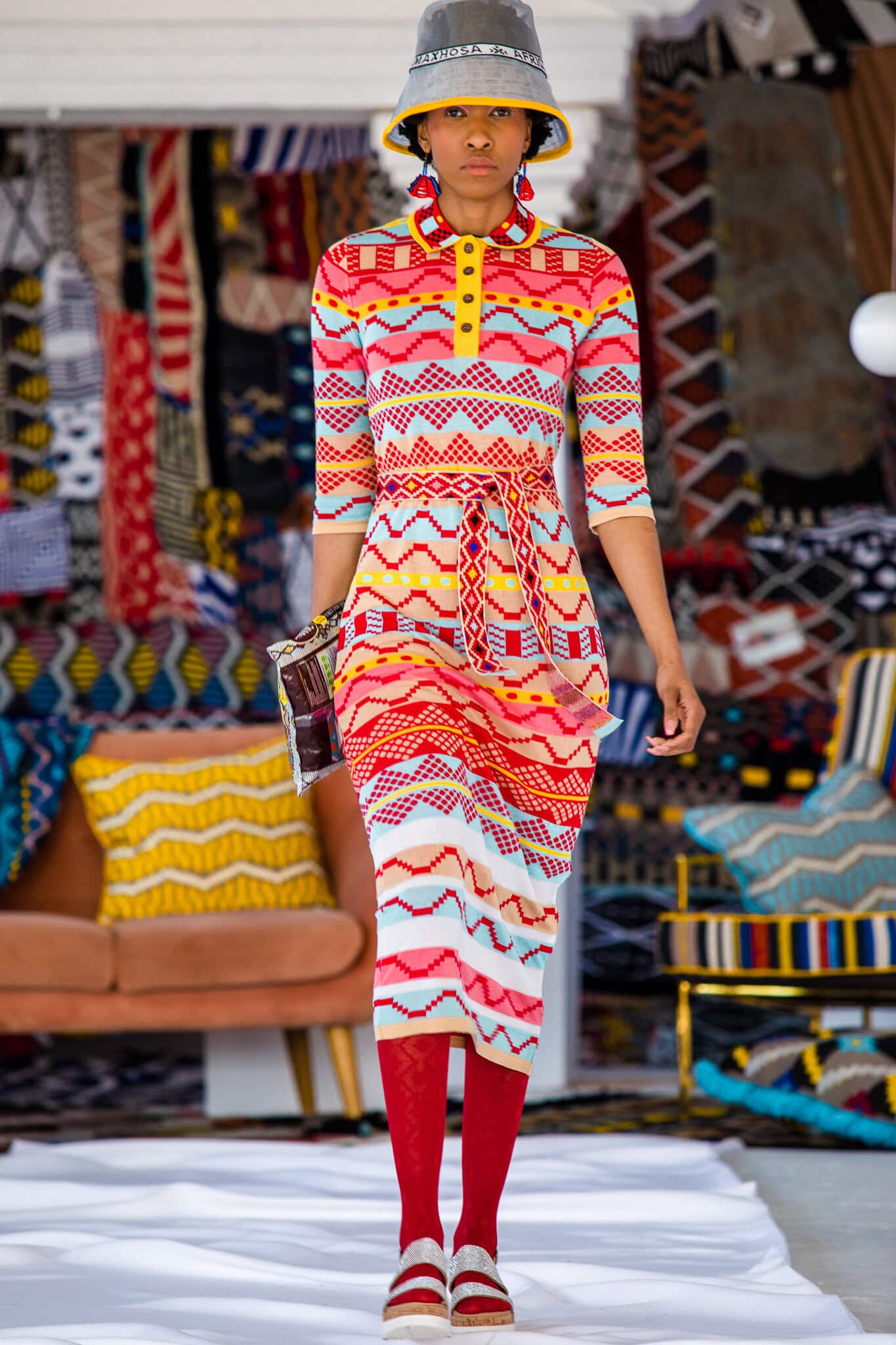 The entire collection shown as a video runway show with models walking on top on a white sheet runway with a backdrop of stacks of colorful knits rectangular pieces hanging from the walls. Knitwear based on traditional Xhosa techniques and patterns is the centerpiece of Maxhosa where the series of colorful stripes sleeveless long dress, pink patterns double-breasted jacket pantsuits, and a collar polo dress encompass the different patterns, symbolisms, and colors
The menswear consists primarily of knit polo shirts with matching long shorts or with cotton pants and blousons made in a variety of colors and mixtures of patterns – red, brown, and pink, dark chocolate patterns. These matching polo/short constitute a new version of a suit albeit more casual and perhaps more in tune with the now with the square checker pink and purple polo with contrasting collar and trims paired with shorts a great choice. Just in case a more formal look is required, there's the double-breasted diamond shape multicolor pantsuit.
It's a refreshing take and more than ever this is coming at a just the right moment in time.
Hopefully, these knit outfits that celebrate the traditional Xhosa aesthetic and its beadwork heritage can now have an inroad to going global.
SANDY LIANG
After graduating from Parsons in 2013, Sandy Liang started her label in her native New York City where her father ran a restaurant in Chinatown. In her first year, Liang asked her own grandmother to model her signature oversize coats for her own website to promote the brand and the clothes.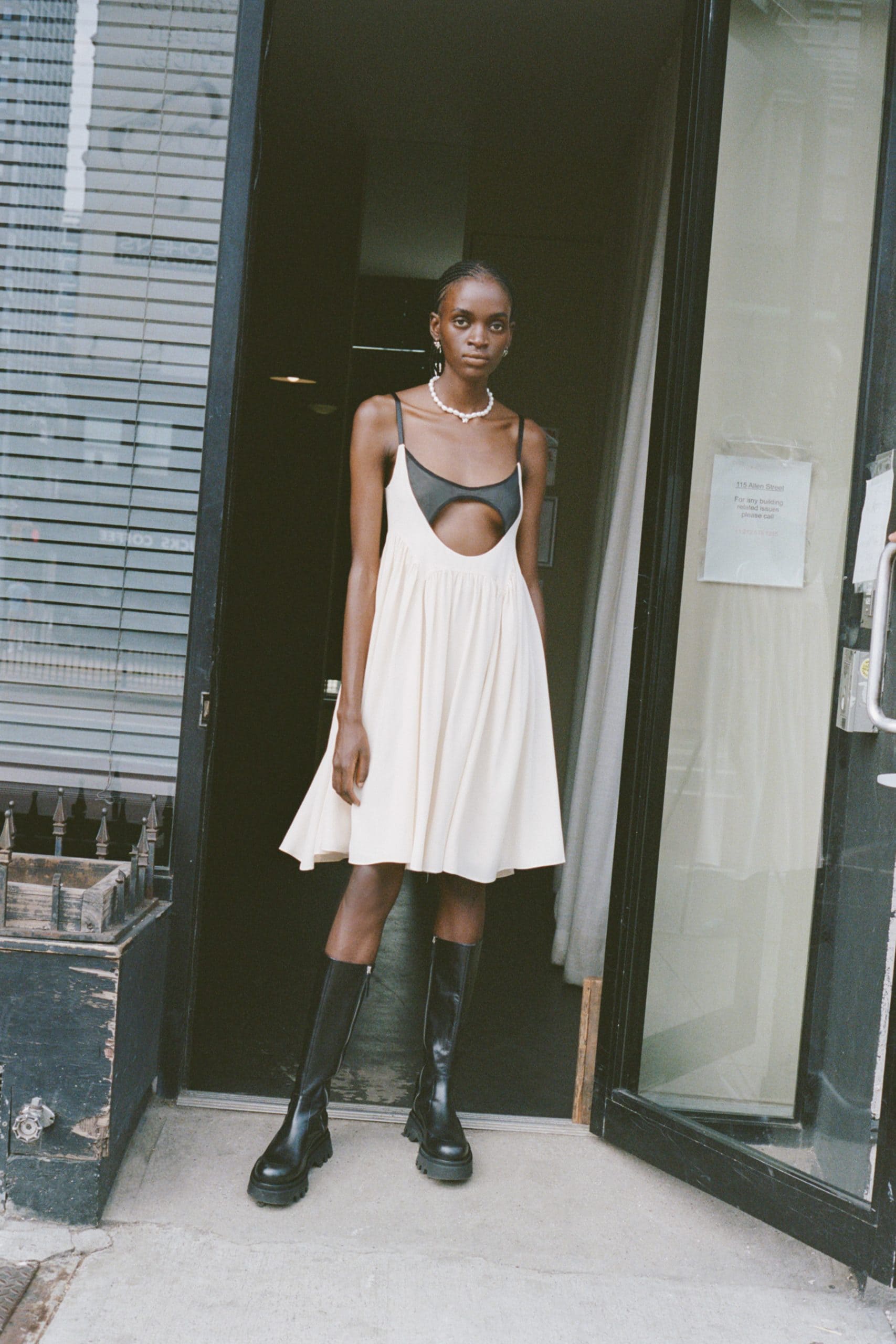 Fashion has always been a personal thing for Liang whose childhood experiences inspired her clothes. Last season she staged her show inside the hallways of Stuyvesant public high school where she went to school as a teenager. In that show, she imagined what her clothes would be like in post high school years.
This season, Liang did a video of models and friends posing around a hotel wearing what young girls would wear – print short sleeve dress, workout bras and dress pants, green moss blouson, and micro pleated skirt or a black and white gingham dress. Liang seemed to have regressed back to her younger years by offering a much more innocent way of dressing as if these clothes are for girls who totally eschewed fashion and just dress in their own ways. Yet there is something to say about the very personal way to create a collection.
COLLINA STRADA
Hillary Taymour started Collina Strada back in 2009 as an accessory and handbag brand but in recent years, the designer has turned the focus of her company into using fashion to highlight and to create awareness of social issues from sustainability to climate change and to hunger. The brand motto is to encourage self-reflection through clothing.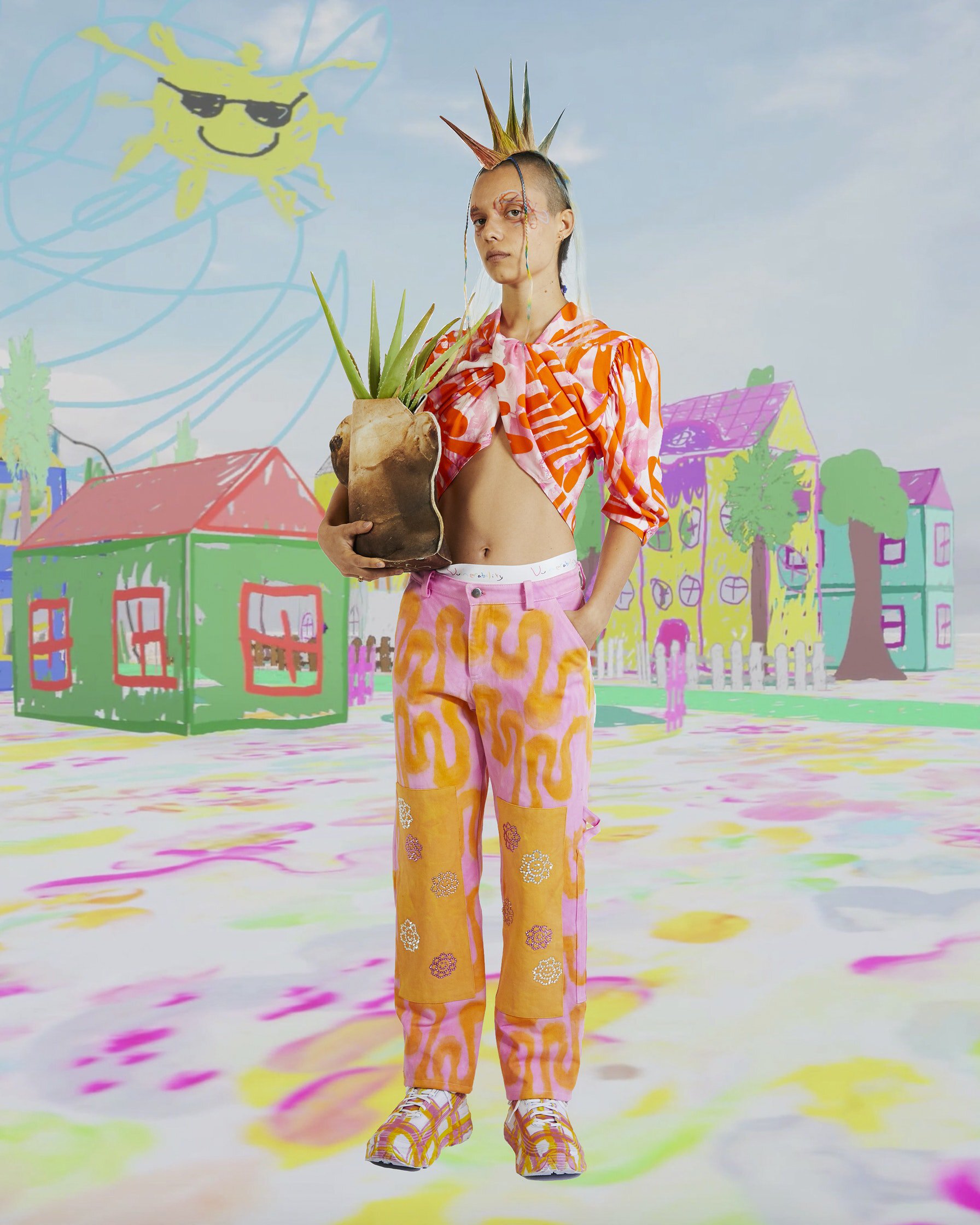 Instead of a live show stage possible somewhere outside in the park, Collina Strada enlisted the multimedia artist Alicia Mersy who specialized in political resistance video to create a virtual film where her usual casting of regular people as models walk in a make-belief backdrop world of fields of painted corns and carrots and also floating gardens that executed by Sean-Kierre Lyons – the creator of 'By Any Means Necessary' series of black folklore minstrel experiences.
With this spring film, Strada hoped to continue her social activism messaging but there were some good clothes as well such as a strappy yellow print short dress, a floral print bodysuit, an orange print short dress and the various mix prints shirts and pants for men. Toward the end, there was a great tan lacy strapped dress on a girl at the beach. A dancing cow, a singing bee, and a walking frog provide additional dance moves help to the models as well as a few dressed up avatars.
This Strada world is sure happy one where rock and roll play all the time and where buds grow into trees and where the blue water is fresh and unpolluted. It is a world far from the one we are in now. But projecting a utopian vision is a protest against the actual one.
KIM SHUI
Kim Shui graduate from Duke University where she studied economics in 2011 and never had plans to become a fashion designer, intending to work in international finance, but on a whim went onto winning the VFiles Runway prize in 2016. Shui spent a few years doing merchandising at Rick Owens and Helmut Lang.
Yet here she is now in her fifth show season and five years in business mostly direct to consumer with a series of videos of young girls in different situation – one group hanging out at night, another in a group chatting at a showroom and a one going to the florist and another at a wig store as they all were talking about doing things for themselves on their own, about isolation, about what real issues are important to them now and about violence to trans people – surely a long distance from Shui's Ming Dynasty meets Eurotrash show in September 2019.
Her new clothes are great fun and sexy clothes destined for the days where going out is possible again.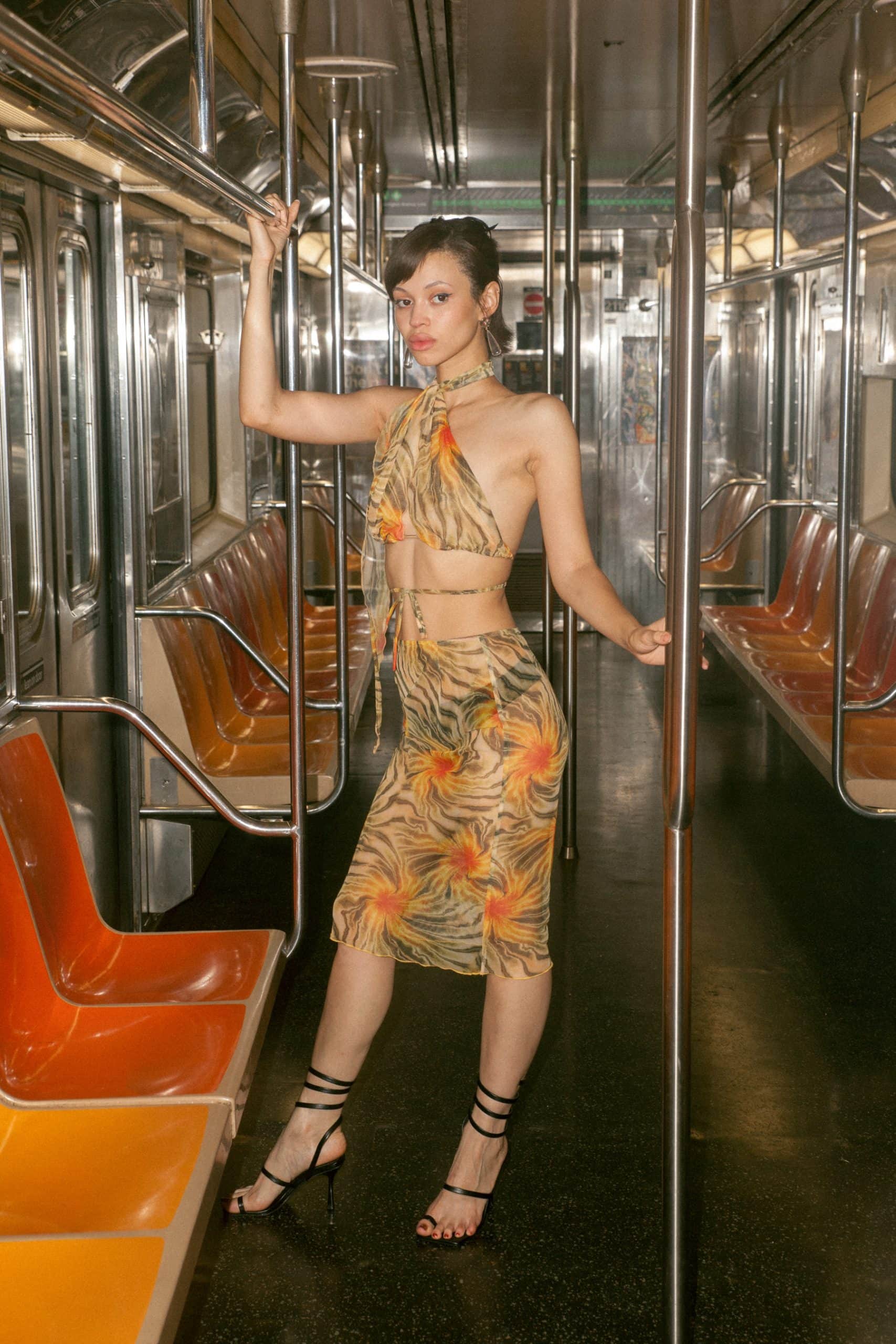 Everything is very tight fitted and mostly short as in short print sheath dress, ecru print jacket with short skits, and black corset paired with skinny pants. The short videos are a nice way for Shui to make the clothes seem like they are part of the lives of these women and less of a feel of shooting for a formal presentation. This is always something Shui understand because her fashion is her and the way she wants to dress.
"We are starting to get to a place where things may feel a little normal again," said one of the young women. It doesn't hurt to hope.
The unprecedented brief three days of 'shows' of NYFW clearly showed how unprepared the American designers were in dealing with how to adequately respond to the current crisis at least in a creative manner because creativity is the only way forward regardless of the chosen and available platforms, live or they called it in the old days 'Memorex'.
I was hoping that the slate of young designers would take this opportunity in the absence of the majors to step up, to really step up and showcase what they've got. But in the end, it was more of a disappointment and perhaps a missed opportunity for these young brands. There were surely many moments of sparks but they are few and far between – the short films from Wolf Morais and Kenneth Nicholson were spectacular moments because the films were personal narratives about isolation and growing up where the clothes were just supporting cast, not the main action. Of course in these two films, all the protagonists worn a lot of the clothes – new for Wolk Morais and on sale now for Kenneth Nicolson and they were superb and thoughtful because the clothes became part of the narrative and not separate from the story. You have to pay attention if you want to actually look at the clothes. The conversation between Carolina Herrera and Wes Gordon was another highlight.
Elsewhere most of the online videos shown are not interesting in terms of content and in terms of creativity. In an age where amplification is the last word in everything, it is inconceivable that given the time designers had they did not put enough thoughts into how they should conceive what this season would be.
Nothing shown was even surprising or none of the film or video that I saw from morning to night that I think would have caught me off guard. Most of the videos also felt disjointed like a patchwork of moving images that have no real connections and worse of all that the clothes have to relevant to the entire process.
Great fashion isn't about predictability – it comes from the designer's ability to surprise their audience with an attempt at something new and with a modicum of experimentation, and certainly with an imaginative narration that sows context into clothes. This is what is needed and this is what was not delivered this season in New York.
It is what it is. This one can say about the current situation.
But the current situation is not at all hopeless. In fact it is a new road forward.
You can hear Lazaro Hernandez and Jack McCollough of Proenza Schouler said so themselves. As a part of the IMG NYFW: BTS Series programming of The Talks in conversations with industry leaders at the Spring Street hub, Samira Nasr the new editor-in-chief of Harper's Bazaar and the Proenza Schouler guys – Hernandez and McCollough – spoke frankly about the current times and about not having a show for the first time since they started in 2002.
"For us, the work that we do is autobiographical. We always have something to say about the moment that we live in. Since the very beginning, every collection has been a reaction to something we've seen, something we've done, someone we've met, a trip we've taken," said Hernandez. "No matter where the world is or what's happening, and the highs and lows, there's always something to look at and be inspired by or to pull from, and we just sort of create out of the feeling of the moment. Every moment has a feeling no matter WHAT. There is also something to feel."
"We just sat down with our pencils and our paper, and wanted to focus on something that felt completely optimistic," McCollough added. "We have a process after all this time. We employ for every collection research, building boards, walls, finding vintage, doing our archive looks with vintage, creating silhouettes – silhouette studies we call them. Then we go back to our studio in the woods and draw from all these stuff in the room," Hernandez clarified the design process. This time we sat down for the first time with pieces of paper and pencils and we just drew for like ten straight days without nothing and it just kind of came out. Mood and feeling and what we want our clothes to look like. It's just pure imagination," Hernandez said of the designs for spring.
"The city will become a very different place," McCollough said. Nasr said that she hoped new creative will be back to New York and build a sense of collaboration as there is no real road map forward which is what she also said about her upcoming new debut.
Obviously it's been horrible what's been going on, but at the same time, sometimes it takes a forced change for things to evolve to a new place.

– Jack McCollough of Proenza Schouler
"And now fashion is so much more layered. There's a social component to it. Your brand has to stand for something," Hernandez said with regards to the values that brands must adopt in public now. It is no longer a game of the right dress or the right bag.
The duo expects to do a show sometime later this fall perhaps in the latter part of October.
---