---
Reviews of GucciFest : Gucci Episodes 4 & 5, Rave Review, Cormio, Stefan Cooke, JordanLuca, & Shanel Campbell
Episode 4 & 5 of Gus Vant Sant & Alessandro Michele's Spring 2021 Gucci Film
By Long Nguyen
Episode 4: The Theatre
The fourth episode of Gucci's Spring 2021 film series started inside a small backstage dressing room of a theater where a troupe of dancers arrived to prepare for their rehearsal. It wasn't exactly where episode 3 ended inside a post office, but in movies, scene jumping to different space and time is permitted. Now Calderoni, wearing a green sequined short sleeve cropped jacket, a purple sequined tank, and green/pink sequined tight pants, entered the waiting vestibule of the theater and started to stretch out, waiting to go inside for a chance at perhaps an audition for a spot on the troupe.
"I don't want to stress you out, but like you are thinking so much. You are so in your head. You can get out – get out of your head. Get out of your head. Just … throw it all out," the actor-playwright Jeremy O. Harris said to her while shrugging his whole body to demonstrate the motion of shaking loose the stress nerves inside her. Harris wore an oversize tweed jacket over light green shirt and eco denim jeans as he helped to stretch out her hands over her body.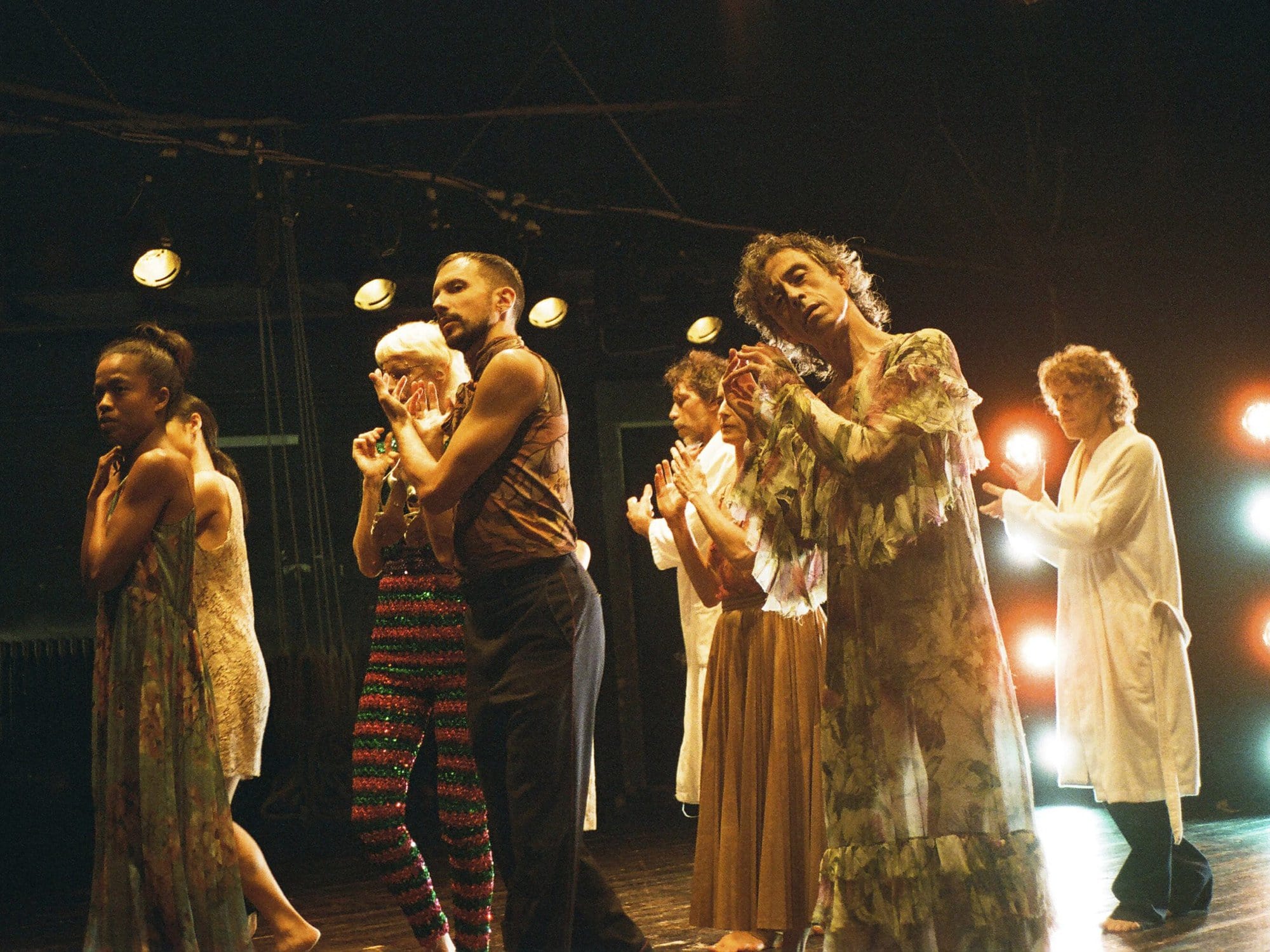 It could have easily fallen into the basic cliché that in a theater would be an easy location to show clothes. Here all the clothes from the different performers in the tight rectangular dressing room are reissues from the men's and women's fall-winter 2015-2016 collection. Of the 97 total looks from this Spring 2021 collection, 14 are 'reissues' looks specifically from Alessandro Michele first shows in early 2015. All of the Sasha Waltz 'guest' performers wore these reissues looks that included a light blue floral strap dress, a brown sleeveless angle striped poet bow shirt and navy flat pants, a nude lace long-sleeve tee-shirt, and brown pants, or silk layered floral long sleeve dress.
Michele's fashion has been a consistent trajectory since that 'Ouverture' or opening in French meant starting his beginning of the new Gucci era. It would be hard for consumers to distinguish between the clothes from five years ago and the clothes from spring 2021 saved for a different label inside with the unique label 'Something That Never Ended.'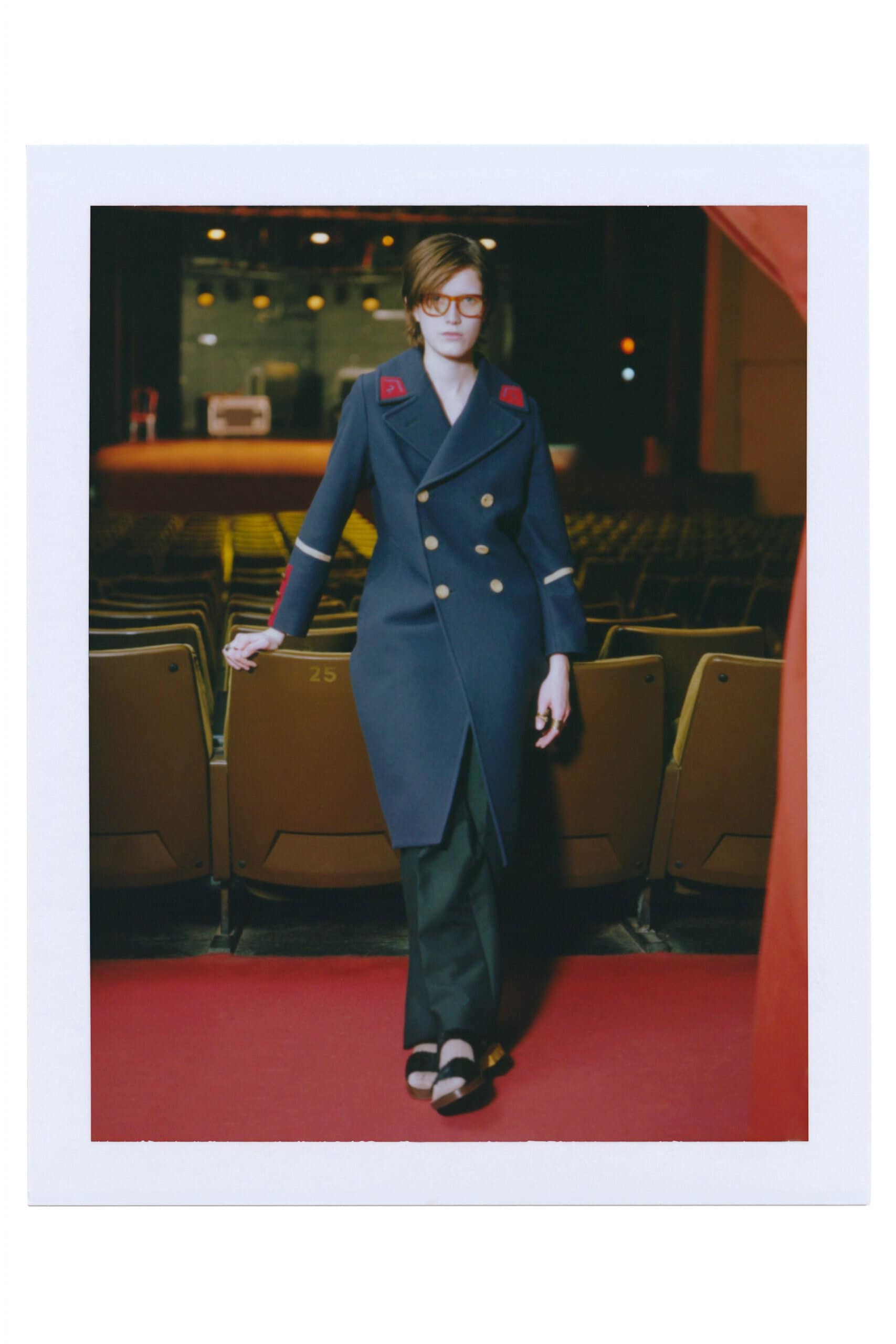 The clothes then and the spring clothes now are not the same clothes – their differences lie in the slight variation in fabrics and shapes but not in their temperament. This is tricky to achieve simply because the curse of newness in fashion implored brands to create novelties each season with less regard for building evolution of a specific style that consumers can be recognized over time.
No one would think for a moment that these reissued looks on the performers were clothes from five years ago remade exactly with no alteration as they don't look out of place with the new clothes seen in these episodes so far.
"The border between individuals dissolves. They become one body – a liquid organism with a collective consciousness. For us, it was very emotional because we were able to actually touch each other again after nine months of social distancing. The dancers almost cried. We as humans desire closeness, intimacy, and care. This image conveys that idea," explained Sasha Waltz, the German choreographer, and leader of Sasha Waltz and Guests dance company and the artistic director of the Berlin State Ballet; in describing the moments when all her dancers merged their bodies in a mass moving circle in the center of the theater to the music of M. Ravel's Boléro.
"In movement or dance, we speak to the emotional side within, to our soul … the language of the body is universal," Waltz said. She could have also added that the language of fashion is also universal, as expressed in this film experiment over an entire week to make Gucci a central part of that language.
Episode 5: The Neighbors
In this fifth episode, the viewer also becomes the voyeur casually observing different happenings and characters inside an apartment building, well, not precisely any apartment building.
Calderoni, wearing a black sheer chiffon dress with lace details stripes and tulle underwear, opened her window shutter and observed the neighbors going about their daily affairs in the building facing hers. Upstairs, there's Ariana Papademetropoulos in a light blue floral print long sleeve dress watering the terrace plants, then washing her eyelashes and painting on a floral swing. Downstairs, there's the artist Darious Khonsary, a long hair guy, in a red dress with white floral embroideries with blue ruffle cuffs drying hair wigs. There's a cropped hair girl washing the glass window in a light pink pleated one-shoulder dress, and; there's the older woman in a dark green single breast skirt suit screaming at the band being too loud.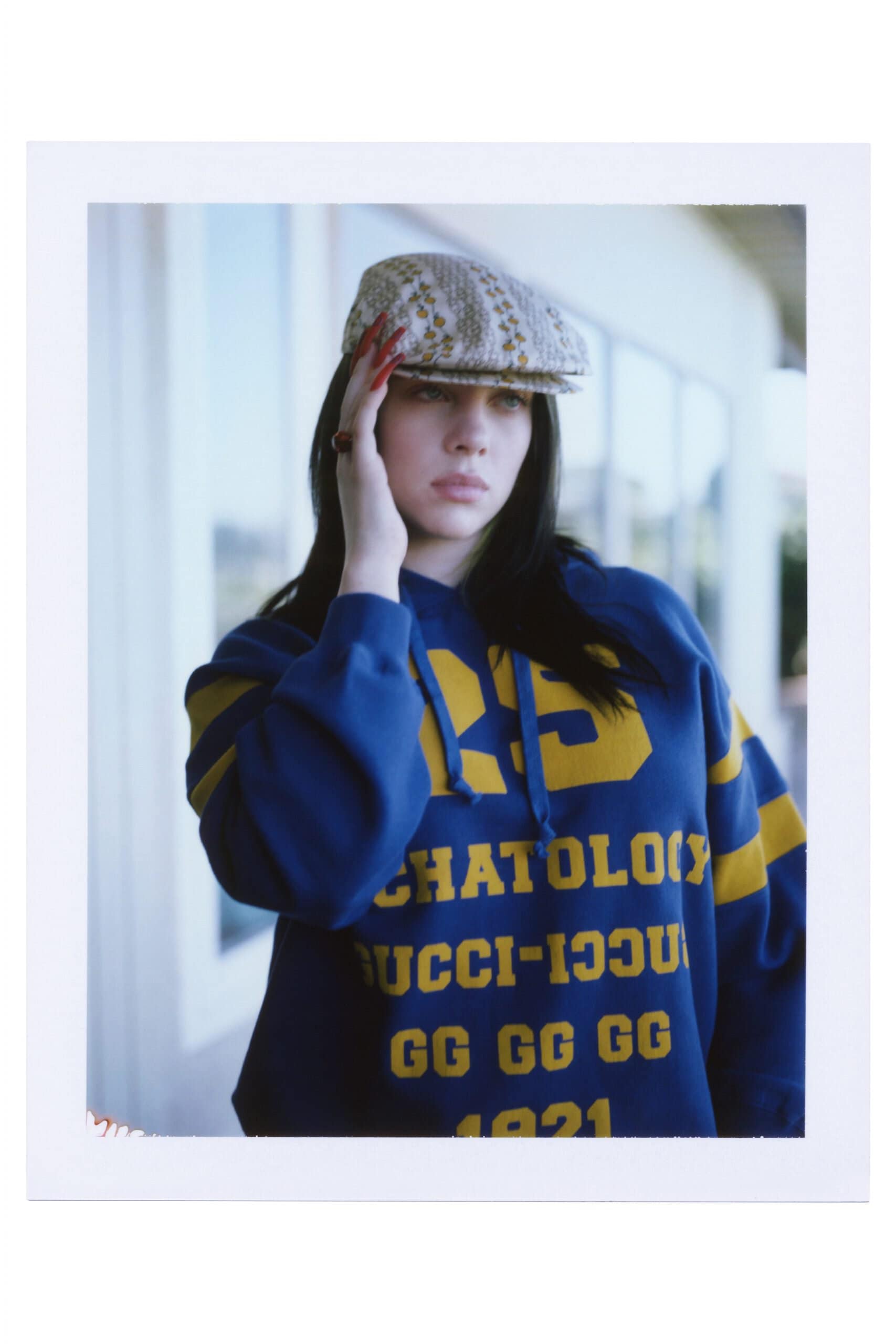 In one scene, the long hair guy from the rock band in episode 1 was getting dressed in a new spring look – a printed red silk shirt with fine stripes and logo motifs and blue eco jeans. As he inspected himself in the mirror, he saw himself dressed in a slightly different outfit – a red shirt with bow tie neck, black wool pants, and black belt – the first look from Michele's first show for men in January 2015. Then and now merge through space and through time – one look in two time-frames, one signature look in multiple facets.
In another scene, a tomboy girl in a cut off green print tee-shirt and blue jeans entered into a bath tube to watch a video playing on an old TV set. On the TV set, Billie Eilish is wearing a blue-purple sweatshirt, red jogging pants, and colorful high tops in an exclusive preview of the video for her upcoming single Therefore I Am directed by Harmony Korine. Eilish is seen at her LA home with two Boston Dynamics Robotics companions that can dance to her new tune.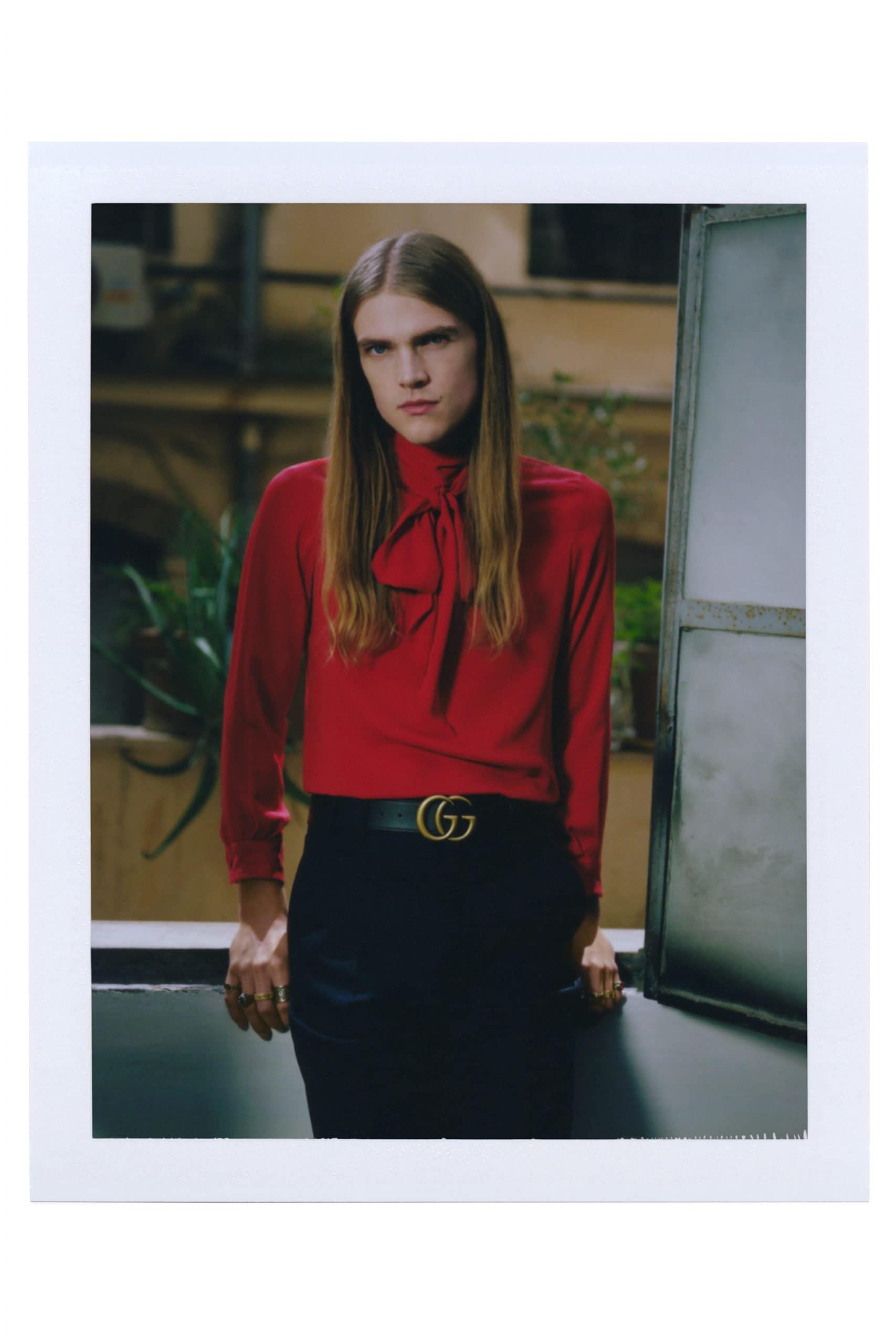 Meanwhile, on the ground floor, a woman dressed in a leaf print dress reads poetry to a man sitting with her in a red jacket, ecru polo, and yellow pants. "These pink lights never end. Your body is a pearl around your finger would bend. It must be another world. Another world. Another world. There must be another world where your eyes are mine, and our bodies unfurl," she reads from a book in her hand.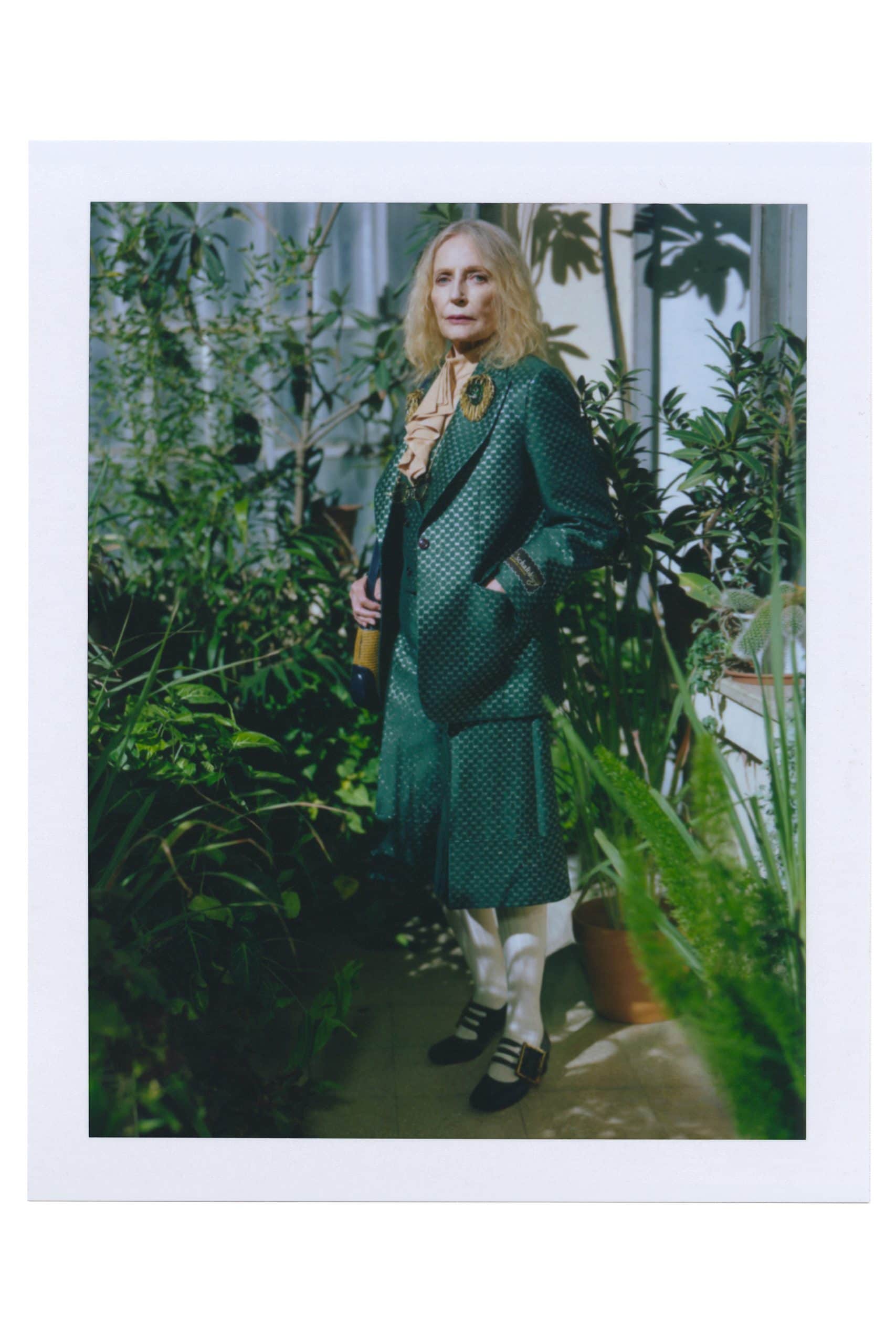 Episode 5 is more or less a fashion tableau using the multiple floors of a concrete apartment building as a backdrop. It's a fashion film, and yes, at times, the fashion is supporting characters, while at times, the fashion is prime and central.
The message of continuity continues as the mirror that reflects the past and the present simultaneously and not in another world but firmly in this one.
Oh, that mysterious white flyer with black words in capital letters showed up again here. Watch out as to what will happen in the last two episodes.
GUCCIFEST EMERGING DESIGNER FASHION FILM
Rave Review
The Swedish duo – Josephine Bergqvist and Livia Schück – founded Rave Review in 2016 and presented their first collection at Paris Fashion Week in October 2017 at the Swedish Institute. Bergqvist and Schück debuted their collection of colorful mixtures of fabrics and loose silhouettes of clothes using only upcycled and refurbished materials to make a high fashion wardrobe under the strict definition of sustainability. Rave Review's clothes – a floral print boxy jacket and long flared skirt or a puff sleeve shirt-dress – filled the wide gap between luxury fashion and remake and vintage garments.
In the short years since, Begqvist and Schück had shown their seasonal collections in Stockholm and Copenhagen, collections that had their personal take on how to create garments to a particular scale using dead-stock fabrics even fabrics for use as home textile materials like pattern bed sheets that the pair printed on to sow their unique pieces like dresses composed of panels of multicolor silks. The duo made their clothes in clever ways that the garments rare felt like manufactured from a recycled process. Old floral bedspreads were made into loose coats, and velvet curtains were crafted into 1970s hip pants, and jacquard upholsteries were converted into fitted tops. Rave Review's upcycled ethos matched their peers' values in the global efforts to reduce waste spurned on mostly by the young generation that could no longer wait for anyone else to do the hard work and embrace the needs for responsible production and consumption.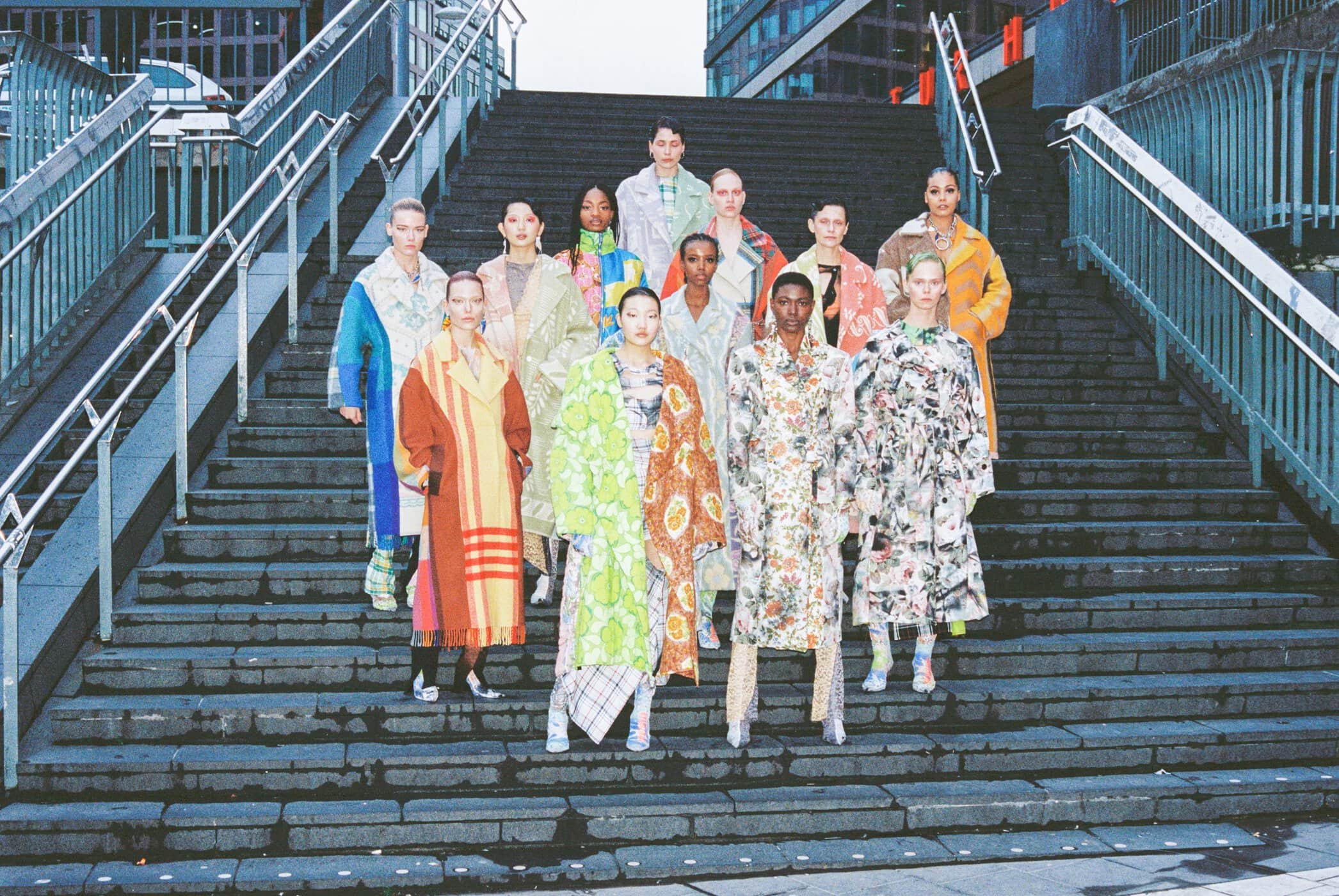 Jens Lofgrens's micro short film Jord, Luft, Eld, Vatten ( Earth, Air,Fire, Water) transformed Rave Review's aesthetics and sophisticated clothes into a meditation on sustainability by weaving the clothes into the basic elements that saw the clothes coming apart and floating in the air as a crowd gathered on a city square. For Begqvist and Schück, sustainability and responsible production aren't a matter of philosophical discourse, but of making clothes, consumers would want in a way that introduced less and less waste into our ecological system.
Cormio
Born in New York and raised in Rome, Jezabelle Cormio graduated with a BA and MA Fashion from the Royal Academy of Arts in Antwerp in 2013, the same year the Belgian Ann Demeulemeester commissioned her as part of a small group of emerging Belgian talents to craft an exhibition in honor of the coronation of HRM Mathilde Queen of Belgium.
Cormio moved to Bassano del Grappa in the Veneto region near the manufacturing factories to start Cormio – a collection of new evening wear crafted with twists – in 2016 after a short assistant job at Paco Rabanne. She wanted to employ the Italian artisanal handmade approach from the Veneto area experts, where there is a concentration of specialized fabrics and smaller handicraft manufacturers. As a native American-Italian-Croatian, Cormio mixed cultural elements into her clothes from deploying Voodoo symbols to Santaria graphics and even Chinese brocade prints on her evening dresses and traditional tailored garments like a shiny red resin coated print pantsuit or a print short cocktail dress for spring 2020 presented at a cocktail party at Le Sous Bock in Paris late September 2019.
The writer-directors Gregorio Franchetti and cinematographer Ilya Sapeha made La Tassinara a tale about communal creativity, a mirror replica in a film of how Cormio sees her role in encouraging great co-working between the different facets of the fashion system from production onwards.
La Tassinara's heroine got into an argument over shoes inside the back seat of her shared ride with her two friends and ended up at a bar where the driver performed on stage. She found new friends at the bar and friends dressed in her way – yellow embroidered knit square neck dress, deep green sleeveless dress with rust blouse, or an orange puff shoulder dress with spotted decorations.
"Dentro quella valigia tutto il nostro passato non si può stare," (Inside that suitcase out entire past cannot fit) the singer Momo performing Se mi lasci, no vale initially composed by the Italian singer Luciano Rossi in 1976 and rendered famous by the Spanish pop star Julio Iglesias in a Spanish version a year later. Sound advice for sure -if your past can't fit inside that suitcase, consider leaving it behind for good.
Stefan Cooke: Advent
Stefan Cooke and Jake Burt worked with the most mundane and most basic garments. They transformed them into unique clothes with distinctive design characteristics and elaborate constructions that make their products anything but wardrobe staples for their London based menswear label under the sole name of Stefan Cooke that debuted in 2017. The duo aimed to provide these fashion staples of coats, blazers, pants, shirts, and knitwear but with the same verve as Cooke's MA graduation project where he made screen print jerseys and knitted crochets with a firm footing in the eco-conscious mantra.
Cooke, a Central Saint Martins MA Fashion graduate, joined a fellow classmate Burt specializing in pattern-making as his subject of study. Stefan Cooke fall 2020 show at London Men's saw their ingenious capacity for the remarkable manipulations of argyle patterns and tweed fabrics into new versions of duffle coats and checks suits that provided easier sale items. Stefan Cooke recent collaboration with Lee Jeans saw an inventive remake of the classic Lee straight and slim leg jeans and denim jackets into fanciful print and studded versions. One strong look was a white Lee denim jacket with diamond pattern studs paired with a brown wool plaid pleated micro skirt and slim-cut print Lee jeans.
For their short film titled Advent, Stefan Cooke engaged the London director and experimental filmmaker Eddie Whelan to construct a Britain poetic vision via the use of archival grainy black and white, old film documentary footage as a backdrop. At the same time, male models dressed in the brand's spring clothes inserted into the frames as they walked in front of the frames of the old footage creating a mixed view of past and present.
JordanLuca: The Palace of Kings
Jordan Bowen and Luca Marchetto created JordanLuca in 2017, utilizing the experiences of Bowen's London roots and Marchetto's Italian upbringing to merge counter-culture and craftsmanship into the aesthetic drive of their newly formed menswear brand.
JordanLuca's fall 2020 show in London marked their most ambitious growth project with a wider range of clothes with a blend of Renaissance romanticism and modern biker boys roaming the countryside in head print parka suit, black cape coats, and fluorescent print nylon coats. Their spring film presentation in London titled 'Going Nowhere' echoed the theme of time and loneliness from a poem by Giacomo Leopardi L'infinito and was a nod to the community's focus, especially the London seamstresses and pattern makers who made the garments.
Bowen and Marchetto, together with the London photographer and director Conor Clinch, made the film The Palace of Gangs with the inspiration from Lord Byron's poem The Darkness written in the summer of 1816, known as the year without a summer, on the theme of an apocalyptic end of the world through a series of natural and social events.
"Men gather'd round their blazing himes/To look once more into each other's face" was the 14th-15th line of the poem that spawned the idea of young men gathering around in the deserted mansion Whitechapel, London. The guys walked through deserted streets to arrive at the house as they discovered others like them in a state of celebration, dancing to electronic music played on vinyl on a makeshift dance floor. The night is still night but not inside this mustard painted house. The film narrative and the fashion make sense here.
Shanel Campbell: Import Settings
Shanel Campbell is from the Bronx, NY, with a Jamaican father and a Crucian mother. Campbell is a multi-discipline artist working in portraiture, photography, film, 3D sculpture, and fashion. She deploys her personal experiences into specific narratives about being black in America, a central precept of all her work to foster a different future she envisioned. Shanel's commitment to her identity, her authenticity, her multi-culture exposure, and her own freedom to navigate the complicated grounds of black culture and history in America – her work reflects how she sees and interprets these intersections.
In 2018, the Parsons graduate showed her graduate collection at the Parsons Benefit in May and gathered immediate recognition when Issa Rae wore one of her custom-made dress for that year CFDA Awards less than a month later. Shanel presented her first spring 2019 collection of 18 red satin and silk quilt cut dresses on 18 black women she cast from Instagram. Shanel has since vowed just to produce one collection per year with additional core products sold throughout the year.
On a self-made film as part of her multichannel projects, Shanel is in the middle of a forest dancing in a short dress in a sort of stream of consciousness that seemed to mix together so many elements that in the end eluded any sense of a moment of catharsis and comprehension. Sometimes, too many high brow concepts end in confusion rather than anything close to clarity.
---