---
Changes Are Here.
Oh Gosh, What Do We Do?
BY LONG NGUYEN
The LFW 'shows' must go on.
On this last day of what has been a mixed bag of a fashion week, the designers put their best faces forward, and somehow everyone managed to create something – thought, films, shows, with limited audiences like one guest per bench, and shows without audiences. These different formats allow each brand to create according to how they see which best suited their individual needs.
BIANCA SAUNDERS
Since her debut at LFW in June 2018 a year after her graduation from London Royal College of Art the year before, the Catford born Bianca Saunders has in the two years since clearly established her design ethos and firmly ground her view about altering the way men see fashion and thereby how they dress and will dress.
Drawing direct inspiration from her Jamaican heritage, images from Caribbean dancehall parties in London, and from the men in her family who were part of a funk band, Saunders seeks to adjust the definition of modern masculinity through clothes that create fluid movements with her controlled draping of soft fabrics while blurring strict boundaries assigned for clothing.
Bianca Saunders is taking apart the centuries of masculine ideals and archetypes still so ingrained in society and she does so with a charm offensive rather than a brutal frontal invasion.
For spring Saunders continues to explore cuts, proportions, and fluidity for 'The Ideal Man,' the theme she chose from the artist Hans Eijkelboom 1978 work of the same title where Eijkelboom asked various women to describe their ideal man and he then dressed them for a series of portraits. Saunders asked herself to imagine her own ideal man throughout the lockdown while working directly on mannequins to evolve her drape and fluidity to make the clothes for that man unhindered by the archetypes of masculinity.
I am always interested in our character, and how to express this through clothing. I was thinking about my ideal man and customer, representing them through my signatures of cut and construction.

– Bianca Saunders
Saunders showcased that character in her moody video that opened with men all wearing white outfits in segments called 'Gangster pretending to be corporate', 'Super nerd at dancehall concert', 'College grad with diploma', and 'Gully queen at his engagement party' that display the spirit of the collection.
Saunders focused her attention on the rigid square shoulder where she began to craft and distort garments like jackets and shirts that can have both a rigid structure but with fabrics soft enough so the clothes can move with the body. In actual clothes that meant black wool unlined jacket with a shoulder pad tucked underneath the sleeve head to create the illusion of volume and movement paired with shorts, a cropped beige or ice blue cotton single breast jacket pantsuit, padded shoulder denim jackets in collaboration with Wrangler, and a series of shirts in light pink and white cotton both short sleeves and sleeveless paired with flare pants. For those environmentally conscious customers, the brown leather shirt-jacket and pants are made from vegan leathers. Saunders reworked classic Wrangler denim pieces with the twist seams and panel jackets for a flare shape and partly bleached pants with extra side seams. These are denims for today's cowboys.
Saunder's video with its different segments portraying different possibilities and situations of the accepted ideas of manhood in society – corporate man, gangster, queen, and nerd is like an invitation into her world where these accepted portrayal are no longer valid but nuance and the garments worn by the guys may looked like they are just classic jackets, pants or shirts but in actuality they are designed on purpose to fool and to reacquaint how to measure the man by his clothes.
SUSAN FANG
A finalist of the LVMH Prize and a graduate of Central Saint Martins who launched her own line in 2017, Susan Fang used her time in lockdown to create a spring collection she called Air Born to foster the idea of rebirth in nature.
In a film of a mock runway with models meandering around a foggy set, Fang's clothes are light but dense with the special layering of colorful print fabrics that created a three-dimensional field to the strapless, long and short sheath and cocoon dresses. These multiple layers of print organza folded in a sculptural way to create at times wavy patterns among them a sleeveless of hues of pink and light blue knee-length dress was one of the best outfits in this collection. Fang repurposed deadstock marbles into beads in a nod to sustainability.
While Fang's efforts to create these couture dresses demonstrate her ability to command her craft, she needs to invest time into thinking how to bring these clothes to the consumers in a less fanciful way.
ROKSANDA
The Serbian born London based designer Roksandra Ilincic started in 2005 with a departure aesthetics steeped in the ethos of romanticism with sartorial expressions in cocoon dresses and capes coats in bold mixtures of colors. Her sensibility drifted towards modern art and architecture which she had studied at the Faculty of Applied Arts in Belgrade before taking an MA degree in womenswear at Central Saint Martins in 1999.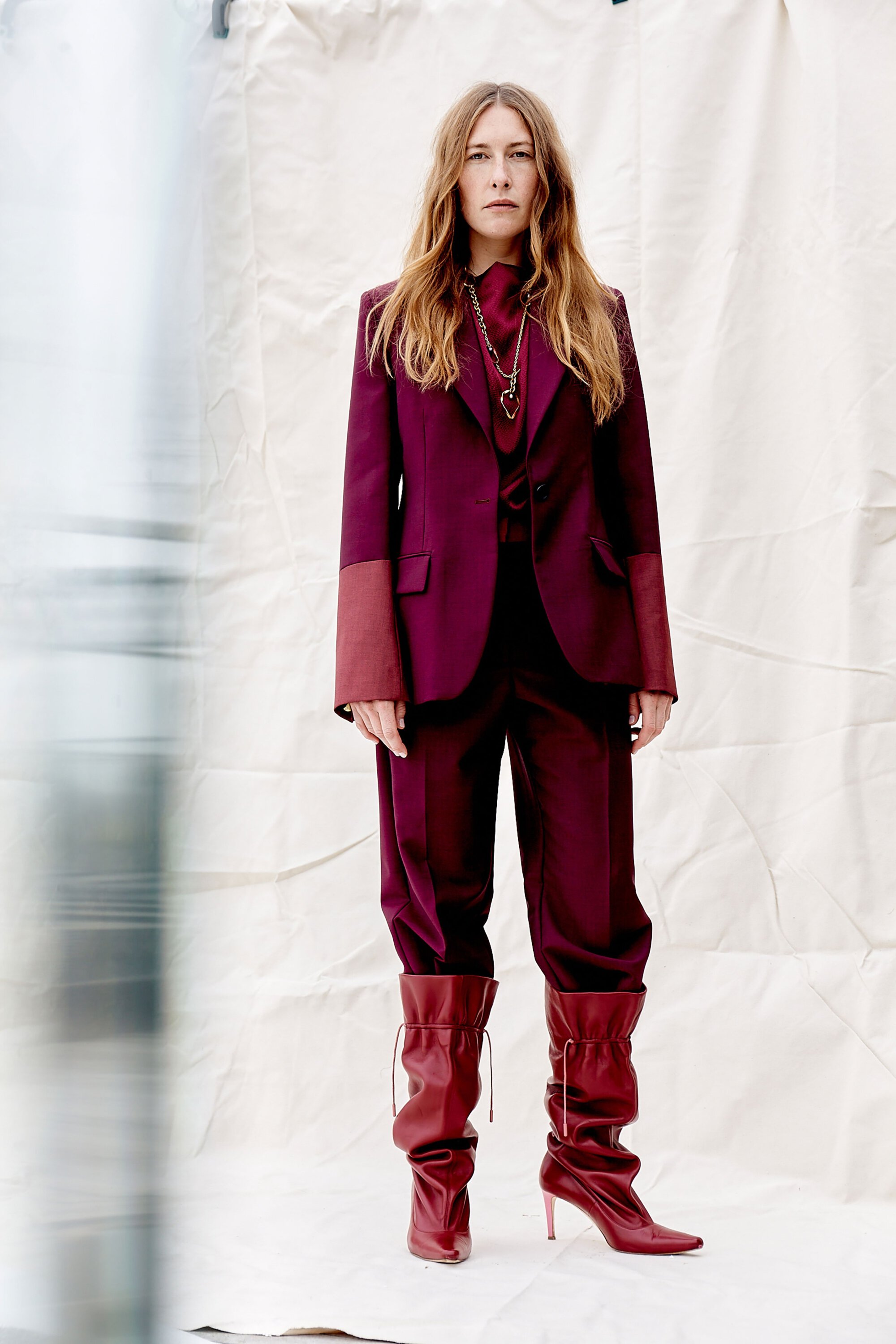 "The designer flair for shape and structure she has honed by her study of architecture – sculptural dresses, dramatic sleeves, clever ruching and draped silhouette often in contrasting palette" is how the e-commerce site MatchesFashion describe Roksanda Ilincic 's trademark crafting of dramatic silhouettes with a smart command of craftsmanship.
Now in a different environment, Roksanda invited select guests to a penthouse apartment in Gasholders London that she redecorated last year. Here she displayed her latest collection which was much more subdued, with models scattered around different parts of the sumptuous and large space, mimicking the kind of situations people were experiencing the isolation during the lockdown in bedrooms, living rooms, and kitchens.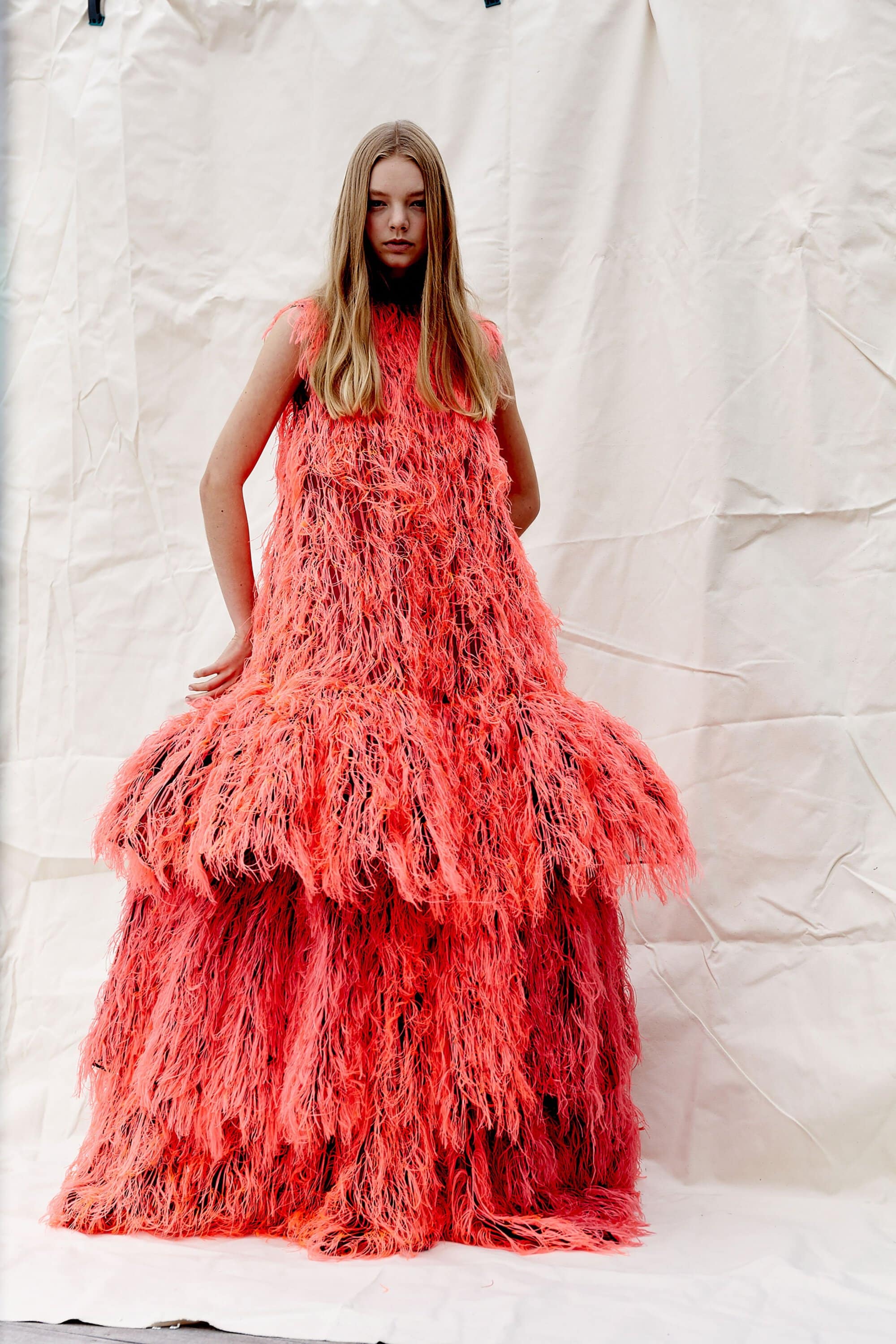 The colorful clothes are totally pared down – shirt and pantsuit, lapel less jacket, sweats, and tunics – done in vibrant colors dark raspberry, pink, fuschia, orange, and acid yellow. A plume long evening dress seemed out of place in this collection done on purpose for a new era where Roksanda believed the hyperbole of the recent past perhaps are no longer valid now. Values change and so do the clothes.
XANDER ZHOU
Unable to travel to actually make a real collection, Xander Zhou created via virtual reality with his new spring line based on a reassessment of his work. Incorporating his past shows as a common ground, including his breakthrough spring and fall 2016 collections where he first incorporated elements of his Chinese heritage and cultural symbols into his fashion lexicons, the designer again fused different cultures in his own way. From isolation, Zhou imagined the scope of his own work and sought to make the clothes in virtual reality and then forward them so that the samples can be produced.
Zhou cited these Chinese elements that he used in the light and sportswear clothes – Acupuncture points. Dragon totems. Frog fastenings (the traditional Chinese knotted-button-and-loop fastenings). Belly covers (a traditional Chinese undergarment originally worn by women). "Melon skullcaps" (a traditional Chinese accessory worn by men). "Human Skin" facemasks (originally used for traditional Chinese shapeshifting performances). Crystals (stones with curative properties according to Chinese traditions). Illusory "phantoms" (a description of those who excel in traditional Chinese martial arts). These details can be found sparse throughout the images of the clothes – round metal balls on tank tops, cheongsam short sleeve shirt, actual nude color facemasks, crystal embroideries on black shirts, circular metal balls on a grey blouson, and light printed dots on shirt and pants in form of a dragon.
While at time this massive virtual reality film with seventy-five outfits seemed repetitive with similar garments in different color or fabric range, nevertheless the virtual film showcase Zhou's
Zhou also announced that this virtual reality film might become a reality during Shanghai fashion week in mid October where he may be able to stage a live show.
DAVID KOMA
David Koma is a huge fan of tennis. He has designed and dressed members of the Women's Tennis Associations and has a deep understanding of the community surrounding the sport. So when Wimbledon was canceled early this summer, Koma imagined his new collection as the kind of clothes his idols like Maria Sharapova and Anna Kournikova would be wearing somewhere in tennis land where matches with spectators were again the norms.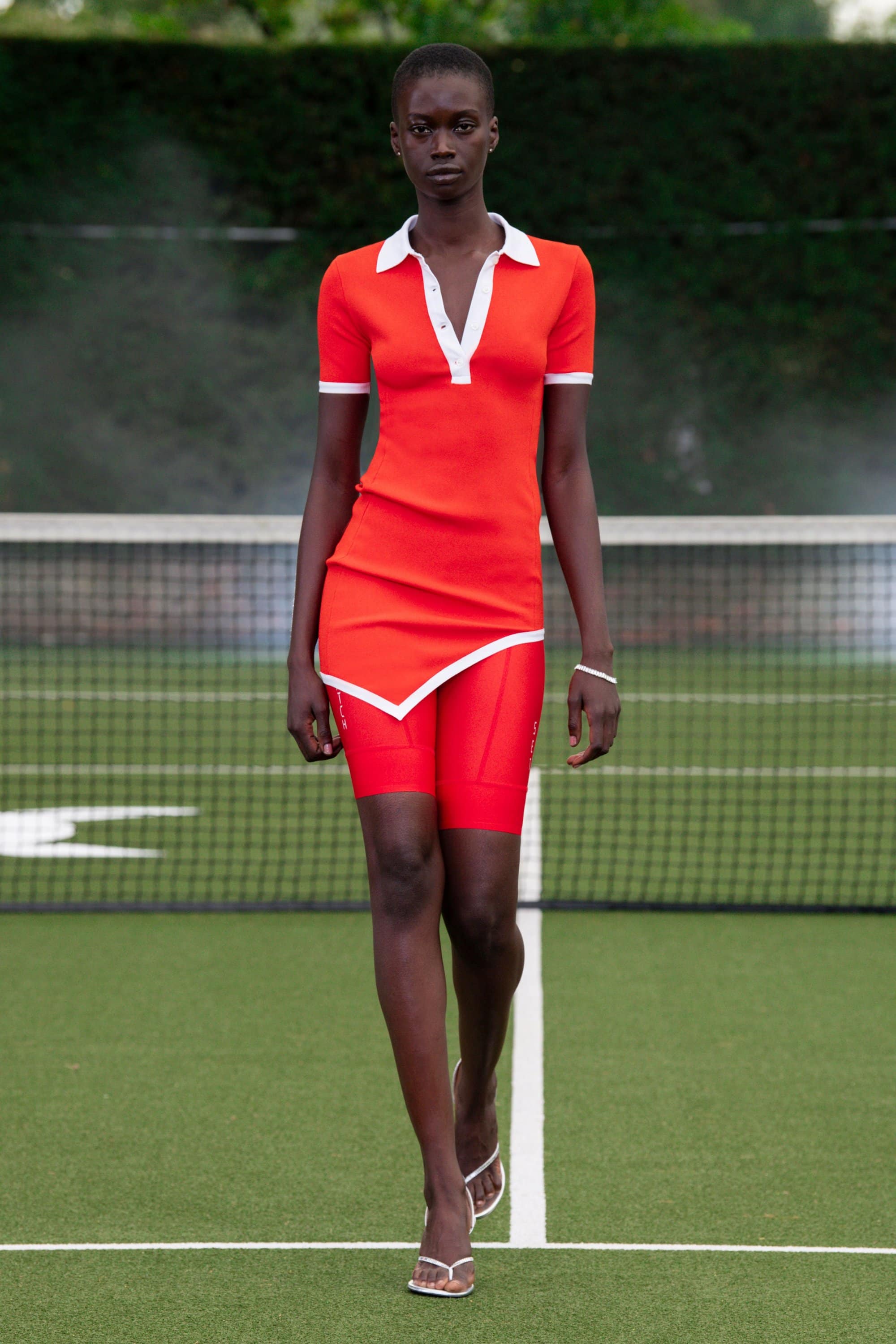 The designer staged a runway showing around a tennis court and film the models wearing his interpretations of the tennis wardrobe. Koma is known for his retro-future aesthetics – that means the marriage of high-octane sports clothes with haute couture crafts. He opened the live show with no audience with a red polo with white trims and asymmetrical cut paired with a red biker shorts as a classic silhouette of the women's tennis outfit that eventually transformed into a one sleeve short dress. Then followed logo terry cloth dress with crystal DK logo, black embroidered log tank and skirt, simple cotton blouson and stretch logo tops, and red long polo dress. Several evening looks were kept to a minimal – black zippered long dress – to convey the idea that sports is never about too much fussiness.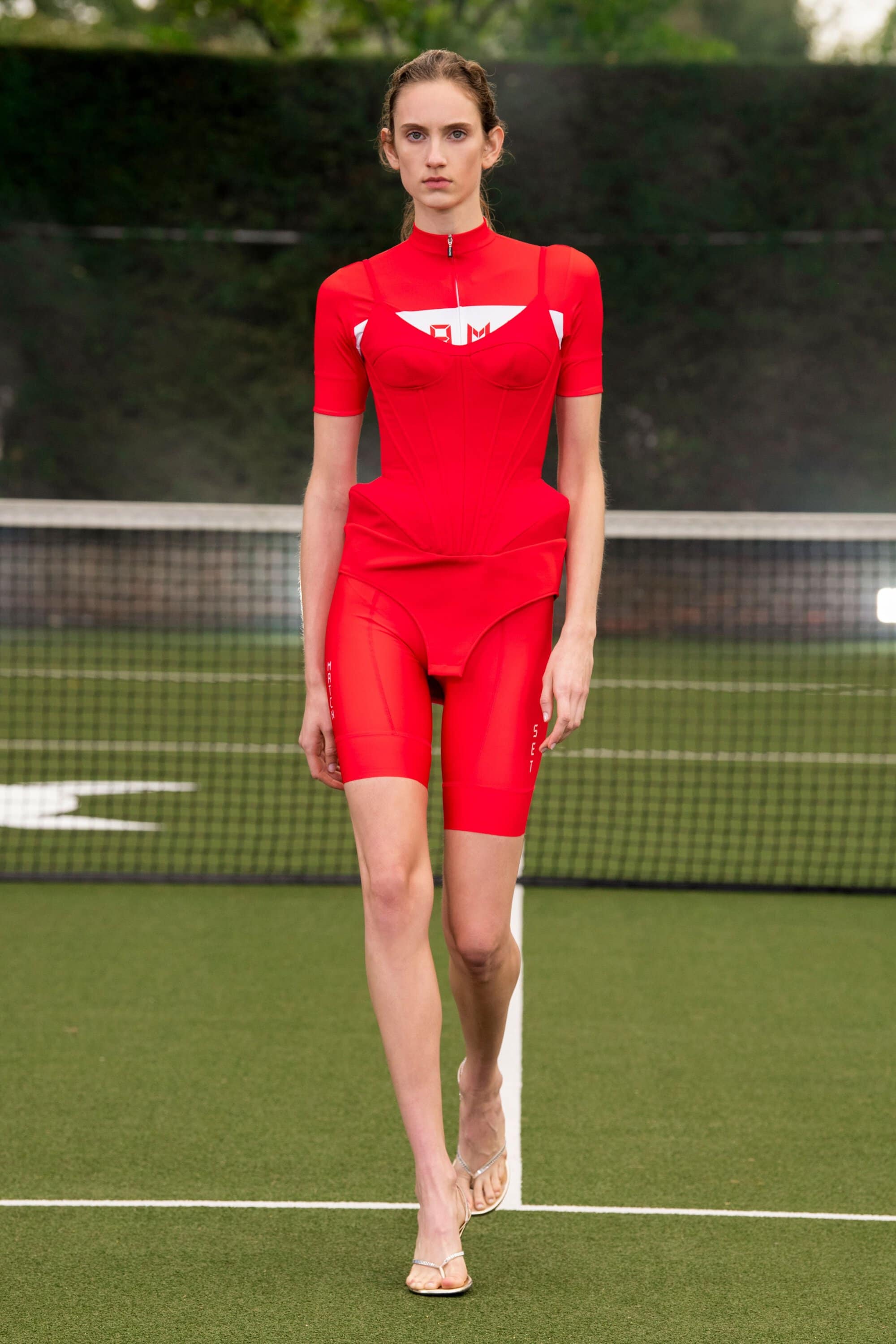 With this collection, Koma seems to have reclaimed his brand since his departure in late 2017 from a four years stint at Mugler in Paris.
He is finding his firm footing again in the sport couture arena.
PRONOUNCE
Yushan Li and Jun Zhou have been on travel excursions throughout Asia the past few seasons and this time the duo visited Lhasa in Tibet. Li, a graduate of Central Saint Martins MA Fashion, and Zhou, a graduate of Istituto Marangoni and London College of Fashion MA Menswear, formed Pronounce in 2016 with the duo based in Milano and Shanghai.
Yak butter tea is a Tibetan specialty that combines water tea with yak butter. This dual-element never mixes together but instead glides on each other's surface and coexists in a harmonious way. Li and Zhou based their spring collection on this idea of differences living in harmony as expressed in a balance in their urban wear clothes between utilitarian and decorative with their own interpretations of the Mao collar suits, the Cheongsam, and the Tangzhuang and of infusing these traditional Chinese dressing classics with western fashion ideas of tailoring, of using Tibetan stone washing on purple fabric for shirts and pantsuits. Tibetan prayer knots are made into a belt for a slouchy red jacket worn with tan slip-on pants based on the local monks clothing.
Among the best look from this show was the sleeveless large lapel button-less jacket paired with a pink satin bias cut tee-shirt and oversized white pants. But many of the looks feel over-designed with simply too many elements added together that don't seem to make any sense and may diminish the designers' message. Take a look at the teal cropped vest with metal buttoning, washed print purple long sleeve shirt, flare pants, iridescent cut panel long skirt, and furry sandals.
The live stream show was staged with a limited audience and without the designers who apparently too watched it via live stream.
MAXXIJ
Maxxij is the young Korean designer from Seoul who is debuting his menswear at LFW after showing in the Korean capital since last year. As a conceptual fashion house, the designer Maxxij's mission is to 'create bold, expressive, forward, and a fearless vision of fashion' as stated at his brand's e-commerce site. "The designer presents an expressive collection each season with a creative concept. The design philosophy is about liberation and recreation of identity through fashion."
What exactly does conceptual fashion really means?
Maxxij called his new concept 'Escapist' with the idea of expressive design to break boundaries in a short video showing different models in slower motion around downtown Seoul across concrete bridges wearing a mixture of very oversize silhouettes of sleeveless vest coat-jackets to floaty trench paired with black lace short, black coat with large layered silk pants, and a black leather sweat-blouson and drawstring leather pants. The clothes clearly showed the designer's penchant for juxtaposing contrasts using tailoring technique to build some of the garments that seemed on the borderline of strong form and formlessness and putting opposing fabrics together to create textures and movements. A black suit is worn under a large nylon striped coat or a khaki and navy jacket-coat suit combination are examples of this contrast of fabrics, colors, and shapes.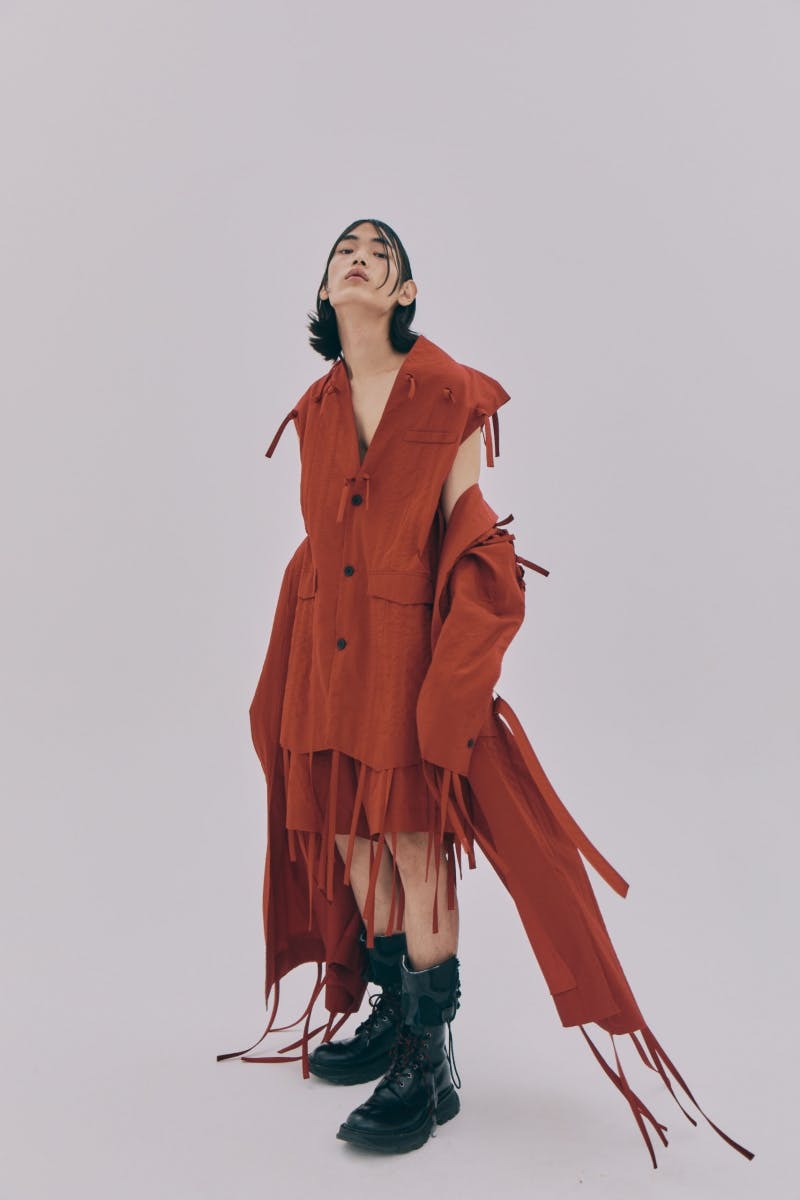 Fashion theory and high concept are wonderful but the execution of these ideas into sensible clothes remains often elusive particularly in this case for Maxxij. The oversize clothes are just more or less oversize – they are not intriguing in any other way. Other looks such as a light acqua blue cotton trench with a hundred pockets looks simply silly. In future seasons, the designer should narrow his concepts and think about executing clothes that make sense and are sellable.
The Long View
Last Words From London Fashion Week

The British Fashion Council was the first among the four big fashion capital to set a first digital-only fashion week for its June normally men's fashion events, now transformed into genderless and seasonless online presentations. BFC pioneered a central web platform 'London Fashion Week' to post every digital show as well any materials on each of the participating designers. This time around it was to be a mixture of physical shows with limited audiences, one-on-one presentations, and digital activation set according to the BFC official calendar.
It is not yet feasible to assess if LFW 2020 is a success measured by whether the digital format will achieve two sets of goals – one based on the size of the audience and two based on whether the platform aided any of the participating designers with additional sales.
While most industry experts dismiss the idea of more permanent digital shows in favor of in-person experience of live events as in the past, the digital format cannot be dismissed for its accessibility on a much wider scale. As such, the question to pose is how can designers use the platform in a more creative way that makes sense for the aesthetics of their brand and communicate in a way that fortifies rather than diminishes their digital footprint and their specific audience. Creativity is primal here and this is much more difficult to achieve in a 4 minutes short film than in a 10 minutes live show.
On the creative side, the London designers who succeeded this week did their video presentations in ways that simplify the message of their brand and their own personal views. In other words, these designers placed values into the clothes they showed because these products are made with their sensibilities and their values.
Bethany Williams' video made with the Magpie charity featured homeless mothers with their young kids is an exceptionally powerful work in fashion that showed how devoted Williams is to her socially conscious fashion brand. The milliner Stephen Jones's brief and entertaining introduction of a few new hats showed what could be done in one minute for the audience to learn about Jones and his work. Palmer/Harding shot an emotional short film using their current fall collection by sending clothes to each of their family in Texas and northern England. But at Simone Rocha and Molly Goddard, the opulent and individual clothes speak for themselves.
Today the look of a jacket, a pair of pants, a sneaker, or a handbag isn't enough to convince many young people to consume. These consumers must feel that the values of these brands are the same as their own values. Sustainability has been a London 'thing' for more than a decade. It is coming from young designers who received their BA or MA from Central Saint Martins or London Royal College of Art who instilled in their own brand how to make clothes in ways that will generate the least amount of waste and pollution.
Focusing on these values now in these current times where production and consumption are being reevaluated during the lockdown which resulted in no production and no consumption on a worldwide basis is more poignant and urgent now.
London has been and is the leader in the sustainability that affects all areas of fashion, even at the level of the plants that produced the fabrics. Social activism is another area of concern embraced by many of the young kids who just entered fashion.
The moment clearly encapsulates changes. But how and at what cost?
There wasn't a single designer this week who did not ask this existential question – what do we do now and how do we do it remain the questions on everyone's mind as the lockdown ease in early summer but the dark cloud on the fashion horizon deepened at the same time. Christopher Kane made his own hand-painted artworks and several one of a kind art-dresses as he was unable and unwilling to create a larger collection without the reasons to do so. Liam Hodges made a collage video of his trip to Milano last January showing the scenes of inflight knitting, sharing a pizza, model fittings, and sharing meals and drinks – such mundane occurrences hardly of any notice six months ago but now prized. Michael Halpern put his fabulous garments on eight women from front line workers as a tribute to their enduring work in a charming video and in a way he was able to show the beauty of his clothes when the lights had stopped shining on the spinning disco ball. Oh and speaking of disco balls, the 16Arlington designers –Marco Capaldo and Federica Cavenati – lamented in the temporary loss to making their maximalist clothes possible now but assured that the drama and the disco will be back.
Let's hope they are right but when the disco returns is an unkown.
But beneath all these discussions and official 'conversations', a few Londoners are actually at work on fashion while trying to put the current crisis in the back of their minds. The works of newcomers Bianca Saunders and Kaushik Velendra offer hope that their creativity is the road forward, doing what they do from their hearts. This is what London fashion was always known for – breakthrough talents with very specific and very personal views. Although Saunders and Velendra differ significantly in their design aesthetics, they share a common goal of altering the perception and the rigid boundaries placed on men's clothes and masculinity.
And in London there is another common bond in the small fashion world in the British capital. Many of the brand new and seasoned designers are all graduates of Central Saint Martins BA or MA Fashion, the Royal College of Art, the London College of Fashion and the University of Westminster Fashion Design BA. It's a bigger community of graduates with the mission of furthering the reach of fashion and of course their own brand fashion.
In 2020, community and shared values are assets to have in abundance.
---