---
Reviews of Loewe, Olivier Theyskens, Nina Ricci, Yohji Yamamoto & Lutz Huelle Spring 2021 Fashion Shows
Clothes as Poetry, as Art, & as Real Life
By Long Nguyen
On this fifth day in Paris, different designers verbalized their thoughts via clothes, via art, and via real life clothes or as in between all the above.
YOHJI YAMAMOTO
Défilé
Yohji Yamamoto is a fashion designer of the most traditional kind – he simply designs fashion and designs more fashion season-after-season that in this era is more-or-less an aberration, not the norm. Often he works outside of the fashion system and at times out of the limelight completely. You may not hear much about Yamamoto anymore but he still designs in his own ways and still does fashion shows for both men and women despite of all the difficulties including this spring show at sumptuous salons of the Hôtel de Ville in Paris.
Yamamoto, commonly know just as Yohji, showed for the first time in Paris in 1981. At a time when fashion was concerned with those power looks and glamour and glitz and more sparkling than anyone dared to admit, he showed a collection of unstructured and voluminous clothes, yanking everything from inside to leave just the essential, in all black wool and cotton with garments that portrayed little of the prevailing taste of the times. More so, the aesthetics that made these clothes possible was not part of the so-called zeitgeist in the air then.
But going against the grain can help to shift the public perspective and perhaps also shifting the culture at large. Yamamoto's clothes from those early Paris shows profoundly altered the look and the feel of fashion, diverting much of the attention away from the over embellished designer clothes at the time to a fashion ethos that was more subdued, more introspective and more designed oriented.
In the years since, the designer has never surrendered his views and his practices of his fashion even when the tides were turning towards marketing and branding rather than design innovation.
It is hard to imagine how it is possible for Yamamoto to continue to show with his boundless energy and with practically no compromises. There aren't many fashion designers working in the past two decades in the same manner as Yamamoto, designers who put their fashion first and foremost even at the expense of business opportunities through the power of marketing. I remembered seeing Yamamoto's shows in the early 1990's in Paris and at that time the invitations to his shows were in high demand. Yamamoto hasn't changed his way of working but the fashion world has surely evolved far away from the interests in fashion to the interests of branded fashion. It would be a mistake to think of Yamamoto as not be a part of the current fashion street thing – sure his Supreme collaboration just dropped less than a week ago.
It isn't that his clothes are too cerebral, but they would require the wearer to understand and appreciate a bit about the design process.
Watching Yamamoto's live spring show online was a real reminder of the process of fashion design rolling out slowly on the black wooden platform created as a runway as the first model exited in the in a white cotton gauze sleeveless dress with a white sash across her front body. It was a reminder of how a long languid dress like this shown one on a late Friday night in Paris also represented the Yohji aesthetics as much as those more complicated garments made with complex cutting and draping that created all those voluminous silhouettes that now belonged to fashion history.
This season the models' calm and slow walk wearing white and then black cotton simple long dresses some with knots tying parts of the dress together to the soft playing of guitar created a mood of absolute confidence as if for the short duration of the show everything was fine. A v-neck black long jacket-coat was part of the section of long tailored jackets so soft it flowed across the model's body as she paced towards the small audience. As the show progressed, a storm seemed to have arrive from somewhere as the black clothes got crumple up and partially destroyed and blown apart with bits and shreds of fabrics moving away from the actual garment.
However, with just 32 looks rather than the usual say 75 looks normally, Yamamoto presented perhaps one of the strongest show of his career in a show that started with soft white and black dresses to the tailoring jacket and jacket-dress to the built up of the spectacular final black dress with torn segments made cemented into a sculpture of a shredded dress blowing in the wind. One black sleeveless dress was literally blown apart leaving sections of the brass bone wire exposed revealing the slim black pants underneath. Only a the inside white support fabric of the inside of a lapel and a sleeve remained
Without the needs for arts or the aids of collaborators, Yamamoto let his clothes do all the talking. Words are obsolete when clothes like these wrote the verses in such a poetic manner like a short and succinct haiku worn by 32 models.
There was no need to talk about lockdowns and reflections and what to do next – all of that seemed so superfluous in the face of a more powerful fashion vocabulary. It takes a master designer to craft poetry into these clothes. Bravo.
LOEWE
Digital-Experiential
"Show-on-the-Wall derived from this idea that this entire collection was done remotely. I was looking back as a lot of people were doing in this moment of kind of rethinking of models, of fashion and how we approach things. How do we recontextualize fashion in this moment and I thought it was nice to work with her again (the British artist Anthea Hamilton made the surreal wallpapers). While we are still in a situation where travel is restricted, I still want the viewer to participate," Jonathan Anderson said in the video presentation at the Paris Fashion Week digital site from the Fédération de la Haute Couture et de la Mode, the French fashion governing body in explaining his concepts of the spring collection.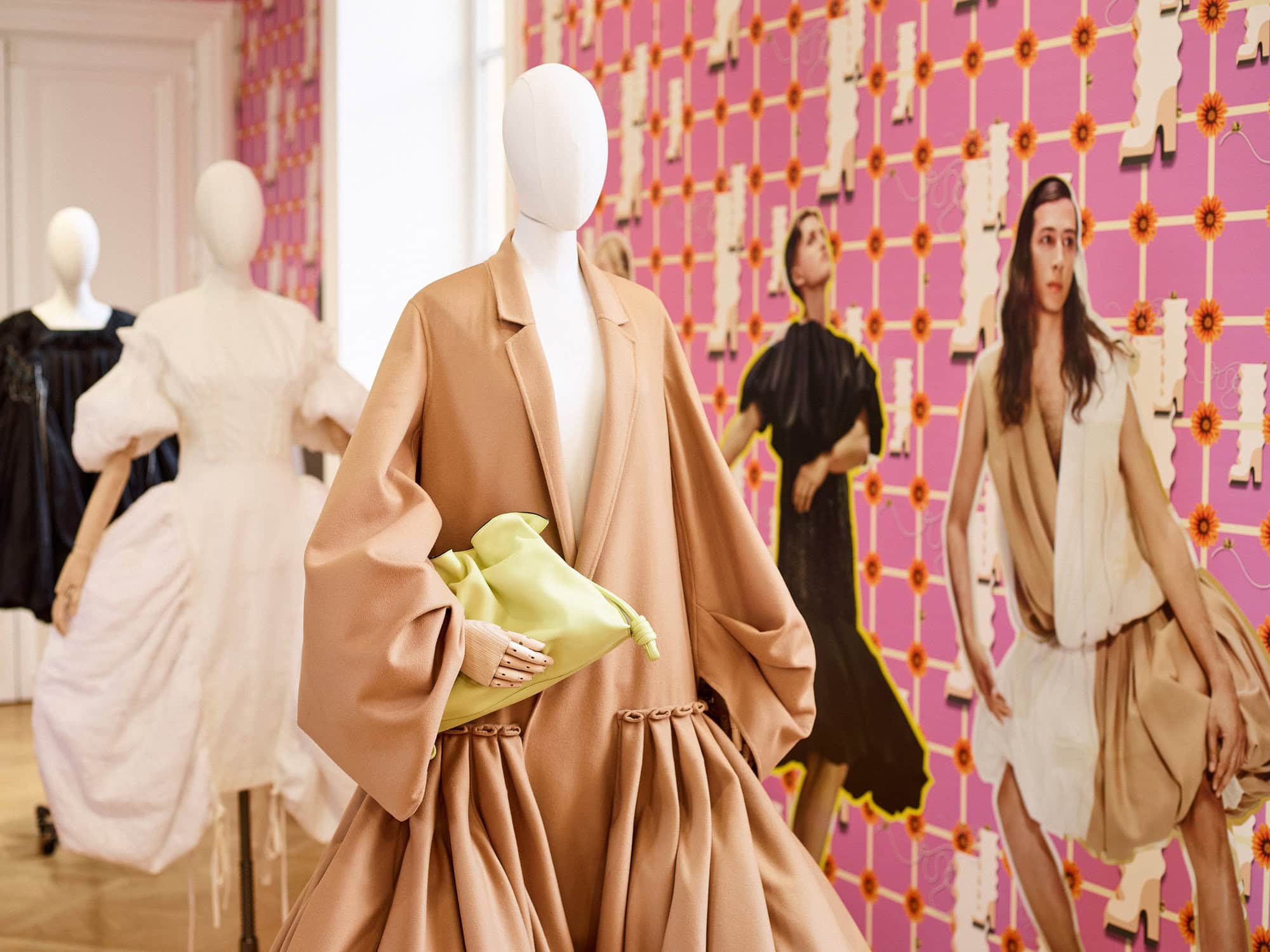 As images of the actual box that looked very much like an artist paint box that contained a large paint brush, a pair of scissors, a white booklet, a roll of printed figures, a roll of print paper, Anderson stressed the needs for some kind of interactive and immersive experience for the viewer to participate in the creative process as he demonstrated the application of the glue to put the posters with photographs of models wearing the spring looks as well as still life of on a wall. "Everything is exactly life size," Anderson said of the photo prints of the models of different ages and genders, each wore the clothes in action shots.
I like the idea that we would really delve into the art exploring the art of fashion. This collection glorifies the hand embroidered, the hand woven, the hand made and make us think of the past, the present and the future. How could you make these three things communicate without having disregard for the other?

– Jonathan Anderson
What Anderson meant were clothes like a black cocoon cape made of ribbed silk crochet over a white organza silk ballerina short skirt, a gold satin short structure micro dress with mini folds and ribbing and round balloon skirt overlaid with black tulle, a floral embroidered zig-zag skeletal dress with black satin short puff sleeves and black organza folds at the bottom, or a navy slim jacket with black silk blouse and huge puff folds pants – clothes that reminded us of the over arching of the haute couture influence so prevalent today in a way that bring back shapes long dismissed as antiquities. Many of these Loewe spring looks are couture clothes as far as materials, uniqueness and handicraft workmanships.
"The collection is based on the idea of fantasy and reality. It really makes the wearer become something. It takes them to another place," he said as the camera focused in on a navy short tight waist short dress with dangling black satin and chiffon big sleeves.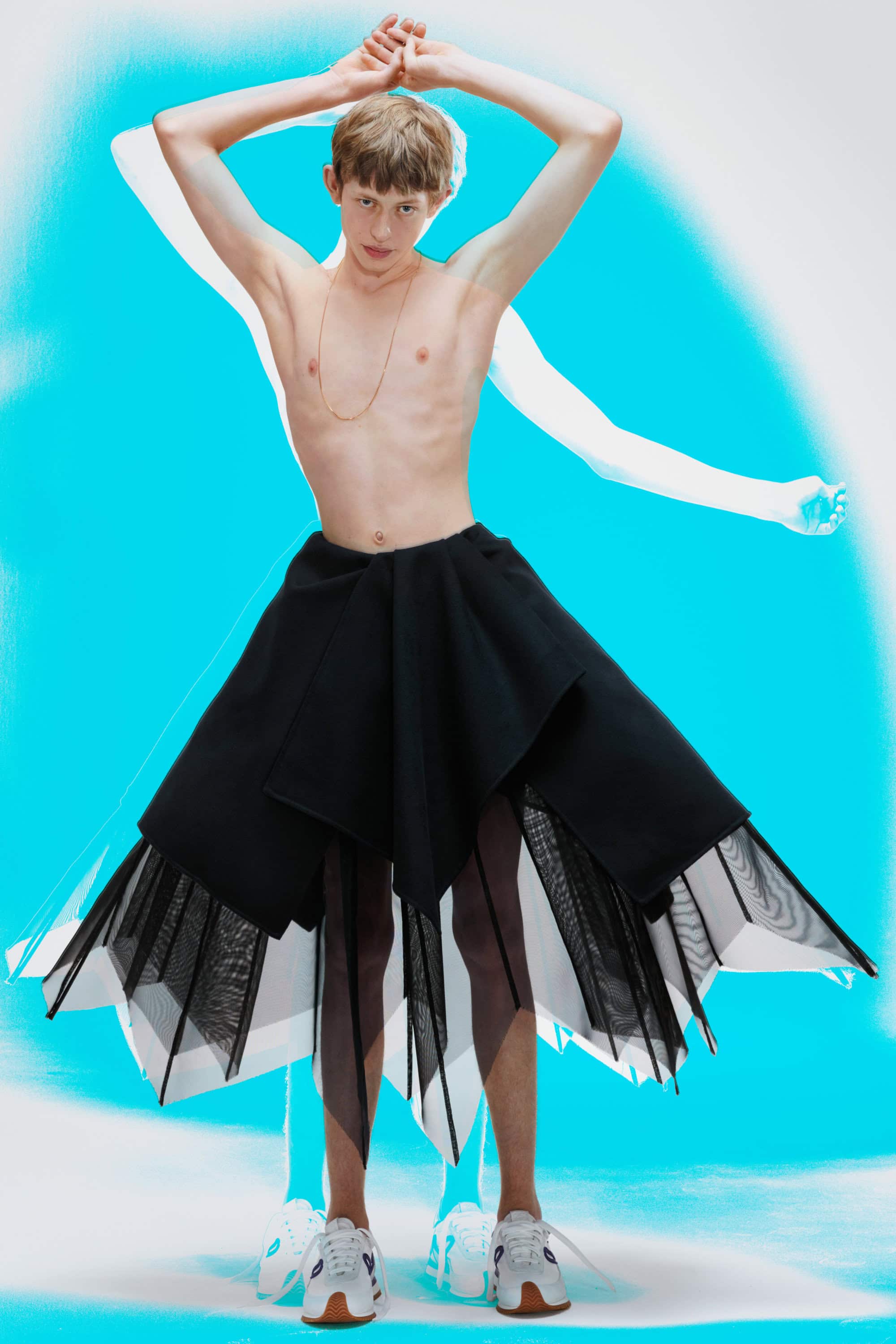 Sometimes it's nice to kind of escape into clothing. I've been doing a lot of historical research on how boning can be used within clothing and taking it out of its context. By using on the different edges you can get a kind of structured fluidity.

– Jonathan Anderson speaking of the black rigid asymmetrical skirt worn by a young boy with white leather sneakers in one of the posters from the box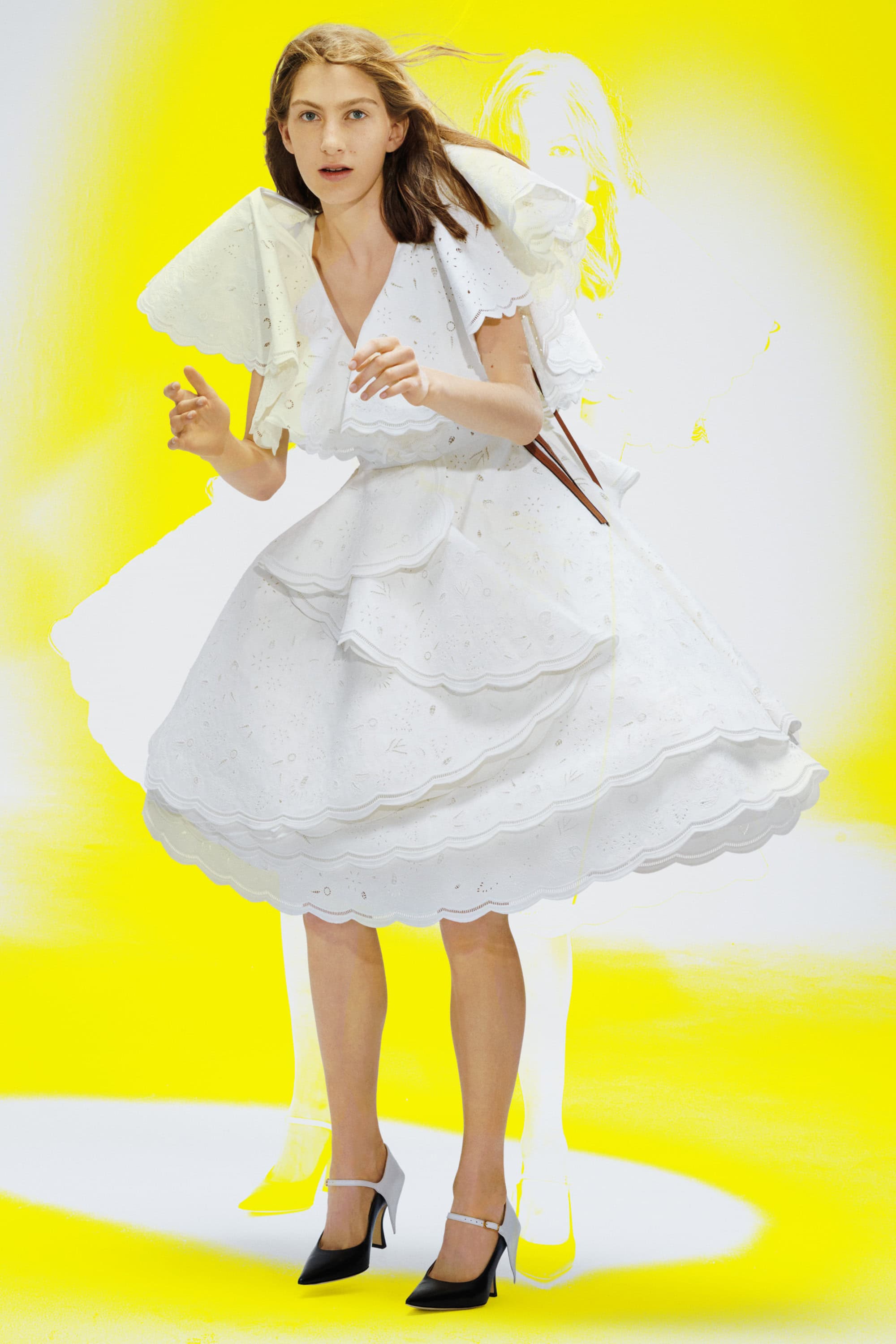 While the inklings of couture is pervasive, this spring collection contained several looks that are easily adaptable to commerce – a white cotton multi layered short A-line sundress, a blue knit sparkling long dress or a black corset short dress with layered panels skirt. And the new bags look wonderful with new shapes like the Balloon bag with a new deconstructed basket as a base or the purple sparkling of the Puzzling bag.
While the tribute to arts and crafts and odes to haute couture ideas and ideals gathered the strong sense of the intimacy and the rarity of some of the pieces shown in this collection, there wasn't much of a suggestion of how these 'couture' garments can translate into a full range ready to wear collection destined to the coveted younger women customers. While not shown here, these clothes surely exist in the showroom at the Paris headquarters on the left bank. But for the moment, drama and dream are the priority.
"This is a moment when it's not about being bombastic, it's more about being sensitive and sincere and honest of where we are at," Anderson said at the end of his monologue. Fashion is foremost fantasy before they are actual clothes at the stores.
NINA RICCI
Digital
Rushemy Botter and Lisi Herrebrugh have spent exactly two years now as creative directors of Nina Ricci since their appointment in late summer 2018 to harness a new aesthetic for the house as part of the process of 'updating' another so-called heritage brand more dependent on the fragrance rather than the fashion business. "We feel very inspired by the fresh and subtle codes that make Nina Ricco such a beautiful ode to femininity. We aim to create a new spirit, a spirit of our times: effortless, sophisticated and strong," the duo designers said in the official statement released at the time of their appointment.
The recent fashion history at Nina Ricci has been one of chaos in terms of what kind of a fashion house the brand's management wanted to house to become. The frequent changes in the chosen designers and creative directors since 2003 – Lars Nilson, Olivier Theyskens, Peter Copping, Guillaume Henry – and now Botter and Herrebrugh showed the lack of clarity about the future of Nina Ricci and who is the brand's targeted customer base. All these designers who were involved during their time in Paris have different visions and aesthetics that required time to settle into the house fashion platform. The Puig group that owned Nina Ricci did not seem to have a clear and decisive direction for Nina the brand during these long years.
In the latest iteration, Botter and Herrebrugh are finding some footings of their own as they continue to understand and evolve and perhaps also to take command of the fashion imprint of this century old brand even though they never had real experiences in womenswear.
The duo have a small men's line called Botter that have earned them praised for the unique approach to men's clothes with a little bit of humor mixed with tailoring. Their fall 2019 debut was the precise execution of tailoring with added fluid shaped dresses paying respects to the inherent feminine codes of the house.
What do the general public knows about Nina Ricci? Well not very much – perhaps just the fragrance L'Air du temps in its recognizable Lalique shape bottle inside a bright yellow box. Launched in 1948, this now classic bestseller was at the time a symbol of peace and renewal with the dove cork and with a light spirit engendered by the light smell of the fragrance. Botter and Herrebrugh referenced L'Air du temps as going back to the root of the house based on the optimism in the rough post-war years as in the current times now. "This Spring-Summer 2021 collection is a message of hope," the duo said of the new spring clothes with shapes that revolved around the curvatures of the glass flacon bottle but executed with the fluidity for that primal needs for comfort required today.
Farfetch, the giant online e-commerce site, described the new Nina Ricci brand to its consumers with the work of the new designers as "iconic and undeniable femininity but adds oversize androgynous tailoring as counterbalance – soft and flowing silks are contrasted by sharp shoulders and large lapels." Messaging apart, what about the actual spring clothes, the final products of months long thinking and planning?
Botter and Herrebrugh deconstructed much of the hard tailoring this season in favor of a more fluid and loose shapes in the form of black and white herringbone long jacket with matching pants, a white long double breast large lapels jacket with gold buttoning and a knee length skirt and in the classic jacquard double breast pant suit. Using the classic Nina Ricci scarf as a design motif, they attached yellow panels to a light orange strapless dress or as one shoulder white ruched tank worn with a yellow half bathing suit and slightly flare black pants. New this time was that the structure of the swimsuit was incorporated into the collection and worn under jackets with cut out back with the fabric hanging to the bottom revealing an orange bikini top peaking from underneath.
Marrying sport elements with couture techniques is a trademark of the work that Botter and Herrebrugh has done since their arrival at Nina Ricci. It is a tricky proposition that can sometime result in clothes that are over designed and clothes laden with heavy hand structures not really built for young women today. Here, though, in this smaller collection, the duo seems to have taken the lockdown time to iron out their thoughts and to think about how to carry those thoughts out into clothes.
The light pink top with floral print puff sleeves with long strings attached and the yellow and nude half-dress half-jacket are perfect examples of this harmonious co-existence.
OLIVIER THEYSKENS
Digital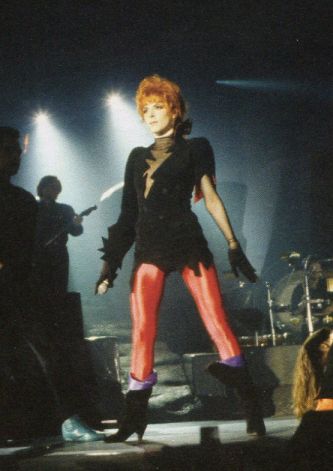 Mylène Farmer is French singer, songwriter and occasional actress famous from the era of the late 1980's to the mid aughts, a superstar with the highest number songs among French performers and a star who used fashion to portray her various on stage personalities from the 'garçonne' to the girl styles to the femme fatale looks prevalent at the various moments of her long career. Designers like Jean Paul Gaultier and Thierry Mugler had made on and off stage costumes and clothes for her. Practically anyone growing up in France in the 1990's would know her name.
During the lockdown, Olivier Theyskens roamed through on line to locate visual and videos of Farmer to give a pop culture imprint to a collection that was as much his designs over many years.
His new spring collection was sort of like a retrospective through time but not of any particular moments. The v-neck long sleeve A-line black dress with front slit and the turtleneck button up long sleeve giant ball gown reminded of seeing Theyskens first two shows in Paris in the mid 1990's during his penchant embrace of the gothic aesthetics prevalent at the time. The grey mannish suits, the grey slouchy and the white shirt and black tie recalled the cover photograph of Farmer dressed in a black pinstripe suit with a white shirt and black wool beret for her smash hit Sans contrefaçons in 1988. And the black leather off shoulder lace up corset short dress with long sleeves recalled those sexy costumes Thierry Mugler created in 1989 for her Sans Logique tour that year.
It's great to see someone like Theyskens who has been through many fashion adventures in his career to stick firmly to his beliefs even at a moment when collectively society is facing so much uncertainty. Long term social and economic inequality are never good for society and surely never good for fashion.
LUTZ HUELLE
Digital
Having spent more time in bed in the last 6 months than ever before in my life make me think about cloths to wear in bed or at home lounging on a sofa doing very little. I realized that a pyjama is really just a – very comfortable – 2 piece suit, which made me think about homewear in general, and how to transport the idea of the coziness and security of home into the outside world.

– Lutz Huelle, on his spring collection
Huelle's rose satin pyjamas may be the season's most comfortable look that can be for both the house and the cocktail party if even those are coming back anytime soon. Despite of the insistence for home use, many of the clothes are versatile showing that ease can sure be worn outside the house such as a purple long pleated dress or the many variations of denim – skirt, jacket, dress – that are mixed into the line. But at times the hot pink or black puffy boat neck top seemed more for an event rather than for relaxing at the house.
For Huelle, this collection did not stray too far from his ideas of providing low key but fashion clothes as he had shown in previous seasons. "Sportswear that doesn't look like sportswear and homewear to leave the house in," as Huelle said. He may be correct in his assessment of the moment now.
---