---
Reviews of GmbH, Maison Mihara Yasuhiro, Vetements, & Juun.J Men's Fall 2021 Fashion Show
By Long Nguyen
The fourth day of the Paris menswear fashion week belongs to Dior Men. At Dior, the creative director Kim Jones delivered a calm collection working with Scott Doig, the Scottish-born figurative painter. The collection Jones delivered was full of art and crafts but lacking a central idea for what is Dior Men.
Day 4 saw strong collections and visions from the team of Benjamin Huseby and Serhat Isik of GmbH and Mihara Yasuhiro. These are the fashion designers of the future – they can narrate their story with the concise clothes that are very much part and parcel of these tales.
GmbH
Well am Drahl (World on Wire) is a science fiction television series by Rainer Werner Fassbinder made in 1973 based on a 1964 novel Similacron-3 by Daniel F. The 16mm film two-part satiric and at times surreal series of a cybernetic engineer who began to observe unusual happenings and a corporate conspiracy in his computer-generated program that is now virtual reality.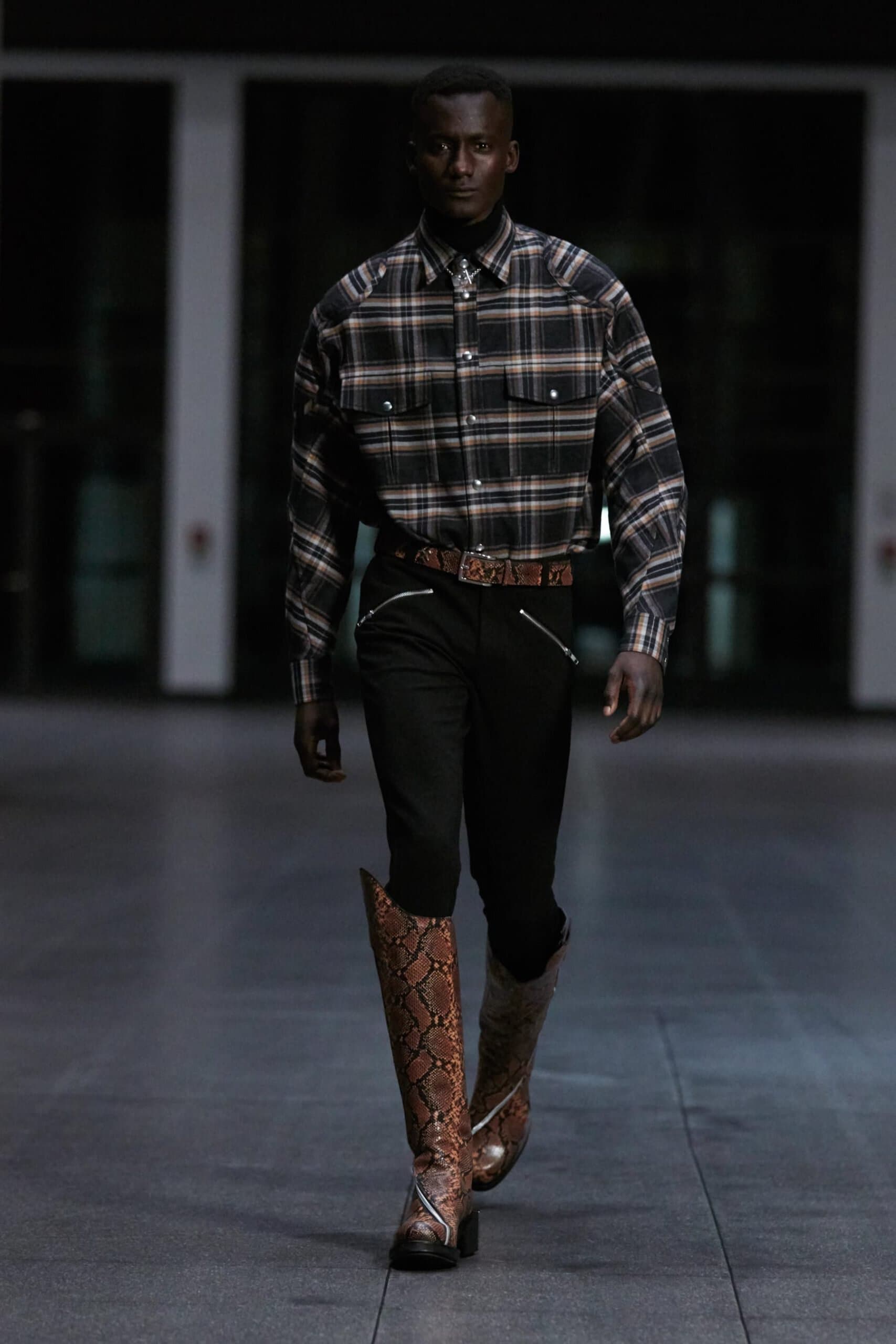 "We started by building a men's collection with silhouettes and techniques that refer to mid-century couture. We wanted to create clothes of dreams rather than the mundane pragmatism of our everyday lives. An escape from the banality of our realities," Benjamin Huseby and Serhat Isik from GmbH said of the new fall collection with an extreme and focused gamut of clothes featured in a short film they presented simultaneously in Paris and Berlin for the Reference Festival.
All the garments suggest a life anywhere, but inside our homes. Whether it means going to the opera of the club, hiking, skiing, horse riding, or cruising. You choose your adventure.

– Benjamin Huseby & Serhat Isik
The collection is nothing short of a concise and highly focused labor in the careful construction of the long fitted single breast coat with an attached double cross sash or as a single breast coat or jacket cut as with off shoulder boat v-neck sash lapel, or as a single breast suit worn with tight fit black wool pants. The construction is sublime as how the back of the sash v-neck coat stands firmly against the model's back. In another version of this cut, a jacket is reduced to a corset/jacket with a sash with pocket lapel worn with a black ribbed turtleneck and black tight pants.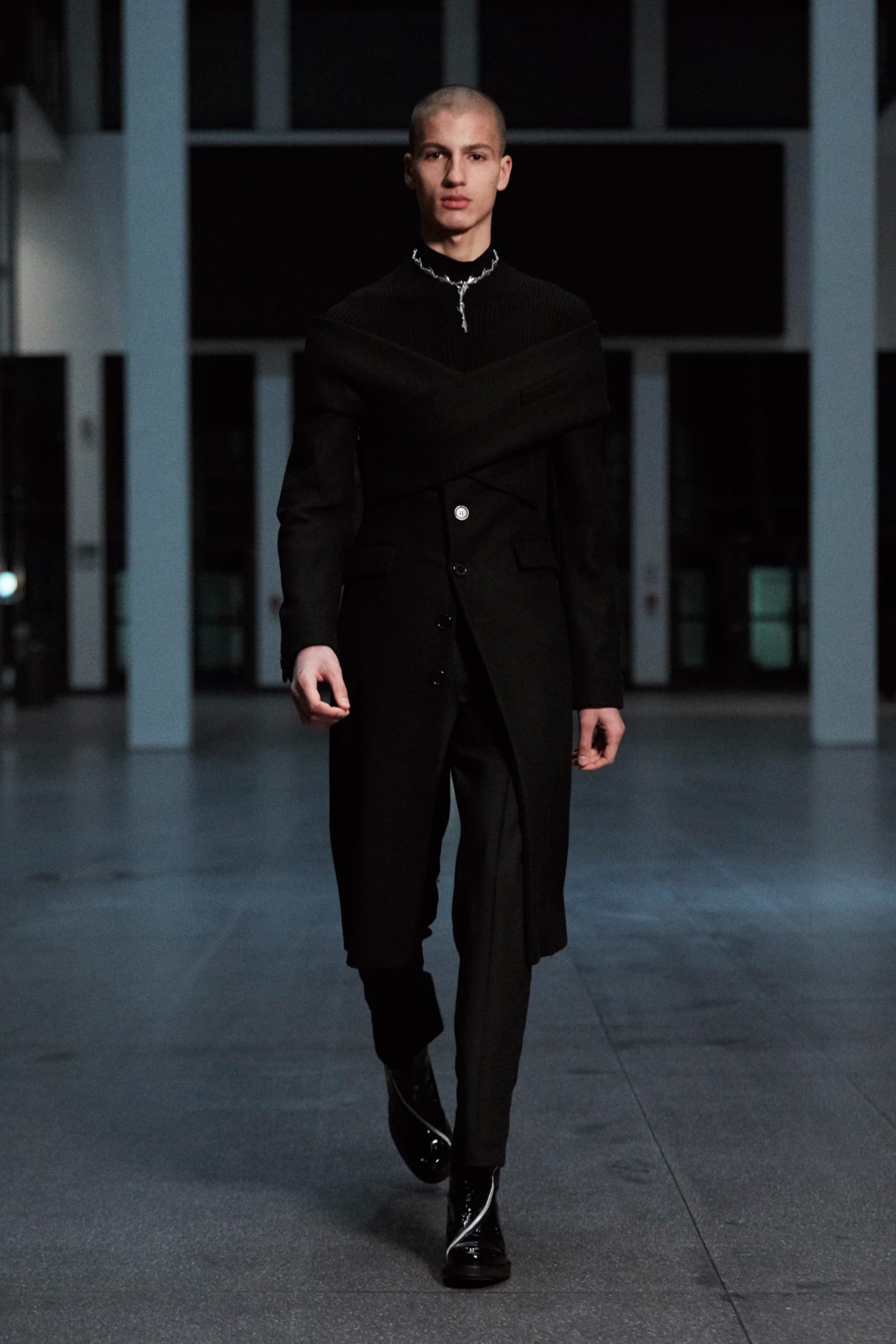 Elsewhere there is a range of leather blouson and oversize black leather coats. There is a simple black zippered single breast suit for those a bit timid to try the boat v-neck cut numbers. A large faux fur boat neck coat and a boat neck black with fox fur sash added some fantasies to these already haute gamme clothes.
Huseby and Serhat have shown in their work the relevance of craft in today's fashion landscape, but craft in the service of a specific vision instead of just making some tailored jackets and coats. Vision matters now more than ever, and vision is one thing that has been lacking in these first four days of this fall Paris season.
It is not just about cutting these clothes in right away that can do the tricks. It is a lot harder than just about craftsmanship. It is in the way Huseby and Isik crafted the clothes each season, giving their garments an expression of sensuality rarely felt in fashion these days. Surely there is nothing sexy about streetwear in any sense. In this show, the designer's string aesthetic, amidst all the couture constructed coats and jackets, the look of a white fitted shirt worn with tight black leather pants with an all-around front zipper manages to stand out as one of the strongest exits. There is just one new pair of pants – one style of pants, not a range – tight and fitted with side angle zipper pockets.
Seeing the show reminded me of the Jean Paul Gaultier Homme Couture Fall-Winter 1996-1997 show staged in a hotel in Pigalle in late January 1996, where the French designer deployed all the techniques of haute couture in fabrication, materials, and dress forms and applied them to create men's high fashion clothes in a way that was not seen before with such a degree of elegance and a deft of sensuality. No men's show since has come close to this level of upgrading men's fashion to the level of women's haute couture, and no one has been able to do so in a new way until today.
Maison Mihara Yasuhiro
Mihara Yasuhiro's rapid pace video 'Basic Antinomie' merging old clips, cartoons illustrations along with a group of youths prancing around to the sound of Paris Death Hilton – a young Japanese experimental rock band – for his new fall collection encapsulate his entire fashion aesthetics in the span of less than showing how when conceived and executed correctly the film format can be a stronger vehicle to propound a designer's thinking than an actual fashion show.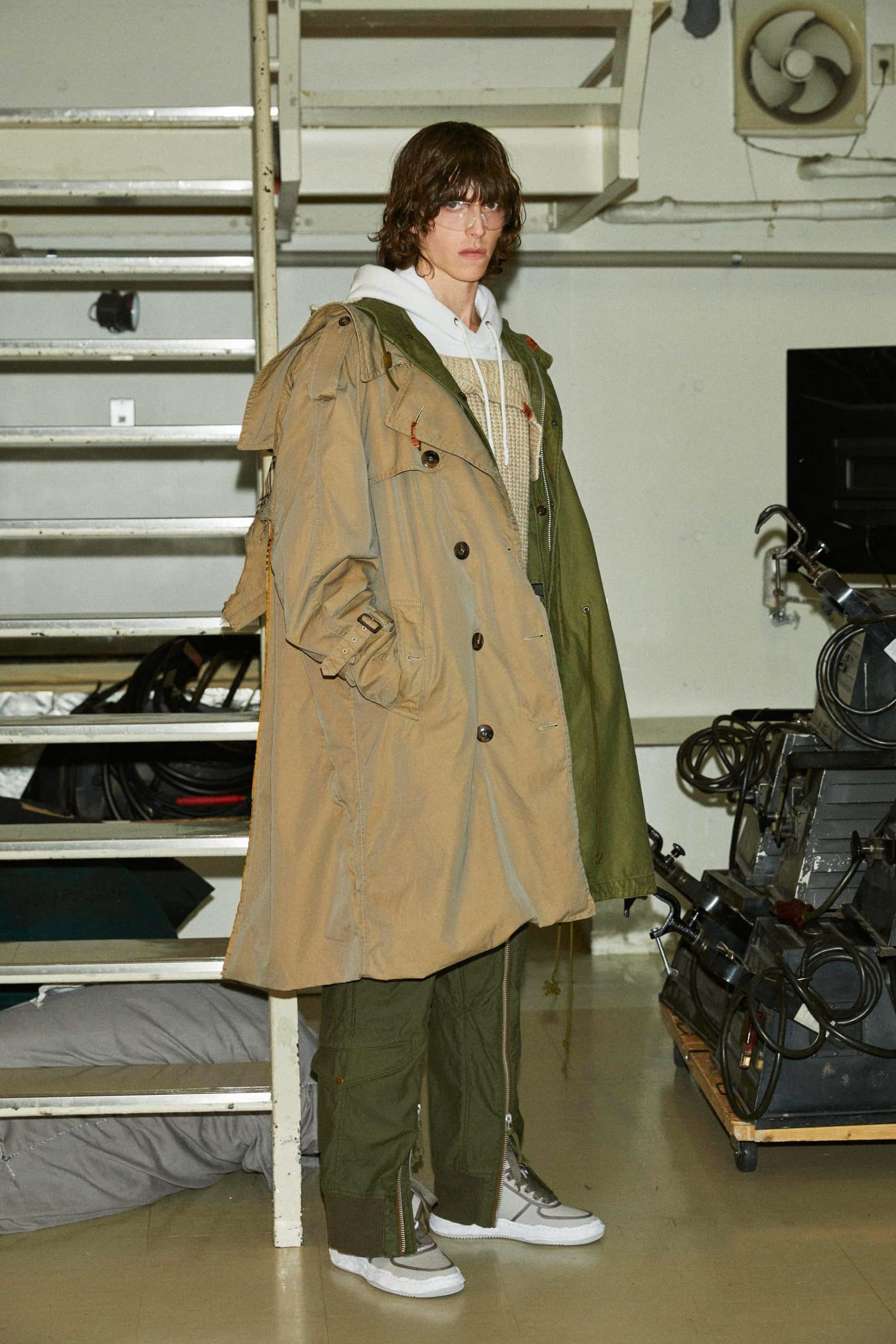 While the show title 'Antinomie' may have a deep philosophical undertone and meaning coming from the German philosopher Immanuel Kant who posited the idea of contradiction between pure thoughts and empirical reasoning in his tome The Critique of Pure Reason. Rarely do fashion designers cite major philosophers as a bastion for a new collection.
For Yasuhiro, this contradiction meant in sartorial terms the seemingly illogical mixtures inherent in each of his fall garments where none of the clothes embrace perfectly made notion. In fact, each garment is an amalgamation of unfinished sewing of different elements merging and not in any real sense of order with one layer of clothes over another and parts of one garment arbitrarily sown onto another.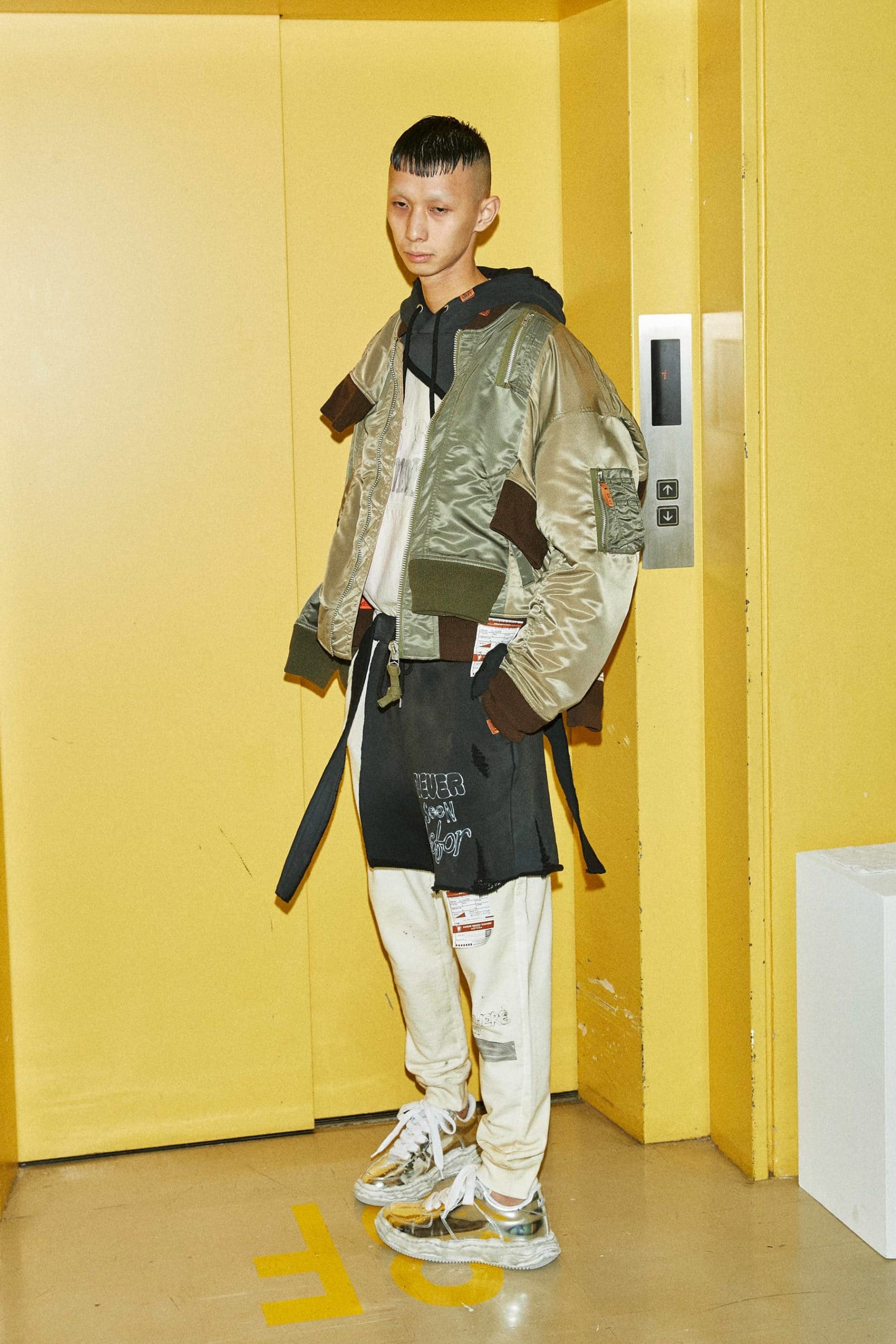 Yasuhiro cuts his fall clothes with the idea of inconsistency in mind, producing a collection of unique pieces rather than a line up of more normal clothes. A tan and an olive trench coat and two MA1 nylon bomber blousons merged into one, two black denim crashed into each other with one of the jacket becoming part of protruding sleeves, denim jeans combined two jeans into one, or an olive wool single breast jacket had a piece of extra fabric in the back to form the dropped shoulder.
This unexpected blending of textures, fabrics, and shapes gave this fall collection of raw edge, frayed trims, and unfinished patches that feel what urban youth fashion is now.
The recent collaboration with the sports brand FILA was a huge success for the brand, further extending its ethos.
The film format really works well here, of course, as the clothes must become an integral part and the mood of whatever the creative direction is chosen. It is not an imaginative leap to see these kids wearing these clothes in their real lives. Sometimes, this is crucial to relate to this generation, kids who literally inhabited the strange universe within a karaoke universe full of surprises.
Juun.J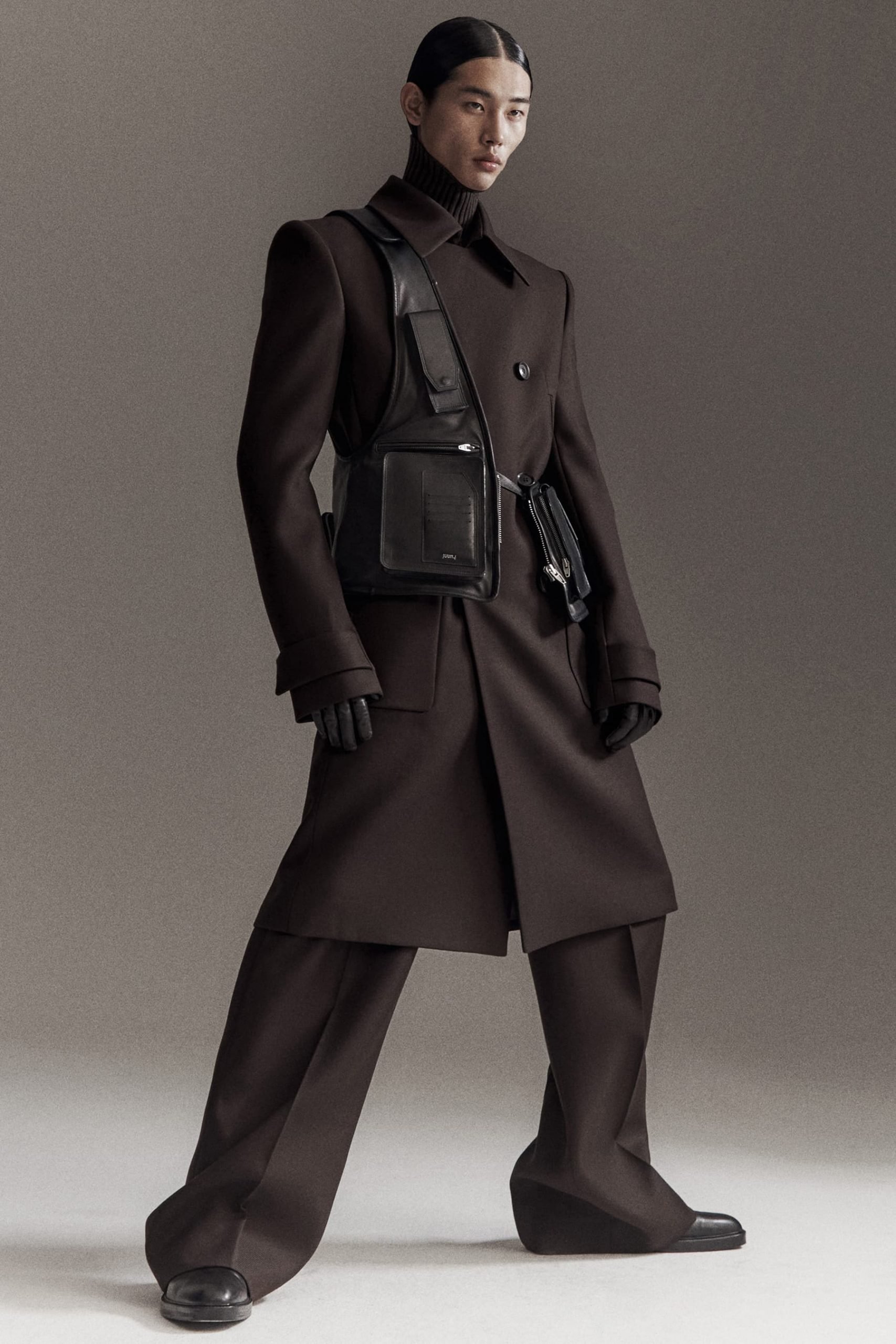 Seeing Juun J's 'Persona' video showing his new fall collection with models walking up and down a concrete stairway of an industrial building was like a reminiscence of seeing many of the designer's shows in Paris and a few in Seoul where each collection was at the time a deep development of a single idea taken the clothes to various extremes like his spring 2018 show with all-white clothes of contrasting shapes based on the Korean Baeg Uiminijog, or his fall 2017 show with the complete dissection of the trench coat, or his fall 2015 show with the exploration of the MA1 bomber jacket and other military clothes.
Juun J. has developed his own version of street tailoring during these years, making precise cuts even with a giant oversize colorful coat. His fashion work included mixing the casual and the chic, rigid and soft structure, and unisex is often overlooked even if he was ahead as ideas once thought too underground has overtaken the mainstream fashion world.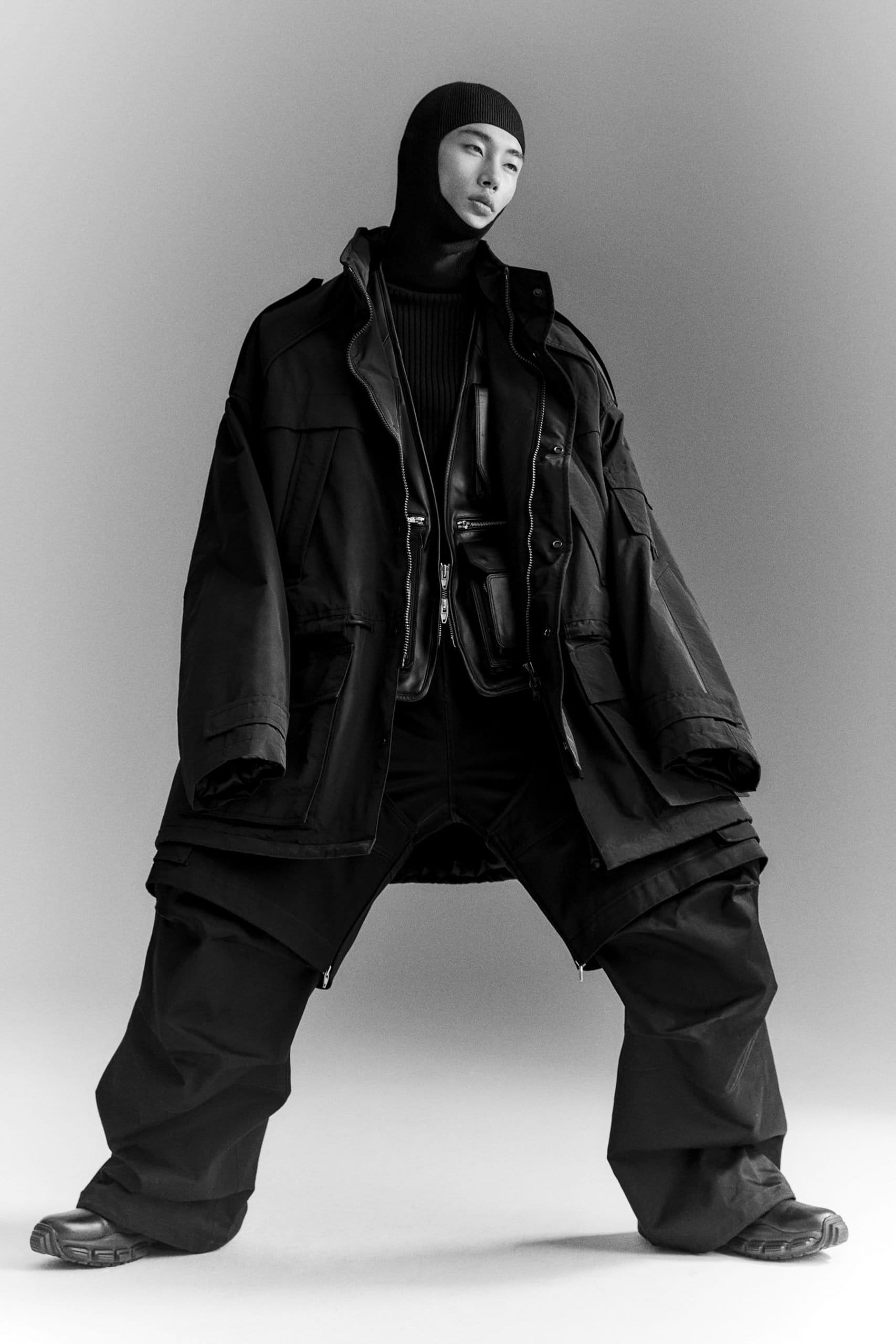 His new fall reflects many of his familiar signatures looks made anew with a collection titled 'Persona' as a 'combination of reinterpreted pieces' within his 'identity through every collection.' That meant tailoring ranging from a black wool high collar double breast suit with long flared pants, a black peacoat with exaggerated shoulders, and of course, a fitted black wool military coat. Then, the giant coats like a blue super oversized duffer similar to those he made for fall 2018 now paired with black cargo pants, and the reworked blue MA1 double-layered bomber first seen for fall 2015 now with a high waist wool trouser.
It is not the first time a designer features a retrospective of the fashion work, a concept first pioneered by Martin Margiela in his fifth year collection with reissues of items from his first five years with a different label. Revisiting one's own work makes sense only if there are worthy things to reexamine, and in this case, Juun J. made a concise edit of his own fashion vocabulary.
Vetements
It was not long ago when Vetements was the buzz of Paris fashion when the brand's early shows at odd locations like a men's sex club and a Chinese restaurant added to the flavor of being the moment's hip brand. Even last June's show at McDonald's on Champ Élysées was at least charming with a barrage of clothes while losing its original conceptual setting where at least had some charms.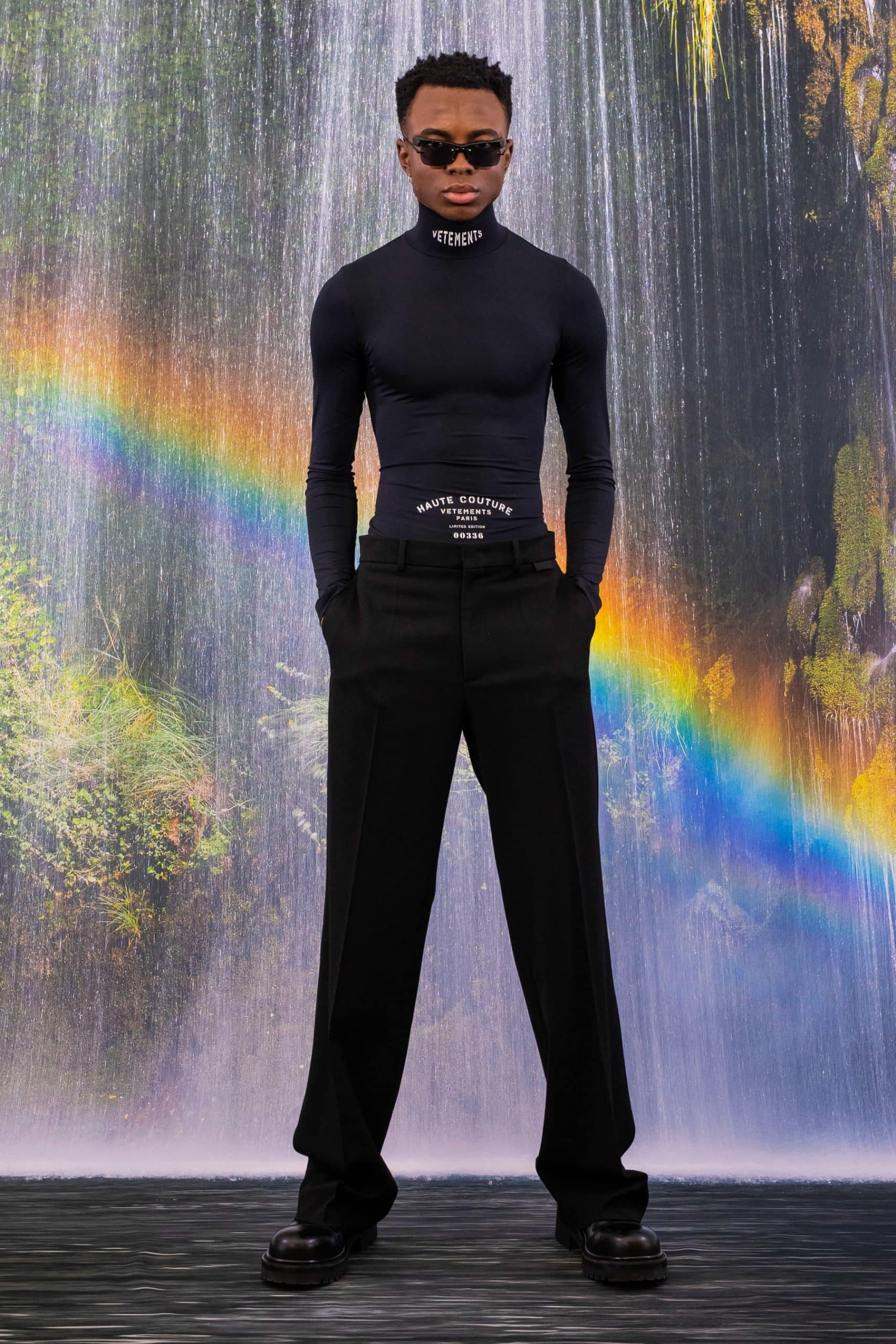 But looking at the look book release with 90 looks total photographed against several different backdrops of red clouds, rainy forest, and some white/blue of the new fall collection today is another matter.
The massive collection for both men and women demonstrated how this brand had really stood still in time as the actual clothes in cuts, shapes, fabrics, and even colorways did not change very much since the brand launched in 2014, ushering in a new way for young people to see what fashion can be and also to get dressed. That, though, seemed a century ago.
Now, with the range of clothes from dressy long black coats, cropped jackets and shirts exposing the midriff, red logo sweat-dress, long black coat with broad shoulders, a floral print rayon dress, and trench coats, and MA1 bombers in nylon green flight color.
While the supply of clothes seems endless, there is a question of why there is a need for such a large collection at this point. It's not as if consumers really care to look at such a wide range of products when sometimes it is more than sufficient to sell them just the three items.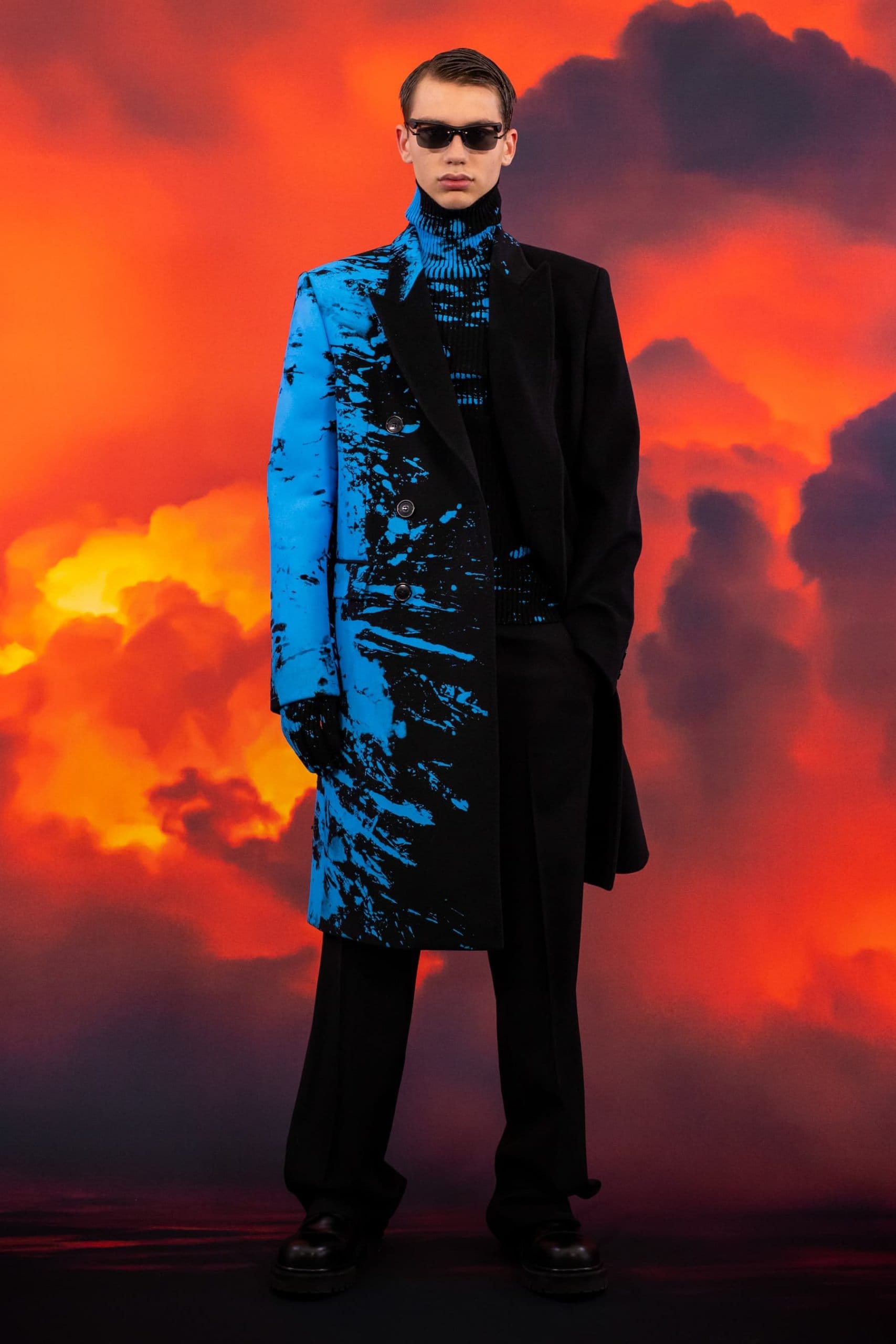 The gamut of this collection repeats all of the clothes the brand has offered in the past. No, a change of decoration on a sweatshirt should not constitute a new look by any standards, however flexible. Perhaps in future seasons, the brand can offer a more concise vision of what it stands for, both aesthetic and clothes.
---