---
Reviews of Jil Sander, Y/Project, Lemaire, Alled-Martinez, 1017 Alyx 9SM Fall 2021 Men's Fashion Shows from Paris
Experiments in Provocative Design and Provoking Feelings
By Long Nguyen
The very recent cancellation by Celine of its planned perch as the closing show of the Paris men's fashion season left a huge void on this last day of the fall-winter 2021 season.
While it is easy to say that when the big league isn't around, it is easier for the smaller league to grab attention, that may not be the case as in the solar system, the fashion like the planetary system, depends on the gravity of the sun so that the distant planets can successfully orbit. Big brands like Celine attract attention and audience to fashion week's interests in general, even though the young designers can more or less navigate on their own within their community.
Of course, Celine will show at a later date on its own, very much like how a few of the resorts show at glorious locations had been done.
What is worrisome, though, is that some of the designers are using this opportunity to remain on the calendar. Instead of doing anything substantial, a few are releasing teasers, yes, teasers, as in a quick minute snap to preview their collection at a later date. It's not exactly an ideal strategy, but with many brands now aiming to produce coed rather than separate shows, it's a big saving of budgets to produce a separate event. However, men's is a growing business everywhere. Especially in the Asia Pacific, the generation of younger men is now coming of age to establish their steady and growing income stream and gain a greater knowledge of men's fashion. They are now making specific choices as the brands and the clothes. So it may benefit these brands to rethink post-pandemic to separate the menswear from the women's.
The exception to this rule is Glen Martens from Y/Project. Martens announced he would only show two collections a year during the January and June men's fashion week rather than during the women's. The Paris based Belgian designer, who started his fashion career at Jean-Paul Gaultier and has been at Y/Project since 2013, showed a spectacular fall collection based on his conceptual design and how he questioned the constructions of clothes.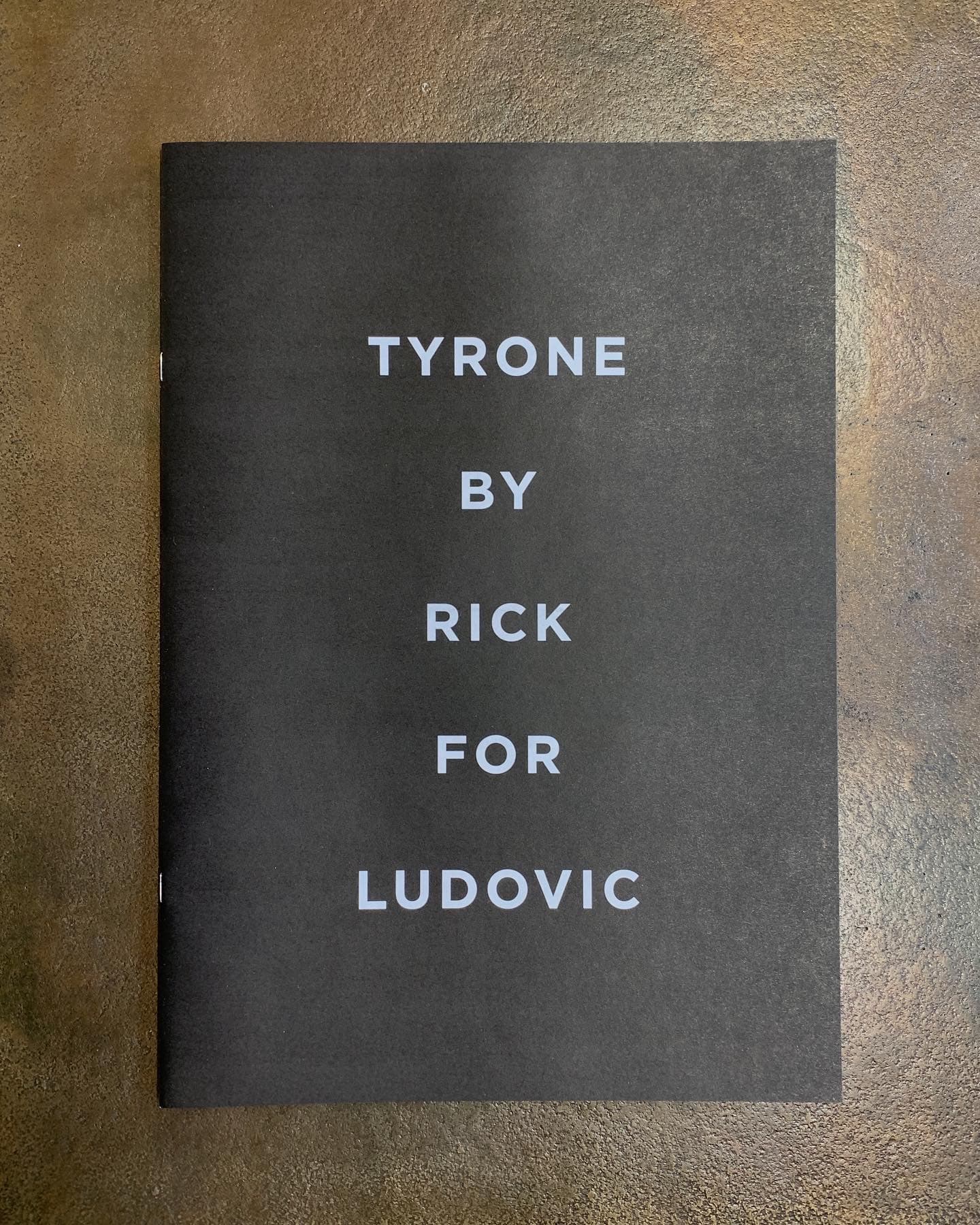 "This film is an introduction to our upcoming AW21 collection, which will be revealed in March. It's a celebration of togetherness, love, and friendship," Ludovic de Saint Sernin said of his moody film teaser 'Do You Remember?' directed by Theodore Hugonnier with exclusive music by Only Fire in his first-ever association with anything fashion. The film is a party at home with the models dressed in appropriate colorful Swarovski beads cropped tanks also captured in posters the designer sent out as souvenirs, memories of better times then and supposedly again soon.
Last week, the designer opened a pop-shop at the Galerie Joyce at the Jardin du Palais Royal with a series of photographs from Bob Mizer, Jean Claracq, Willy Vanderperre and a pamphlet with pictures of Tyrone Dylan Sussman by Rick Owens. Last season in October, he had opened a pop shop during the women's week as a retail model presentation to establish a mood for any consumers stepping past the front door.
One of the biggest draws of the Paris men's show week during the B.C. era is Thom Browne, whose conceptual and creative show – both in the staging and clothes-was always a huge magnet. Now, Browne showed a black and white film of young kids working in an office wearing Browne's signature light grey tropical wool single breast pantsuit with the classic short pants, grey vest, white cotton button-down shirt, grey tie, and black leather oxford shoes, and yes the black business briefcase.
The office setting is familiar territory for Browne. Surely, this film of kids typing, with one even vomited at an imaginary office, recalled several of Browne's previous shows in Paris with office décor, principally Fall 2019, a Design Miami Basel's Design at Large office desk installation in 2017, and the original office setting with metal typewriters in Florence in January 2009 as a guest designer installation. Browne's men's fall collection will have to wait until March in conjunction with the women's, but these clothes for kids are like miniature versions of their adult counterparts for boys or girls.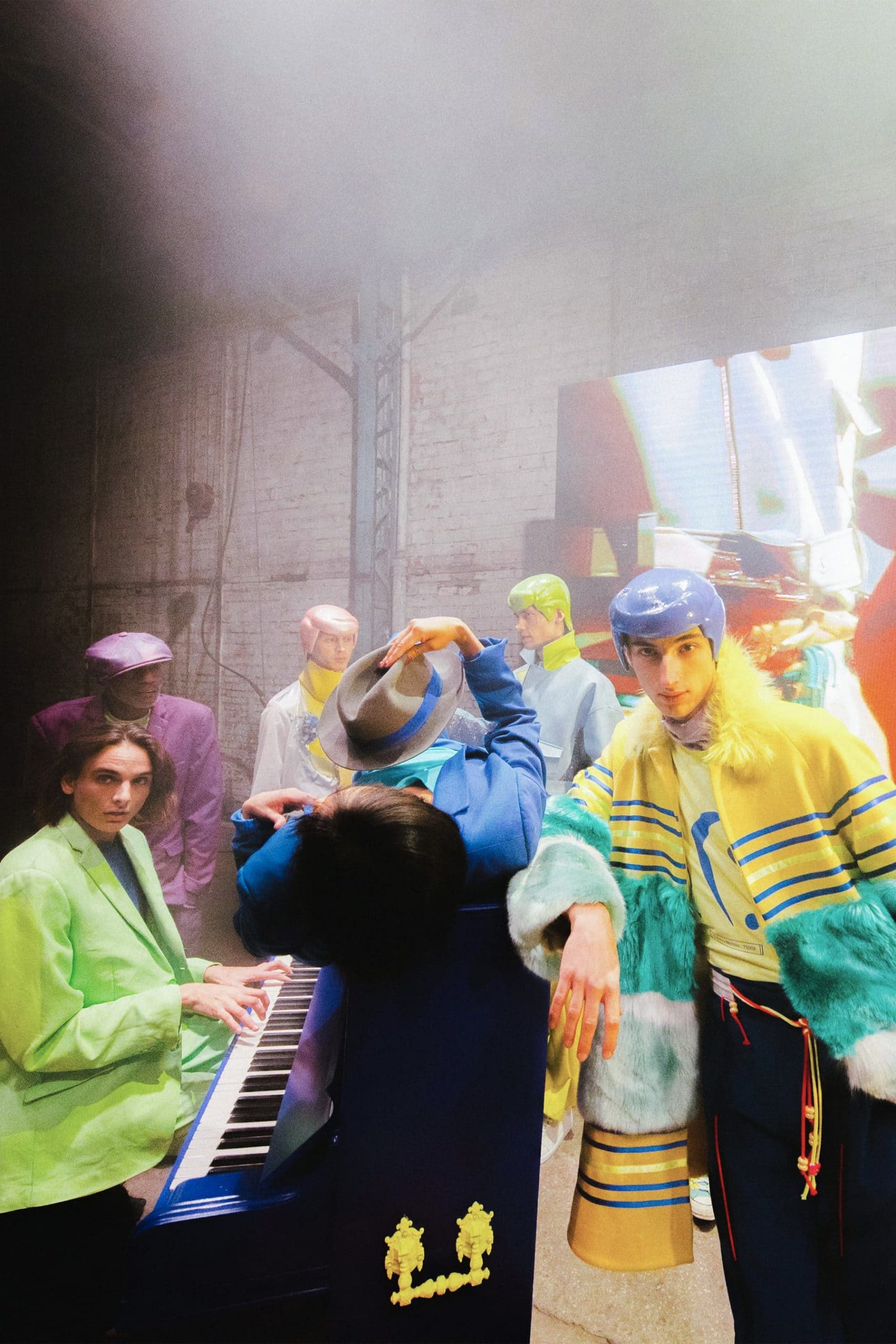 Of note too is Pigalle Paris' short jazz film showing Stéphane Ashpool moving his brand away from its start as Paris' streetwear brand of reference to more established and more sophisticated with his work with people in the art world that included inducting a ballet company to dance in his clothes for one recent show and also within this fall film show. Well, hanging around a jazz club isn't the same as a basketball court. Surely many of the original Pigalle customers have grown up. Still, Ashpool also gave a good selection of great street style to them ever more minded towards the emerging younger kids.
Y/PROJECT
Glenn Martens' Y/Project show's concrete floor design is rather simple or complex depending on how viewers see the different rectangular patterns laid one on top of another, all with arrows pointing in no particular direction.
Glenn Martens' approach of designing his fashion is very much like these ice blue lines with a series of arrows that marked the different directions guiding the models walking around the concrete floor – lines that intersect, lines that cross over each other, and lines that all ended in one rectangle box drawn upon another – without so much of an orderly process.
Known for his constant experimentation with his garments' constructions, Martens' fall show titled 'Challenges the Status Quo' continued his ways around establishing the garment-making processes' norms to offer interesting fashion.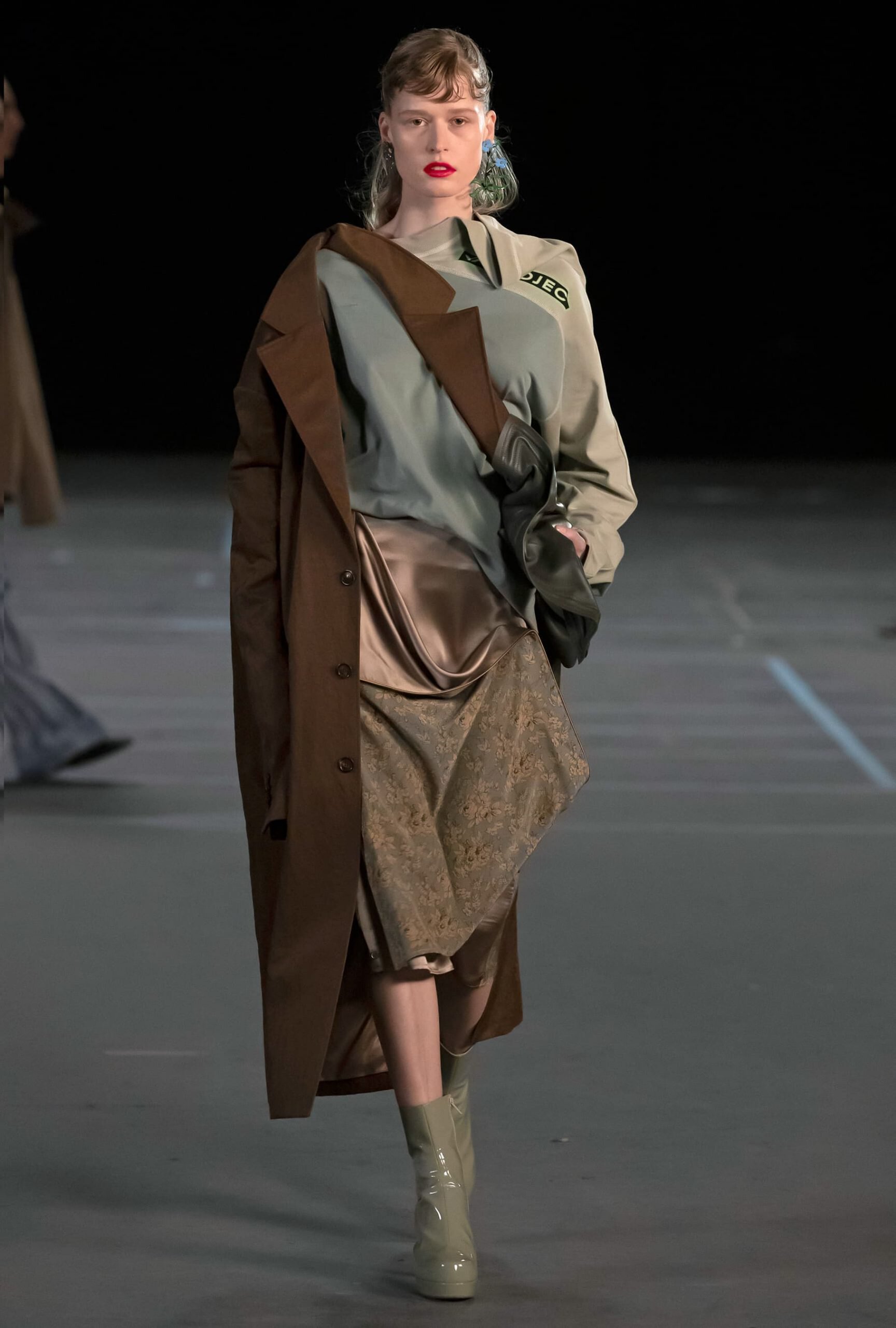 Martens' design process is very much unlike what designers do today – put a little bit of 'art' painting on a shirt or blouson or a handbag and call that the new fall collection! His pain takes experimentation with how to make clothes, both in the old ways and perhaps in changing the old techniques to apply them in a new way to arrive at a different result. That's the thing with experimentation that you may fail the first few times until that one time when it suddenly works and work wonderfully as here in these more 'perfect' executions of from this fall show.
This public showing of the design at work reminded me of the shows I saw from Martin Margiela in the late 1990s. At the time, Margiela was having issues with the shoulders of jackets. After working on various solutions, the designer decided to toss the shoulder entirely in his fall-winter 1998-1999 collection. He showed very late at night with clothes and proto clothes with no shoulders, not on models but wooden marionettes. That is the evolution of fashion design at work, and that's how designers should contemplate garments and less on the frivolous stuff and stuffings all around.
Martens deployed this same process and aptitude in his design. Here, the designer used steel wires that he did for his fall 2018 show to make the twist and twirl in the silhouettes – a khaki trench lapel twist up the front, a red gingham shirt circles into a floral shape, a brown velvet pant leg curls unevenly around the legs, a shiny black leather coat with the lapel and pants with the front legs shaped into waves like the 3-D pattern – altered not just the shapes of these clothes but also how we look at clothes aside from the mere conventional way. The clothes this time expressed a finesse rather than the raw edges they once did a few years back – both due to the designer perfected his techniques and how the audience adjust the way they see as weird shapes become more familiar over time.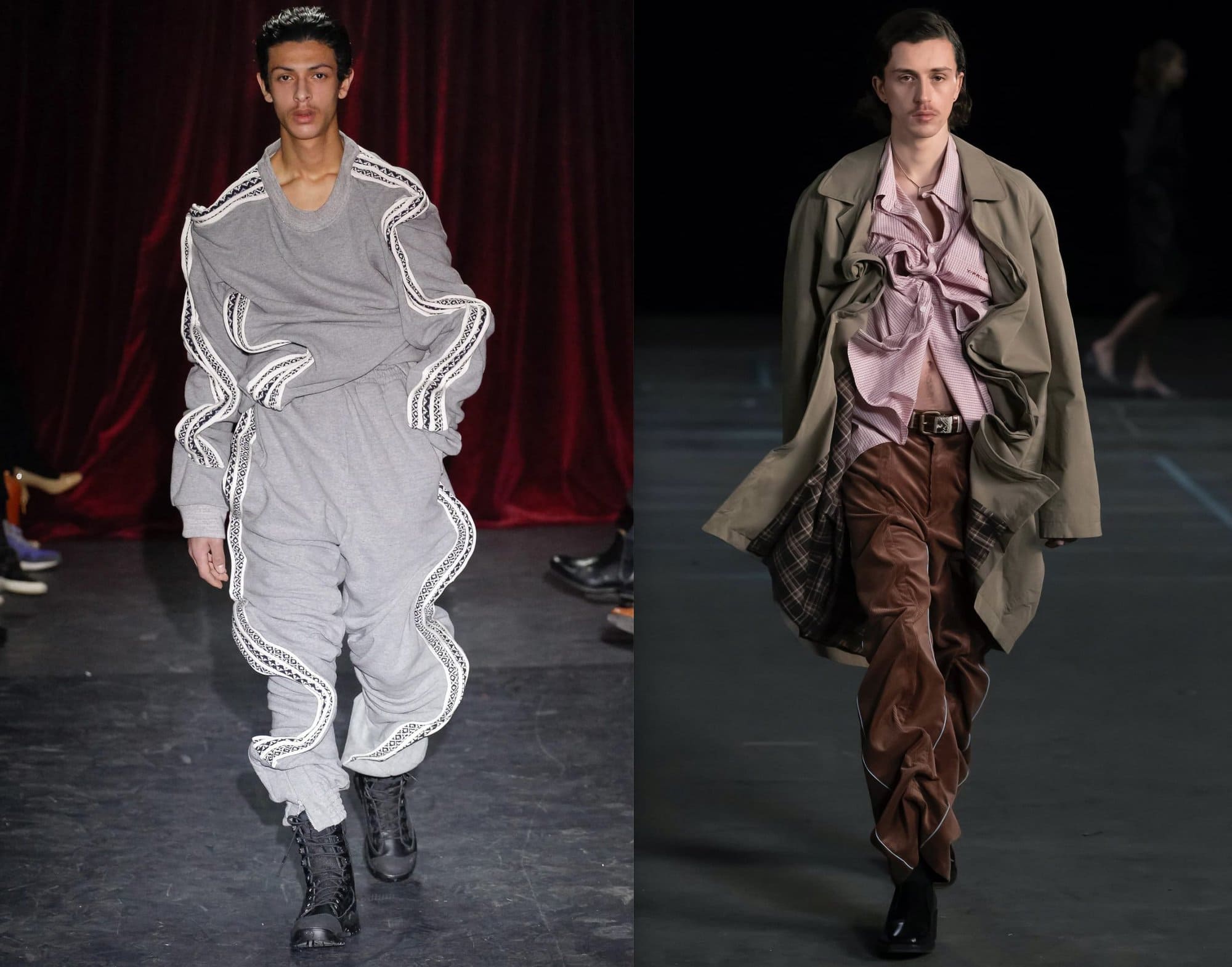 More importantly, Martens shows the design process at work, something no other fashion designers today do in their shows and their collections. It's always onward to the new and once in a while a revisit to the past to reissue a garment but not perfect a past technique.
New this time is the neckline's treatment as in the drawstring closure of a grey or deep green sweatshirt with two neck openings or multiple necklines in one shirt – double collars and mock turtle neck. A wool cowl v-neck sweater has two additional v-necks falling on one side, and a simple white tank top now has a cut-out neckline tied to the shoulder.
This fall coed shows work together seamlessly as the design ideas are expressed in both the men's and the women's clothes; both have the same vibes. His clothes have always been more unisex way before there was such a thing.
ALLED-MARTINEZ
In a short film directed by Bárbara Barberà depicting the evolution of car hitchhiking to carpool to car service that depicted what the film labeled as 'A story about desire, daringness, and speed,' the car is shown as a mechanism allowing for a person – in this case, one guy – to have a simultaneous relationship with various parties including a transvestite, a girl, and a guy, all taking place on a hotel room or in a deserted street where at the end he was getting a BJ from a highway pickup.
Fresh out of the knitwear program at Central Saint Martins and an LVMH prize for graduates in 2018, Archie Alled-Martinez launched his own label in 2019 using his skills and handiwork with knitwear, at times deploying knit techniques to created tailored knits that offer both comfort and elegance but with a high design – simple but extremely sensual.
Alled-Martinez will present a full collection later in February. His current sell-out item is Le Cockachief – a paisley bandanna-handkerchief in different colors from forest green to light ecru made in silk twill with hand-rolled edges with references to the Hanky Code from the 1970s in New York at the riverfront piers. The period of the 1970s and 1980s are Alled-Martinez's well of inspiration, especially the dandies in Paris, especially the clandestine subculture that inhabited the derelicts downtown westside Hudson Piers where sexual adventurers, runaway teenagers, criminals, artists, and homeless people coagulated at the time. The young designer is apt to combine his learned techniques
In the short time since his first fall 2018 launch collection, Alled-Martinez has already established a known signature with his tailored extreme soft suits made in knit fabrics that he also offers as special customs order at this website.
Using knitwear for tailoring, Alled-Martinez creates a new way to look at tailoring by minimizing construction techniques and making a structure out of the soft wool materials.
Although the film purportedly contains a couple of new items, it is an art film, and the clothes aren't that critical. (Well, there is a black sweater, a black long sleeve polo, high waist white knit pants, a black jacket and pants, a sweater with a hand motif and yes, the hanker chief as a neck scarf.) The short film also shows Alled-Martinez's ability at storytelling and narration that is a hallmark of this youngest new generation of fashion designers to embark.
LEMAIRE
Years, before there is this, needs to reexamine fashion caused by the pandemic asking questions like what kinds of clothes are appropriate for today much more casual mindset, Christophe Lemaire and Sarah Linh-Tran – the founders of Lemaire since 2003– have always known this answer or at least their clothing proposal over these years showed the road to build a consistent wardrobe rather than just seasonal novelties.
With many new collections shown since the pandemic hit globally, fashion designers once again meditated on what kind of clothes their consumers would need and would want in this weird era – it's hard to believe that designers weren't asking these questions beforehand – and offer collections that gave their views of the apparel with the whiffs of nostalgia for the home and the meaning for the home. At least not so at Lemaire, not in this new fall collection the pair presented today on the closing day of the men's shows.
Without exception, the new fall line continued their fashion ethos – 'a wardrobe approach focused on versatile pieces designed for everyday life, subtle, understated cuts and superior materials' – with soft tailoring coats and jackets layering in black and soft hues of light camel and ecru like a cashmere turtleneck under a light cardigan under wool flowing coat or a light grey and a tan unstructured collar pantsuit with a nylon hooded parka or a loose brown trench. Most of the shapes are generous in proportions even a thick duffel coat look fluid on top a wool shirt, mock neck, and tan pant.
JIL SANDER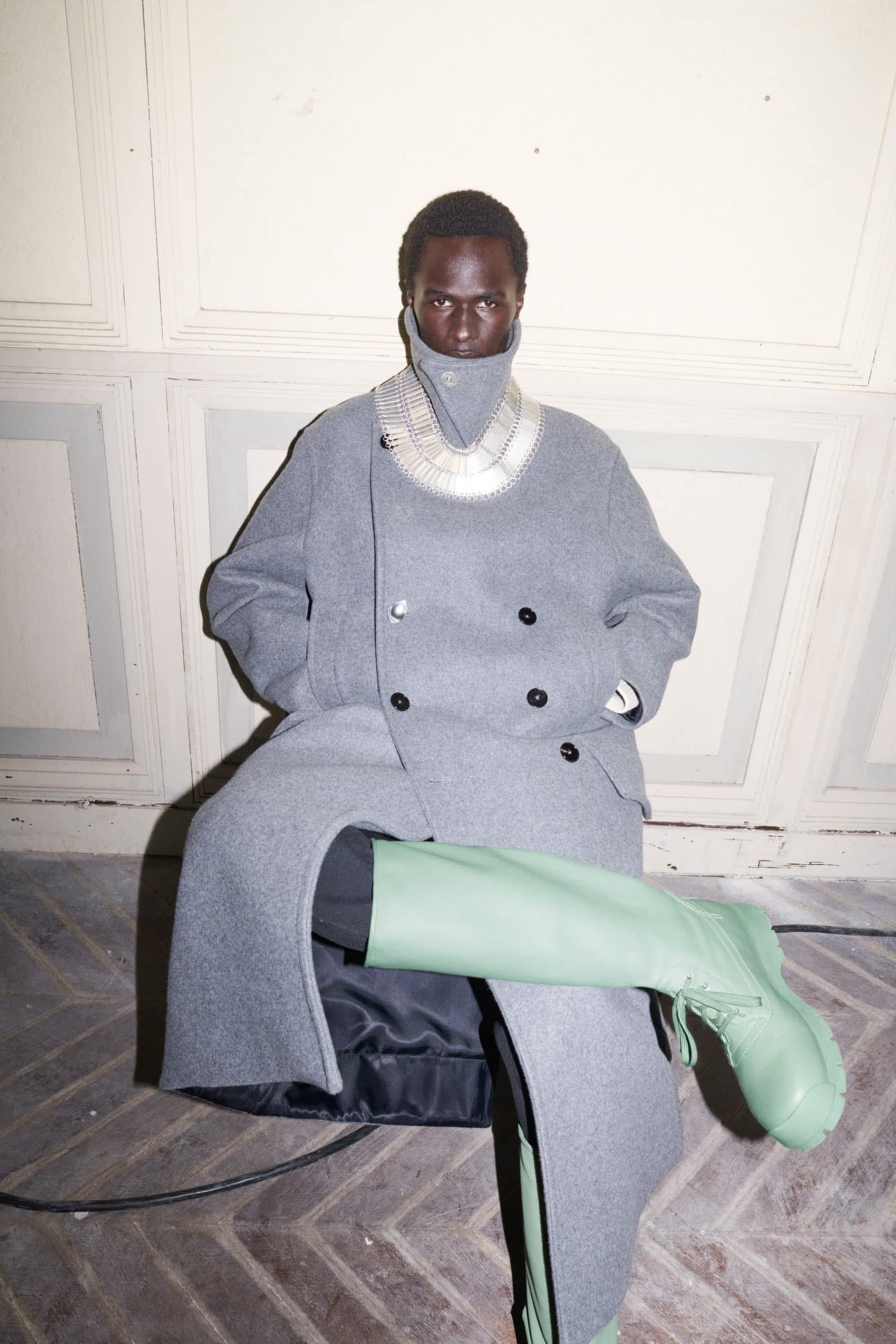 Luke and Lucie Meier make their new men's fall Jil Sander clothes the kind of garments that should remind us of something familiar and something close to the heart even if the duo's film presentation placed the group of models in a slightly run-down castle north of Paris.
"Intimate, sharp, layered, utilitarian – a seminal wardrobe of suits, coats, and knitwear in exaggerated proportions" is what the design duo designated as their principal objectives in making this collection of lean silhouettes in soft constructions to serve that new singular fashion purpose – comfort. That meant light grey elongated button less single breast suit in dry wool, thick hand knit mock turtleneck sweater with light wine wool narrow trouser, and grey and orange plaid boxy wool coats, and charcoal double-face wool slim coats. This predominant softness is far from the shapes of the more rigid structures when the founder Jil Sander still reigned.
A few of the garments feature the enlarged photos of women Bauhaus artists taken by Florence Henri in the 1920s now reproduced as a print on canvas then sown onto a white tailored wool jacket or onto the back of a black knee-length coat with long fringed borders.
However, the prevailing mood and some of these new Jil Sander men's clothes feel the romantic and the understated clothes of Romeo Gigli in the late 1980s. And, that is not exactly a bad thing.
1017 ALYX 9SM
Creating new fabrics via technology is a critical domain in fashion both in the sense of making new materials that are less wasteful in the process of production and in terms of creating these new fabrics to create quality products that are long-lasting and in some ways sustainable, meaning that the products used less polluted materials to manufacture.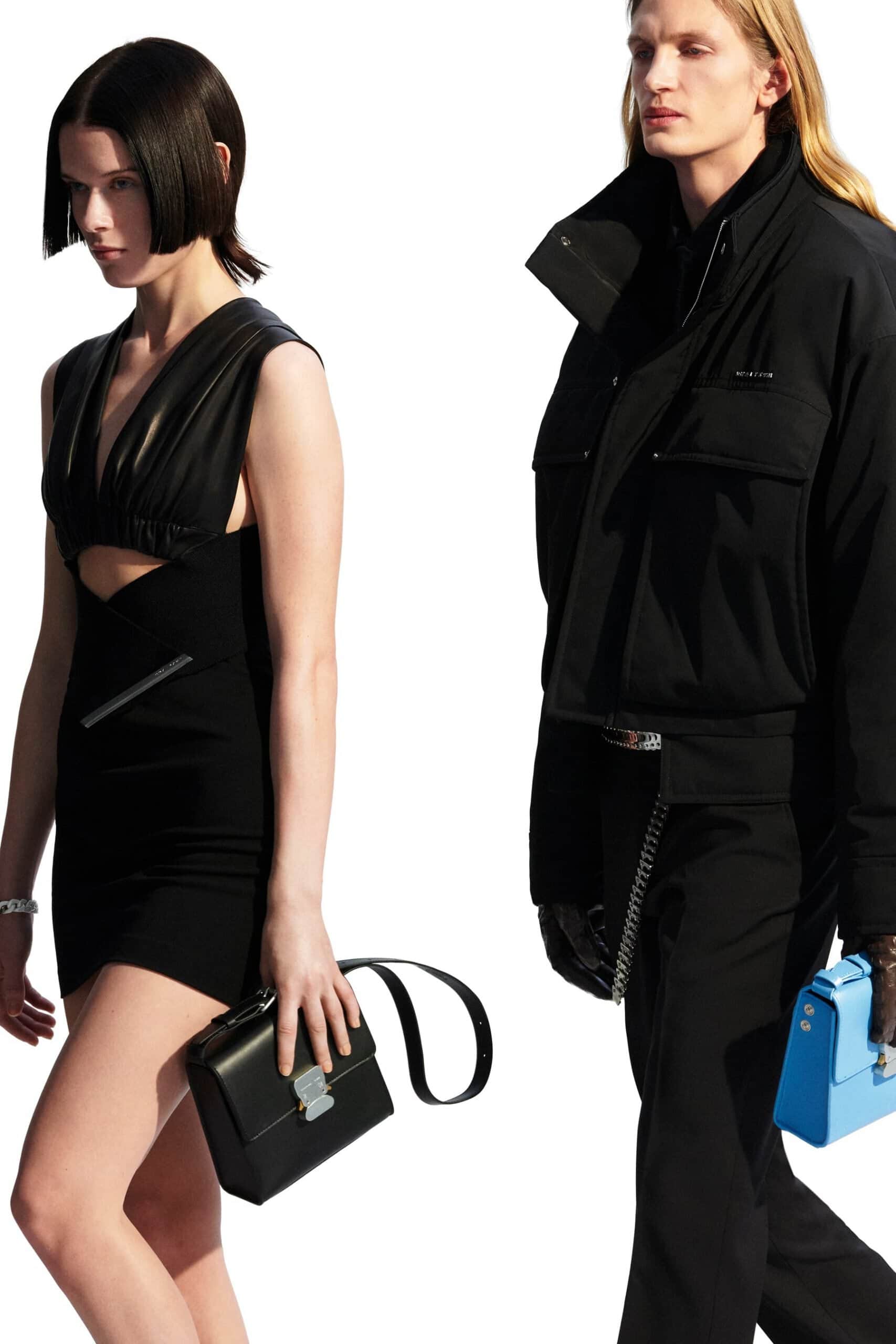 Matthew Williams has taken on the challenges to adding high tech and industrial to each of the products he makes for his brand 1017 Alyx 9SM that he launched in 2015 with the clear intention of mixing street/luxury with whichever the trend wind blows – skating, punk, night club, surfing, and so forth. For this fall, Williams just shot a look book of his new products that included many of the familiar articles of clothing, bags, and shoes with his signature addition of dangling metal chains and metal buckles, with this season special micro rollercoaster buckle, which is a miniaturization of the original version now adorning jewelry to belts.
A red technical aviator jacket with a metal logo cotton shirt and straight-leg pants, a pony leather camp shirt with slim pants, or a red leather puffer coat comprised the more casual collection component. Williams is working with Caruso on some of the more tailored coats, suits, and vests shown made with a synthetic teddy that provides the comfort of fleece fabric with a little bit of rigidity to maintain
Technology aside, this 1017 Alyx 9SM collection feels dry and verging a bit on the dull side.
Most of the apparel items seem overly repetitive. Certainly, they lack any creative innovations in design except perhaps for the applications of the new integrated chain now enmeshed somewhere along with the necklines of garments 'to serve a functional purpose and add adornment to the garment' according to the look book document. The knee-length brownish denim jacket with matching jeans looks silly at best.
---