---
Reviews of JW Anderson, Hed Mayner, Études, Basscoutur, LGN Louis-Gabriel Nouchi, & KidSuper Fall 2021 Men's Fashion Show
Independence Day -Youth Shall Dictate
By Long Nguyen
The second day of the Paris men's fall shows rolls on much like how it started yesterday with mostly independent brands filling the digital release schedule.
Today's presentations featured mostly younger and independent brands. A few founded in the last couple of years but whose fervent beliefs in their visions have borne out to be their most valuable contribution to fashion today – that of a personal story first, then a story about clothes thereafter.
The short documentary that the Belgian designer Walter Van Beirendonck made as a historical retrospective of his shows in Paris from 1995 to 2020 – a record twenty-five straight years is an emotional trip along these years attending the designer's show at odds locations all over Paris and at times at conflicting hours with other major shows from luxury houses that were required attendance.
But Van Beirendonck is a fashion maverick, working in menswear Shutat the frontier of what can be possible – gender, constructions, materials, and broke down these rigid and unspoken rules each time in his concise thinking above all, with a great deal of humor. The designer used the visual arts, ethnic influences, and even literature as a foundation for his fashion products.
Within those years, whether Van Beirendock was acknowledged or not for his intellectualism, cutting edge, and fearlessness in attacking so many boundaries in a fashion that today seemed common now that even the luxury house is after a gender-fluid fashion! It's hard to forget fashion shows with titles like Lust Never Sleeps, Explicit Beauty, Shut Your Eyes to See, and Silent Secrets. Van Beirendonck transformed the aesthetic landscape of menswear, allowing others to experiment with much fewer repercussions.
Hopefully, the young designers showing in Paris today will adopt Van Beirendonck's sense of liberty, sense of fearlessness, and above all, sense of independence. And also actual independence.
BASSCOUTUR
The young Frenchman with Tunisian and Algerian origins Riad Trabelsi's fashion journey began with vintage, first just selling them at the flea as is then reworking them to suit his taste and then sell them as the natural process that eventually led him to his fourth collection and a first during Paris men's week.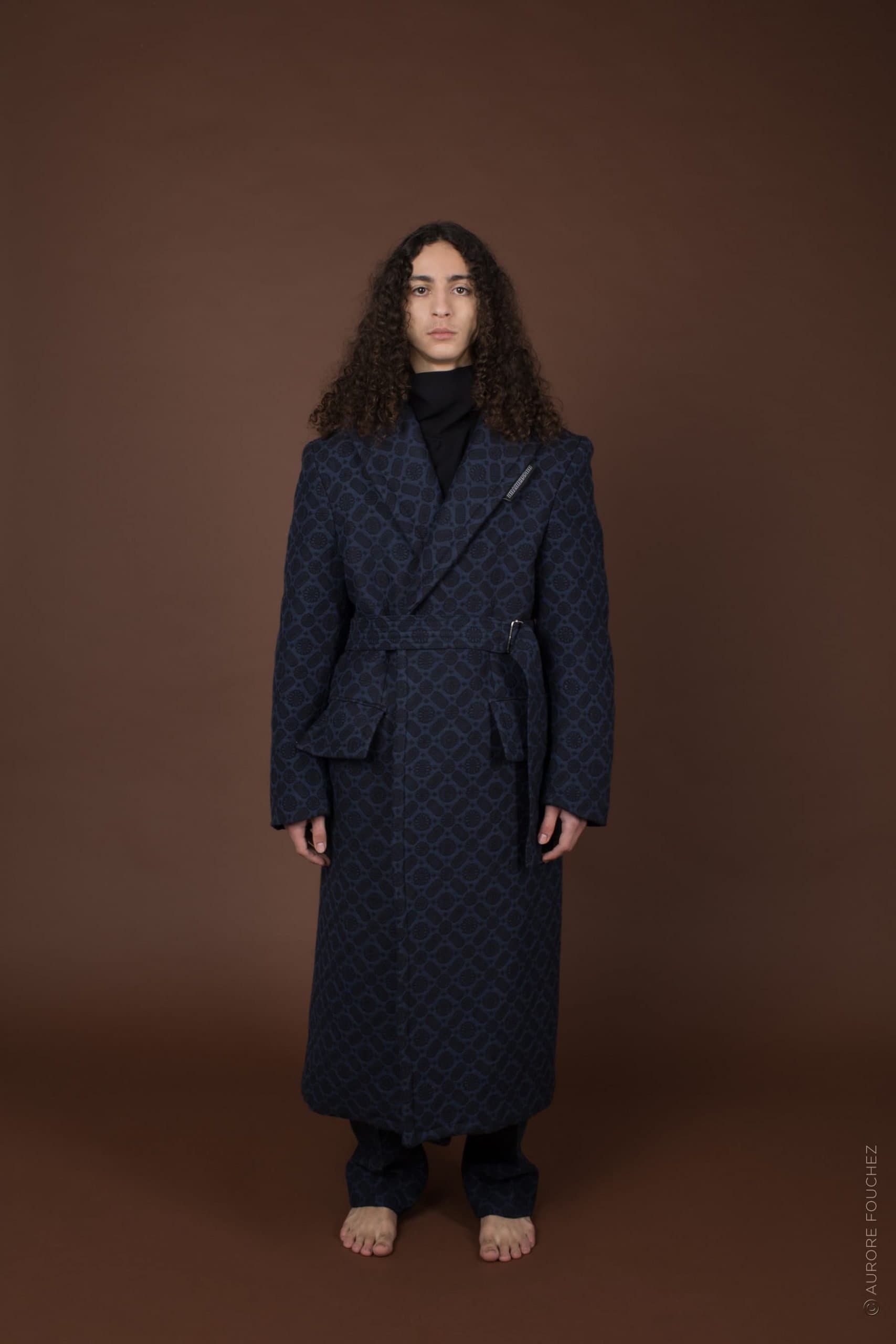 Last June, in the middle of a serious and unbearable Parisian heatwave, the now two-year-old brand Basscoutur presented a few looks inside a parking garage with clothes made from old silk scarves, bold upholstery fabrics, and even old blankets. At La Cigalle last January, an informal showing revealed howto transform those blankets into a fashionable look, like one worn by the French rapper KikkASon who performed a small set.
Even though the idea of upcycling, recycling, and repurposing has taken hold by the young vanguards in London with designers like Bethany Williams, Priya Ahluwalia, Dilara Findikoglu, Christopher Raeburn, Richard Malone, and Phoebe English who have collectively pushed the notion that designers can be part of the solutions to the amount of waste and pollution the fashion industry generated daily and yearly.
In Paris, sustainability has yet to take hold among the designers and the fashion houses here, especially among the younger designers who should lead in this crucial area. Now there is Riad Trabelsi.
In several Instagram post before the official presentation today under the title Nouvelle Vie Paris-Tunis, Trabelsi showed images of an old colorful wooden worktable, a burnout car, a seaside beach, a black automobile tire buried partially under the sand with some other trash visible on the beachfront, and an abandoned old colonial building painted in white as a visual anchor for the thinking and the aesthetic of his work – how to reuse available materials and make old things new again.
A short video directed by Bachire Tayachi showed a couple of models in various places around a seaside beach and a Parisian suburb with the sounds of birds chirping and dogs barking in the background. If the idea of sustainability through a circular system isn't apparent in these images, it should be clear in the clothes made primarily with dead stock repurpose and recycling.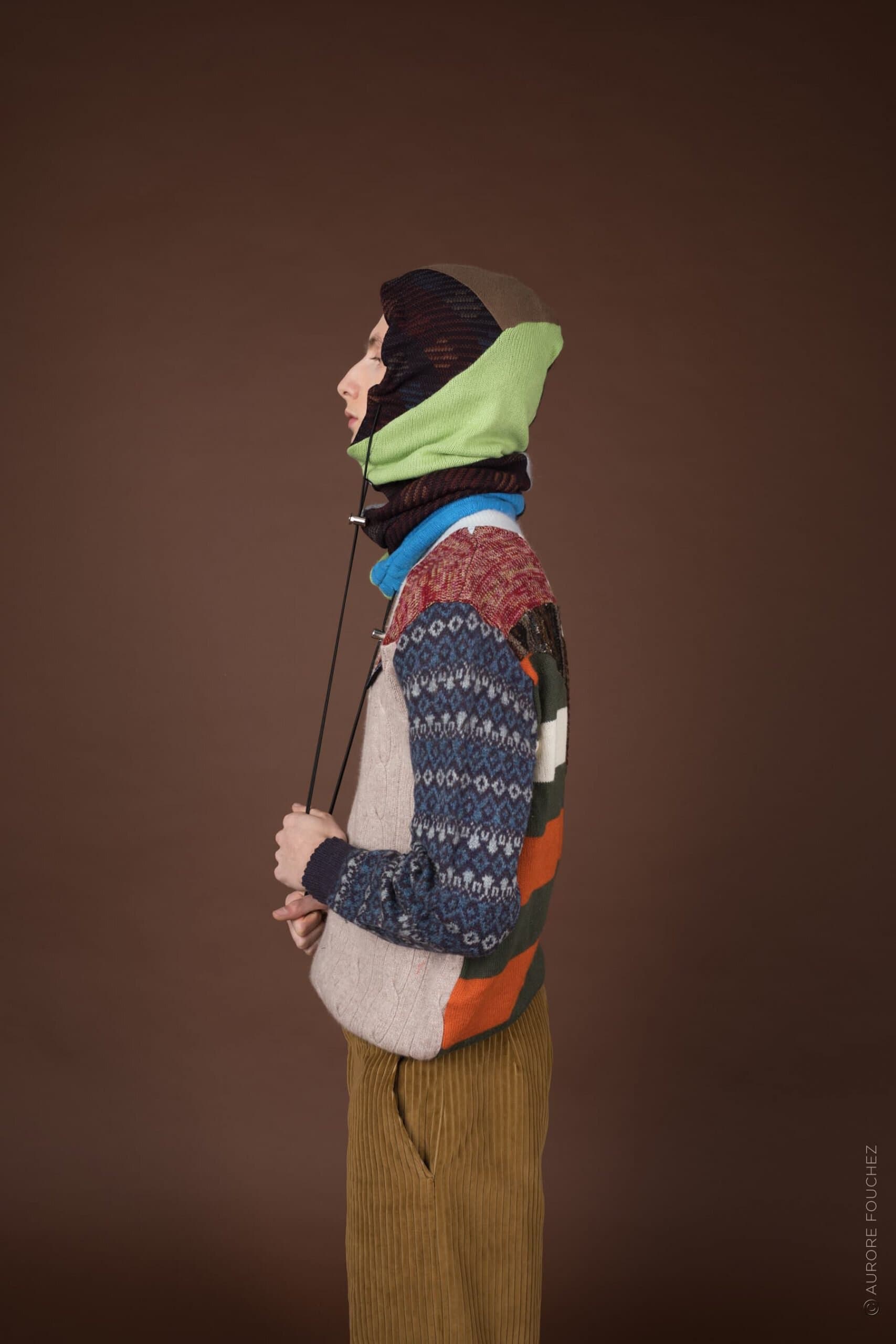 A patchwork of old crochet-knit sweater paired with light camel corduroy pants, a camel corduroy pantsuit with a drawstring back and front lined buttoning, a colorful patchwork silk shirts made from deadstock silk scarves, and a patchwork denim jacket with black leather collar and a matching pair of jeans lend a 1970s vibes to this fourth season Basscoutur, and perhaps Trabelsi's strongest work so far.
But don't discount Trabelsi's intuitive tailoring even though he may not have formal schooling. The black and blue pattern long coat are cut perfectly with broad shoulders, narrower waist belted on the side, and slightly flaring out towards the ankle. The double breast large lapel drop shoulder suit is another example of tailoring possible within the repurpose network of production.
Fashion is personal at best, and the most personal story makes the strongest brand aesthetics.
Trabelsi's story is Basscoutur's story and the many stories of youths like him and his friends and their friends.
JW ANDERSON
In a continuation with his unique approach to how to present his fashion in a rapidly changing environment in rethinking the concept of a fashion show, Jonathan Anderson engaged for the first time the photographer Jurgen Teller – "his eye is very graphic, which is exactly what the collections required." Teller photographed the new JW Anderson collection as an artistic project similar to the still life paintings from Jan van Goyen or Salomon van Ruysdael, seventeenth-century Dutch artists, and made the images into large-sized posters them were posted around London yesterday and sent in triangular mailing tubes.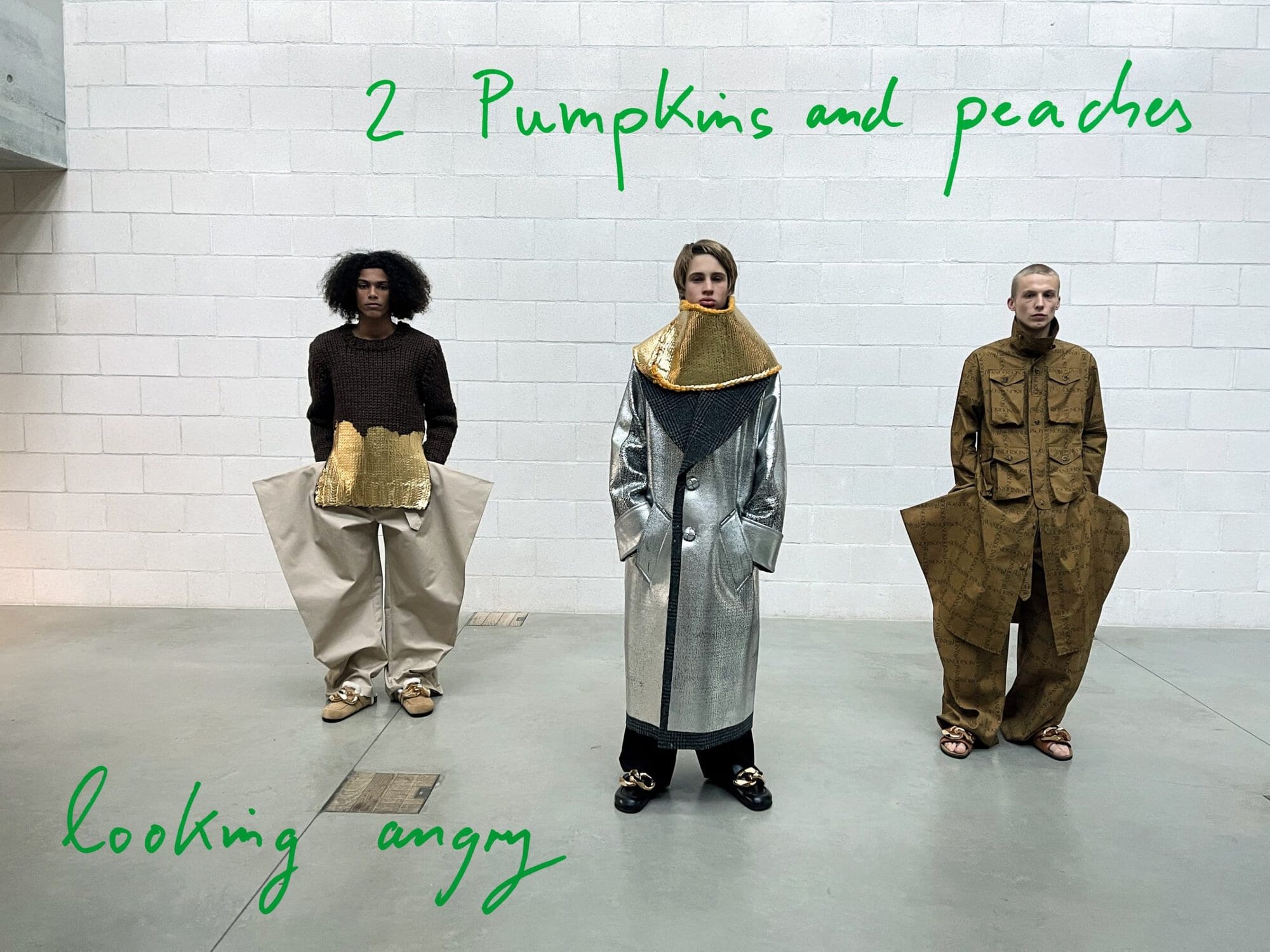 "I hope these posters bring you some amusement," Anderson said in a letter to accompany the posters, a few of them featuring the actress and singer Sophie Okonedo CBE. Okonedo's "way of bringing clothing alive is mesmerizing. "Fashion-wise, this is a palate cleanser. By pushing certain bluntness, a stark and conceptual look, blurring divides. The clothes have that spirit, that slight perverseness," the designer wrote about what the collection meant to him.
In essence, the clothes represent the idea of going back to when Anderson first started when he was adamantly looking for new ideas and new ways of expressing clothes, fabrications, and gender boundaries. What was once considered oddball shapes now crystallize into an elegantly elongated silhouette of a red mohair knee-length sweater with a light purple belt tied at the waist, a giant collar double breast grey plaid English wool coat coated with transparent plastic. Of course, those side protruding pants like a purple leather with a geometric blow outside panels as if the inside of the pockets were enlarged out of proportions and turn inside out or more precisely like attached bat wings paired with a hair dyed lime green shearling vest.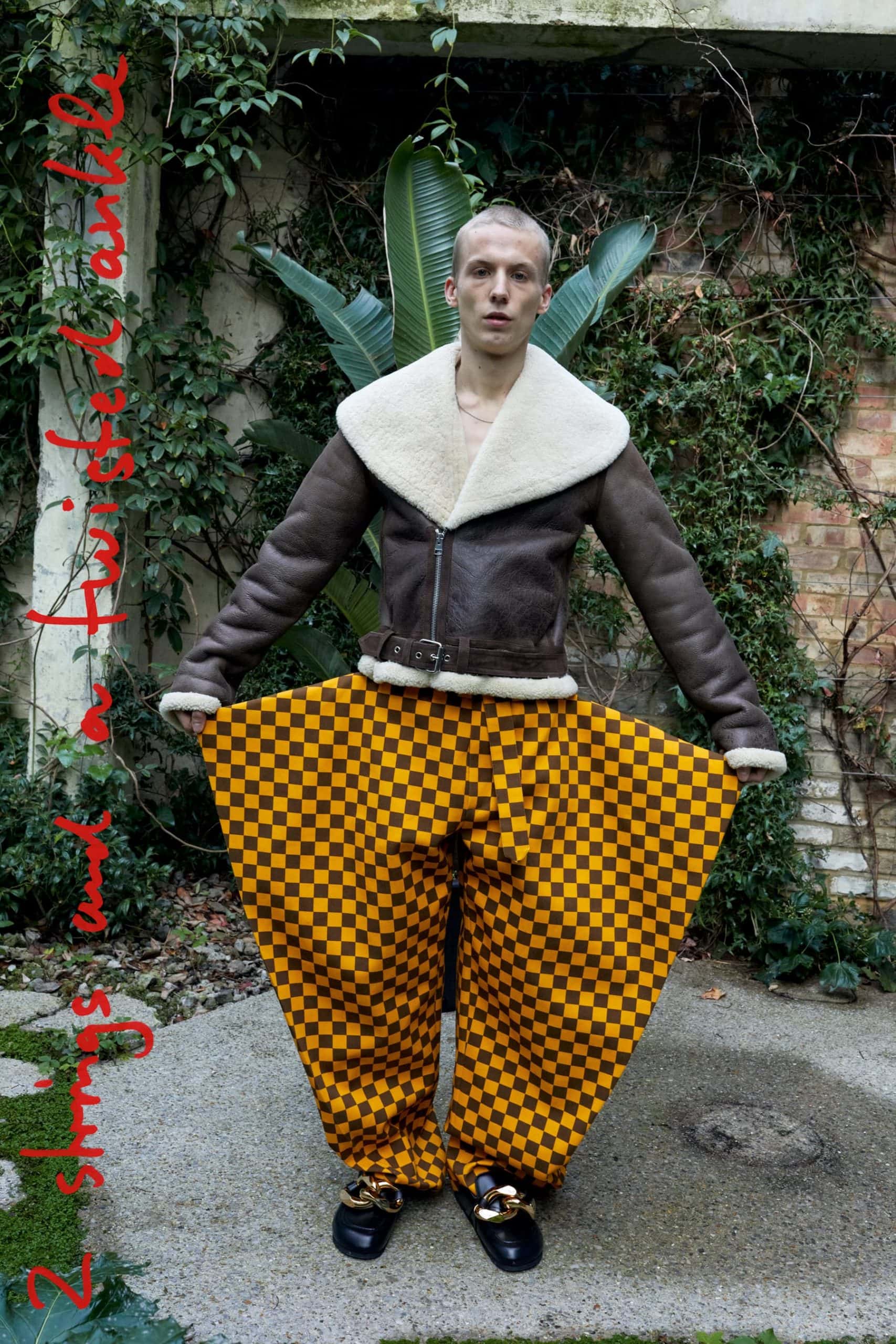 A yellow and chocolate checker pattern triangular panel pant and a chocolate large shawl collar shearling bomber jacket and a leaf green patch pocket military shirt-trench and the same pants in olive cotton are two of the strongest look in this focused and scaled-down men's collection and one look that truly represent Anderson's design spirit.
In a nod to clothes as gender-neutral, Anderson did since his first men's presentations, a blue jersey poplin dress with puff sleeves or a simple cotton ice blue long shirt-dress. Nature also serves as decorations on these clothes with colorful and playful images of peaches, squashes, and vegetables printed on white tee shirts and sweatshirts.
"We chose a poster this season because I wanted to feel like you had visited an exhibition. The captions that don't really fit with the image they are on give that kind of feeling. And it's as though you visited an exhibition or a gallery and had this piece of ephemera, this poster, to take home with you," Anderson reminded the audience of the necessity in the fashion of the tactility, of the emotion, and the memory even when at a distance.
HED MAYNER
Winner of the inaugural LVMH Karl Lagerfeld Prize Award in 2019, Israel born Paris based Hed Mayner grew up in a village in northern Israel not far from the border with Lebanon and then in Tel Aviv, an intersection not just of the physical land border between countries but also a border of the unique confluence of different cultures, and different manner of dress.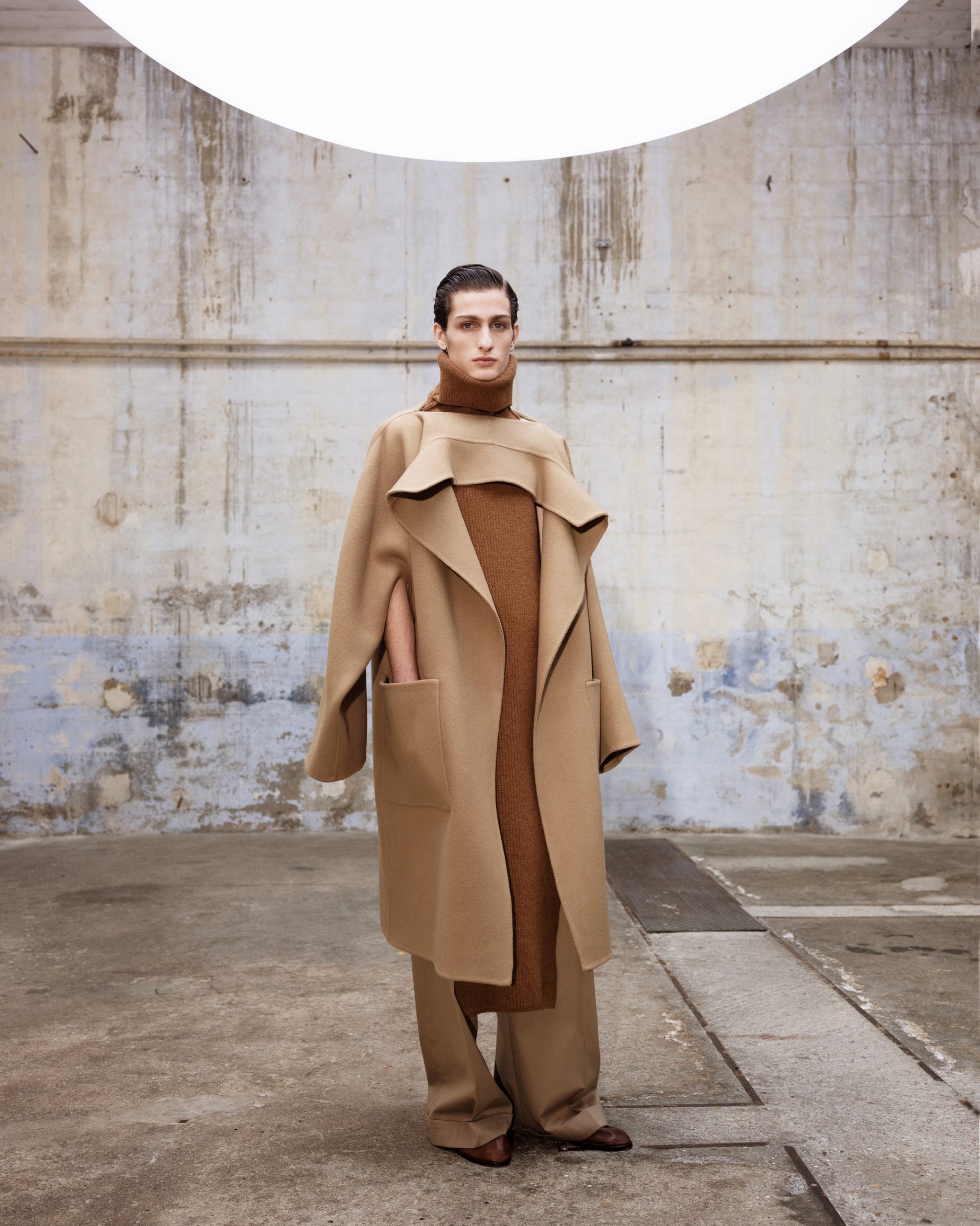 Mayner's middle eastern origin is a constant source in how he structures his clothes – this time with extreme oversize silhouettes like a near giant camel wool double breast jacket that he paired with relax flowing pants and a version of the Moroccan fez hat in a light rust color. These earth tones of light brown plaid, light earth chocolate, light beige, and red dirt rust jackets, coats, and blousons cut in gargantuan shapes and presented staggered with one heavy layer upon another over four pleats wide pants made with hard English cloths, Italian wool, dry cashmere tweeds, and brushed cotton that serve to showcase Mayner's masterful control of pattern making and constructions of these louche garments.
These mixtures of textures and shapes have been a preoccupation for Mayner over these past few seasons as the designer navigated his own way, trying to find how to cut his own silhouette taking into account the rapid changes in men's fashion as well as his cultural heritage and background into making clothes for now with a wardrobe built on not so perfect layering of a large collarless coat over a tan tunic and an ankle tapered pleats pants combining many aesthetics – Jewish heritage dress, a bit of spirituality, and a bit of innocence.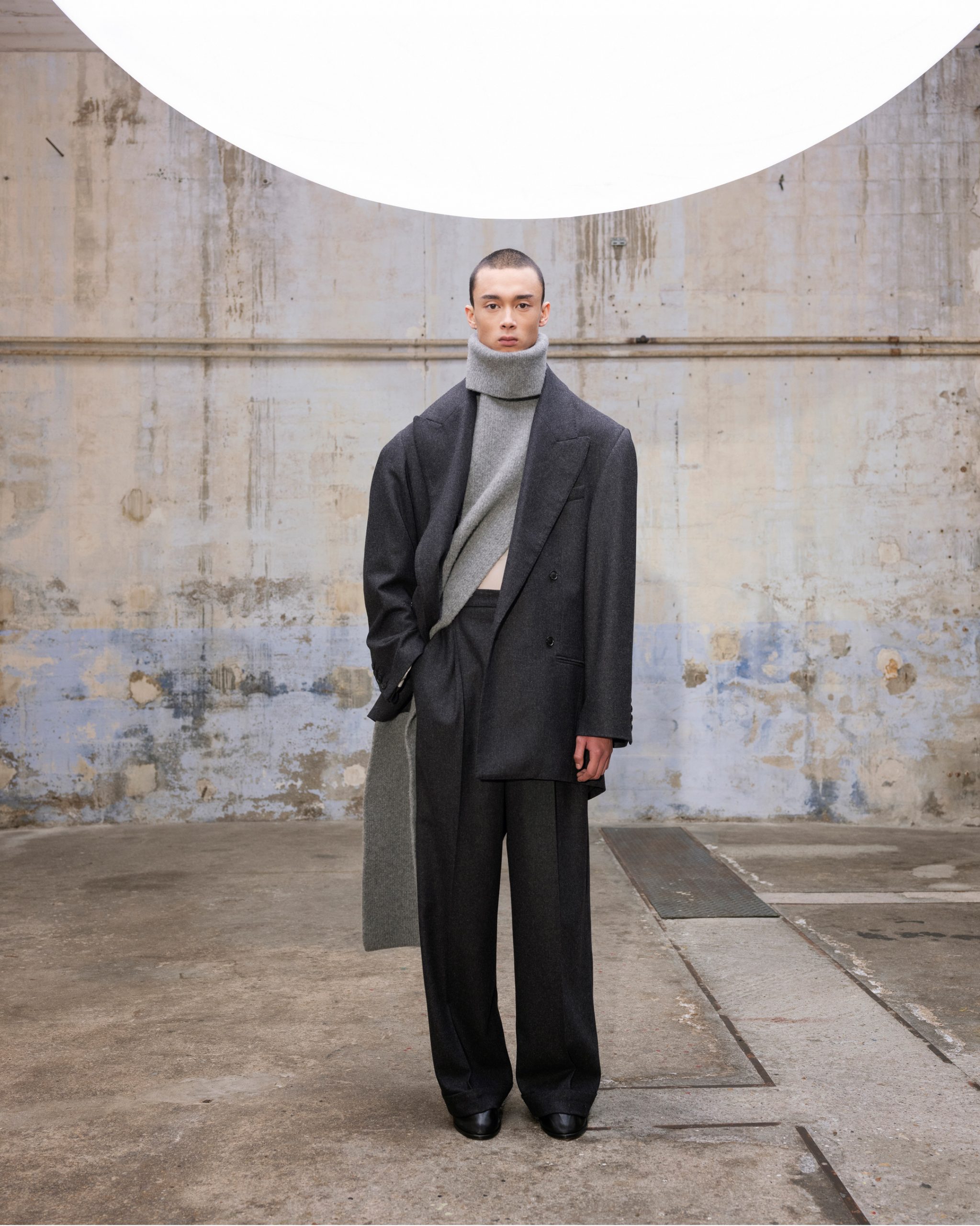 There's a sense of childhood fascination with clothes in this collection as if Mayner was looking at these oversize tailored proportions from the point of view of, say five years old looking up at his/her parents and see how the garments may look a bit off balance and bit off the normal scale.
As a graduate of the Bezalel Academy of Arts in Jerusalem then the Institut Français de la Mode, Mayner has the education and the training to craft the clothes shown in this soft collection as a proposal for a wardrobe in between the current alliances with streetwear and high luxury – a niche ground for those young men for this fluid drapery and less rigid way to project masculinity.
ÉTUDES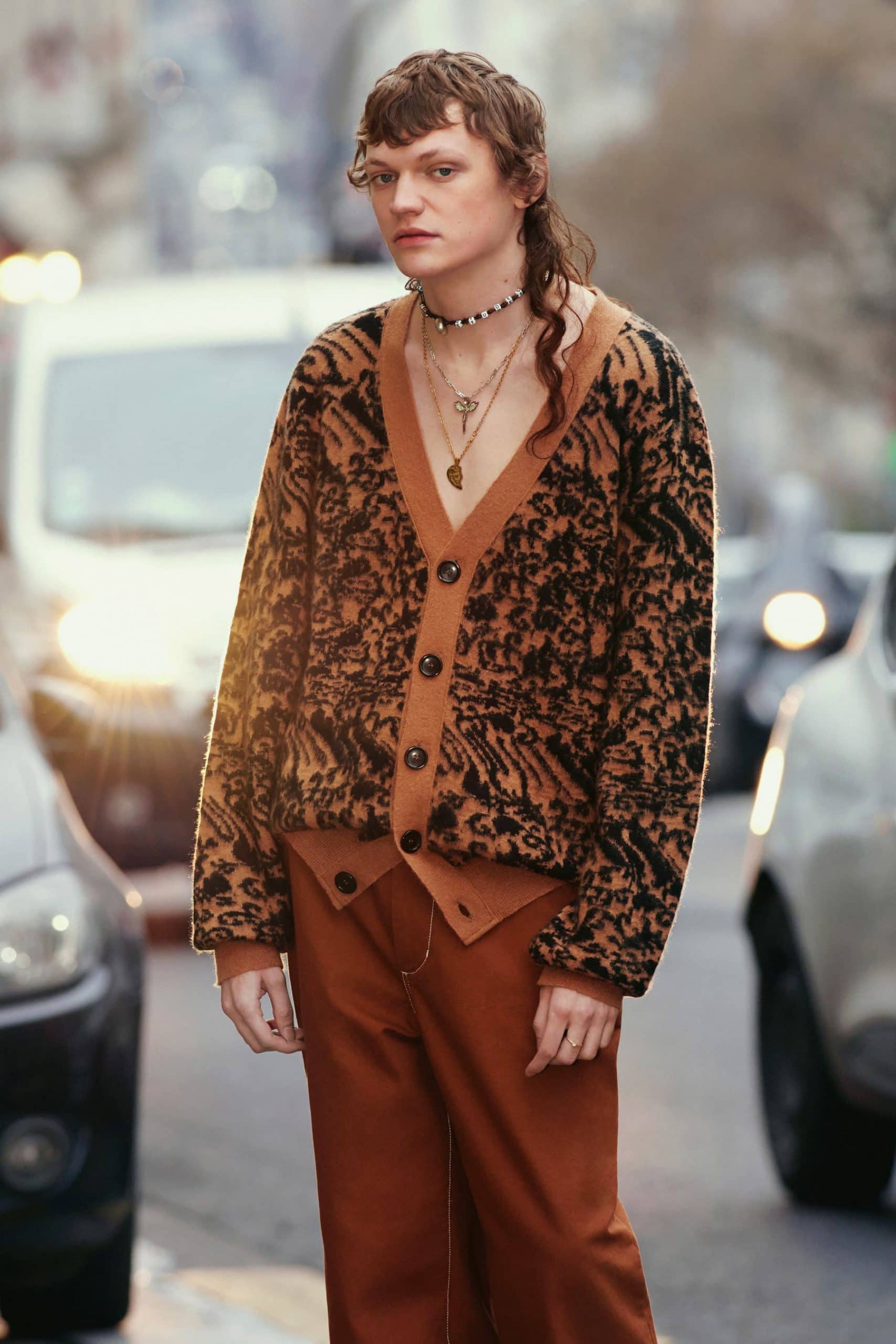 The fast-paced sound and beat of Lorenzo Senni's Discipline of Enthusiasm provided the momentum for the various dancers in the Études video directed by Grégoire Dyer and filmed at various locations around Paris but principally inside the Les Halles mall complex towards the exit to the subway and RER lines in a portrayal of a mood of nostalgia to the 1980s.
Then, the explosion of music videos led to the establishment of music television. Now, the digital print and embroidered images of the early 1990s anti-heroes cartoons figures of the MTV hit Beavis and Butt-Head created by Mike Judge made into satin shirts, denim jackets or black jeans with figures of the guys at the bottom of the leg and hooded sweatshirts, adding a true feel of that ultra-creative era that brought to fashion an anti-fashion moment – grunge.
Yes, grunge but not exactly the grunge of the Seattle era two decades ago, but the spirit of that influential but much-maligned style here expressed in well made and wearable clothes such as a rusty corduroy coat, high turtleneck, and brown plaid pants or a blue plaid drop shoulder jacket, blueprint shirt, and black pants. A collaboration with the American artist Martine Syms sees typographical letterings imprinted on purple sleeveless sweatshirts with phrases like Go Slow, Fear of Being Broken. Yes, printed in white capital letters on a deep purple sleeveless hoodie, on a relaxed cut denim jacket and jeans pants, or with daily objects like an old telephone, a vase of flowers, and a fire extinguisher on a white pair of cotton pants.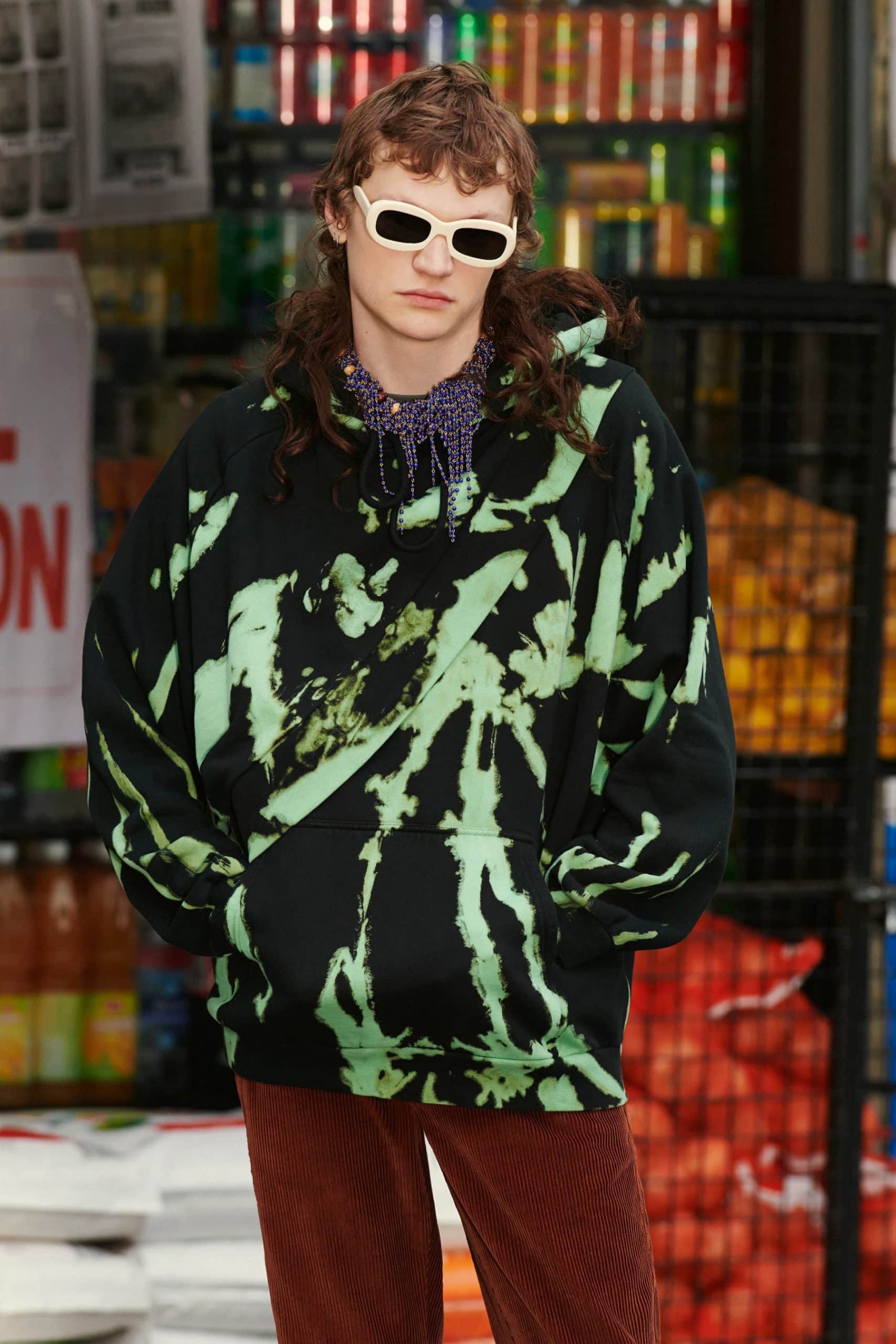 This nineteenth collection, for the trio Jérémie Égry, Aurélien Arbet, and José Lamaliis, is a more focused collection for their creative partnership than the past couple of seasons and undoubtedly a greater focus on clothes than on artistic projects.
Slim brown corduroy jacket, a flare brown wool knee-length coat, and rust velvet print blouson and matching pants are among the nice offerings for fall.
LGN LOUIS-GABRIEL NOUCHI
Literature is often never really cited by fashion designers as creative inspiration, saved for the French designer Louis-Gabriel Nouchi who brought Franz Kafa's posthumous novel The Trial and the misadventures of the main character Joseph K. as a source for his fall collection with a dance performance choreographed by the Sohrab Chitan Company in a live stream from the Palais de Tokyo.
Last season, Nouchi had models reading sections from Albert Camus L'étranger.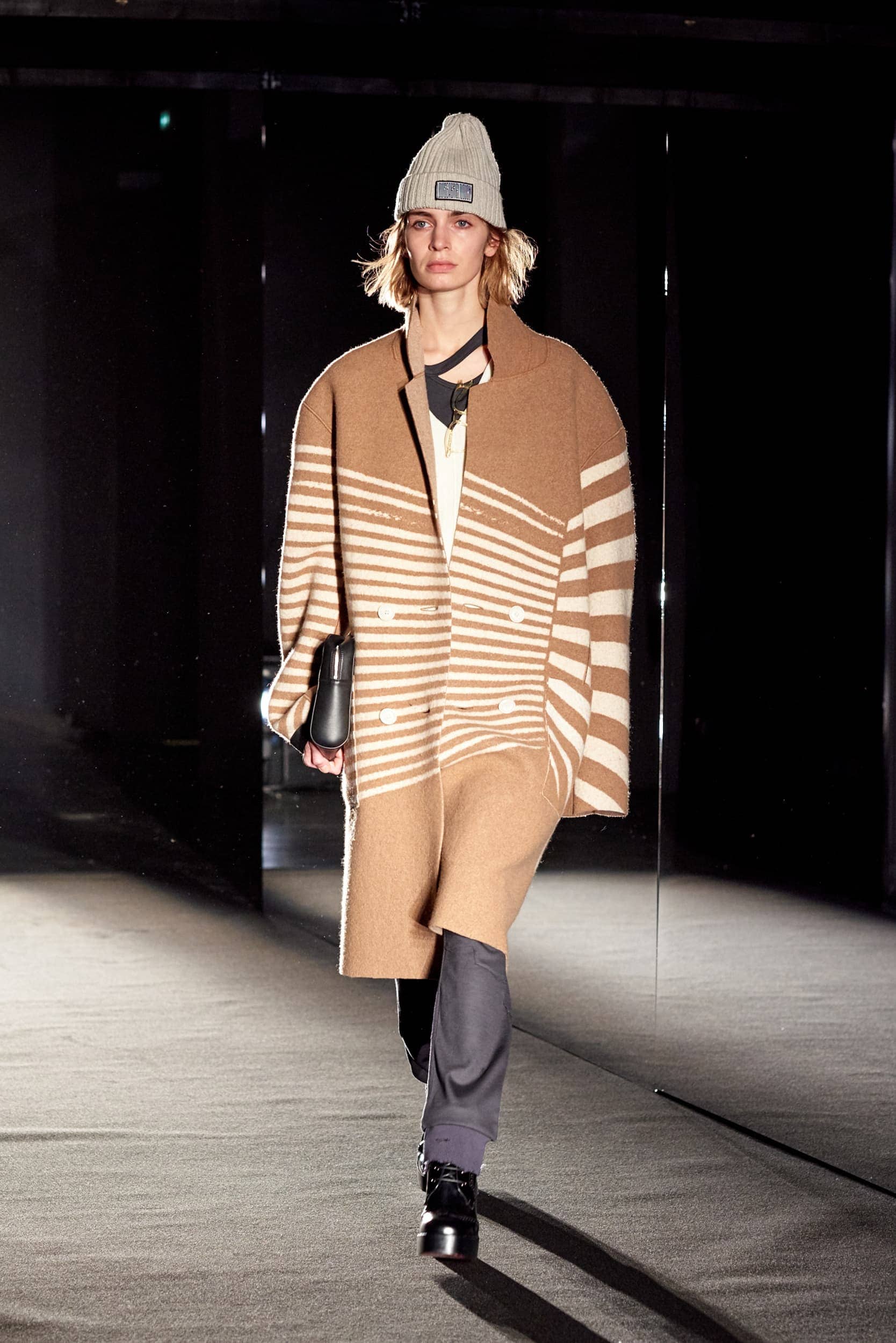 "What we presented but it never really finished. I think knowing the past is very important and with art, culture, books – you can create new things," Nouchi ,said in the French federation platform. "I take the time to read. There is a reality beyond pictures." Asked what books he has reread, Nouchi said Les Mouches by Jean-Paul Sartre, published in 1943 and based on the Electra myth in Greek mythology redefined for the modern era.
Literature is a key point for me as it always has been a natural creative process for me. I actually try to raise awareness of why I'm creating fashion from this point of start, as it has been obvious for me since I'm a child. When I'm reading a book, it is like a movie in my head, and I'm creating pictures of the story. It's also always a moment of wellness, and it reminds me of a period of my life. Nothing is decorative for the collection.

– Louis-Gabriel Nouchi via Zoom
"The color palette is always based on the colors and fabrics describes in the book. Clothes also. The context and the period of the story give a frame. What was wearing the writer also can be a clue. I try to recreate in the garments the feeling I have of the book.
Books and literature is also a way to reunite people from divers origin, genders and age, and this is the reality of the brand! We have customers who are men, girls, youngs, olds, fashionable, or not. For me, this is something very precious. I feel that everyone can interpret the clothes as he want, as a book," Nouchi added.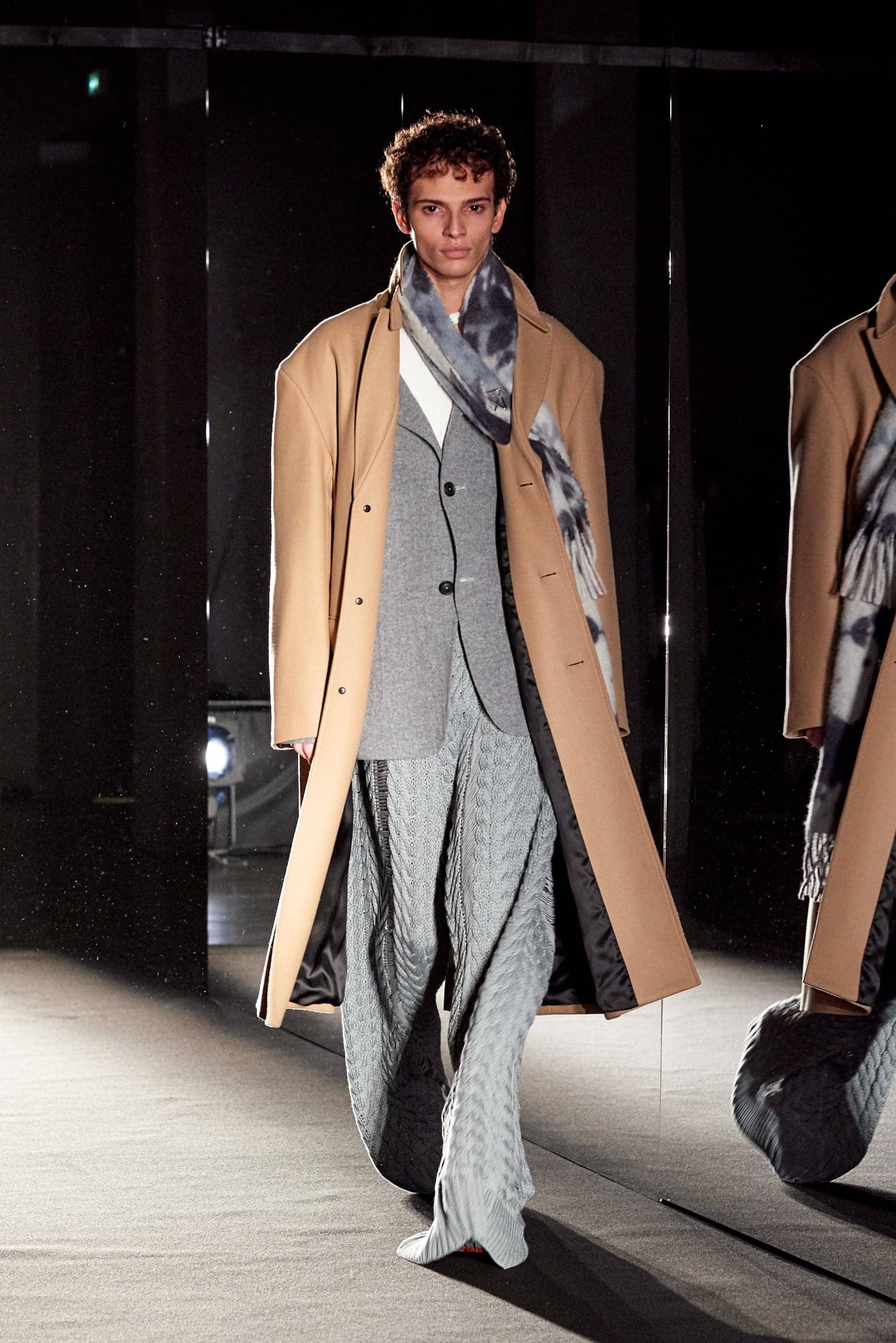 That meant a color palette of light grey, charcoal grey, office camel, and a more somber silhouette of clean and straight-line shapes for a long charcoal wool coat with a large collar and no shoulder line, lush grey knit cardigan over a white cotton suit, and a classic drop-shoulder camel wool coat with a light grey two buttons blazer and light grey knit pants. The slouchy white suit worn with a half brown stripe knit crew neck sweater is one of the show's strong looks.
The artistic performance rendered viewing.
"The fact to also having violent treatments on the garments is also to add value to the garments, to crest there own stories," the designer said, referring to the deep navy knit partially ripped and shredded at the waist-worn over a white shirt and a black/blue/white tie-dyed denim pants as well as the slashed cut on seams of a pinstripe pant's outside legs.
"In Fashion, we always talk about the "story" of a collection while we are doing it in the studio. I wanted to take this expression quite literally and play with it. All the books are always talking about outsiders, people fighting the system again, but not in a radical way. It's more as if victims could take the powers. I also like to choose books that make echoes to what's happens now in our societies, to be more elegant and not frontal with personal and subversives subjects. In the period of digital and images surrounding us, I like to make it personal and make people think in their own way," he said.
Surely, the art dance performance allows the audience to ponder the relationship between clothes and bodies as they move rapidly in front of reflective mirrors.
KidSuper
In the hilarious video Life in Seven Stories based on a novel, well a supposedly novel titled 'If The Plan Doesn't Work You're Insane, If the Plan Works You're A Genius', Colm Dillane's focused his new short film for his fall KidSuper presentation as with such chapters on the pickpocket, the butcher and the three daughters, and several life situations at Bodega and in Chinatown.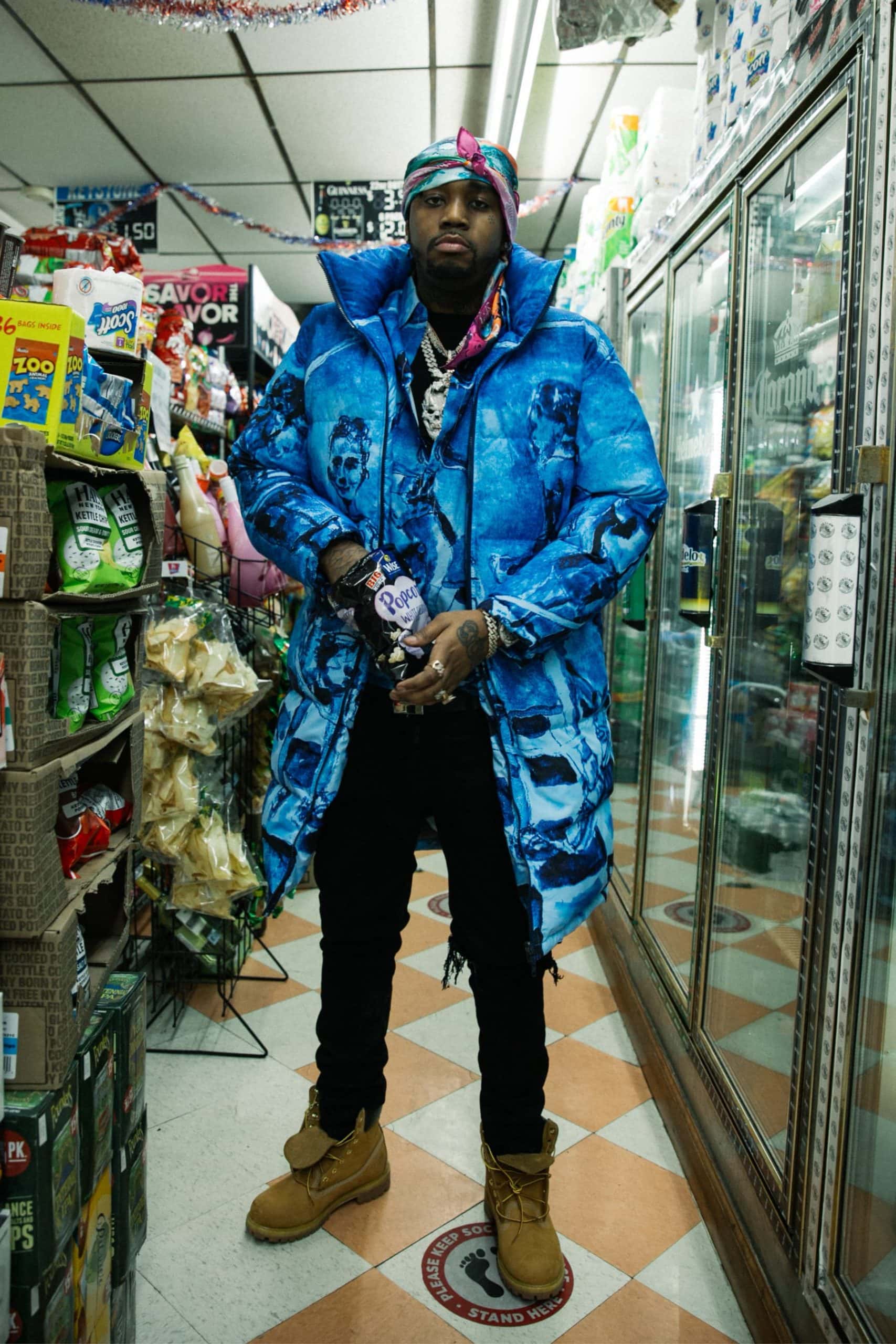 Fashion is an extension of KidSuper's creative projects that include art shows, music, films, and music videos all executed out the Brooklyn studio.
In this era of fashion films, rarely is there a short video where the storytelling and the fashion work seamlessly. The video does not feel like a commercial fashion short – nothing is worse than fashion infomercials.
This KidSuper film has to be one of the best and one of the most creative films that posit and match the fashion within each segment of the story that the narrative absorbs the audience. The clothes are, well, a natural part of the setup. And this film is truly entertaining, humorous and that's hard to say of any fashion films so far intense and funny situations between a butcher and his daughter, two pickpockets and their victims, a Chinese mobster gang eating in front of Nom Wah Tea Parlor in Chinatown, and two people arguing outside a bodega.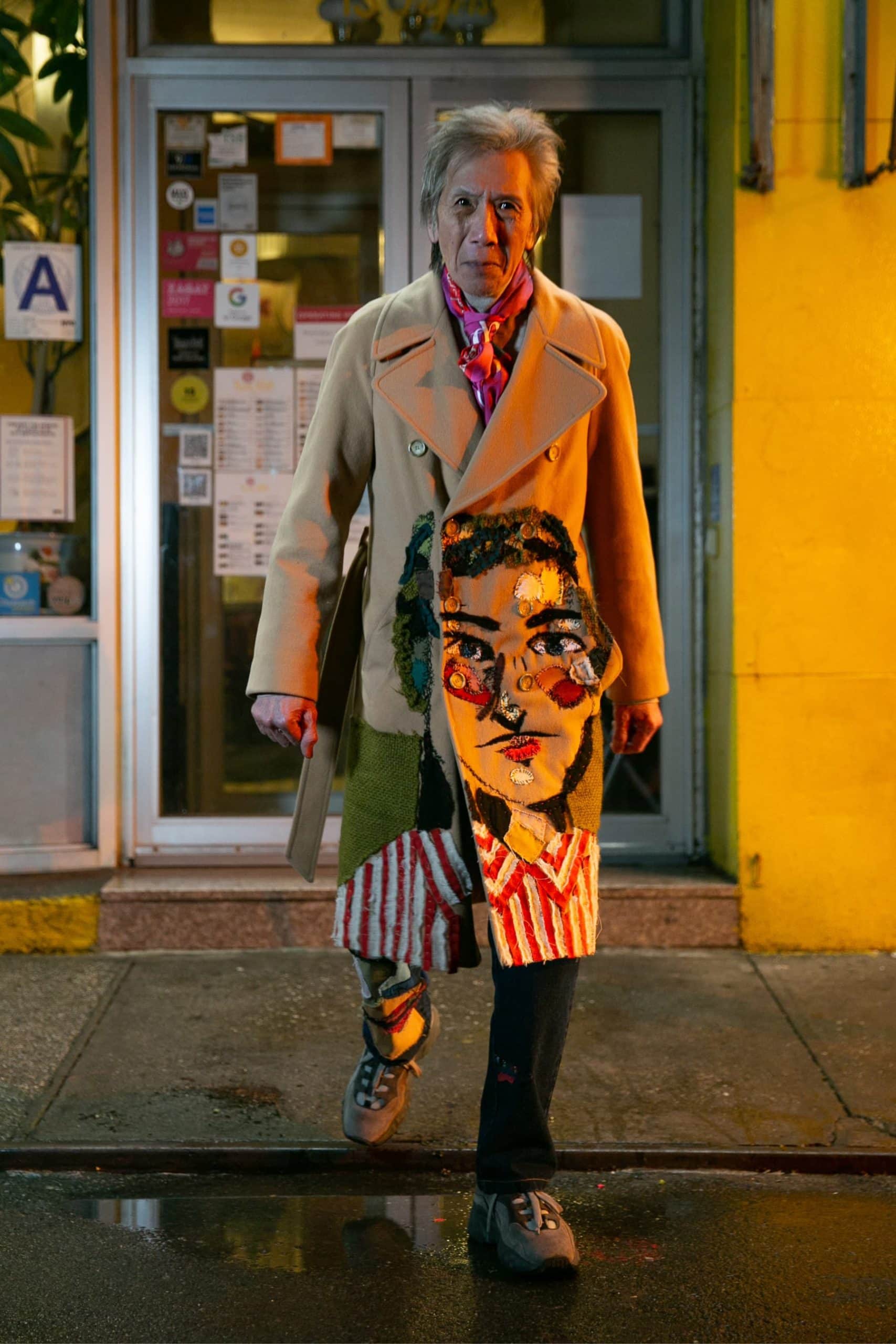 I make clothes that I want to wear. I come up with ideas that I want to create. I always wanted to direct a short film. For this collection, I made seven short films around eccentric characters alive in this NYC world that I am inspired by every day. As for the clothes, they feature paintings/drawings of these NYC moments that continually hearten me.

– Colm Dillane
In his second outing on the Paris fashion calendar, Dillane made some real clothes for each of the characters within each of the cast in the seven super short stories instead of the faux runway. The multi-color long faux fur coat, the red and blue painted figure puffer coat made from Dillane's own paintings, and the print pattern jacket and pants are among the best looks seen in the film and the kind of clothes that one would see people in Brooklyn. The khaki trench coat with the big face embroidery recalled a similar version from the Spring 2021 marionette fashion show. Dillane injected a bit of tailoring this time into his range featuring a yellow corduroy suit with patchwork faces and a camel short coat with embroidered etchings.
---