---
Creative Director Riccardo Ruini has had an indelible impact on the fashion industry since cofounding international agency Ruini Studios, working with clients ranging from luxury labels to the city of Rome itself. Ruini's modern approach to revolutionizing brands' identities is a signature of this Italian aesthete. From restyling the Fendi logo and launching the 90s "baguette" campaigns to recent Valentino ads, Ruini's work is always memorable. Ruini's collaborations extend to the film and music industry with visionaries such as David Lynch, Bat for Lashes and Massive Attack. The Impression's Chief Impressionist, Kenneth Richard, caught up with Ruini to chat about his career.
Kenneth Richard: Riccardo, thanks for taking the time to talk and congratulations on the 3 Clios for the Valentino work. Very different. You've taken a different path in terms of your location, too. Why Rome?
Riccardo Ruini: Well, at the beginning when I started working, everybody suggested moving somewhere else, especially Milan. But I had the luck to start working with Fendi, which is based in Rome, so at that stage there was no need to move. From my point of view, Rome was always an inspiring city to work and to live. Things have changed, the most relevant Italian fashion brands are based here, like Gucci and Valentino, it's still inspiring.
Kenneth Richard: Do you find the city plays into your inspiration?
Riccardo Ruini: My inspiration comes from everywhere: romance, art, life. Also traveling constantly, it's always a source for my inspiration. When you're in Rome, you're surrounded by eternal beauty and when you're traveling, it's more about the up-to-date inspiration and energy. It's a pretty good balance.
Kenneth Richard: We've always talked creative rather than history, how did you get into this business?
Riccardo Ruini: I studied art direction. I went to the European Institute of Design in Rome and I started working with [advertising] agencies, but of course there were not many fashion opportunities in Rome. I've always loved fashion, I grew up in the fashion world, my mother used to work in fashion, and I was always into fashion images more than the traditional advertising image.
In one of my first experiences as creative director, I had the opportunity to work with Fendi and at that time, nobody wanted to work in this industry. Traditional advertisers always think that fashion is dull, that there's not enough copy in fashion campaigns or whatever, and this is how I started: I immediately understood the importance of fashion as an art in expansion. I never had a second option; it was the only thing I wanted to do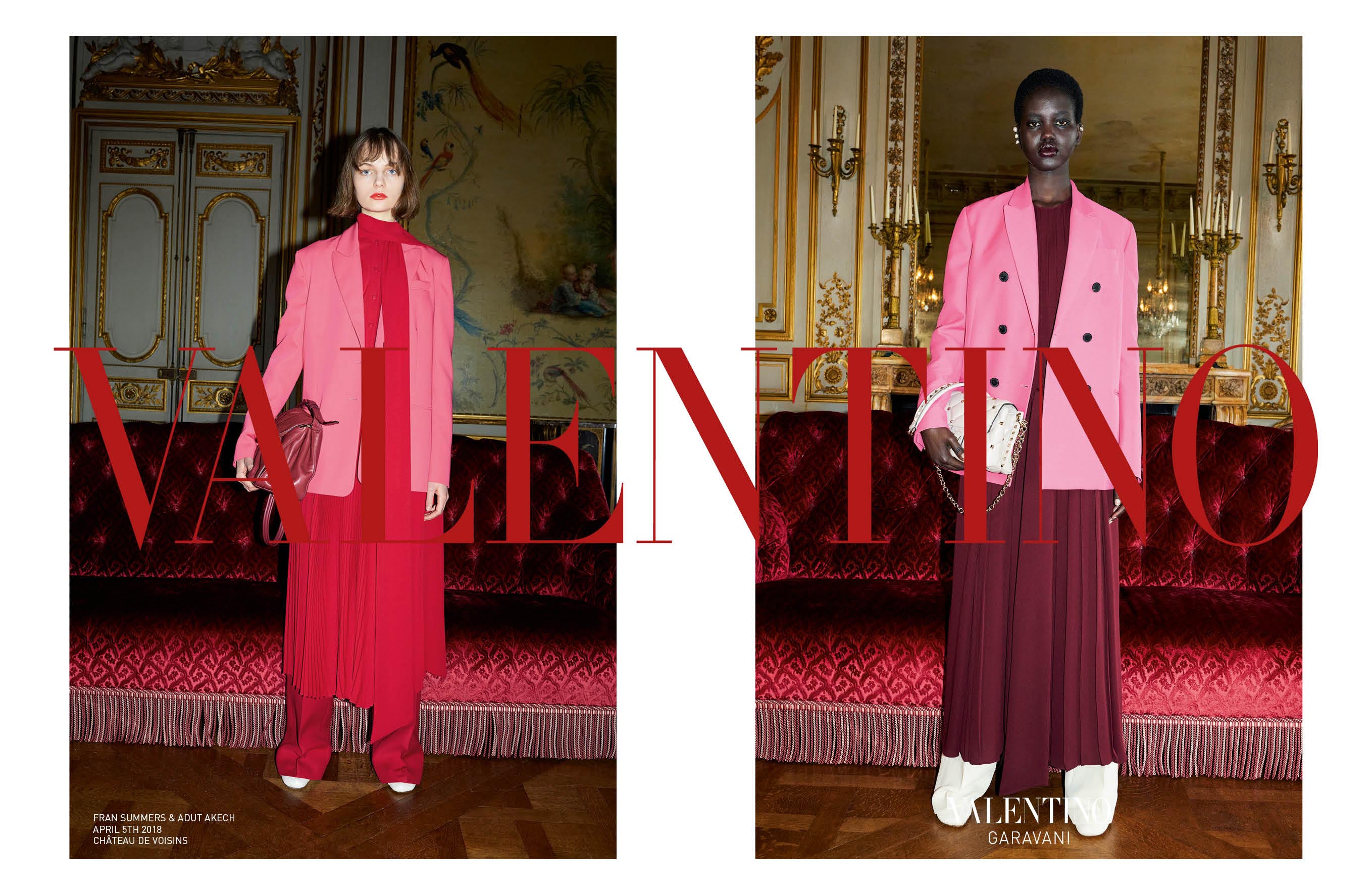 Kenneth Richard: How did you know you wanted to go to school in art direction?
Riccardo Ruini: Well, it was almost not my choice because I was drawing constantly, I was drawing obsessed so I needed to do something artistic. I started as a graphic designer but it was a little too limited for me. I was doing illustrations and storyboards and making good money in that field, but then I realized that first of all, you need to love what you're doing it's not just all about money. So after 2 years, I decided to move to art direction.
Kenneth Richard: Many agencies have traditionally snubbed their nose at fashion. But I've noticed that those same agencies are now adopting more of a fashion/emotional philosophy. Do you find that as well?
Riccardo Ruini: I agree. Traditional advertising wants to explain everything to the consumer. In fashion advertising, it's all about imagination. It is like a good movie, you need to follow the story and read into the message. It's an experience.
Little by little, I've found that traditional advertising has moved much more in this direction. There is almost no copy, the headlines have almost disappeared, sometimes, it's just the logo.
Kenneth Richard: What was your first work for Fendi like and what did you do?
Riccardo Ruini: Everything. I started from doing little things like catalogs and then at the end, we were doing every single thing. I did the packaging, the redesign of the logo, invitations, everything, whatever was coming to us. It was a very close relationship. We grew up together until they were bought by the LVMH Group in early 2000.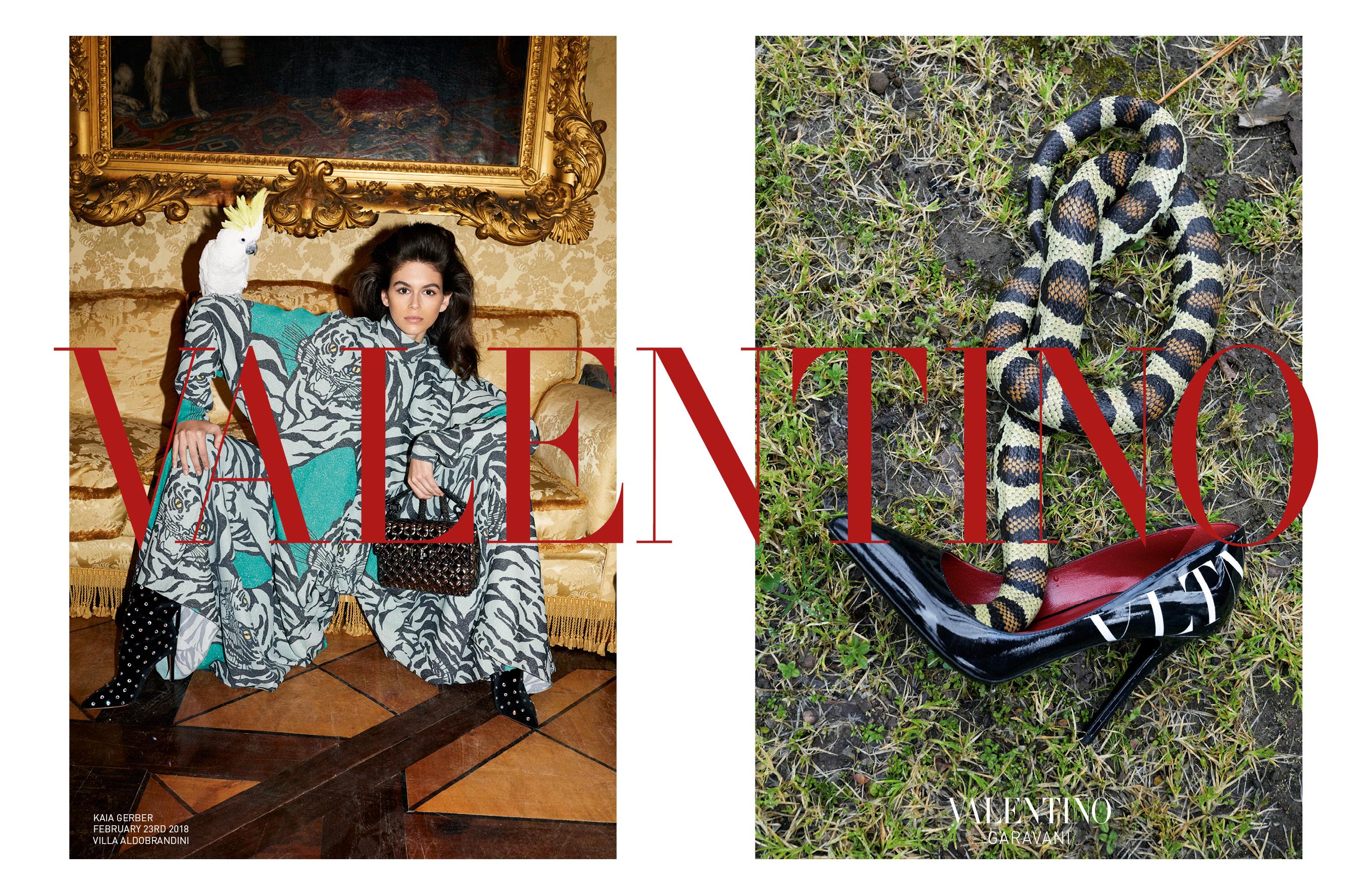 Kenneth Richard: And then you left that agency to go form your own. Can you share with us how that came about?
Riccardo Ruini: Well, I didn't really leave the agency, Fendi offered me their internal art director position, because as I was saying before, nobody wanted to work for fashion at that time and they really trusted me. So they started thinking, why do we need an agency? We just want you.
But I declined the offer and instead I decided to open my own agency and Fendi was, of course, my first client. For me, working for a single client was a little too narrow. Anyway, they accepted, so I started my agency with one of the most relevant brands. It was an amazing start.
I had a lot of opportunities from that in Rome, like the Festival of Photography and some things related to cultural activities, but my second big client was Bulgari. At that time, Fendi was in the middle of the process to become part of the LVMH group with Karl Lagerfeld, so I wasn't doing so much for them anymore. Bulgari's arrival was perfect.
Kenneth Richard: How did you approach Bulgari?
Riccardo Ruini: That was super challenging. I have to say, it's a very unique brand. I don't think that there's any brand that has the same portfolio. The range is unique – from a fragrance that you sell for a medium price to a piece of jewely that you sell for a million. And you have to keep the balance of fitting the brand and making sales. It was an amazing collaboration to reposition the brand, from the packaging to the catalogs, the invitations, we covered all the aspects, for many years.
In fashion advertising, it's all about imagination. It is like a good movie, you need to follow the story and read into the message.
Kenneth Richard: You've managed to actually strike a balance between fashion and fragrance, which is not common. How come?
Riccardo Ruini: My two examples are Bulgari and Gucci. Bulgari fragrance was owned by Bulgari, which means that you have more control in the creativity and you can be more consistent. It was a challenge for me because I was the same art director for fashion and fragrance for Bulgari. Sometimes you'll see in other brands, the licensee uses different art directors, different concepts for different products, and they don't look at all like the main brand.
With Gucci, it was more or less the same. Frida [Giannini] and the brand always had the final word. We kept the consistency stronger this way.
Kenneth Richard: Do you think having different aesthetics in a brand is a problem?
Riccardo Ruini: Yes, because consistency always wins. This doesn't mean that you need to bring the fashion campaigns into the fragrance, but at least they need to have the same tone of voice. I always try to keep the fragrance closer to the brand. They need to look like they're from the same family.
Kenneth Richard: How did you end up partnering up with Gucci?
Riccardo Ruini: In 2006 I founded Rem Agency with Olivia Mariotti, my business partner at that time, when Frida was appointed Creative Director at Gucci. Thanks to our great relationship with Frida, we decided to start collaborating together. That was also an amazing collaboration – we were creating the image for them and their new identity. Anyway, we worked with them until they had a change of designer.
Kenneth Richard: Sure. And then Valentino, how did that evolve?
Riccardo Ruini: With Pierpaolo [Piccioli] and Maria Grazia [Chiuri], we basically started our career together. They got appointed to accessories for Fendi when I was there as creative director. When they were appointed at Valentino, they personally asked to work with us.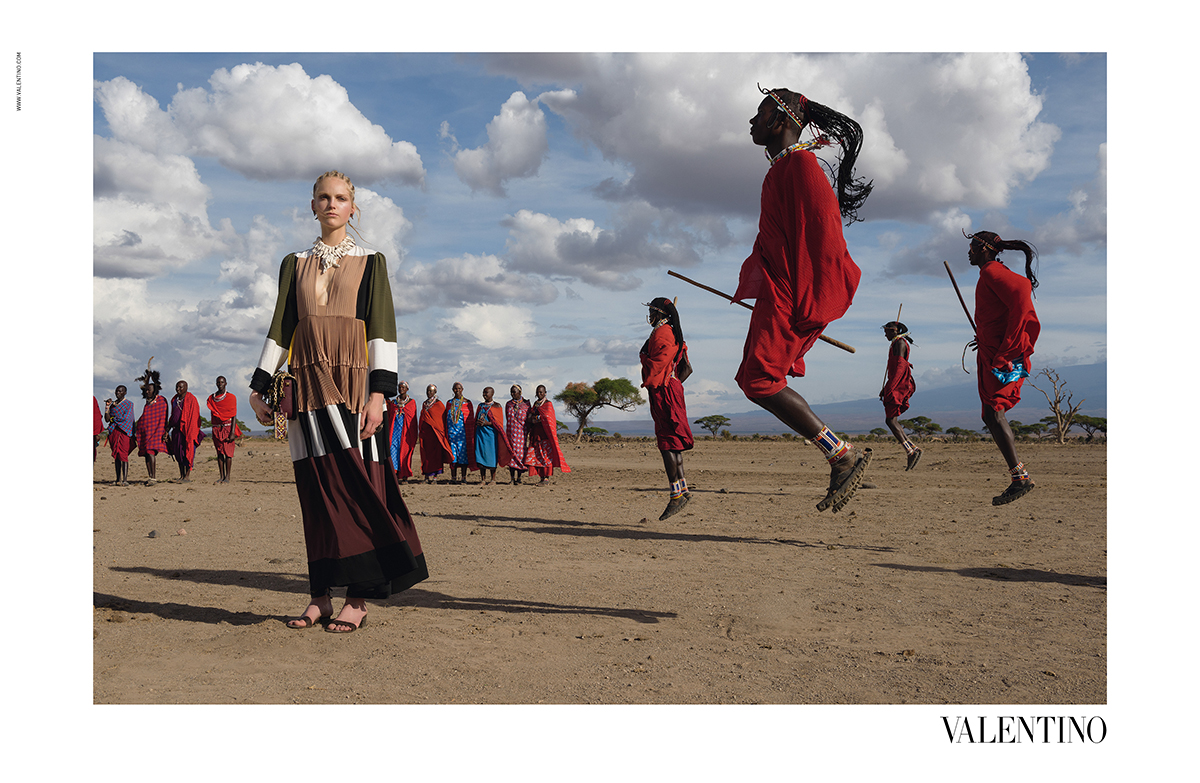 Kenneth Richard: Relationships matter. Let's talk a little bit about the aesthetic of Valentino, which I am in love with.
Riccardo Ruini: Their strength is to be respectful of the history of the brand but at the same time, we worked together to create a new identity and the right language to express their creativity, we got into the right image.
Their vision was very personal. I think that they didn't look like the others. Now a lot of designers do what people expect them to do, like politicians. Pier Paolo and Maria Grazia didn't care; they just followed their vision. My personal approach to work is kind of the same; for this reason, we had a successful collaboration. We won numerous awards together, in 2014 the prestigious Clio Image Award for the Valentino Accessories campaign with Terry Richardson, in 2015 two Clio Fashion and Beauty Awards, one for the Pre-Fall collection and one for the Spring/Summer, in 2016 the Clio Fashion and Beauty Award with the Valentino Spring/Summer collection shot with the well-known photographer Steve McCurry in one of the most suggestive locations, Africa. Now I will be part of the jury of this edition of the Clio Awards; it is such a great honor.
Kenneth Richard: Congratulations. Let's talk about the new direction of Valentino. Since Pier Paolo Piccioli is now the only Creative Director, how has your agency reacted?
Riccardo Ruini: During their tenure at the house, Maria Grazia Chiuri and Pierpaolo Piccioli were responsible for the successful redefinition of the Valentino brand codes and the reinvigoration of the business and they have been creative partners for over twenty years. So when Pier Paolo became solo creative director, we were sincerely happy for Maria Grazia and at the same time, really excited for our new adventure with Pier Paolo. It was more like both of them taking their own path, to follow their own direction. For me, experimenting is fundamental. It was a new challenge.
Kenneth Richard: Why did you choose photographer Michal Pudelka for the mainstay brands?
Riccardo Ruini: We really believed in Michal's potential and we decided to suggest him to Valentino for their second line, Red. He was a 24-year old boy from Bratislava and they were so excited about his job that they decided to work with him also for the main line.
During my career, a lot of things happened naturally. When we did the famous Terry Richardson campaign, I had suggested doing something as strong as Terry Richardson during our presentation and they said, 'Why don't we use Terry Richardson?' They went even further than what we expected. Maria Grazia and Pier Paolo are very open, smart and daring.
Kenneth Richard: You have a lot of history in film, probably more than most. How did that start for you?
Riccardo Ruini: When we started working for Gucci, we had already done two beautiful films with Bulgari, but with very different budgets and different ambitions. I was the first person in this industry to give to Mert & Marcus the chance to do a film, the famous 'Parfum' for Bulgari with Kate Moss.
When we worked with Gucci, we proposed to Frida to start working with top-level directors. All the directors that we used are people that are very image-oriented and are all visionaries. I proposed David Lynch, and everybody thought that was a crazy idea. Procter and Gamble were worried that we might end up having midgets in the film.
After that, it was kind of easier because we defined a certain aesthetic, a certain language, and we were really focused on the creation of the music for that film. We're the only fashion advertising agency that won the Gold Lion and the Bronze Lion in Cannes – and one of those was for the best use of music. With the music for Gucci, we created a new identity, a music that perfectly represented the new mood of Gucci.
So after David Lynch, the second collaboration was with Chris Cunningham for 'Flora Gucci.' We won so many awards with that one. Chris Cunningham is probably one of the greatest geniuses of our time. And then Nicolas Winding Refn, Frank Miller. They all have something in common, and I think it's the visionary part. It's not just storytelling.
Kenneth Richard: Was your work with Frank Miller his first film?
Riccardo Ruini: We did three films with him. He's a great character. I've always loved comics. I've been very honored to work with these people. David Lynch is probably one of my favorite directors ever; Chris Cunningham is probably the best music video director; and Frank Miller the greatest comic designer ever.
Kenneth Richard: No question. So you've seen some changes because I imagine when you started, basically, it was still cut and paste, right?
Riccardo Ruini: Yes exactly, I started working in the dark room.
Kenneth Richard: And you started off drawing. So I'd love to hear what your thoughts are about all of the changes in the industry.
Riccardo Ruini: I think it's still difficult to decide because we're in the middle of it, but now everybody is trying and exploring new areas in the digital world.
Also, they've changed the system of the collections – before, a brand just had two collections, now they have four or more. This is all displayed openly on social media. Before, the fashion world was so secluded, they never spoke to anybody, and now they have to speak with everybody.
It's also a challenge; it's very exciting for an art director when you have other media and other worlds to explore. It's almost like when you have a woman sitting at the table looking so sexual and mysterious, and then she starts talking and she says something stupid and everything falls apart. I think that the fashion world is the same, they should really be careful when they have to talk in social media.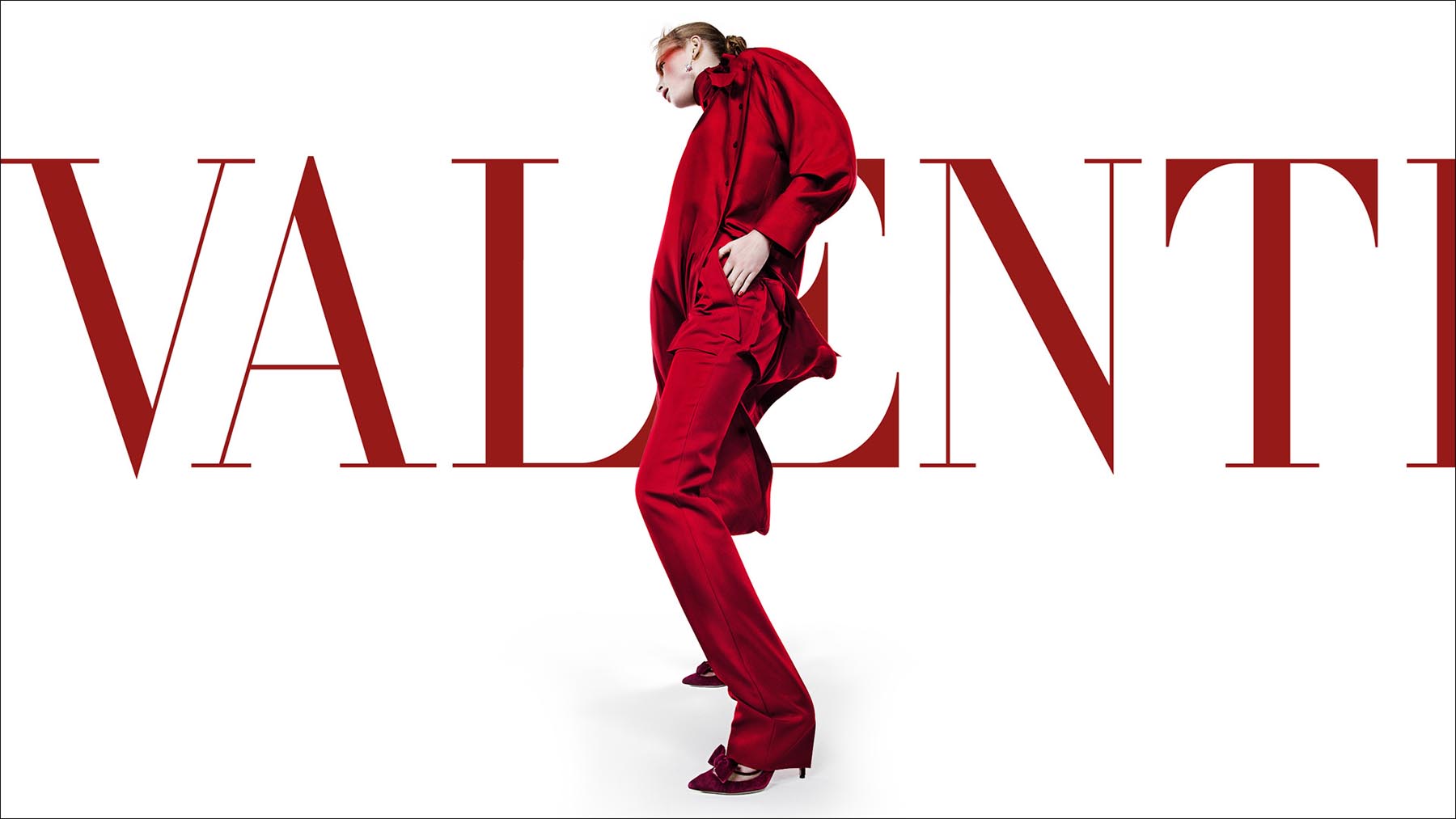 Kenneth Richard: It's definitely more storytelling. Have you found that all of the new communication touch points changed the way that you concept?
Riccardo Ruini: Yeah. I'm seeing that, for sure, and what we're doing now is more editorial. Before, we used to do one campaign, you could shoot one campaign in a single corner and that was consistent. Now I find that boring. I think it's become more storytelling, less consistency, but freer. Before, I would never even try to do a campaign like that, because I would find it too editorial. Now I think it's more modern, it's more contemporary.
Kenneth Richard: Do you think fashion is taking more risks these days?
Riccardo Ruini: Not really. We're lucky to work with Valentino because they are taking risks, exploring new directions, and taking new challenges.
Kenneth Richard: Do you think that pendulum will change and that we'll see more risk taking in, like, the next 5 years?
Riccardo Ruini: I hope. I always believe in new generations. They're always making change, when everything seems established and finished, then something happens. It's the investors I'm most worried about. The designers are all part of big brands with CEOs to whom they have to justify numbers. I mean, I don't want to be nostalgic, but before you had the designer and you had someone that decided to invest money in him and make it happen. It was the same in movies. Now it's more difficult. They pretend they still have artistic freedom, but not really. And when they become too artistic, they just get fired.
Kenneth Richard: How would you describe the agency and what do you guys do well?
Riccardo Ruini: I never worked in another agency like ours; you never really know how they work. In this job we're not doctors so we don't learn the same technique, we just develop our own technique.
The fact that we've been working for a long time with these high level clients has enabled us to build their identity brand instead of just making campaigns and being consistent. We are very good at this. I always try to make the photographers work at their best instead of just following a concept.
Kenneth Richard: What's next for the agency?
Riccardo Ruini: Oh, keep on working, finding interesting projects. We're planning to open an office in New York. It's the only place where it makes sense to open another office, for many reasons. One of our biggest goals is to enhance our digital area.
Kenneth Richard: Riccardo, thank you so much for taking the time and looking forward to welcoming newness to America.
Riccardo Ruini: Any time Kenneth.

---