---
Review of Rick Owens "Gethsemane" Fall 2021 Men's Fashion Show
Responding to Real Hard Times with Grand Fashion
By Long Nguyen
Fashion can be many things. Sometimes it is just clothes, sometimes still considered clothes since they are garments that can be worn, but not exactly just clothes like saying wool felt blouson or a leather biker jacket, but a piece or a created entity encapsulates a specific worldview.
Gethsemane is the garden at the foot of Mount of Olives in Jerusalem. According to the Four Gospels of the New Testament, he gathered with his disciples, specifically where he underwent agony, was betrayed, and arrested the night before his crucifixion. Or as Rick Owens explained his reference – "a place of uneasy repose and disquiet before a final reckoning. We're all living in a tense period in history, waiting for a resolution, be it catastrophic or rational. In suspense that feels almost biblical in its drama – primitive and profane."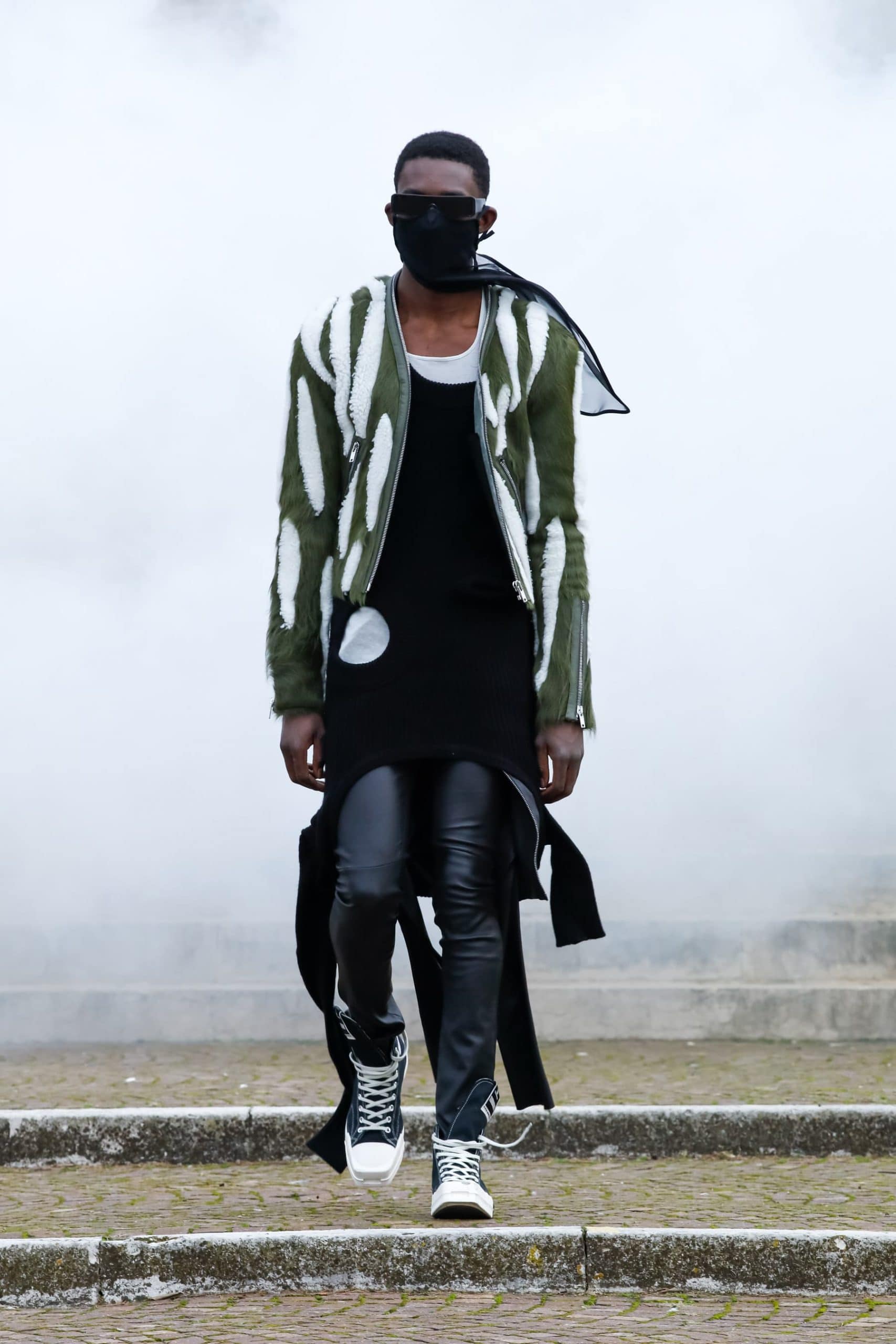 Each season, Owens wrapped his collection into the deep well of history and mythology for that higher meaning to propose another allegory and purpose for his clothes.
An intellectual cord ties one season to another, and one dramatic cut to another more discordant silhouette. Owens staged this fall show as a live stream direct from Tempio Votivo della Pace along the Riviera Santa Maria Elizabetta not far from the Palazzo del Casino where Owens showed his Spring 2021 collection last September. With models walking to the extended remix of 'Hellrap' by Ghostemane, the music "that speaks to the male suppressed rage on every side of the moral divide."
In many ways, the show was calm and not rage, and above all, a truly remarkable showing of clothes ranging from broad should single breast boxy long jacket-coat paired with a light grey cotton tunic and frayed white denim Bermuda shorts, a brownish felt wool giant duffle coat with a long asymmetrical grey knit and purple leather (this skin-tight leather bodysuit is the underpinning for most of the looks), or black shearling short coat with zippered sleeve and a deep green thigh-high leather boots. There was little anguish or anger expressed in the clothes; even the black and white torn effect wool coat did not convey a battle-ready or an after battle look.
Clothes are mean to offer a degree of protection, but here Owens alternate between wrapping the models with complete gears or partly exposed them to the elements like in the opening look of the model just wearing white underwear brief with pentagram fly patterns and a black floor-length long and voluminous nylon duffer coat made from recycled plastic waste and a black cowhide leather fur boots rising to the upper thigh. In contrast, the model's entire torso was exposed. For those who may need more protection, the black shearling coat with a zipper on the hood can nearly completely cover the face if needed.
The sparks of tailoring, often overlooked in this collection, came with a continuation of the discourse on shoulders, now as layered exaggerated shoulders in a sleeveless small lapel long jacket or a simple black wool coat, one layer of wool falling off the shoulder blades. A few of these tailored coats were paired with an oversize washed denim skirt, just sort of hanging diagonally across the front side of the legs. Tailoring work was not just on the break down of the traditional jacket or coats but also rendered seamlessly on a black leather slim fitted coat with steel zipper as the trims around the neckline and front of the coat.
New this time is the hand recycled cashmere knit sweaters in grey or black cut asymmetrically and can be worn in multiple ways with the sleeves hanging on the legs' side or wrapped around the waist.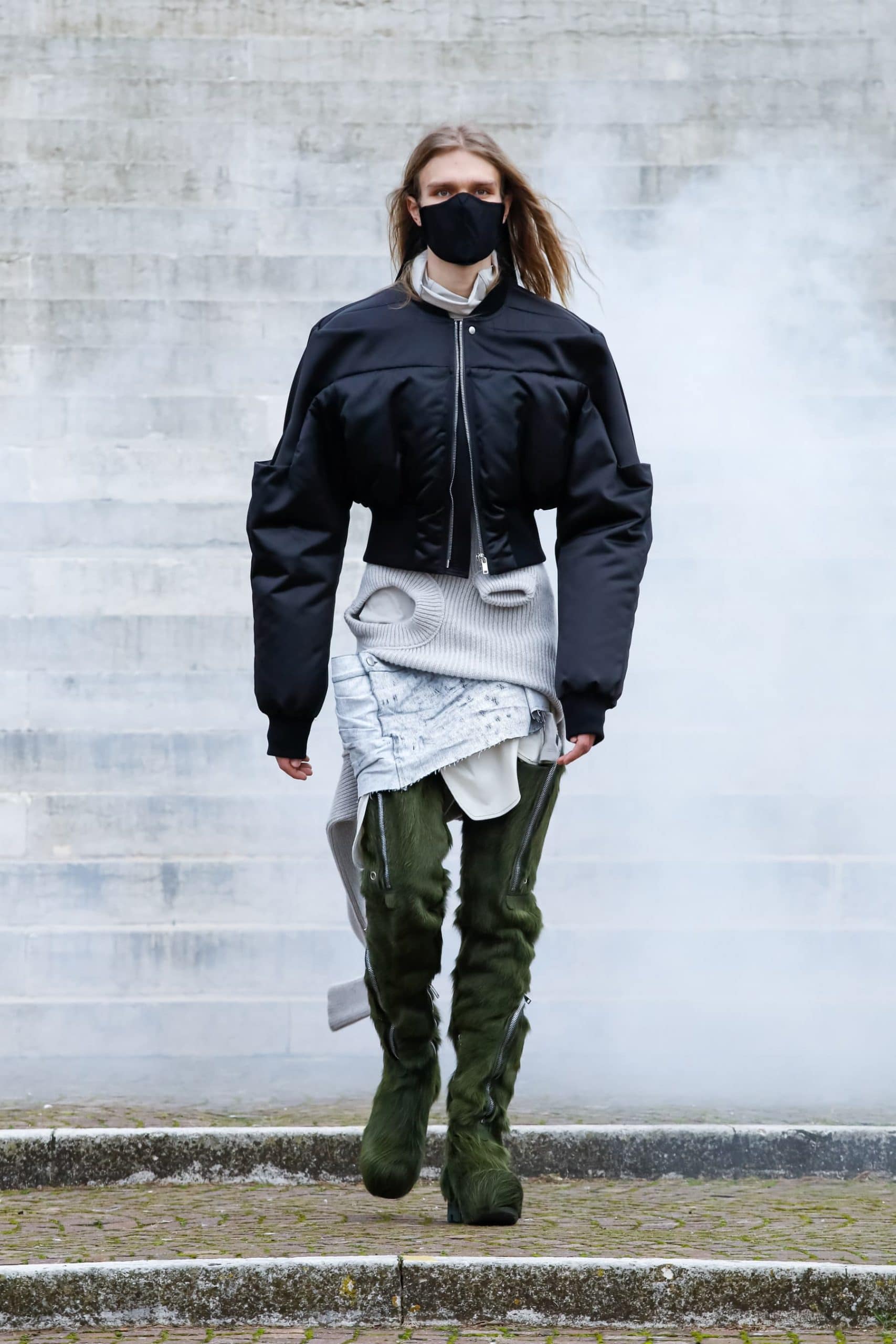 This collection's strength lies in Owens' refusal to compromise the kind of fashion that he does over all these years in good and bad times.
It's like the designer is standing on top of a hill and is screaming out loud – "I am always going to do it this way. Screw you if you don't like it." With these clothes, Owens sketched out his version via clothes of 'our barbaric contradictory times.'
So much has been said about authenticity in fashion and repeated over and over so often that the word no longer contains any meaning. In all cases, authenticity is just a mere word tossed out there to mask the real absence of any values that can be called, well, authentic anymore.
Seeing the white smoke rising off the steel container with gas flames burning, I miss the toxic fumes in yellow, blue, and red from the Spring 2019 show staged in the Palais de Tokyo's courtyard. It is a live experience that is hard to forget both the hazardous smoke and the fashion parade underneath the noon sunlight. Rick Owens is one of the few shows that a live experience is more transformative and more absorbing in a way that is unique in fashion today. Here, unlike elsewhere, there is no pretense of art collaboration with absolutely no meaning and no real relationship to the garments.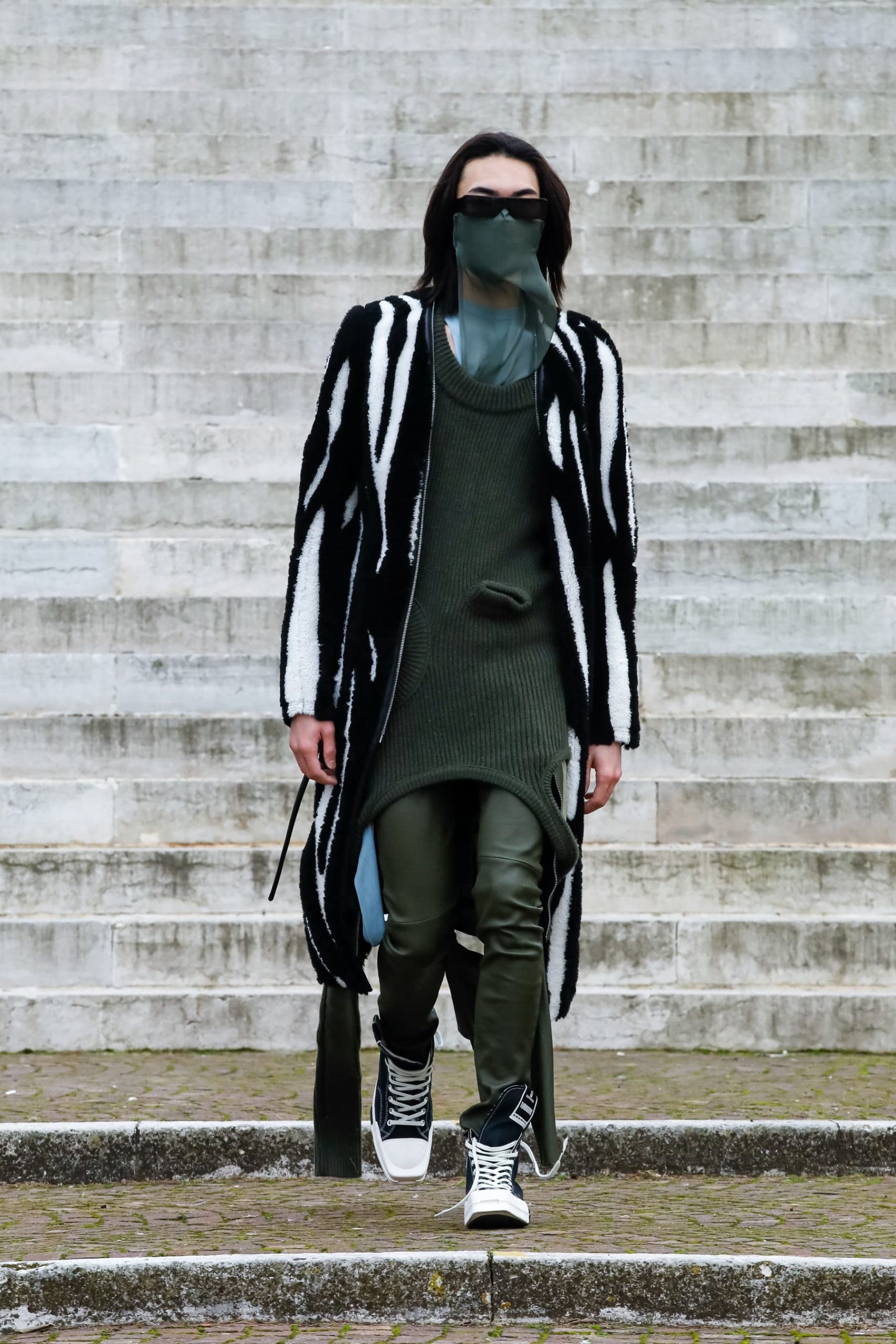 Here, there is an authentic voice of a fashion designer who, season after season, evolves his fashion slowly but surely tries to add something new and, at times, bring something back from the past. Working together with Converse once more, the new signature Converse canvas sneaker now undergoes a few mutations like an extended tongue and toe-cap and different labeling. Owens reference his favorite band – The Ramones – who famously wore Converse throughout – as to how he did his first version of the sneakers
The references to Gethsemane is much more literal here than real or real in the sense that the inspiration shows up in the clothes. It allows Owens to freely practice his own fashion methodology, perhaps wrapping the collection with just a bit of consciousness of the difficult present times solely for outsiders' consumption.
Owens knows that in fashion, as in any battles, any retreats facing adversity in military battles are cowardly, and any scale backs of his own fashion idioms are nothing short of total surrender. He isn't the kind of fashion designer who will put out a nice beige single breast jacket with drawstring track pants just because the moment calls for ease.
---