---
Review of Rick Owens Spring 2022 Fashion Show
The Ferocity of Design Floating Above the Fog
By Long Nguyen
The fog rises again, this time forming street-level clouds at the center of the courtyard of the Palais de Tokyo, where skater kids congregate after hours and on the weekends navigating the various marble and cement ramps around this central rectangular piazza.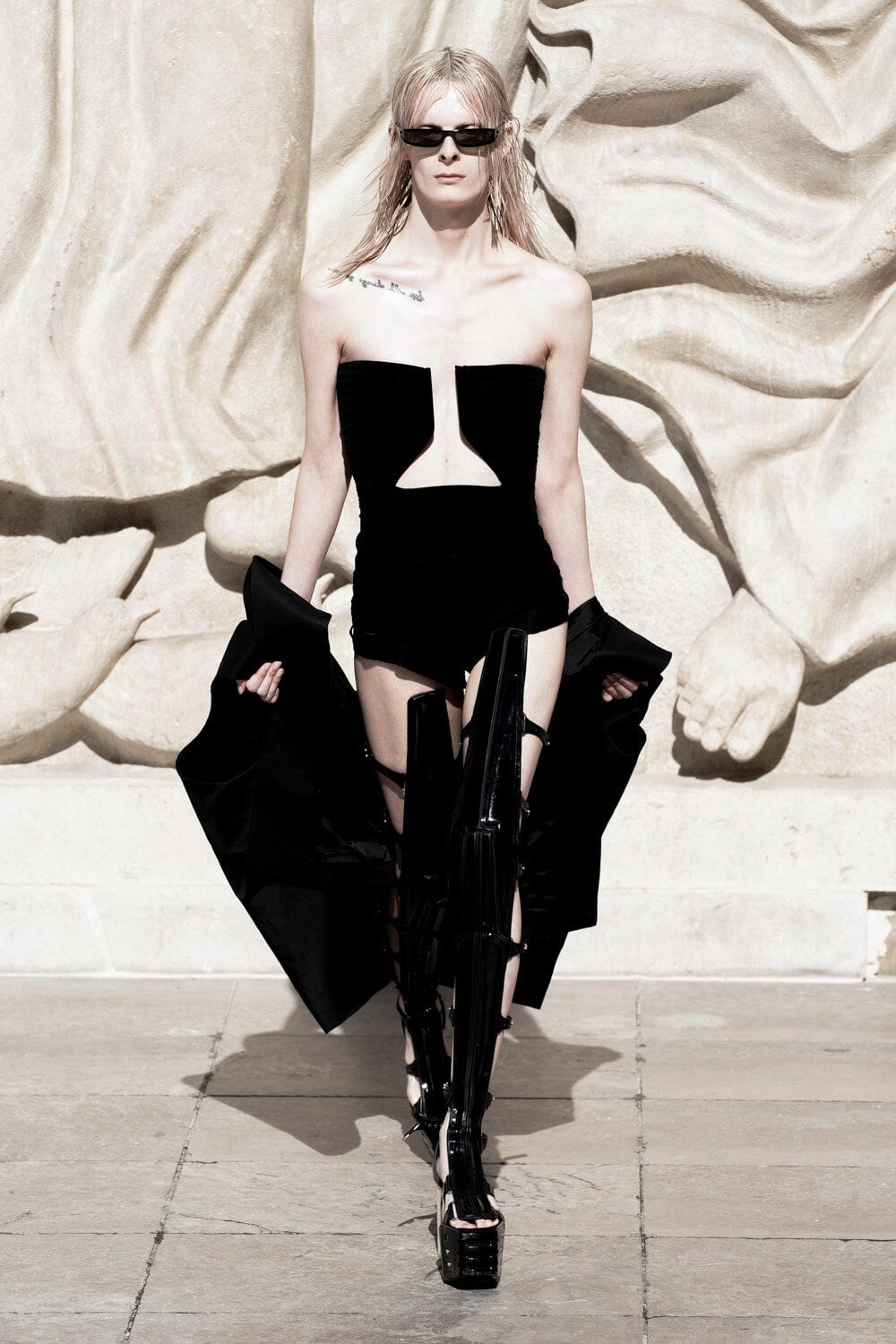 This time, the American designer asked himself about his returning to showing in Paris after a hiatus during the pandemic when Owens opted to live stream his show minimally on the beach with many racks and models changing clothes. Those shows at the Lido in Venice, despite their low-key approach, did little to constrain the designer in any form of restricting the imagination to advance fashion design. What kind of show should this return to Paris be? Subdued or high octane? Owens had promised in late June that the men's Spring 2022 would be his last Lido beach showing, and it's again a Rendez-Vous at the same time and the same venue.
There is a brisk logic to the pursuit of beauty above all else that has always appealed to me and the endless honing and refining of creative signatures in those that I have always admired. Focusing on that seemed like the right move," Owens said in his letter describing his thought on the importance of moving forward and not getting stuck in inertia. 
At Rick Owens, the fashion story continues each season like successive chapters in a long novel about fashion design at the intersection of the culture and the personal, picking up from the previous season – advancing the design element forward and correcting past trials and errors to create a new idea. It's an evolutionary process that at times sees ideas from several years back resurface in a unique shape and this time in more colors. 
'Fogachine' – the title Owens gave to this Spring 2022 collection is the same one for the men's in June – is a ferocious examination of Owens' work in purely fashion design. To observe closely how the designer had constructed his clothes in the past and how elements can be altered, stripped down to bare bone level, and renewed, resulting in a different garment.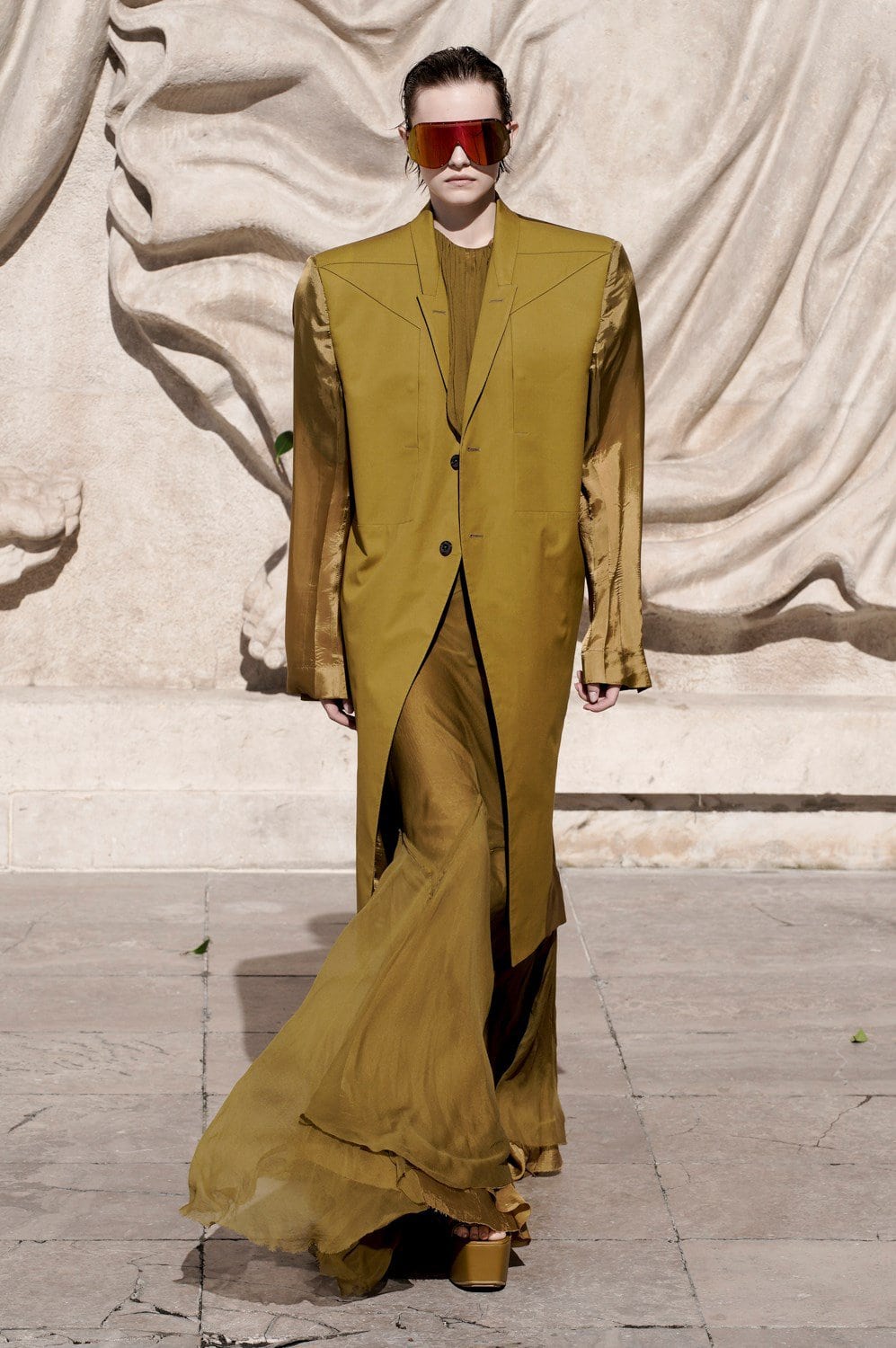 Despite the calm manners of the models casually walking in their looks, there is a level of ferocity in this Owens show, a savage roar placing fashion design back to center stage. 
The show opened with a black sculpted short bodysuit with front graphic strapless cut-out, a pair of thigh pads boots, and a sleeveless jacket carried by the model as a gesture to the collection peeled down to essential elements of design exposing the structures of the clothes. Then followed a black high asymmetrical turtle neck in double-layered slightly stiff organza silk short dress. The doubling of the fabric and inner construction produced the uneven, wavy effect of the natural gravitational folds into a flared skirting. Then, a long sleeveless black silk gauze sheath flared at the legs with a hint of sheer, revealing the outline of a skeletal bra-bodysuit underneath. Finally, this opening series blossomed into a long black high turtleneck dress with ruched sleeves and an attached side cape.
Looking at these four outfits together is digesting the haute couture techniques in creating clothes from a skeleton of a bodysuit to a sumptuous long dress with falling bubble sleeves.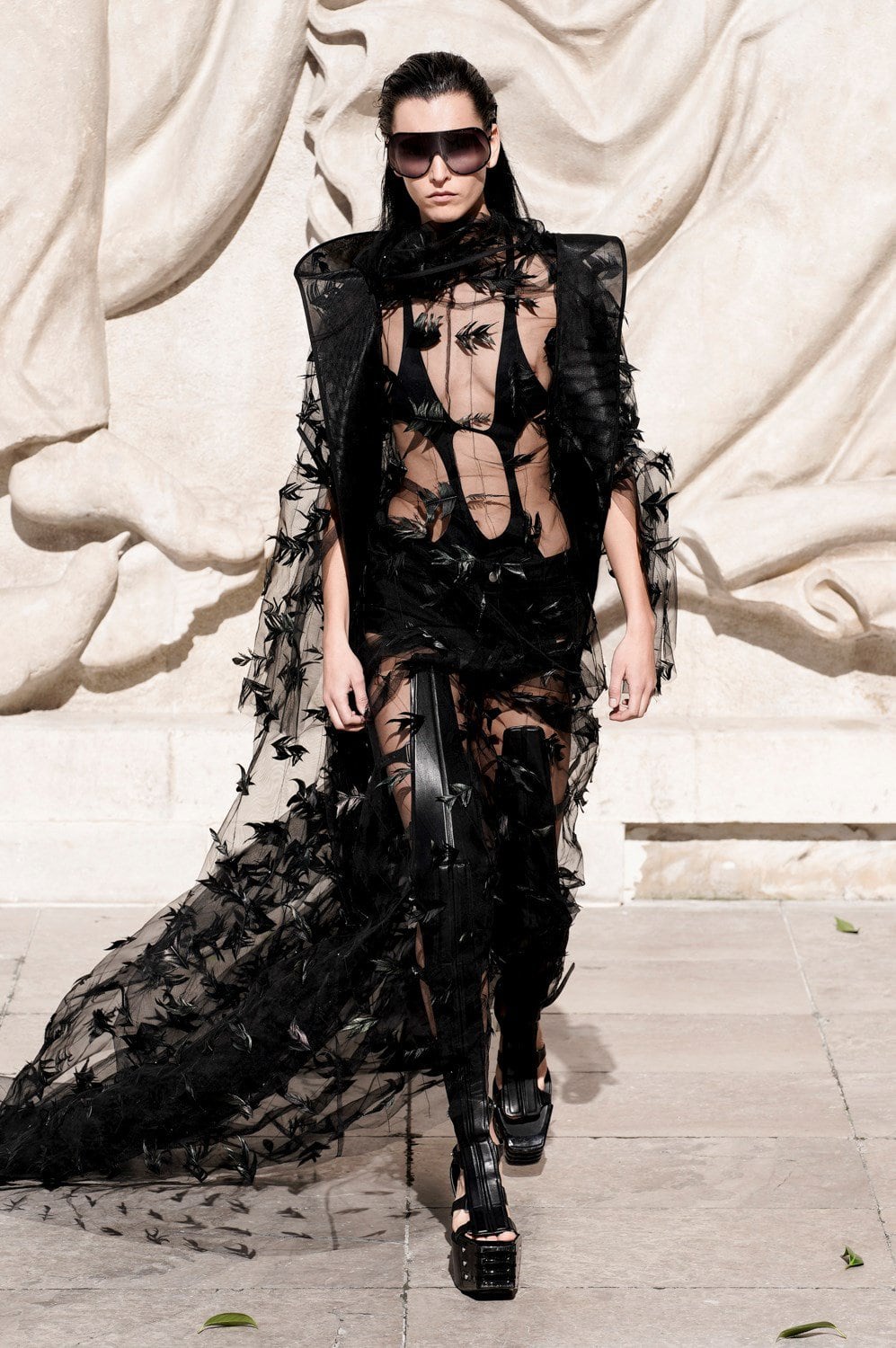 Aligning haute couture with Rick Owens isn't apparent, but this collection may be the closest to an Owens couture collection than any others beforehand. But haute couture is all about the specific techniques used to manipulate fabrics, force a structure, and make a garment fall into a particular shape from mastering inner constructions. 
I have worked with haute couture over a long period to understand some of these techniques explained by many designers from a range of brands.
And there is no reason why a white tee shirt draped asymmetrically over a complicated black silk satin sash bubble skirt, and a black tulle neck bolero train should not be considered in the realm of couture. Or, consider the open-air bubble effect when zippered of a silk pleat white and gold dyed American football shoulders blouson and matching long layered skirt; and the series of blue, ivory, and black micro jackets and long skirts at the end of the show.
More important than asking whether to show an audacious collection is the creative power of these clothes by elevating the thrust of design to fabricate different garments.
Take, for example, tailoring. The extreme shoulders of recent seasons are still broad. On the black micro jackets and coats now with the sides slightly cut out in hourglass shape showing the linings and the chiffon undergarments like a sleeveless black single breast long coat with leather lapel and black chiffon tunic or that boxy black/grey duo tones wool coat and high waist leather skirt.
The sheer rawness of the red, pink, or light brown mohair spider web knit over the black bodysuits, as well as the sheer black tulle or cotton faille coq feather embroidered overlay cover for a geometric cut out hot pants bodysuit, added softness and an idea of fragility to the hardness of the bodysuit and the thigh-high Spartan boots.
Underneath the fog, the brand continues looking at how the production side can minimize waste and pollution. Besides those hand-made on Sakamoto shuttle, the types of denim loom in the Okayama region in Japan – the center of Japan's artisanal denim production- is GOTS certified organic cotton made by a local Italian mill. Leather jackets also come in pirarucu dragon scale leather derived from a food byproduct produced by indigenous communities in Brazil.
And just in case, there is personal non-toxic fog spray in three sizes – small to fit into the pockets of the gloves, medium to as a carry-on, and a coffee table size for the home décor.
Two black-dressed figures, almost like angels on top of one side of the Palais de Tokyo, throwing down "jasmine leaves gathered from the plants on my Lido terrace in memory of our Covid shows there." 
Spring 2022 was a tremendous show of force for the many signatures Rick Owens has nurtured over the years. Now, jacket and coat coats are streamlined, mostly sleeveless and sliced to show other garments and or their constructions. The body exposures aren't so much about the current mood of sex clothes in any sense. Owens clothes are actually always about sex and about the body but not in the sense of deliberate exposure.
Despite their weirdness, it is harder to overlook the sophisticated construction and cutting techniques in this collection. Concept and execution merge seamlessly here. 
Audiences may never forget the many different staging of Rick Owens shows – the tap dancers (W SS14), the putrid smoke of Tatlin Tower (W SS19), the yellow/blue/green noxious fumes (M SS19), the hardcore punk band (M SS2014) – but less so is Owens masterful fashion techniques.
When hype overtakes design, even in Paris, this closeup from Owens offers a relief that true fashion design still matters very much.  
---