Hope Bursts Forth
Review of Rick Owens Spring 2024 Fashion Show
By Angela Baidoo
THE COLLECTION
THE VIBE
THE THEME

It may not have seemed initially obvious, but Rick Owen's submission for summer 2024 was one where he expressed a positive representation of hope. Having been to a Björk concert in early September, he found himself "embarrassed of my own mopey adolescent pessimism", understandable being that many regions are facing financial hardship and war continues to rage between Russia and Ukraine. But hope it was, as the Icelandic singer's "concerned and thoughtful trust in moving forward" stirred something in Owens and spurred him into action.
This season his manifestation of the feeling – often lacking in the world – was a lighter touch and a dedication to doing things the right way. The brands responsible sourcing pulls Italian milled organic cotton and leather from a family-owned tannery. While the show's cocooning "spring confections" according to the show notes, were made from a yarn whose origin derive from waste material. Rather than as an act of virtue-signalling Rick Owens mentions these sustainable processes and practices to show that "we can all start from somewhere". And as his runway show followed after Chloé's, it is an encouraging sign that two major brands are still pushing ahead with efforts to be sustainable in a post-Covid environment, where others have shifted away from previous commitments in favour of strengthening their bottom line. While he chooses not to shout about it, it will certainly add even more weight to the brands cachet at retail.
For summer 2024, the darkness came to the light in the form of his signature draped dresses – encasing and supporting the body – and a palette grounded in black but then morphing into richer hues of burnt umber and clay tones, before bursting into a riot of colour matched only by the vibrant hues of his smoke-filled set. Dusty rose and deep reds punctuated leather dresses in maximal proportions which had also been twisted into submission or extended high above the waist to elongate the body. But it was in his voluminous styles where freedom and hope truly reigned. Gowns with yards of "the lightest habotai silk" billowed in today's co-operative weather, and created a sumptuous version of a tent, as referred to in the shows notes. And the oversized jumpsuits in all the key colours of the collection were a stand-out for their luxurious take on utility, even managing to incorporate a zippered half-moon panel in the back, the epitome of functionality.
Even the brands platform boots experienced new freedoms as they were split open in a new sandal-like structure, for those wanting to stomp into the summer season.
THE BUZZWORDS
Enveloped. Ethereal Lightness. Raw Emotion in Motion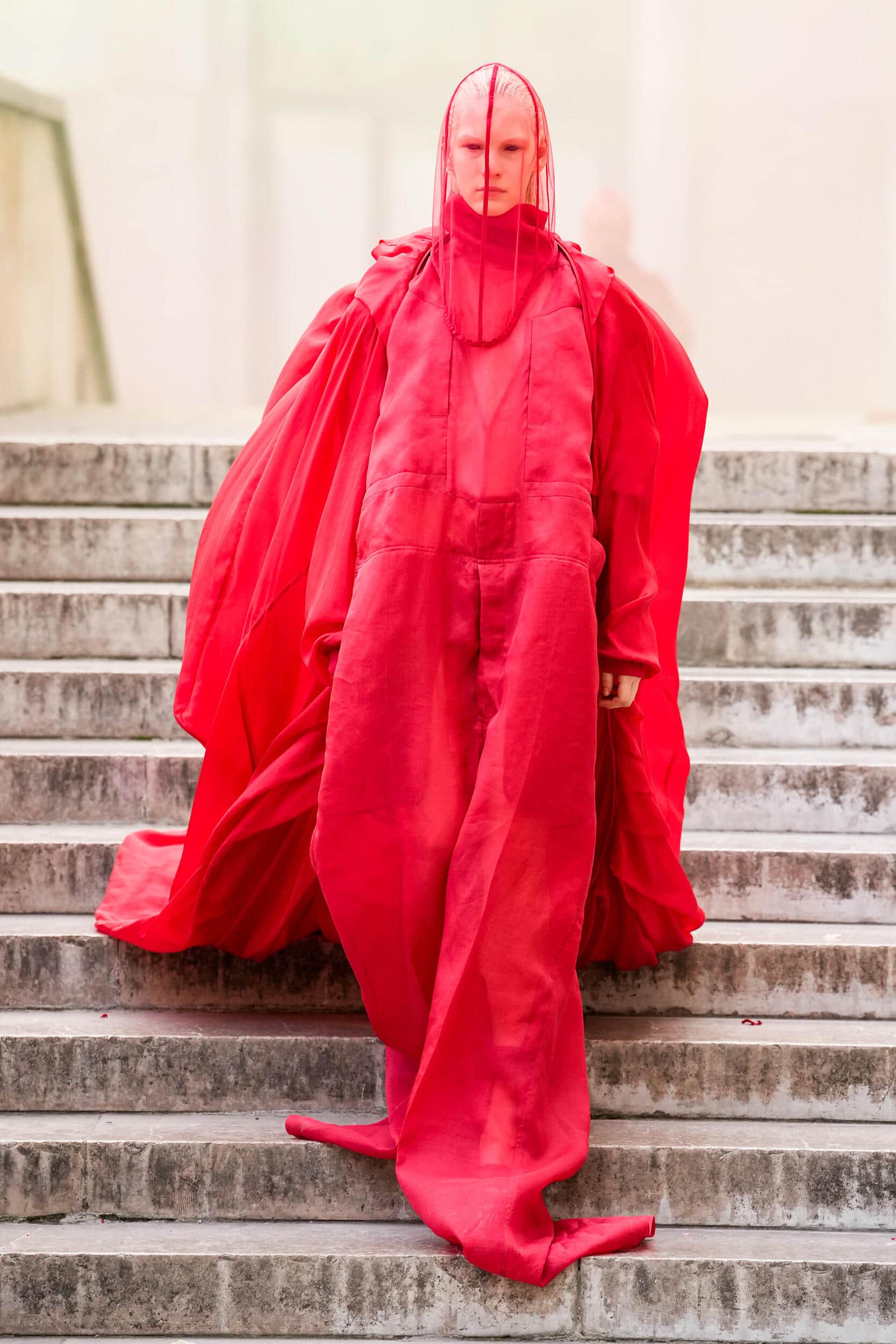 THE SHOWSTOPPER
Look # 37
The soft pink folds of the collections bubble mini dress – which served to camouflage the brands Hun travel bag – was an organic take on volume dressing.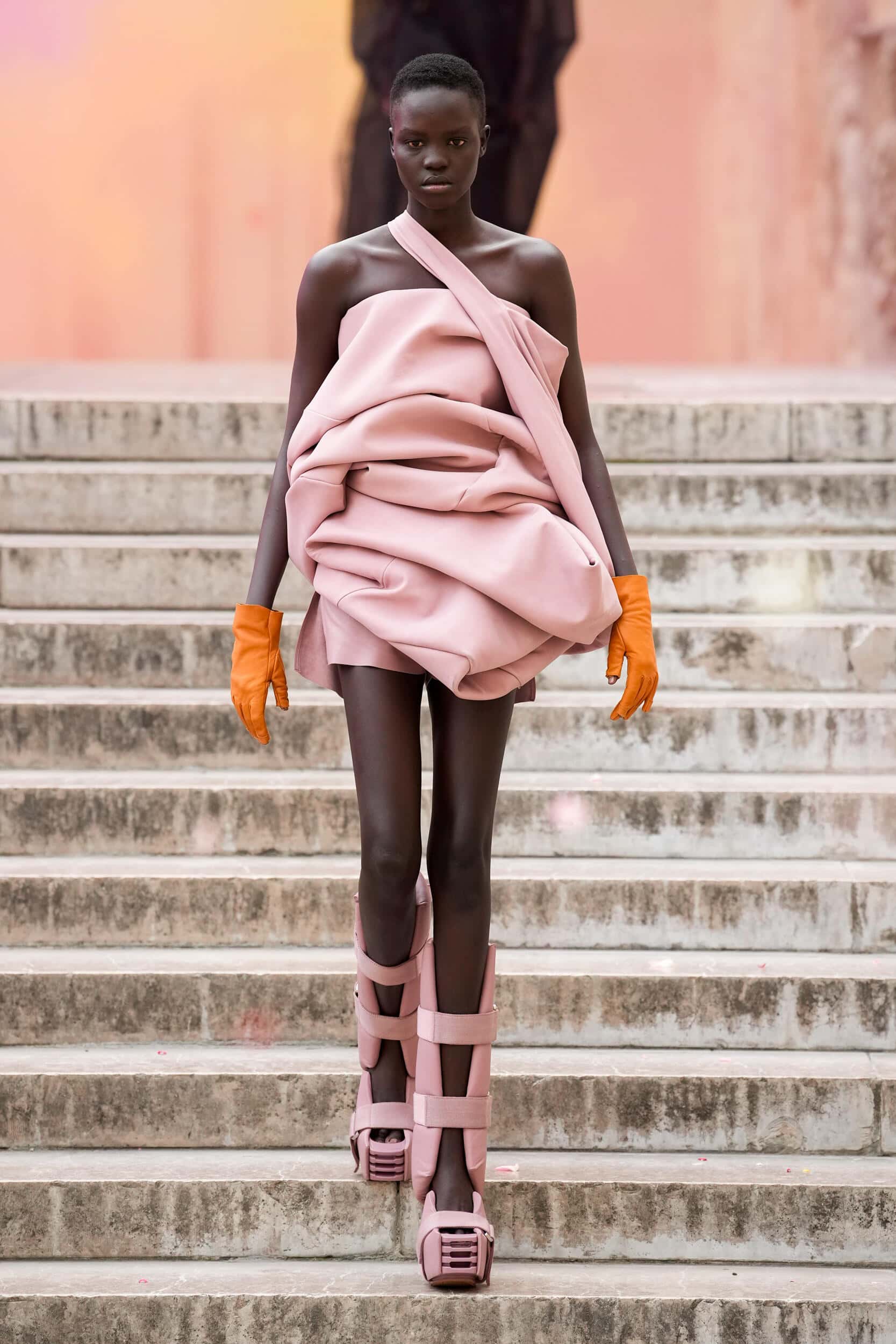 THE DIRECTION
Stepping into the light embedded a hopeful attitude, which didn't stray to far from the Rick Owens aesthetic.
This collection demonstrates the way in which the designer does some of his best work when playing with colour.
THE QUOTE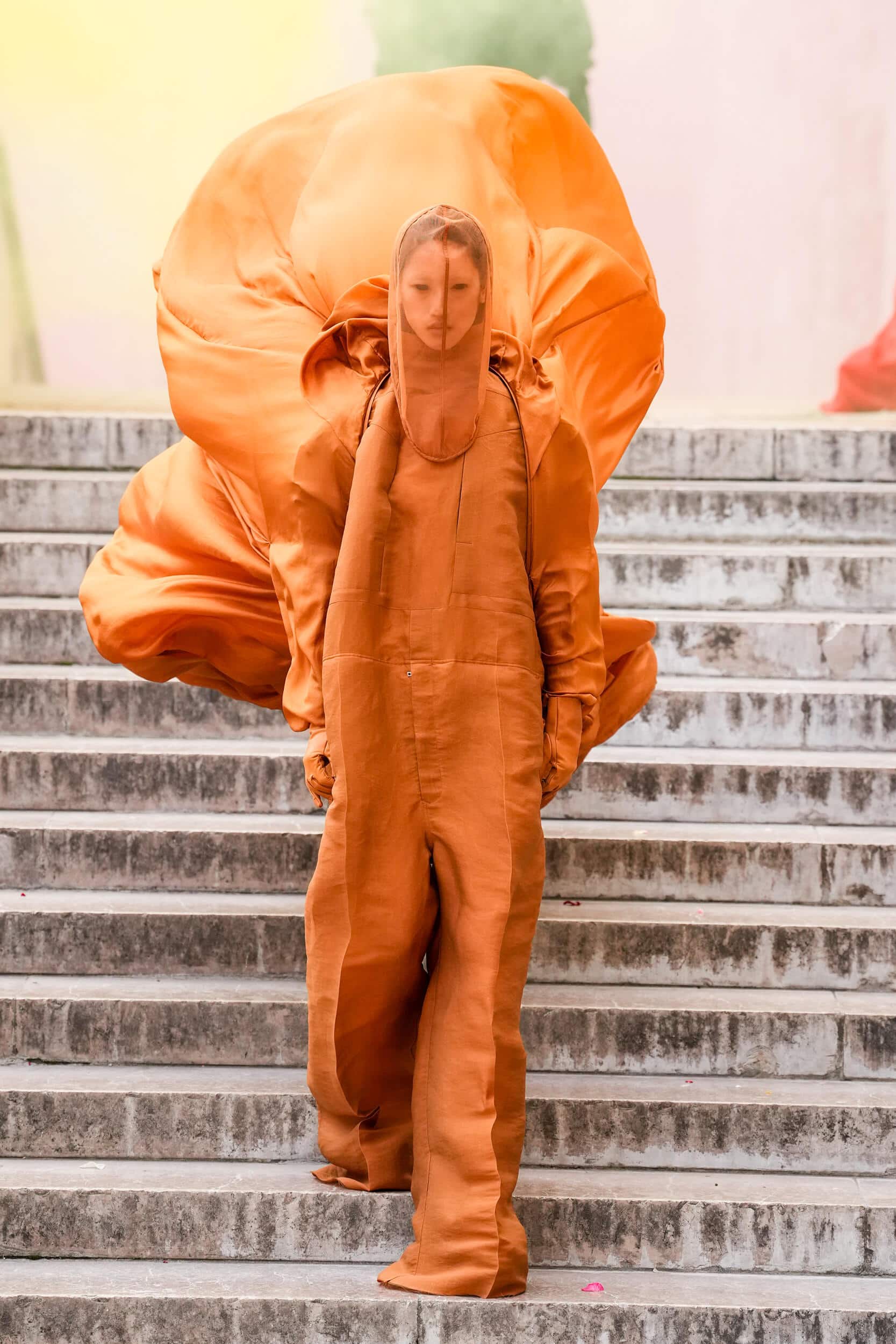 I went to a Björk concert earlier this month, and her intelligent, life affirming energy made me kind of embarrassed of my own mopey adolescent pessimism…and hers wasn't a Disney escapist obliviousness, but a concerned and thoughtful trust in moving forward. She expressed hope"

Rick Owens
THE WRAP UP
As a brand that will be familiar to many, Rick Owens strength lies in making his dark world desirable, and this season it was inspiring to find the designer not simply lean into outfitting his loyal following for any impending apocalypse's – whether by climate or otherwise – in his dark wares.
There was hope in today's show which came through by turning up the volume in a soft way, and leaning into lightness.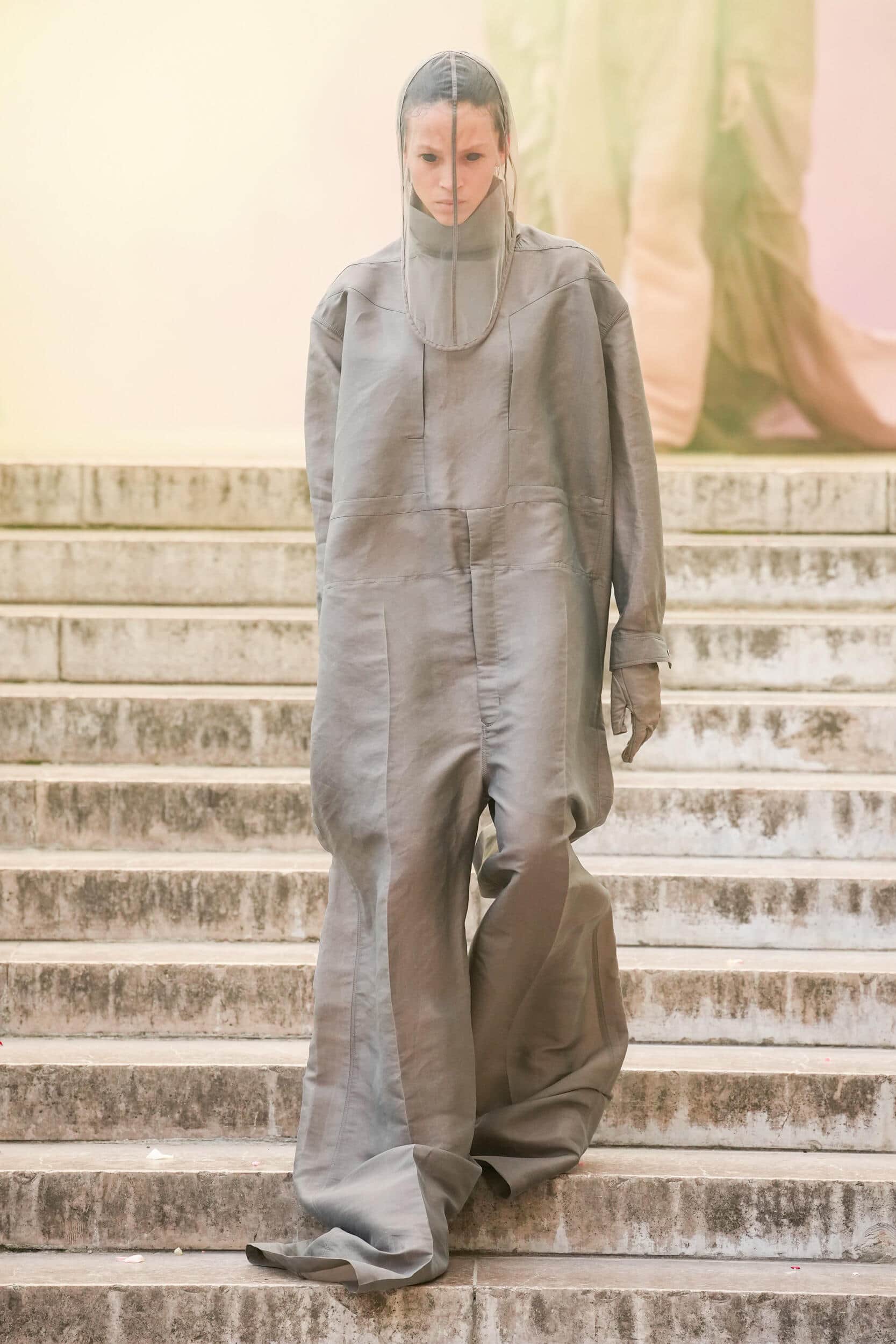 ---