Evolution Of Elegance: Cavalli's Liberating Leap From Wild To Refined
Review of Roberto Cavalli Spring 2024 Fashion Show
By Mackenzie Richard
THE COLLECTION
Delightful surprises with unexpected standout pieces.
Seamless blend of modernity with vintage inspirations.
Themes of freedom and empowerment beautifully encapsulated.
Lacked the traditional sex appeal characteristic of past Cavalli collections (perhaps a pro)
While the blend is mostly harmonious, there's a risk of it appealing neither to pure vintage aficionados nor strictly modern style seekers.
THE VIBE
THE THEME

Amidst the lushness of a jungle-inspired panorama adorned with floating plant centerpieces, Roberto Cavalli's newest collection unfurls like a vivid dream. Puglisi transports us back to the effervescent '70s, sketching a woman who's both an enigma and an open book. Channeling the allure of icons like Brigitte Bardot and silver-screen darlings of the '70s, she radiates a cultivated elegance, mirroring the poise of an art-loving heiress with vintage undertones and a wild, beating heart. Cascading caftans and diaphanous chiffons transform models into ethereal birds of paradise, taking wing amidst their verdant surroundings. This emblematic Cavalli woman flits between the adventurous and the rooted, her attire a symphony of feathery motifs, bold animalistic streaks, and an earth-toned palette.
But beneath the veneer of earthly charm, she dazzles with a distinctive glamour. Melding the seductive gleam of Hollywood with the timeless beauty of Italian designs, she dances between magnificent opulence and enticing mystique. Each piece she dons whispers of Cavalli's legacy, fortifying her spirit, and sculpting her essence. Her presence is undeniably magnetic, making every entrance a moment to behold and remember.
This season, the Cavalli Woman weaves a tapestry of vintage allure and modern liberation.
THE BUZZWORDS
Eclectic: A harmonious blend of varied inspirations, the collection defies singular definitions, reflecting a diverse aesthetic.
Sultry: Infused with a seductive allure, Cavalli's designs evoke a powerful sense of sensuality and mystique.
Vintage-inspired: Drawing from the timeless charm of past eras, the collection brings a modern twist to classic elegance.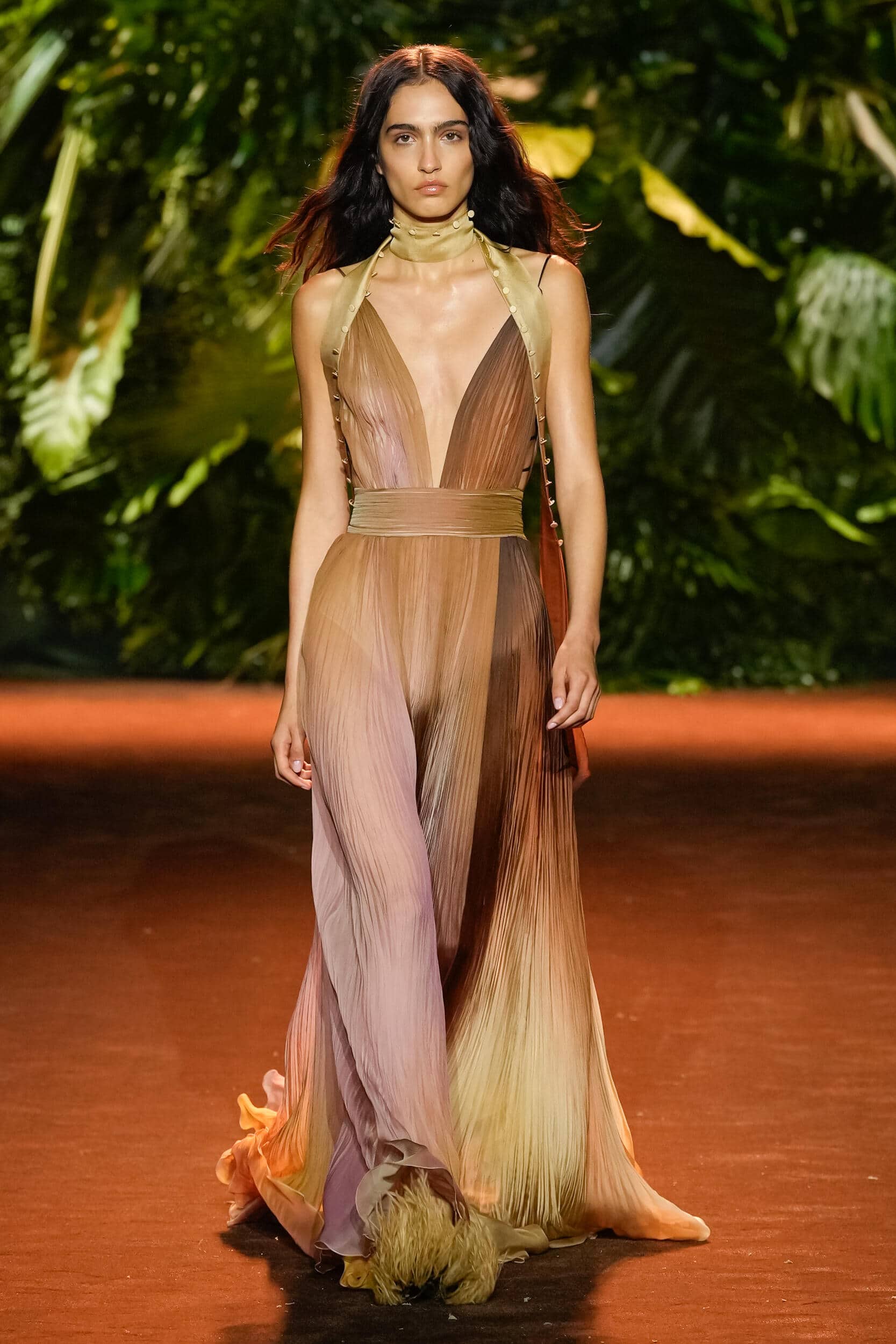 THE SHOWSTOPPER
Look #31
In a delightful twist, the standout from Cavalli's collection veered away from their usual flair. This look resonated with gentle power, whispering its presence amidst bolder pieces. It danced seamlessly between themes of freedom and empowerment, all while maintaining a delicate dominance. A perfect symphony of the old and new, it nods gracefully to bygone eras while celebrating the modern woman's spirit.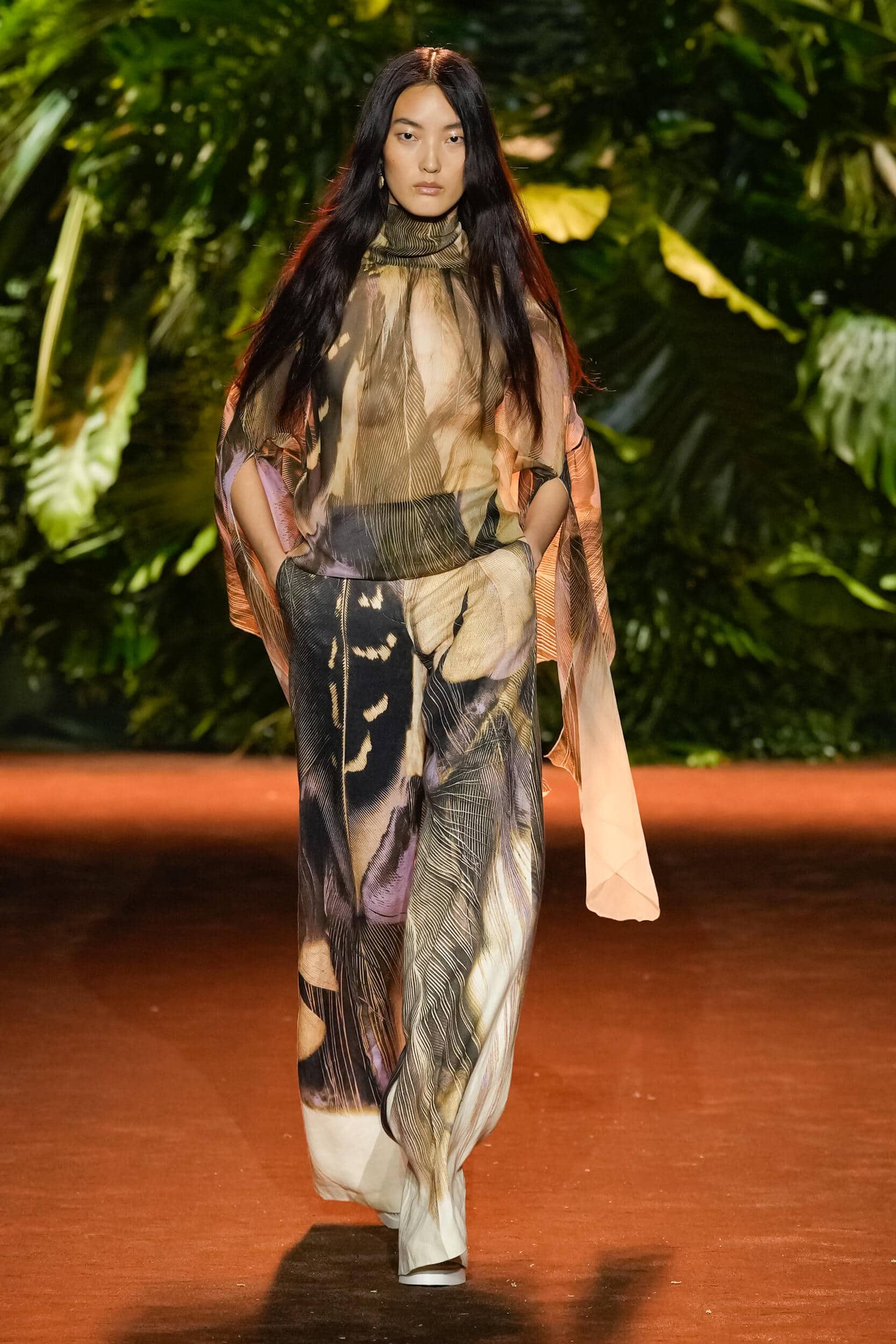 THE DIRECTION
THE QUOTE
Discussing women's empowerment and the freedom for women to make choices about their own bodies without facing judgment from men or society is essential. I view the Cavil collection as a testament to women's strength and empowerment, bringing vibrancy and light to a world in the midst of transformation.

– Fausto Puglisi
THE WRAP UP
Nestled within the rich tapestry of a jungle-inspired setting, complete with ethereal floating plant centerpieces, Roberto Cavalli's recent offering unfurled with all the drama and dreaminess one could anticipate. Puglisi masterfully beckoned us into the '70s—a time of flair, freedom, and fervor. The woman he depicted was an intoxicating blend: part enigma, part revelation. Invoking the effortless elegance of icons like Brigitte Bardot and the captivating silver-screen muses of the '70s, this collection beautifully juxtaposed the old with the new, the wild with the refined.
But it wasn't just about echoing the past. There was a tangible shift in this season's narrative. Cavalli's signature animalistic sensuality matured, evolving into a more refined embodiment of female empowerment. The collection resonated with a deeper meaning, one that highlighted a woman's autonomy and celebrated her choices. This was not just about dressing for the world, but more so, dressing for oneself—a woman defining her own essence, her own allure, on her own terms.
And as for the standout look? It was a harmonious blend of understated power, a tribute to the timeless dance between freedom and self-assuredness. It was less about the ostentatious and more about an inherent strength, a gentle nod to yesteryears, yet firmly rooted in the present.
In conclusion, this Cavalli collection stands as a testament to the evolving discourse around the brand. It's a celebration of women's empowerment, a narrative that accentuates the importance of individuality and self-expression. In a world continuously in flux, the Cavalli woman remains unapologetically herself, crafting her own narrative—one of vintage charm and contemporary liberation.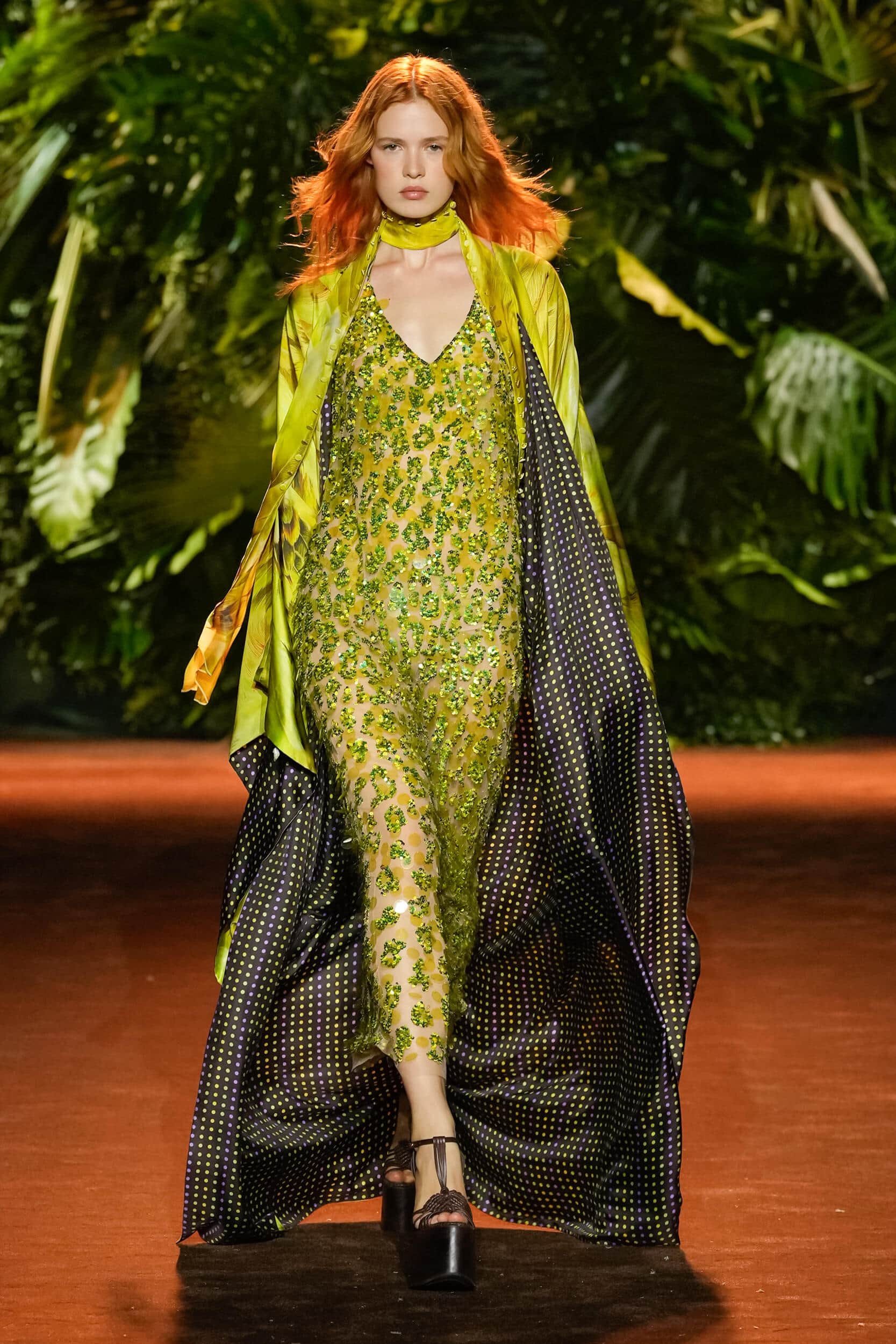 ---