---
Gherardo Felloni, the Creative Director of Roger Vivier, teams up with the agency Bonjour Paris, Director Laura Sicouri, and Cinematographer Andrea Danese to bring a holiday tale of puppy love. Evoking a particularly Parisian style of whimsical, light-hearted quirkiness reminiscent of films like Amelie and Mood Indigo, the ad campaign is unquestionably cute and stylish. Though pleasing enough to spend a few care-free moments of engagement with these two young lovers and their furry friends, the campaign might be easily forgotten in the wake of flashier or more meaningful holiday fare.
The story begin with an accidental encounter between Pauline, Raban and their canine companions in the stairwell of a vintage apartment building. This is where the hero of the film, a chihuahua named Tuna, meets his doggy soulmate Mandy. Sadly, his encounter with the object of his affection is brief. Pauline and Tuna return to their lonely apartment where they count down the days to Christmas, waiting for some holiday magic. When Christmas morning finally arrives, a mysterious card is slipped under the door trailed by a red ribbon that leads out into the cobbled streets of Paris. Pauline and Tuna follow the path of the red
ribbon up to the gates of the Jardin du Luxembourg where a romantic surprise awaits. Raban is standing by the gates holding the other end of the ribbon, which is wrapped around a bright red Roger Vivier box. But where is Tuna's surprise? There is a moment of tension as Tuna looks around for his long lost love. Then he hears a tiny bark and sees Mandy running towards him and presumably everyone lives happily ever after.
"I Woof You" is a tidy package of wish fulfillment, mixing together old-world glamour with a well-dressed young couple, and their adorable fur babies who find true love to the melodies of a sweetly nostalgic score by Panorama. In the end, the ad campaign does not function as more than the sum of its parts… but the parts are enjoyable, and so the whole is a rather pleasant diversion as well.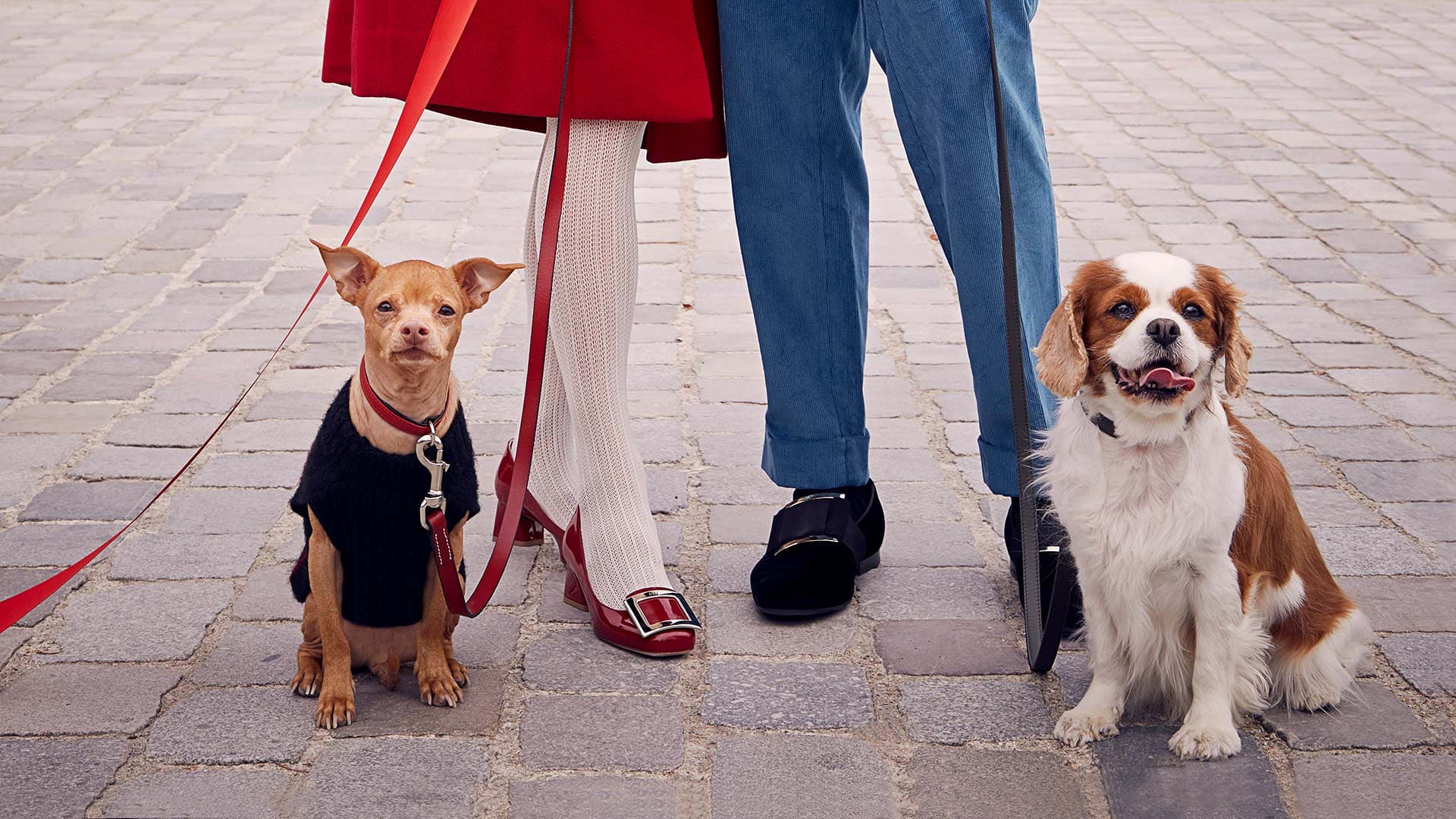 Roger Vivier Creative Director | Gherardo Felloni
Agency | Bonjour Paris
Director | Laura Sicouri
Cinematographer | Andrea Danese
Production | Insurrection
Screenwriters | Enrico Manzo & Andrea Danese
Talent | Pauline Jacquard, Raban Renatus, & Tuna Melts My Heart
Location | Paris
Music | Panarama
---