---
Review of RVDK Ronald Van Der Kemp Fall 2021 Couture Fashion Show
Highly Creative and Mindful Couture All Hand-Crafted From Left Overs Fragments.
By Long Nguyen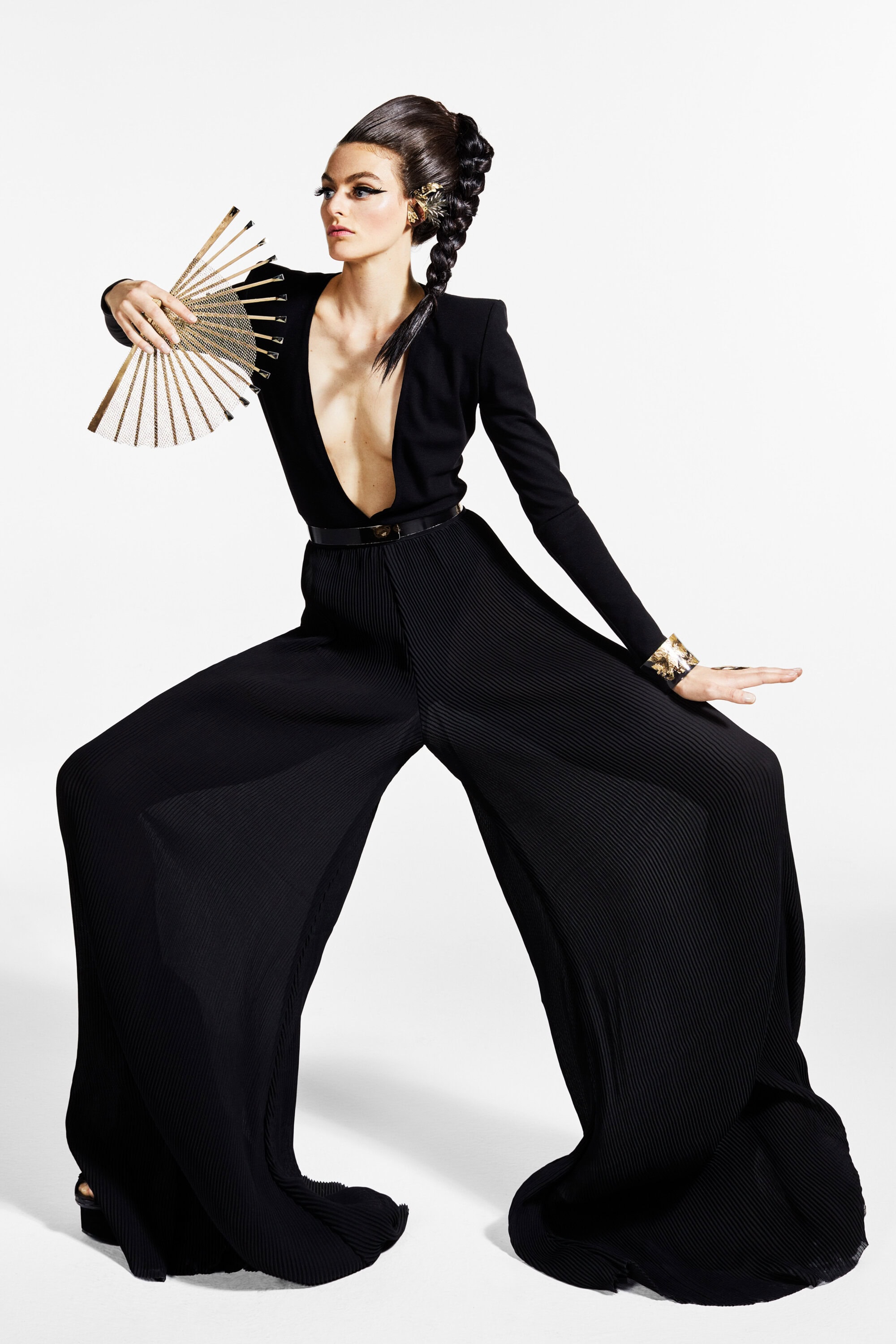 We have not made any purchases of fabrics this past year but simply reused what we have in stock and what we have found around our studio, Ronald van der Kemp said at the Dutch Embassy residence on rue de Grenelle, where he held his Fall 2021 couture presentation.
At the bottom of the red carpet grand staircase immediately on the right of the entrance was a black jumpsuit spreading out over a few steps of the stairs and a pair of blood-red vinyl sharp heels bootie haphazardly placed on the floor beneath. Did someone slipped off this garment and dumped it at the end of this staircase, or was it another allusion to the tremendous waste produced by the fashion industry at large?
It isn't sure whether this initial reaction upon entering the luxurious palatial embassy residence so ornate with a rigorous elegance from another century that van der Kemp is forcing the actual encounter with the issue with overconsumption.
One of fashion's central problems and one of fashion's dilemmas as a section of the world is reopening, albeit within uncertain conditions. How much glamour to wear on one's back exactly, and what is the new mood for the coming months as people were coming out of lengthy confinement and lockdowns are central now as designers ponder another season ahead.
The Dutch designer Ronald van der Kemp has been doing recycled as creative haute couture since August 2014 when he proposed unique wardrobes of limited edition couture. Crafted garments by hand strictly from luxury leftover materials by small ateliers and artisans around Amsterdam and Holland, harking back to the old days of haute couture in the 1950s. His RVDK collection banks on new consumers who greatly value accurate and verifiable sustainable practices.
Standing in front of a glass container housing the designer's new limited concept of what he called a Mind Vaccine made up of a short needle coming out of a small round bottle imitating a perfume spray unit. It's a sort of CBD paste to ease symptoms of anxiety and depression or something like a homeopathic treatment using natural alternatives to chemical medicines. "We need to return to responsible consumption, in a way consume less but buying better stuff."
Around the room were full of mannequin layouts with color Xeroxes of models wearing the different outfits scattered around the salon. In the center back was a long white dress with what seemed like a feather neckline, but on close inspection, the feather-like feature cut and frayed nylon silk to imitate the look of feathers. The back area was a long white velvet sheath dress that the designer said was hand-painted and silk-screened with added padding to elevate the front shoulders. Then there was the deep blue and yellow silk duo panel dress with a jewel neckline made from leftover jewelry pieces all merged into a large necklace.
A partnership with a Dutch company i-did makes the light ecru felt cut into circular patterns into a cement color wool cape and a dress. The designer worked with many students from Amsterdam's Jeans School, making the denim strips from old Levi's. They wove the strips into crochet cropped denim embroidered cardigan waist belt jacket with elaborate floral embroideries and a black shiny micro skirt.
Ronald van der Kemp's mission is impacting how fashion treats the problems of waste simply because the designer is reusing materials and fabrics in such a creative manner. The RVDK outfits he put on the mannequins in this salon are inventive couture garments, and perhaps the provenance of their materials can only enhance the flawless construction. He has practiced this art of repurposing with the utmost attention to creatively making a new garment from existing materials and becoming like science.
Haute couture with purpose isn't the kind of concept heard so much in this rush to return to some level of normalcy. Fashion is nothing but the best at creating an illusion, for sure.
---