Review of S.S. Daley Spring 2022 Ad Campaign by Creative Director Steven Stokey Daley and Photographer Laurence Ellis with models Stuart Connor, Pete Bebbington, Nick Harding, Matt Smith, Brad Stokes, & James Hawken

S.S. Daley, fresh off his selection of one of this year's 8 semifinalists for the coveted LVMH Prize, celebrates the material and emotional origins of one of its most precious materials in a new Spring 2022 campaign by photographer Laurence Ellis.
While the collection's presentation – a play that featured young actor's from England's National Youth Theater – focused on its aesthetic inspiration drawn from elite school uniforms and sophisticated suburban sprawl, its campaign instead explores the physical, technical origins of the garments: wool farms and farmers. Daley and Ellis visited a wool farm in Cornwall and recruited real farmers to embody the sensibility of the collection.
Embracing at once both an intimate poeticism and rugged masculinity, Ellis' gorgeous images exude sensuality, strength, softness, and beauty. A muscular farmer strips down and poses confidently atop a hay bale, another grins as he lifts a sheep onto his shoulders. Men pose with wildflowers tucked into wool boaters, or gaze into the timeless green and gray of the fog-laden landscape.
Reverent, powerful, and intimate, subtly threaded with a quietly sensual gaze, the imagery is a lovely ode to a side of manhood that often goes unseen. The thoughtful casting approach fills the material origins of the collection with emotion and personal connection, making for a campaign that beautifully considers the tradition and meaning of menswear.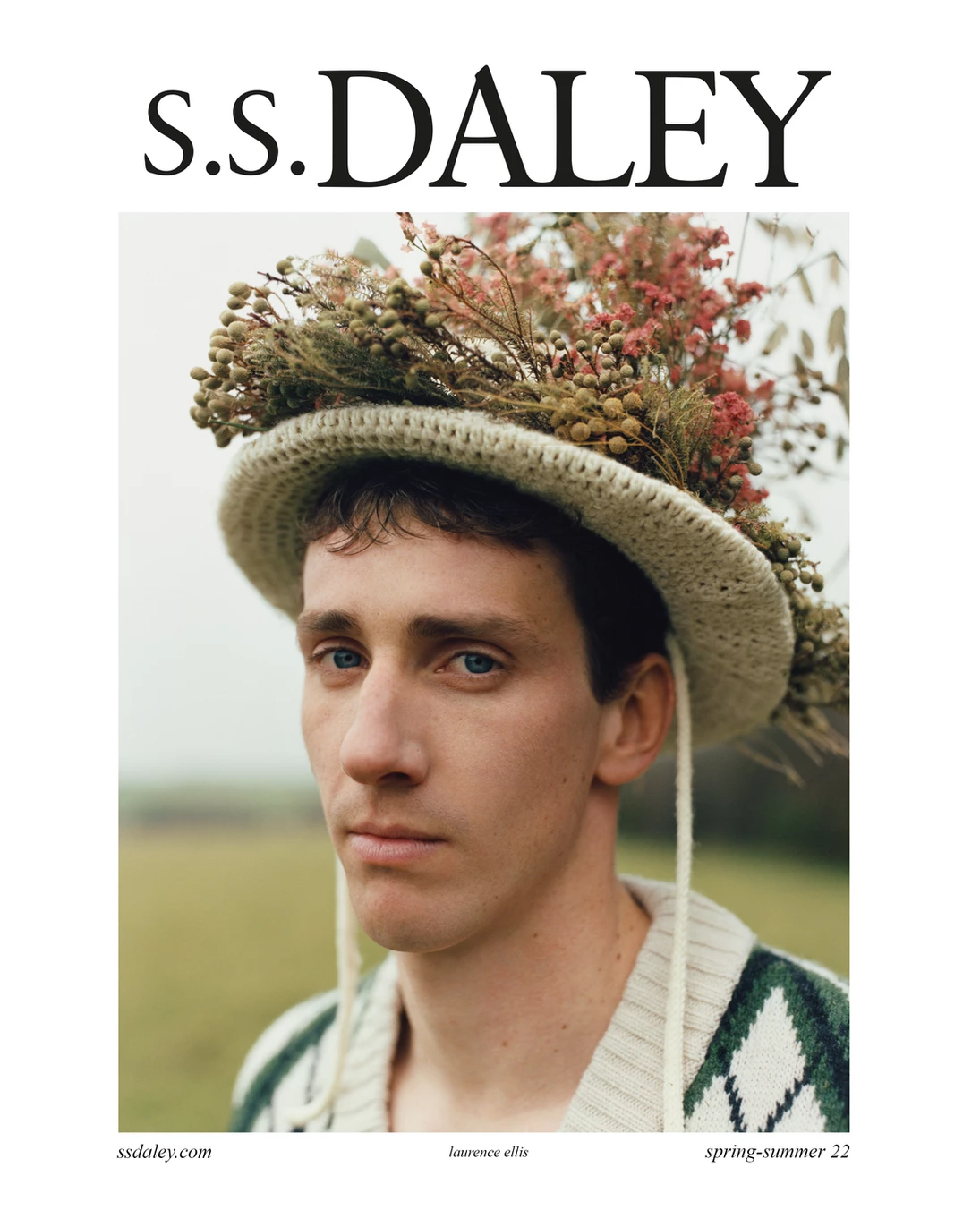 S.S. Daley Creative Director | Steven Stokey Daley
Photographer | Laurence Ellis
Models | Stuart Connor, Pete Bebbington, Nick Harding, Matt Smith, Brad Stokes, & James Hawken
Stylist | Harry Lambert
Hair & Makeup | Eliot McQueen
Casting Director | Nachum Shonn
Production | Sophie M Productions
Location | Trefranck Farm, Cornwall

---