---
Review of S.S. Daley Spring 2023 Fashion Show
A Literary Legacy Blooms into New Life
By Mark Wittmer
S.S. Daley's highly anticipated Spring 2023 show marked the first collection from eponymous designer Steven Stokey-Daley since he was awarded the the prestigious LVMH Prize for Young Designers. Building on this success, the runway show furthered the creative director's penchant for theatricality and literature as it layered history and heartfelt personal narrative into his quietly queer subversion of British bourgeois dress codes.
The collection is entitled "Vita" in reference to Vita Sackville-West, who, while probably most famous for her creative and romantic relationship with friend and lover Virginia Woolf, was an excellent and influential novelist and poet in her own right. Sackville-West was also an avid gardener, and the Sissinghurst Castle Gardens she created with her husband remain today and are considered England's most famous 20th-century garden.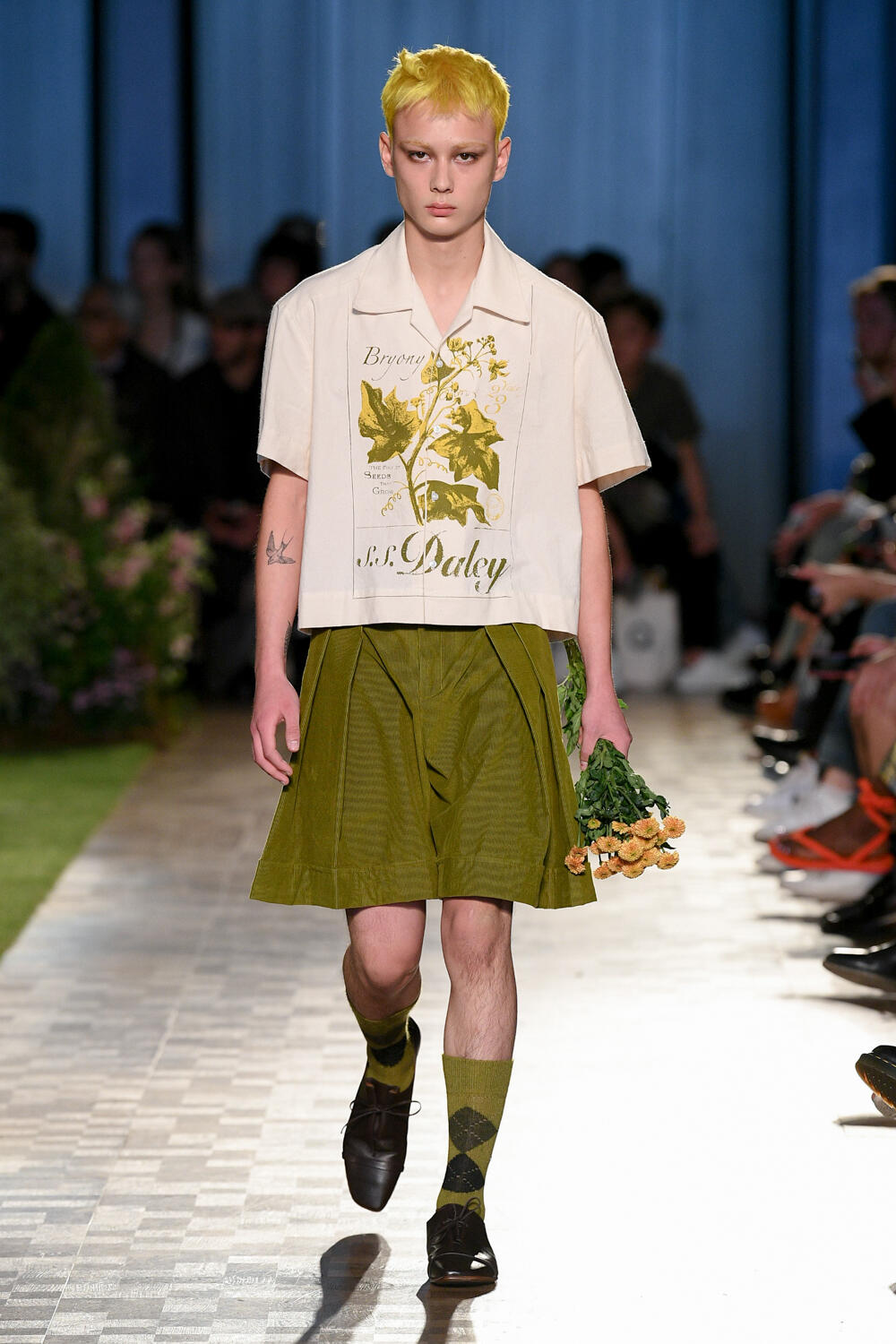 Referencing both legacies of these dual creative passions, the collection weaves poetic and floral touches among references to English interwar fashions through a lens of contemporary fluidity.
Wide collars and lapels adorn double-breasted jackets or camp-collar shirts. Prints drawn from vintage botanical illustrations run throughout. Silhouettes of sleeves and pants are subtly exaggerated, made to billow and blossom, while shorts that reach mid-thigh conjure images of young lads traipsing through country gardens, composing love poems or searching for an elusive flower specimen.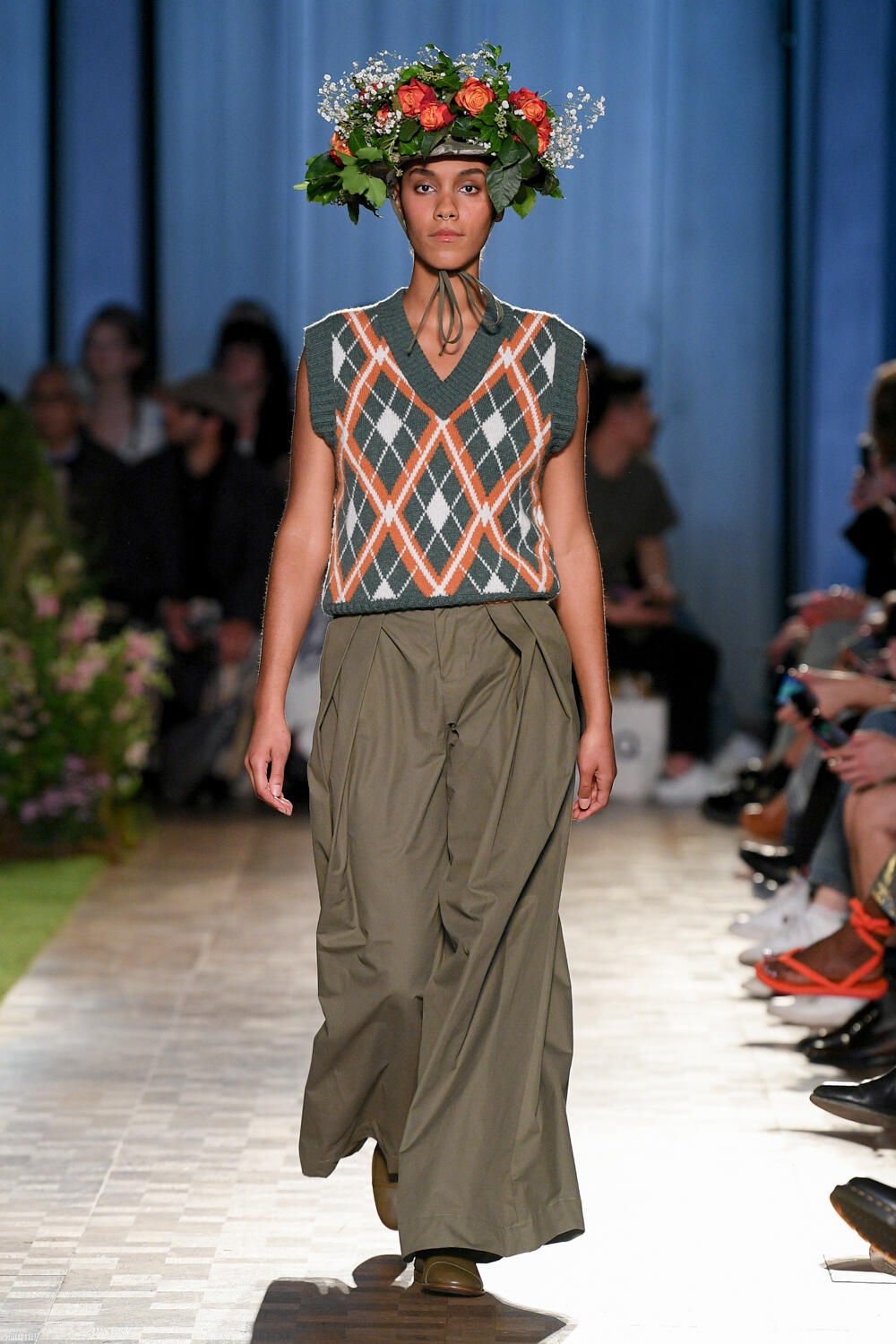 Though ostensibly a menswear brand, S.S. Daley has always mingled the categories of masculine and feminine, with the co-ed, gender-fluid casting of his last runway show in particular pushing into a design landscape that, while incorporating traditional aesthetics of both menswear and womenswear, is firmly beyond the binary. That approach continued across this collection, for which it was especially fitting, considering the progressive approach to gender and sexuality embodied by the life of its inspirational authoress. Like Woolf, Sackville-West was openly bisexual, and maintained an open marriage with her accepting (and bisexual himself) husband. Vita was also the inspiration for Woolf's iconic masterpiece Orlando, whose description of the life of a transgender woman was far ahead of its time.
Capturing this tradition-defying openness to multiplicity in gender identity and sexuality, the phrase "Bunny Boy" is cutely chain-stitched onto a few knitwear pieces, while bunny ears adorn the heads of many a model. Coupled with the motif of ducks that returns once again as it does in each of the brand's collections, this theme also reintroduces a feeling of idyllic, story-book whimsicality.
Another recurring print motif tessellates vintage illustrations, advertisements, posters, calendars, and news clippings that offer a window into English town and country life into a patchwork quilt-like pattern, furthering the rhapsodic sense of historical and personal narrative that threads its way across the collection.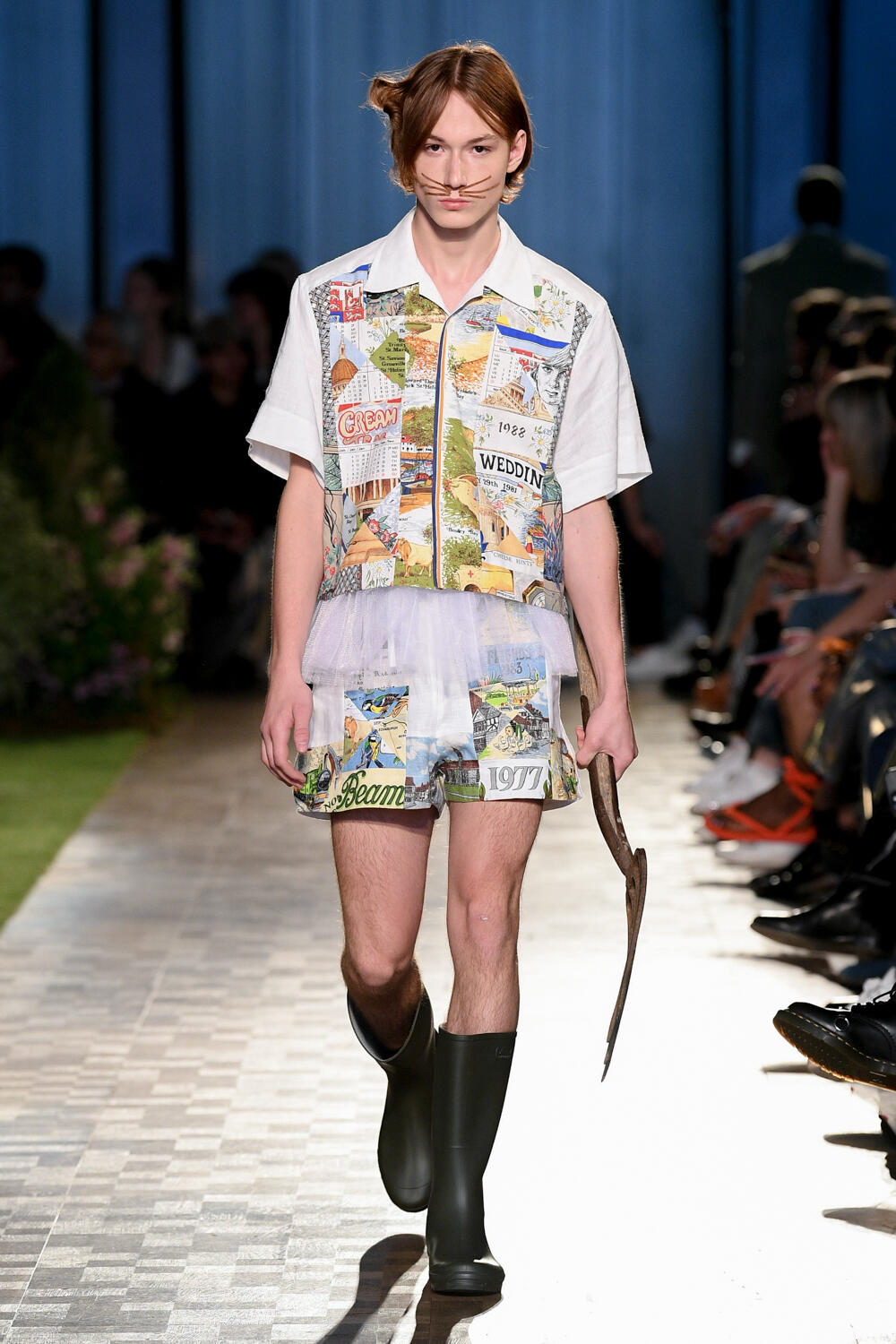 Daley casts actors, rather than models, for his runway presentations, which are probably closer to abstract theater productions than fashion shows. The talents of his eclectic cast were put to good use: as they sat among the garden-like, quietly reading love letters, one actor would stand and read their letter aloud, whereupon it was revealed that these were love letters addressed to Vita. Even after their decade-long romance ended and returned to fierce friendship, Vita and Virginia maintained a famous correspondence until Woolf's death in 1941 – but only last year were their collected letters published in a complete volume.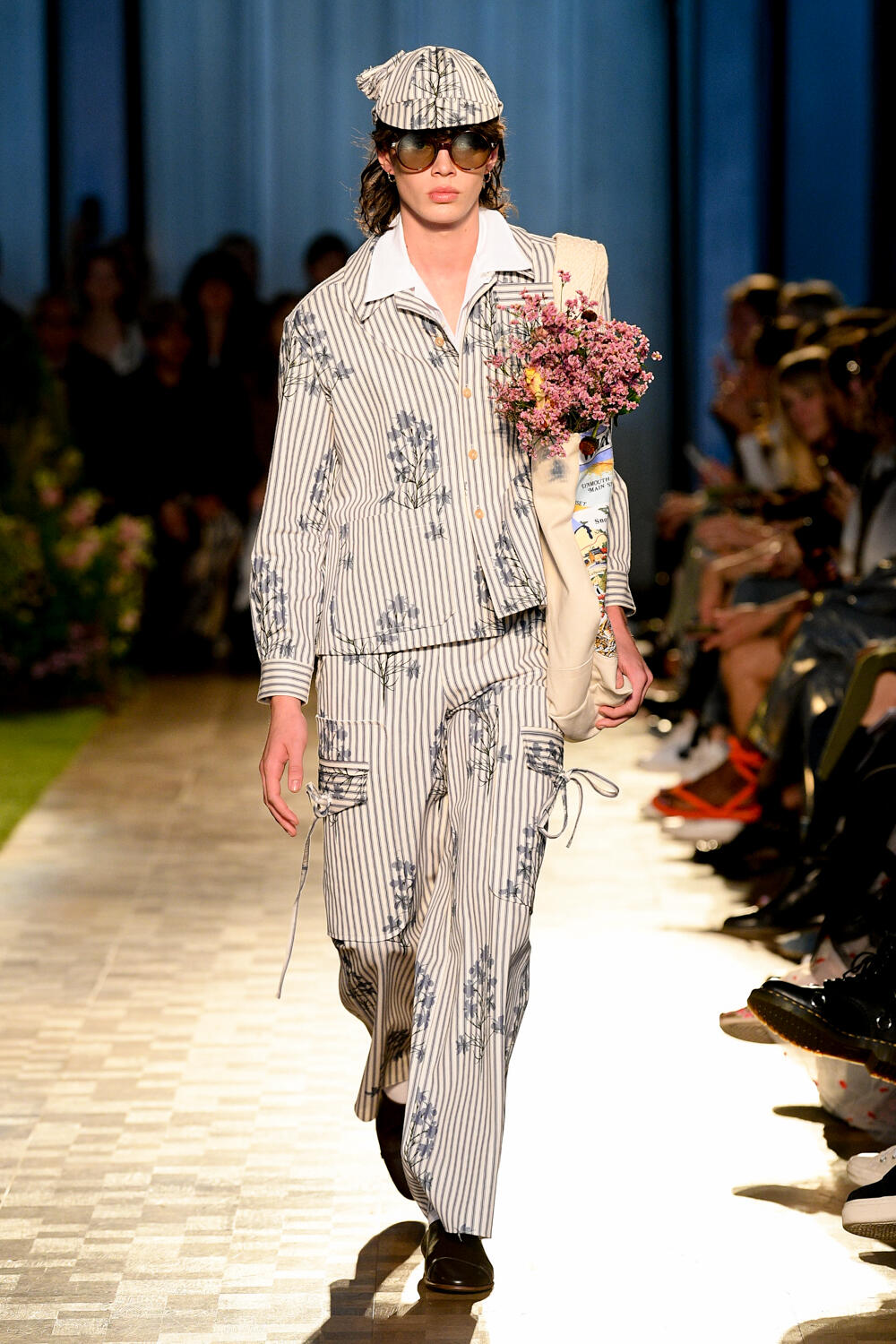 Inspired by this reemergence of the archive of a legendary queer love story, Daley weaves this legacy into a wardrobe for today's young lovers.
Supported by a hybrid approach to presentation that unstitches the boundaries of categories in fashion, art, and performance, the collection beautifully investigates history and literature to compose a liberated and poetic vision of contemporary queerness. S.S. Daley continues to blossom into one of today's most insightful and vital voices in fashion.
---